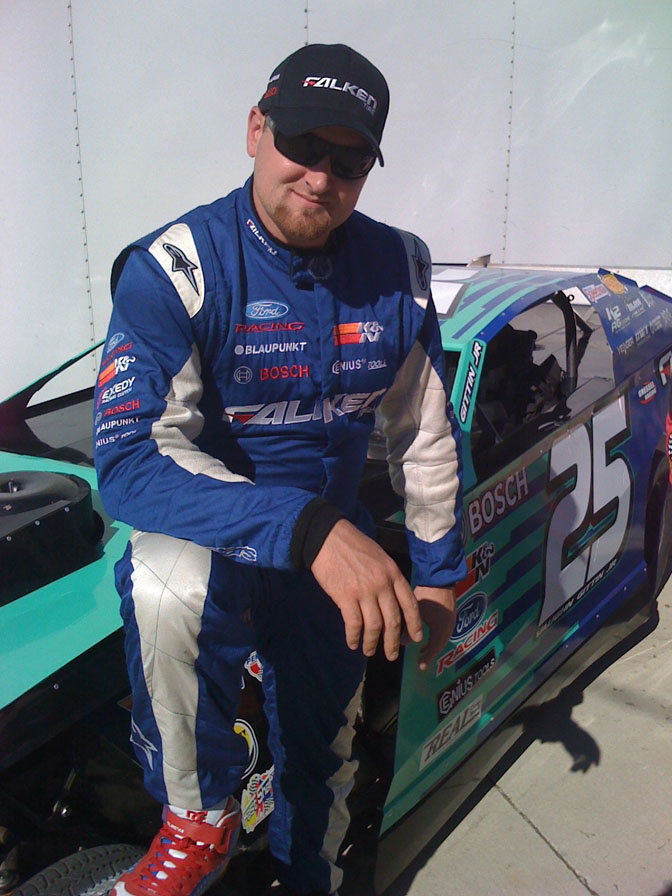 I'm going to travel back in time to about two months ago in the middle of September. From my win at Irwindale, my excitement overcame me when writing my last blog and I had to share that with you all, instead of what I should have been writing about – which was a week of real-life Speedhunting.
During SEMA 2007, I walked into a sushi place at the Hard Rock hotel when I ran into Shawn Crawford from my sponsor JE Pistons. Shawn introduced me to a gentleman by the name of Karl Fredrickson who is the editor of Speedway Illustrated, which is pretty much the number one magazine for racing in America. This magazine covers a lot of dirt track, NASCAR and grassroots circle track as well.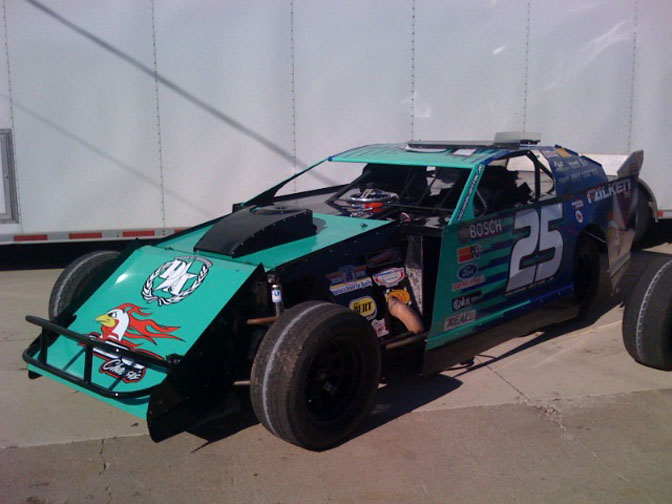 After chatting with Karl a bit, he said: "You know, I've always wondered if a drifter could drive a dirt car." I looked him in the eye and I said: "Absolutely, I can drive a dirt car and I would LOVE to." So he smiled, we shook hands, and exchanged cards. A couple weeks after SEMA I hit him up to let him know that I was serious about wanting to drive dirt cars and he set me up with a guy by the name of Cory Dripps, who is an Outlaw Modified USMTS pro dirt track racer.
Me and Cory got on the phone a couple times and really hit it off. It had become really just a matter of a time and a place to set up this event of me jumping into a dirt car. A couple of months went by and Karl called me to tell me about an All Star race going on at Deer Creek Speedway in Minnesota, September 17th and asked me, "are you in?"
I was like "Absolutely!" but I didn't want to just show up for this All Star race with no practice and be a menace on the track to everyone. Not to mention there was going to be two NASCAR drivers competing – Kevin Harvick and Landon Cassil. So it was confirmed that I would be able to have some practice time no problem before the race.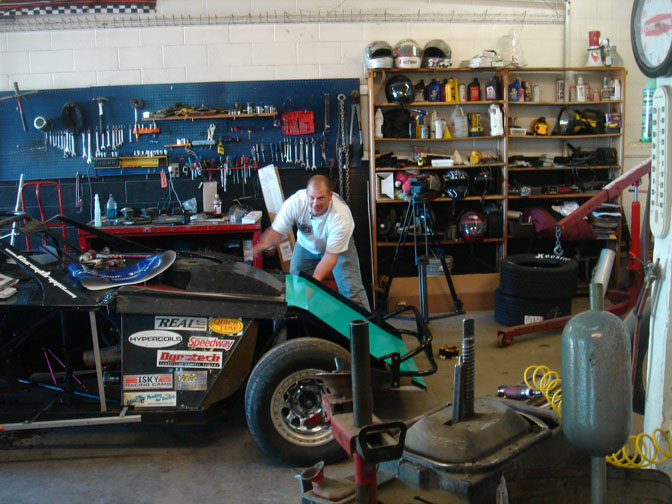 Fast forward to September. I flew into Iowa at a single terminal airport where Cory picked my up and continued to show me around town. The next morning we were actually supposed to play around in a simulator and to play around with the car, as well as to do some filming for a TV show that I'm working on. Turns out that the vinyl for the dirt car I would be racing got lost by UPS and was late, so we ended up spending all day putting all the vinyl on the car and actually building the sheet model body for it. It was actually pretty cool seeing how to do it.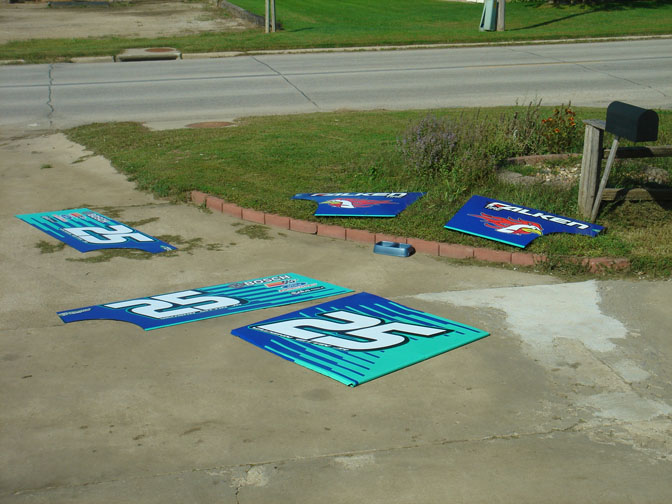 In the shop, I helped make and wrap the sheet metal panels for the body of the car. I don't know if you guys have seen these modified cars before, but if not, they are full blown, tube chassis, purpose-built race cars. The front is open-wheel and the rear is enclosed with some sheet metal and they are just insane. This particular car was a 1970's Ford Torino front end with the tube chassis built onto the back of it. The rules allow either a Chevelle or a Ford Torino and of course I was glad to be driving a Ford.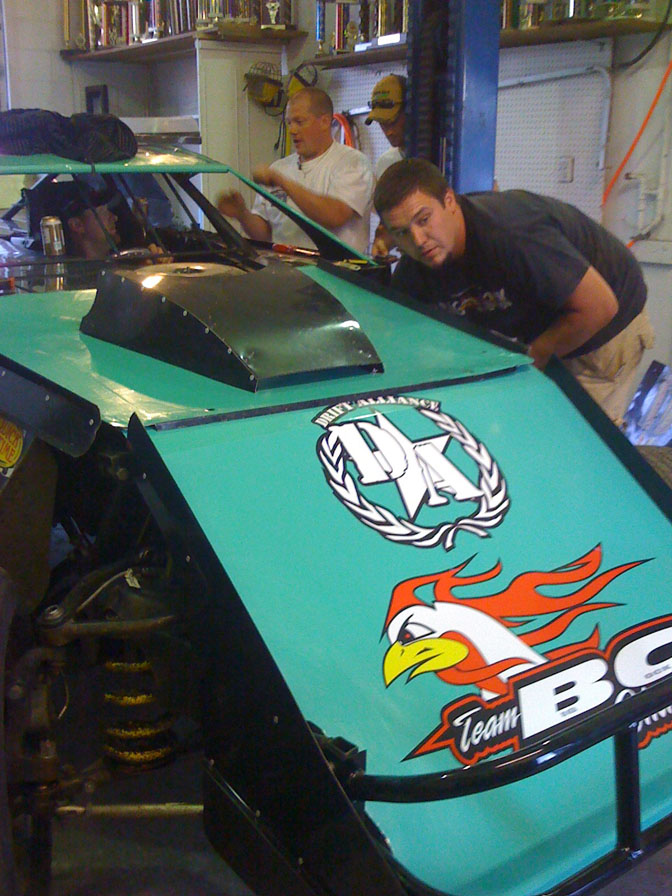 So first day out there we were getting the car together and ready to race and I was already racking Cory's brain about the car and how it worked. It was a great time hanging out in the shop with Cory, his crew chief Joe Bob. I wasn't thrilled that I wasn't able to get seat time in a simulator, but it was a good trade-off to be able to rack these guys' brains and understand how the car works mechanically.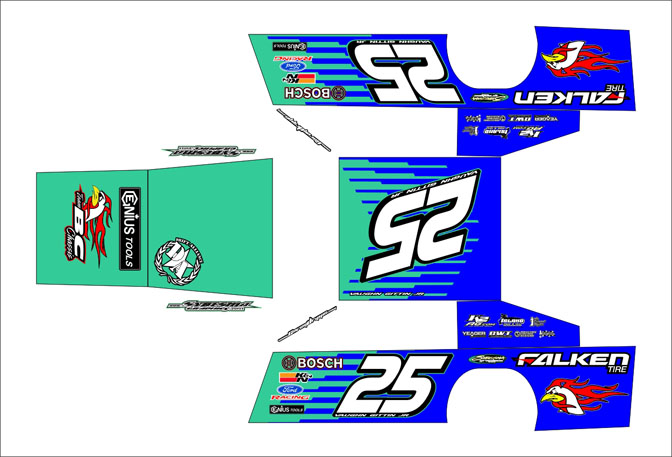 As you can see we had a scheme that is very similar to Falken Tire Ford Mustang.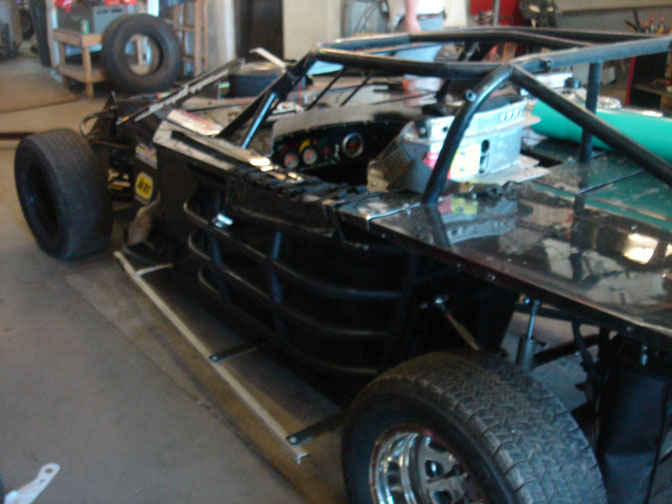 Here is a picture of the car with no body on it; the way it looked when I first got to the shop.
As you can see from all the holes where the upper and lower control arms are, there is like infinite adjustment. Adjustment is key for these guys getting traction. If you look closely on this picture, up at the top it looks like a piece of cylindrical metal that you can see a little bit of yellow inside of it. That's actually a fifth link that acts as a damper for the wrap on the axel. So it can be adjusted to allow the axel to wrap as fast or slow as needed for the type of track you're running. I was pretty much blown away by the fabrication and the amount of changes you can make. There are so many different chassis configurations and so many different kinds of dirt that these guys run on; these guys are constantly chasing traction, kind of like we are with drifting. But with them, it is a little more intense because the conditions of dirt change more than asphalt obviously. It's a whole lot for someone to know what little adjustments make what changes on the car. All these adjustments mixed with the ever-changing dirt makes these guys seem like scientists. Nothing but time around this type of racing can teach you the ins and outs of chasing traction on dirt tracks.
The next day was supposed to be my practice-on-the-track day, but after getting to the shop and finishing getting everything ready to go to the track, we got a phone call that practice was canceled because of a rain-date event that the track decided to run that day. So it was obviously a bummer. No simulator, no practice day, but there's a lot more things in life to whine about. We were still hustling to get the car together and I decided some seat time was better then none and I'm always up for a challenge, so we decided to just go to race and let the make-up race eplace my practice. I wasn't very thrilled that my first time driving a dirt car was going to be on a track full of over 20 other cars, but I figured I would just take it easy and get what I could out of it, or at least that's what I told myself….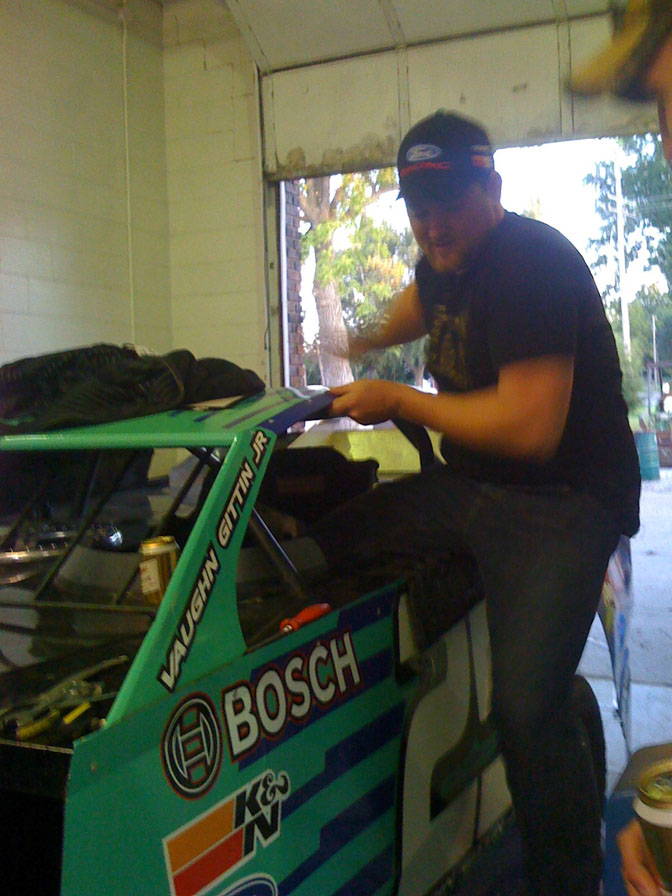 Here's me trying to climb into this thing for the first time. It's definitely a tight fit. I'm about 220 lbs and 6 foot 2, so it was interesting to say the least. But once I got in everything was cool.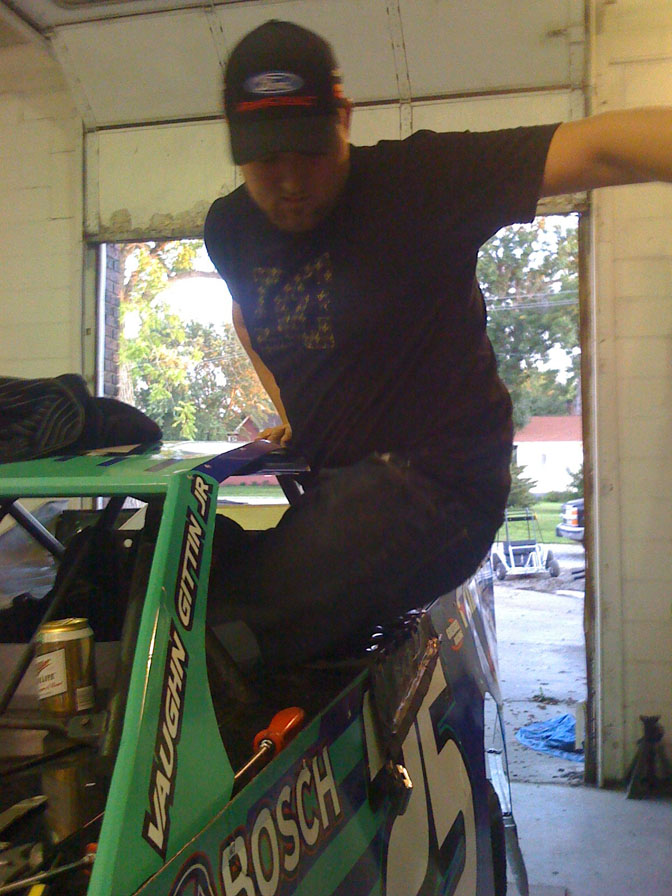 I practiced getting in and out so that just incase of fire, I could hop out real quick.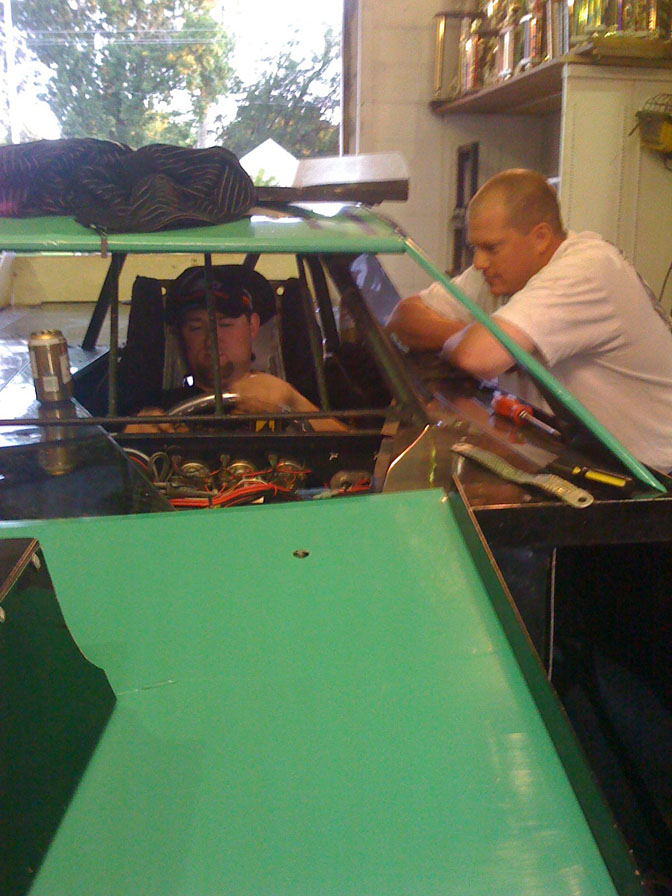 I finally fired up the car. It's pretty interesting that it's only got a two-speed gear box – first gear, direct drive, and reverse. And the way that the clutch works is completely opposite of what we are used to. Basically, you start the car up, you put it in first without your foot on the clutch and the car just sits there. If you give it gas and put it in first it doesn't do anything. You actually have to push the clutch and gas in at the same time to make the car move in first gear. When you push the clutch your essentially pushing the pressure plate onto the clutch and gets it moving. All you do then is get it moving and get it up to about 3000 RPMs, grab the shifter, ram it into gear drive, and now you're in direct drive . From there on out, it's all throttle and brake.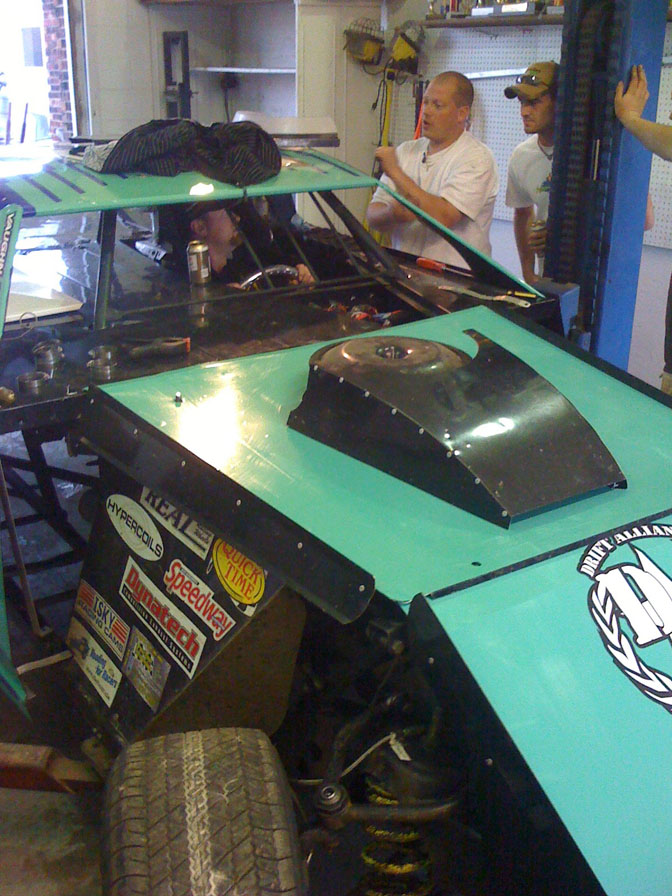 This all was very weird to get used to, considering that with every single vehicle that I and probably all of you have ever driven, you press the clutch to shift gears and you are definitely not on the clutch when you want to go somewhere. It was pretty crazy to change instinct like that.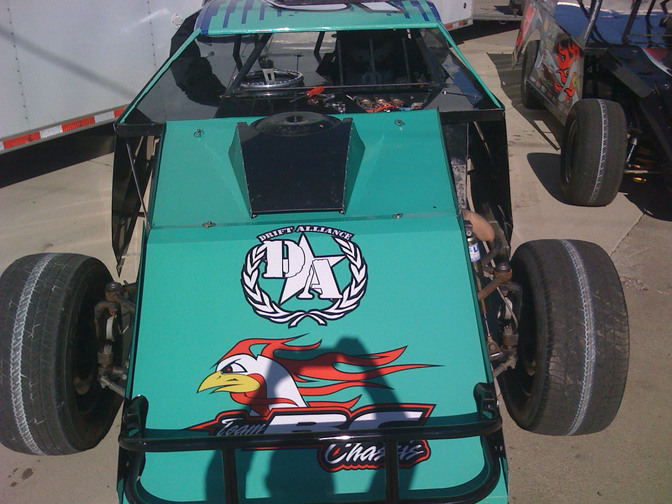 So we get to the track and we are about two minutes late for the drivers meeting. At the drivers meeting, I was introduced to a couple people there, and next thing I know, it's about 10 minutes before game time.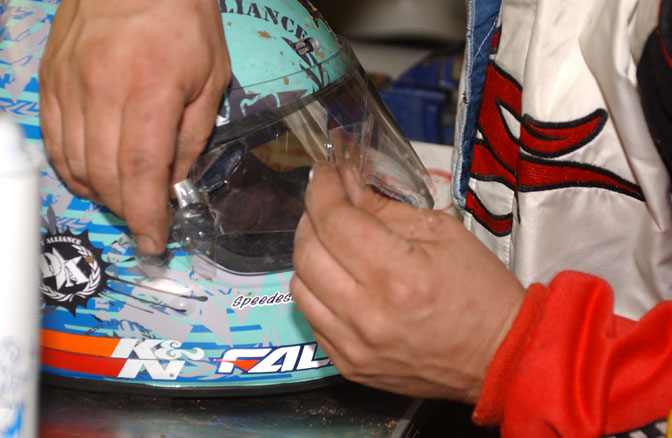 So Corey shows me how to put a dirt track tear-off on my helmet, which is very weird to me. I haven't done that since seven years ago when I used to race motocross.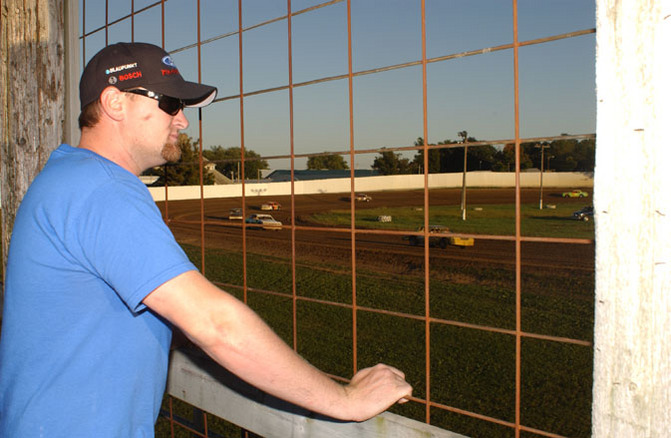 Cars were starting to scream around the track, so I did a bit of watching of the lines that the guys were running, and next thing I know, it was my class's turn to go!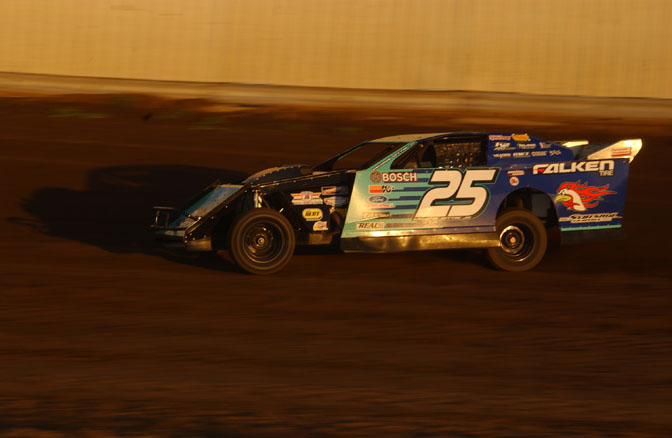 I was out there running with the USMTs guys which are pretty much the crème de la crème in the US with regards to Outlaw Modifieds. This car I was in was a 700 horsepower, 1800 lb beast – so you can imagine how insane it was for me to be going out there with these pros for my first time.
But I went for it. I started out in the back of the pack, trying to be as respectful as possible to everyone. But I did manage to get a couple of really good laps in. It was a lot different than I thought it was going to be, especially because we were on an extremely rough track. From watching the videos online and the coverage on TV, you'd think that these guys are just drifting through turns, but they are really trying to drive as straight as possible and get as much traction as possible. I was just blown away at the amount of traction I had and how fast this thing was in the dirt.  Just as soon as you got on the throttle the thing would layover and dig hard.
The only way I can explain it is that it was like an electric slot car. You come out of a turn and you're on the trigger, as soon as you get on the straight you pull the trigger and the car just takes off! It was unbelievable! I went into a couple of turns with three wheels up, It was so much fun!
After a couple of laps of practice, I drove over to the rig, took my helmet off and was just like "this is nuts!" I downloaded everything from my brain, asked a bunch more questions, and before I knew it, it was time for my first heat race./p>
So here I am lining up with 30 other guys that have probably been doing this their entire lives, and it was my second time on the track – ever. I was kind of disappointed and pissed of that I hadn't gotten that full practice day I was promised because I really wanted to do well. I love competition. But, I was kind of thrown in the gantlet, but again, I was up for the challenge.
I opted to start in the back for the heat race, just as I had done in the earlier practice. After a couple of laps, we were rockin' and rollin'. There was a little accident between turn one and two where a guy spun right in front of me and I smacked right into him and cristened the brand new bumper Corey built me. I would bet this racing is what defined the term "rubbin is racin".
After about three laps in, I realized I had no throttle left, so I pulled into the pits. Cory pulled the hood off and looked at me and said: "Man, you are a wild man aren't you?" And I was like: "What? What did I do?" He was like: "You broke the throttle linkage off the carburator! I've never seen anyone do that before." He hits the tach recall switch and it goes to 8,900 RPM's! He looked at me and just smiled. I told him I drove foot-to-the-floor and told him he should put a throttle stop on anything I drive!
So we got the car fixed in time for the second heat race. I went out there and did pretty well. I still wasn't in full control and I kept making a few mistakes, but for the most part I was running pretty decently. I must say going into turns with cars on both sides of you was very fun and challenging. After about four laps, I started cruising around the infield to let these guys finish their race – I was trying to stay respectful and not get in their way. I felt good that I had got in some practice without doing myself or any of the other drivers any damage.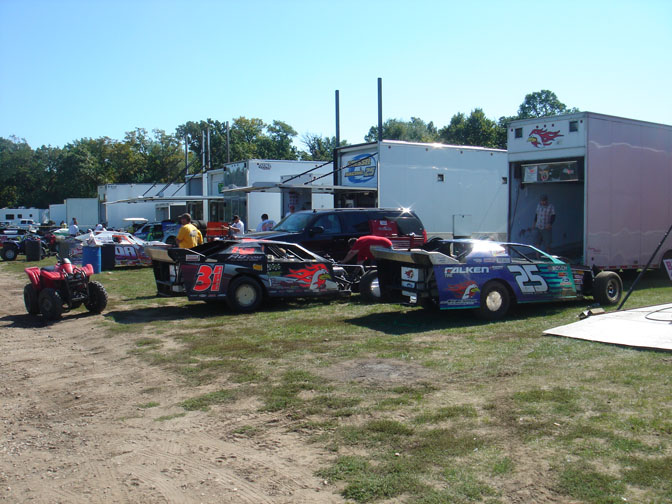 So after that, we packed up and headed to Minnesota for the big race. We arrived there at like 7 AM Wednesday; we had all slept in the hauler while Cory drove all night. We got to the track, unloaded the cars and started to nut and bolt everything. The prep list on these cars is pretty darn long, but it's actually pretty similar to what we do in drifting.
I went out for my first practice and put down some decent laps; in fact, Corey and some of the locals were impressed. It still felt very foreign and insane to me, but I definately was running circles. The track we were at, Deer Creek Speedway, was a lot better than the track we were at the prior day in Iowa, which was just extremely rough.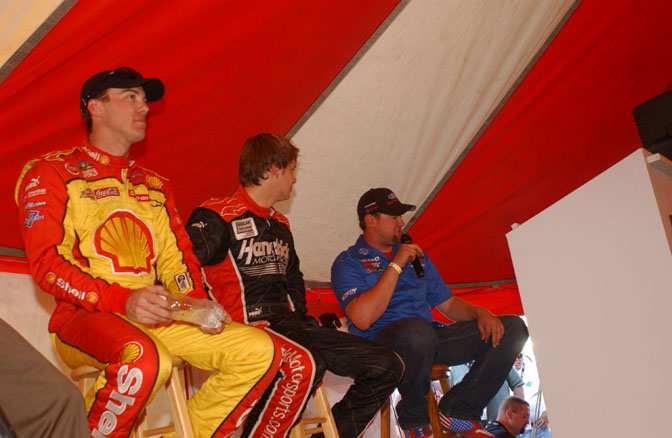 After practice, it was time for a Q and A and autograph session. I have some great fans in drifting, but it was just incredible the response and respect I got from the local dirt track fans, and obviously there were some awesome NASCAR fans that were there for Landon Cassil and Kevin Harvik. He was just a really cool vibe.
It was almost time for the main race, and I had still only gotten six practice laps on this track. So I went and talked to the promoter and told him how I didn't want to be a danger to the other drivers since I was so inexperienced. He told me I could have another six laps before the race to go out there and get a little more acquainted with the track, which I was super happy about.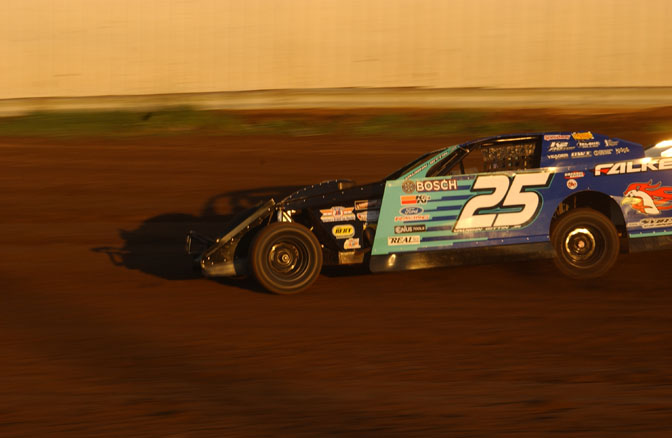 So I go out for my six laps, the stands are full, and I really started to get in the groove going around the track. The only issue I had was that I felt I was going a little bit too fast because since I was out there alone, I didn't have anyone to pace with. I just wanted to go as fast as I could. I mean, I can't explain to you how fun it is to have the throttle down on this modified.
So I came out flying and I railed turn one and two extremely fast. I went into turn three and the car started to give a little bit of push. I remembered that Cory had told me that if the car ever started to push, to lift off throttle, hammer back down on it and it will rotate.  So I remembered what he said and executed what he had said, and sure enough… it took me right into the wall at about 80 MPH.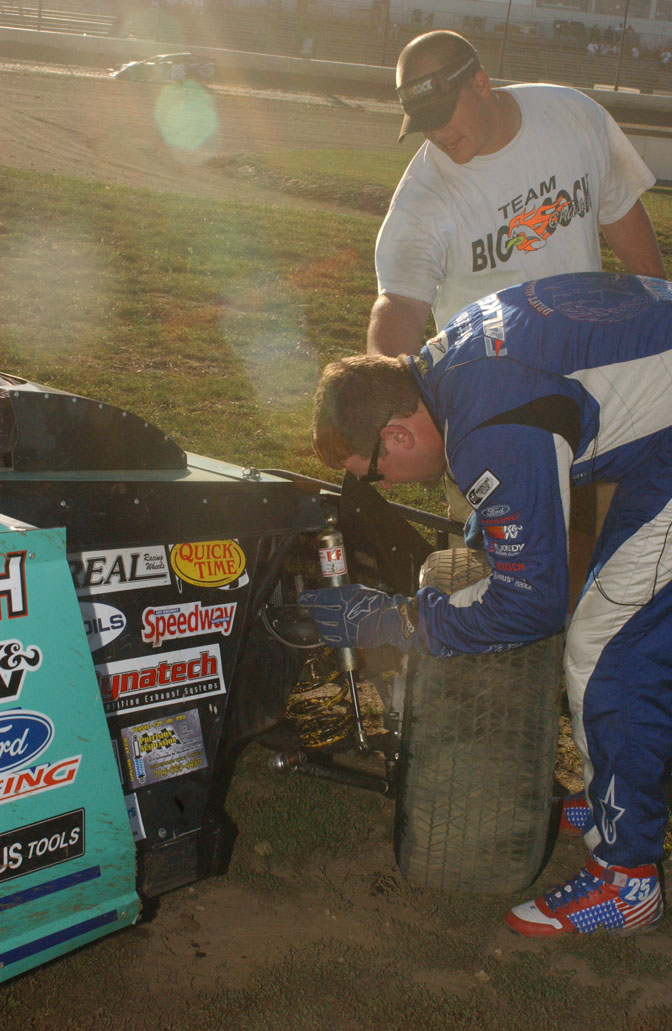 It was just a stout hit. I could just hear the "Ohhhhhhh" of the crowd all in unison. It was a for serious, serious, serious hit. So I backed the car off the wall, drove out in front of the crowd, got out of the car, stood up, put both hands in the air and everyone just started screaming and cheering. Cory ran down to me and was like: "I have never seen anyone run through turn one and two that fast. All I was doing was screaming 'Slow down!'" Well, obviously I couldn't hear him.
Speaking of me not being able to hear Cory, it's weird that these guys aren't allowed to have radios in their cars. It is some true battling with no team assistance coming from a radio.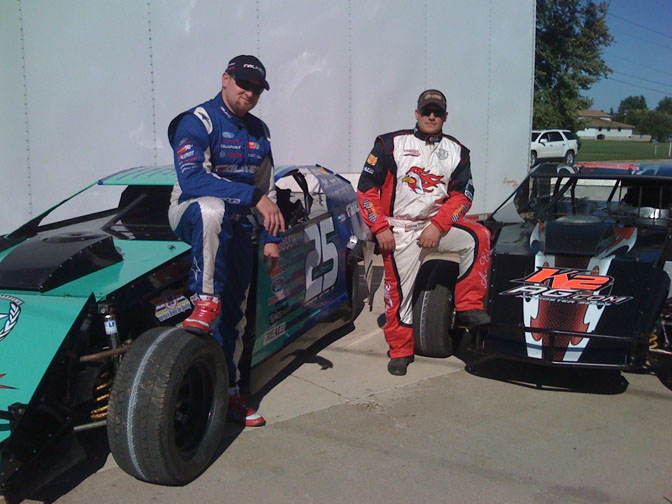 All in all, it was an incredible experience. I'm going to give a serious "hats off" to these guys who run these dirt tracks. These pros are out there running track to track every week, pretty much traveling nonstop to race over 100 nights per year. They are fully passionate about it and love it. I am looking forward to getting back in the seat of a dirt car as soon as possible and I have hopes to be a true competitor at the same race next year.
After I put the car into the wall, we all had some laughs and ended up partying until three in the morning. We would have partied longer, but me and Hot Toddie (the videographer for the show I'm working on) had to catch our flights to get to my next Speedhunting mission where I tackled road racing. Stay tuned, you'll be hearing about that one real soon.
-Vaughn Gittin Jr.