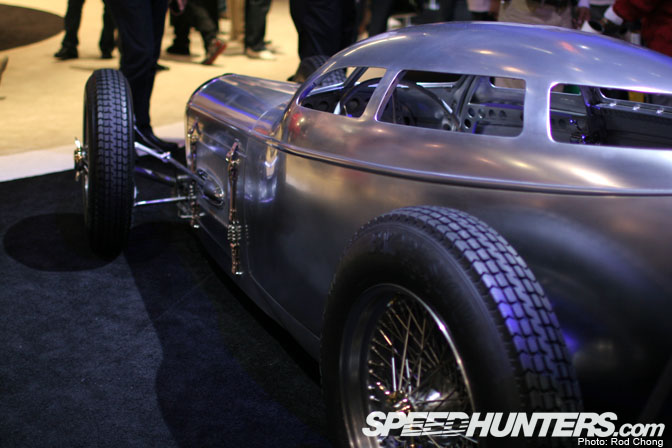 Ok last SEMA post for me… I'm on yet another plane and will be landing in a few hours to meet our British photographic sensei John Brooks at the Los Angeles airport. We'll then saunter over to Shelby LA to pick up the NFS edition Shelby Terlingua. This will be followed by a blast up the I5 to Button Willow Raceway, to see the USA's top Time Attack cars in action. Should be good!
Anyway, back to the subject at hand…. Last week I was marching from one side of the SEMA convention hall to the other, heading over to yet another business meeting, when the sight of the this bare metal car hit me…. I stopped dead in my tracks.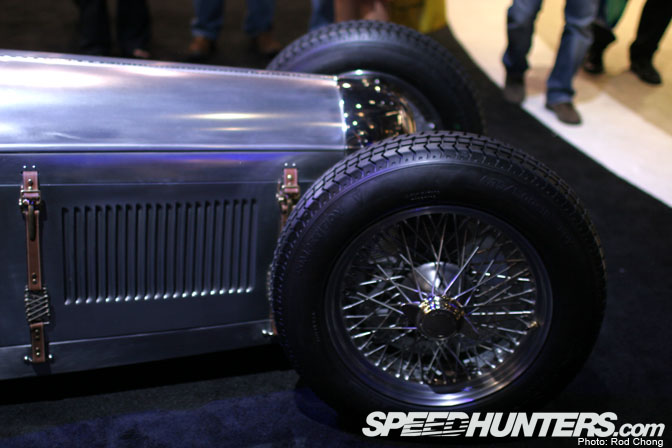 Here was a vision of automotive art that stood out from the other cars in the show. A complete ground up exercise in metal craftsmanship (or is that craftpersonship?) unlike anything I'd ever seen before.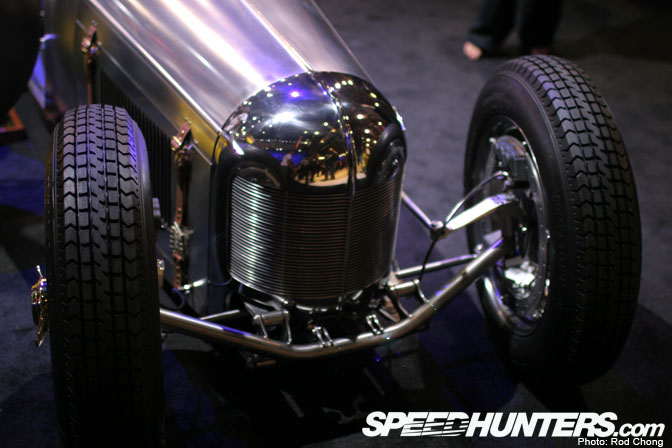 It would be hard to call this bare metal machine a hot rod. It perhaps fits into that category by default, but there is so much more to this project. To me, it is an exercise of pure fantasy; a time travel device that brings us back one hundred years, to the early days of purpose built race cars.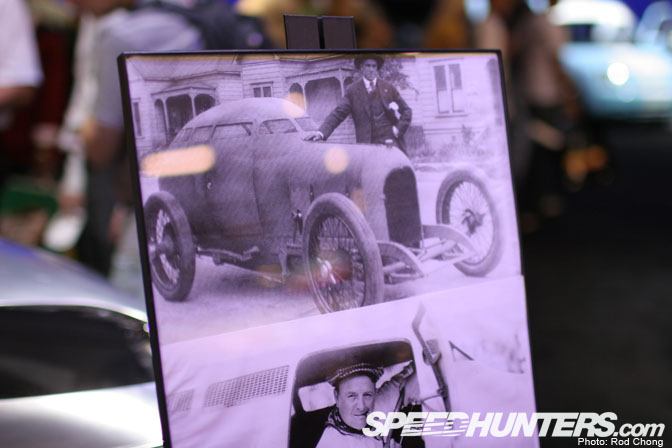 Entitled "Golden Submarine", the car was constructed by a shop called Webb's Automotive Art. It's a modern reinterpretation of the famous, breakthrough race car from 1917 of the same name.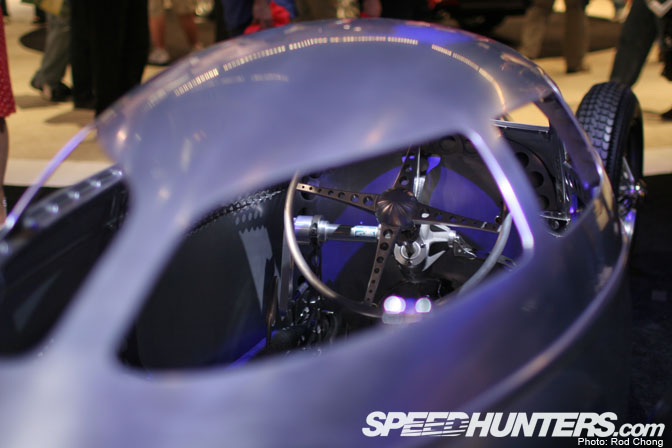 Looking inside the Golden Submarine, you start to get a picture of the type of bespoke metal-craft on offer.
You can also see this car is very narrow….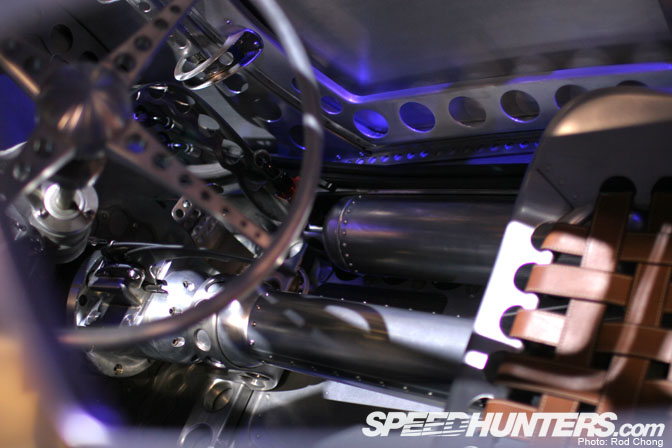 Have a look at the craftmanship…. The door frames, driveshaft tube, chassis structure all appear to be one-off pieces… amazing no?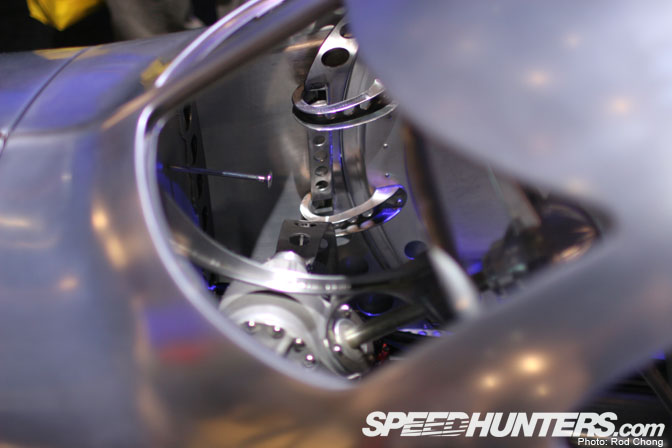 I was quite taken with sense of line and form this car exudes, even with the door hinges and the steering column mount. No stone has been left unturned.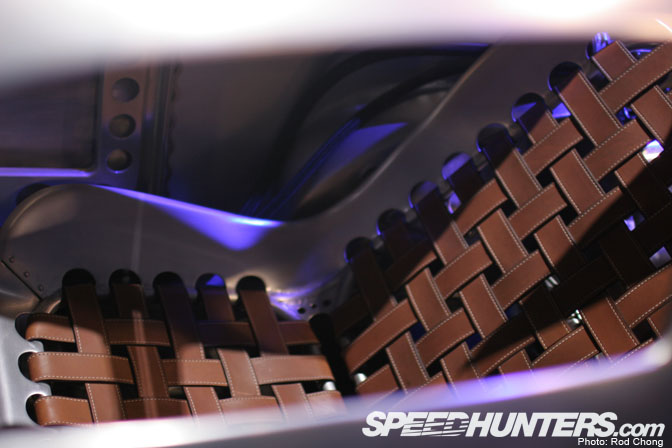 I love the woven leather strips on the seat. The warmth of this material contrasts the hardness of the surrounding metal works.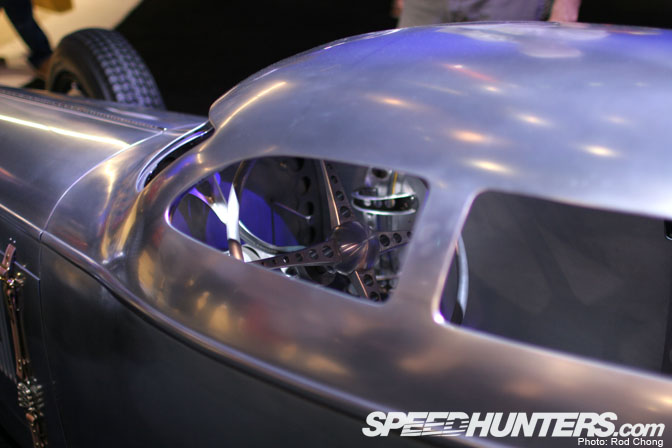 Will this car ever really be driven to any great effect? Probably not….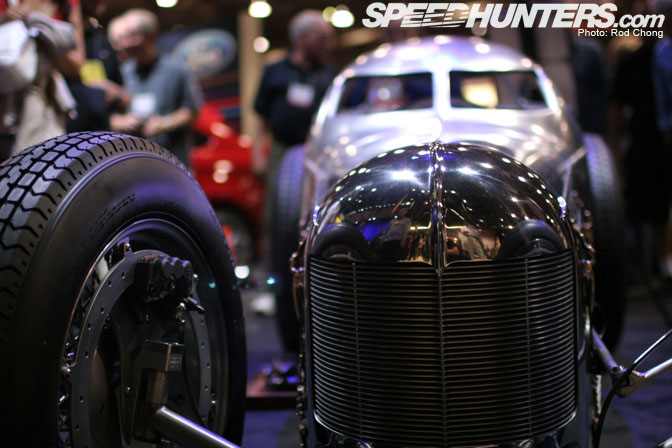 ….Does that matter? No, not really. Its purpose is to inspire you to dream.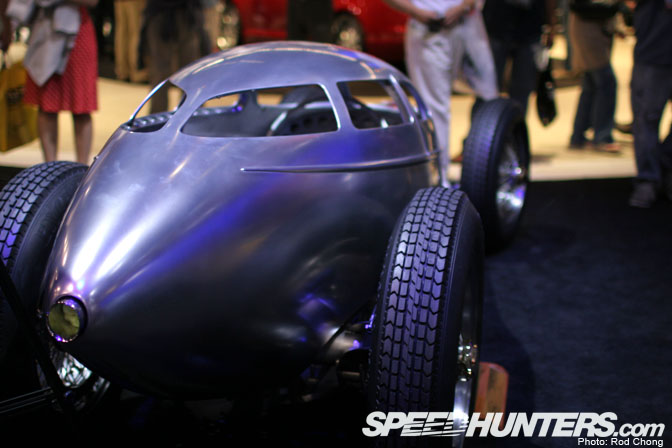 I find this concept of this car quite stimulating. I love the fact there are people in the world who have the time and space to create flights of automotive fancy like this. Webb's Automotive Art's Golden Submarine is diving into the roots of the racing car; taking us back to the core fundamentals of the machines that we all love.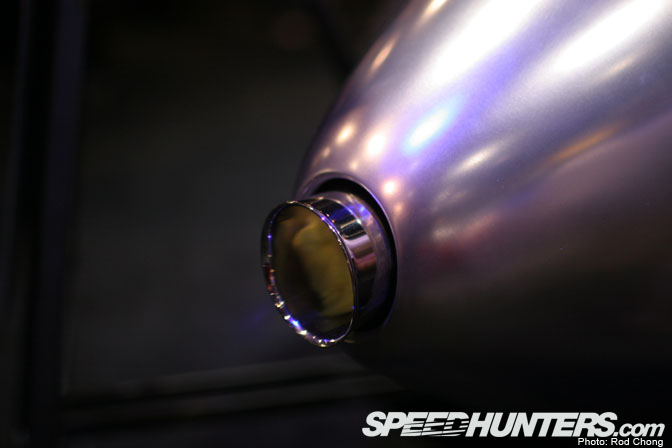 It's quite the achievement. I'll need to look more into Webb's Automotive Art to see what other projects they've developed. I think it would be quite interesting to visit the shop to find out more about where they are coming from!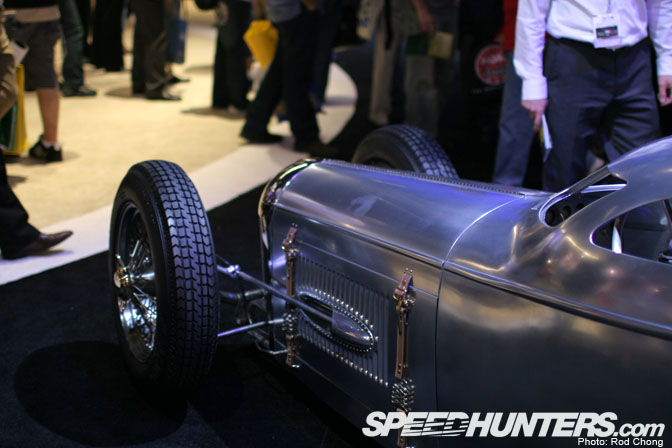 In the meantime, I'm going to watch a movie or two to pass some time before my flight touches down in LA!
As ever….
:Rod