On our trip to the UK earlier this year, I came face to face with a big pink monster. Get any ideas of fuzzy dinosaurs out of your head – I'm talking about a pink R33 Skyline drag monster from Sumo Power, in the UK. This car is very well known in the UK – it's gotten features inked from all the big magazines out there; this R33 has been stirring up quite a bit of attention from its performance numbers and overall impact!
The vehicle is a 1994 Nissan Skyline GTR, which was imported from Japan by Andy Barnes, owner of the car (and one of the organizers of the European Drift Championship). It's powered by Nissan's invincible RB26 straight six; actually, it's a special HKS 2.8 liter hi-deck race engine… maybe we should call it an RB28? Clearly Andy Barnes built this vehicle to beat anything it may come across. This thing has ridiculous amounts of power! (Does someone have compensation issues?) The current power level is 950bhp at 2.2 bar of boost!
However, I hear Andy just ordered a new HKS turbo that will make even more horsepower! Sheesh!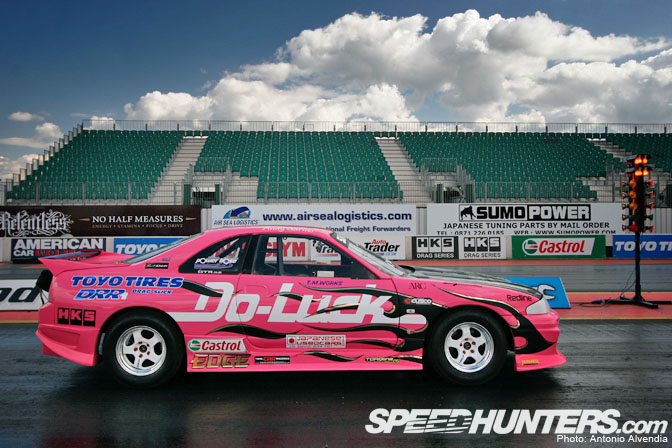 We brought this Skyline to Santa Pod, the famous UK
dragstrip, so Andy could strap himself into the Skyline and show us what his
R33 could do! All alone at Santa Pod, the R33 looked kind of lonely, in a
menacing and slightly evil way. As I walked across the dragstrip surface to get
this photo, the VHT on the ground grabbed onto my Nikes as I walked, tearing
them off my feet completely… several times!
Since we're looking right at them in the photo
above, let's have a look at the wheel and tire specs: Work Meister S1 15x8J
custom made wheels, Toyo DRR1 Drag Slick tires 26X10.5X15x4,Rays aluminum wheel
nuts.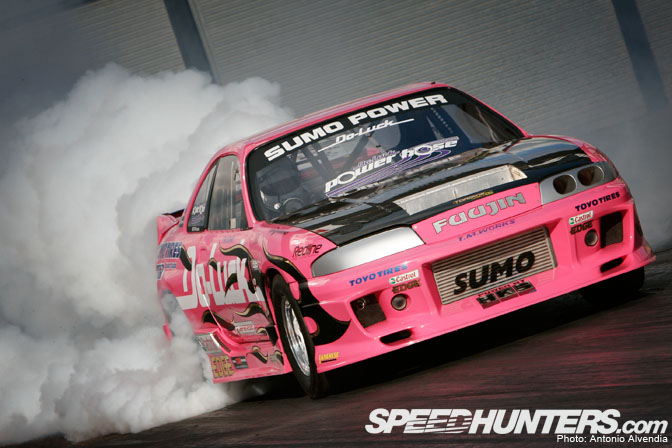 Now that's a burnout! I never imagined I'd see such displays of power coming from a pink car, but Andy and the Sumo Power crew definitely did a great job building the vehicle! Before we get into the engine specs, let's talk about some of the aero work first – one of the title sponsors of the car is obviously Do-Luck, the Japanese aero kit manufacturer.
Here's what went into the making of this car, all from: Do-Luck: R33 Skyline front bumper, rear bumper, side skirts, carbon bonnet (hood) race
version, rear bootlid (trunk), rear wing &
stays.
It also has some additional parts from other companies to complete the look -Tomei headlamp airvent,Brett Castle carbon race
doors, Aerocatch bonnet pins,Nismo front and side
indicators, Hauser intercooler duct, Tomei Lexan windows
throughout, Petrol flap removed, External battery port, Deist parachute, and last but not least, Sumo Power's own custom pink paint
& decals. They just love pink cars over there!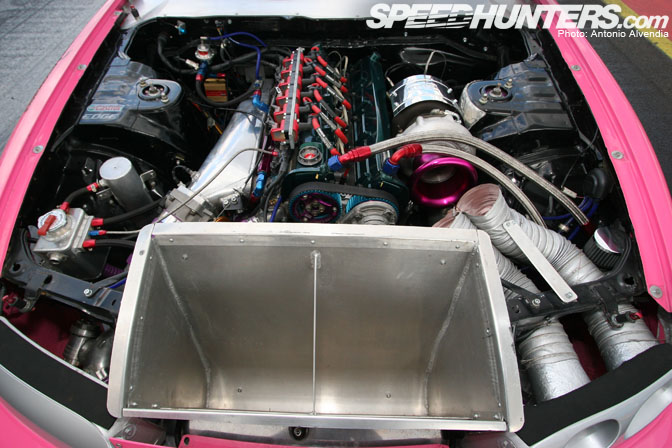 Now let's have a look at the engine. No, that's not a big dump truck shovel in the front; it's an air duct that makes sure the hot air from the R33's radiator escapes rapidly out the drop vented hood. The signature purple anodized HKS air funnel on the turbo actually complements the pink paint pretty well. I was pretty impressed looking at the engine bay of this R33! Apparently our friends at Sumo Power know what they're talking about! This car is very well done!
Engine
Specs:
HKS
Hi-Deck Racing Block, HKS
forged pistons, HKS
billet conrods, HKS
billet crankshaft, HKS
drag Camshafts (undisc), HKS
drag headgasket (undisc), HKS
valve/head system, HKS
main and rod bearings, HKS
head bolts, HKS
machined cylinder head, HKS
oil pump, HKS
1000cc fuel injectors, HKS
billet fuel rail, HKS
plenum gasket, HKS
exhaust gaskets, HKS
T51R SPL BB single turbo, HKS
exhaust manifold, HKS
racing wastegate, HKS
racing blow off valve, HKS
intercooler piping kit, HKS
GT type intercooler, HKS
cam pulleys, HKS
Kevlar timing belt ( Hi-Deck version), HKS
twin power ignition amplifier, HKS
billet oil cap, HKS
racing turbo suction, funnel, Do-Luck
ignition system, Hyper
Direct Coils, JUN
intake gaskets, JUN
inlet plenum, Naprec
100mm throttle body, Nismo
waterpump, Nismo
water thermostat, Pitwork
oil filter, Trust
large capacity oil pan, Sard
fuel pressure regulator, Earls
fuel lines & fittings, ATI
crank damper and pulleys, Modified
camshaft covers, Hauser
racing radiator & pipework, Hauser
racing swirl tank and header pots, Hauser
breather catch tank & filter, Hauser
side exit exhaust system, Pacet
electric water fans (2x), Aeromotive
2000bhp fuel pump & filters, Racing
fuel cell, Castrol
EDGE 10-40 engine oil, Castrol
engine coolant
Drivetrain
Specs
HKS
5 speed airshifted gearbox/HKS H pattern 6 speed dog gearbox (backup), Sumo
heavily modified 4WD transfer case, HKS
drag driveshafts front and rear, HKS
triple plate clutch & flywheel, HKS
Hipermax Drag suspension & custom spring rates, Cusco 1.5way
LSD front diff, Cusco 2way LSD
rear diff, CTG
Torqline carbon propshaft, Wilwood
lightweight 4 pot brakes (x4), Sumo
heavily modified front subframe, Sumo
front anti-rollbar (undisc), JUN
rear drag subframe, Do-Luck
rear diff mounts, Do-Luck
suspension bushes, Do-Luck
subframe locking kit, Nismo
subframe bushes, Cusco
anti-hicas lock kit, Cusco camber
adjusters, Cusco traction
rods, Ikeya
Formula front traction rods, Trust
front diff extension plate, Hauser
main propshaft safety loop, Hauser
welded engine mounts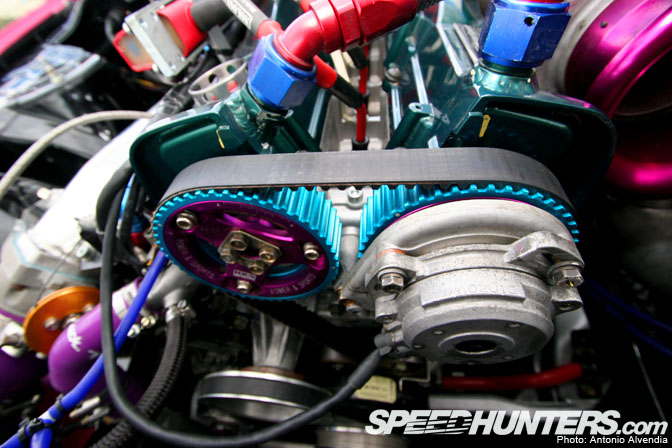 Just take a look at how clean the camgears and plumbing fittings are – the guys at Sumo Power know how to take care of their car!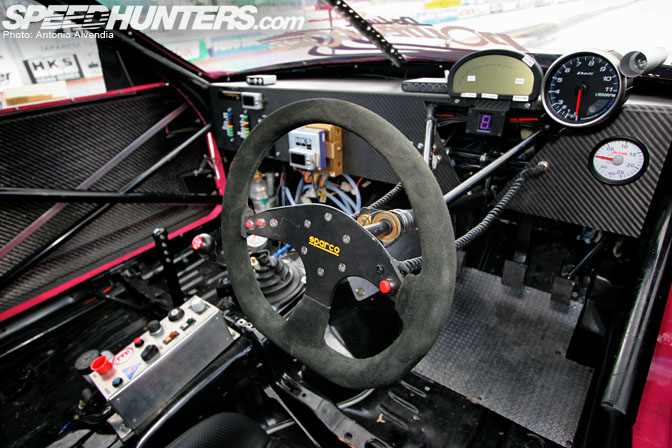 Inside, the cockpit is all business. No plastic interior trim, no leather seats, no touchscreen DVD players. This cockpit has been designed to be all function, but I happen to think it looks pretty cool too. Here's a rundown of the interior specs:
AAR racing
seat FIA approved, Teamtech
6 point racing harness FIA approved, Hauser
racing multipoint weld-in cage ( 7.5sec spec FIA), Sumo
carbon fibre dash, Lifeline
fire extinguisher system, Do-Luck
Boost gauge, Cartek
electronic battery isolator, HKS
shift knob, HKS
FCon V Pro 3.2 ECU & loom, HKS
EVC5 boost controller, HKS
airshifter control box, HKS
airshifter solenoid bank, HKS
airshifter gas bottle & regulator, HKS
mixture controller, HKS
trigger button, Hauser
control switch panel, Varley
Redtop battery, Custom
wiring loom/electrical system, Custom
4WD system, Linelock, Wilwood
pedals ( brake & clutch ), Hauser
throttle pedal, Lambretta
throttle cable, Sparco
Steering wheel, Sparco
quick release steering boss, Deist
parachute lever, Hauser
Aero window catches, OMP
window net, AutoMeter
4WD gauge
Datalogging
Equipment
Motec
ADL Dash, Following
motec sensors:, Engine
Oil Temp, Engine
Oil Pressure, Engine
Water Temp, Intercooler
IN temp, Intercooler
OUT temp, Inlet
plenum temp, Exhaust
gas temp,AFR/Lambda, Throttle
position, Clutch
position, 4WD
pressure, Front
left wheel speed, Front
right wheel speed, Rear
left wheel speed, Rear
right wheel speed. Steering
position, 3D
G sensor, Front
left suspension travel, Front
right suspension travel, Rear
left suspension travel, Rear
right suspension travel, RPM
signal, Boost
pressure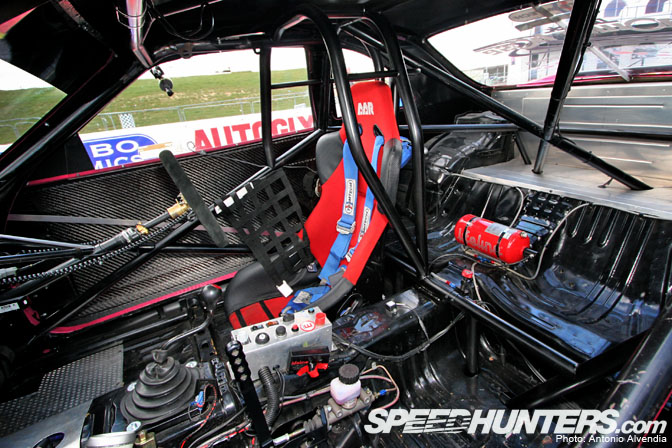 Look at the carbon fiber doors, and the pushed back seat, modified shifter and elongated steering column – the Sumo Power R33 has been modified to push the driver's weight back towards the rear axles of the vehicle for better weight transfer characteristics during its hard drag launches! This thing looks crazy!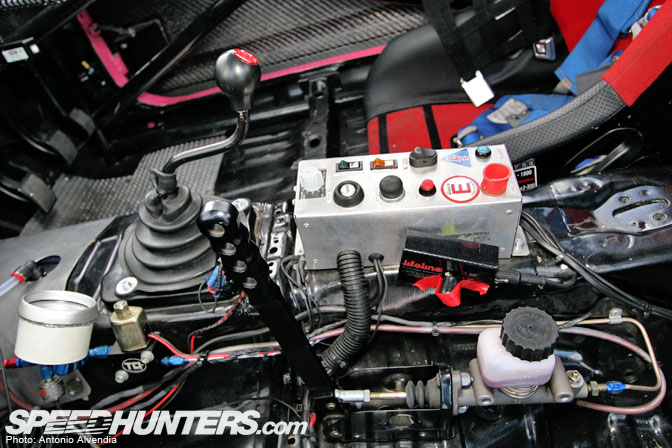 Also spot the hydraulic lever, mounted to the left of the transmission tunnel – but it isn't an emergency brake for drifting! Andy uses this to control the ratio of power going to the front and rear wheels. The gauge on the left side is used to show how much pressure/power bias is being used… Andy says that this is the secret to drag racing an AWD GTR! I tried to ask him how much psi he builds up with the hydraulic lever before launch, and he laughed, and said something smart like "wouldn't you like to know, mate?" Haha, I just dropped the subject… honestly, it wouldn't even benefit me to know how much psi he launches at, because it's not like I have an 8 second drag GTR to use that knowledge with anyway!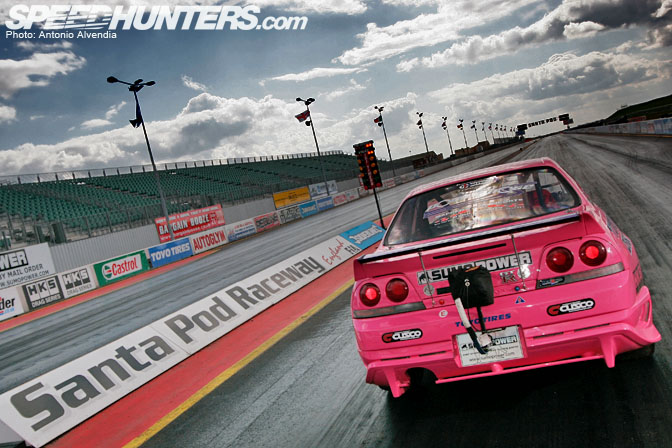 Here's the rear of the Sumo Power GTR as it deep stages at Santa Pod, preparing to blast down the dragstrip for the Speedhunters cameras! Even standing still, it looks fast!
-Antonio Alvendia