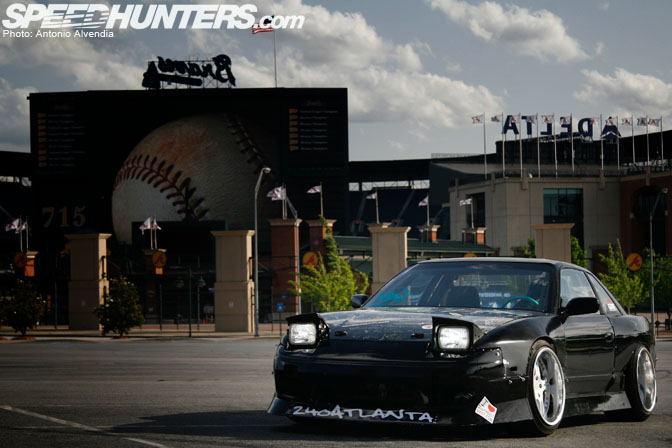 On my last trip to Atlanta, in between visits to get "down south barbecue" at Daddy D'z and getting turnip greens stewed with bacon at Cracker Barrel… I met up with my friends from S3 Magazine, who introduced me to Marcos Ruiz, the owner of this S13. Marcos runs a website called Southeast Drift ( www.southeastdrift.com ), which promotes drifting in  southeastern states, like Georgia, North Carolina, South Carolina, and Tennessee. In fact, they ran 15 events in 2008, which is quite a feat for a grassroots drifting event promoter!
Anyway, it's incredibly hard not to notice the wide body stance on Marcos's S13, especially with the B-Magic 30mm front fenders and 50mm rear fenders that he got from AIT in Southern California.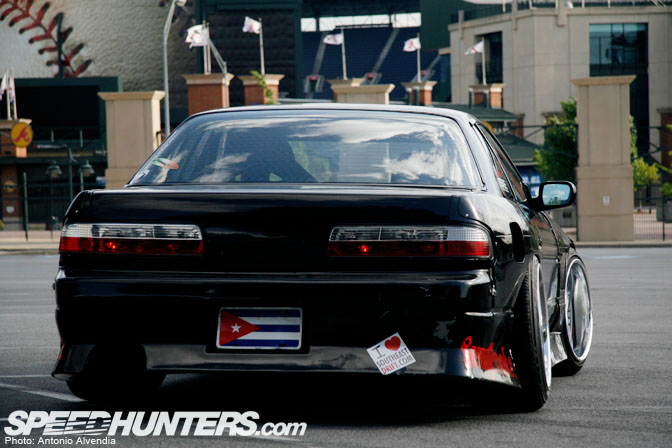 If you're like me, then you're probably wondering about the specs on the super wide wheels, so let's address that right now: Weds Kranze 3pc aluminum 18x12J (-5 offset) with 265/35/18 stretched tires and 18×10.5J (+0 offset) with 235/40/18 tires stretched over them. When I asked Marcos what brand of tires he runs, he responded, "hmmm… Federal, Falken, Kumho, Yokohama… actually, anything I can get for free."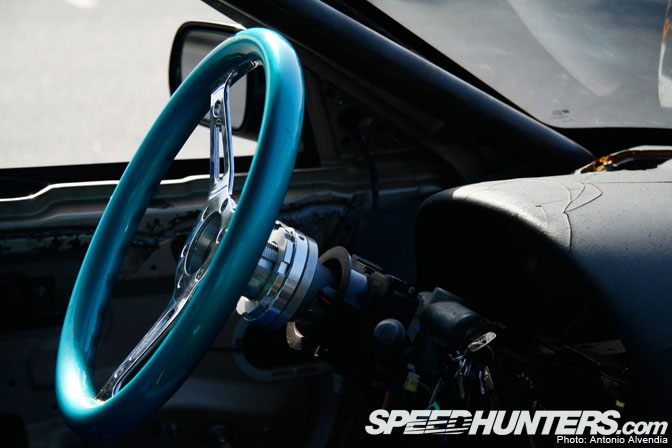 To be very honest with you, the interior of this S13 coupe has seen better days, but come on – it's a grassroots drift car. It's very realistic. Marcos's S13 runs without doorpanels, and has a cracked dash, but at least he has the necessary safety equipment, like Sparco bucket seat, harnesses, and this super cool Sparco hub spacer that looks like a coilover sleeve, which is attached to a Mooneyes steering wheel.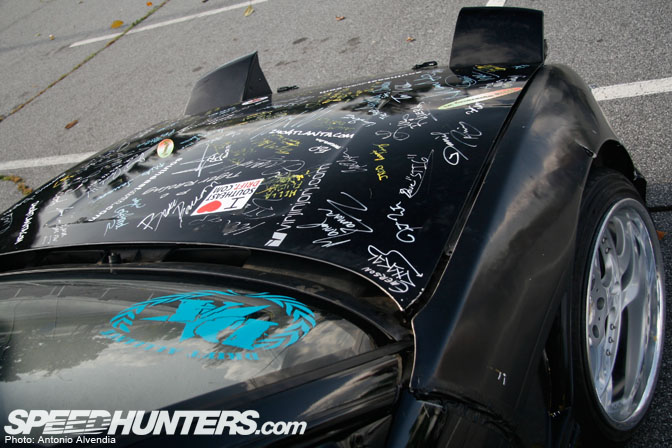 The hood on this car is certainly interesting – Marcos had all his friends sign his hood. I think it looks cool! I wouldn't normally think to do this on a hood – maybe something a bit more discreet, like the trunk lid… but I suppose with the montstrous engine under the hood, the huge Weds wheels, and the wide body aero, nothing about this car is discreet.
In case you were wondering about the suspension, this car usesCusco coilovers, JIC S14 tie rods and tie rod ends, steering spacer, S14 lower control arms, JIC TC rods, Moog bushings, 5-lug swap, Z32 brake calipers, and Suspension Techniques sway bars.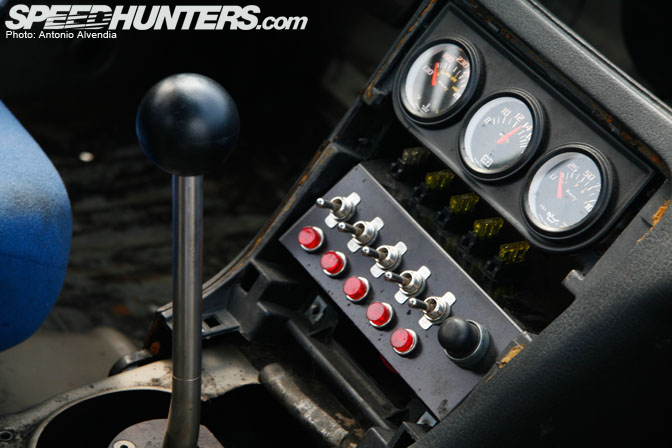 Inside the cockpit is a 6 speed transmission, which looks so rough as it sticks out of the transmission tunnel… along with a gauge panel and switch panel for fuel, HIDs, separate brake lights, fans, and a cutoff switch. It's not the prettiest thing I've ever seen, but I suppose it works.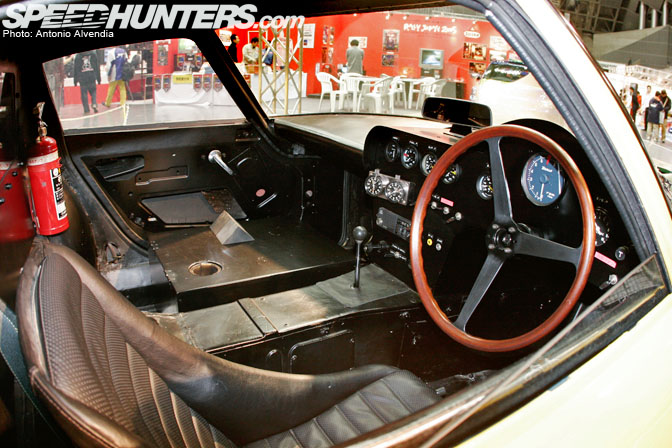 Now here's the big source of power and controversy –  this S13 has an LS1 engine swap underneath the hood. To be honest, most people who know me realize that I'm a bit of a purist when it comes to cars and engine swaps, and I'm not the hugest fan of putting a big American V8 in a Japanese car. However, I felt the need to show this car because people do it, it's just a fact here in the USA that people like the aluminum V8 swaps. They're high on horsepower, high on torque, and easier to drive. No wonder big V8s are getting so popular in drifting these days. This particular LS1 swap uses custom headers (3pc design on driver side, and 2pc on passenger side), custom intake piping, custom tunedand  ECU, 3 inch exhaust, which leads to power output of 368 horsepower, with 372 ft/lbs of torque. Oh yeah, and don't forget the big aluminum radiator for cooling, along with an Apex'i radiator cap.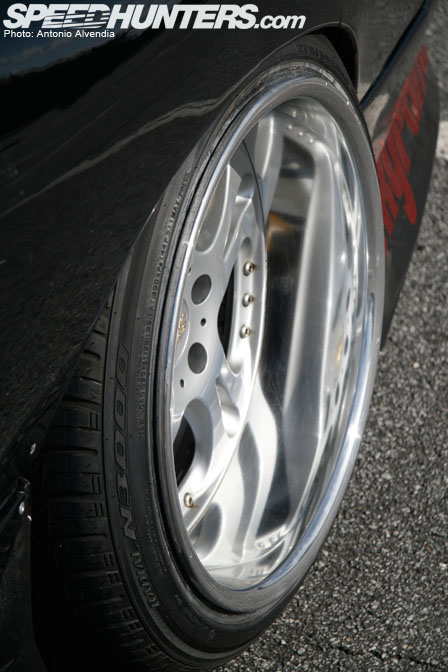 One last shot of the wheels, which I think are the number one feature that attracted me to this car. Just goes to show, stretch and offset is everything.
Big thanks to my friend Cody Wellons from S3 Magazine for introducing me to Marcos, and for letting me do the shoot with his Canon 30D!!! While shooting Formula D Atlanta this year, my Canon SLR broke from too much use… the shutter collapsed because, apparently, I took too many photos with it. LOL.
Support drifting in the Southeast! Respect to Southeast Drift!
-Antonio Alvendia