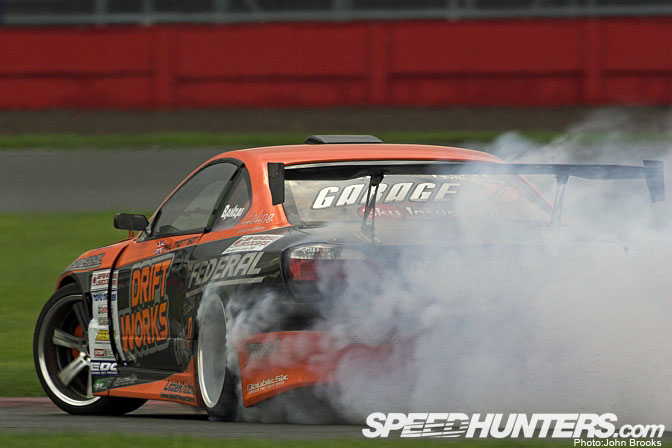 They say that racing improves the breed, they also say that win on Sunday, sell on Monday. Both are clichés but contain more than a grain of truth. And that truth provides the motivation for the Driftworks Company to showcase the products available at their on line store. Of course having a bit of fun along the way also plays a part too, as Phil Morrison admitted to me. Driftworks was set up nearly 5 years ago and provides a top quality parts services to all levels of the drifting community.
Phil, with his fellow director, James Robinson and their sales man, Ben Broke-Smith (aka BonBon) are a substantial presence in the drifting scene in Europe and have been since the sport first took root this side of the Atlantic. They started back in 2004 with their famous Driftworks S14 SX200 winning on a regular basis. Coming into 2008 they fancied a challenge so a new car was called for.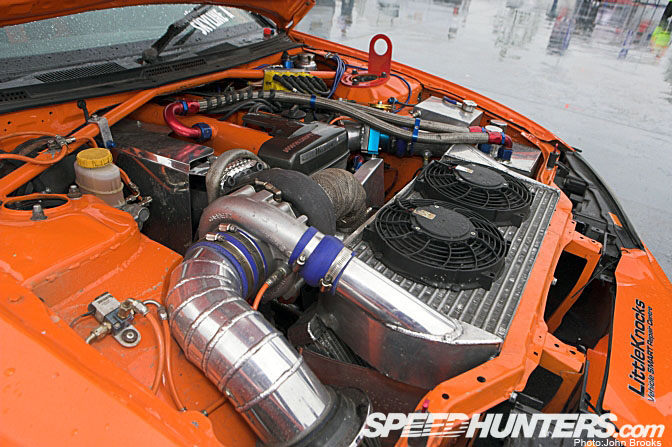 The weapon of choice was a S15 Silvia, naturally it was never going to be a standard car or as Phil puts it "18 months ago we received an immaculate S15 Silvia Spec R from japaneseusedcars.com. It was a nice, pretty much standard car, but what we had in mind for it was a little extreme."
The envelope was there to be pushed, so more grunt, better reliability and more safety features were the jumping off point. The engine would, as ever, be at the heart of the project. To get the native component to acceptable power levels would require some heavy outlay of cash and risk reliability, so thinking outside the box they looked at another solution.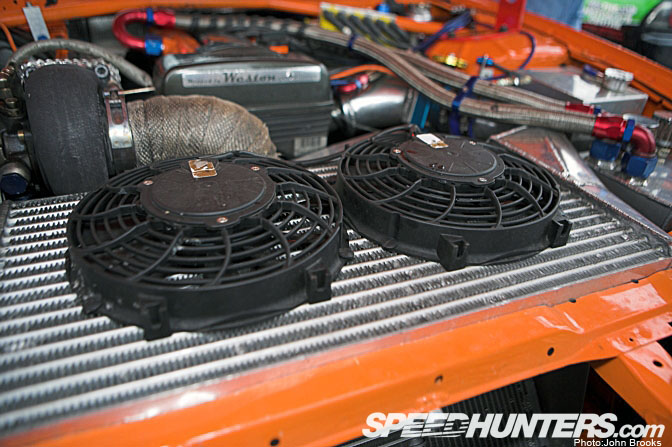 They kept coming back to one option, which was to use a 3.0 Toyota Supra 2JZGTE engine and 6 speed box but this brought a new set of issues to deal with. How would the balance of the chassis cope with the extra weight, would the gain in power be offset by the decline in handling quality?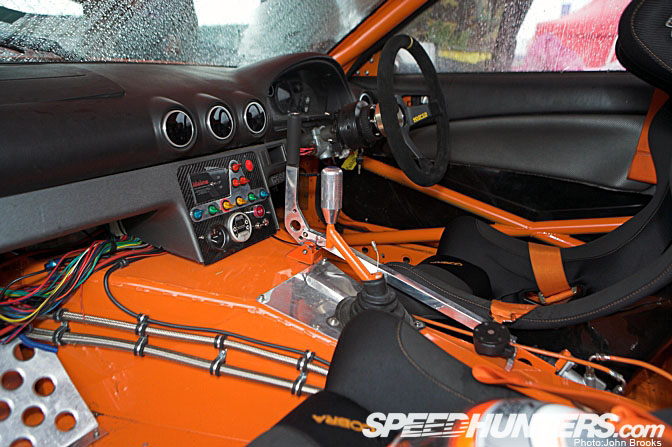 After kicking the concept around a possible solution was arrived at, Move the engine back about a foot through the bulkhead, sounds simple when you say it but in reality it is a major job. Phil had one supplier in mind for this delicate task, Julian Smith of Garage D. 
The process was a lengthy one as Phil explains "So I completely stripped the shell, and commuted to Garage D at Watford, where I watched some very scary things happen to the shell. Removal of an extremely large section of bulkhead, transmission tunnel, and floor was first. Then a dummy engine and gearbox was positioned, and the engine and transmission mounts fabricated."
"At this stage it was still pretty much looking like a previously immaculate shell with a gaping hole in. Then the work on the transmission tunnel and firewall started, and you could really start to see how special this build was going to be."
"Julian welded day and night, and after completing the tunnel and firewall work, stitched the car front to back, fabricated the roll cage, rear arches, tubbed the front arches and made some weight saving. By the time it was complete he'd used around 5 miles of welding wire and looked about 10 years older."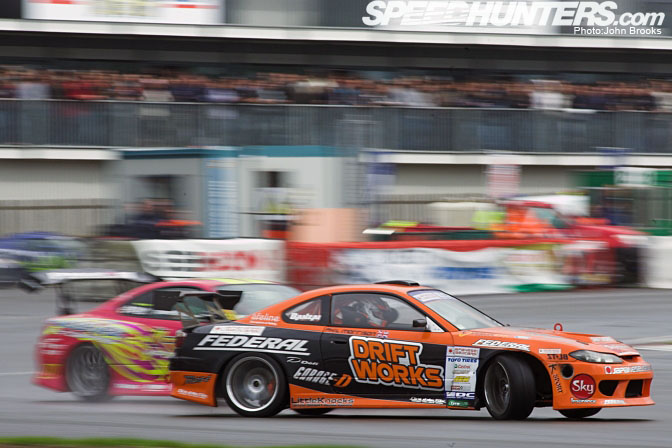 Next on the agenda was bodywork and as Driftworks are UK distributors for Vertex Bodykits, it was a no brainer to utilise a widebody kit on the S15. Add a carbonfibre bonnet modified to accommodate the intercooler set up, seam seal to keep out the worst of the smoke and things were ready for the painters. LittleKnocks did a superb job in executing the distinctive paint design but this raised the bar for the remainder of the work to have to be to show car levels.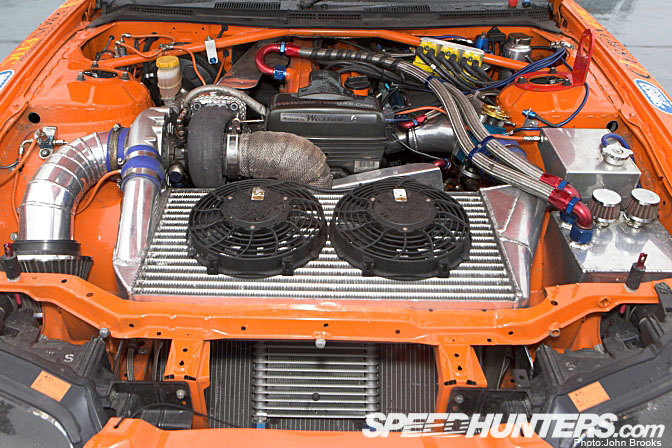 Then came the job of fitting the engine to the smart reworked chassis. Why a Toyota instead of a Nissan I asked? 
"The simple answer is that we feel it to be a better engine. We'd blown 4 RB25DET engines in our Driftworks R32 in 2007, so we were looking for some reliability without having to go for a fully built engine. Capacity counts for a hell of a lot in reliability, so starting with 3.0 was a good base. We'd also had experience of JZ engine in our Toyota Chasers, Aristo, and Soarer, and really had faith in the power they seemed to be able to handle in standard form." 
Of course there were problems at first largely relating to debris in a valve seat, an ECU that had a mind of its own and the need for a replacement crank.
However Phil and the crew persisted and the project became more and more special.
"As the engine was pushed back through the bulkhead by 32cm, the custom twin scroll manifold (built by Garage-D) mounted the turbo in front of the engine. With the downpipe exiting past the engine and out of the passenger side of the front bumper. The screamer pipe for the 48mm Turbosmart Wastegate exits on the drivers side."
"The turbo chosen from Owen Developments is a Garret GT4088r with the 1.06 twin scroll housing."
"The fuel system was somewhat involved, and as apparently it always does, ended up being 3 times as expensive as you think it will be once you've bought all the fittings. The fuel pumps are Aeromotive and handle 1000bhp, the lines are -10 and -8 return, and the FPR is an -8 Turbosmart. It uses 6 x HKS 1000cc injectors in a KU fuel rail. We made the 3litre swirl pot."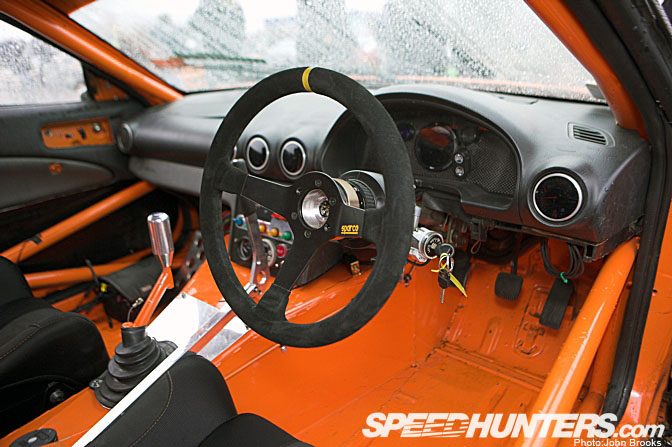 Of course all that power has to get the road so the choice of transmission system was another hurdle to be overcome.
"We had chosen to go with the V160 Getrag built 6 speed Supra gearbox. We knew we were going to be pushing some pretty serious power, and because it's always nice to have a little bit in reserve we decided to go for the absolute best clutch that money can buy, It's a Carbonetics triple plate kit specifically for the 6 speed Supra." 
 "The kit is about as comprehensive as it gets including a pull to push conversion using OEM Toyota parts alongside their custom brackets. The gear level linkage needed modifying as it was around 35cm further back than it should have been. After I'd shortened the linkage I had to dogleg the actual lever slightly to bring it forward that final amount. You never know how a modification like this will actually feel when you get to drive it, but as it happens the gear change has worked out to be absolutely perfect."
 "The LSD is a Carbonetics carbon 2-way R33GTR differential. This allows us to use the much stronger R33GTR output shafts, drive shafts and carriers, hopefully shirking off that common problem of driveshaft failure on high powered rear wheel drive Nissans.
 "The propshaft is a custom 1000bhp capable shaft built for us by Dave Mack Propshafts in Coventry."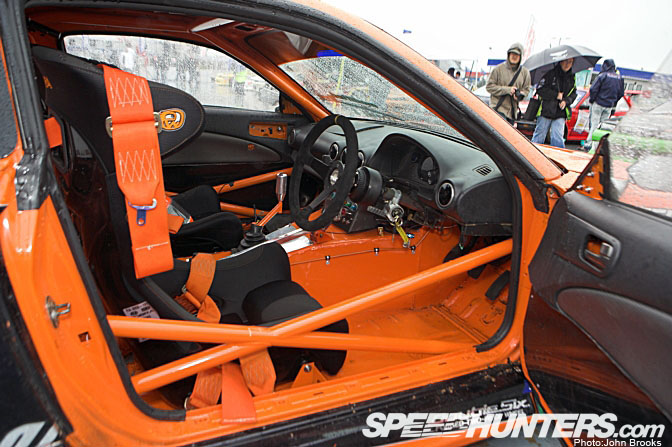 Suspension, wheels and brakes were the next item on the shopping list, which as Phil was discovering was getting ever longer and more expensive.
Although details of the exact suspension set up remain confidential Phil did make this comment.
"The Driftworks Control System Coilovers are at the heart of the suspension system. These combined with the Driftworks Four Arm kit comprising of Camber, Toe, Traction and Tension Rods, and the Driftworks front and rear lower arm set complete the bolt on part of the suspension."
"We decided to go for the lovely Do-luck double six wheels in chrome with custom offsets, they are 18×9.5" ET -10 front and 18×10.5 ET 0 rears.
The tyres are of course the absolute ultimate drift tyre: The Federal 595RSR. These are the tyres that took us to our 1st place victory in 2006, and will see us there again this year with a little luck."
"We'd been very happy with the R34GTR Bremo set up we'd used on the S14, so we bought another used set, and reconditioned them in Driftworks Orange. The custom engraved brake discs and pads were supplied by Red Dot Racing."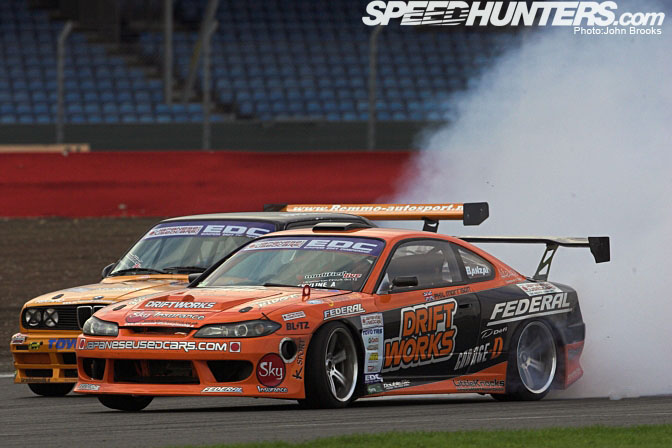 The interior is in the bold orange and back to basics as the drive to keep the weight down extends inside as well as out.
"It's a full on track car, so there was no need for creature comforts. Everything in there is purposeful and in it's right place. For the electric side of things, the gauges are Defi Link boost, water temp, oil temp and oil pressure, the boost controller is a Turbosmart Eboost2."
"The switches are all custom, the ECU is VEMS, the Battery cut off is Cartec."
"The safety part is provided in the form of Cobra/Driftworks FIA Sebring Pro seats. Driftworks 4 point harnesses, and the fire safety system is provided by Lifeline. It's a fully electronic discharge 360Zero system using 6 nozzles."
Phil continues, "There is more custom work in this car than I could have ever anticipated. I couldn't go into detail as we'd be here all day, but my fabrication skills are 50 times what they were before we started this build."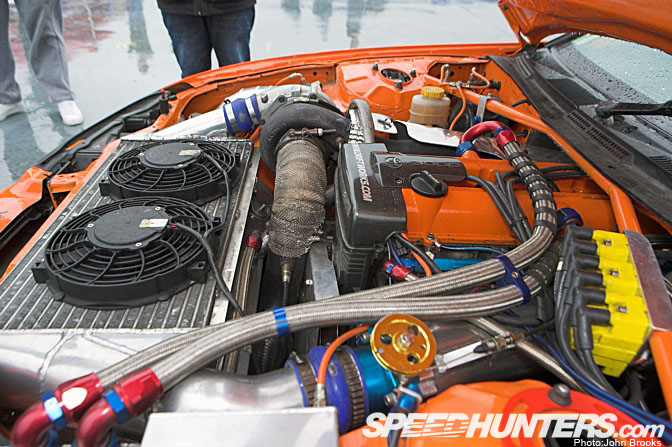 "Things like rocker cover breathers, catch tanks, radiator, intercooler, powersteering, water lines bulkheads, boot floors, turbo feeds, ducting, and all the brackets sound like relatively simple and quick jobs to some people, but with so many of them it adds up to months of work."
 "I suppose one day I might actually write a spec list, but then again, that might actually make me realise the total cost of this build, both in terms of money and time, and that could get a little depressing."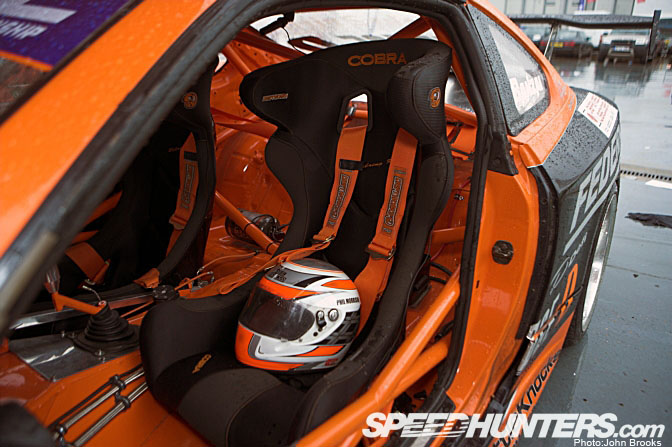 The culmination of all the work came back in May this year when Phil and the S15 hit the asphalt at Silverstone for Round 3 of the European Drift Championship. No shakedown, no test and Weston Performance mapping the engine at 2.00am that morning (568.9bho at 1.1 bar in case you asked) so no pressure then, no sense of stepping into the unknown.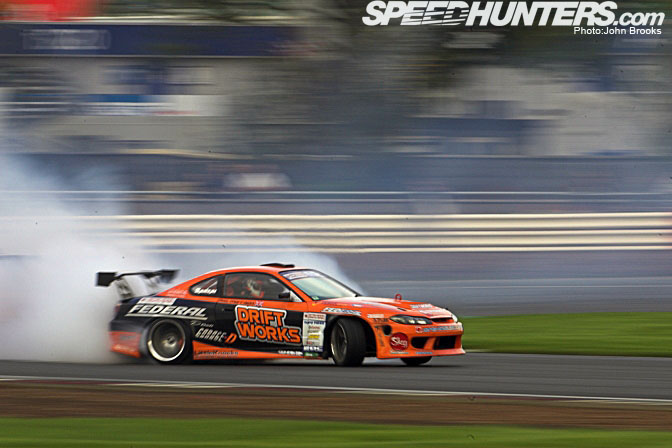 Phil tries to articulate his feelings.
"I pulled off for my first run with the fear of everything falling off, engines blowing, and things setting on fire."
"I pulled 1st gear, the wheels span, 2nd gear, the wheels span, 3rd gear and it seemed to misfire. Oh wait, that's not a misfire, it's the limiter. Okay, I initiated anyway, and suddenly I was sideways, time to get those wheels spinning, so a little clutch kick, and had the car on the limiter through the corner, through the transition from Brooklands to Luffield, and the run was over."
"I had a quick scan over the dials, and everything was in order. Then as I exited the view of the spectators I was quite glad to not have any recording equipment in the car for a change, as a cross between an American style 'Whoaa YEAAAH! and some wailing banshee type of scream came out of my mouth, as 18 months of trial and tribulation was washed over with the absolute ecstasy of having just actually driven it."
OK no fairy tale debut as Phil was drawn against 2006 D1GP Champion Kumakubo in the first qualifying runs and suffered a narrow defeat. 
"The first run saw him gain a 7/3 advantage, and the 2nd run I gained a 6/4 advantage meaning he beat me, but didn't completely kick my ass which is pretty cool."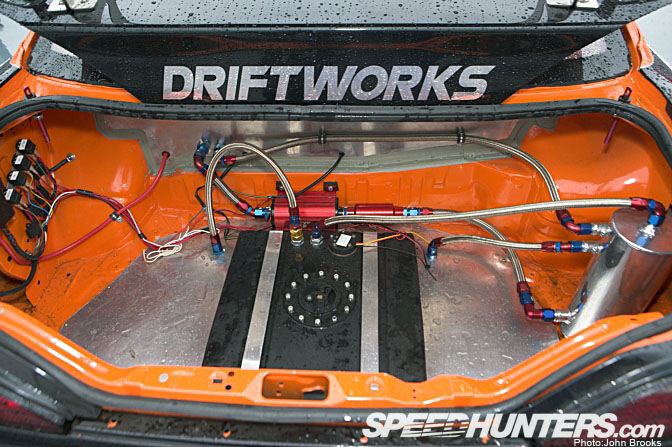 To those of you lucky enough to get to Long Beach this month for the World Drift Challenge you will get the chance to meet Phil who is acting as team manger to the effort behind the Team Driftworks entry for Ben Broke-Smith. 
 Say hello and you will find a friendly open guy who has a huge passion for the sport of Drifting.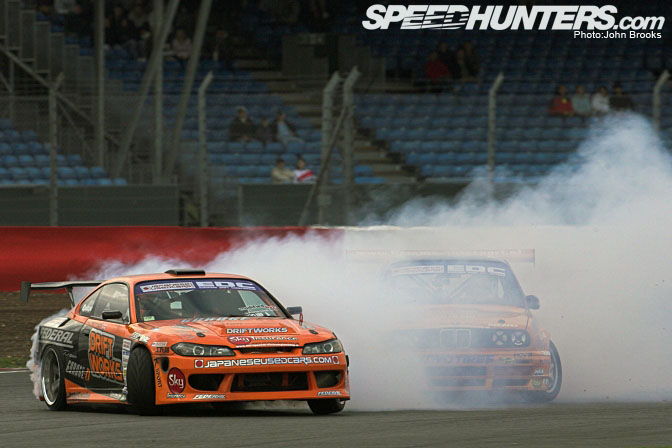 The final words from Phil…………….after his first run.
"So, where do we go from here? Basically the really hard work's done. I'm sure we'll still have teething issues, but the car performed flawlessly for two days, and every theory we had about weight distribution, cooling, power and suspension has been proven, and in fact surpassed our expectations 10 times over."
"All I want to do now is drive it as much as possible, and get as comfortable in it as I was in the old S14. I'm confident that it'll take no time at all to do that. So we'll see you at an event soon, and hopefully we'll get a podium or two before the seasons over…"
"I would like to thank everyone involved in building this car:
Obviously my good friend and Driftworks business partner James Robinson first and foremost.
My better half Melissa for being the understanding one that has to put up with my 16-hour working days.
My good friend CrazyAnt who has nearly put as many hours in on the car as I have.
All of my friends from the Driftworks community. There's been plenty of times when I've thought about jacking the build in, but the support and hope to see it running has really kept me going."
John Brooks, November 2008