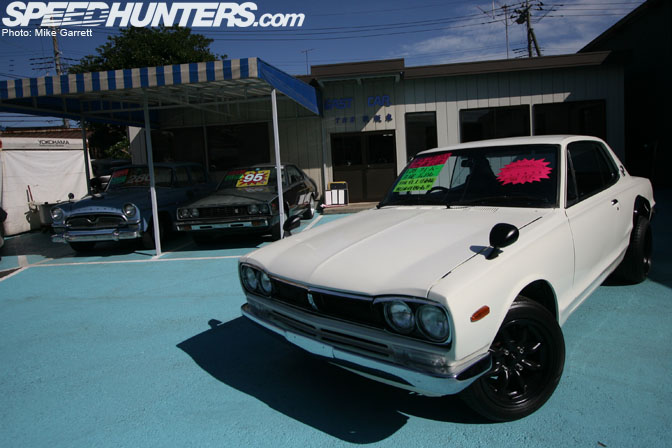 I was originally planning on running this story last month, but since old school Nissans play a pretty big role here, I figured I would save it until Nissan month. Earlier this fall, I took a trip down to Toride City here in Ibaraki Prefecture where I had made arrangements to visit a classic car dealer and restoration shop called East Car. Although I have seen plenty of cool vintage Nissans at events here in Japan, I was pretty excited to check out the facilities at East Car and get a deeper look at the world of Japanese classic cars. We were greeted by the manager Akihiko-san who kindly took some time from his day to show us around and talk a little bit about the shop and what they do.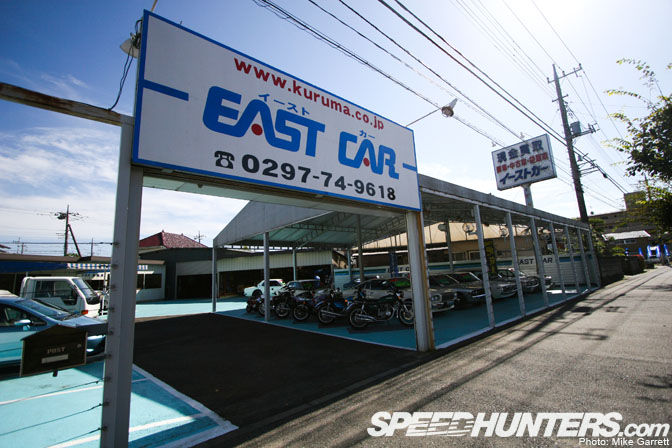 It's pretty cool when you are driving through the small town of Toride and see this dealer with a bunch of vintage cars sitting outside. The shop has been in business for over 20 years and is quite well known in Japan's "kyu-sha" community. Unlike some of the shops which specialize in race cars and tuned street cars, East Car focuses primarily on restoration and service to keep the old cars running like they did when new. You won't find any RB26-powered drag beasts here, and in fact Akihiko-san laughingly compared the acceleration of their project cars to kei trucks. So they might not be the fastest machines around, but there is always a place for original cars. Especially ones like early Skylines and Z's.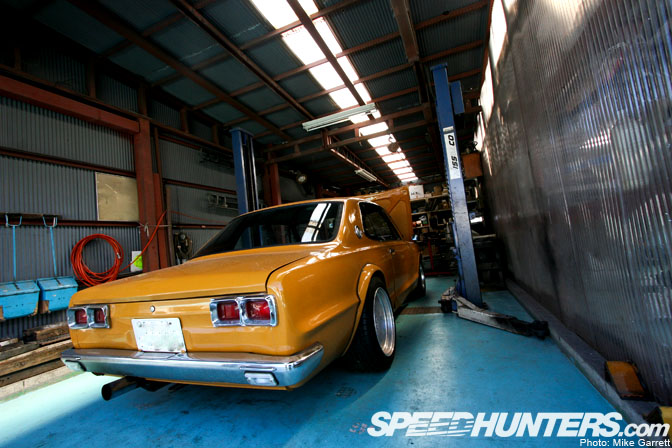 In addition to restoration and car sales, the shop also performs maintenance for classic car owners. They have complete facilities to prepare these cars for Japan's tough shaken inspections. I figured it probably takes a lot of work to get these old cars to pass the tests, but Akihiko-san told me that since the cars are not heavily modified, getting them to shaken-spec is not really as bad as it seems. Here we see a customer-owned Hakosuka Skyline undergoing some work in the bay.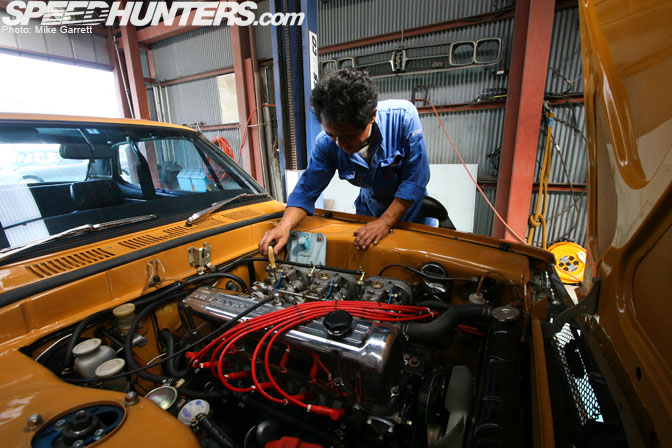 The shop's main mechanic is hard at work servicing the L28 engine that powers the Hakosuka.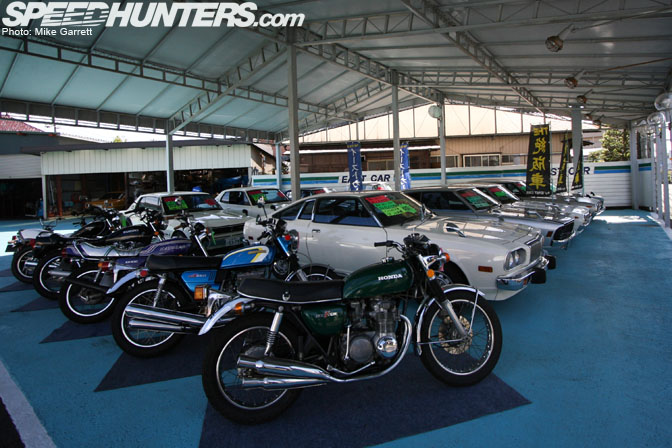 Besides all the nostalgic cars, East Car also sells and restores vintage Japanese motorcycles. As for the cars, they deal in all the domestic makes, but as expected the Nissan Skylines and Fairlady Z's are their specialty. After all, these early model Skylines and Z's are like the Mustangs and Corvettes of Japan. Most of East Car's customers are people who enjoyed the cars in their youth and looking to relive their glory days with a fully restored machine.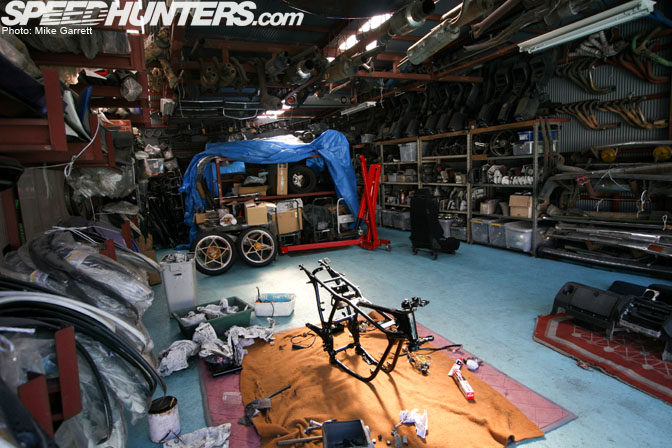 To aid in their restoration efforts, East Car keeps a HUGE supply of parts for use on their projects. Most of this stuff is impossible to find in reproduction form, so it very important to keep a big supply of original parts. I have never seen this many classic Japanese car parts in one place. In the center of the shop you can also see a motorcycle frame that is undergoing restoration. I found this stash of parts to be one of the most interesting features of the shop during the visit. I don't even want to guess the value of all this stuff…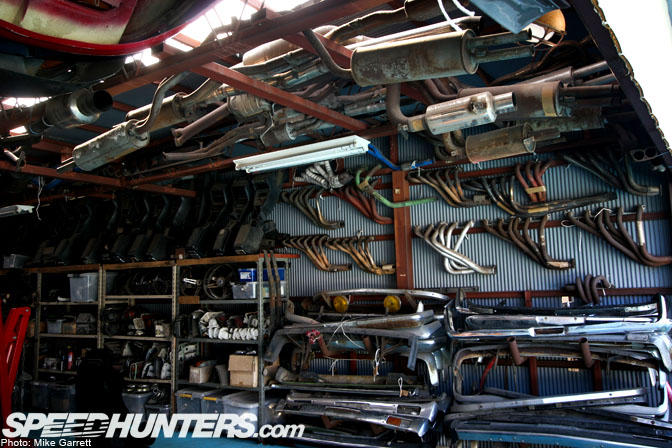 Here see bumpers and exhaust headers stacked up against the wall and a sea of complete exhaust systems hanging from the ceiling. I bet seeing this would make most Datsun and classic Nissan freaks water at the mouth. To me It almost felt more like a museum then a parts stash! The shop hunts for project cars from all over Japan and then restores them in-house using their vast supply of parts.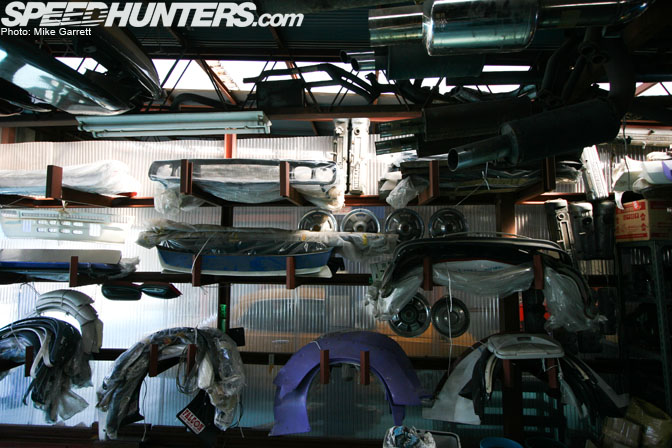 Here see some more of the parts collection including front grills, overfenders, and front spoilers…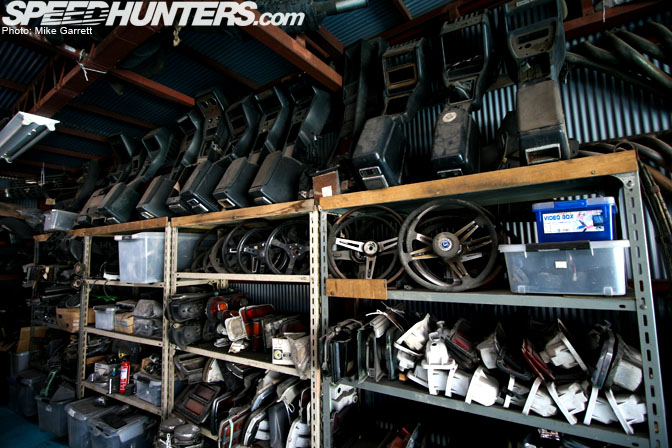 …and on the other side an entire shelf filled with taillights, steering wheels, and center consoles.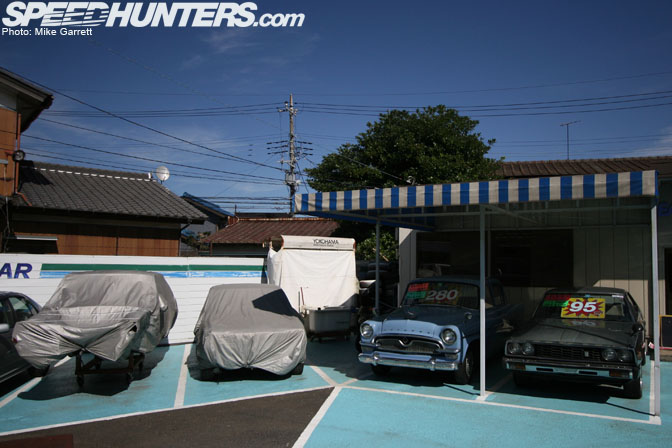 Back outside we have some more of their inventory. On the right there is an early Toyopet Crown and a newer C210 "Japan" Skyline, and on the left of pair of project cars awaiting their turn in the restoration shop.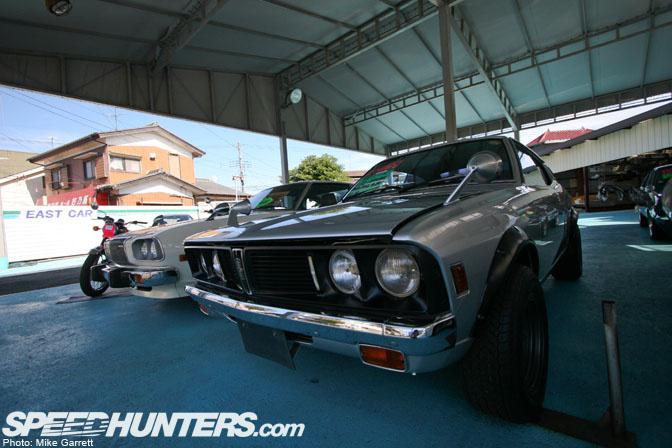 More fully restored cars including a Mazda Cosmo and a rare Mitsubishi Galant GTO. While they have all sorts of cars on the lot, the Nissans are the ones that are restored in-house.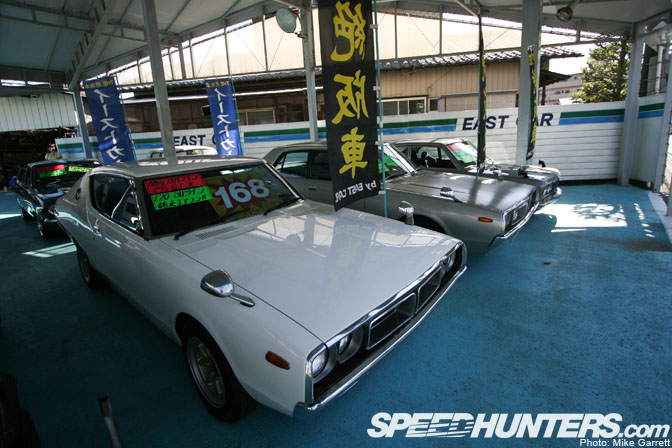 And speaking of Nissans, a pair of 110 Ken & Mary Skylines are seen here awaiting their buyer on the lot.
Next time I will look in more detail at a Hakosuka Skyline that was restored by East Car. Not only is it a really cool car, but it shows a lot about the process of restoring these cars.
-Mike Garrett