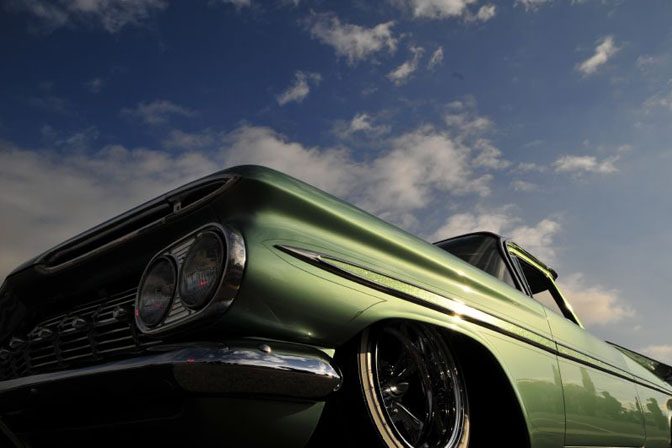 Right now I am here sitting in my Japanese apartment about 5,000 miles away from Los Angeles, there are GT-R's and fixed up Chasers cruising around outside, but I am inside thinking about SoCal. I'm not sure if it's a case of being homesick, as I hail not hail from SoCal itself, but from Fresno which is a couple hours to the north. Nonetheless, my parents grew up there and through my numerous trips there, I have seen plenty of the the car-crazed place that is Southern California. The brains of American auto culture may be in Detroit, but the heart of it has to be in LA. I mean, where else can you go to a jam-packed cruise event on a random weeknight in the middle of the winter? We'll be looking at many parts of SoCal automotive life during the next month, and first I'd like to start out with a basic look at SoCal's significance to motoring over the years.
To be perfectly honest, the state of California has never been an car enthusiast-friendly place with its mega strict smog laws, high theft rates, and aggressive law enforcement, but none of that stuff has really seemed to put a damper on the spirits of car-crazed Southern Californians. I'd say that the weekly Cars & Coffee events held in Irvine are a perfect symbol of all that is SoCal automotive culture and its diverse mix of people and cars. No matter what kind of automotive style you might identify with, chances are SoCal has played a large role in its development.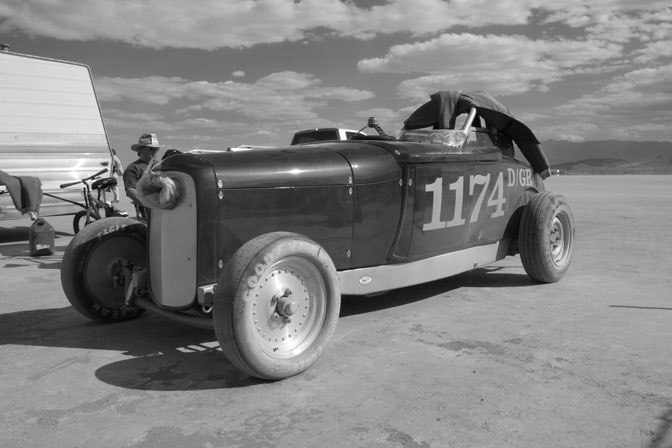 Hot Rods are one of the most original forms of the intimate relationship between man and car, and SoCal is where you will find the roots of hot rodding. In the days before and after World War II, young men would run their homebuilt creations flat out on the local dry lake beds like El Mirage. The events were sanctioned by the Southern California Timing Association, an organization that still hosts speed trial events to this day. In fact, the photo above was taken at an SCTA event at El Mirage just last year. I found it on COOP66's Flickr gallery, which also has a ton of other cool pics from El Mirage. In addition to the SCTA, Wally Parks formed the National Hot Rod Association in 1951 as the first drag racing sanctioning body in the world with the aim of injecting safety and legitimacy into the chaotic world of early street racing and hot rodding.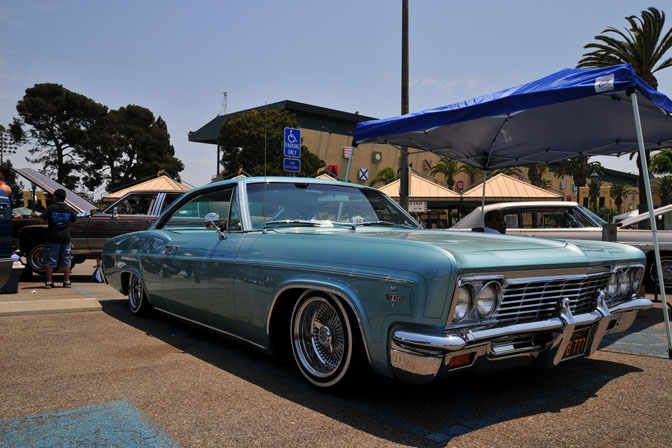 While the original hot rodders were all about building stripped down land rockets, in areas like East Los Angeles Latino youth were converting to their cars into low and slow creations built not for speed, but for cruising and looking cool. Lowriders have gone on to become some of the most iconic custom vehicles ever and they can now be seen with a strong following in countries all over the world, with a particularly big fan base here in Japan.
On the same token, as hot rodders moved on to larger, more practical cars such as lead slead Mercurys, the kustom movement began and SoCal-based builders like George Barris would become pioneers in the scene. The other hot rodding and kustom car icons like Dean Moon and Ed "Big Daddy" Roth also have roots in Southern California. Mooneyes in particular has gone on to become one of the most well respected hot rodding brands around the world.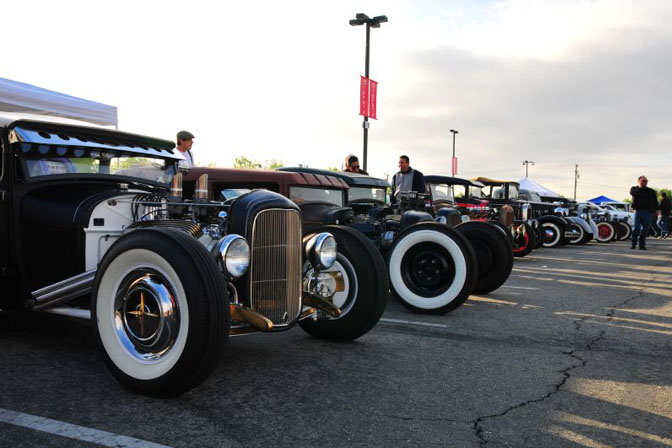 Nowadays, the rod and kustom scene is SoCal is still thriving and nearly all of the original players live on in some form or another. Jae Bueno took this photo at last year's Mooneyes Xmas gathering in Irwindale and it shows the traditonal tastes still shared by a lot SoCal's rodders. Jae is very involved in the SoCal custom and lowrider scenes and thanks to him I was able to source a number of the photos used in this post. Make sure you check out his photo blog, http://jaebueno.wordpress.com/ .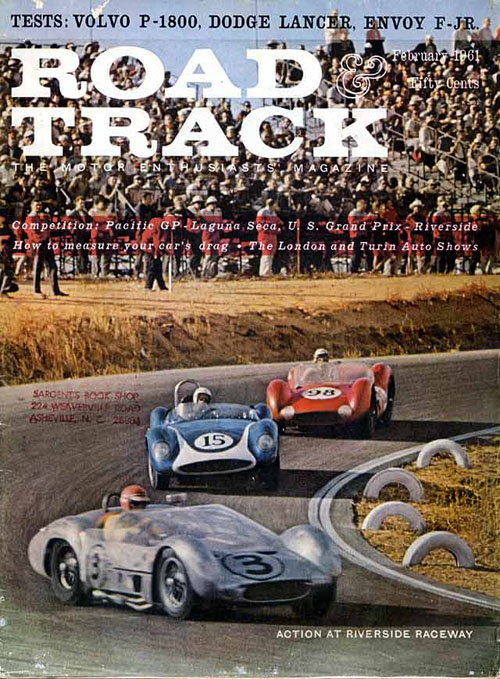 Southern California also has plenty of history when it comes to sports cars and "traditonal" motorsport. Riverside International Raceway opened in the 1950's and was a very popular spot during the glory days of California sports car racing as seen on this Road & Track cover from 1961. Legendary racer and Riverside local Dan Gurney made a name for himself running at the famous track. Before RIR closed closed in the late '80s, a number of historic races were held there including the 1960 Formula One US Grand Prix, SCCA Trans Am races, numerous IMSA  events, and a lot of NASCAR road course events. Sadly, the site of the old track is now occupied by a shopping mall, but with Autoclub Speedway (formerly California Speedway), there is still a world class racing facility located in the greater LA area.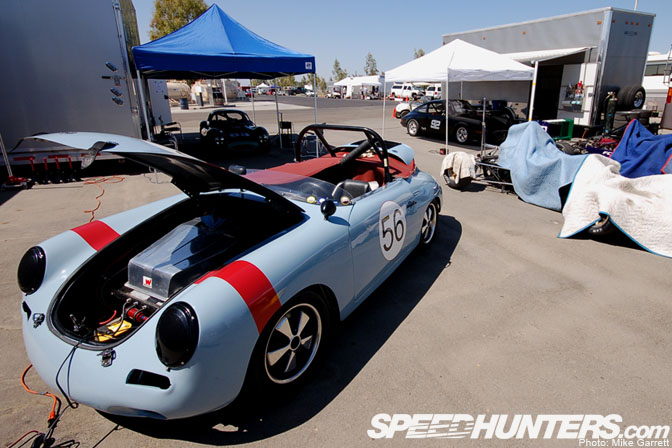 Sports car racing and open track events are still huge in Southern California, and on any given weekend there will be plenty of events going on at SoCal area race tracks like Autoclub Speedway, Willow Springs, and Buttonwillow. Of course not only do SoCal car enthusiasts have a large number of racing circuits and scenic roads to drive on, but they can also enjoy what is probably the most car-friendly weather in the United States. All year round, the weather is pleasant and there is no "off season" for auto events.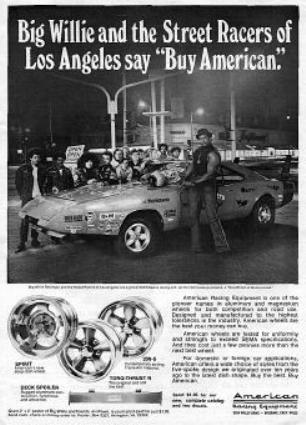 SoCal also has a long history of illegal street racing dating all the way back to the post-war years. One of the most influential groups in the history of SoCal street racing is "Big Willie and the Street Racers of Los Angeles", a group who hosted gigantic street race gatherings in LA during the turbulent period of the late '60s and early '70s. Big Willie and the LA Street Racers appear in the opening scene of the classic film Two Lane Blacktop where the two street racers in their '55 Chevy begin their trip across the USA. Big Willie would become a community leader in LA and was responsible for the development of the now-closed Brotherhood Raceway on Terminal Island in Los Angeles Harbor. There are some great historical photos and more info about Big Willie and Brotherhood Raceway on this Flickr page.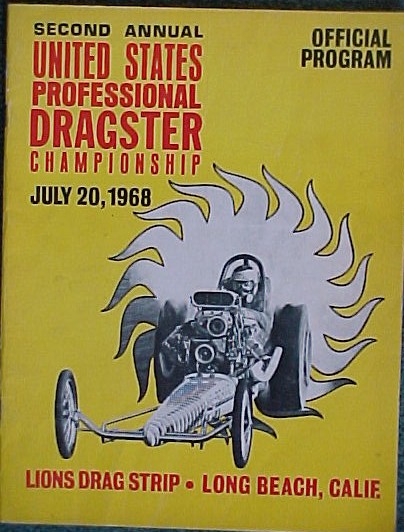 In drag racing's glory days of the '60s and '70s, Southern California was full of dragstrips like Lions in Long Beach, Orange County International Raceway in Irvine, and the ORIGINAL Irwindale raceway. As property values rose, all of these tracks were taken over by commercial developments. There is a nice story on the fate of LA's historic dragstrips on the Competiton Plus website. Fortunatley, the famous dragstrip in Pomona still remains although it doesn't host many events. Another well known SoCal dragstrip was the recently closed Los Angeles County Raceway in Palmdale, which was one of the birthplaces of the import drag racing movement. In addition, the historic dragstrip in Famoso near Bakersfield still hosts nostalgic drag race meetings every year. I have fond memories of going to Famoso with my dad and his buddies while they dragged their cars. There is still plenty of drag action still to be seen at the newer LA area dragstrips at Irwindale Speedway and Autoclub Speedway.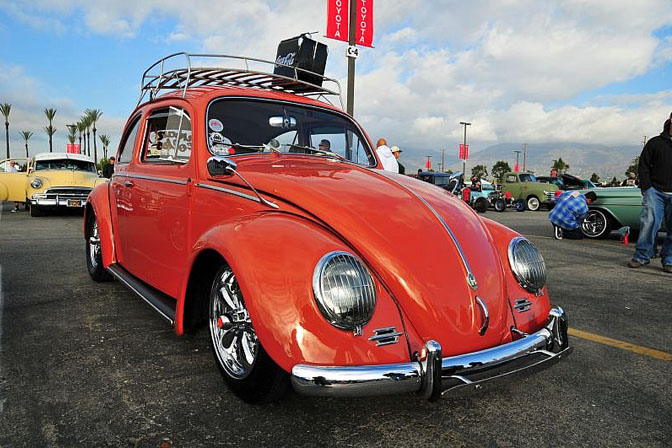 One cannot talk about SoCal's car scene without mentioning the customized VW movement which was born in Southern California and Orange County in particular. SoCal's VW history includes early drag cars like the famous EMPI "Inch Pincher", the Cal-Look street cars that first appeared in Hot VW's magazine and made famous by the DKP car club, and the huge "Bug-In" gatherings held at the old Orange County International Raceway. SoCal continues to be huge spot for VW enthusiasts with a number of race and show events held there throughout the year.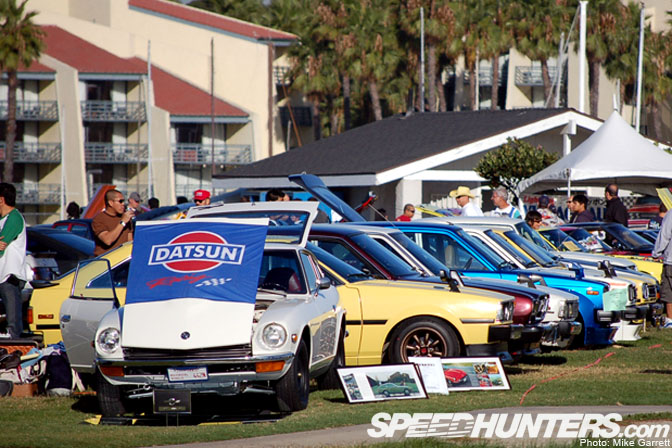 Southern California also served as the launching point for the movement of Japanese automakers into the US and later the adoption of Japanese cars by American enthusiasts. Back in the day, the streets of SoCal were THE place to see fixed up Datsun 510's, Toyota Celicas, and the ridiculously fast rotary-powered Mazdas that made a name for themselves beating their V8-powered rivals in the LA street racing scene. Today, SoCal is the capital of the vintage Japanese car scene with events like the annual Japanese Classic Car Show and groups like the Toyota Owners and Restorers Club.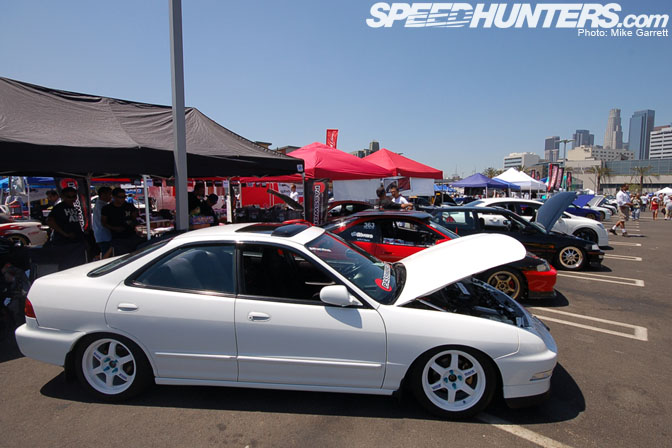 In the 1990's Southern California saw the growth of tuned Japanese compact cars, particularly the Hondas that were popular among street and drag racers as well as show car builders. This was not at all unlike the original hot rodders in the '30s and '40s. Events like Battle of the Imports and Import Showoff were big gathering places for SoCal import enthusiasts during the early days. By the early '00s, the "import scene" had grown from a small west coast subculture into a nationwide movement which helped pave the way for automakers to import cars like the Lancer Evolution and Impreza STI to the United States.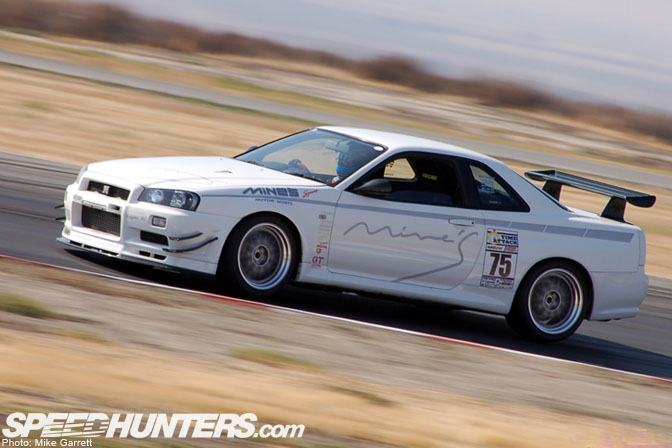 As the years went on, enthusiasts of Japanese cars began to grow out of street racing and car shows and into the more mature types of tuning that was coming out of Japan. The Japan-originated time attack events found their American home at Buttonwillow Raceway with the Super Street time attack events which drew cars from both the USA and Japan. Buttonwillow would soon become the  "Tsukuba Circuit of the USA". In 2004, the ambitous GT Live event was held at California Speedway bringing nearly the entire field of the Super GT race series to Southern California for an exhibition race as part of a weekend-long festival of Japanese car tuning. I don't think that epic event will ever be forgotten by anyone who experienced it , and to this day there hasn't been an "import" related event in the US that can match the scale of the original GT Live at California Speedway.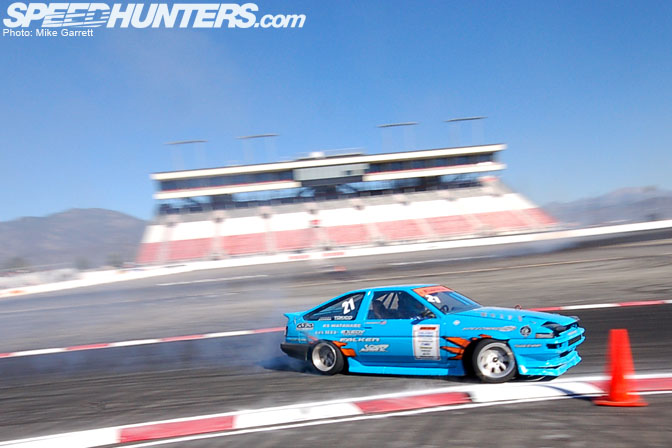 Lastly, we have the most recent addition to SoCal's car culture, drifting. Not surprisingly, when the sport first made its way across the pacific from Japan, SoCal was where it landed. If you want to know more. you can read all about the growth of US drifting in Antonio's book. It started off as small band of people holding events in parking lots, and at race tracks and from there transformed into what it is today. Irwindale Speedway, opened in 1999, has become affectionately known as the "House of Drift" after hosting numerous D1GP and Formula Drift events over the past several years. We will be taking a more in depth look at Irwindale's drift history later in the month.
So as you see, drifting is just the latest in a long line of automotive movements to thrive in SoCal. I have no doubt that in thirty years from now when people first figure out how to hop up their automated electric cars to go faster and look cooler, it will be happening on the palm-tree lined streets of Southern California.
-Mike Garrett