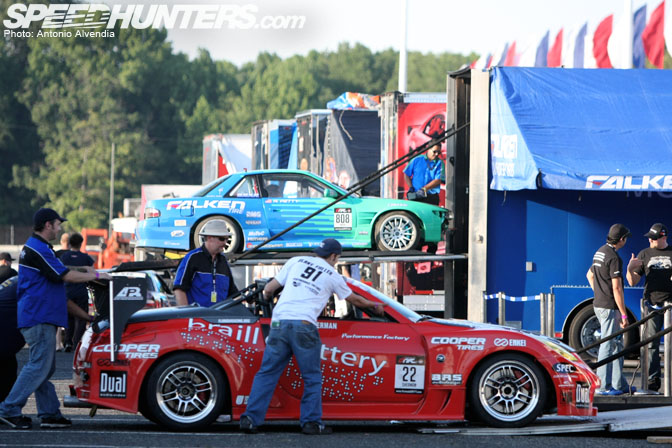 Right now as I write this, Formula D practice and unseeded qualifying is happening over at Irwindale. I want to shoot some photos today, so I'll keep this kinda short, and follow it up later. Rod thought it would be cool for us to do retrospectives on Irwindale in honor of the Formula D Irwindale happening this weekend, but honestly, I've been shooting drifting at Irwindale for so long, I didn't even know where to start. Some of these photos, you may recognize from my hardcover book, Drifting: Sideways from Japan to America. I have tons and tons of hard drives full of drifting photos, so it took me a long time to dig these ones up.
Here are some choice moments of the Irwindale Speedway that I remember, back when it all started in 2003…
Above is a photo from a Drift Day… as the sun went down over Irwindale, you could always see the iconic rock quarry in the background, and the In N Out Burger sign silhouetted as you heard cars revving and tires screeching. Ahh, Irwindale…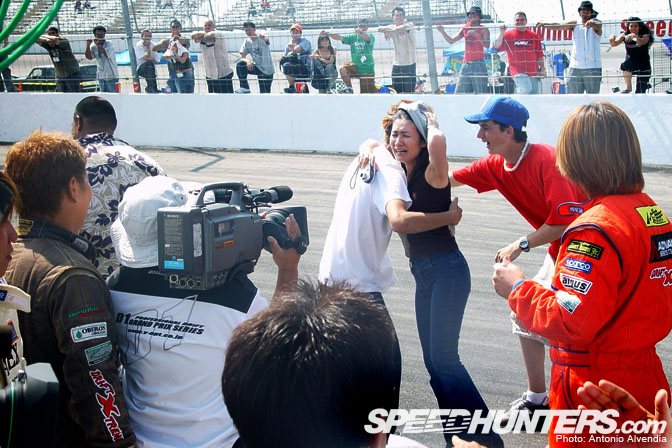 This photo is from the D1 Driver's Search, back in 2003. I remember this day very well… it was the turning point for a few lucky drivers – the first American drivers who were accepted into the ranks of the D1 Grand Prix, for their first event to be held on US soil. In this photo, Zaku the videographer is pointing his Video Option camera at Kenshiro Gushi and his mom, who broke down into joyful tears when she found out her underage son had made it into D1, even though he didn't even have a California driver's license yet. Also in the background (L-R), you can see Nobushige Kumakubo from Team Orange, Charlie Ongsingco (aka DRFTHVN, aka Dr Foot Heaven, aka founder of Just Drift), and Kazuhiro Tanaka, from Team Orange/Rough World/Drift Xtreme.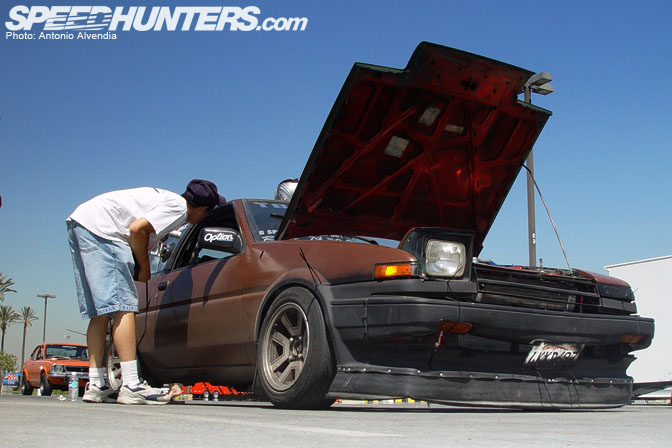 People who have been going to Southern Cali drift events for a long time will recognize this car. This brown bomber AE86 belonged to Andy Yen, who is now a Formula D judge. Andy's car originally started life a red 1985 GTS coupe (the first US drift car featured in a Japanese magazine, as seen in Kenta Ogawara's story in Drift Tengoku Magazine), then it became cream, then dark green, then rattlecan brown, the final evolution in colors.
The photo above shows it at an Irwindale drifting practice day… it must have been a Drift Day, but I don't remember which one..? The orange TE27 with RS Watanabes in the background is my car, my favorite car in the Cipher Garage collection.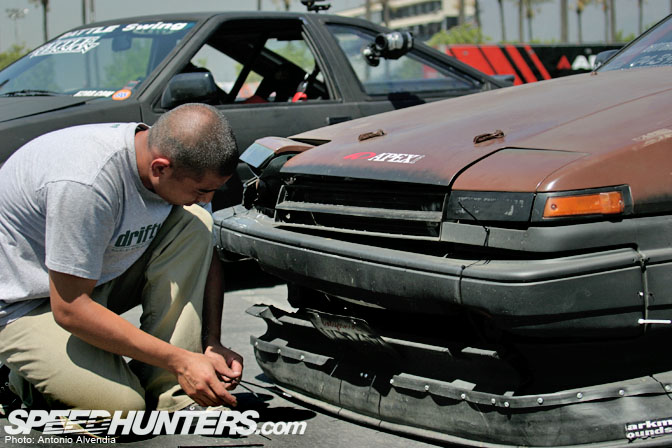 Here's Andy trying to put his zipties to use, right after he and Alex Pfeiffer collided while practicing drifting in Irwindale's parking lot. These two spraypainted AE86s were very well known on Southern California mountain roads and drifting events. Both of these guys eventually became Formula D drivers, and then some years later, Formula D judges.
Speaking of Formula D, I think I better get out to the track now, check back with Speedhunters for more of my old school drifting photos, if you're interested in it. Think you want to see more of this stuff? Chime in and let me know.
-Antonio Alvendia