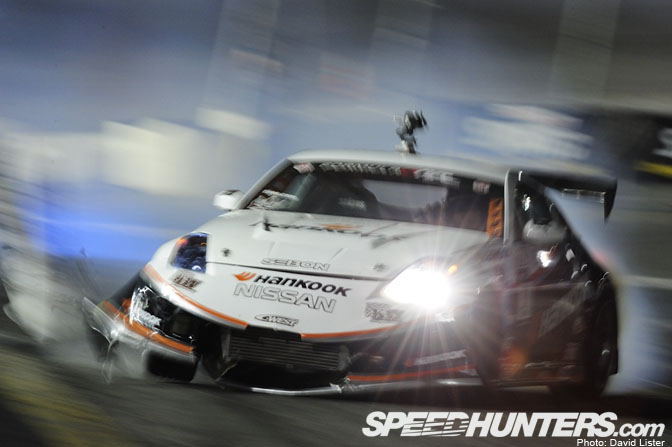 A moment of impact…. Robbie Nishida takes out a pylon and shatters his front bumper. UK photographer David Lister was there to shoot the image.
You saw David's incredible gallery from the practice and qualifying sessions at Formula Drift Irwindale…. now let's look at his snaps from the event proper.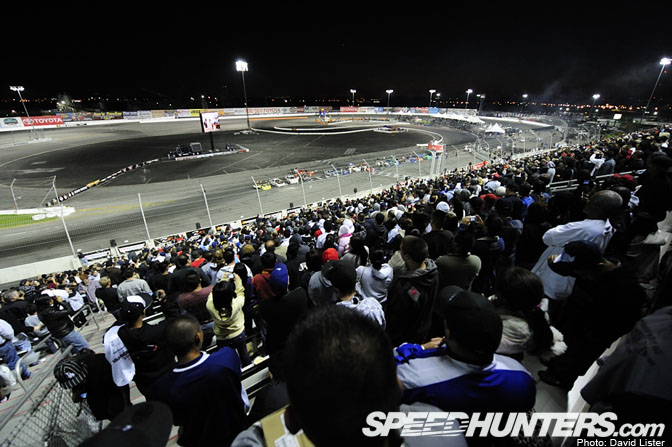 One subject I am always going on about, to the different Speedhunters photographers, is to try and mix up the framing of the shots as much as possible. Not all photographs need to be about looking at the details of the cars. Wide shots that show the Speedhunters readers the ambience of an event are just as important as close up full framed photos of cars. David already seems to have this instinct built itn as he chose to shoot the opening ceremony of FD Irwindale from the stands.
This shot gives you a good idea just how fantastic Irwindale is from a spectator viewpoint. Everything happens in front of your eyes…. it's hard not to be carried by the energy of the crowd…. just look at how packed it is!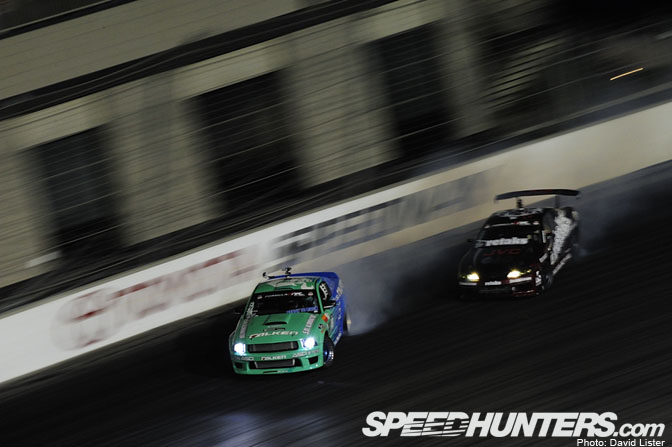 JR told me that he woke up on Saturday morning with the thought that he was going to be running against Bill Sherman that day… and voila… look who he went up against during the Top 16 battles. He seemed pretty unstoppable at Irwindale and had no trouble disposing of Wild Bill.
In this photo you get a sense of the speed and drama of tandem battles on the Irwindale banking. I'm going to have to try shooting more from high up on the grandstand next year. It's a great angle.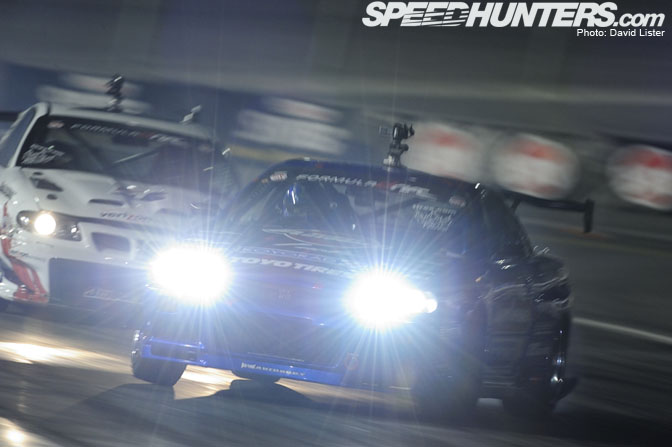 A beautiful shot of Takatori vs Yoshihara… Look how much camber is on the Skyline's front wheel….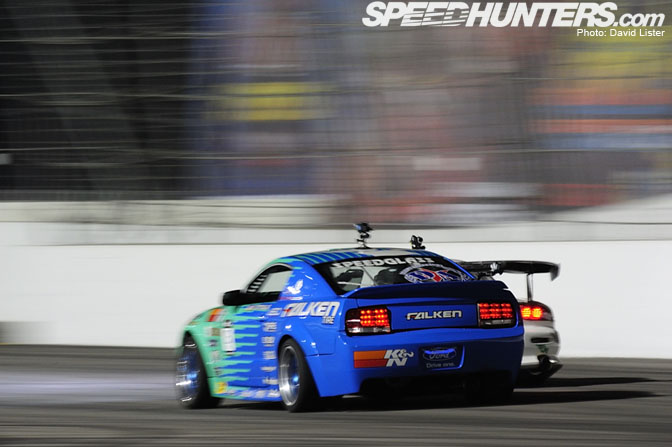 For the Great 8 Battles JR went up against Miki's RX7. In this shot they are accelerating down the back section of the oval towards the first drift initiation along the banking.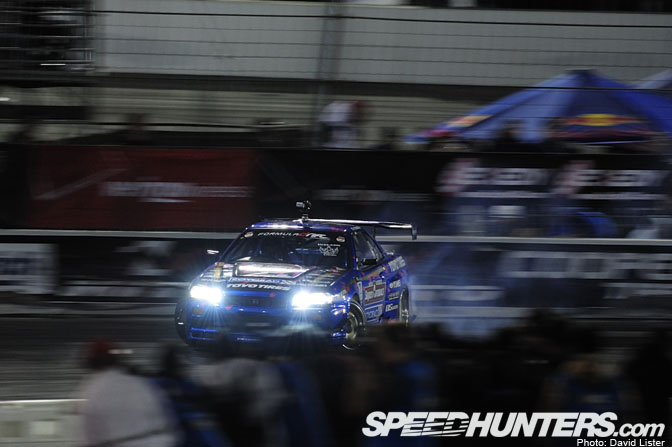 There is really nothing like night time drifting under the flood lights is there?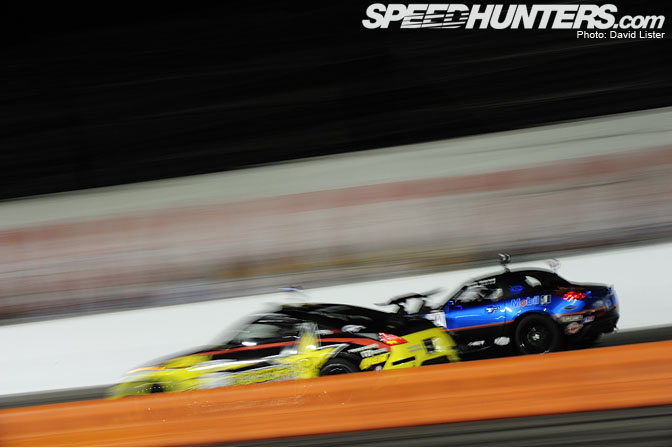 For this next group of photos let's look in detail at the Tanner Foust vs. Ryan Tuerck…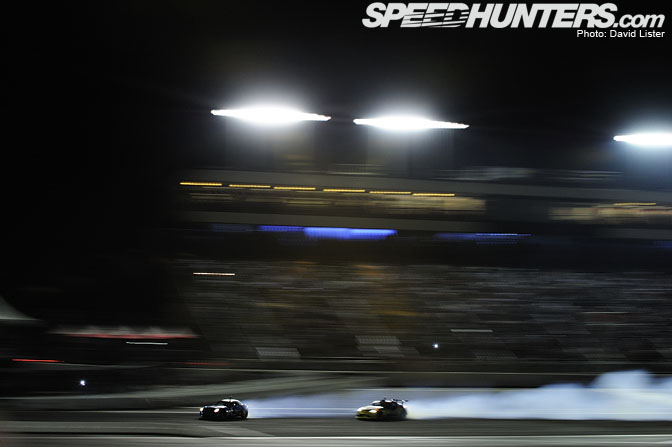 I am a big fan of these panning slow shutter shots that you see John Brooks and David Lister doing on their sportscarpros.com website…. They give a great sense of speed and require a lot of in-camera skill to pull off.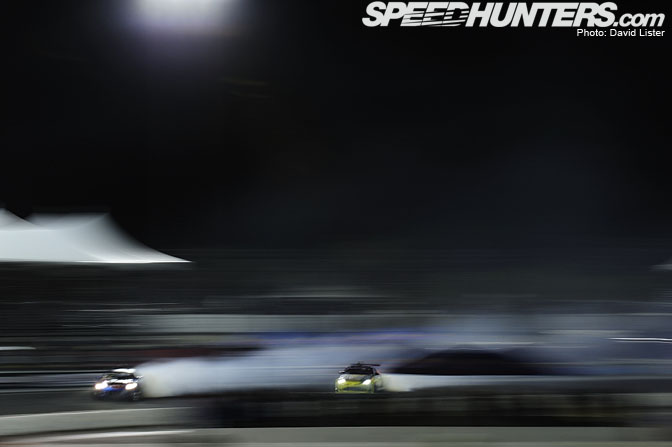 Sideways up against the concrete barrier… Great shot.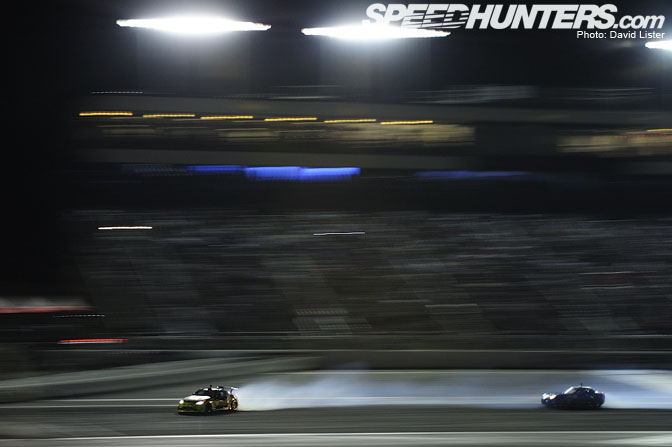 Now compare this shot of Tanner leading Ryan from the above shot….. you can see that Tanner has pulled out a gap and that Ryan really has no hope of catching up. It's game over for him.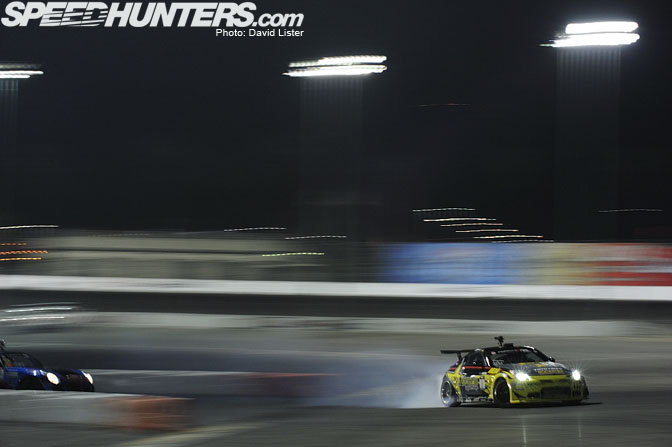 I'm curious to understand the secrets of Tanner's and Papadakis' success. The Rockstar 350Z is really nothing crazy compared to some of the big budget, high horsepower cars that it competes against. Is it all driver? Is Tanner really that good? Or are Papadakis racing able to provide car set up and support beyond most of their competitors?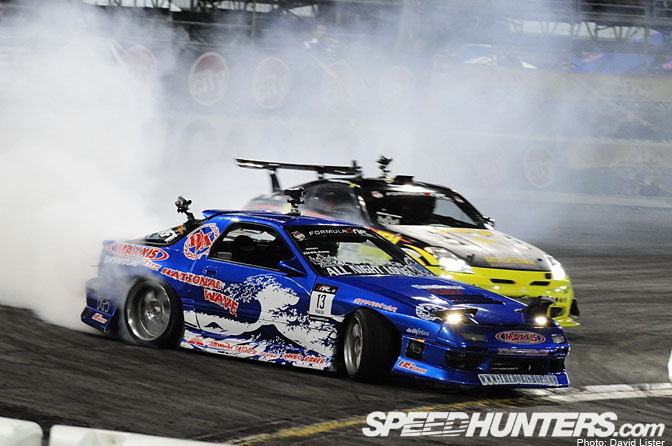 Antonio has written extensively about Tanner's battle with Justin Pawlak here…. From my end I think this is just a great photo. The blue of the FC just singing electric! I also love the Japanese wave graphic on the side of the car.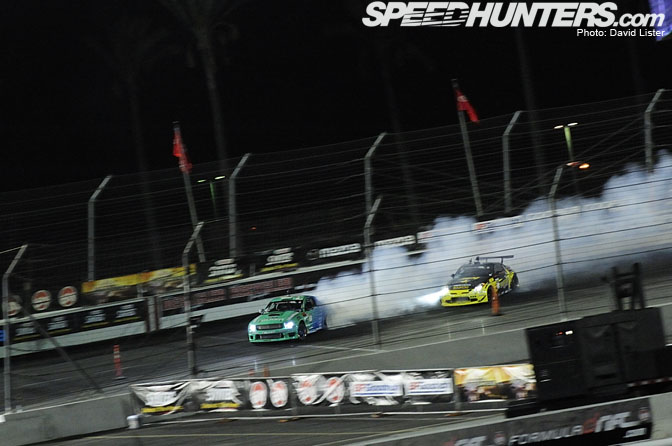 And the final… Vaughn Gittin JR. Vs. Tanner Foust….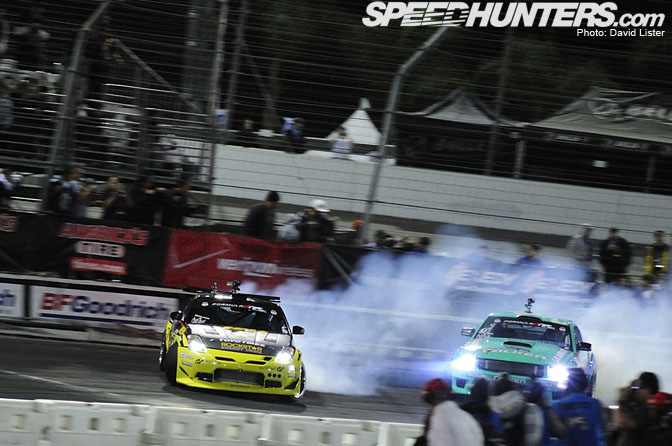 Ultimately it was JR that put a stop to Tanner's progression up the order. We'll hear from JR soon enough as to how this was accomplished, when he gives us his next blog posting.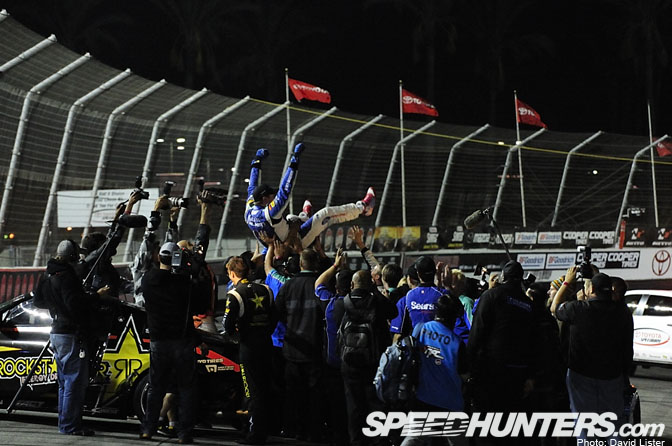 In the mean time, we'd like to extend our congratulations to Vaughn for his first Formula Drift victory! Nice one m8!
Thanks to David Lister for the great photography. We'll have to do this again soon Dave!
:Rod Chong