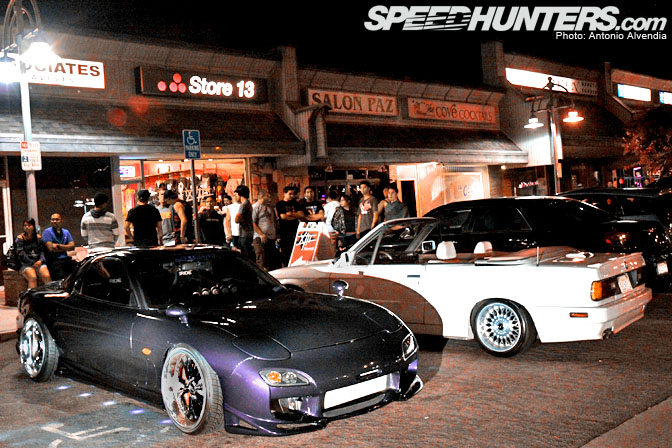 In honor of Southern Cali month on Speedhunters, I decided to roll out to the weekly Tab Tuesday meet in the 626 area (West Covina) last night. It was cool to check out the cars and catch up with some friends I haven't seen since before I left on the super long Speedhunters Europe/Japan trip.
Honestly, I haven't been to TAB Tuesday in a long time… this is a weekly meet that was started around 5 years ago. TAB stands for "Take a Break" – it was originally just a bunch of local college students who liked cars and just wanted to chill out together during weeknights… and it became a regular thing. Tab is a fun, relaxed meet where everyone's either friends, or they're pretty friendly.
However, the local fuzz aren't always friendly! Sometime last year, I decided to meet up with one of my friends, SuperstarLevin from the Club4AG forums near Tab Tuesday's old location (Nogales/Amar) to buy a steering wheel from him. Since both of us were both driving AE86s with pretty aggressive wheels, we both got pulled over, and were forced to pop our hoods, etc. We both received California State referee tickets because the ridiculous cops were insisting that our engine modifications were illegal; in fact, the cop who harrassed me even went as far as accusing me of having a stolen engine because the code on my 4AG didn't match the VIN on my car. Ridiculous! Almost all AE86ers have engine swaps, because the original 112hp engines that came in our cars from 1985 or 86 would need rebuilds or swaps after 20+ years on the road! Since I didn't have a receipt for my engine and modifications in the car, he told me that he was giving me a referee ticket, and I couldn't legally drive my car until after that whole situation was checked out by the California state ref station. What a crock of  _______.
Anyway, TAB seems safe from police harrassment now, since a local streetwear shop in West Covina, Store 13, offered its parking lot to be used for the Tuesday night meets. Store 13's owner is known and respected by the local police officers, and they don't normally bother people at or around his shop. Good idea and good new location! Maybe I should make time to chill out at TAB meets more..?
Up above, check out the wheel fitment on the dark purple FD! Super sick, driving on the STREET with fat lips and extremely stretched tires. Love it. Also check out that E30 convertible, which was sporting some fat lip Borbet mesh wheels, I think those were either 8 or 9 inches wide? Whatever the case, it looks clean.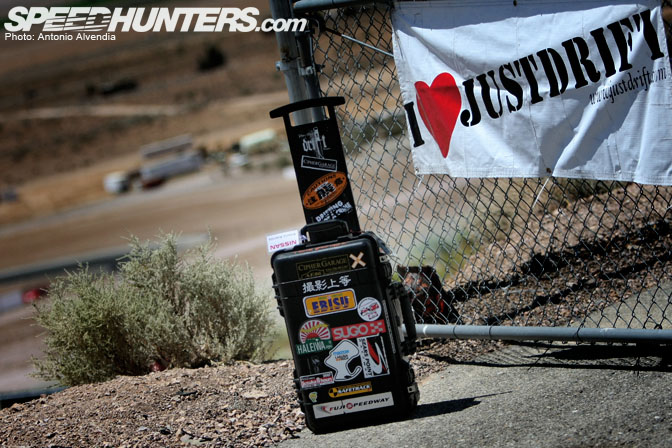 Again, the good offset Borbet wheels! This E30 looks very clean! With the clean aero and small lip wing, I dig it. I do not dig it when people put those BMW wings on AE86 coupes though, they look way better on the E30!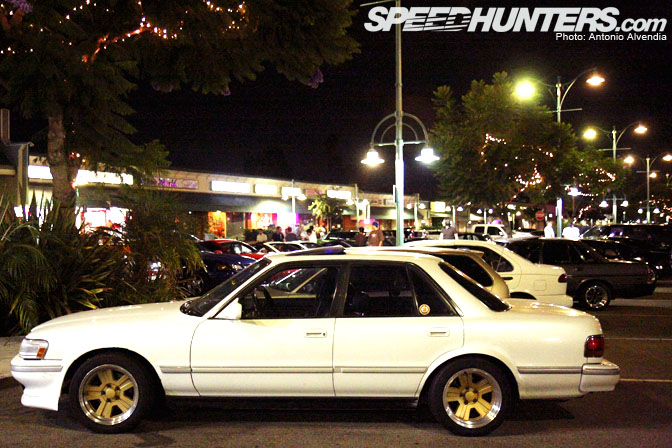 I always see this MX83 Cressida parked in front of a paint shop whenever I'm driving in this area. We've admired its aggressive wheel fitment before; it was nice to see it out at the Tab Tuesday meet! To replicate this look, go find yourself some Starion stock wheels and slam your late model 5-lug Cressida! Good luck though, those Starion wheels are increasingly hard to find at junkyards nowadays. I remember when they were all over the place though!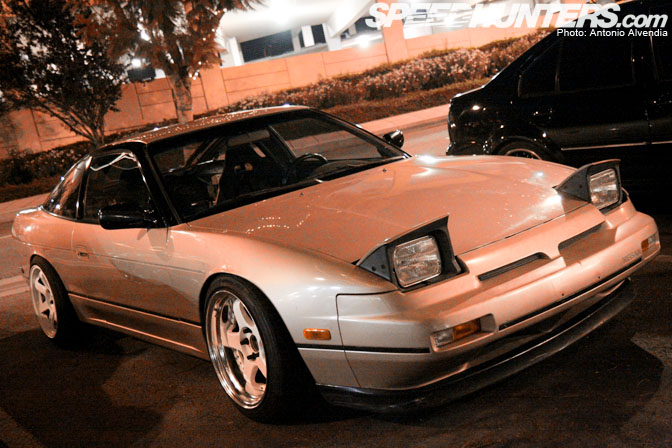 It's only fitting for an S13 to be hanging out in the parking lot of Store13. Don't you think? Anyway, I like the wheel fitment on this zenki S13. This car made me realize that I'm used to seeing the huge aggressive wheels more on chuki or kouki S13s, and I don't see them so much zenki ones. I think I'm used to seeing 17s and 18s more on the full aero S13s, and I normally see wide 15s on the normal bumper/lip S13s.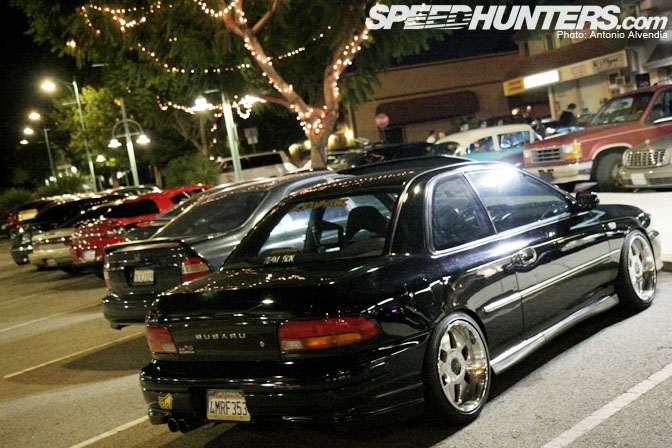 VIP wheels on a GC8, anyone?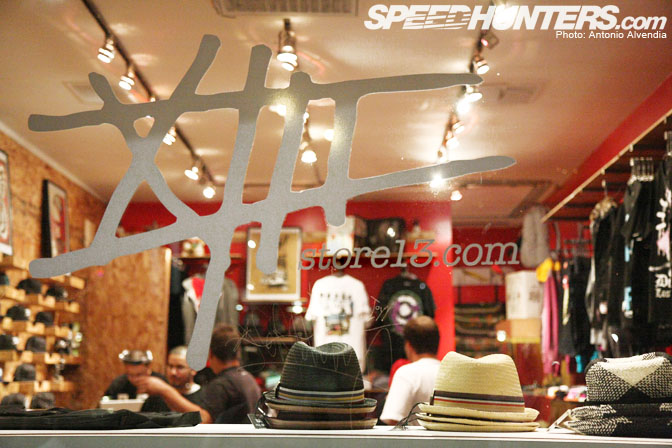 If I was an S13 owner, I'd be rocking shirts with Store 13's XIII logo all day long. That would be so cool if someone made a store called Store86 or something, haha!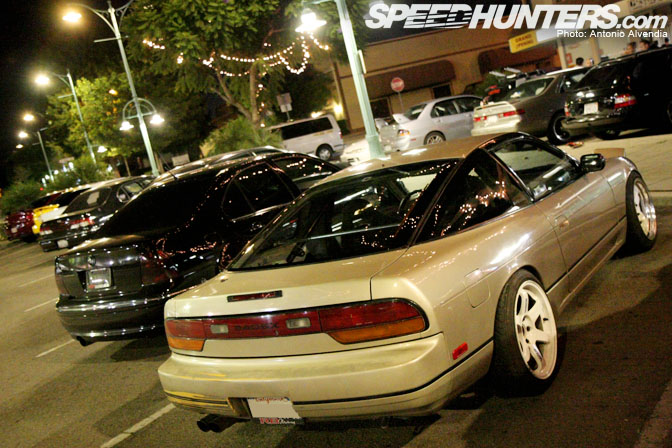 This one goes out to my boy Felixxx, who is one of the biggest TE37 fans I know.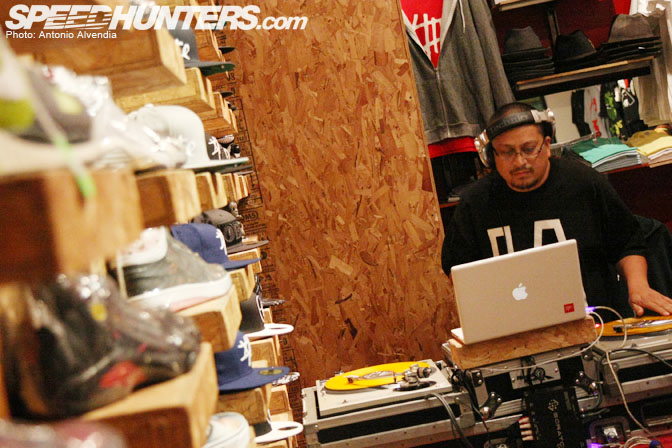 They had 3 DJs in rotation inside Store 13 while I was there – they were bumping many different types of music, but of course I was getting open to the hip hop classics. Big ups to Joel aka Heartfood Presents, who is pictured with the Macbook/Serato setup. He used to work for Import Tuner Magazine, but now works at a radio station. He came out to chill out and spin…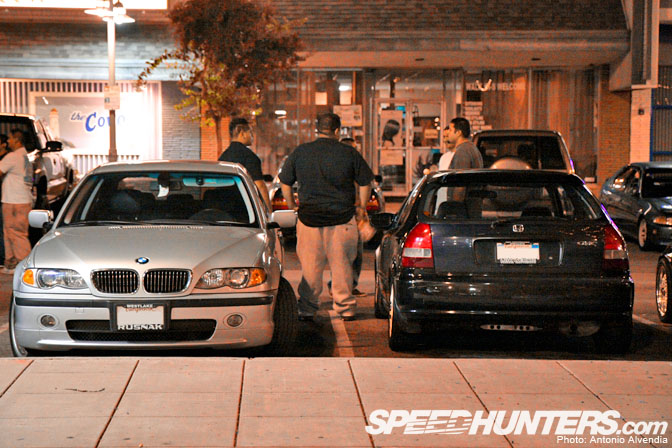 E46 vs EK Civic.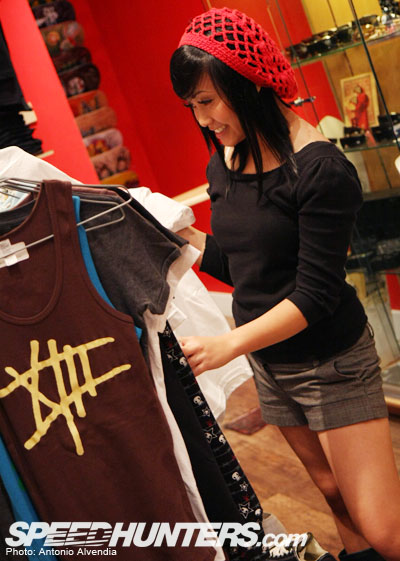 Some guys were going in to the store just to holler at Lea, who insisted she wouldn't give out her phone number or Myspace address unless the peeps buy a t-shirt or something! Now that's a good marketing plan, Store 13!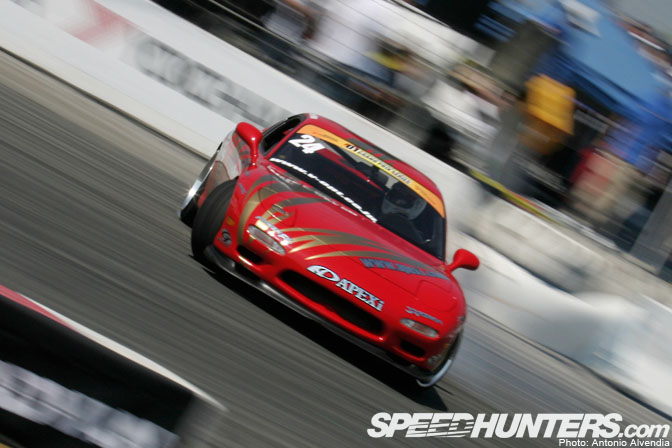 Just when I was going to laugh and say, "What's this fixed gear bike doing here?" I noticed it had a Speedhunters flyer inside the spokes! For real, I didn't put it there, it was like that!
So if you're in the area, come by Store 13 every Tuesday to check out cars and hang out!
Store 13
142 3/4 S Glendora Ave
West Covina,
CA
91790
(626) 430-6650
-Antonio Alvendia