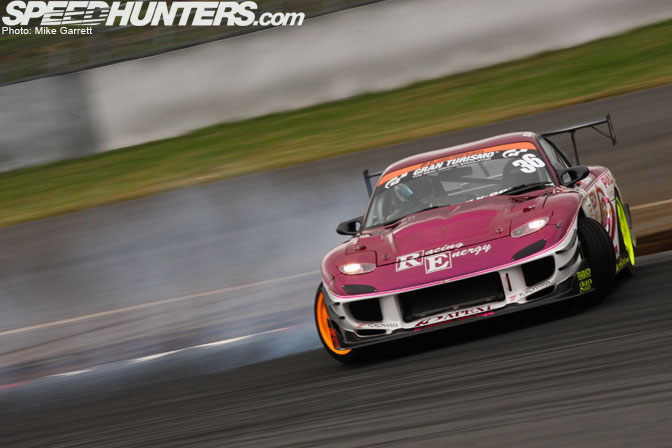 Before moving on to some other things, I wanted to wrap up my coverage from the D1GP finale at Fuji Speedway with a few more photos. Up above we have another view of Kenji Takayama's R-Magic-built FD3S RX7 as he makes one of his qualifying runs on Saturday, This is surely one of the coolest of the several RX7's that can be seen competing in D1. Note how the car is sporting neon-colored Gram Lights 57D's in different colors on each side. Hmm…will this be a new trend among drift cars?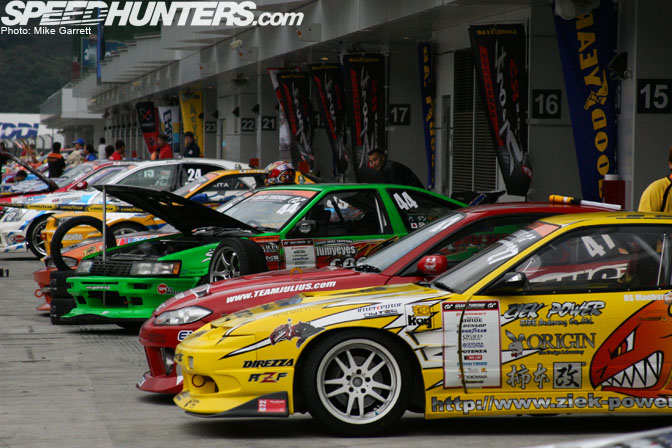 During the pit walk all of the teams shine up their machines and pull them out of the garages so the waves of spectators can get an up close look at them and shoot pics with their high tech keitais (cell phones). The yellow S13 One-Via in the foreground belongs to Kazuto Ichiyanagi. Interesting mash up of colors here in the pits wouldn't you say?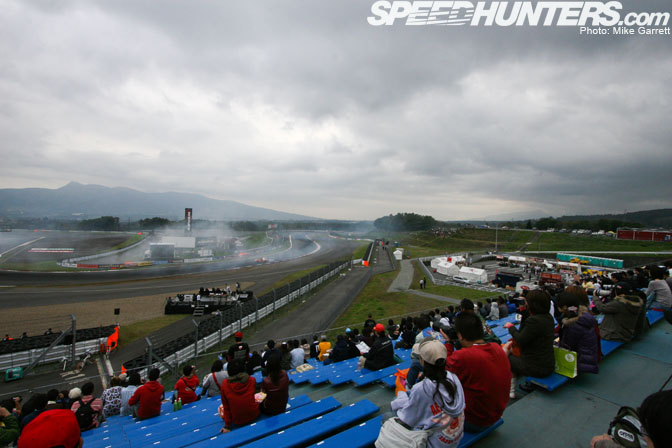 Here's the view looking down on the course from the the center seats. They aren't that close to the track, but they do give fans a really nice view of the entire course from start to finish as well as the countryside around Fuji Speedway.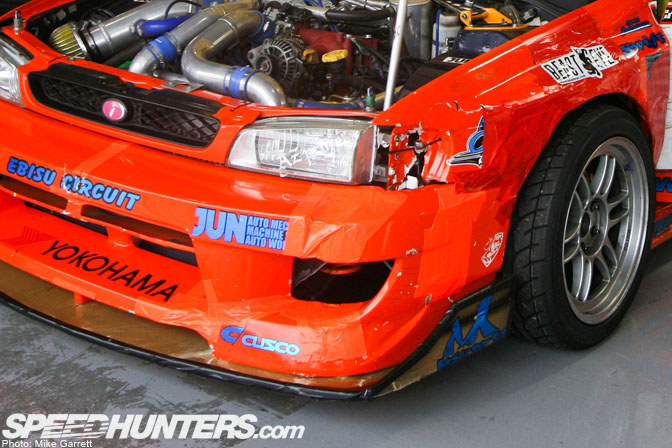 A look at some of the damage on Speedhunter Naoto Suenaga's GC8 Impreza after his crash during Friday's rainy practice session. The Team Orange crew tried their best to get the car back into good running order, but it seemed the car was not operating as it should following the crash. Good luck might not be with Naoto in D1GP this season, but D1 Street Legal is another story. He is still gunning for the championship there!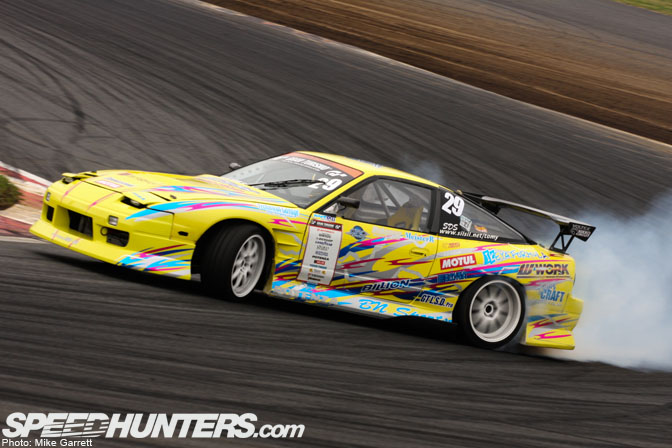 Hiroshi Fukuda's BN-equipped 180SX pulling past the clipping point at the middle of the course. Like Yoshinori Koguchi, Fukuda is a veteran drifter from Tochigi Prefecture and he has been driving his yellow 180 in D1 for quite a while now. When not running D1 events, he can be seen quite often driving at his local Nikko Circuit.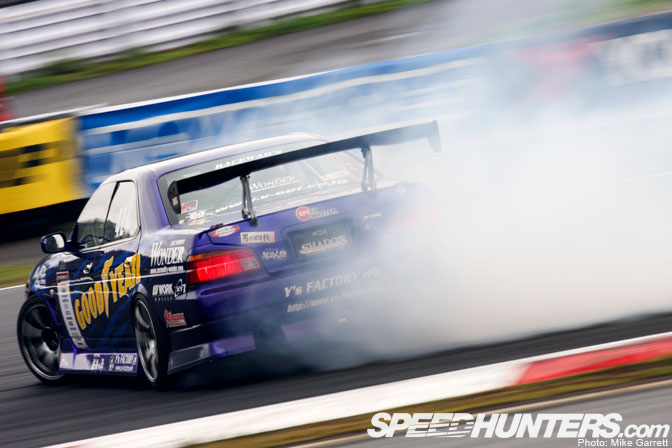 Takashi Haruyama in his RB26-powered C35 Nissan Laurel was only able to make few runs before he joined the large number of drivers that fell victim to mechanical trouble over the course of the weekend.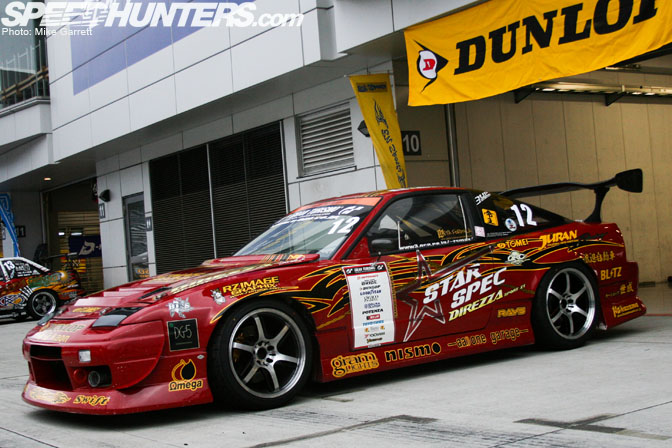 Koguchi's freshly made over 180SX resting in the paddock. Full feature on this car coming up soon!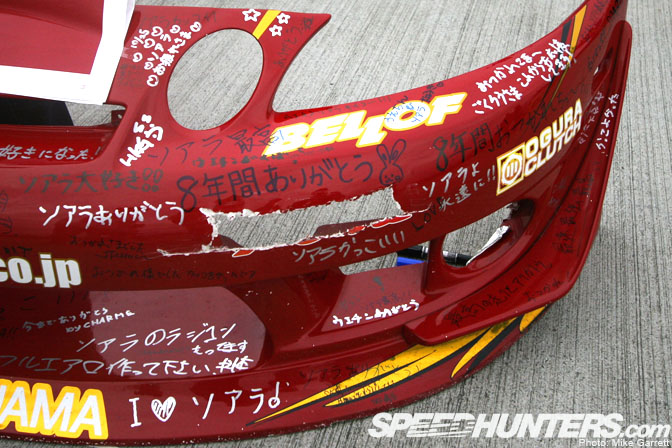 At the Car Make T&E booth in the vendor area, one of Ueno's old bumpers was put out for fans and supporters to write messages to celebrate the last run of the Soarer. The messages say things like "Congrats on eight years" and "I love Soarer!".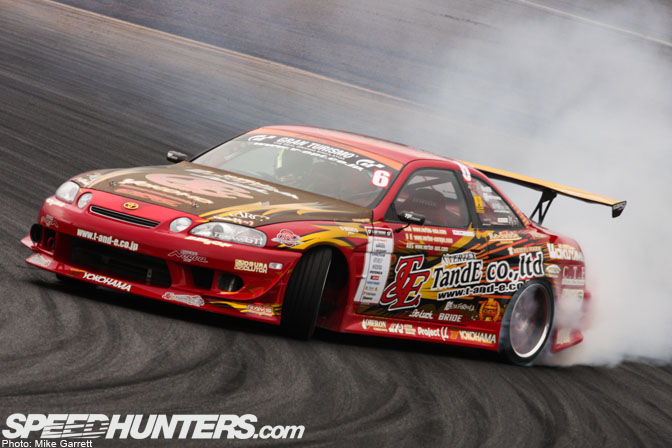 It will be strange not seeing this car next year, but I'm sure the new Bimmer will be pretty cool.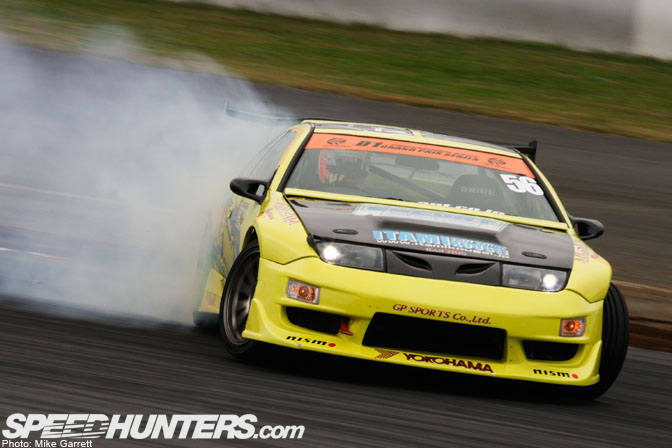 Satoru Koyama's Z32 Nissan Fairlady is a very rare drift car to say the least. I think it looks pretty cool as well.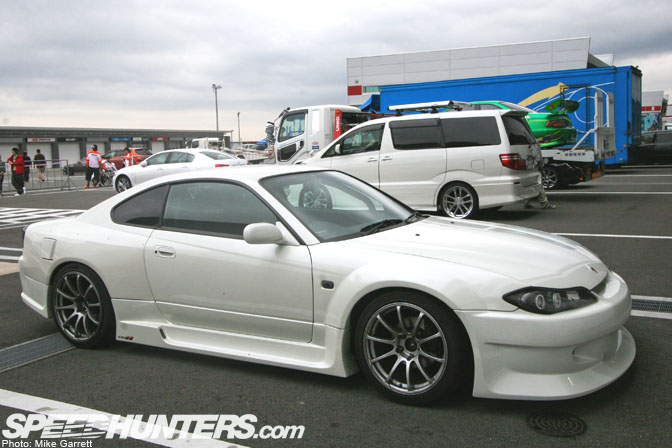 While walking around, I spotted Yashio Factory Oka-chan's white S15 parked in the paddock. What a great looking car.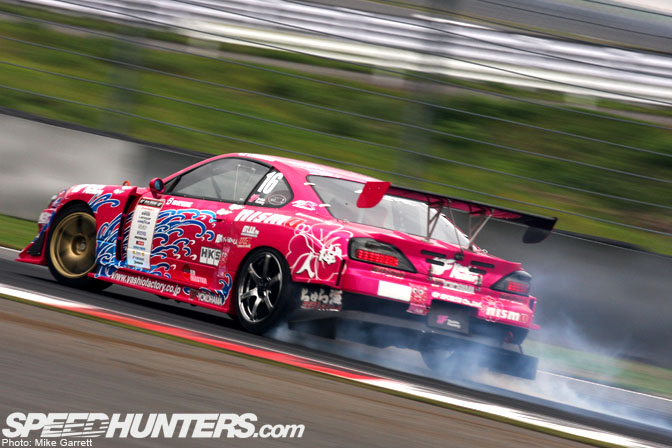 A shot of Oka-chan's S15 D1 car during qualifying. He was having a great weekend right up until he was forced to retire from his best 16 battle with Kumakubo after surprise surprise…machine trouble.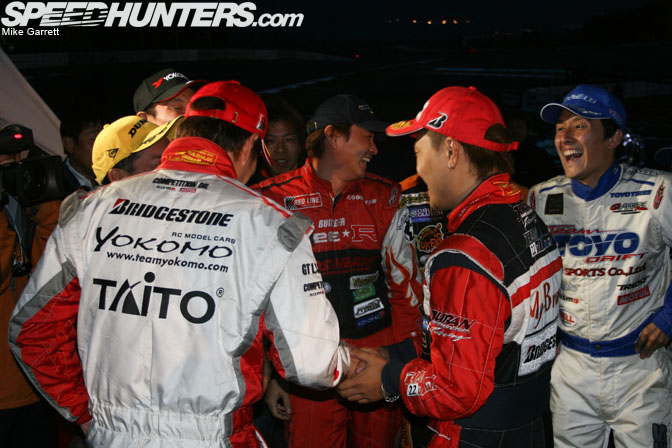 And lastly, Daigo Saito receives congratulations from his fellow drivers after the championship award ceremony. It was a great way to close out what was a very eventful D1GP season. From the sounds of it, next year should be even more exciting.
If you missed the earlier D1 stories, check them out here and here.
-Mike Garrett