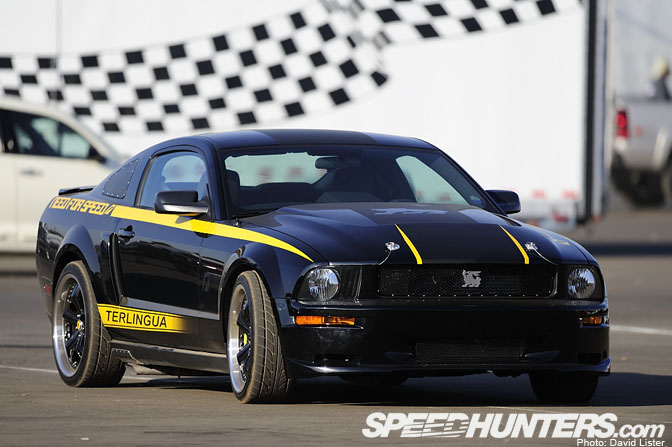 "I'm afraid of Americans" was the name of a David Bowie song of recent times… I have to say I can relate to this song a little bit. As a Canadian who spent most of my adult life living in the UK, I  find America to be a crazy, intriguing and perhaps slightly intimidating place. Sometimes, it's every bit as foreign to me as some of you would consider say Germany or even Japan. That said, I do love many aspects of the country and its people. The can do attitude is something that I find very inspirational and have firmly adopted into my own personal viewpoint.
One other element that I absolutely love about American culture is the muscle car. There is something so brash and bold about these types of cars. I think most car fans will agree muscle cars have a universal appeal about them. Doesn't matter where you are from, a tough and loud American muscle car will always bring a smile to your face.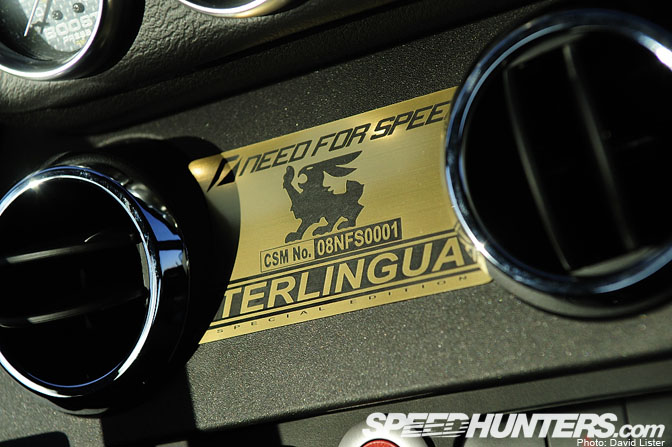 So what is it like to drive a full blown fire breathing American muscle car? How does it make you feel?
We'll look into these questions in a little bit but first a little bit of information about this special project. For the past few months we've been working closely with Shelby Automotive to create a one off Need for Speed edition version of their Terlingua Mustang. Our own in game car designer, Mike Hayes actually prototyped the look of the car inside the new Need for Speed Undercover game engine and then worked with Shelby to bring the style of the car into reality.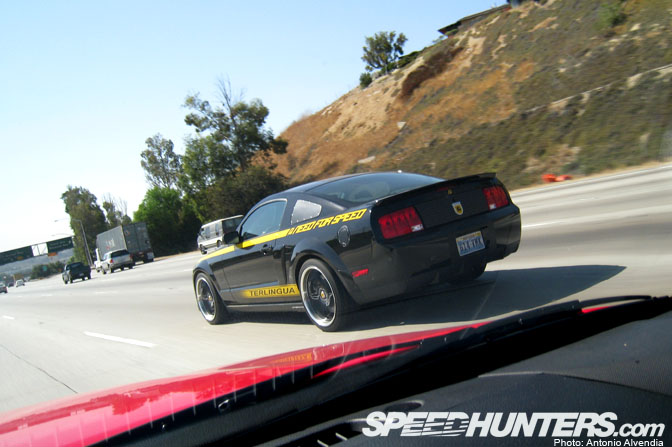 In a month or so millions of people around the world will be able to drive this bulging piece of muscle inside the latest Need for Speed video game… but lucky for me, I had the privilege to drive the real life version of Shelby around LA and up to Bakersfield, during the weekend of the Formula Drift Irwindale finals and the California Hot Rod Reunion.
The first thing that I noticed when piloting the Mustang, was the amount of attention that it garnered. Perhaps it was the bellowing noise emitted from its dual side-pipes or perhaps it was its aggressive looks… whatever the case, it certainly turned heads on the road. I also got the sense that the big Need for Speed logo on the side of the car was making people have a second look at the machine. Was I about to start screaming down the highway at 200 miles per hour? No, not really…. but I certainly was challenged to street race enough times!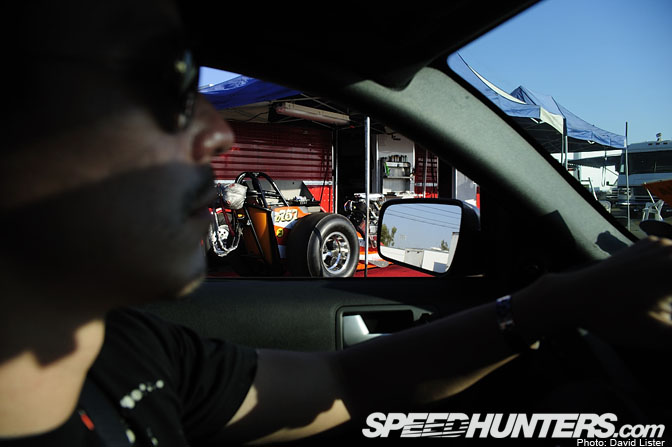 When you drive a car like this, you definitely are aware of the ripple effect that it has on everyone around you. The Shelby Terlingua just attracts attention and thus all eyeballs are on you, the driver too. It is quite the effect, perhaps a bit like wearing crazy cloths or having a wild hair cut.
After being behind the wheel of the car for a while, I couldn't but help but feel just a little bit tougher and, dare I say it, even a bit macho… The slightest touch of the accelerator is met with a roar from the pipes and whine from the supercharged V6 engine. My heart rate quickened with each stab of the throttle.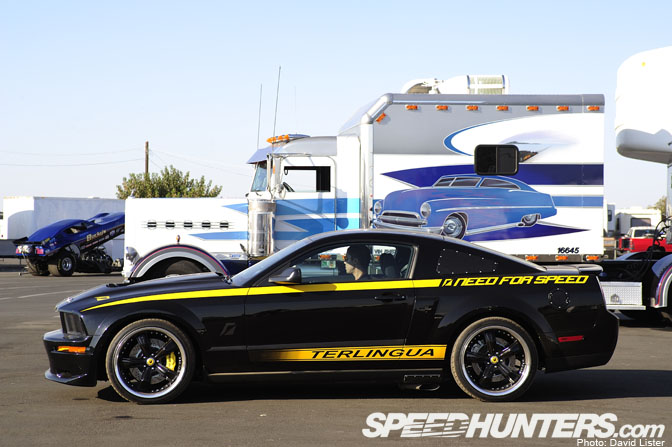 V6 engine you say?
Yes you heard me right… the Terlingua is considered to be an entry-level Shelby Mustang for the young person on a budget. You bring Shelby Automotive a standard V6 Mustang (preferably with a manual transmission), hand them between 9 to 19K USD and they will transform your economy Mustang into an aggressive beast of a machine. It easily out-performs the GT in all areas. It's quite the deal.
Just look at that… Nasty.
The full package gets you a ground-up transformation including:
375+ from a Paxton Supercharger
Shelby by Borla Side Exhaust
Ford Racing manual transmission short throw shifter
Ford Racing performance suspension kit
Shelby deep draw hood
Shelby Performance body kit
Mesh Grill
And the list goes on…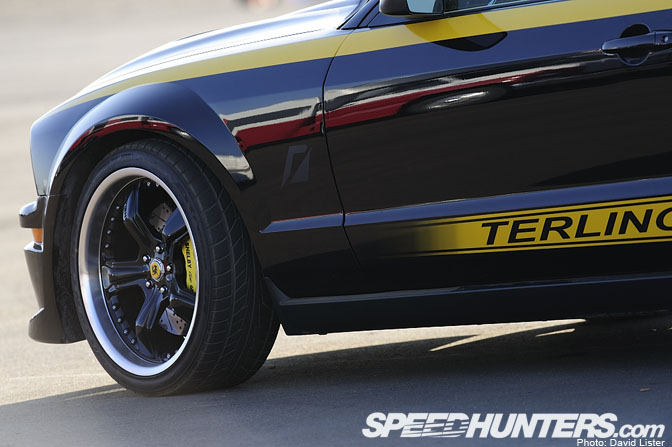 For rims they've fitted 20" American Racing Razor wheels wrapped in 255/35/20 tires all the way around. Stopping power comes from a Baer 6 piston big brake kit. The yellow painted calipers are a nice detail.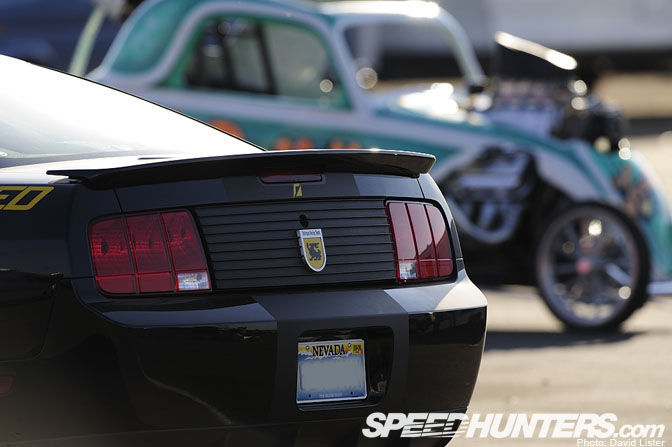 Out back a rear spoiler is fitted along with sequentially triggered tail lights. Note our new Need for Speed "N" icon on the back of the car. The rear facia has been lifted from the GT500.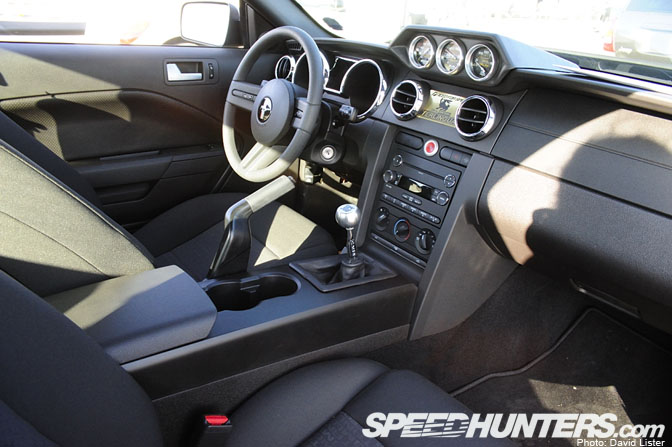 Inside of the car the modifications are the addition of a new central gauge cluster, Ford GT style starter button and a Terlingua shift knob. At the time that we drove the car it wasn't 100% complete. By the time you see it on display at SEMA it will have MOMO racing seats fitted too.
For me, the interior of the car for me was a little bit of a let down I have to say. There was just too much of the feeling of cheap plastic for my taste. You can't really point a finger at Shelby about this though, as this seems to be part and parcel with modern American cars. Vaughn Gittin JR tells me that the new 2010 Mustang has a far superior interior finish to the outgoing car, so we'll see!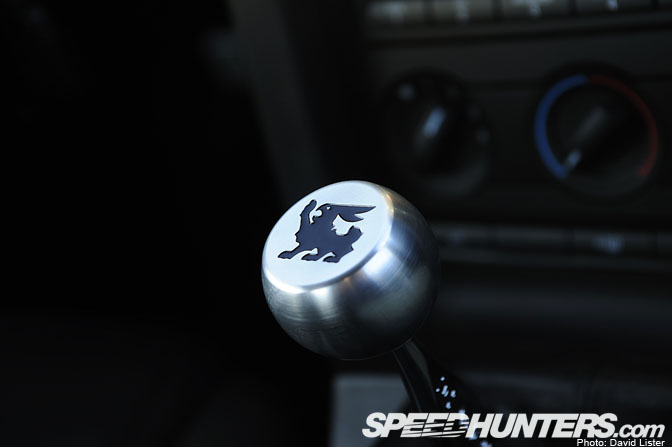 Great shot of the Terlingua shift knob. A crazy rabbit!… herm… It is the icon that has represented the Terlingua Trans Am racing team since the 1960s. Terlingua is the name of a town in Texas near the Mexican border where Carroll Shelby had a farm the 1960s BTW. He'd go down there to unwind, shoot guns and drink whisky with his racing buddies…. you know, the retro man's equivalent of going on yoga retreat.
The shifter certainly had a very mechanical feel to it…. you really had to slam the tranny between gears with each shift clunking into place solidly. Perhaps they designed this to bring about a feeling of manliness for the driver?
It certainly brought a snarly grin to my face…
Moving your hand from the smooth metallic finish of the shifter to the rubbery feel of the steering wheel though was a little disappointing. I want to feel leather under my hands, not rubber! I asked the Shelby rep about this and it seems that the steering wheel itself is more a product of how you buy your original Mustang. Get your V6 Mustang with the standard steering wheel and this is what you will have to live with unfortunately.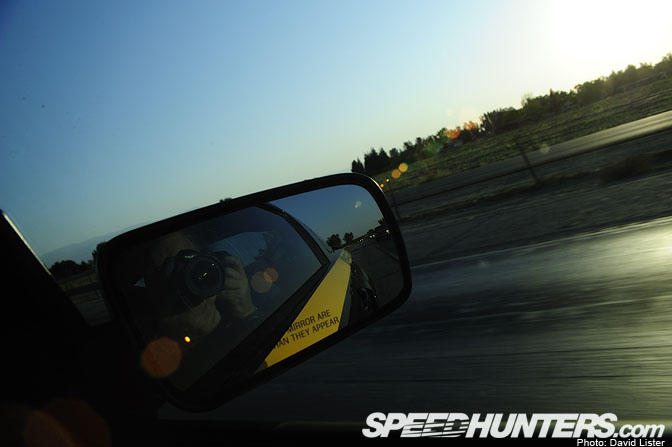 David Lister by David Lister….
As the sun finished its daily arch across the beautiful California sky we set off from the Nostalgic Drags and headed back to LA.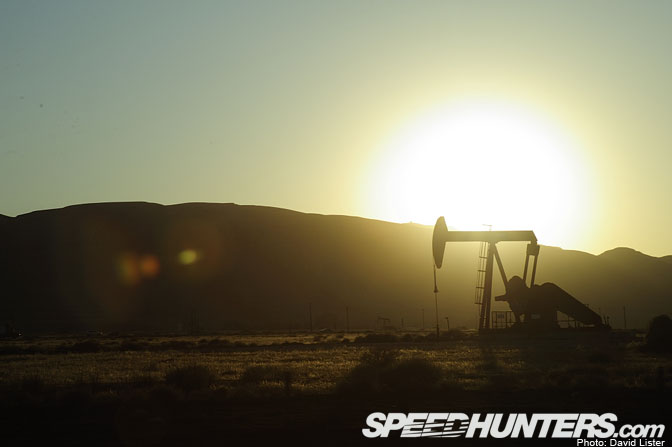 Ahh California. It certainly is a magic place.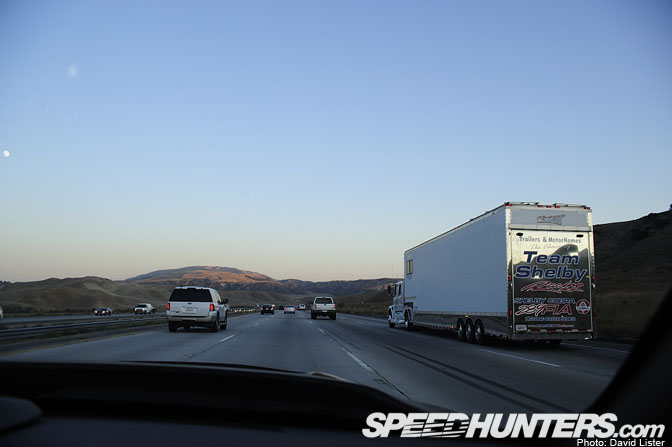 Driving a performance-tuned car like the Shelby Terlingua for several hours on harsh California freeways was a bit tiring it has to be said. The loud, raspy exhaust note really resonated though the interior at cruising speed. It's great when match-rev downshifting or hammering up the gears but for long distance travel… tough one. The poor road quality translated very directly through the hard suspension and shook our insides up too.
Anyway, the Terlingua isn't really design for long distance road trips, you have a car like this to enjoy the pleasure of acceleration or twisting roads… dare-I-say-it, even highway offramps are a lot of fun in the Shelby.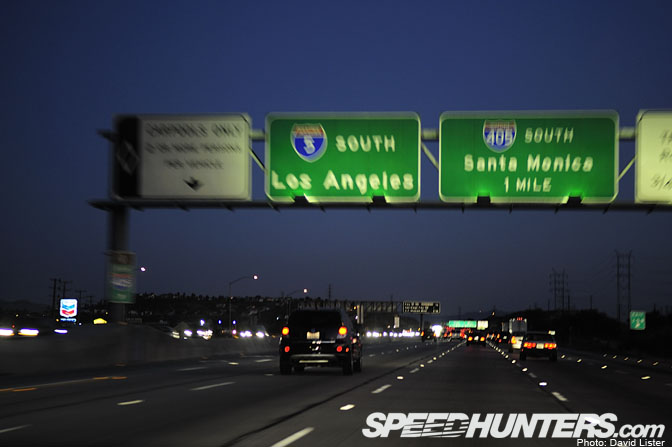 After an hour or to on the road we found ourselves back in LA.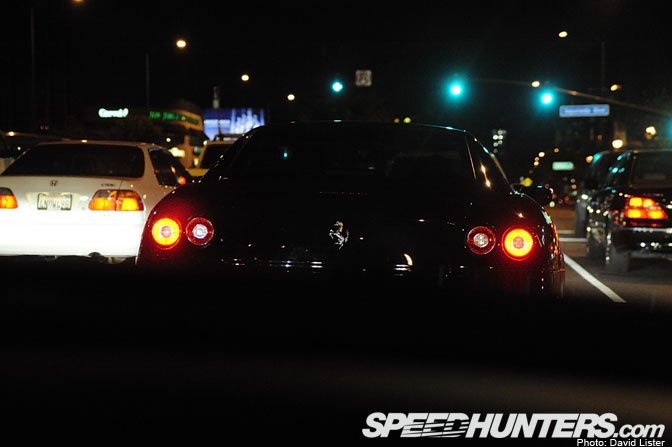 Cruising back to drop David off at his hotel we came across this Ferrari.
Perhaps it was my testosterone-soaked state of mind, but I did feel at the time that our Shelby had just as much road presence as this rich man's toy.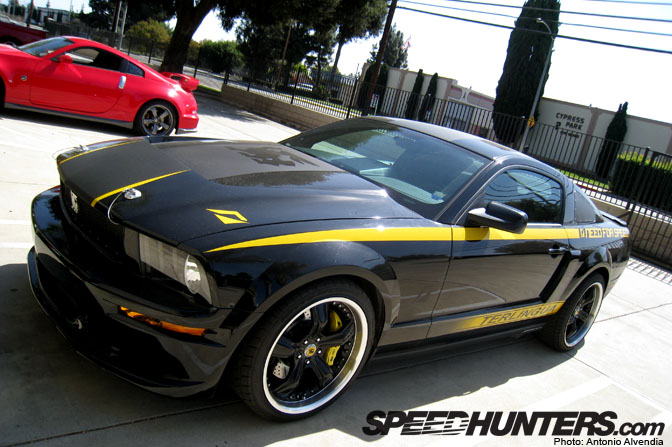 The next day I met up with Antonio at the So-Cal Speed Shop. Antonio the the automotive equivalent of a serial womanizer… Every time I'm in LA he is driving something different. This time it was a NISMO edition 350Z. Nice machine… Perhaps a few of you saw we had both of these cars on display at Irwindale.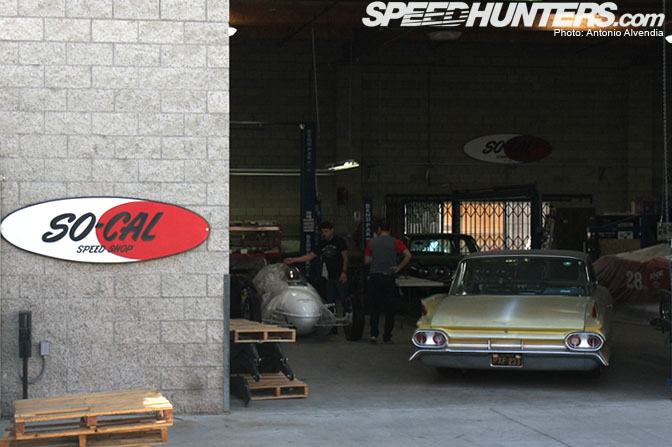 Our Speedhunters So-Cal car culture theme would be incomplete without a shop tour of the famous So-Cal Speed Shop. On the right you have a low-riding Caddy project owned by ZZ Top's Billy Gibbons. On the left if the famous So-Cal Bellytanker Bonneville car from the 1940s.
Anyway, more about the So-Cal Speedshop later.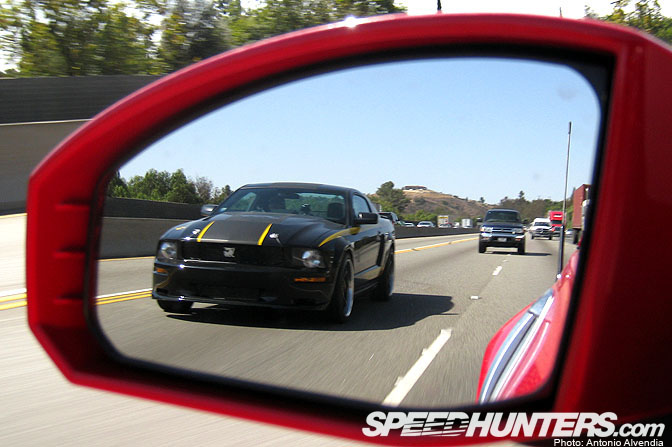 So it was now time to return the Terlingua back to the Shelby facility in Gardena. Antonio and I blasted across LA's monolithic freeways in our two iconic machines. From my perception the Shelby was getting more people waving and taking pictures!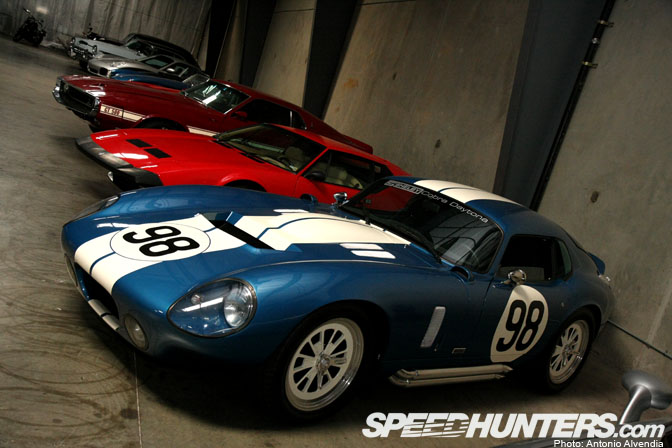 We arrived at Shelby's LA facility to drop off the car and were a bit astounded to see that it partly acts as a private car collection for Carroll Shelby and his closest customers.
Check out the Daytona Coupe… stunning car… made me drool even thought it's a "recreation".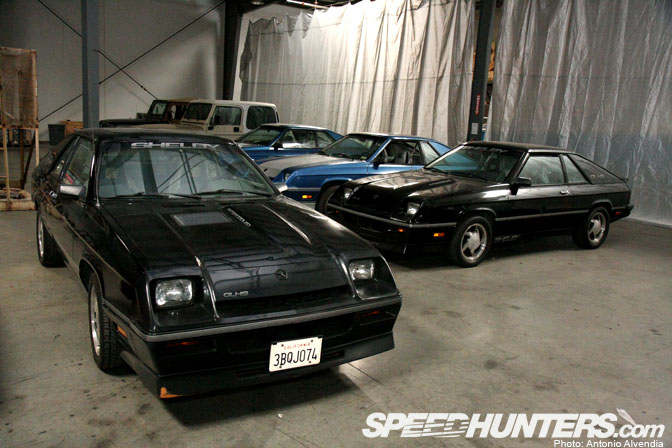 You know I completely forgot these cars even existed. The Shelby Charger from the mid 1980s.
These might be some of the only examples of these little cars that exist in such a mint form.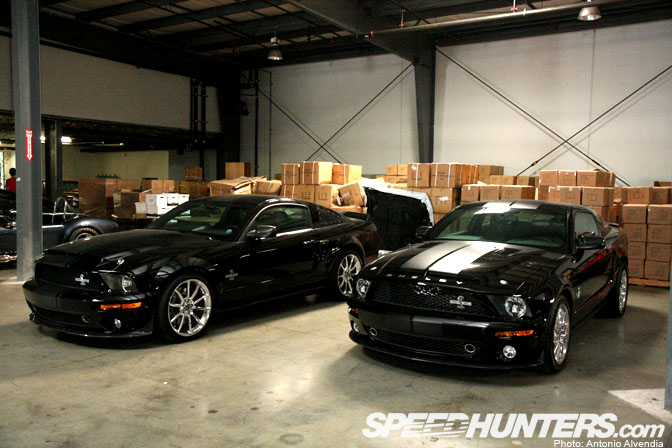 And here we have the big brother to the Terlingua: two special edition GT500 KRs. The one on the left has around 800 bhp. Can't imagine what that would be like to try control. It must eat rear tires like they're going out of style.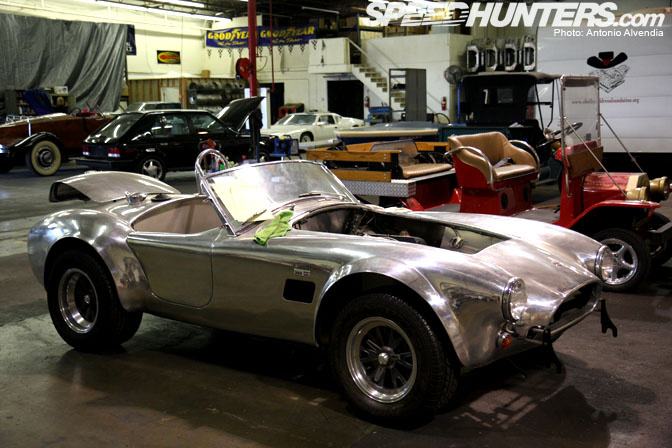 Another part of the building is devoted to Carroll's restoration projects. Love the look of this bare aluminium body Cobra. No fiberglass here!
In the BG you can see a DeTomaso Pantera which is about to be force fed a twin turbo Ford V8.
Must be a dream job for the mechanic whose charged with maintaining the fleet and restoring these rare and valuable cars.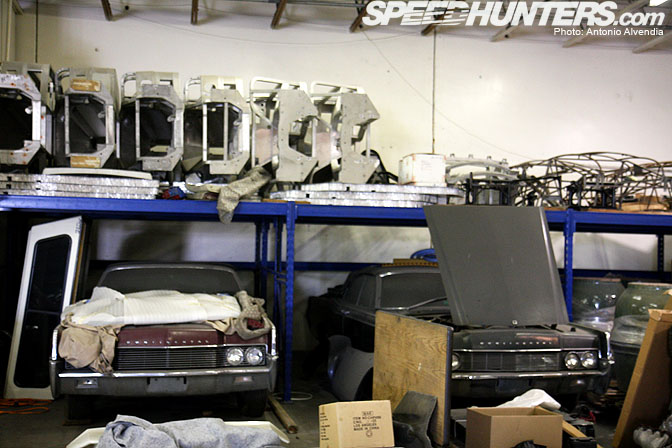 A few 1960s Lincoln Continentals were sitting around the shop, waiting patiently for their own resto jobs to start. Apparently Carroll has a thing for these cars and have been buying up a few clean examples for future posterity.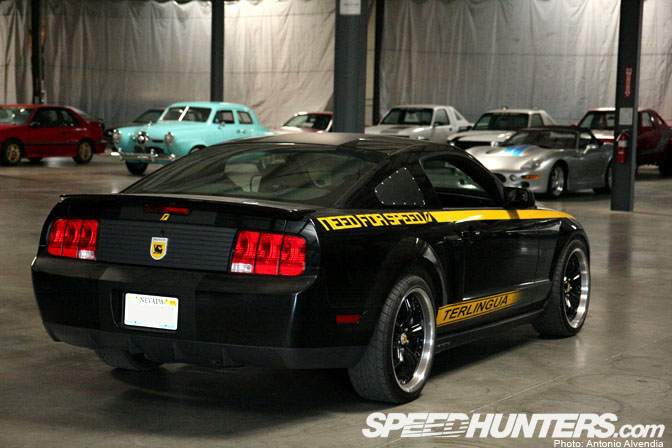 So that's it for this story. For those of you heading out to SEMA you can check the Terlingua out yourself at the Shelby booth…
 As for me I am going to go pump some iron and then eat a huge steak to try and recapture more of a masculine feeling…
Tx to Shelby Automotive for putting together this fantastic project.
:Rod