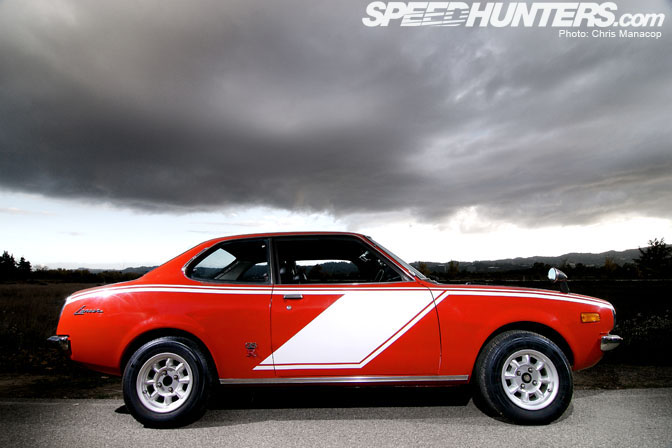 Many of you know that the Japanese Classic Car Show recently took place in Irvine, CA. I didn't have too much time to spend at the show – we were out late at Irwindale the night before (for the Formula D Finale), and was pretty surprised to find out that JCCS ended super early – at 3pm!!! Since most of the photos I took at the show centered around old school Toyotas, I thought it would be cool to show you all these photos that my good friend Chris Manacop shot.  For those of you not familiar with Chris Manacop, he is an automotive photographer that also shoots for the SpeedLounge and Performance Auto Sound Magazine. Thanks to Chris for the top quality photos! These are the type of pics we need to see more on Speedhunters, don't you guys think?
Now let's take a look at the car above -it's a 1973 Mitsubishi Lancer, owned by Chito Solomon. For those of you who think that name sounds familiar, you may have seen his 3-rotor FC3S in magazines before, or at car shows! Chito is an old schooler from the San Fernando Valley; he's been building cars that snap necks for a long time.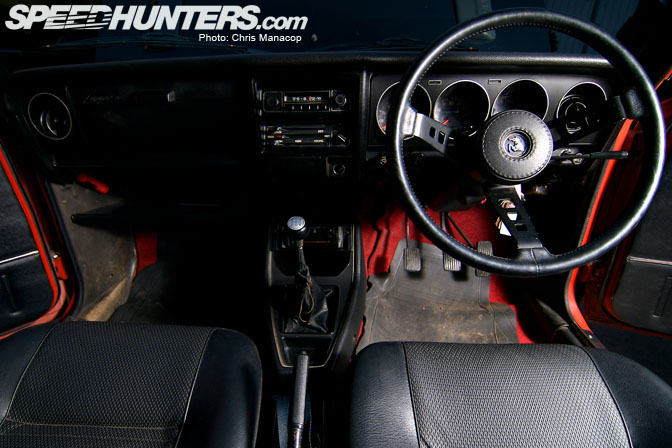 Inside, the car is pretty much original, in the same state it was in when he bought it from a Japanese car importer. I dig the period correct vinyl seats and the center console and all that – the car is very clean inside, and is very cool to see, for those who have never seen a 1973 Lancer in person. I've been to many places, shooting many cars, and Chito's car was the very first 73 Lancer I ever saw in real life. This car is rare!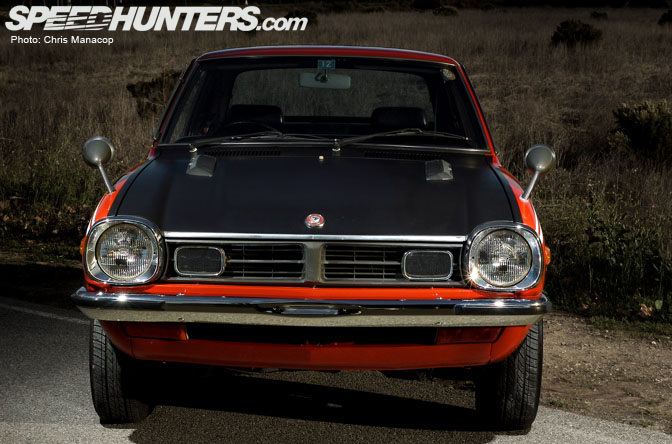 The Lancer has a satin black hood, as found on many early 1970s race and rally cars – the shine from a glossy hood often puts glare into the eyes of the driver, so people used to paint their hoods with flat or satin paint to prevent glare. Kind of the same idea as putting black flocking (velvety material) on the dashboard of a modern race car.
The tall fender mirrors and big round headlights make me think this car looks sort of like an insect or an alien up front. What do you guys think, am I trippin?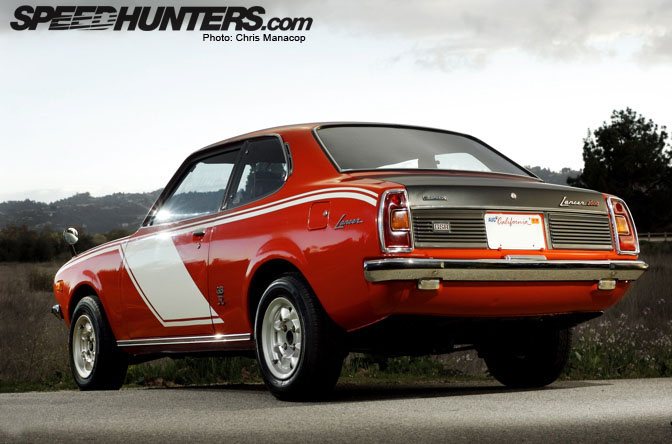 Apparently, Honda wasn't the first company to use the GS-R designation on their cars. I think this Lancer GS-R has very cool emblems, emblem placement and cool looking trim on the rear end. I think the white splash graphic and pinstripes on the car really add to the vintage sporty look of the car as well. Kind of reminds me of the car from Starsky and Hutch!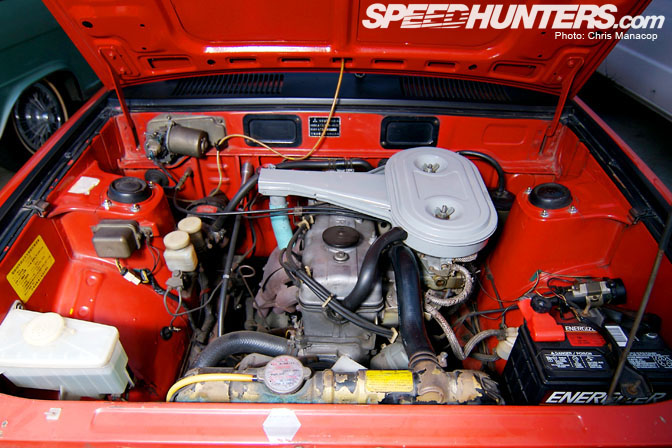 I can't get over how clean this engine bay is! Damn! Apparently, Chito says, "this is the original engine, and it only has 25,000 kilometers on the clock! Since it's been in this condition and running condition for over 30 years, there really isn't a need to change or upgrade the engine. All this car needed when I bought it was some new tires and an oil change."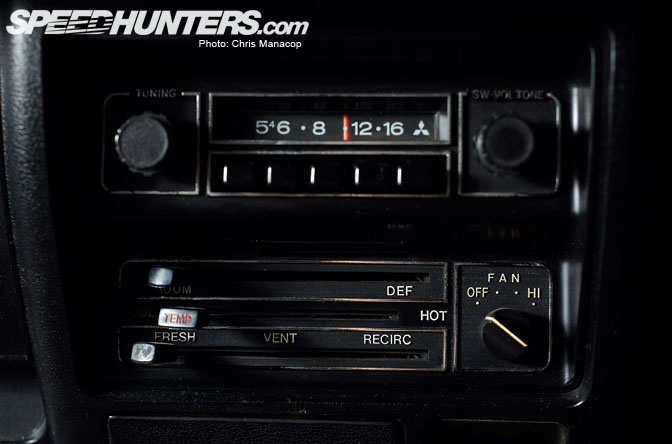 Check out the old school Mitsubishi OEM head unit! Nice! I wonder what radio stations you could get with THOSE channels! Check it out! haha! I think Chito's car gets more points for having this clean vintage head unit, no doubt!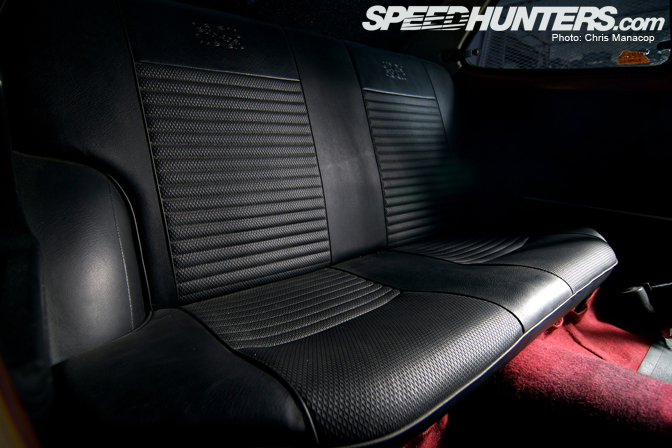 Clean, stock, original seats, in awesome condition. Looks like these back seats haven't seen any action in a long, long time.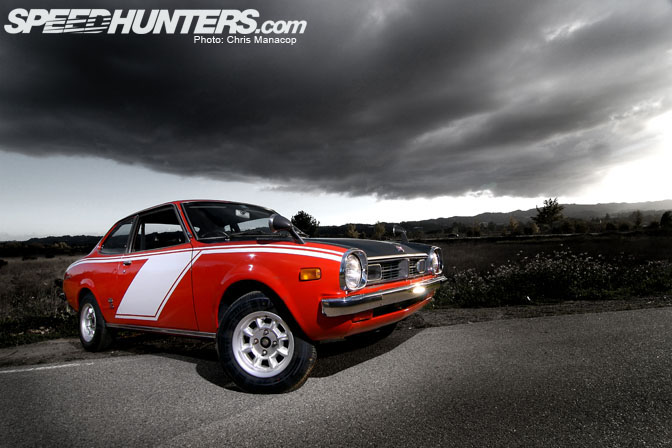 Dig the Minilite wheels, which complete the retro look of the entire car. I really like this car – sometimes I just like seeing rare cars in near-stock condition, especially when the car is rare. I'm glad Chito didn't try to put a 4G63 or something crazy in this car, it would certainly ruin the OEM value of this gorgeous, clean Lancer! Respect!
-Antonio Alvendia