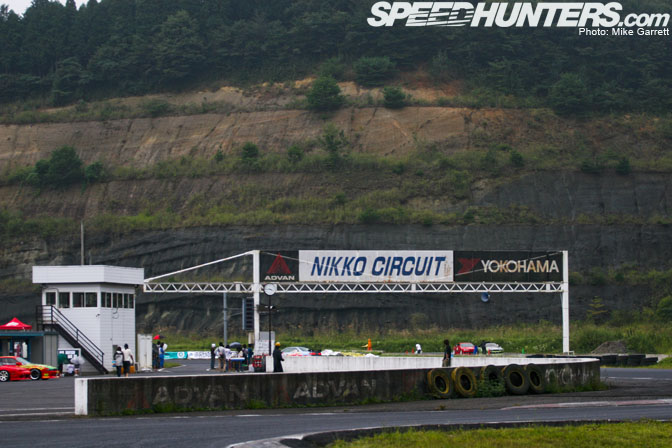 Nikko, Japan is a scenic and popular tourist location from people all over the world who want to check out some traditional Japanese culture on their trips to to Japan. Visitors can hop on a bus in Tokyo and take the trip a few hours north to see Nikko's historic Tosho-gu shrine and its famous monkey sculptures, the ones that originated the phrase "see no evil, hear no evil, speak no evil". While "that" Nikko is certainly interesting, as a car freak I think tour companies should also offer trips to Nikko Circuit, one of Japan's most famous drift courses. OK so that probably will never happen, but its still fun to think about anyways.
Nikko Circuit is actually located not in the traditional Nikko tourist area, but a little ways outside the city of Utsunomiya. Japanese people like to name things after well-known places even if they aren't located there. For example Tsukuba Circuit is not actually in Tsukuba but in the neighboring city of Shimotsuma and Tokyo Disneyland is not located in Tokyo but next door in Chiba Prefecture.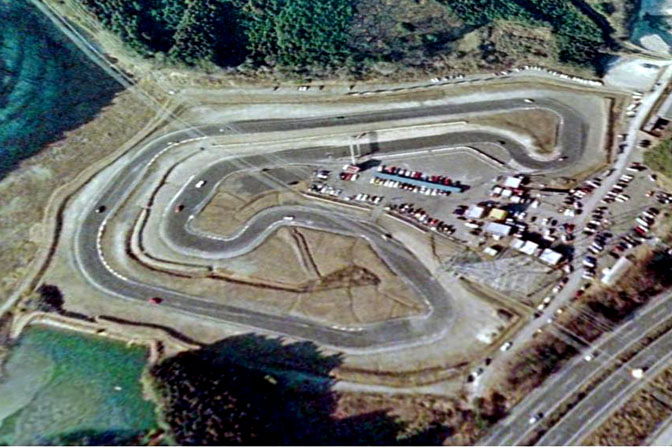 This satellite photo from Google Earth gives a good overview of the course. As you can probably see, there is nothing too fancy here. Japan's circuits range from huge state of the art places like Fuji Speedway and Suzuka to tiny grassroots tracks and Nikko Circuit definitley falls into the second category. The track itself is small and compact which means there are plenty of good places to view the action without having to hike around much. At bottom right hand corner of the photo, you can also see the highway that literally runs right next to the track, and makes for easy access for people coming up from Tokyo.
Nikko Circuit is most well known for its drift events and it likely hosts more drifting action than any other track in the Kanto area. While the track is very popular for drifting, there are also plenty of grip events held at Nikko. Imaizumi-san of Super Now is a big fan of racing at Nikko and he and his FC3S are the current S-tire record holder there with a scorching 38.835 lap that was set this spring.
Nikko was the site of D1 events in 2001 and 2002 and many memorable scenes from Option and Drift Tengoku videos were filmed there over the years. Currently, Nikko hosts the MSC Challenge and other events like the all-female Nikko Queen drift competition. Winds Auto and FLUKE are just a few of the shops and organizations that regularly hold big drift practice events at Nikko.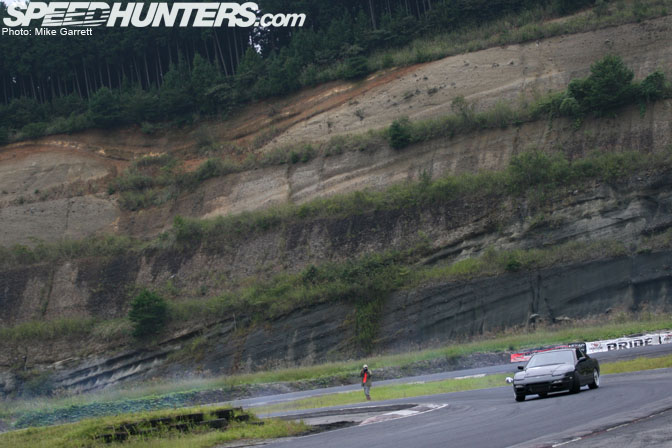 Visually, Nikko Circuit's most dominant feature are the sheer cliffs that border the west side of the course. I was trying to dig up some info on the history of the track to see if the side of the mountain was blasted out during construction, but I couldn't find any info. Regardless of how they got there, these "cliffs" make for a dramatic backdrop when viewing the action at the track. You can see just how huge they are in the photo above.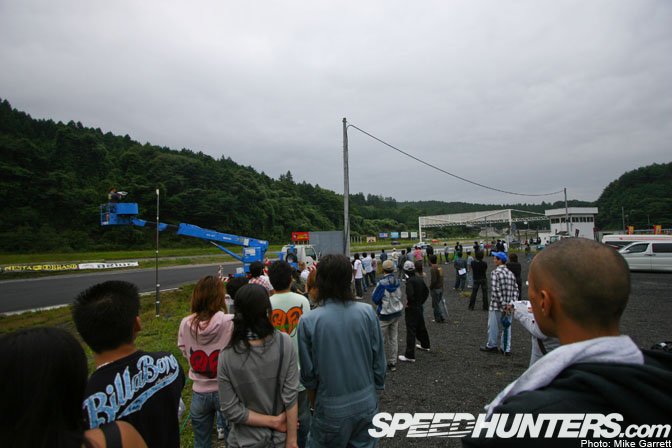 There are no grandstands at Nikko Circuit, so when people want to watch the action they simply gather in the large gravel area located in the center of the first corner. I don't know of too many other race tracks that let spectators get as close to the action as this. Here you can see some of the people lining the track during the MSC event. Some of them had even set up lawn chairs right at the fence for that perfect viewing experience.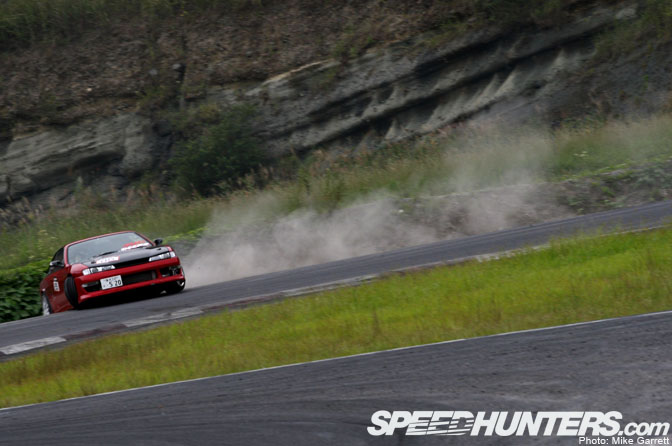 I have written a lot about how great Nikko Circuit is for dramatic drifting action, and scenes like this further prove my point. As I wrote in my MSC posts, with all the dips and bumps, flying cars are just part of a normal day's action at Nikko Circuit.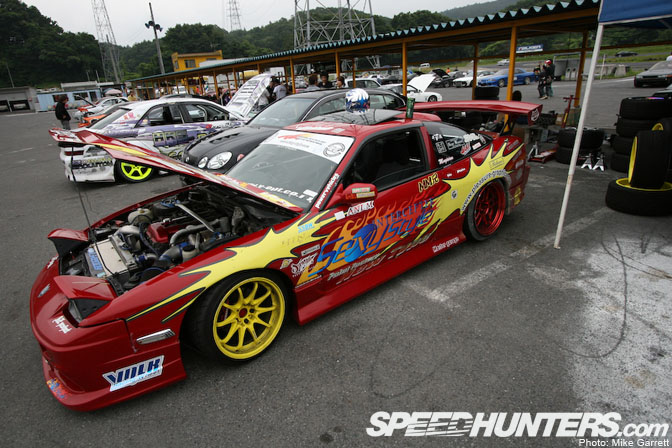 There are no lighted garages or other driver amenities in the main paddock area at Nikko, instead you have a metal canopy that will help keep you dry in the rain and that's about it. Again, very low key.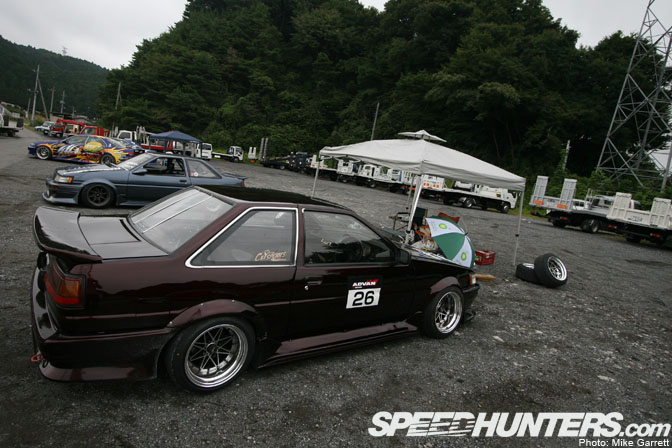 On event days with a lot of cars, extra pit space is made on the unpaved areas outside of the track. Here we see some the badass AE86's from Team Mouse modeling this stylish and chic gravel paddock area.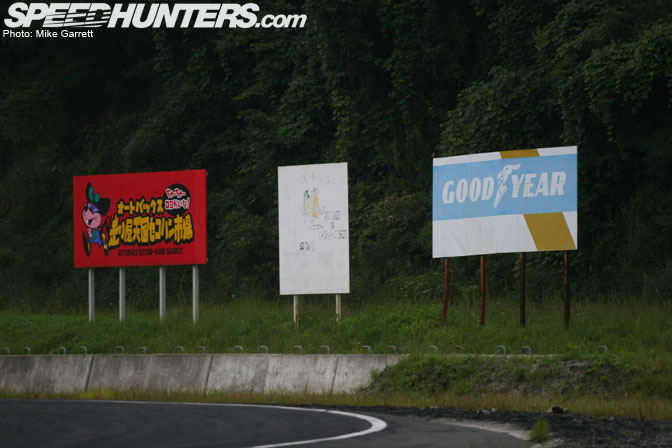 All around the track are weathered old billboards which bring even more visual character to the circuit. The white sign in the middle has been faded beyond recognition and the posts on the Goodyear sign certainly look like they have seen better days.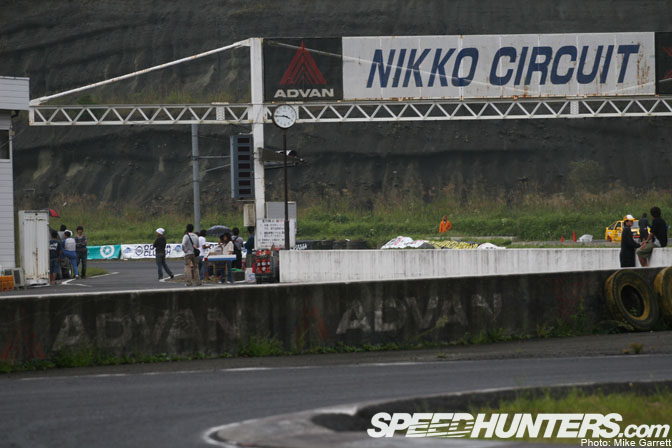 Even more distressed are the Advan signs that were painted on the concrete barrier near the paddock. I wonder how long those have been there? The wall where the two guys are sitting in this photo is also another great location to watch the action on the east side of the track.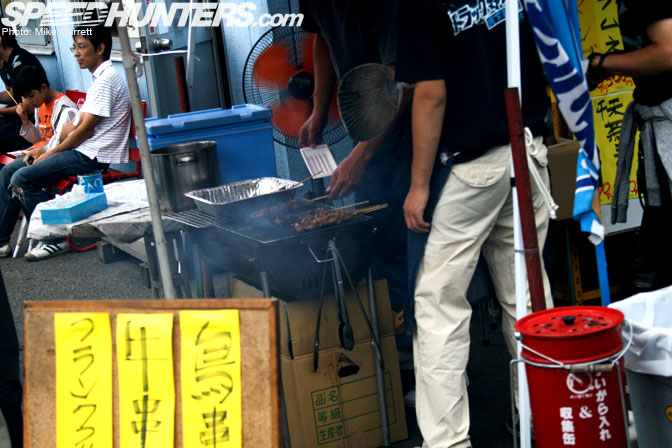 One of my favorite parts of Nikko Circuit is the awesome snack bar which serves up a variety of Japanese favorites including curry rice, ramen, udon and others. They also serve shaved ice that is really popular in the summer months. On special occasions like the MSC event, they even serve fresh grilled yakitori and beef sticks. It kind of reminds of the the food you see at outdoor festivals in Japan and besides being delicious, this stuff really adds to the down-home atmosphere of the track. I should probably move on before talking about this me makes me even hungrier.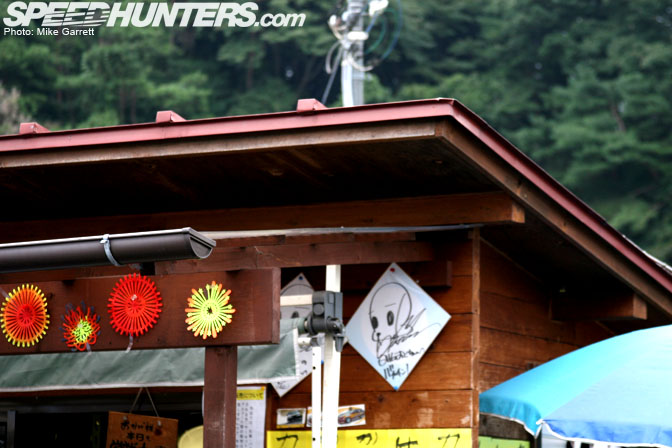 Lastly, here is a shot the snack bar building which is loaded up with drifting stickers, memorabilia, and autographs from drivers who have visited the track over the years. I'm sure you can notice Nomuken's distinct signature in the photo. I thought this would be a good way to wrap up this post as its a great symbol of all the drifting history that Nikko Circuit has.
While it may not be quite the drifting mecca that Ebisu is, Nikko Circuit certainly packs tons of drifting excitement into a small place and occupies an important spot in the development of drifting in Japan. Most of all, it is still one of the best places to see modern grassroots Japanese drifitng. All of these things make Nikko Circuit more than worthy of the "Temple of Speed' title.
Overhead Image from Google Earth
-Mike Garrett