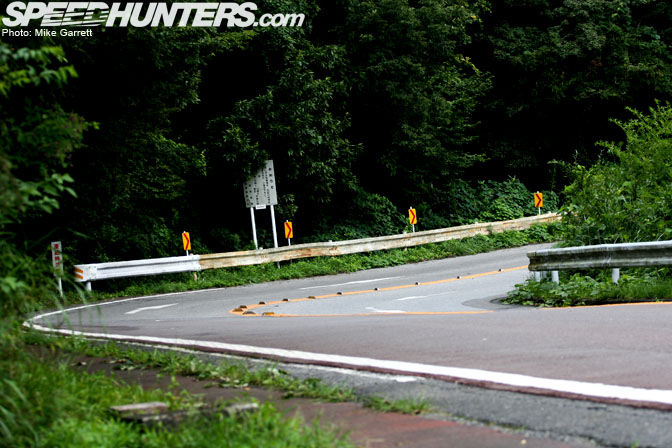 If you mention "Tsukuba" to any enthusiast of Japanese car tuning, then they will probably picture Tsukuba Circuit, the legendary race track which is known as the birthplace of time attack competition. However, about 12 miles from the circuit itself and 10 miles from the center of Tsukuba City, you will find the twin peaks of Mt. Tsukuba towering above the flat countryside. Mt. Tsukuba is quite well known in Japan and is one of the biggest mountains in the Kanto area. Every weekend, it fills with visitors from Tokyo who want to step out of the urban sprawl and enjoy some fresh mountain air. Speaking of Tokyo, it is said that on a clear day, you can see Tokyo's skyscrapers from the top of Mt. Tsukuba some 40 miles away.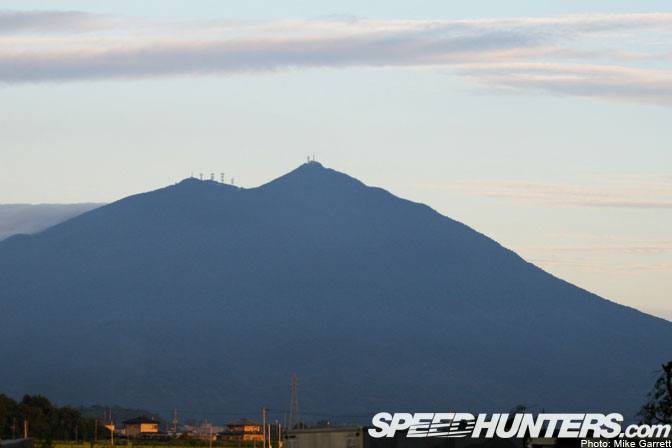 While Mt.Tsukuba or "Tsukuba-san" as it is known in Japanese, offers plenty of attractions for hikers and wilderness lovers, I wouldn't be writing a "Temple of Speed" story about it if it didn't also have some significance to car people. Tsukuba-san is also happens to be very famous for its touge roads. Unlike most of Japan, the Kanto plain is flat and the lack of mountains makes Tsukuba-san a favorite among street racers, motorcyclists, drifters, and car enthusiasts from all over the area. It is not uncommon for people to come to Tsukuba-san from places like Chiba and Tokyo to have some fun in their cars.
On any given day, you will find plenty of drivers up on Mt.Tsukuba enjoying some of the finest roads the area has to offer. A few months ago I was driving Mt. Tsukuba on a Tuesday afternoon and I noticed several other cars running the roads up there. On a Tuesday afternoon when most people are at work! This weekend, I took another trip to Tsukuba-san and this time I brought my camera to try to document some of the roads. The past few weeks have been abnormally rainy in Japan with downpours happening almost every day. Even with the wet roads and ugly skies, I saw more tuned cars and sports cars then I could count. Suzuki Swifts, Altezzas, RX8's, Civic Type R's, and S200's, were just a few of the machines I saw yesterday. Speaking of S2000's, a couple weeks ago I dropped by a local McDonalds where I found about 15-20 S2000 owners who had just finished up a group run on the mountain. Awesome.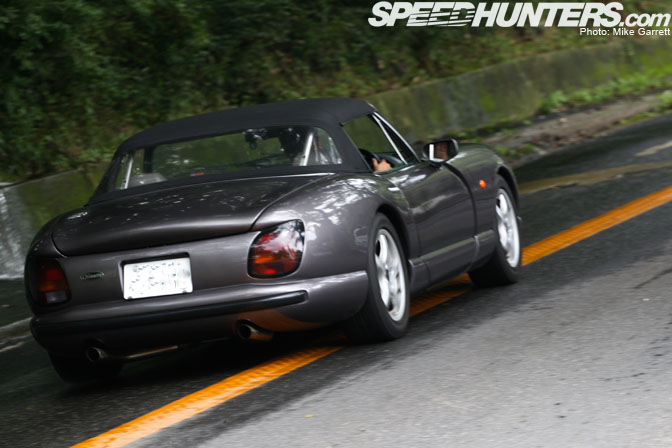 I wasn't able to shoot too many photos of the cars, but I did manage to get this quick shot of a TVR Chimaera heading up the mountain. A pretty rare sight to say the least. When you are up on the mountain you can tell which people are up their for relaxed mountain drives and which people are up there to really to push it. It is not common to see the same car pass you several times as it runs the roads back and forth, over and over again. As you might expect, things get even crazier late at night when all the tourists have gone home…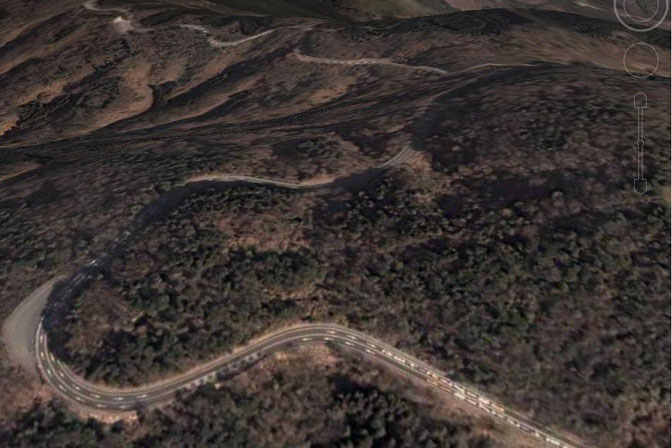 There are two main roads on Mt. Tsukuba which are popular among car enthusiasts, the longer road is called the Purple Line and is the most well known road on Tsukuba. It is even featured in Initial D (the S2000 and R34 GT-R races). Unlike some of the Japanese touge roads like Irohazaka which have tons back to back hairpins and very steep hills, the Purple Line is a long course with plenty of sweeping corners that allow for very high speeds by skilled drivers. In this Google Earth shot, you can sort of see what the road looks like from above.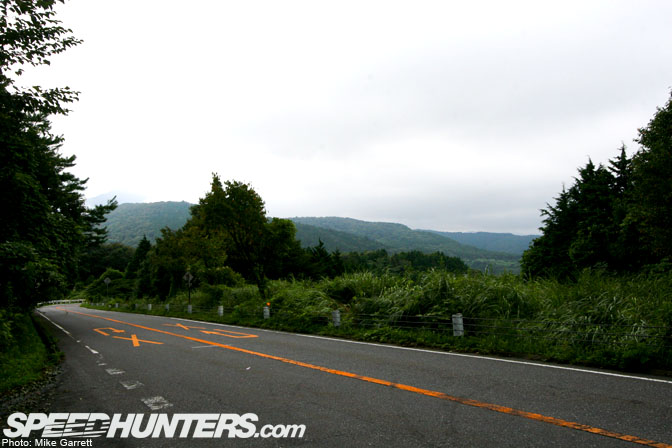 Here is one of the few straight sections on the Purple Line. Like most of Japan, Tsukuba-san looks totally different depending on what time of the year it is. During the fall and winter months, it is brown and dry, but in the spring and summer months, it is very green and there are many places where the vegetation has grown onto the road.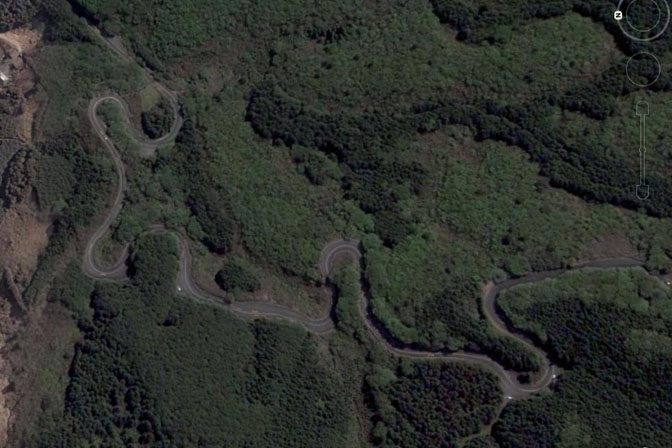 While the Purple Line may not have a lot of hairpins, some of the other areas on the mountain like the road known as the "Fruit Line" offer a lot of them. You can bet that this an absolute blast to drive. Even in my bone stock Honda Fit these roads are a joy to run. I just to have to remember that I'm rolling on super narrow 175/65/14 all seasons when I think about really pushing it.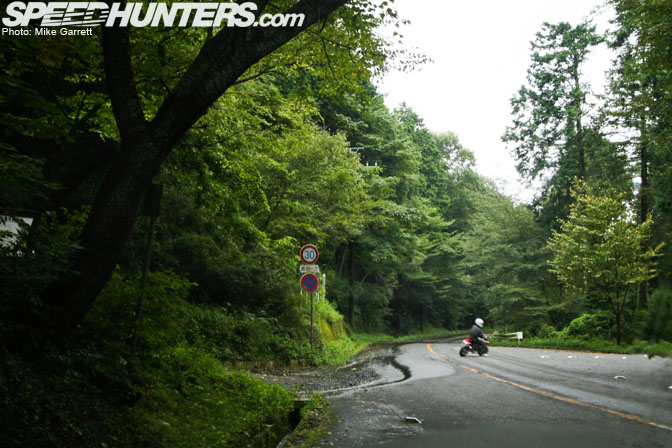 Motorcycle and scooter riders love Tsukuba-san as well. I can't believe how many people I saw riding fixed up 50cc scooters up there. I just love how green everything is during the summer time.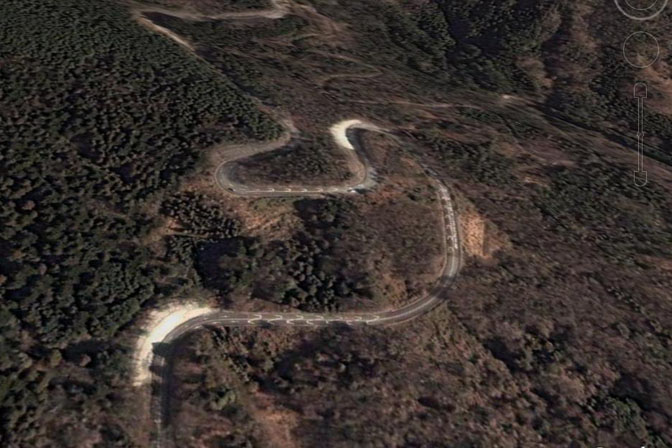 Another overhead shot. I couldn't really get any shots of the tighter areas as there was no place to safely take photos, and all the guys blasting by on bikes and sports cars were making me nervous! Don't these roads look like fun though?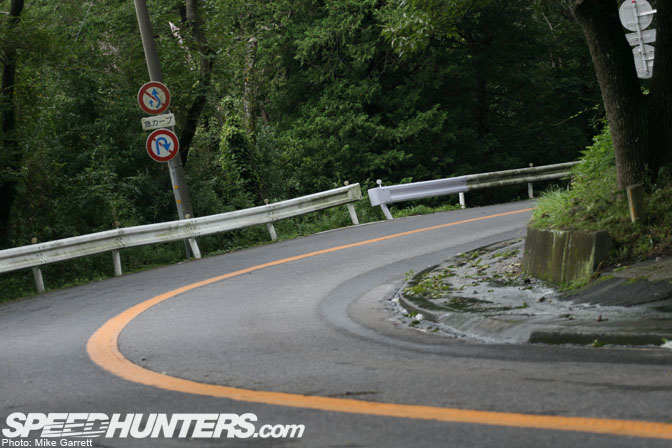 Because of all the rain, a lot of the water run off from higher up the mountain was flowing down and pooling up at the sides of the road. A danger for some and a welcome challenge for others I suppose. As you can see, the guard rails show their fair share of damage taken over the years.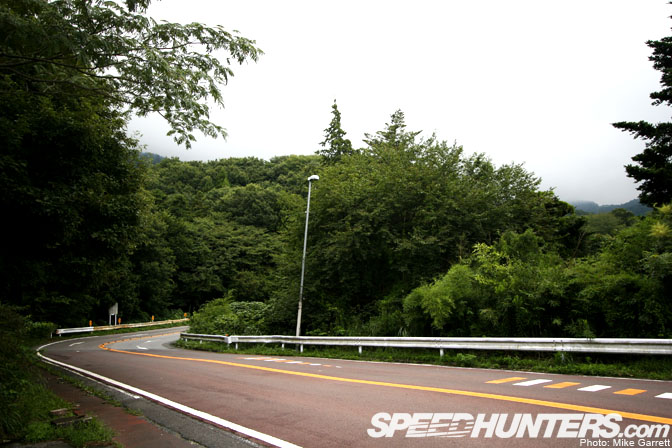 I'm thinking that I need to start getting out more and taking some more of the awesome roads that Japan has to offer. Actually I just saw an article in Option Magazine about a place that will rent an R35 GT-R for about $400 a day. Hrm…anyone want to pitch in for my next road trip.
Screen grabs from Google Earth
-Mike Garrett