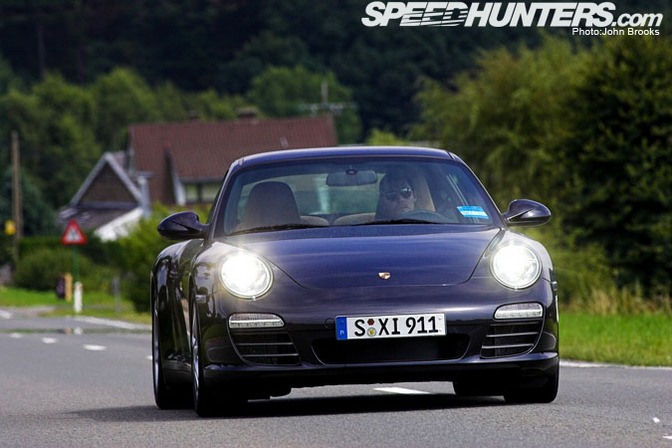 In the mid-90s, my wife and I moved to London to pursue a dream
of directing music videos in the UK scene. This of course, was not such
an easy manuever. It was quite a huge challenge to go to a large, foreign city to get started in a freelance career…. Pretty stressful times I have to say, although I wouldn't be where I am today unless I put myself through that hardship….
A particularly tough scenario I had to deal with
during this period of my life was, I had to endure seven whole years without driving, let alone owning a car. As an automotive enthusiast this
was pretty challenging to say the least. It was during this period of time that my dear
wife put a great idea forward to perhaps cheer up her then moody husband.
She told me that instead
of me just trying to build up our life to be able to afford but one
car, why not go for more? As some one that loves all things automotive
related, then surely I should own seven cars.. one for every day of the
week!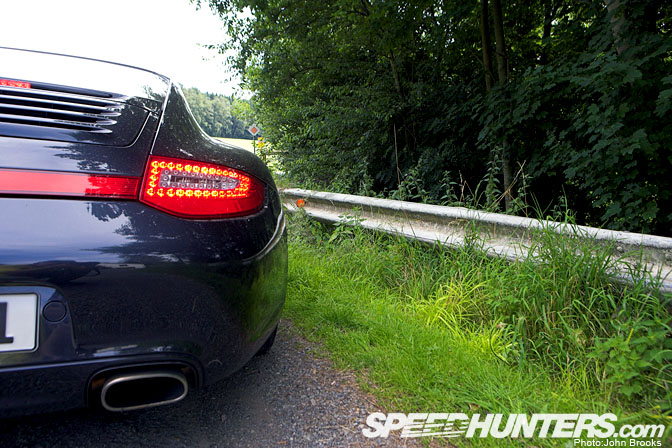 Ahhh
such a lovely lady….. might as well think big no? A great idea, although I never sat down and decided what these 7 cars should be until around a year ago.
Here is my list:
1969 Nissan Skyline GTR: Works Style
1953-54 Chevrolet: Traditional Kustom
Nissan 350Z: Stripped Track day car
Aston Martin V8 Vantage
Mercedes CLS: VIPed Euro
67-69 Ford Mustang: Ground up build on reproduction shell. Retro Trans Am street warrior style.
AE86: full TRD wide body as designed by Antonio.
I've also toyed with the idea of a 1936 Ford Kustom and a 1992 Honda Civic Si with this list from time to time… it's hard to be limited to only 7 cars!
Anyway, my wish list is now in a bit of a crisis…. I've realized that
I've completely forgotten about my old passion for the machines from
Stuttgart. Oh dear, oh dear…. What to do…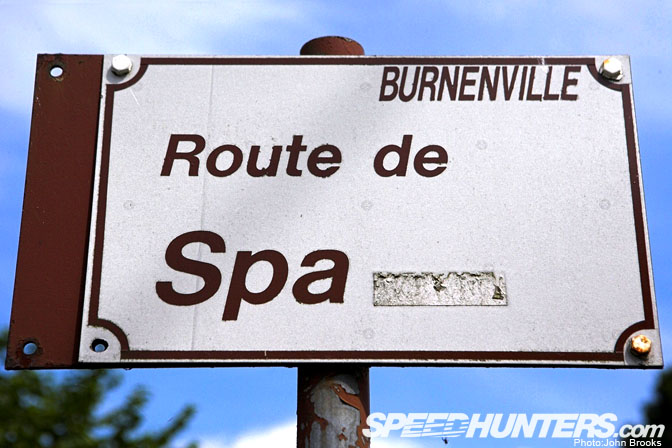 My rediscovery of the Porsche marque all started a few months back when we were planning out the Speedhunters Porsche month. We knew we'd be coming to Europe around the time of the Spa 24 hours and thought it'd make a great photographic story to do an automotive pilgrimage to see the remains of the old Spa track…. I'm talking about the old, the fearsome, 14km (8.8 mile) long high-speed road track which was in use from 1921 to 1978.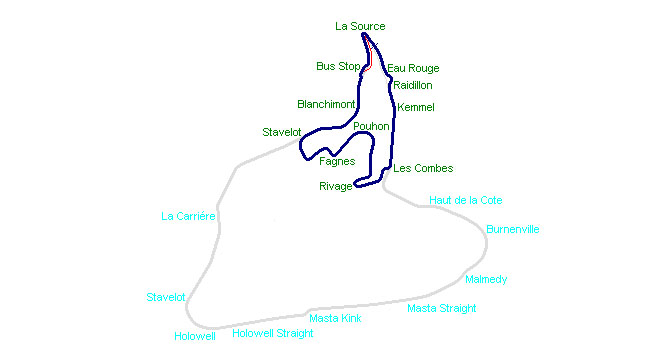 People say that Spa Francorchamps is one of the world's greatest racing tracks; well it is a pretty amazing place, but the old street circuit, now this is something else all together. Check the map showing the modern track in comparison with the old one. Can you imagine the speeds?
So we asked our contact at Porsche… "would they be so kind as to send a 911 to Spa to let us use in a photographic story around the old Spa
circuit?"
And the reply came back: "yes no problem, they'll deliver a car to the circuit…"
Wow!… they must like us huh? NFS Porsche Unleashed must have made a few long term friends in Stuttgart hahaha.
And so a few days before the Spa 24H race, we parked up at the cafe where the FIA had set up their press accreditation centre and waited for the Porsche to arrive. We ordered a few Cappucino's and sat outside, watching with bemusement while Antonio chatted with the Belgian girls working at the FIA press center.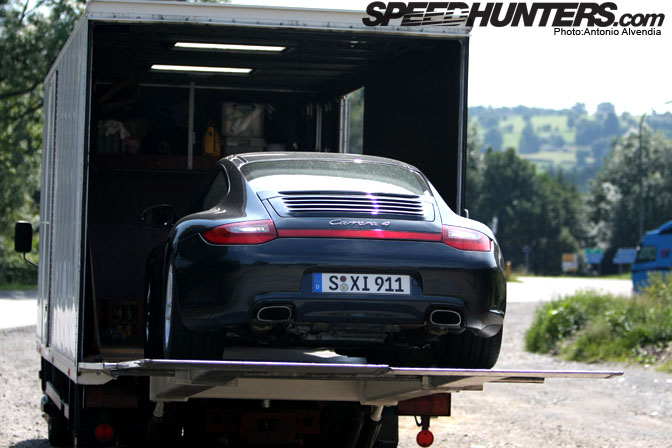 … and then there it was! Straight from Leipzig in Germany; a pre-production 2009 new shape Carrera 4. Ahhh… fantastic… this was going to be a fine day.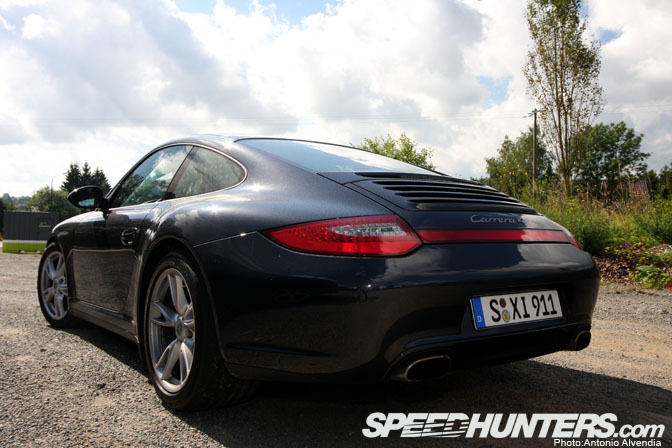 This was the first time I had seen the re-styled 997 chassis and I have to say I absolutely love it. I am someone who thought that the 996 chassis was a bit of a step backwards from the 993. The introduction of the 997 fixed these sins, as it saw the return the a sexy, curvy waistline that 911s are so known for. The re-styling of the lights is even better imo, there is an elegance about them that brings the whole design together.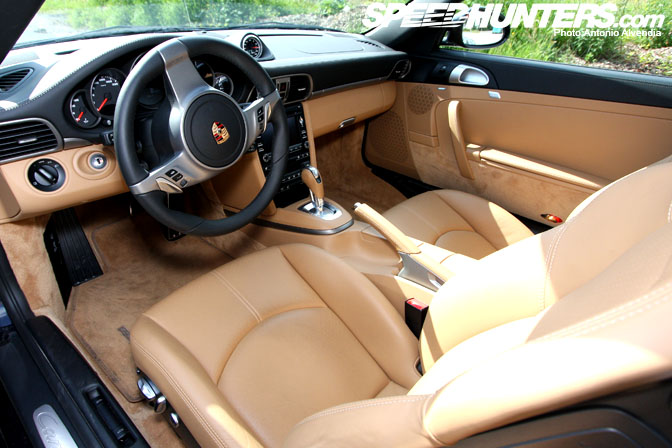 Opening the door reveals a beautiful stitched leather interior. Sliding into the seat for the first time I found that all elements of this interior was well beyond anything I'd previously experienced. It certainly was a major paradym shift from my Lexus IS that's for sure. One doesn't sit on the seats, you sit inside them. It's as if the seating position is the first point of attention that the Porsche designers have developed to directly pull you inside the driving experience. It envelops the body with a sense of ergonomics that feels utterly natural.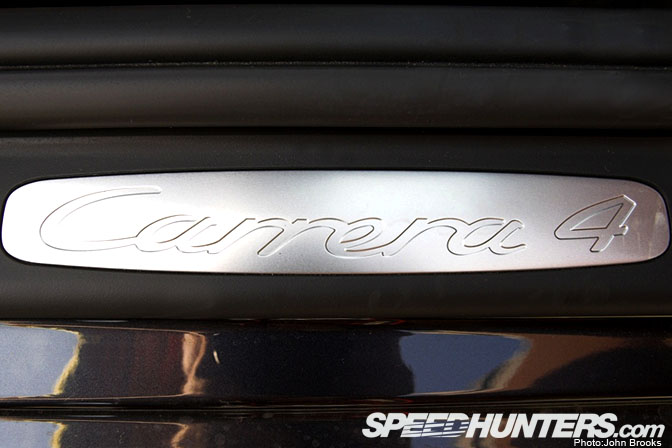 Have a look at the plate on the door sill… nice attention to detail…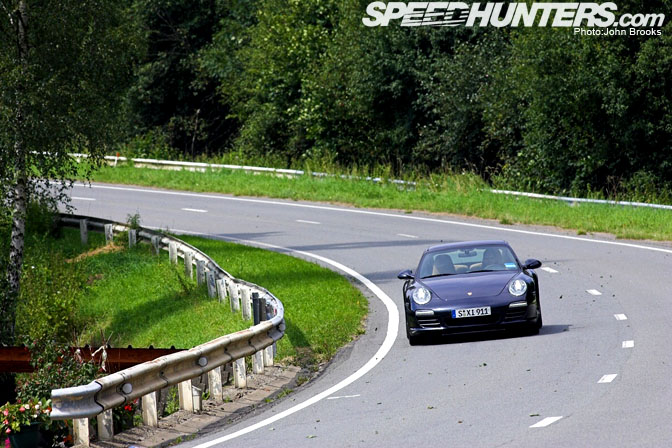 So we headed out to find the remains of the old circuit… This is the Burnenville Corner.
I'd recommed to any serious fan of racing history to do the pilgrimmage to Spa-Francorchamps in Belgium to marvel at the remains of the old circuit. It's absolutely insane to think that this was a place where people used to race cars. As I was driving the Carrera4 around the track I just could not beleive that 917s and F1 cars used to thunder around here in what seems to be a series of high speed 4th and 5th gear corners.
No wonder they had to stop racing here, any mistake was sure to be a fatal one.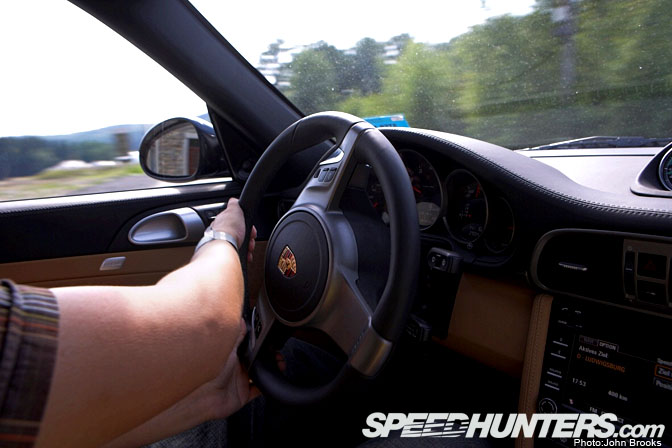 Doing photo shoots on public roads, in foreign countries, is not necessarily the time and place to be able to get into a driving mode to get a feel for a chassis. You are too busy watching traffic and doing u turns to really get in to the spirit of driving. I spent the first part of the photo shoot just doing U turns keep driving past John Brook's manly 500mm camera lens.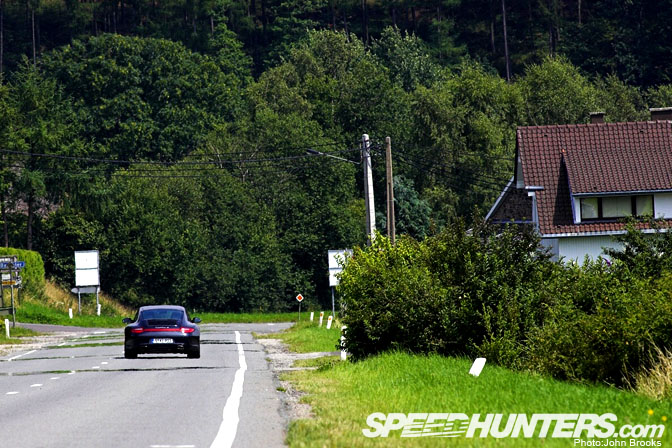 I did though, manage to get a sense I was driving a complete design experience. Every element was working in perfect balance, feeding back through the seat and wheel to give the feeling the car was directly plugged into my cerebral cortex. Mmmmm…. perhaps more of these experiences are needed.
This bit of straight is the stretch from Hate de la Cote on the above track map.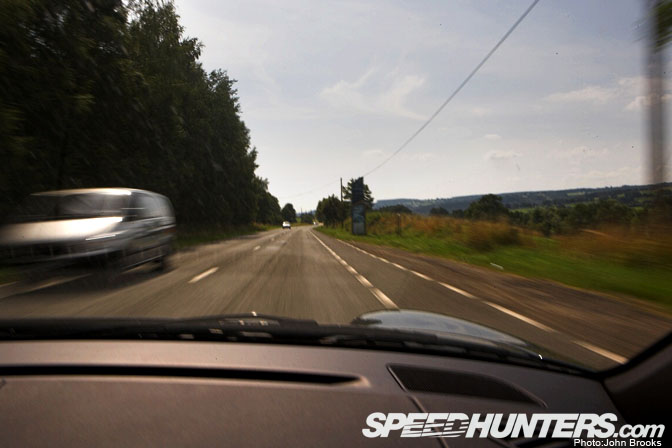 I have to say, for the first part of the day, I was a bit nervous behind the wheel of the 911. I was the first time I've driven a car during a photoshoot and also the first time I've been entrusted by an auto manufacturer with one of their cars!… I also tend to be a wee bit edgy when driving abroad.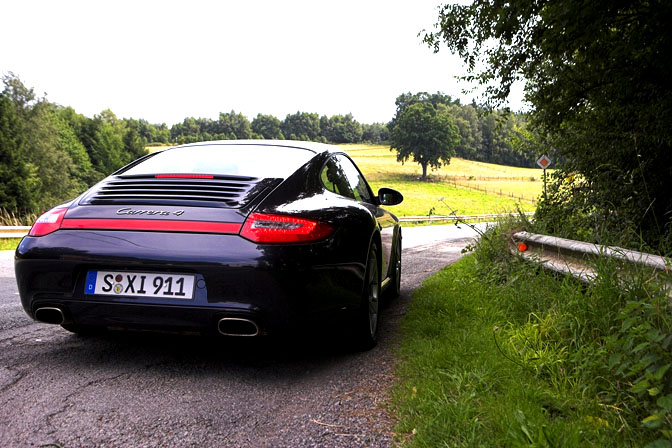 You know, I have a real problem with a lot of the new cars these days… in my mind there are far too many new models being introduced which are far larger and heavier than their predecessors. Do we really want cars that look like gas guzzling heavy-weights?
What I really appreciate about Porsche is that they haven't gone down this road with the new car. There is a design elegance about this car that really appeals to the eye. It has a sense of mobility and lightness which seem to be unique qualities in this particular era of automotive design.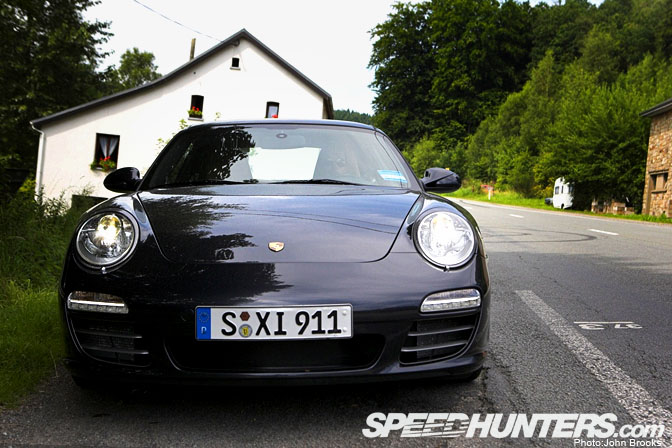 I also appreciate that this car pays respect to its history. The spirit of all those Le Mans victories and racing lineage we've been featuring on Speedhunters this month lives inside this car. When you pilot this machine you can feel this lineage. No joke!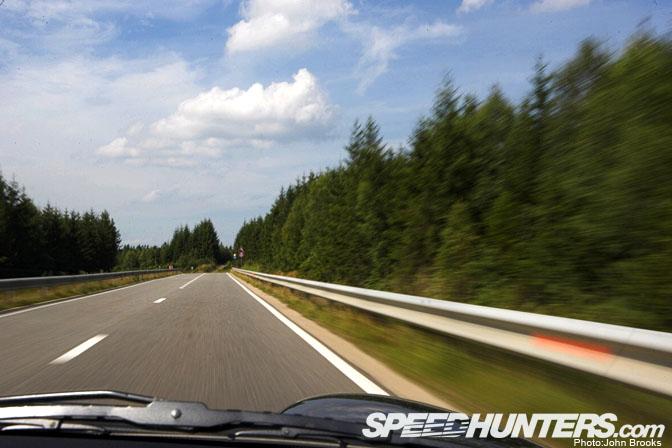 I am Steve McQueen… I am Steve McQueen… I am Steve McQueen… I am Steve McQueen… I am Steve McQueen… I am Steve McQueen..
You can see the guardrails from the old circuit still line much of the course.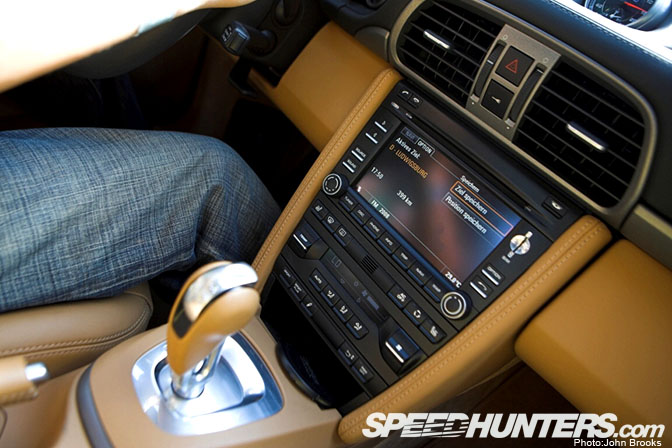 While attending the Recaro Days tuning event a few days later Antonio and I noticed that a few of the modified cars had full leather stitched interiors just like this Porsche. It's a design style that is much prefered to LCD screens and fiberglass subwoofer enclosers IMO!
Stretch tires have migrated to the Euro scene and by this same token I wonder if full leather stitch interiors will come across from the Euro scene to the JDMs?.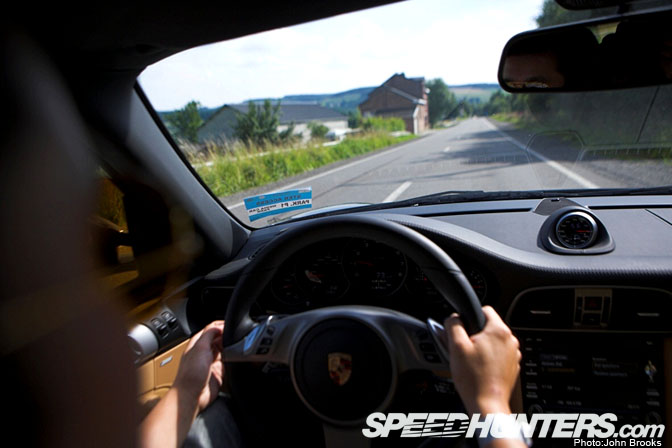 Hmmm…. by this time I was starting to think to myself that my list of seven cars needs to be changed….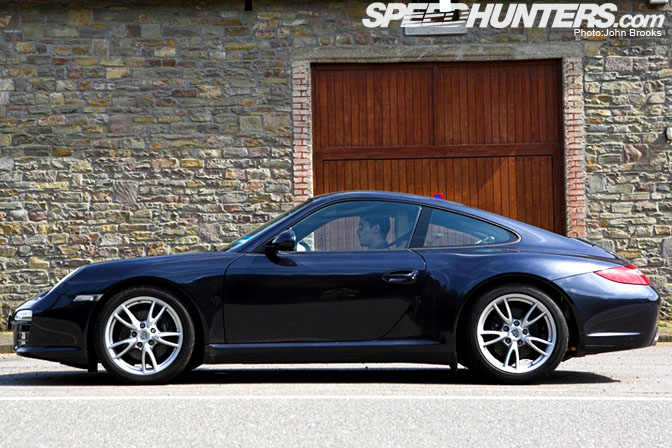 Having wet my appetite for the Porsche experience on their base 911 I can only imagine what it must be like to drive one of the high end cars!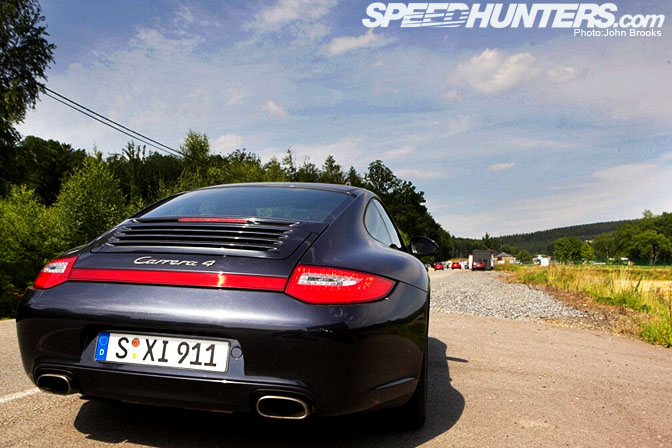 And finally, we worked our way to where the old track meets the new. Ahead you can see the marshal post at Stavelot.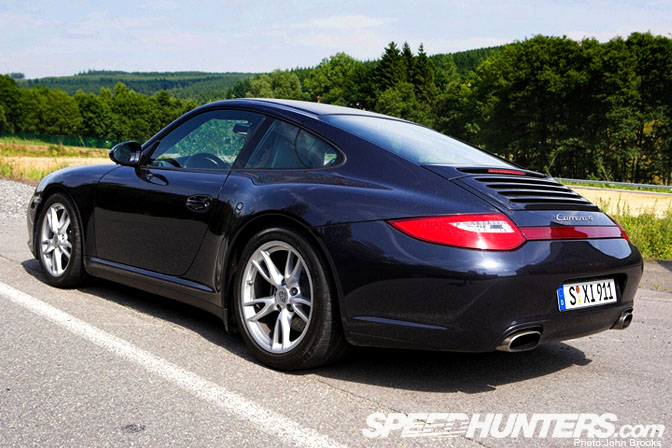 So I need some help here… which car do you think I should drop off my list of seven for a 911? And what 911 should it be?
A Rauh Welt tuned 930? Nakai-san said he is looking to start building cars in America.
A new shape Carrera?
A GT3RS?.. GT2?
And what would your list of seven be?
:Rod Chong