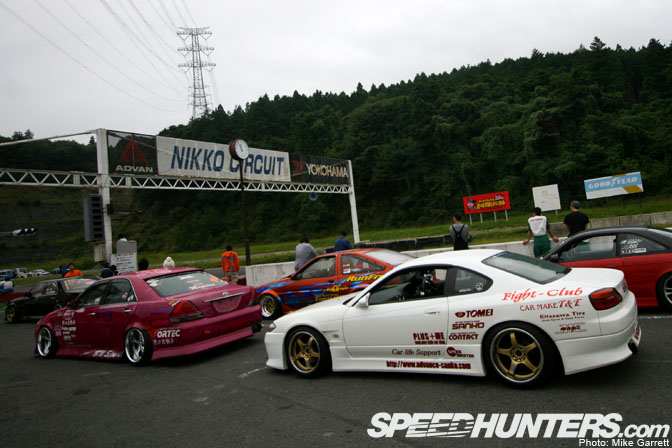 What is your idea of the perfect first wedding anniversary? A gourmet dinner and a walk on the beach perhaps? Maybe some soft piano music and glasses of wine? What about taking a trip to see the best grassroots drift series in Japan tearing it up on one of the world's most iconic drift courses? That is just where I found myself yesterday as I somehow convinced my wife to not only let me go out and shoot drifting on our anniversary, but also to tag along with me on the trip. I guess I am pretty lucky sometimes.
After seeing the MSC event last month at Honjo Circuit, I was anxiously awaiting the Nikko event. As I have said before, Nikko Circuit is an amazing course for drifting (look for a Temple of Speed story coming soon), and I knew I couldn't pass up the chance to see the drivers and cars of MSC doing their thing on this awesome race track. Arriving at the circuit, I saw quite a few cars I recognized from MSC Honjo and other events, plus many cars I hadn't yet seen in action.
Not surprisingly, the weather conditions were less than ideal with cloudy skies all day and rain showers off an on which made conditions tricky for the drivers. I'd like to use this post to tell the weather gods that a little sunshine and clear skies never hurt anyone…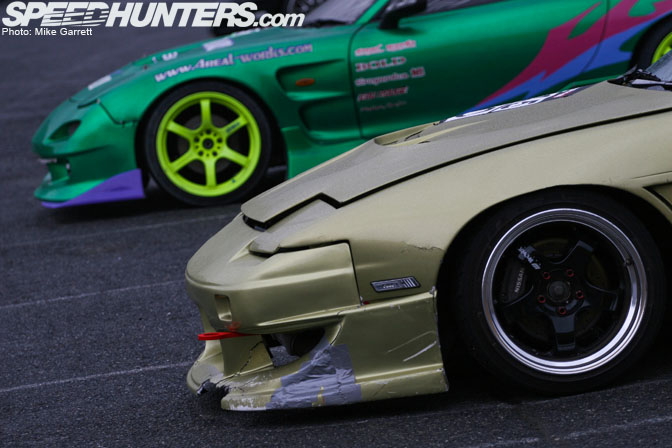 As you saw last month, MSC events are THE place to see grassroots Japanese drifting culture. The decals, the damaged body panels, the sea of colors, and the camaraderie. It's all here. Speaking of body damage, while the Honjo course lends itself to relatively unscathed drifting, the infamous bumps and drop-offs at Nikko made for plenty of shattered aero, sparks, and airborne cars. All the stuff that makes for exciting drifting!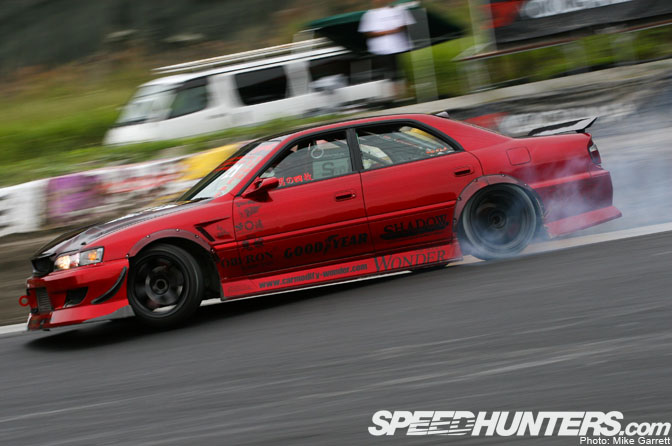 This bitchin' JZX100 Chaser is driven by a member of a drift team called Spirant. They are one of the most well-known teams in the Kanto area and their car's have a really unique style. Besides this Chaser, which was featured at this year's Exciting Car Showdown in Nagoya, the Spirant roster also includes the cult favorite gray and black 180SX which was seen at Tokyo Auto Salon this year. The 180 probably would have been running at this MSC event as well, but it suffered some damage a few weeks ago during another soukoukai at Nikko. Damn, I wanted to see that car in action also.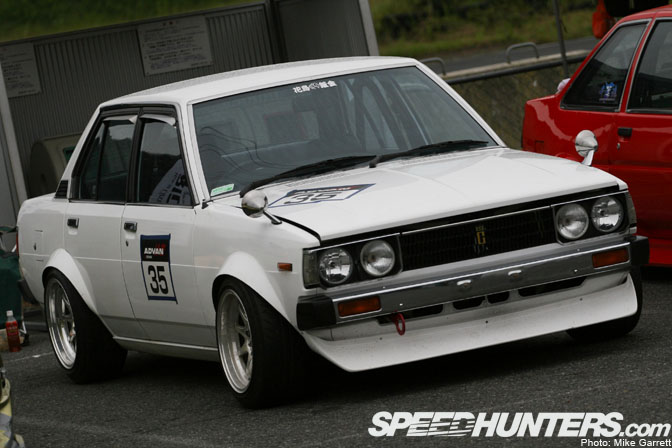 The MSC Nikko event had a huge showing by AE86 drivers, and in addition there was this super clean nana maru (70-chassis) Corolla sedan. This is not the first drifting 70 chassis Corolla I have seen, but it was probably the cleanest. The car's condition is just immaculate considering it's a drift car that is nearing 30 years old! Under the hood was a fresh 16-valve 4AGE with a gleaming set of individual throttles, and the Weds MA86 wheels give the car an aggressive yet understated look on the outside. This car was definitely one of my favorites at the event.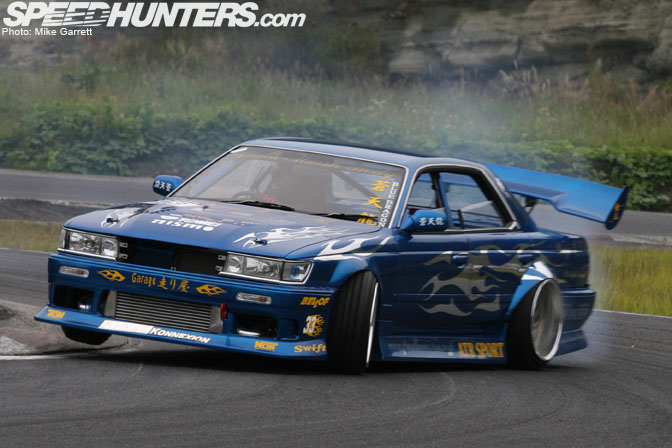 You must be familiar with this C33 Laurel, as I just posted a bunch of photos of it a few days ago. The car was back for the Nikko event and it is seen here catching a little air while running through the S-curve section past the front straight. Capturing the cars with my normal camera was great, but I couldn't stop thinking about how cool this stuff would look after being shot with Rod's video camera. I guess hearing all of his talk last month about motion, framing and composition has rubbed off on me. Hrm…Nikon just released a DSLR camera that shoots HD video…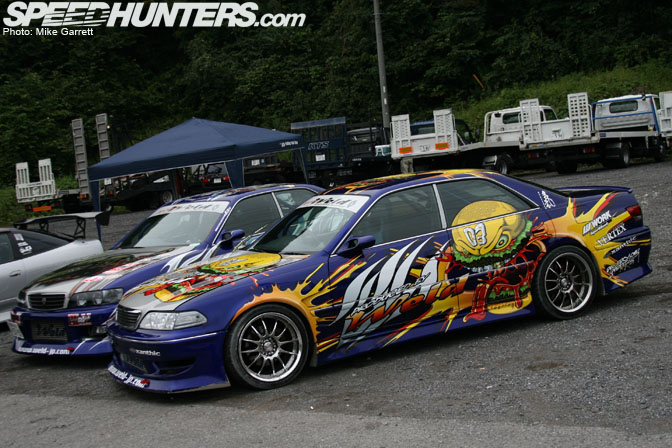 Here we have a pair of Weld-built JZX100's were running in the event. I'm sure you guys have all heard about Weld and their crazy bodywork and fabrication in the past. Check out the graphics on the side of that Mark II! Yep, that's a screaming hamburger and it happens to be one of the coolest and most intricate designs I have ever seen on a drift car. Is that mustard that's shooting all over the car? Awesome.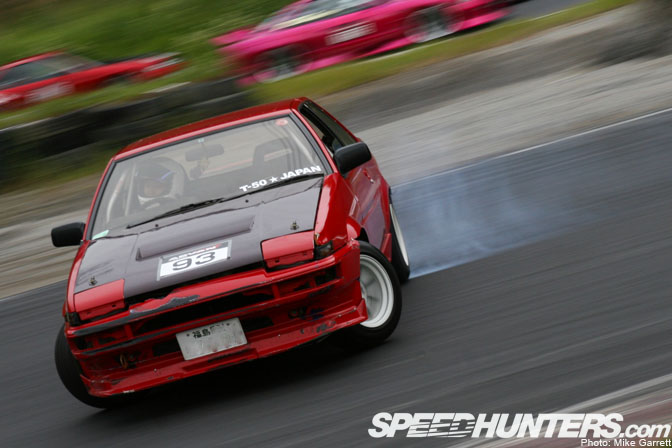 AE86 drift team T50 Japan was on hand with a few cars. Here we see one them trying to fight off a spin after entering the main corner with some serious angle. The only thing this photo is missing is the sound of the screaming 4AGE and screeching rubber. Although Nikko is a small course, only a portion of it was judged during the MSC event. Cars would enter down the front straight, then initiate into the first corner, and run through the S-section before finishing up down another straight section.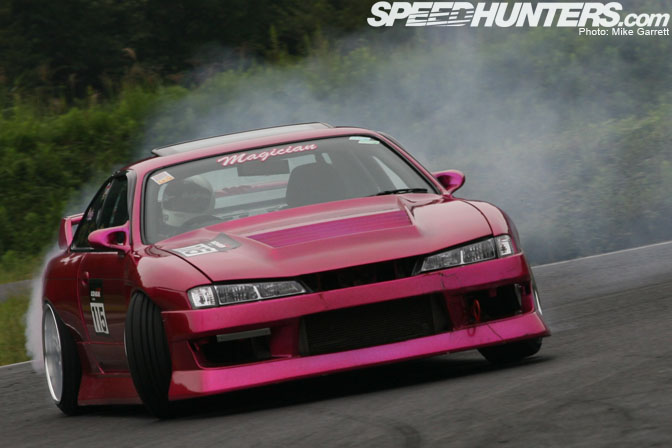 Our buddies from Team Magician were on back at Nikko with pair of entries including Yuki's JZX110 and the S14 seen above. This time they weren't running in the team drift class, but they did put on some great performances in the single classes. Later in the day after this photo was taken, the S14 had an off-course journey that resulted in the destruction of its front bumper. Just another causality of Nikko's corners. Fortunatley, the rest of the car was fine though.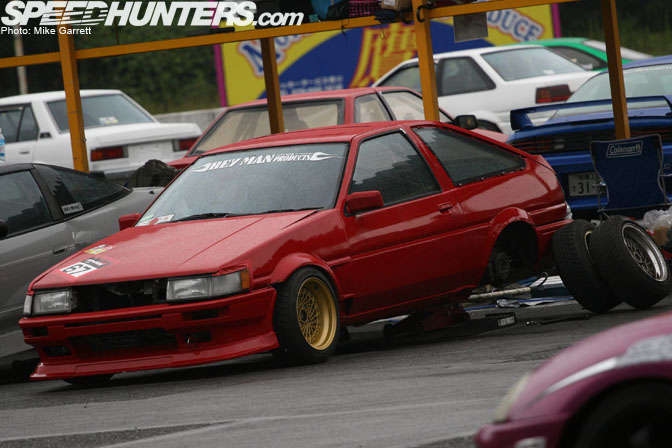 This red three-door Levin another one of the many AE86's at the event and was one of several cars representing the Hey Man drift team. I'm guessing that Antonio probably knows all about this car? I love how the mesh wheels look with the lips painted gold to match the centers. While the action on the track is certainly photogenic, the scenes in the paddock always make for cool photos.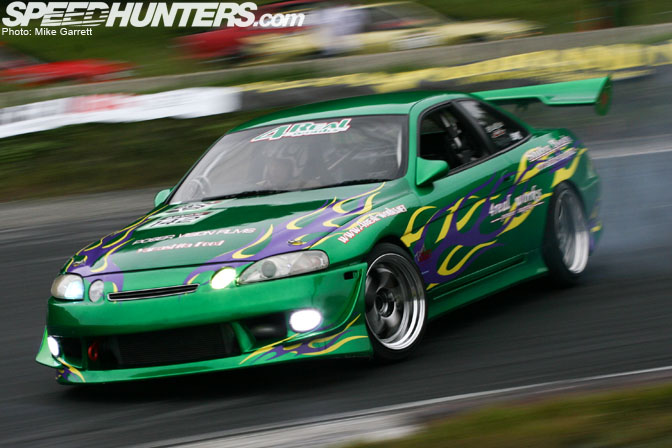 4 Real Works had a pair of their signature green cars running in the event. One was an FD3S RX7 and the other was this JZZ30 Soarer which was running in both the single class and in the triple class alongside the Spirant JZX100 and a black C34 Nissan Laurel. 4 Real Works also has another more aggressive green JZZ30 that can be seen competing in D1GP events around Japan.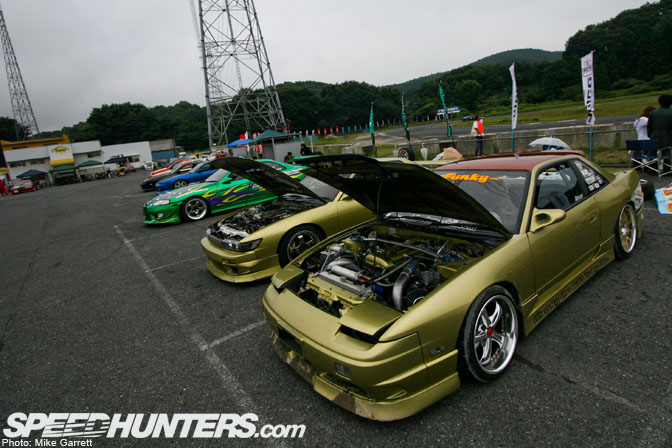 I don't know what it is about Chiba Prefecture, but there are so many big drift teams that call Chiba-ken home. One of them is Team Funky with their distinct gold-painted cars. One of their S15's appeared at Tokyo Auto Salon this yearm and Funky's cars can be seen often in Japanese drift media. Three members were at MSC Nikko where they ran as a team in the triple class. I'll put some action shots of Funky's team drift in the next post as it's not to be missed.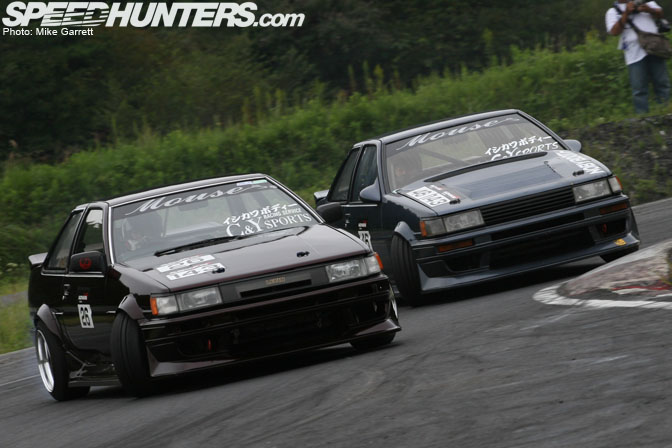 Team Mouse had three AE86 Levin coupes running in both the single and team drift classes. These were some the of the most aggressive 86's I have seen in a long time in terms of both car style and driving style. Here we see two of the three cars running side-by-side during the triple class practice session. If you look on the hoods of the cars you can see two number badges which means that these cars are competing both as singles and as part of a team. Perhaps this photo will make a good desktop wallpaper for the future?
Well that's it for now. I think I need to take a break and go spend some time with the wife to repay her for tagging along with me yesterday…
I know I still have AT LEAST one more post's worth of MSC Nikko material and I haven't even looked at all my photos yet. Expect much more to come very soon.
-Mike Garrett