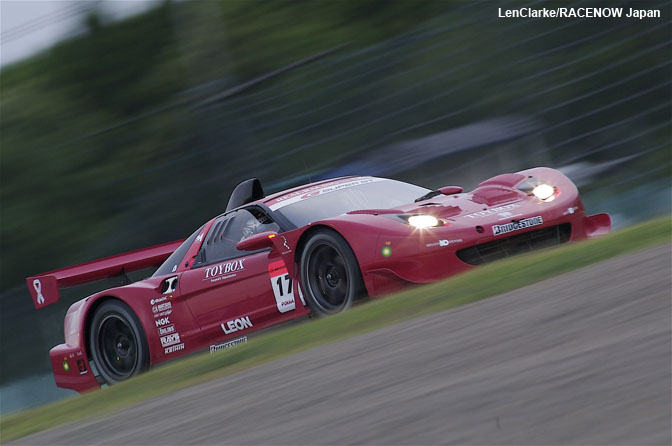 Every once in a while I receive chain emails from friends usually contain varying degrees of wisdom and/or touchy feelie New Age thinking. Many of these emails contain threats of impending doom unless I send them on to my entire contact base…. enlightenment based voluntary spam networks perhaps?…  I'm the type of guy that is perhaps somewhat philosophical in nature, but for the most part I tend to avoid items that are too warm and gooey. Perhaps it's the cold asian blood. Dunno. That said though, one or two years ago though I did receive a chain email that IMO did contain some deep wisdom that made me reassess many of the friendships I've had with people over the years.
The communication in question contained a poem called "A Reason, A Season and A Lifetime" by Brian A. "Drew" Chalker. It spoke about how significant people in your life can be broken down into three categories:
Some people only pass through your life for a moment, but they will teach you something very significant that is very relevant to your particular situation. Before you know it though, they will be gone from your life… best to let these relationships take their course… These are people that are in your life for a reason.
Others will be in your life for a season: that is, they will run parallel to you for perhaps a few years or even a few decades before your life pathways start to head in different directions. Nothing wrong with this at all, as these relationships can be very profound, but they do sometimes come to an end. When this happens it's best to go with the flow and not get attached.
And finally others will be with you for your whole life. These are deeply important individuals that you will take along to the end of your days. You should always cherish and respect these folks in your life as they are rare and golden.
Now I find that in my life anyway there are key moments when I tend to meet a lot of important future relations… I like to call these happenings, explosions of connectivity. Usually from these moments I'll meet a couple individuals who become part of my crew of collaborators and pals. As the years pass, different people float in and out of this network… it's not really possible to know who is a "reason, season, or lifetime person" most of the time, but that is beside the point no?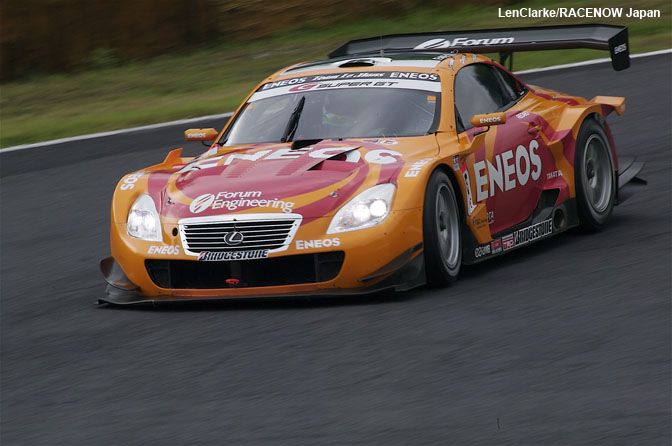 So while at Suzuka this past weekend I met a great guy named Len Clarke; a Canadian of Irish descent who has been living in Japan for the past 18 years. He one of the handful of westerners who are part of the travelling Super GT media circuis. Turns out he is from Vancouver of all places! We instantly hit it off and he acted as a bit of a host, taking me around to the best shooting spot at the circuit, acting as interpreter for the Japanese race announcements and generally giving advice on how to navigate the rules and regulations of Suzuka. Len was a bit of an angel in disguise really!
Len also offered to give us a pack of his action photography from the event as a bit of a toe-in-the-water for future collaborations. Perhaps this will be the beginning of a long term alliance? We'll see!
Let's have a look at his camera styles: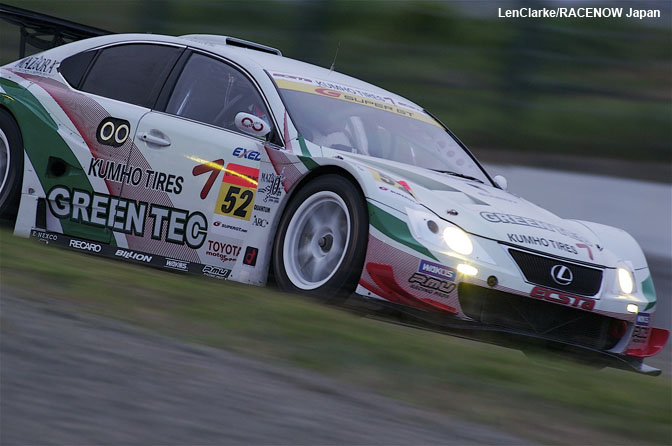 I have to say that I am in total awe of the Super GT cars. I've seen pretty well all the world's major GT and sports car race series and this really seems to be is the cream of the crop. I have never seen such variety of machines, especially such wild looking and extreme performing ones! It's also quite brilliant these are the same models of cars that are so relevant to fans of the JDM car scene.
Currently there are 13 makes of cars racing in Super GT with an astonishing 19 different models are cars being represented. Amazing no?
BTW have a careful look at this Green Tec Kumho Lexus IS350. Notice anything usual? You see the big scoop on the roof perhaps? Does that seem odd to you?
Also note how far forward the driver is sitting… what do you think that points to?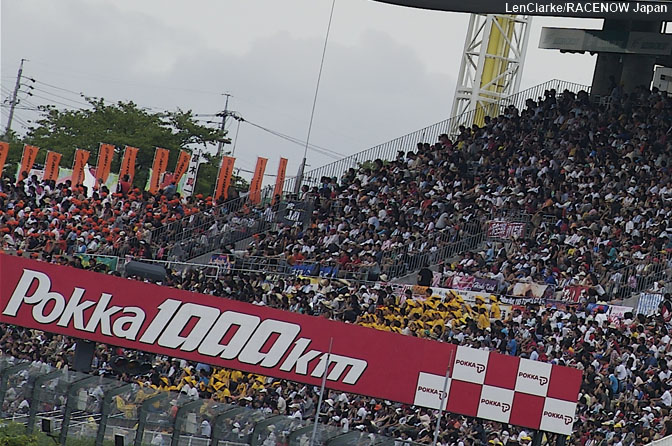 One thing that struck me about the Super GT experience was how hardcore and organized the fans are. Each of the major teams and manufacturers appears to have a fervent supporters club who on cue will wave their flags and cheer every single time their favoured car blasts past. Can you see the Autobacs people in Orange and the Hasemi YellowHat supporters in yellow? I'm sure most of them go to every single Super GT race on the calendar too! It's the Japanese way perhaps… all or nothing.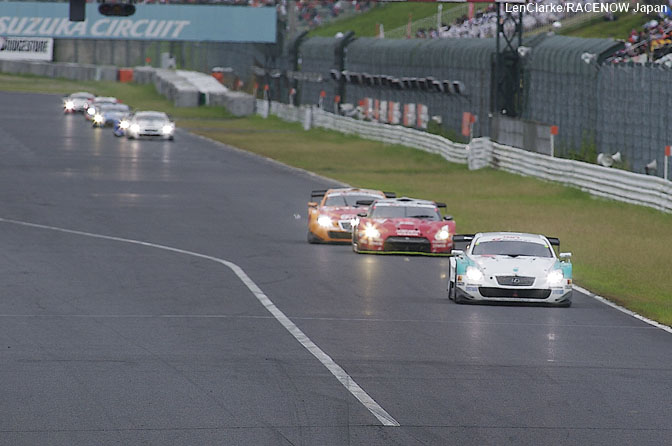 This photo was taken a few laps in to the race before the top class GT500 cars started to mix it up with the GT300 machines. The pace of these cars is quite astonishing… to my eye they are easily as fast as any Le Mans car running in the LMS or ALMS.
What is quite exciting about being at one of these events is the ferocity of the racing. The pace is fast and brutal, the action intense and decisive. Endurance racing can be a bit dull at times, but this definitely is not the case with Super GT!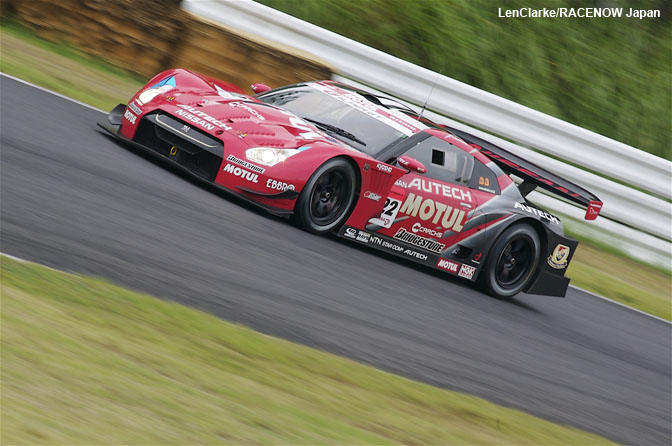 One of the reasons these the GT500 class cars are so amazingly quick is that they really don't have much to do with production vehicles. This R35 GTR is basically a pure silhouette purpose build race car. It's comprised of a full carbon monocoque, stressed engine, rear mounted stressed gear box with full race suspension and advanced aero packages. This basically is Japan's high tech, high budget answer to DTM or NASCAR.
The number 22 Nismo GTR dominated the first 2/3s of the race and looked set for certain victory before its race came undone when the rear bodywork came loose.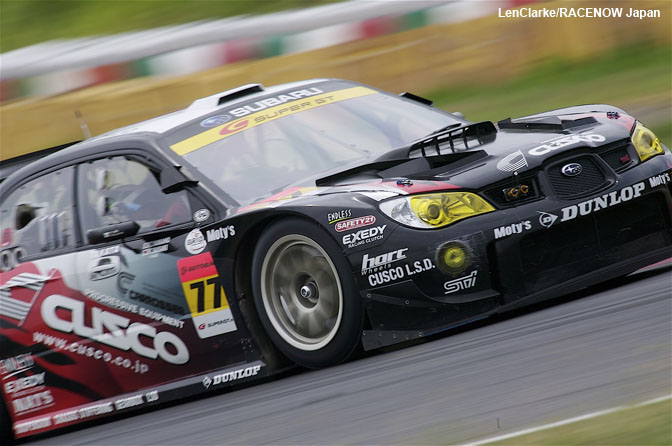 I quite liked the Cusco racing Subaru Impreza. It's the only AWD car competing in Super GT. I was well pleased when it qualified on pole position but it really seemed to struggle for pace in the race and was quickly swallowed up by the pursuing pack of GT300 monsters.
Too bad…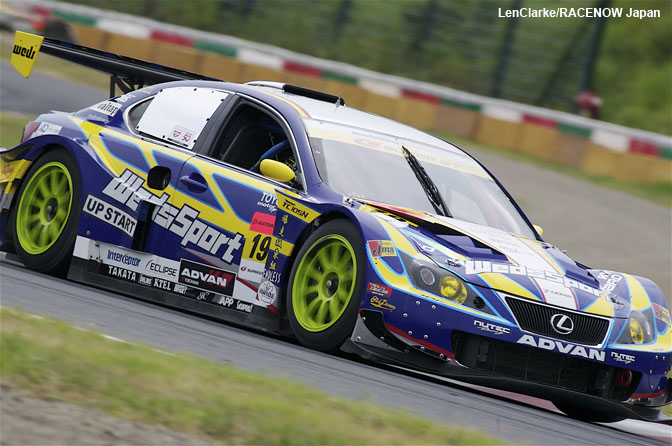 One of the cars that ran strongly at the start of the race was the Racing
Project Bandoh, Wed Sport IS350. Now calling this car a Lexus IS350 might be a
bit of a stretch. Perhaps it should be called an IS350 shaped racing prototype.
This would be more accurate. Some of you might have guessed by now this machine
and the other IS350 are in fact mid engined cars.
Crazy huh? The next generation of GT500 cars are pure race chassis machines,
(unlike GT500 cars of previous years)  so
perhaps Toyota is using this machine to develop a new GT500 racer to take on
the might of the Nissan R35 GTR…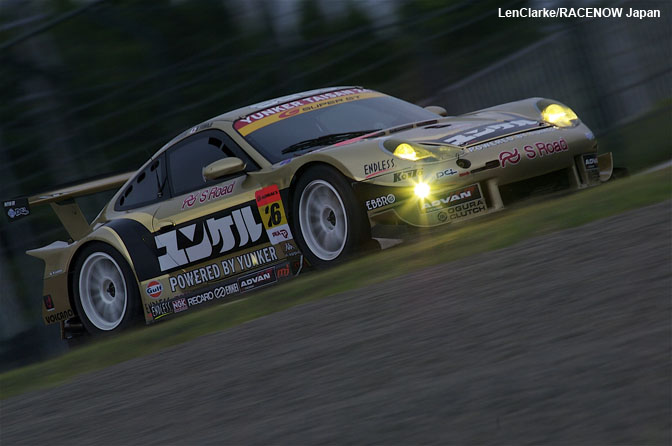 The opening part of the race saw the Weds Sport IS350, piloted by a certain godlike racing driver named Manabu Orido, dicing with this Team Taisan Porsche as driven by a certain Nobuteru Taniguchi… It was the battle of the drifters in the land of grip. Taniguchi's nickname is No One Better and he did prove this out on track, eventually taking the lead in the GT300 class for a period of time…
One element I love about this car is that it has pure Super GT style body work and looks quite unlike any other GT3 based racing Porsche. This car is quite aggressive in its styles IMO.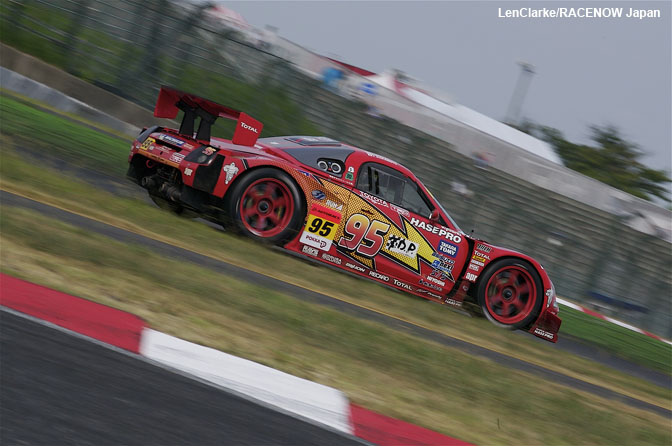 Another car that was in contention for the overall GT300 victory was this APR Toyota MR-S. It's a cute little beast of a car.
The MR-S is driven by two youngsters: the 21 year old Kohei Hirate and Keisuke Kunimoto who has only been on this planet for a mere 19 years!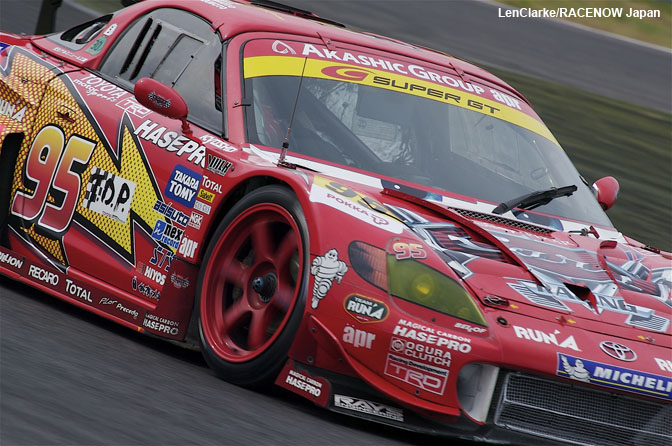 From the trackside I was under the impression this car has had some kind of headlight conversion but when you study this photo you can see the headlight opening has been vinyl-ed to get a more aggressive look.
Rule number 1 for all cool cars: they must look as unfriendly as possible.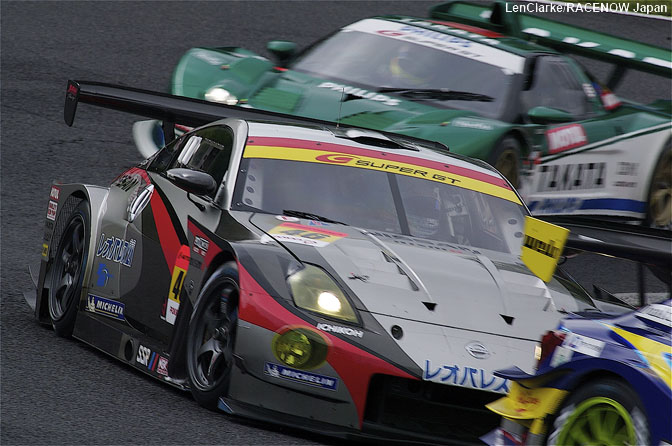 This winner in the GT300 class ended up being this Nissan Fairlady Z run by the Mola race team. I've seen some drift cars try and mimic "JGTC style" recently but I have to say the aero on this car is on another level no? The design is perfectly balanced and eloquent, yet 100% functional.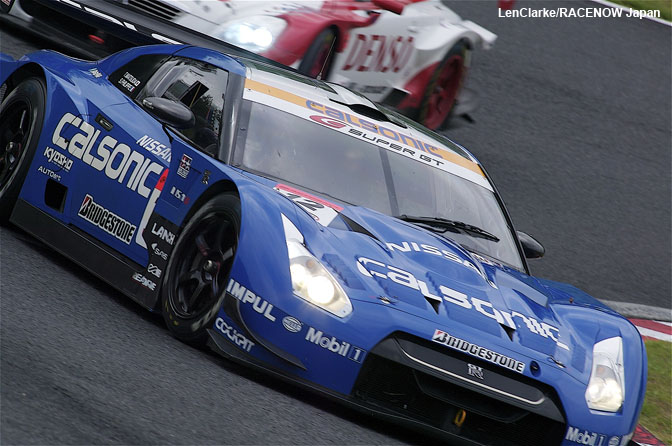 Len seems to have a thing for diagonals no? I can assure you that he doesn't
walk around with his head at an angle all the time, but this certainly seems to
be his chosen method of photographic composition.
The Calsonic livery is a very famous one in the history of Japanese GT
racing. Many important race Nissans have been adorned with these logos.
After the Nismo team hiccupped the company honour fell on the shoulders Team
Impul and they duly delivered the race victory. Congrats to the team!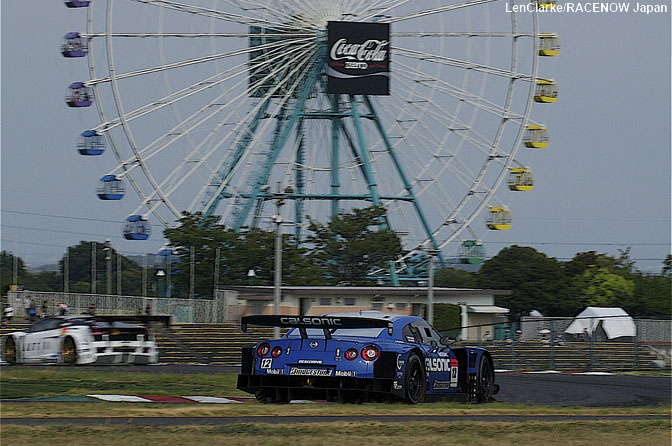 I swear that after this car took the lead suddenly a lot of blue hats
appeared in the otherwise red Nismo grandstand area. I kid you not.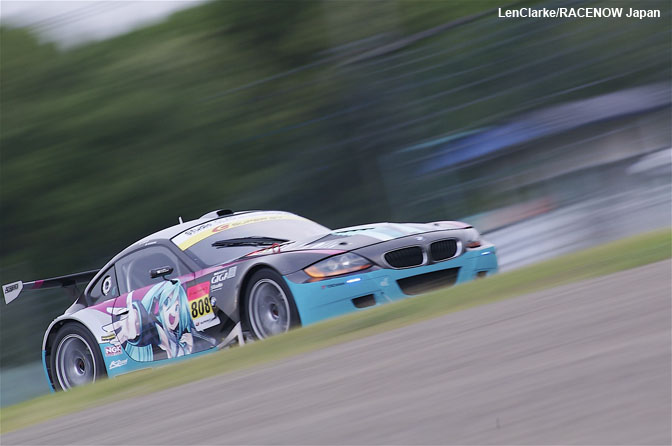 The Suzuka 1000kms was the race debut of the Studie & Glad w/ Asada Racing BMW Z4. What really drew my attention about the car was it's exhaust note. It's powered by a 5 liter V8 engine and certainly sounds the part.
Note the Manga character on the side of the car.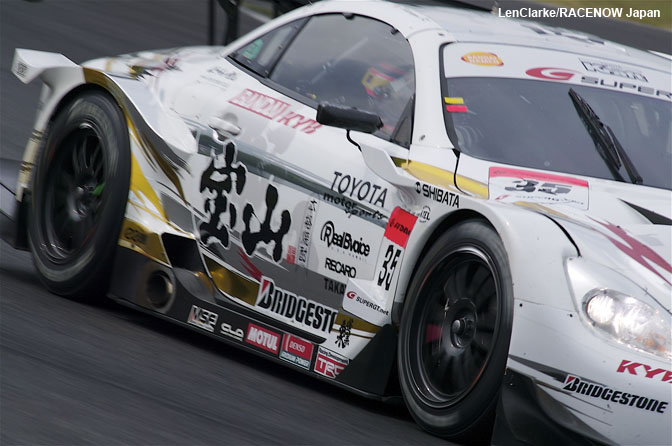 Advanced aero anyone? A close inspection of the Team Kraft SC430 shows some pretty trick aero pieces. The aero is not as radical as what you'd see on a DTM car but it's still pretty obvious the GT500 machines spend a lot of time in wind tunnels.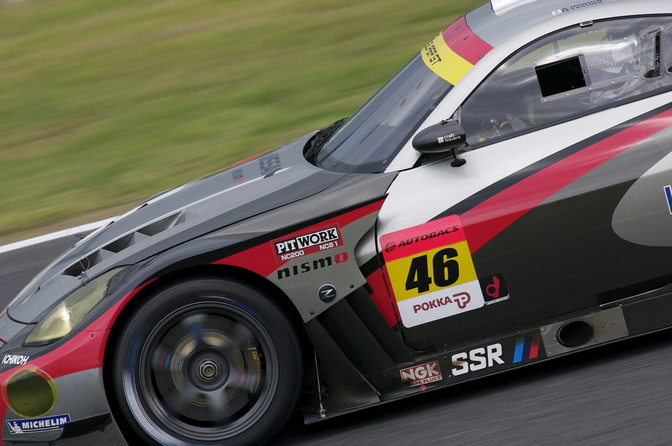 Look at the perfect design of the aero elements on this Z. I think this would look pretty trick on a street car.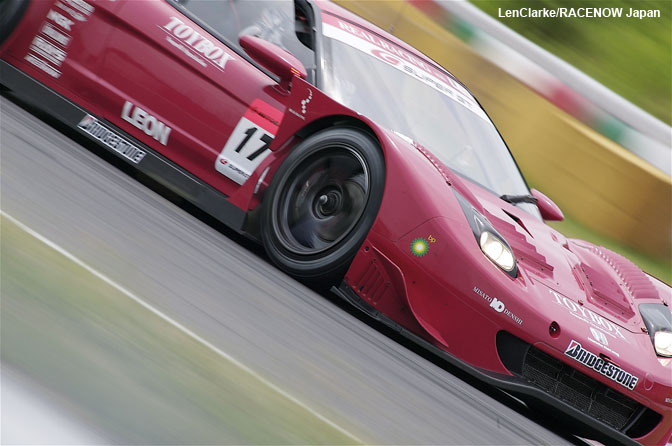 Perfection.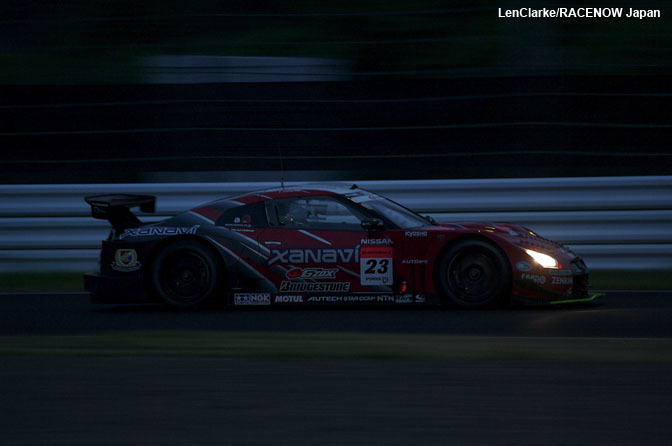 The number 23 car was weighed down by success ballast and was never a real contender for the overall race victory. They ended up finishing eighth overall and now lie fourth in the overall team standings. The car is in a good position for the next event though having lost it's weight ballast disadvantage.
Ok that's it from me… I'm going to try and get some sleep here and shake this deep feeling of jetlag.
Thanks to Len Clarke for the great photos! Do you guys want to see more of his photos from future Super GT races? Is he with Speedhunters for a Reason, Season or…..?
 BTW if you want to contact Len to ask questions about his Super GT photography he can be reached at: racenow@mac.com
:Rod