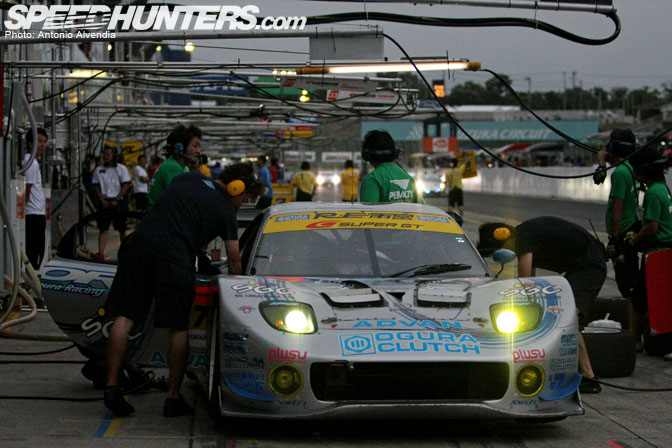 It's a beautiful sunny day in Tokyo right now – the rain has finally stopped (for a few hours, according to the weather report) but instead of going out to my favorite places in the city, I'm sitting in this dark cubicle in an internet cafe, because I know you all have been waiting to see my Super GT photos. Hopefully you guys like them – I'm doing this for YOU guys, Speedhunters readers!
I'll be very honest. Going to a big race event like Super GT while you're in Japan is super crazy. Super GT is incredible! I think it's the top racing series in Japan (Formula Nippon is great, but I think Super GT gets more media coverage and worldwide interest, not to mention sponsor money), and with good reason! Super GT is an event where you get to see and hear (and when the pit crew isn't looking, sometimes you can even touch the cars that you normally can only watch on Japanese DVDs or drool over in magazines.
In Japan, Super GT is also a race event where the casual fans in the normal spectator areas have more expensive camera equipment than some of us professional photographers, who do this day in and day out! LOL! I had to admit, I was trippin out at the fans walking around Suzuka Circuit's cafeteria and grandstand seating with camera bodies that cost $5000 and $9000, not including the lenses and flashes attached to them! Damn! Suzuka Circuit's media center is even crazier – most of the pro photographers there have top of the line camera bodies and lenses that cost $5000 and $10,000 USD each. You best believe I was drooling over the artillery sitting around on the media desks… there were so many pro photographers with super high end gear in there, both Canon and Nikon sent out their best technicians to clean and service the photography equipment of the pros – FOR FREE! I have to say big thanks to Sakamoto-san from Canon Japan for cleaning my Canon camera bodies and lenses. His technicians were surprised at how dusty and dirty my equipment was, compared to some of the others; they found tons and tons of tire dust in my cameras and lenses! Oh well, such is the life of a drifting photographer's camera. Haha!
Since it was the first time we had attended a Super GT race as the Speedhunters media outlet (I had only previously shot JGTC USA in 2004, and that was when I was with a different media outlet), the Suzuka media guy didn't exactly extend a warm welcome to us, so we had to get some assistance from some of our other friends in the Super GT scene – I'm telling you… who you know at the track is often times just as important as what kind of work you're capable of producing, and how many people see it. If we had left it up to the guy at Suzuka, this trip to Super GT would have been ruined, so I feel that we really, really have to thank certain people before we proceed in looking at the photos! Our deepest thanks go to Tanaka san and Wakasa san from Nissan Japan, Tsuzuki san from Super GT, our good friend Ryotaro Hoshi from EA Japan, Hamada san from Dunlop/Falken Japan, Kuriyama san and Matsuda san from Jim Gainer Motorsports, Chiba san from Team Taisan, and Naoya Yamano, the GT300 driver from Team Mach for being such generous and helpful hosts; they took good care of us, and helped me get into certain spots so I could take these photos at the circuit. Domo arigatou gozaimashita! Otsukare sama deshita!
Without the help of the above people, capturing these photos would not have been possible. I may not have had the full access granted to most of the other media guys (with the help of a Tanaka san at Nissan, we were able to get a single full access pass, but we had to assign more priority to shooting our video footage) or a $10,000 500mm lens, but I do have some skill as a photographer and a little bit of creative vision and street smarts, so I was able to shoot some different looking photos from some different vantage points.
Look at the photo of the Ogura Racing Clutch/RE Amemiya team during a pit stop above – their SGC-7 FD3S RX7 looks amazing! These guys are hard core and dedicated – they are the ONLY team in Super GT competition using a rotary engine, and in 2006, the legendary Ama-san and his RE Amemiya crew won their first GT300 title, after twelve long years of fighting their way through the other cars in the GT300 class. Amazing. If that doesn't inspire rotary fans, I don't know what will. Congratulations to Ama-san and the rest of the crew! The Seven will never die.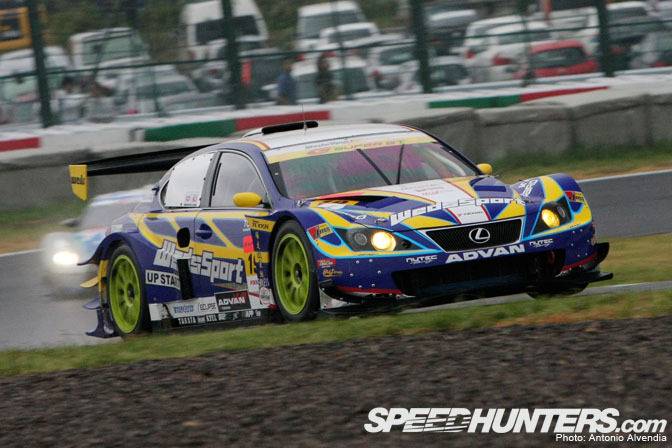 One car that I thought a lot of Speedhunters readers would love is the Weds Sport IS350 from Racing Project Bandoh. What makes this Lexus IS350 really special isn't necessarily the drivers of the car, it's the team manager – Masataka Bandoh! Masataka Bandoh is the son of Masaaki Bandoh – a legend in the Japanese touring car industry, and the creator of the super cool looking Bandoh aero mirror for AE86s. (Well, those mirrors aren't the reason he's famous, they're just the reason I personally like him alot! haha)
This IS350 has a V8 engine in there (you're not alone, Hiro Sumida!) that produces a bit over 300 horsepower, but they have to run with double restrictors, since the car is in the GT300 class. I really like the color on those 18 inch Weds Sport wheels, but I know some of my Japanese friends don't like the bright yellow fluorescent color… what do you guys think? Who else agrees with me?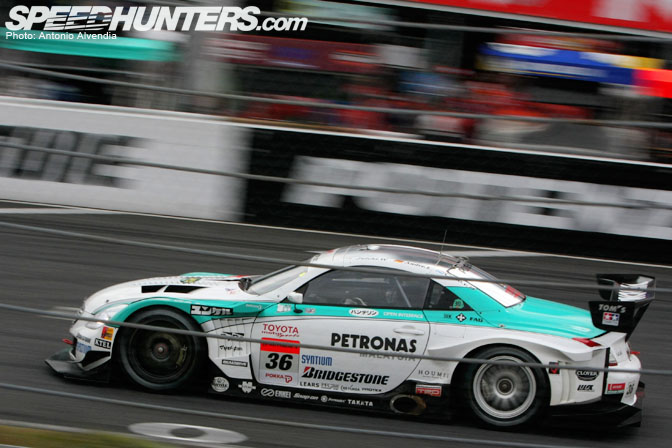 I was extremely excited to see Toyota Team Tom's in action, with their Petronas Tom's SC430! This car was being driven by a team of Japanese Super GT stars – Juichi Wakisaka and Andre Lotterer. I actually bumped into Wakisaka a few times in the media center, and I have to say, he seems to be a really nice guy, despite his star driver status! I think it's awesome to find big name drivers acting really cool and polite, even to nobodies like me – I already had big respect for Wakisaka as a Tom's driver, but I have even bigger respect for him now that I found out firsthand how respectful and polite he is to people!
Okay, if you guys must know the story, he was about to walk out of the bathroom in the media center, when I pushed the door open, and accidentally bumped Wakisaka with it. I was thinking to myself "Oh sh!t! I just slammed a door into Juichi Wakisaka's shoulder" and right before I could even say Ah! Sumimasen! Gomen nasai! to apologize to him, he apologized to ME for being in my way!!!" What the hell?! I was thinking to myself, "Wow are you crazy, Wakisaka? We're at Super GT in Suzuka – and over here you're the man, and I'm just an idiot gaijin American who almost knocked you to the ground with the bathroom door! And you're apologizing to me?!" As shocked as I was, I still apologized to him before he left. Pretty crazy. I should be a little more careful, there's no telling what kind of international incidents I can cause when I push doors open harder than I'm supposed to. LOL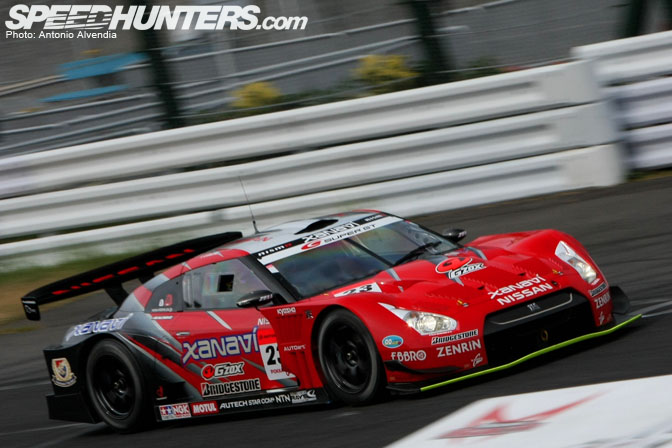 The Nismo team undoubtedly had a huge presence on the track. They campaigned two cars – the Motul Autech R35 GTR, and the Xanavi Nismo R35 GTR, which you can see above. These GT500 monsters sounded crazy every time they passed the pit area on the main straight! They had a hollow, metallic, high pitched futuristic sound… kind of sounded like the laser guns you hear in sci-fi movies. Incredible! The Xanavi GTR above is piloted by Satoshi Motoyama – an incredibly famous star in the Super GT series. Motoyama is always on TV, and he has a ton of fans lining up in the booth area to buy his official merchandise!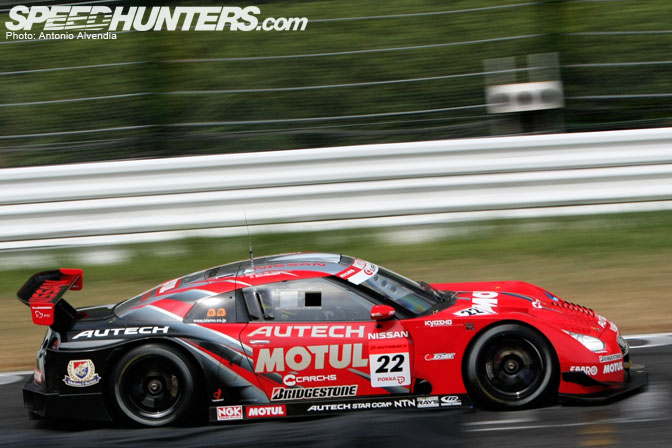 Here's the other Nismo GTR, being run by the Autech/Motul team. This car is driven by Michael Krumm and Masataka Yanagida, who I met at JGTC USA in December of 2004, back when the team was running their R34 GTR in JGTC's GT500 class.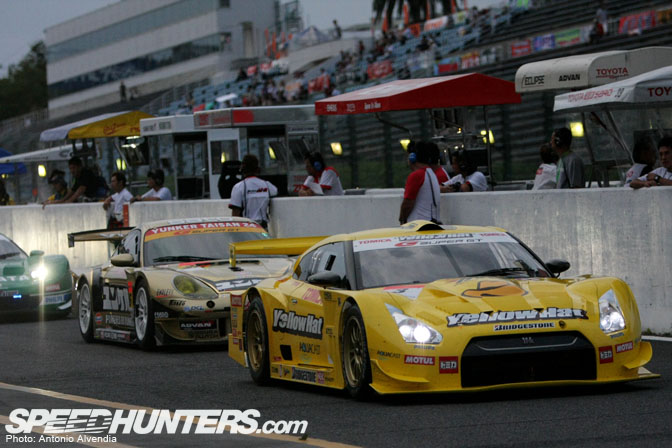 Check out the cars!!! I think they looked so incredible as they were cautiously speeding through pit lane – up front, that's the GT500 Yellowhat Tomica R35 GTR (I think this car looks awesome), and right behind it is Nobuteru Taniguchi in the Team Taisan/Yunker GT300 Porsche GT3R, and following close behind is the GT500 Takata/Dome NSX! For those of you who like Taniguchi's Porsche as much as I do, keep an eye out for a special Speedhunters feature on it in just a couple weeks!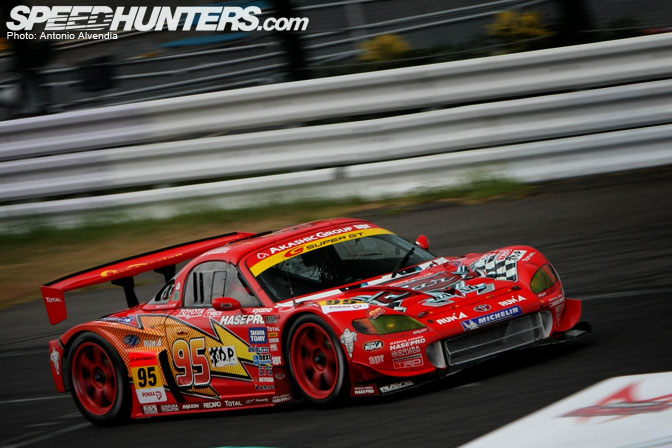 Here's the APR Lightning McQueen MR-S. I thought it was soooo cool to see a Toyota MR-S racing in Super GT competition, but I honestly wasn't a huge fan of the Lightning McQueen graphics – my fav was always the A'pex graphic scheme. However, I did see that the young fans connected to this car alot – there were tons of kids in the booth area asking their parents to buy them Lightning McQueen MR-S toys and souvenirs! I guess they must sell a lot of merchandise!
Okay, that's it for now… stay tuned for my next Super GT post, coming very soon!
-Antonio Alvendia