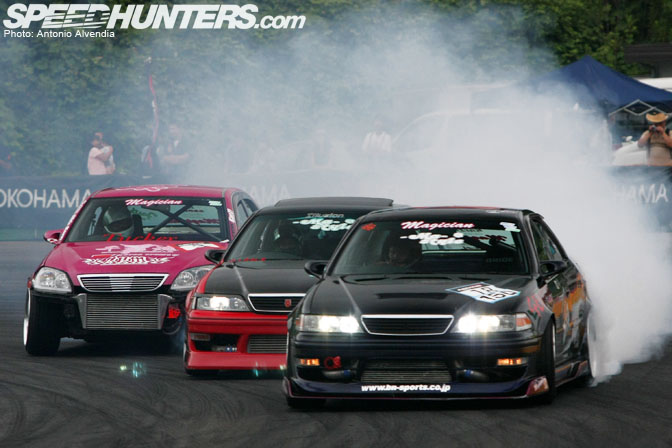 Off the chain!!! Exactly what I was thinking in my head when I saw this group of JZX chassis 4-door sedans doing a three-car tandem at the MSC Challenge at Honjyou Circuit!!! It was sooo exciting, I was actually cheering for them as they passed me!!! It was so incredible… Team Orange they're not, so they didn't have a completely perfect combination driving lines and angle and distance between the cars the whole time… but I don't care. I am also big, big fan of Magician – the Chiba based street drifting team shown here rocking their 4 door sedans better than most Americans can rock S13s.
This is real Japanese drifting style! I feel sooo blessed to be back in my element – the grassroots drifting events of Japan! Ebisu Circuit Natsumatsuri, MSC… it's like bringing back the OG Japanese drifting scene ifrom the 1998-2003 era! I love it!!! This is the stuff that made me fall in love with drifting in the first place – the whole lifestyle and the culture. Don't get me wrong, I am definitely a part of the whole "American Formula D lifestyle" and the culture that surrounds that… but honestly I feel sooo incredibly connected to these types of grassroots Japanese drift events, because this is what it was all about. This stuff is exactly what made me so intrigued and awed by Japanese drifting culture in the first place. These are the roots! And don't ever forget that!
I took sooo many photos (something like 12 or 13 gigabytes worth), so I'm just going to have to trickle this down to you guys, similar to what I did for the ASB4 event at Willow Springs.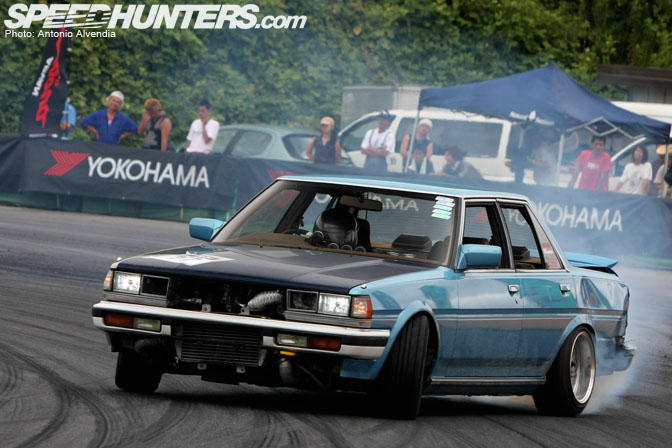 I'll be totally honest. I didn't even know what kind of car this was at first… the whole thing looks like it's been pieced together from bits and peices of different cars!! The body and taillights suggest GX71 Toyota Cresta, so that's what I'm assuming it is. But the dual square headlights in this photo make me think of an 80s Nissan headlight style. And the front bumper?! I don't even know. That looks late 80s to mid 90s to me. Either way, I loved seeing this GX71 out there ripping up the track in an older, smaller size 1980s sedan – completely different than what I normally see at drifting events! Check out the front intercooler and the home made ducting in the grill, as well as all the gauges and SSR Reverse mesh wheels! Very cool looking for a beat up car.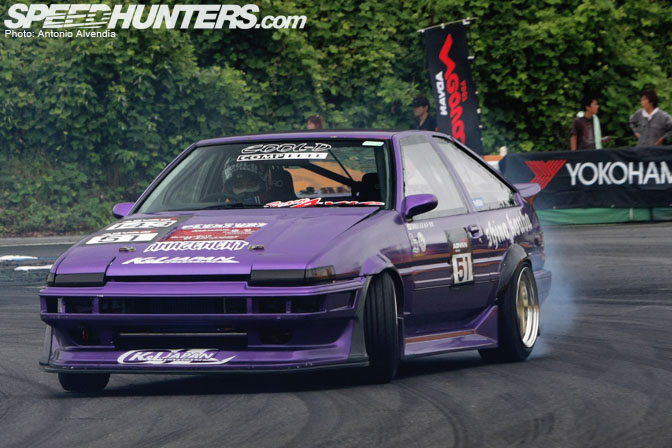 I love AE86s. I love AE86 Truenos. I love AE86 Trueno 3-door hatchbacks with Goodline bumpers and hood, Bandoh mirrors and aggressive offset wheels! So yeah, I loved seeing this car at MSC!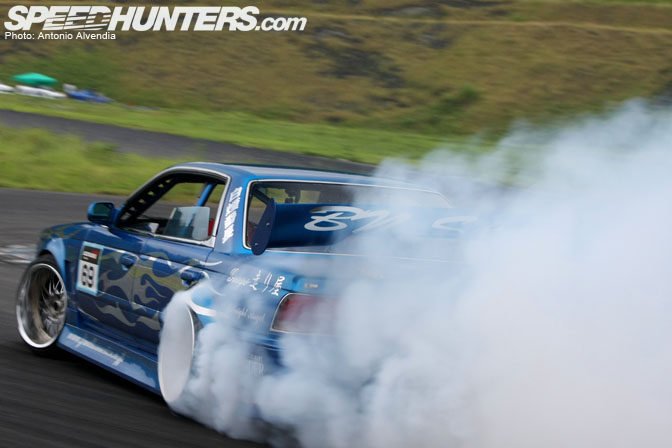 Big, big smoke! This Laurel looked soooooooo crazy out there on the track. It had retarded amounts of power and torque (as you can easily see here), and it had insane fatlip wheels with super stretched tires!!!! The metallic flake paint job, super aggressive stance and crazy downforce/drag creating rear wing make me think of Bosozoku/kyuusha kai style old school Japanese street gangster cars… and with that Final Konnexion aero kit and rollcage, this thing attracts soo much attention! Crazy!!!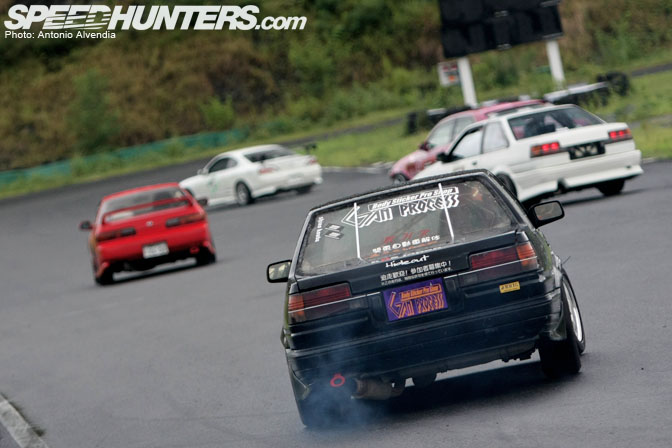 These AE86s were from a shop called Shino Kouba! Shino speaks English, and is very friendly with drifting fans from the USA and Australia! This photo shows the cars accelerating onto the back straight at Honjyou, doing back and forth manjis… after all, it's alot more fun than going in a straight line!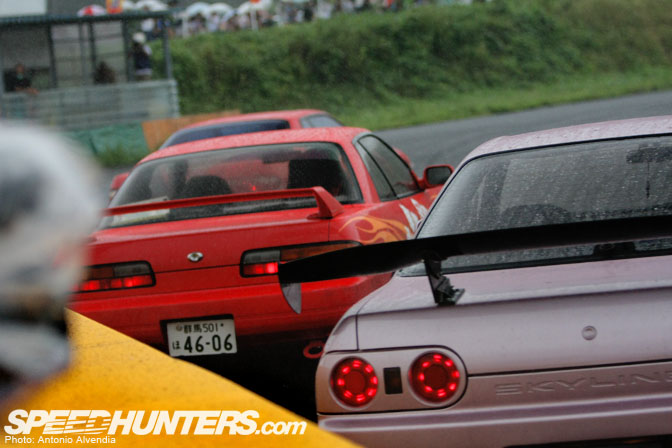 During the triple car tsuisou team drift contest, I was really impressed by this team! (I don't know the name of the team though) Although I wasn't a fan of the way these cars looked in terms of style, I thought the drivers were pretty good! Especially the driver of the R32 Skyline – We didn't hear any turbo sounds or see it spweing out tons of smoke, so Mike and I thought it might have been an NA Skyline, but regardless… the driver had it pinned to the redline all the way through the course, driving the car with a hachiroku driver's style… I loved it!!! Loud growling NA engine, and just look how close these guys got to the outside barrier wall!!! Pretty much bumper scraping! I loved it! Soooo dope!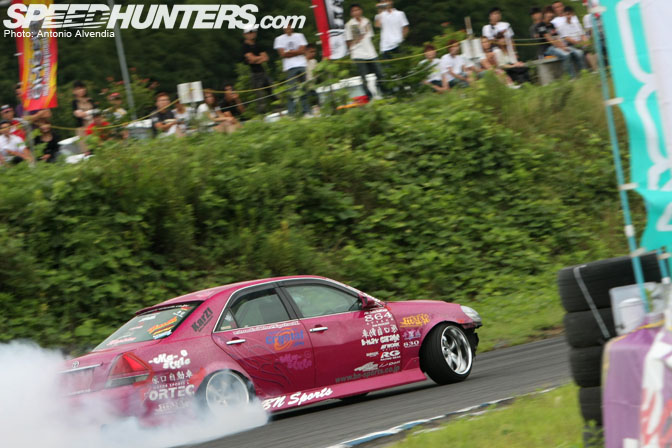 OMG sooo dope. This JZX110 MarkII from Magician was tearing it up!!! Big smoke and full throttle all the way through the course. This car makes big power, and looks great with its humongous fat lip wheels and Japanese street gangster style graphics. I love it!!!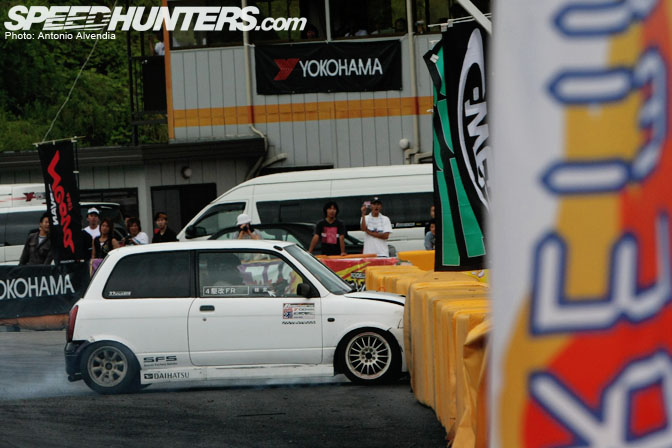 This kei car is a Daihatsu Mira, and it was being driven by a D1SL driver named Suzuki!!! This thing had a tiny engine and even tinier wheels! I loved it though!!! It looked so cool drifting out there… and kei cars aren't supposed to be cool at all! In Japan, kei cars are normally driven by girls, and old people. However, this Mira just looked sooooooooo cool! It was the first time I have ever seen a car like this drifting… and doing a good job of it!
This particular Mira has it's own unique style, and I loved it. Look out for more on this car on Speedhunters in the future. Seriously, it moved so well around the track, but then it was so small, with tiny wheels and tiny stretched tires… unfortunately, the track was wet, so on one of the runs, the driver understeered hard, right into the huge foam blocks against the retaining wall. The hood and grill got all mashed up, but fortunately the radiator support and hood latch were fine, so Suzuki just backed up, and re-entered the course to drift some more! Awesome!!!
I'm sure many girls would think this Mira looked cute out there because of the small size and small wheels… it's like you didn't know if you wanted to drive it or hug it! haha…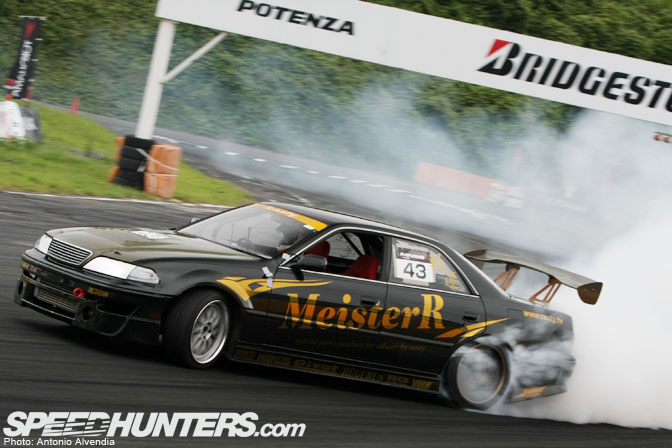 I'll just leave you with this photo, just as a teaser… Meister R and JZX100 gets massive props from me!!! The driver of this car was, in my opinion, one of the best drivers overall at the event… and definitely the best 4-door sedan driver. He was getting soooo incredibly close to the outer wall, and had super fast speed, a better line than anyone else, and good angle and smoke throughout most of the course, as you can see here! Look at the smoke coming off the rear fender… this guy was going FAST!
Lookout for more on this car on Speedhunters very, very soon! I have to leave pretty soon for another photo shoot, so until next time… peace out from Tsukuba! Mata ne!
-Antonio Alvendia