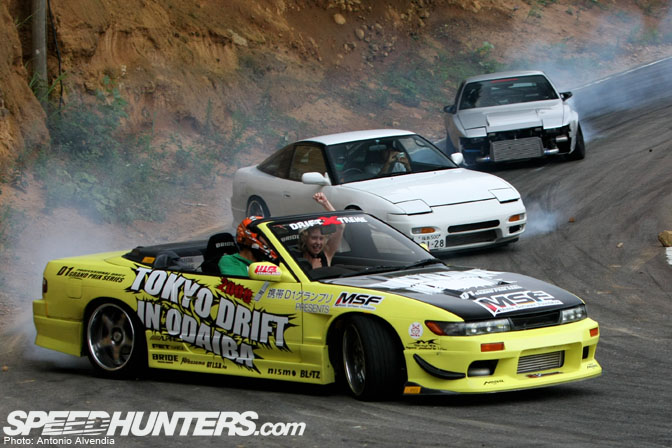 As you all know, Rod and I have been at Ebisu Circuit every day for the past week – it's been super fun! So I just wanted to share some photos with you from this past week… we met up with some very good friends at Ebisu. Two of my friends, Chris and Jody (from The Speed Lounge), decided to come to Japan and visit our friends at Ebisu Circuit for their honeymoon!!! Yeah, I thought it was crazy… they just got married (in Las Vegas, the day before Formula D) and instead of going to Hawaii or Jamaica or some tropical destination like that, they decided to go to Japan for the first time and hang out with friends like me, Kenta, and of course, the rest of the Ebisu Circuit family.
So a few days ago, Kumakubo asked if they wanted to check out Ebisu Circuit's Touge Course, to which they replied and enthusiastic "Yes!!! Of course!" So Kumakubo says, "Okay. Please wait… one minute…" and he comes back with our own Naoto Suenaga, who was driving a white RPS13 180SX (one of Naoto's "everyday" street cars). Kumakubo was driving his yellow S13 convertible, which is well known from its appearances at the D1GP Tokyo Drift event in Odaiba/Tokyo, as well as its numerous appearances at Megara Circuit in Greece and the Athens Tuning Show.
Speaking of the Athens Tuning Show, we have also been hanging out with our friend Giannis from Athens, who helps to take care of Team Orange when they're in Greece (he's visiting Ebisu for the first time as well). So Kumakubo tells Chris, Jody, and Giannis to put on these old school funny looking helmets that they used to use in old Option videos. One of them looked like a baseball helmet and one looked like a German WW2 soldier's helmet, or maybe kinda like Darth Vader… pretty funny looking! I doubt those helmets protect anything at all!
However, this is Ebisu Circuit, and in Japan, nobody trips off that stuff. Obviously, because you wouldn't ever see a convertible car doing tandem drifts without a rollcage in Formula D! Anyway, check out the pics! Pretty fun I think… Kumakubo and Naoto kept having Giannis and Jody trade seats, so they could experience riding with both drivers… whereas after Chris's first ride on touge, he decided to hop out and take some photos of the action!
In the top photo, Koguchi noticed Kumakubo and Naoto going up to touge, so he chased them down with his fresh new silver 180SX! THREE CAR tandem runs at Ebisu Touge!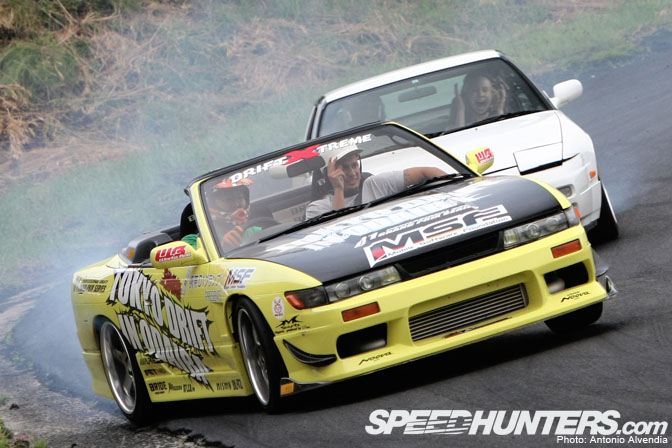 I think this photo is sooooo hilarious! Look at the expression on Jody's face as Naoto chases down Kumakubo! Sooo funny! This was the first time ever she had gone on a drifting ride-along, and it was a tandem drift  session with Team Orange – the best tandem drifters in the world… and at Ebisu's TOUGE of all places!!! Haha!!! Sooo funny!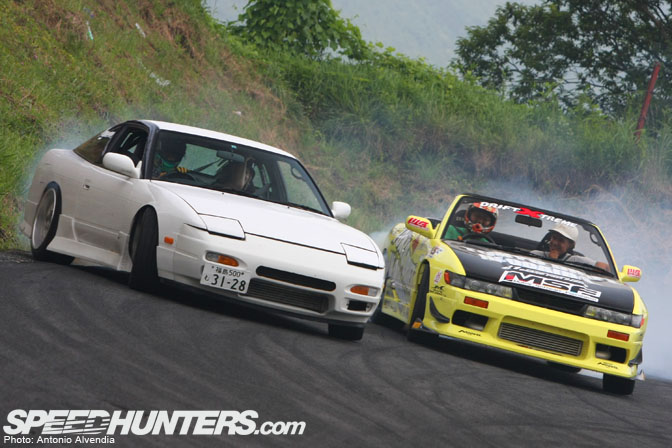 Fairly soon after, Kumakubo and Naoto decided to switch places, so they could show Jody and Giannis how close they could drift together! Here's Kumakubo's S13 convertible approaching Naoto's S13 street car! BTW, the white RPS13 in the photos is Naoto's new street car – he's trying to preserve the previous black S13 Silvia coupe that he was using for daily street driving and D1SL competition… so he picked up a few more cars. S13s, S14s, Nissan Stagea RS Four, Suzuki Alto Works… damn, I can't keep track of them all.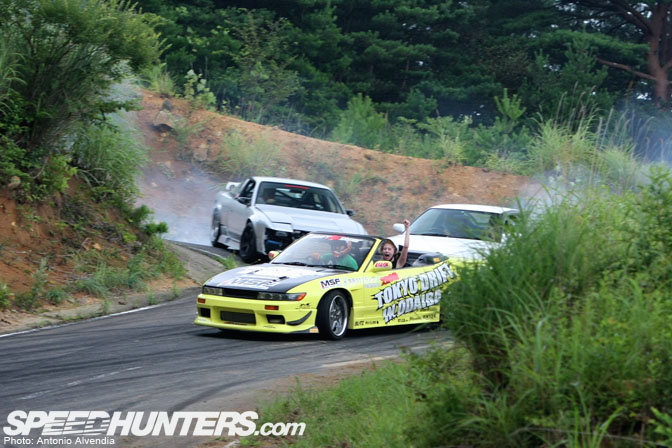 Here's a monster pile-up at the touge course's downhill hairpin turn, as all drivers brake hard to negotiate the turn! Again, Jody's having the time of her life, screaming as if she's in a rollercoaster! Hilarious! But look how close they're drifting together!!!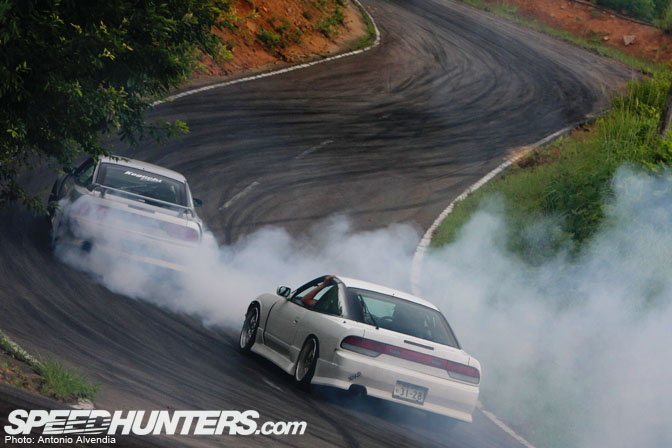 180 vs 180! Here's Naoto chasing Koguchi up touge with his almost stock RPS13 street car!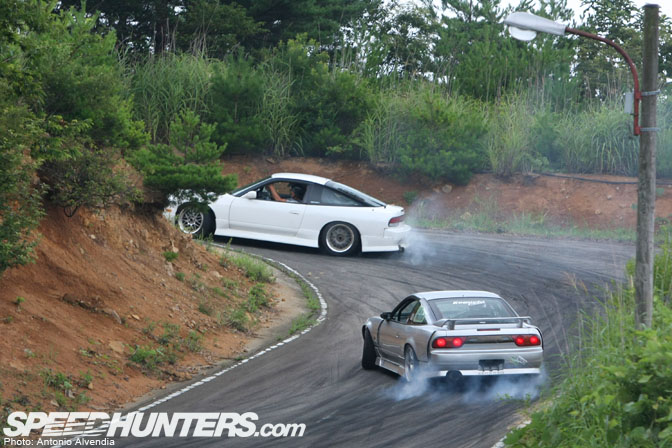 Switching things up, Koguchi started chasing Naoto up and down touge… man I think those new Koguchi Power fenders look pretty damn good, don't you think? Good style, Koguchi!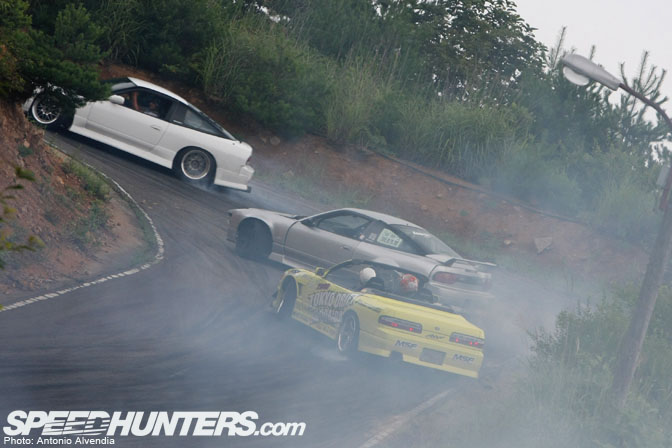 Then Kumakubo came back on track and started chasing them all down! It looked super fun, and everyone involved said that it was for sure!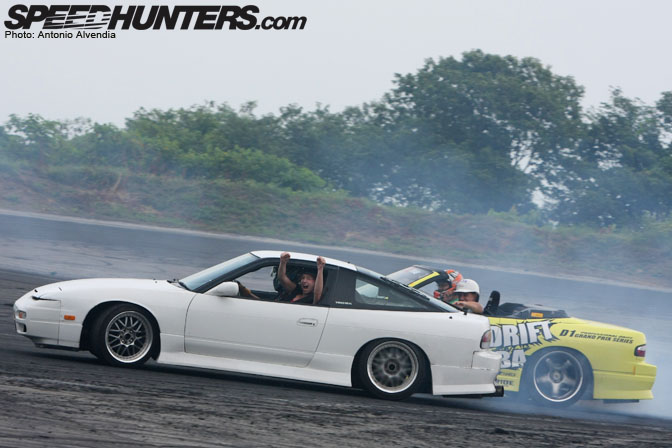 Again, Jody's expression. Hilarious!!! They decided to move down to the Driftland course. Look how close they're driving in the transition – Kumakubo and Naoto are used to tandeming pretty aggressively, even when they're just screwing around on the track for fun!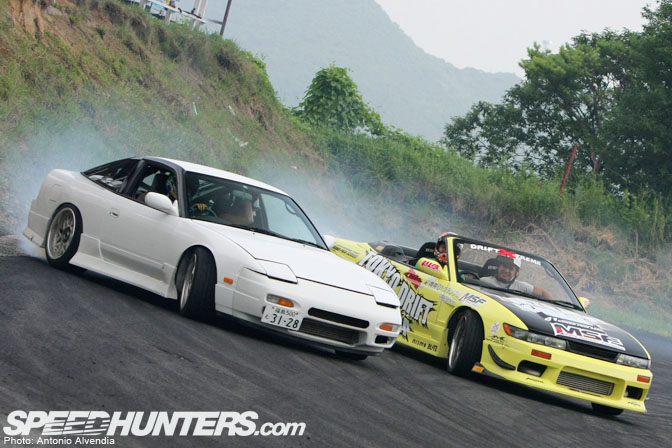 Closer, closer, closer… from high speed to low speed… I've watched alot of drifters at alot of racetracks all over the world… and I've just never seen any team drive with the type of close precision that Team Orange is capable of! What a fun day…!
-Antonio Alvendia
36 Hours of Drifting at Ebisu Circuit