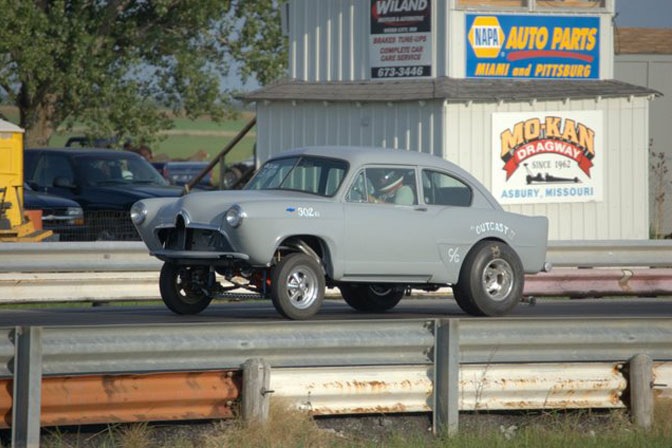 For those who are fans and followers of grassroots style nostalgic drag racing and hot rodding from the 1950's and '60s, there are few better websites out there than the Jalopy Journal and its "Hokey Ass Message Board" (H.A.M.B). For these guys it's all about homebuilt, stripped down rods ,straight axle drag cars and the like. I also think it should also be noted that these guys were around long before the "rat rod" trend took off. Rod, is a hardcore lurker on the H.A.M.B forums and since he introduced
me to the site a while back, I have been reading it quite a bit myself. Every summer, they hold an extravaganza in Joplin, Missouri called the H.A.M.B drags and it looks to be an amazing event by any stretch.
H.A.M.B forum member BinderRod has posted up tons of photos that he took at the this weekend's event and we wanted to share a few of them.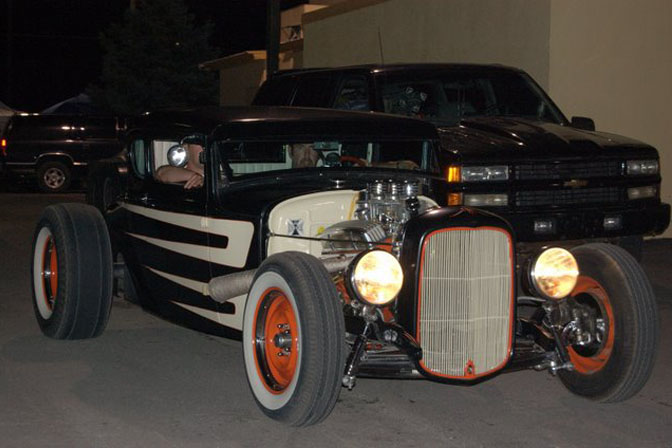 This photo was taken at one of the nighttime pre-race gatherings. While some people are fans of the "rusted" look when it comes to rods, I really like these period correct graphics on this car and the way the firewall is painted to match them. Love the exhaust dumps as well.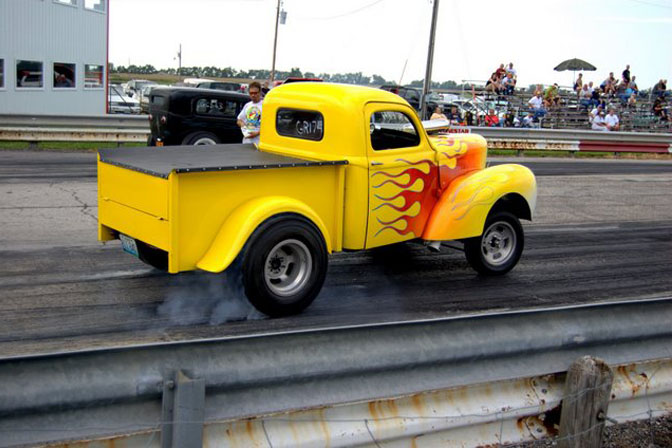 I am not an expert on old trucks, but this looks to be a 1940's Willy's Pickup done up in '60s drag car style. Nice flames.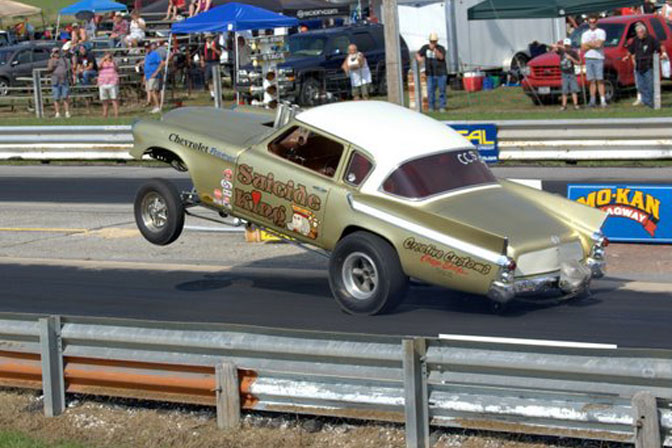 The "Suicide King" is a wheelstanding altered wheelbase Chevy-powered Studebaker that is quite well known among the H.A.M.B community. Look at how far the engine sits back in the chassis!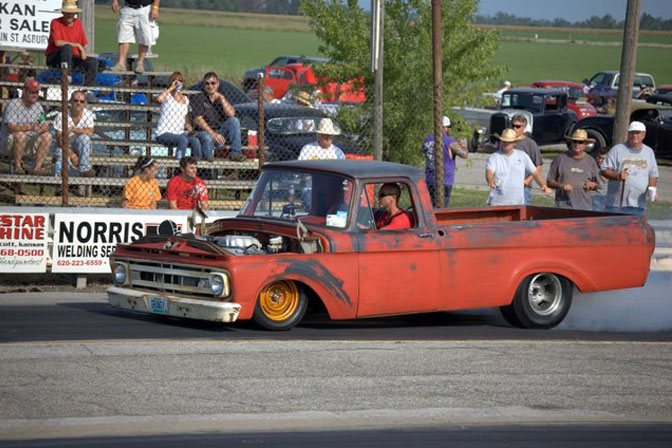 This Ford Pickup looked a little familiar, then I remembered that it was at the Goodguys autocross event in Nashville which we posted about here a while back. Older pickups have been becoming quite popular among rodders as they offer a more affordable alternative to the traditional passenger cars.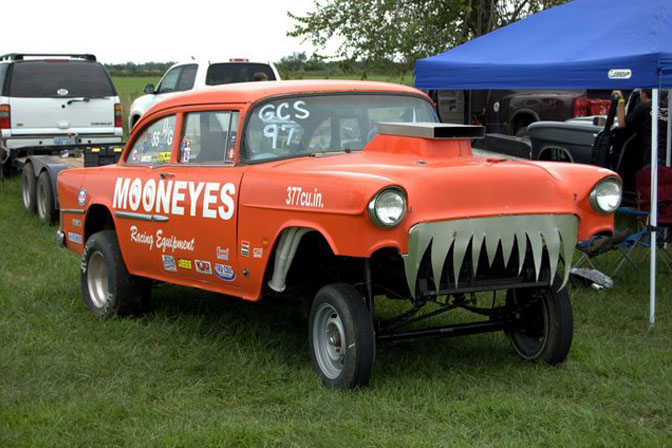 This straight axled '55 Chevy gasser looks like it rolled straight out of a 1960's drag event. How can you not like the teeth in the grill? The super skinny front tires may seem strange to sports car guys, but they are perfect for cars like this.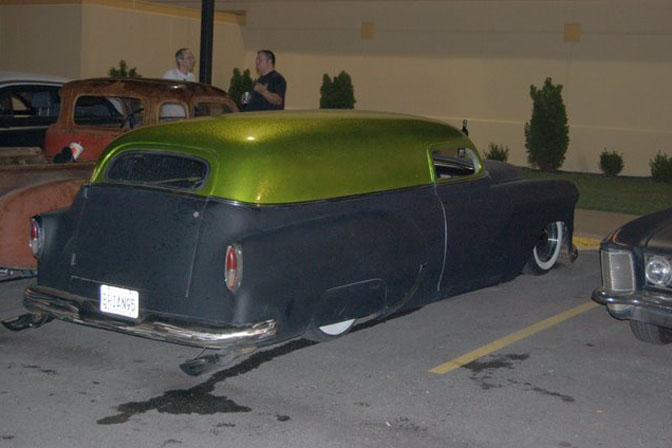 Not all of the cars seen around the event are drag machines, such as this custom panel sled.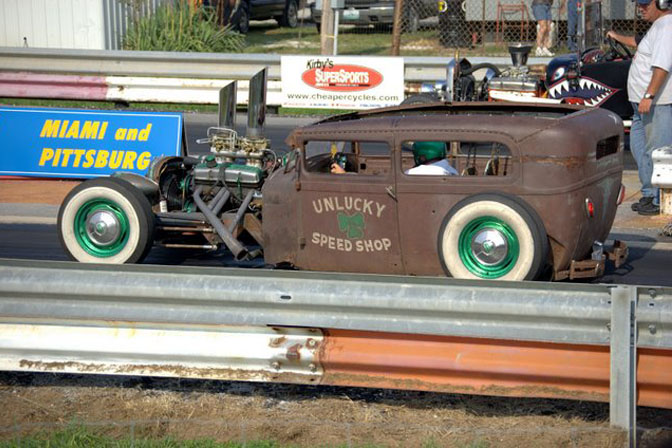 Just awesome. Apparently these sort of builds are known as "suicide rods" and have been getting some flack from traditionalists for not adhering to period correct standards.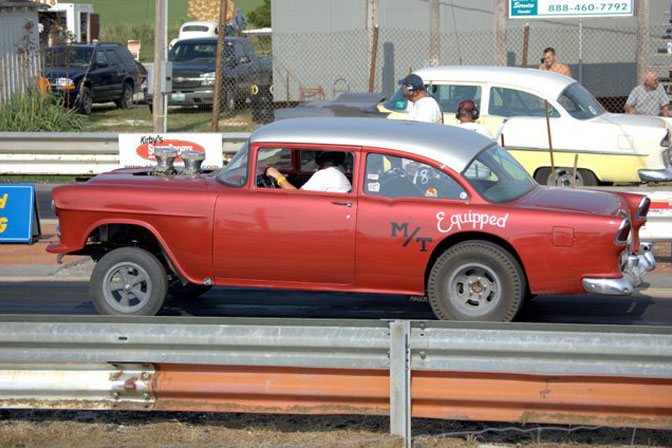 This '55 Chevy with its radiused rear fenders reminds me of the '55 seen in the iconic movies American Graffiti and Two Lane Blacktop.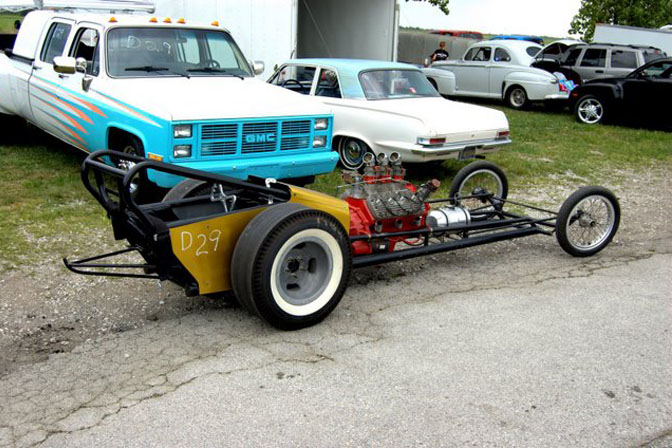 And why not finish up with this flathead-powered rail dragster.
I'm hoping that I will get the chance to see (and shoot) this event for myself someday. Until then, there is plenty of coverage to be found on the H.A.M.B forums and the Jalopy Journal. Also make sure to check out the rest of BinderRod's pics at the link below.
-Mike Garrett