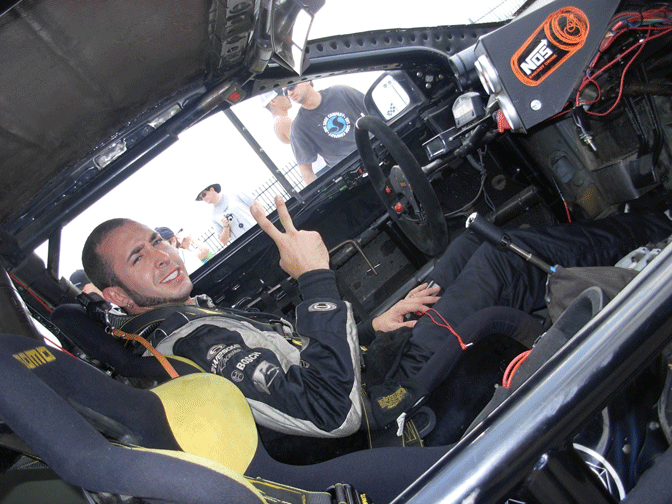 Even though I may or may not be known as Chris Rado the "drag racer", I'm going to shed a little light on another passion of mine – time attack. July 26th and 27th was the Redline Time Attack in Nashville, Tennessee at the Nashville Super Speedway. I was super excited as well along with the WORLD Racing team to be going to this event, especially since the at last two consecutive time attack events we had taken 1st place. I was ready to do it again, and I know the rest of my guys were too. Even though Nashville Super Speedway is a tighter and shorter track then I'm used to – meaning I'd be using a lot of second and third gear coming out of turns, which is typically more difficult in a high horsepowered, heavy, FWD car such as our tC – I was up for the challenge.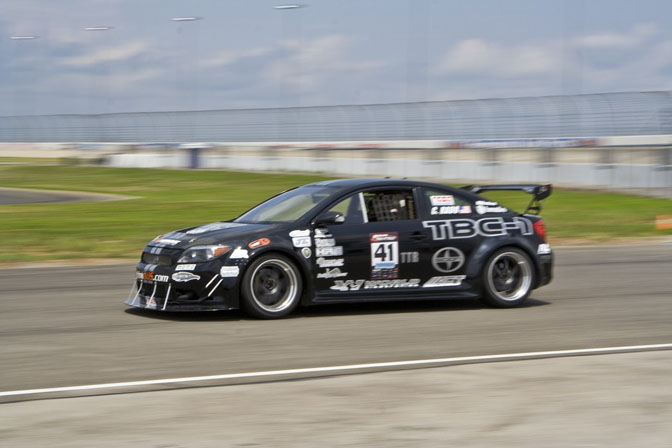 Going into the event the car seemed to be working flawlessly. The modifications that we made in the oiling system seemed to have paid off. Considering we had run four straight events with no sign of fatigue on the amazing tC engine, I'd say we were in pretty good shape. And that was great for me as a driver because it takes the pressure off of worrying about the car and just lets me drive my ass off.
Saturday morning we sat out the first practice session to finish up some modifications. Second session we made our way to the track and man were the temperatures in Nashville blazing! After the session, what seemed to have been a slow time for me, ended up being the fastest time of the day so far by about a half-a-second.
During the second practice session, I decided to get a bit more aggressive and test the Scion tC to improve my time. Well, I succeeded in improving my time, as did one of the AWD cars, as they moved to the number one spot and I finished off the day with the number two best time which I was still pretty happy about.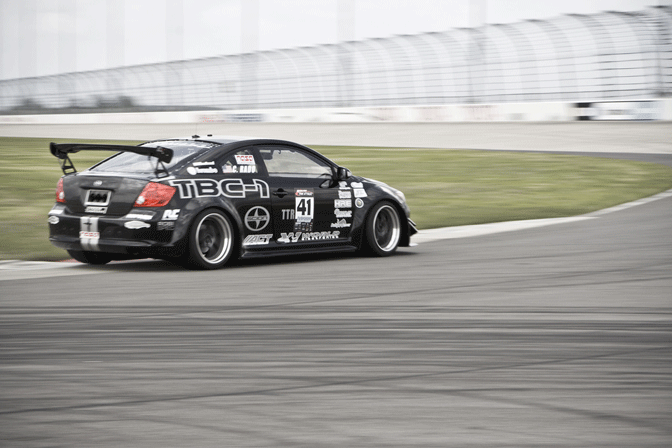 Going into Sunday, we decided run the first practice session because I wanted to get even more aggressive than the day before and shed some seconds off my time. I knew that the track record for a full-bodied production car was a 1:5.4 – completed by a GT1 Porsche – and it was my goal to beat this time before the day ended. I knew that we had the potential to run that time or better due to our progressive track times every session. So we went out there with a better set of tires and ran a 1:7.1, shedding almost 3 seconds off our previous time! I knew the Scion tC had more in it because we hadn't even turned the horsepower up yet!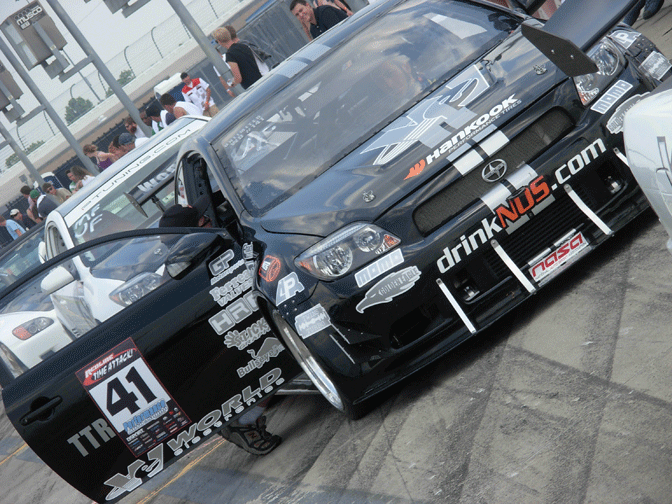 We prepared to go into the first time attack session – the first session that actually counted. We were gridded second behind the Top Speed Subraru Impreza that ran a 1:5.8 in that earlier practice session. It seemed I was not the only one who came to win and was gunning for the new Nashville Super Speedway track record.
As the session started, I left the starting line, pulled second gear, the transmission locked up, and the internal shift mechanism in the transmission was apparently broken. So we pulled the car into the pit to get to work.
Like I said before, this track was a short track, but was very rough on the car. It was rough on tires, it was rough on parts, it was rough on everything. One of the transitions of the course is where you come from the oval onto a flat surface at a high rate of speed and it really just beat up on the car.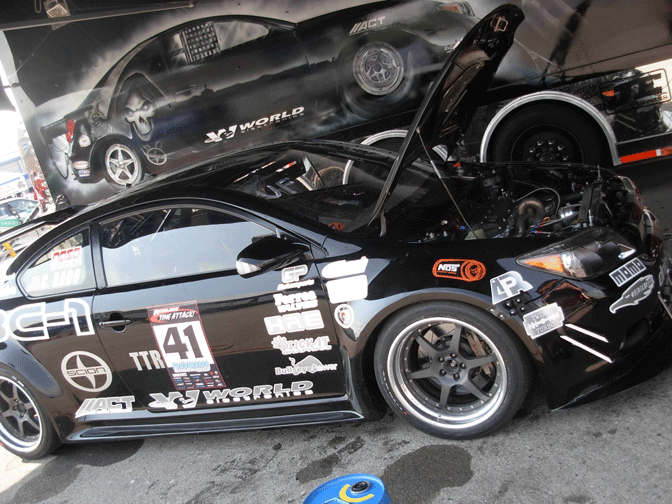 We didn't know if we were going to be able to get the car fixed in time for the next session, considering the tC is a unibody car and it typically takes 5 to 6 hours to do a transmission. But you know we pulled it off! The level of expertise and experience the WORLD Racing team has had paid off and we got the car back in racing shape in order to go out for the second and final session to put a number on the board since we were unable to finish the first session.
So I gridded for the third session of the day – the second session that counted – and I knew I desperately needed a time to even be on the board in order to place or ideally be in one of the top spots. I gridded second behind the Top Speed Subaru again, who was ran a 1:4.6 in the previous session, beating the track record time.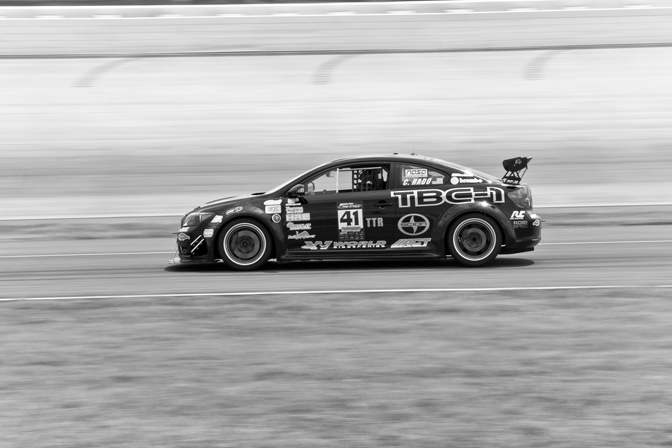 I knew I had a couple more seconds in the car, especially since we had only been on the track so far for a total of three sessions throughout the weekend. So I went out their a did what I had to do, which was immediately putting a good score on the board – a 1:5.5 to be exact – just a tenth of a second off the (now previous) track record.
This time was enough to put us in 1st place in the Unlimited FWD class, 2nd place overall out of all the classes, and gave myself and WORLD Racing the new track record for fasted FWD lap time. This was such a great weekend for me and for my team and puts us three time attack wins in a row! First at Willow Springs for Super Street Lap Battles, then at California Speedway for Redline Time Attack, and now at Nashville Super Speedway for Redline Time Attack. We are on a roll!
This weekend we'll be at Road Atlanta for another Super Street Super Lap Battle and I speak for my team when I say we are ready to make that FOUR consecutive time attack wins. Not only do I want to win 1st in FWD, but I'm looking to take the overall 1st place out of all the Unlimited Classes. That has been my goal at these last three events, and so far it hasn't happened, but this weekend, I'm gonna be pushing the WORLD Racing Scion tC harder than ever!
-Chris Rado