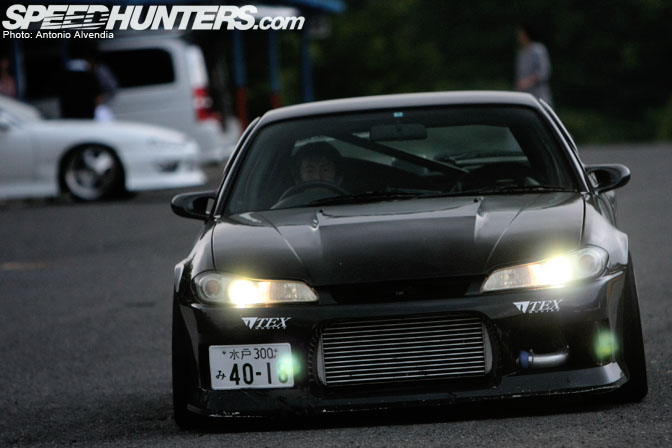 We're at the Super GT race at Suzuka Circuit right now, but we're on a break… so instead of walking around downstairs trying to get phone numbers from umbrella girls, I thought I'd just post some photos I shot from the Ebisu Circuit Natsumatsuri… here's some detail photos of the black S15 Silvia that I saw over at Ebisu West Course.
The car was built by Ohki-san at Tex Modify in Ibaragi Japan. You can tell from the exterior, the car looks pretty menacing because of the low stance, and the slant of the S15's projector lights glaring at us makes me think the car is scowling at us and getting ready to attack.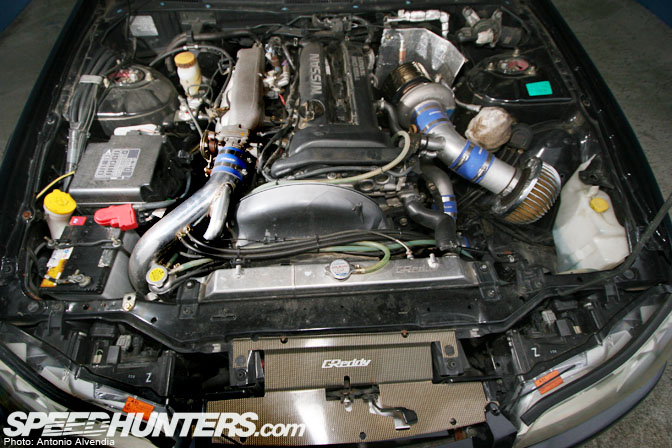 I don't have too many details on the car's specs… the owner of the car was leaving, and I only had a few minutes to talk to him while taking photos! However, from the photos, we can see that it's obviously powered by an SR20DET blacktop with a Greddy TD06N2 turbo, Greddy intake filter and radiator… I like the carbon kevlar radiator cooling plate – in case you didn't know what cooling plates do, they help isolate the air entering the grill, so the air goes into the radiator, instead of over the radiator. Not sure exactly how much of a difference they make, but I suppose every little bit helps.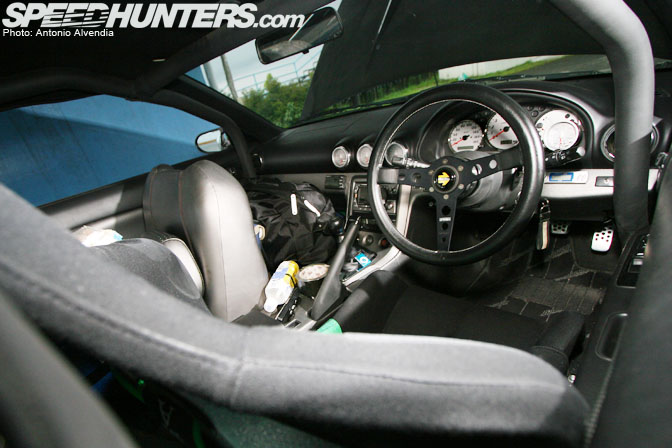 Inside the car, we have a Bride bucket seat, padded rollcage (presumably Safety 21/Cusco), and a Momo Prototipo 350mm steering wheel. I think it's cool that the owner of this car is using an old school Momo wheel… it's the same concept as using a Nardi Classic 360, but not everyone has a Prototipo. In case you were wondering, Nardi Classics were OEM equipment in Ferraris, and Momo Prototipos were OEM issued in Porsches.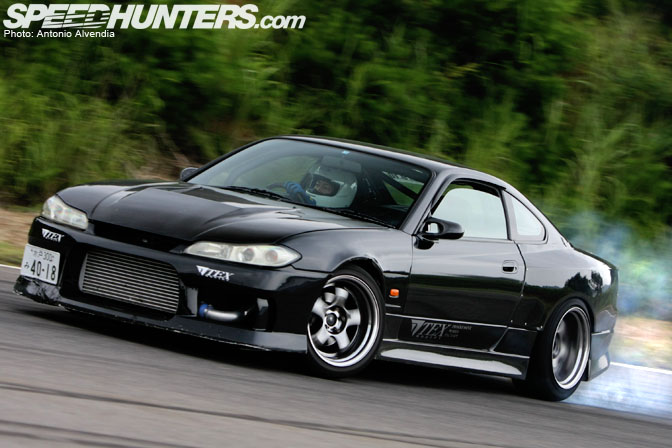 Doesn't this car look awesome in black?! However, it bears a striking resemblance to Kazuhiro Tanaka's Team Orange S15 Silvia formerly used in D1GP competition. Maybe that's because it's the exact same aero kit – Mac/M-Sports, and the wheels look extremely similar also! Maybe it also has something to do with the fact that Tex Modify (the shop that built this black S15) also built Kazuhiro Tanaka's orange D1 S15.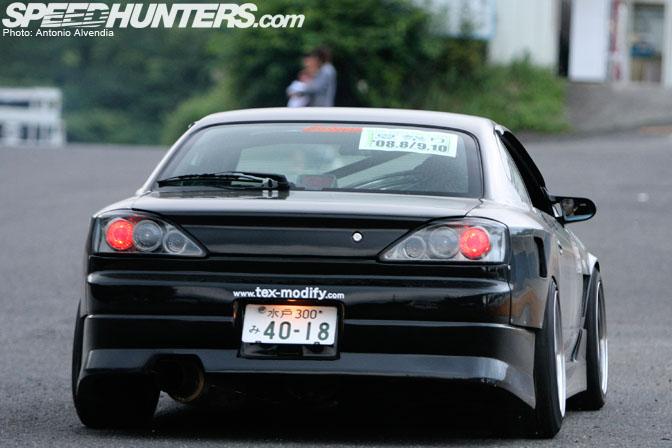 I love the wingless rear end of this S15! Gorgeous, yet aggressive. The aero mirrors and window visors are a nice, subtle touch.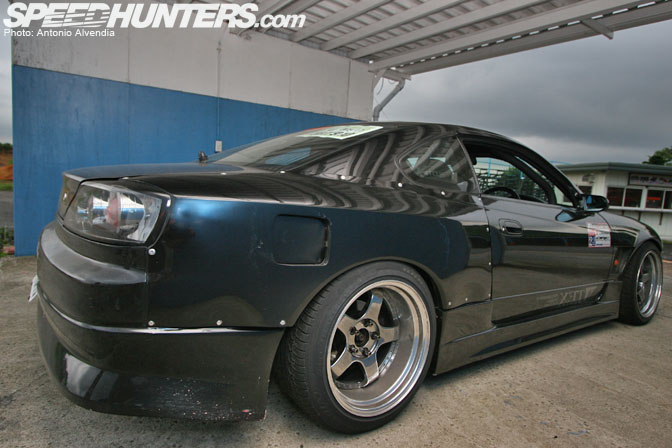 Taking a closer look at the wheels, they look like either Work Meister S1s, or SSR Professor SP1… can't see from here. What you can see, however, is a good view of the Mac/M-Sports wide body fenders, which have been riveted on to the car.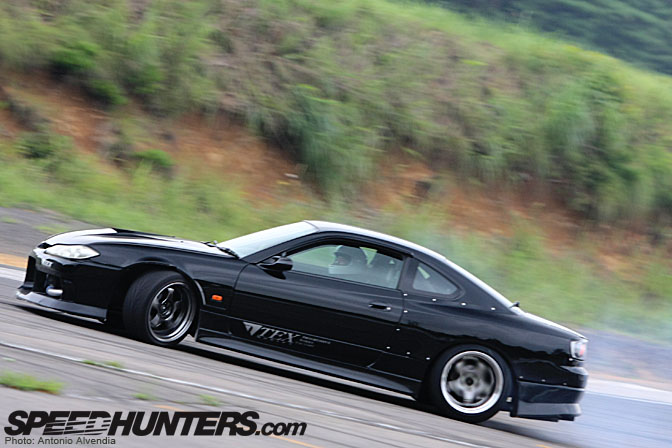 Here's a photo of the car on the track… this car was running Ebisu West Course during the manji competition at Ebisu's Summer Drift Festival!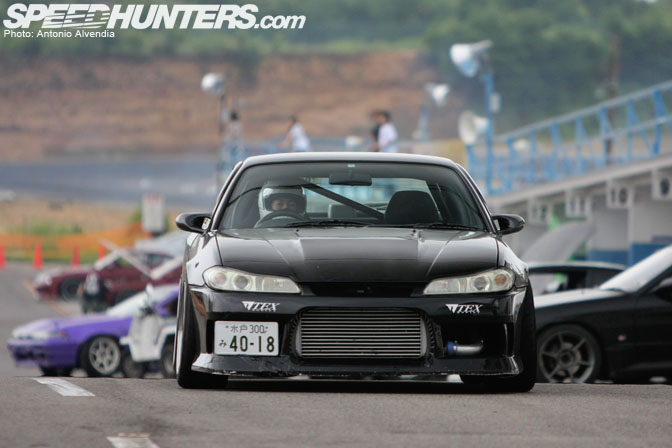 And again, on pit road…  you really get a good view of how huge that Greddy front mount intercooler is – it fills up the entire opening on the M-Sports front bumper, and the opening is huge!!! I love how this S15 looks. Nice and low, with aggressive wheels and stance. After all, those are the keys to making any car look cool, aren't they?
-Antonio Alvendia