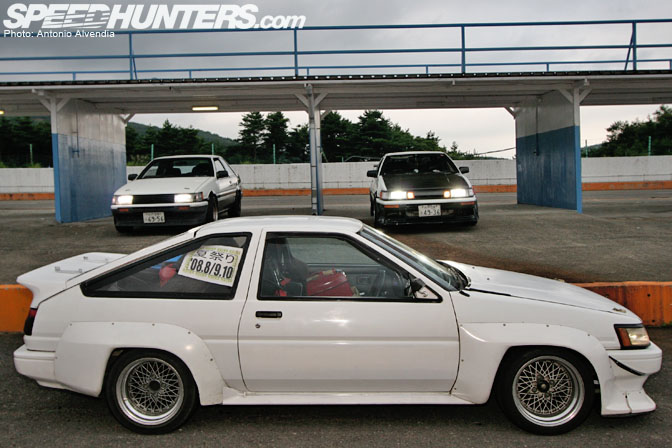 More AE86s again?! Are you serious? Yes I'm serious. After all, we post photos of S13s and S14s and S15s all day anyway. I think I have the right to show a little more 86 love on here! As the Ebisu Summer Drift Festival was wrapping up, I spotted this trio of AE86 Levins at Ebisu West Course.
I was immediately drawn to inspect the white N2 flared Levin, because of its big TRD style N2 flares, the front chin spoiler, and rear wing. The car appears to be a zenki Levin, and sits on 15 inch SSR Formula Mesh wheels. Notice the canard on the front bumper… I also thought the sideskirt was interesting. Most N2 AE86s I've seen don't use a sideskirt, but the owner of this car apparently modified his N2 flares so that the OEM sideskirt would fit in there too. I guess he thought it would look a bit more cohesive than running without skirts?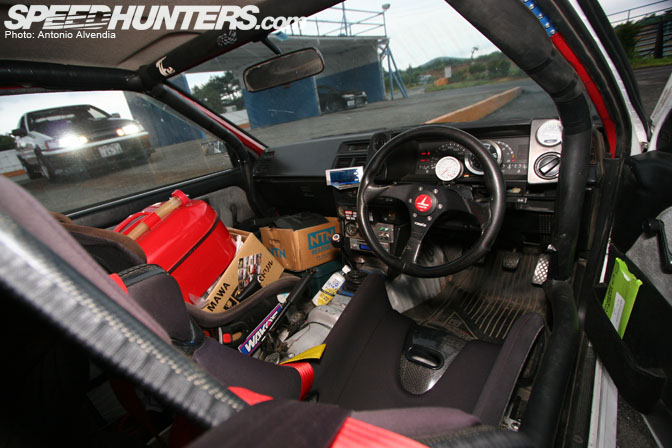 Don't be taken aback by the fact that the interior is full of boxes – the owner of this car was all packed up and about to leave the circuit, when I stopped him and asked if I could take photos of his car! I wanted to see the interior myself, so I thought I might as well show it here on Speedhunters! The rollcage appears to be from Safety 21, with some sort of carbon fiber inlayed bucket seat (I don't recall seeing this type of seat before) and a Tom's Racing steering wheel. Gauges and electronics were a mixture of Apex'i and some other brands.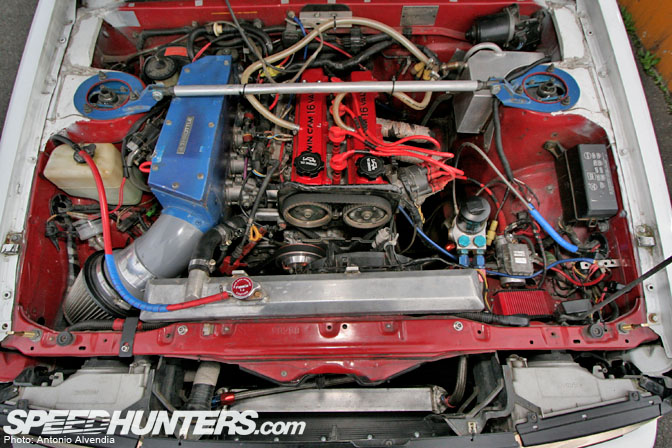 The engine bay of this AE86 was pretty interesting. First thing I noticed was the humongous radiator and oil cooler! Holy crap, those things are huge!!! I'm not quite sure how the radiator is held in place, there doesnt appear to be any bracketry on top – maybe it's held on the sides and bottom? Engine is a high comp 4AG from a late model AE92 (the ever popular kouki kyu ni 7-rib engine swap) Corolla, but the intake manifold has been modified with the individual throttle bodies from a 20valve 4AG, with a custom welded intake plenum (the thing that's painted blue, with the OEM 4AG 20valve "4 throttle" emblem re-attached to it) and huge intake pipe and filter. The oil filter has been very obviously repositioned for easier oil changes, and the car also uses a multiple spark discharge amplifier and aftermarket ignition coil and sparkplug wires.
Before I go any further, let me just say, I absolutely loved the oil catchcan that the car had; it's the thing attached to the strut tower on the right of the photo. Very cool, and custom fit for an AE86! This engine also has Toda Racing cams, adjustable cam gears, and some sort of aluminum pulleys, which allow the engine to rev more freely with less weight restriction.
The car owner apparently knows how to weld; he welded some chassis stiffening brackets in between the firewall and the strut towers (homemade version of the Nagisa Auto shakitto circuit plates which stiffen up the front of the car better than a strut tower brace) and on the strut bar itself.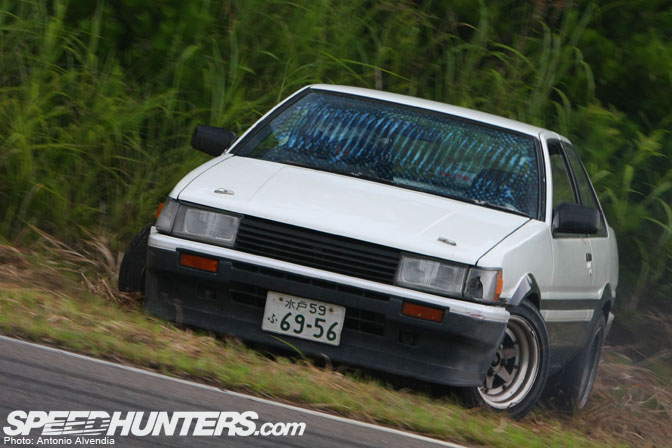 This is a pretty clean looking zenki Levin 2 door! I thought it looked pretty funny and cool when the owner of the car slid it off into the tall grassy area next to the straight on Ebisu's West Course. Why would the car be drifting on a long straight, you ask? Ebisu was holding a manji contest during the Natsumatsuri, and this AE86 was one of the entrants!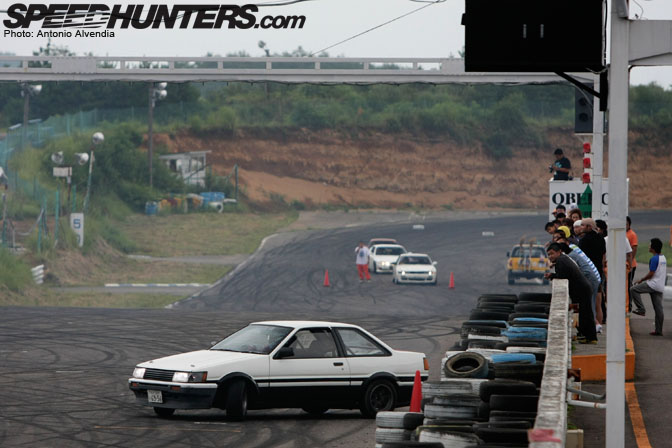 Here's the zenki Levin again, but this time performing a more precise manji drift next to the tire walls of the long straight.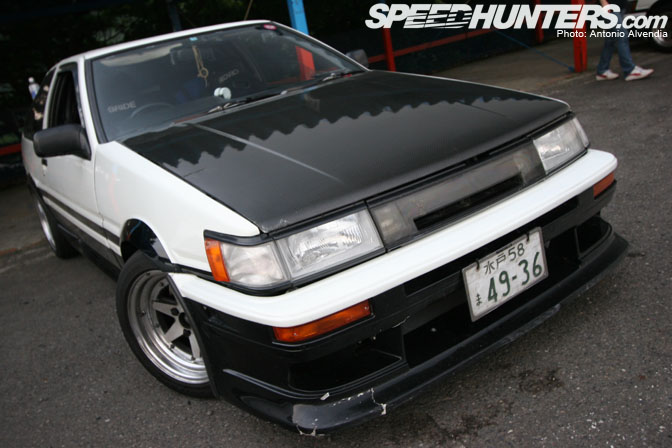 This kouki Levin 2 door was pretty clean! The car owner, his girlfriend, and his friends were all from the Ibaragi area, near Tsukuba Circuit… for all we know, they might be neighbors of our fellow Speedhunter Mike Garrett!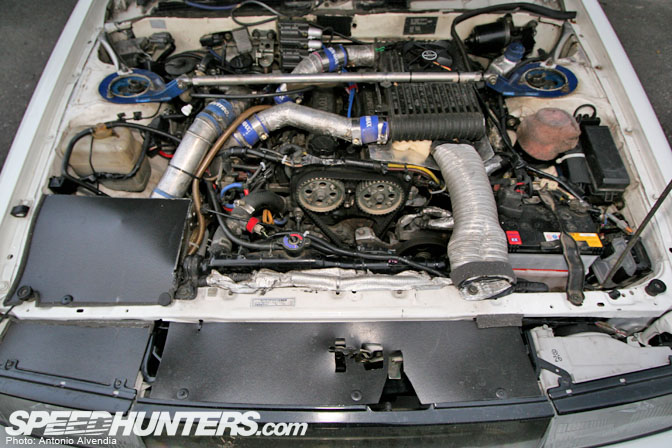 A peek underneath the hood reveals that the car is supercharged with a kouki AE92 4AGZE engine. It also has Toda Racing camgears and camshafts, pistons, and the whole 9 yards. Cusco camber plates and strut bar… not too sure what kind of coilovers he was running, I forgot to ask, my bad. In case you're wondering what that big black box thing on the left side is (I was wondering for sure), it's a cold air intake chamber, which receives cold air from a duct in the front bumper. Also, seeing this radiator cooling plate reminds me that I need to buy another one for my own AE86(s) as well. Thanks for the reminder! I wonder if Up Garage has anything in stock..? Probably not.
-Antonio Alvendia
36 Hours of Drifting at Ebisu Circuit