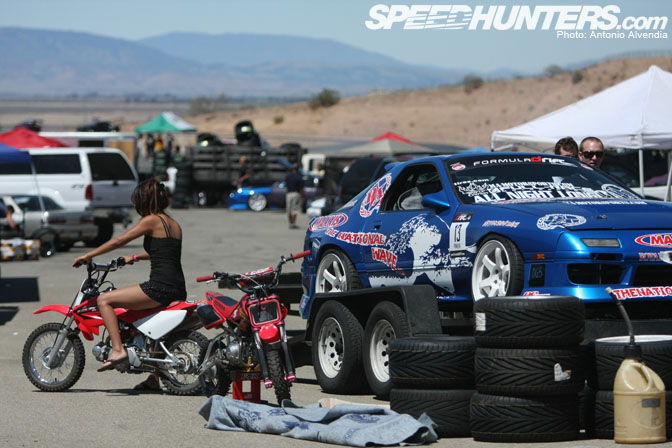 And it just don't stop…
Just when you thought it was all over, I thought I'd show everyone some more images from the Just Drift/Ziptied All Star Bash 4, which was generously sponsored by Federal Tires. (How's that for plugging your sponsor, Charlie? And you were all worried that we'd forget…)
Up above is an image from the pit area of the event. That's Justin Pawlak unloading his blue FC3S off the trailer, while his girl prepares to start up her bike to ride around the track!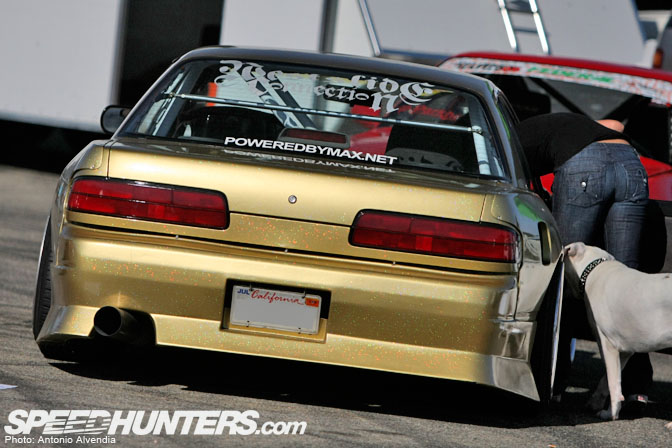 So hot! The stance on Tommy Roberts' S13 is just off the chain. Take notes kids, because this is how you do it when you put fiberglass overfenders on an S13.
I'm so sick and tired of seeing S13 owners in different parts of the USA cut up their otherwise clean S13s to put ridiculous fiberglass fenders on, when they don't even have wheels that are wide enough to extend past their normal steel fenders!
Take notes from Tommy's car – that guy has style!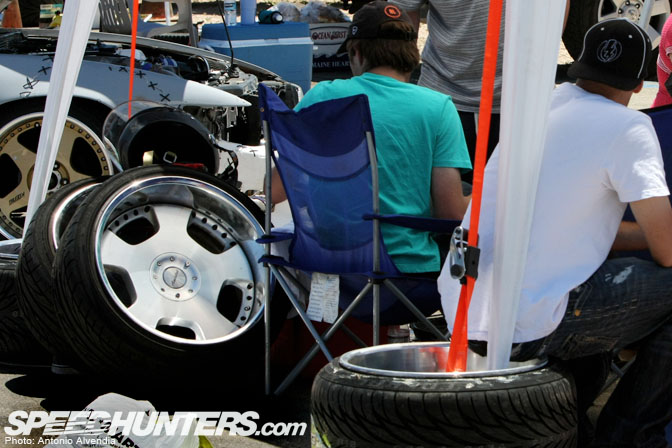 Enough wheels to make a VIP fanboy drool with envy – I'm talking about the width, the offset, AND the stretch. But these guys are use them for chairs, running over aero kits, and shredding rubber with them. Gangster.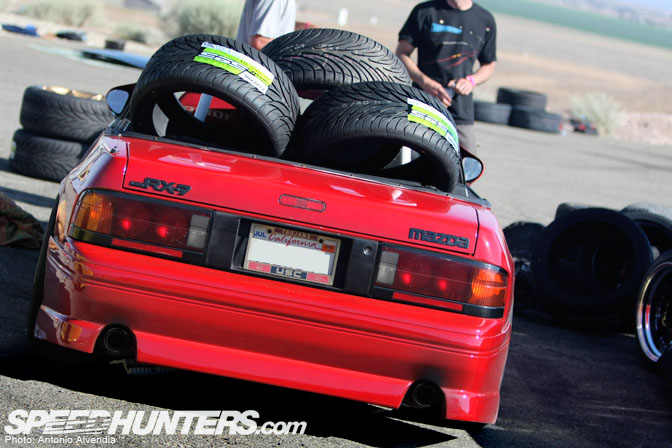 The owner of this FC3S convertible isn't trippin on trying to keep his car clean… he has all sorts of tires loaded into the back, butted up against the roll cage and the red Bride seats.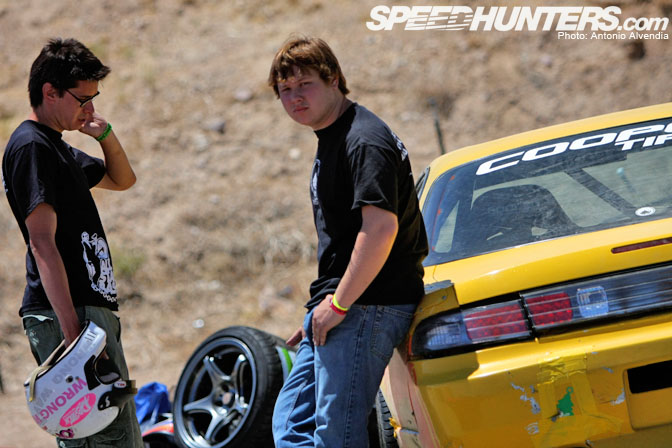 Pat Mordaunt is growing up to be quite the rock star. Forget The Life of Ryan, Pat has his own reality show on RiceboyTV and it's not about skating or surfing… it's about DRIFTING! Check the deep offset 5Zigen FN01RC wheel in the background – the staple wheel for drifters all over the USA! Check their website out at 5Zigen Wheels, they just came out with new aggressive wheel sizes on their Pro Racer line (ZR520 and FN01RC lightweight)!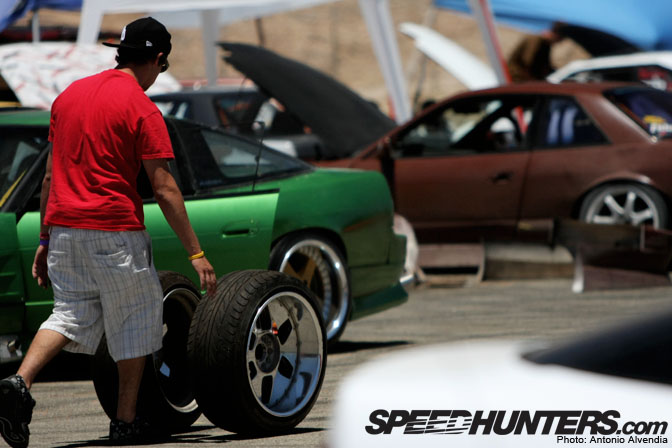 I guess we know how he rolls.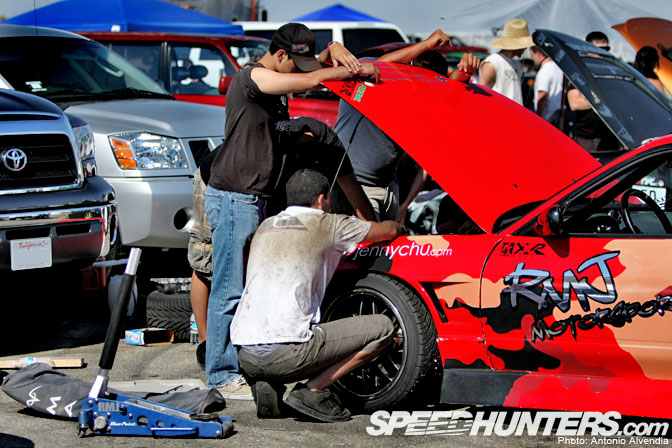 When these guys aren't drifting or wrenching on their cars, they're looking at scantily clad photos of Jenny Chu on the internet. Check the fender.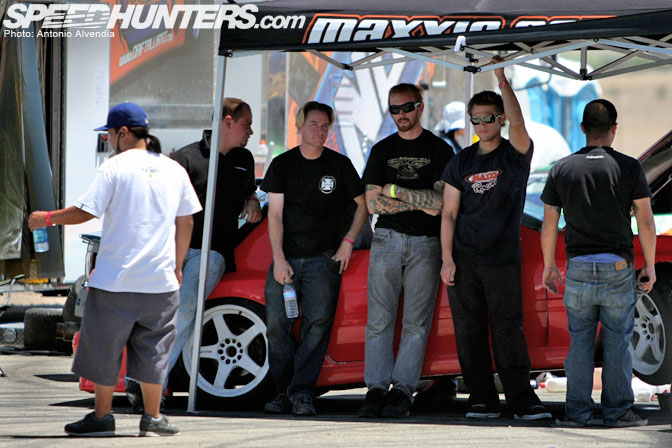 Wait, is this ASB or Formula D? Some of the usual suspects from the Formula D events were there, trying to chill out in the shade. I wonder if these guys practice their "cool guy poses" in the mirror? I just had to take a pic.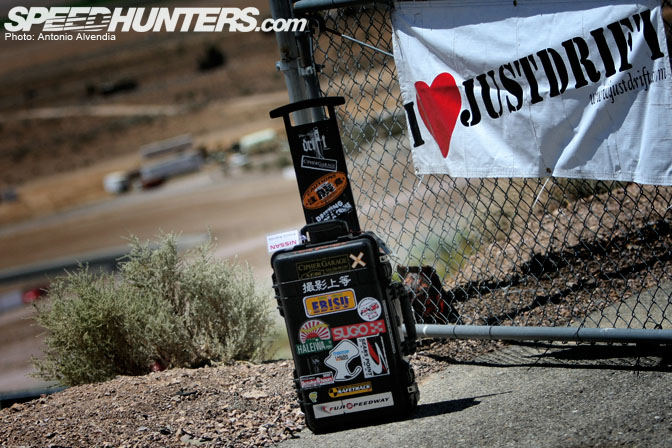 The banner says it all.
-Antonio Alvendia
Down and Dirty at JustDrift/Ziptied All Star Bash 4!
All Star Bash IS drifting lifestyle!