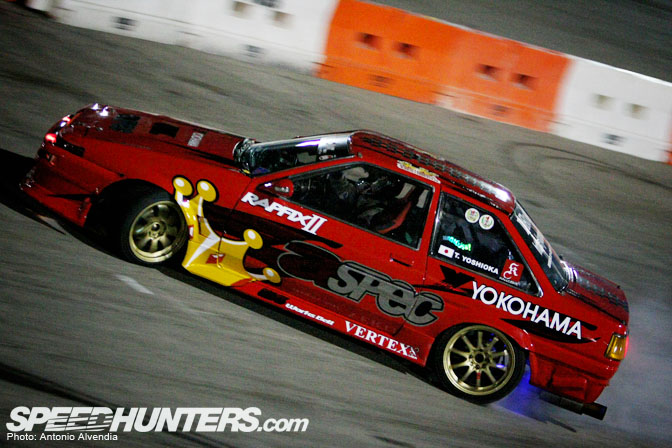 On the night I drove up to Las Vegas, I was watching the outside temperatures soar up to 118 degrees, and this was at around 10pm. At 4am that same night, it was still at 115 degrees. Super hot. Thankfully, it has cooled off just a bit, due to a thunderstorm which cooled off the track last night, and lightning that lit up the night sky like the LED and neon bulbs covering all the casinos on the Vegas Strip.
While the weather may have cooled off just a bit, the action at Formula D's pre-event practice and qualifying session remained just as hot. Lots of things to report! I was happy to see my good friend Toshiki Yoshioka's red AE86 Trueno 2-door out at the track! Yoshioka is the highest ranked AE86 driver in the world – nobody else can competitively drift an AE86 as fast as Yoshioka can. In Japan, he's known as the turbo car killer! He often beats turbocharged cars with two or three times the horsepower that his normally aspirated 4AG powered AE86 has. Much respect, Yoshioka!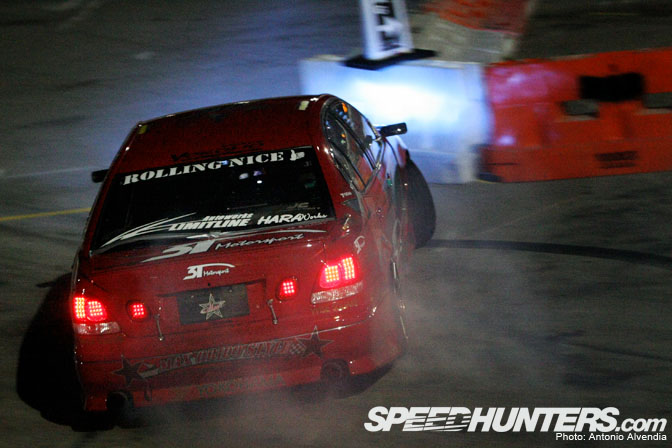 Manabu Orido made his Formula D debut in this JZS161 Toyota Aristo. This huge red luxury car looks awesome out there on the track, and Orido pilots it skilfully – look at him hitting the clipping point perfectly in the photo above. Orido was sharing a pit with Yoshioka – since these drivers have decided to enter Formula D, I was pleasantly surprised to see the Yokohama trailer back at Formula D events! Someone in the tire company's marketing department decided to pull Yokohama out of drifting a few years ago so they could concentrate their efforts on American Le Mans. However, Formula Drift is where all the grassroots fans and young consumers are at. I'm glad they're making steps to return to the scene.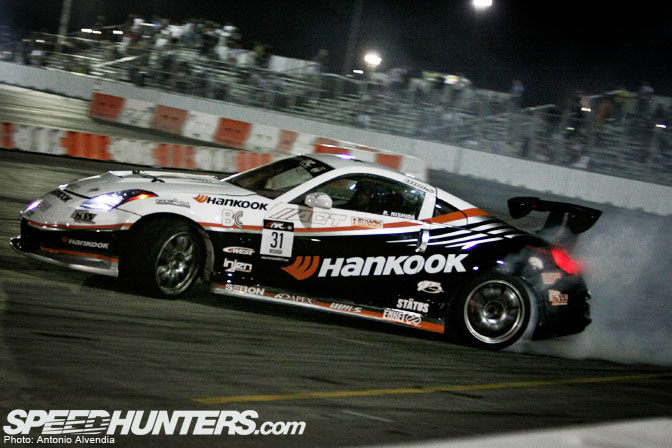 Robbie Nishida from the famed Japanese drift team "Hey Man" was seriously killing it during qualifying. We were all talking about how good he looked as he ran the course! (And when I say "how good he looked" I'm referring to how well he drove his Z33 350Z; we weren't making any references to how handsome he may or may not look as a person. haha!) Robbie consistently impressed the judges with high high overall speeds, and the big smoke he was spewing out of his rear fenderwells.
In fact, Robbie impressed the judges so much, he was Number One in qualifying on Friday. With top level drivers like Robbie Nishida, Tyler McQuarrie, and Joon Maeng, Hankook is definitely a team to keep your eye on.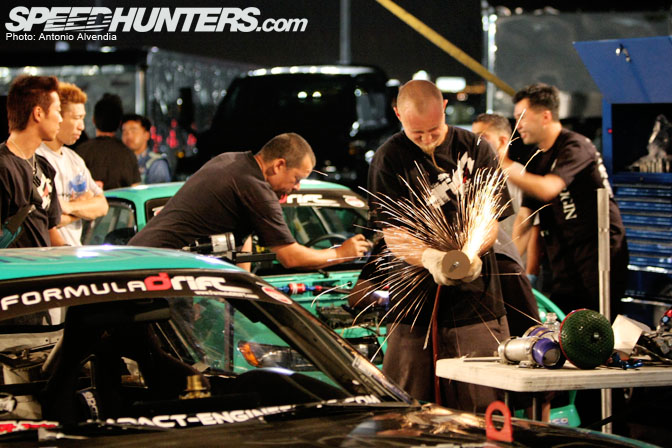 Speaking of keeping eyes, our boy Ross Petty was engaging in some pretty dangerous activity as he was rushing to fix his S13 Silvia in the pits! Ross Petty is an enigma – he is not only an extremely skilled drifter, he is also a highly capable race car builder/engine swap specialist/engine tuner/fender modifier/good offset wheel fitter/engine and parts importer. Not to mention, he is pretty good at doing wheelies on bicycles, and is an overall funny guy.
With the help of his partner Frank Siharath (Garage Boso) and trackside technician Gung Ho, Ross worked all thoughout the night to fix his SR20DET engine after it sucked in a bolt during practice! These guys are dedicated as hell. They needed a cylinder head right away, so Frank drove all the way back to their shop in Gardena CA with Jonathan Bradford from Falken to get a new SR20 head, and drove straight back. They worked nonstop with no sleep to get Ross's car fixed, and finally got it running in time for qualifying.
Honestly, I think these are the guys who deserve a big energy drink sponsor. Staying up late and dedication to finishing their cars is what Ross and Frank are all about.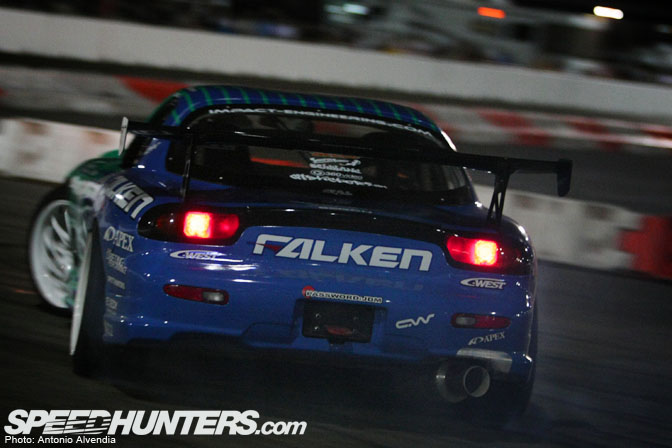 Our fellow Speedhunter Calvin Wan was getting praised by the Formula D judges and the announcer, J-Rod, for his final qualifying run. As Calvin passed the judges stand, Jarod said, "Wow, I've honestly never seen Calvin drive that FD as well as he's driving it right now. He's really stepping up his game!" When I asked Calvin what was making the difference, he said he had to keep retuning and readjusting the settings on his suspension after each of his runs. By his last run, he really had the FD dialed in!
Unfortunately, the newly rebuilt rotary engine that was scheduled to be put into the FD before the Las Vegas round wasn't delivered to the Garage Boso on time, so the engine couldn't be installed in time to be finished for this Las Vegas round. Very unfortunate that Calvin's 350Z competition car that was debuted at SEMA is still unfinished… and the refreshed rotary engine that was supposed to go into the FD didn't get to the shop in time for the Vegas competition. Disappointing.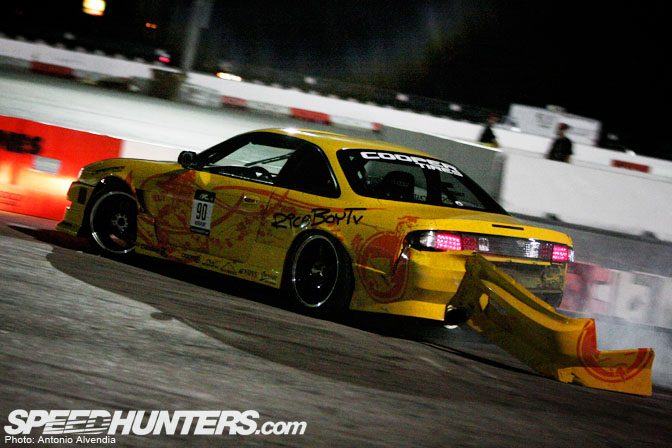 Teen prodigy Pat Mordaunt must have thought he was still at All Star Bash 4, because he sure bashed up his rear bumper while he was negotiating the course – but he did it with style! Check out Pat's website and Riceboy TV for the videos!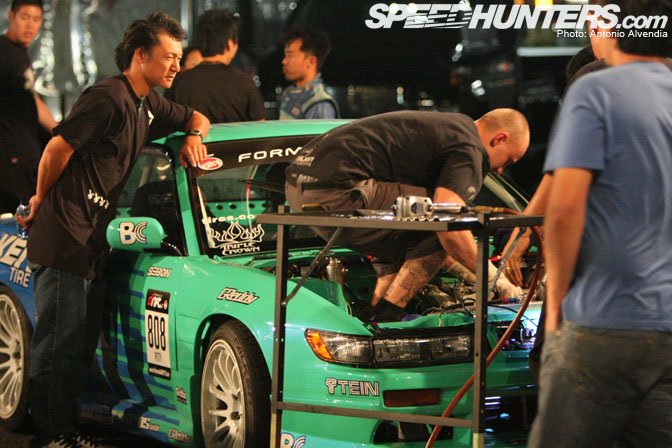 The last photo I'll leave you with… when Ross Petty is working on his car, he really gets into it!
Okay! Time for me to head to the track! The umbrella girls are waiting for me in the hotel lobby, talk to you guys later!
-Antonio Alvendia