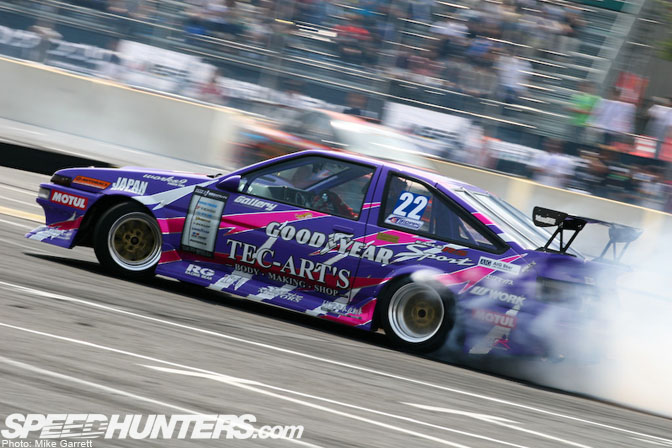 When it comes to building awesome AE86's for both the street and the track, there a few shops more skilled than Tec-Arts which is located just outside of Tokyo in Saitama Prefecture. Besides building numerous top level street cars, Tec-Arts AE86 racing experience also includes their famous N2 race car which has achieved great success at the N2 races held at Tsukuba Circuit. Tec-Arts also has an active D1GP project which has been in competition for a few years now. The driver of the Tec-Arts D1 Trueno is Kensaku Komoro and this car just happens to be one of my favorites that is currently competing in the D1GP. It helps set the standard for competition AE86 drift cars around the world and shows that 25-year old chassis has plenty of life of left in it.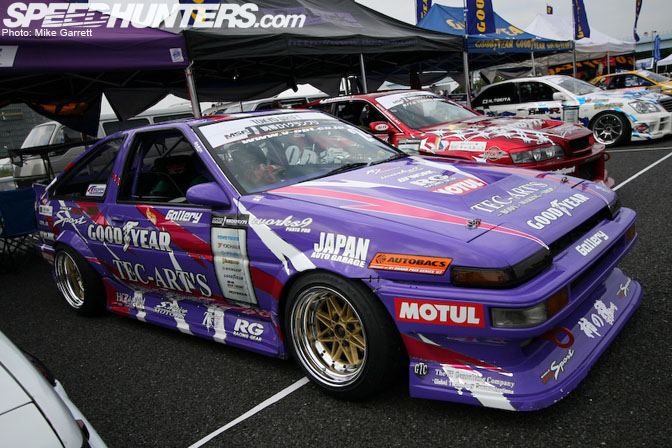 To be honest, I'm not exactly sure what it is about this car that is so appealing. Maybe it's the aggressive stance or the perfect offset and gleaming lips on the wheels. Maybe it's the striking MSR-designed graphics. Maybe it's a combination of all those things and more as the car slides past at incredible velocities. Whatever it is, I kept finding myself returning to the Team Goodyear pit at the Odaiba D1 event to get a closer look at the car. For starters, a look under that bonnet will reveal a large part of what gives this car its uniqueness.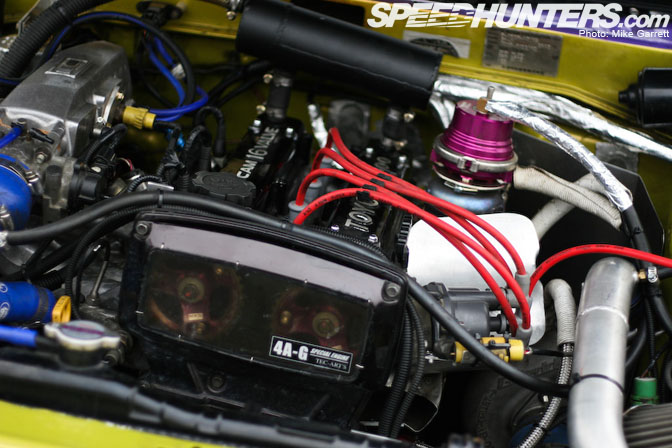 While you might expect to see a naturally aspirated 20-valve unit or an SR20 or F20C swap like many current AE86 competition drift cars have, Tec-Arts keeps it real with an old school 16 valve 4AG mill. Of course this is far from your standard 4AGE as Tec-Arts has put its years of AE86 experience to work making sure this car is as powerful and competitive as possible. The engine has been fully rebuilt by Tec-Arts inside and out and is also outfitted with a Greddy turbine that helps give Komoro the power he needs to keep up with the high powered cars he competes against in the D1GP. Power output for this set up is an astonishing 360ps! It can be difficult sending all that power through the standard T50 transmission so it has been replaced with 4-speed "dogmission" unit like the ones found in many other drift cars. Power is then sent to the wheels through a TRD LSD.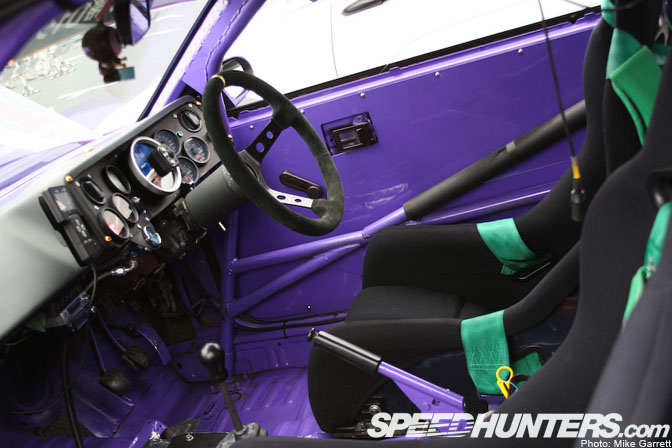 As expected of a D1 car, the interior has been stripped with all non essential pieces removed for weight savings. A pair of Juran bucket seats with Takata harnesses help to secure Komoro and whoever is daring enough to ride shotgun with him. Of course a full roll cage is also in place. You can also see how the stock gauge cluster has been removed in favor of a number aftermarket gauges. I love how the big, old school style tach dominates the dash.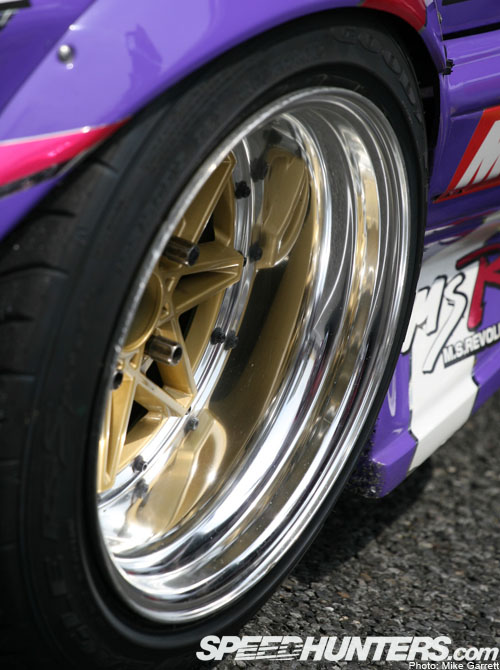 The car's overall sexiness is due in large part to the 15×8.5 negative offset Work Equip 03 wheels wrapped in stretched Goodyear RS Sport rubber. A beautiful and timeless wheel design for sure. In some situations the car can also be seen with white 17″ Work Meister S1's like the ones found on the Tec-Arts N2 race car. The car's mean stance is achieved with set of special Tec-Arts SPL full coilovers developed in conjunction with Racing Gear. If you are looking for a set of these for your AE86, Tec-Arts sells the whole package for around $2700 USD. Other parts of the suspension remain tight with a number of Tec-Arts original urethane bushings.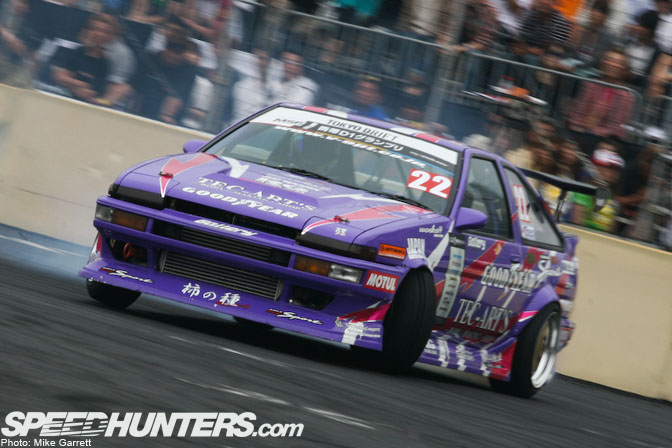 The aero kit on this car is also by Tec-Arts and includes the front bumper, side skirts, rear bumper, and the front and rear over-fenders. As you can see, the over-fenders are needed given the car's aggressive wheel sizing. The vented hood is also a Tec-Arts piece and is available for purchase in both carbon and FRP. The large intercooler visible through the front bumper also adds a lot to the car's aggressive exterior.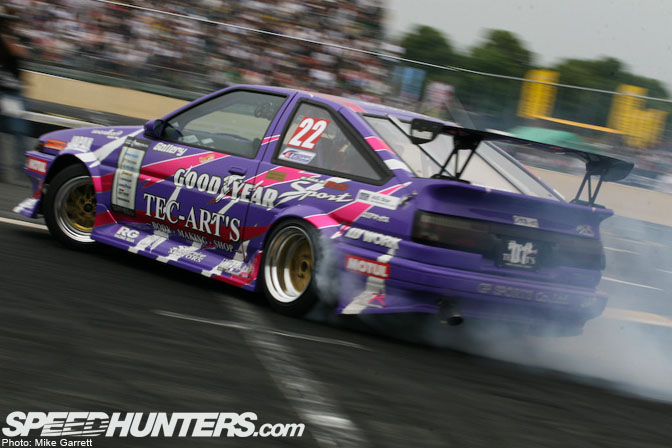 Out back, the car is running a Tec-Arts original carbon 3D GT Wing which is mounted to standard TRD rear spoiler. The wing not only adds to the look, but provides plenty of aerodynamic stability at the faster tracks seen on the D1GP schedule. The smoked tail lamps also add a nice touch to the car's rear view. The Tec-Arts D1 car actually used be done in greenish color but is now sporting the same purple livery seen on their N2 AE86 as well as their FC3S RX7.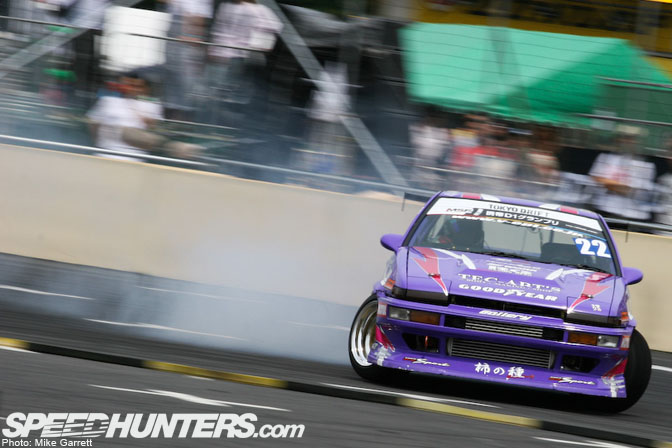 All in call it makes it for one of the most impressive cars in D1. Just look at how cool it looks while drifting. Note how you can't even see the face of the wheel at full lock because the lips are so big! As long as tuners like Tec-Arts keep building amazing cars like this, the AE86 will continue to keep its place as one of the most popular and exciting cars in the drifting world.
-Mike Garrett