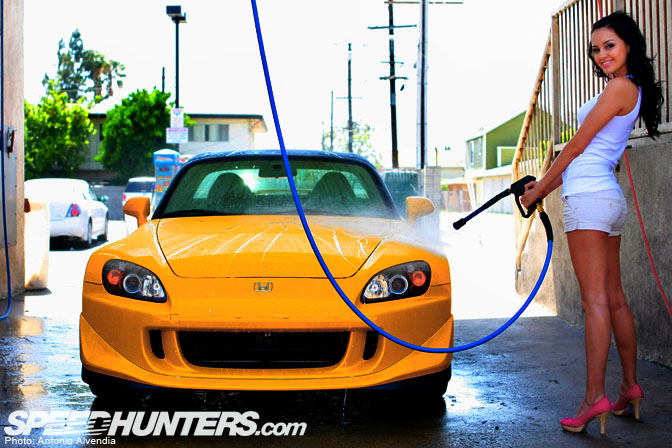 Since the Acura NSX was discontinued, the Honda S2000 has been Honda's only rear wheel drive offering for a while, and still remains extremely popular with Honda afficionados. Maybe it has something to do with the great weight balance of the car, or the resonsive F22C engine?
Since so many of my fellow AE86 owners have been swapping in F20C Honda engines (first generation S2000 engine) into their AE86s in favor of the slow and beloved 4AG powerplant that keeps my own car running, I decided I should try out the F22C to see what all the fuss was all about. (BTW: Fellow AE86 purists, don't worry, my AE86s will always be 4AG or 5AG powered!)
So I contacted my friend Chris at American Honda Motor Company, and got myself an S2000 CR, so I could see for myself why so many Honda guys are so crazy about their S2000s. The CR edition visually looks a lot different than a normal S2000. The front end has a sportier aero bumper, with a low front lip spoiler. I think it looks alot cooler than a normal factory S2000 bumper! The side of the car remains nice and understated, and the rear bumper is updated with stylish and curvy cut-outs for the revamped dual oval exhaust tips.
In case you were wondering what the CR badge is all about, the CR stands for Club Racer. It's perfect for those who want to be a bit more competitive in stock SCCA racing classes, or those who just want a limited production, collector's edition S2000 in their garage. Me being more of the literal type, what did I do the first night I got the S2000 Club Racer?
Went to a club in Hollywood, picked up a girl, and we stayed out with the car until the sun came up. The S2000 CR is just so much fun to drive! It does attract quite a bit of attention though, especially when it's bright yellow – the first night I got it, I was pulled over by a cop on Sunset Blvd (he was bored and wanted to check if the car had illegal mods, or if I was drinking and driving. No problem on both counts, the car is all factory original, and I didn't have anything to drink at all.) and also got hit up by another S2000 CR on the road who wanted to race me!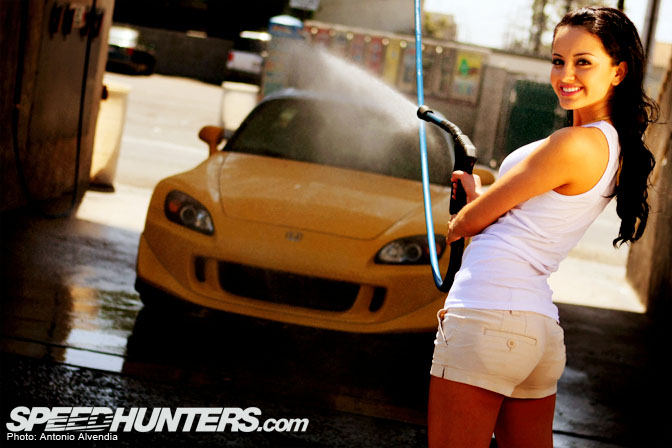 Since I couldn't stop driving this CR on the first few days I had it, it got dirty very quickly, that's okay though! I found myself driving it in the VTEC rpm range all over the place, especially on nice twisty roads, like the 110 freeway from Pasadena to Downtown LA. The handling on the S2000 CR is so much better than a normal S2000; the steering feels lighter and more nimble, and even though the engine output is the same, the whole car is lighter and stiffer, so the car just feels faster. As long as I stayed within the right section of the rpm range, I had no problem passing any car I came across, it was effortless – even on high speed turns like the ones you find on the 110. This S2000 CR not only looked good, it was super fun to drive.
Unfortunately, since I drove it so much in such a short time, all sorts of dust, smog, and whatever other debris is floating in the Downtown LA air got stuck to the S2000 very quickly. Lucky for me though, my sexy new friend Claudia offered to help me wash the car! I obviously agreed, but I had to request that she wear a sexy outfit, because I wanted to take some photos of her washing the car too! She originally was wearing slippers (aka sandals, aka flip flops) when she came over, but I asked her to put on some heels for the photos, haha! She had no problem with that, since she is so easy going… Claudia seriously has an awesome personality!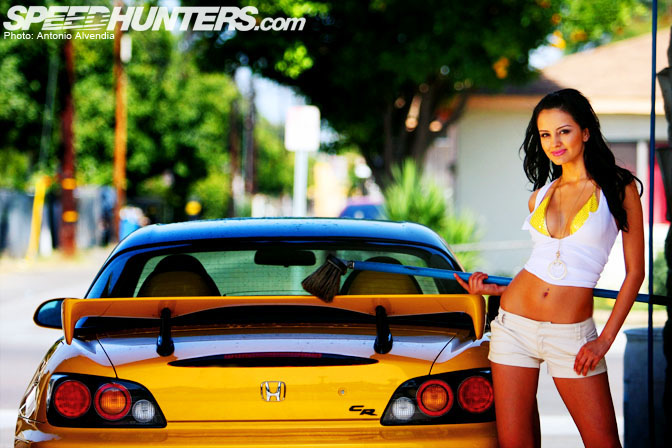 Claudia helped me wash off the S2000's rear with one of those "body brushes" that sprays out water and soap, but since the wind was blowing in my direction, I decided to take this photo before there was water and suds all over the place, cause I wasn't trying to have the water spray was get my new camera all wet, dammit!
The CR edition S2K has this rear trunk mounted wing for downforce. I'm not a super huge fan of this wing, but I guess it's supposed to be functional, so oh well. I just think the car would look alot more attractive without it, since I tend to be more into "mild and clean" styling when it comes to aero for street-driven cars. You can also see the podlike cowling behind the seats, which give the car more of an aftermarket, sportier look.
Notice the nice CR emblem by the right taillight, which incidentally, are also Claudia's initials. Which one do you think is sexier? Claudia or the car? (Wait until you see the next pic to answer that question.)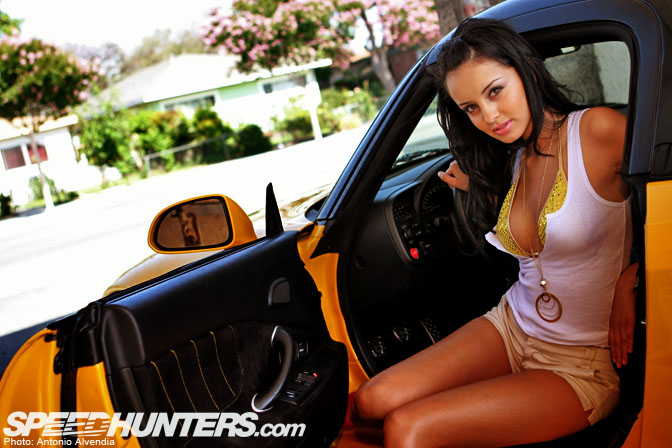 Wowwwwww. Don't you just love that hint of yellow? I know I do… the hint of yellow stitch on the CR's suede (or alcantara?) doorpanel certainly is a nice and sporty touch, and matches the yellow stitch and "carbon fiber" looking mesh center panels on the seats.
And the other CR? She looks so good in this photo, I just don't have any words. Make up your own.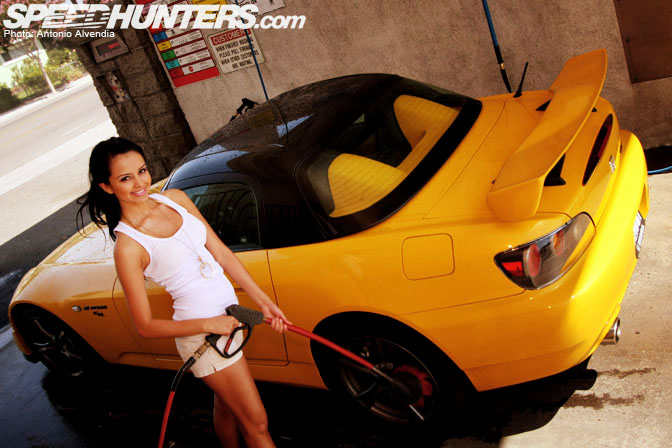 As much as I love wheels, I hate cleaning them. Good thing Claudia was nice enough to volunteer to do it! Sure go ahead, I have a whole lot more wheels where those came from, clean all the wheels and exhaust tips you want! I'm not complaining!
From here, you can see the aero cowling behind the CR's seats a bit more clearly, they certainly catch your eye, even with the black aluminum hardtop on the car. As you can also see in this photo, the rear wing is painted to match the body color.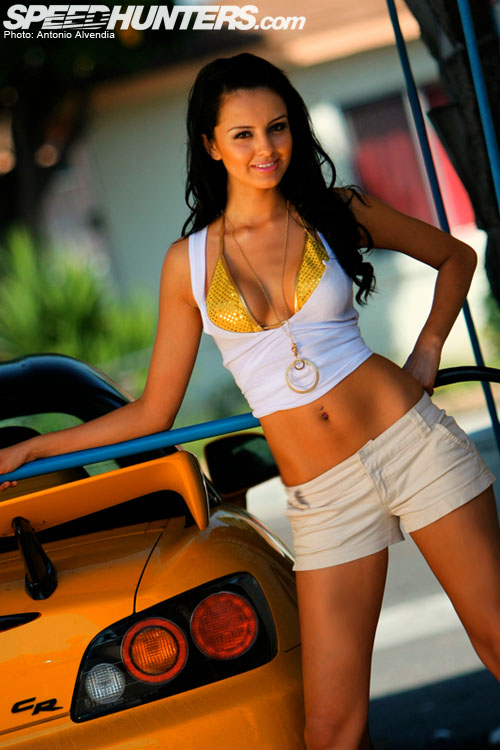 Damnnnnnnn! CR stands for sexy as hell.
Claudia was mentioning she would love to travel more, and maybe I could take her along on an upcoming Speedhunters mission. I dunno, I might be too distracted to take photos of cars. What do you guys think?
-Antonio Alvendia
S2000 CR on American Honda's Official Website