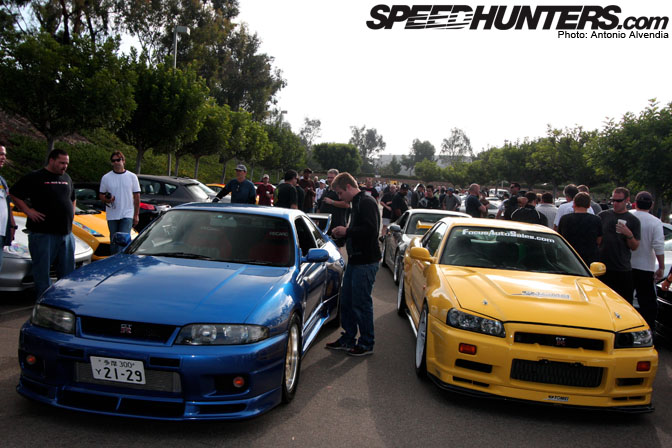 Even though I've known about the "Cars & Coffee" meeting in Irvine CA for a very long time now, I had never previously attended the meet, because it always happens so early on Saturday mornings, and it's so far from where I live. Cars & Coffee started as a meeting of high end exotics, supercars, and American muscle… the original location was at Crystal Cove in the Newport Beach area, but the meet eventually moved to the Ford-Premier Automotive Group, Mazda Campus in Irvine CA.
Going to Cars & Coffee early this morning wasn't originally my idea – apparently there was a bunch of talk on various Skyline websites, including my good friend Jay's (aka DropJay from JDM Ego) blog. Since alot of people on the various Skyline forums were hyping it to be the biggest Skyline meeting in the USA in quite some time, the other Speedhunters suggested that I go, and I agreed. Also, since it was something my friend Jay was promoting, and since he lives relatively close to me, I thought, "Okay, no problem, maybe I'll just cruise out there with Jay and his girlfriend Karen, or I'll just pick up one of my friends, and cruise out around 9am or so, check it out and take some pics. Shouldn't be too difficult, right?" Ahem…WRONG!
When I told my friend I'd be picking him up around 9 to go to Cars & Coffee, he laughed at me and said, "Yeah right man, everyone gets there at 6am, and the whole thing will be over by 9am!" Wait… what? 6AM? Like… in the morning? Since it's in Irvine, it means I would have to leave my house at 5 o'clock AM just to get there in time for the meet! That's just crazy. I don't even leave for drifting events that early, and everyone knows how die hard I am about going to drifting events!
Damn, no wonder I haven't been to Cars & Coffee before – I'd have to leave my house at 5 AM! Even the sun doesn't get up at 5 AM, that's just nuts. When I'm not out of town, I'm usually out with my friends in Hollywood or Downtown LA on Friday nights, and I'm just getting home around 5 AM! *sigh*
But you know… since we Speedhunters are a dedicated bunch, you know I had to make it out to Cars & Coffee to take pics for you guys, with or without sleep. So I cut my Friday night festivities short so I could wake up today at 5 AM, which was only 3 hours after I got home, because I wanted to see my friend Jay, his R34, and all the Skylines at Cars & Coffee. But guess what – I was at the event from the beginning to the end… and even though he was promoting the meet on his website, "DropJay" didn't even show up! Damn, what a flake! He probably decided to sleep in, like I wanted to do.
Haha, oh well, I'm glad I went! I saw alot of real cool cars, and also met the owners of several cars which I'll be featuring on Speedhunters in the future. I honestly expected alot more Skylines to show up, but I had alot of fun meeting the Skyline owners who did show! Not to mention the owners of some of the other cool cars I saw there… I was jocking more than a few stylishly modified Benzos, BMWs, Porsches, and American musclecars that I saw there… I'll definitely be back to Cars & Coffee again sometime soon!
Hope you all enjoy the pics, I'm going to take a nap now!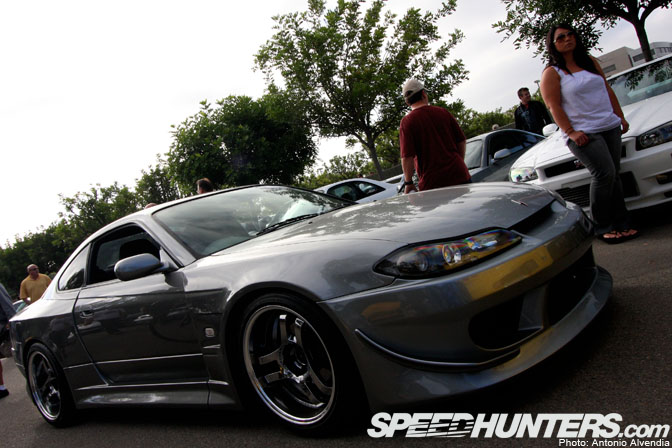 A ton of guys at the meet were breaking their necks when they found out this S15 Silvia with Super Advan wheels was owned and driven by a girl – Carolyn from MOB Works Autobody!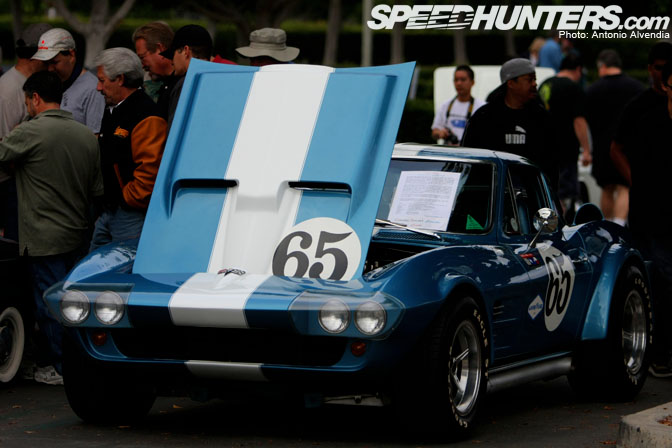 I love the vintage graphics on this Corvette!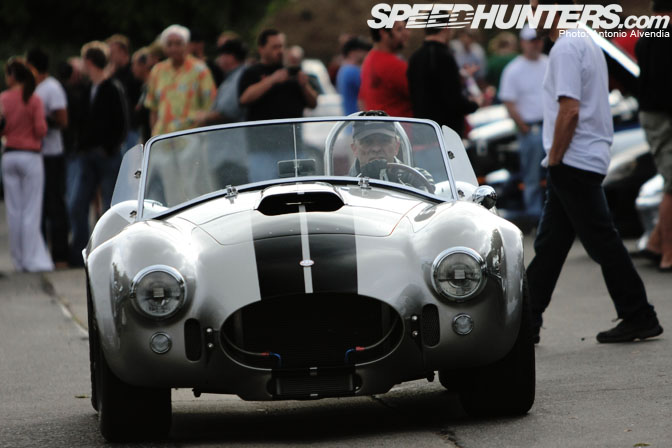 There were so many Shelby Cobra-styled cars at the event this morning, but I didn't have time to go up to each of them to figure out which ones were authentic Shelby Cobras, and which ones were kit car replicas, like Factory Fives or Superformance cars.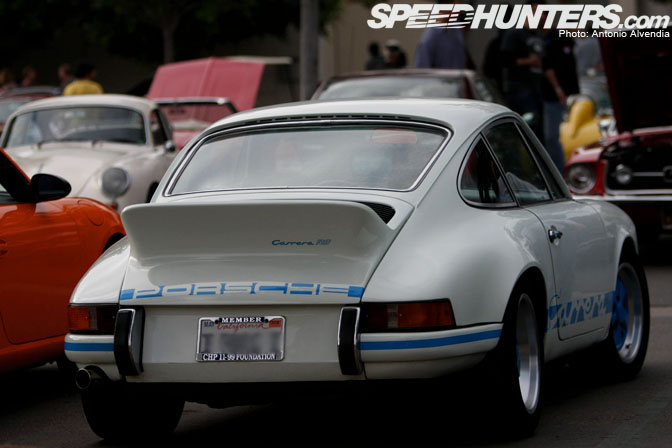 OMG. This 1973 Porsche 911 RS is gorgeous. I'm not sure if this thing is an authentic RS, or an RS clone, but whatever… it's gorgeous no matter what.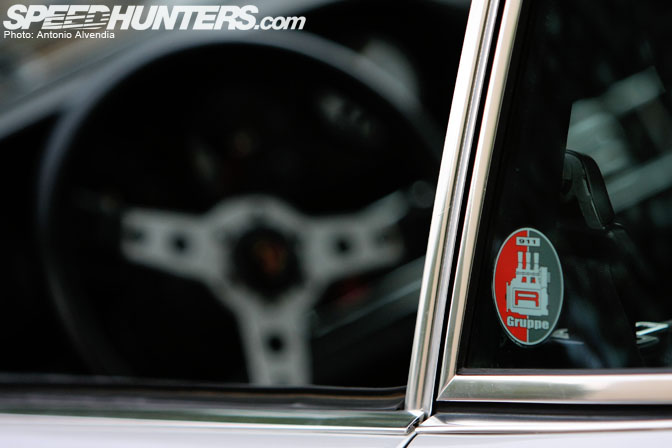 R Gruppe has old school Porsche RS types on lock! Check the old school flat face Momo Prototipo steering wheel. I have one of those on one of my AE86s right now!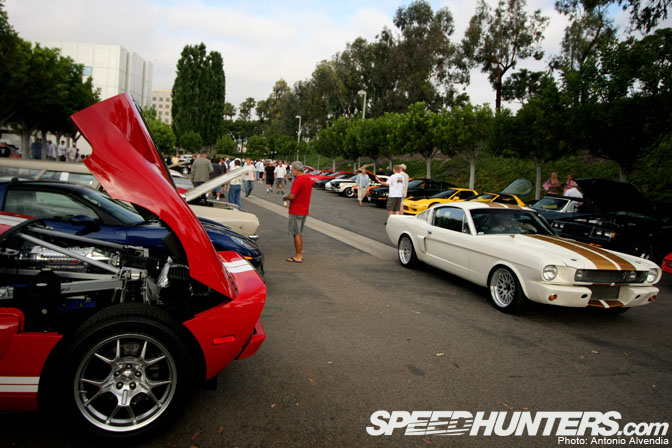 There were too many cars to look at; this is only one row, but I think I counted 8 or 10 rows of different cars, all lined up! Check out this Ford GT and the Pro Touring Mustang fastback…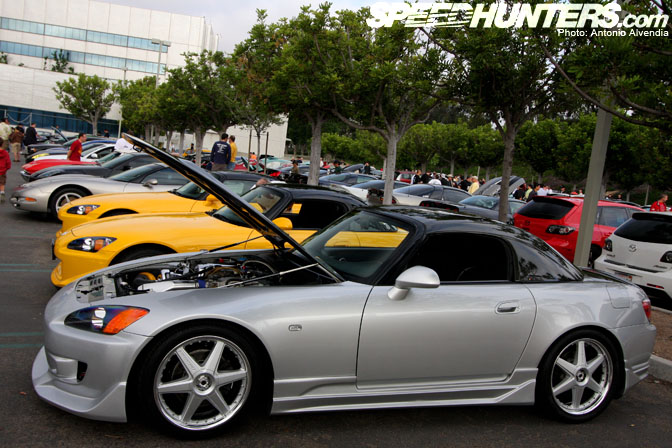 I didn't drive my AE86 to the meet this morning, I drove a yellow Honda S2000 Club Racer, the third one behind this silver S2000 with Mugen hardtop and Racing Hart wheels.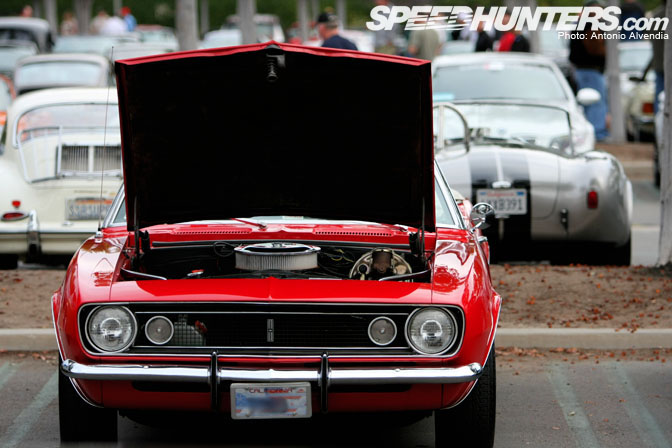 Check out this super clean Camaro! 1967 maybe? I dunno, but I like it alot.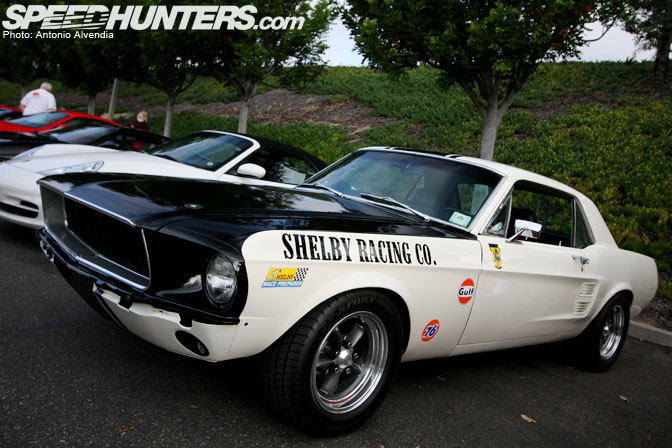 I love the style of this Mustang!!! From the black hood and front fascia, to the vintage Shelby and Gulf decals to the American Racing Torque Thrust wheels. I dig it.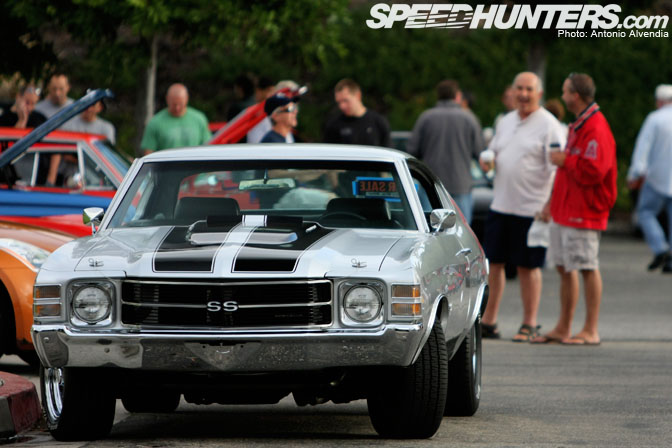 Super clean, SS, and for sale!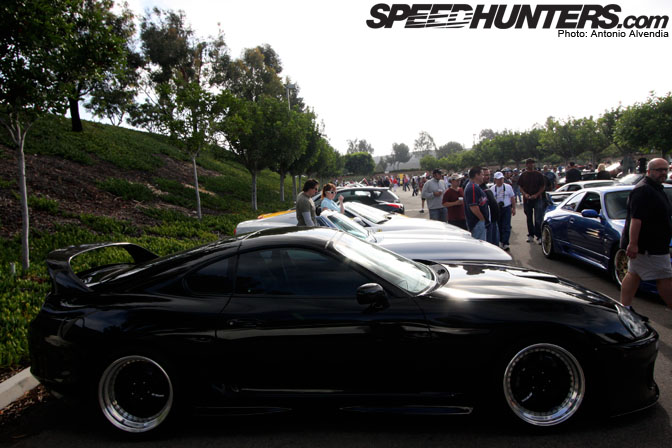 Check this black JZA80 Supra with 19 inch Work Meister S1 wheels, pretty nice. If you look closely, you can see the European-spec hood scoop!
-Antonio Alvendia