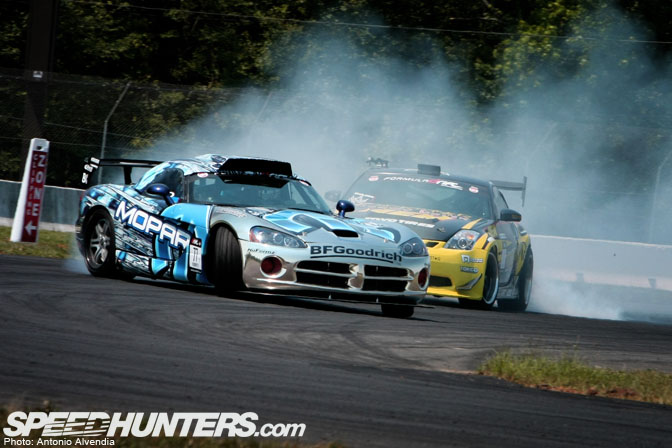 The Formula D New Jersey event was this weekend, as most of you already know. New Jersey was real hot this weekend, and relatively humid. I've been in worse humidity, but for me, any sort of humid situation isn't very comfortable! We were out in the hot sun all day long; we were getting sticky with the combination of humidity, perspiration, fumes from race fuel evaporating onto our skin, sunblock lotion, fumes from tire smoke, and small chunks of tire sticking to our arms, face and clothes. Welcome to Formula D New Jersey, people!
Above, Samuel Hubinette and Tanner Foust were running very very close during their practice rounds, which was extremely exciting to watch and shoot!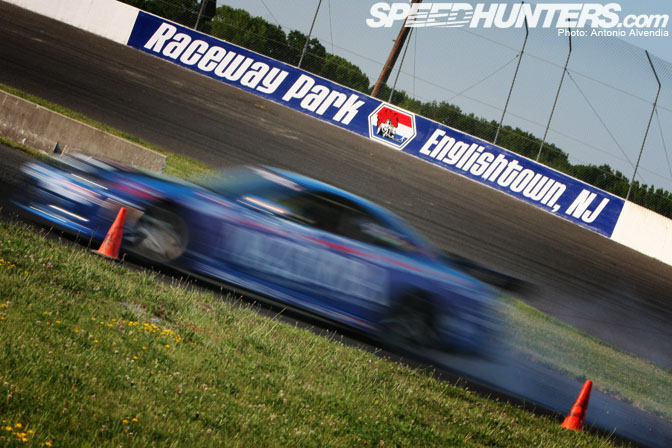 Old Bridge Township Raceway Park in Englishtown New Jersey played host to the Formula D tour for this event, but everyone on the east coast knows the track as "E-Town." E-town is very well known for its history of hosting drag race events in the east coast, but when I got there to check it out, I was very surprised to find that it also had a pretty developed dirt track and a road course as well! It even had a pretty cool go-kart track there, and two drag strips – a 1/4 mile track and a separate 1/8th mile track as well!
On top of all that, they have a race graphics shop on the premises, and a pizzeria called "Two Brothers Pizza" or something! Right as I was telling my friends how impressed I was that they had an actual pizzeria built into the grandstands of the dragstrip, my friends from NJ told me, "nah man, we've seen pizzas delivered to that place, they don't make it themselves at the track!" Aw man…
But on another note, I wanted to say big thanks to Andy Luk (Formula D) and Francis Mabutas (Speedlounge.com) for introducing me to Kim and WP from Raceway Park, who helped the Speedhunters crew get a golf cart for the weekend! We couldn't have gotten around the track without it, thank you all!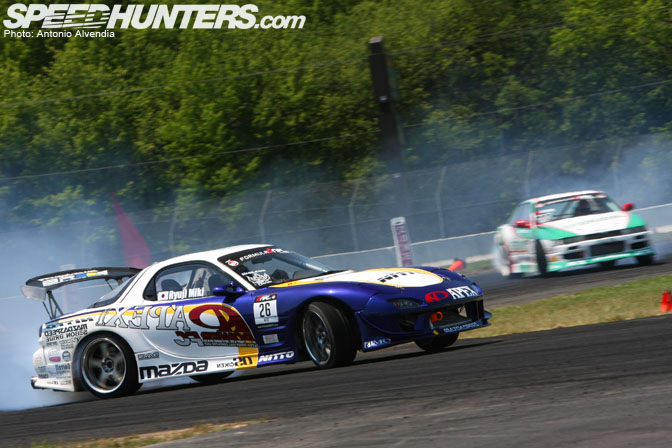 Ryuji Miki was running very clean and consistent during practice, but suddenly his transmission blew out, forcing the Apex'i team to stay late to fix the car in time for the next day's event! Check out Henry Shelley in the background, trying to catch up to Miki in his Federal Tires S13 Silvia!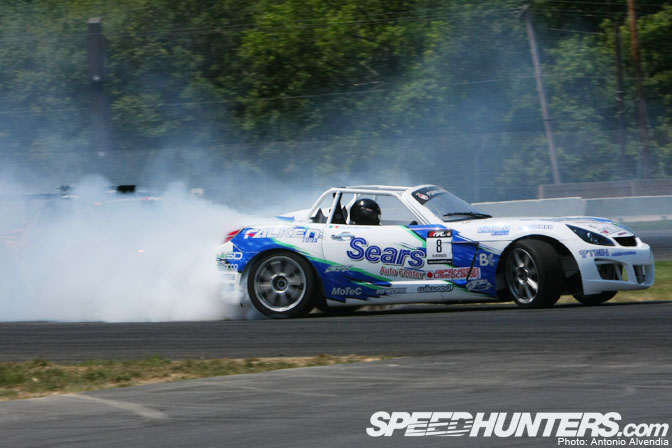 Darren McNamara was throwing tons of smoke out of his RHD Sears Autocenter Saturn Sky… in fact, you can hardly even see that Tanner Foust is following right behind him!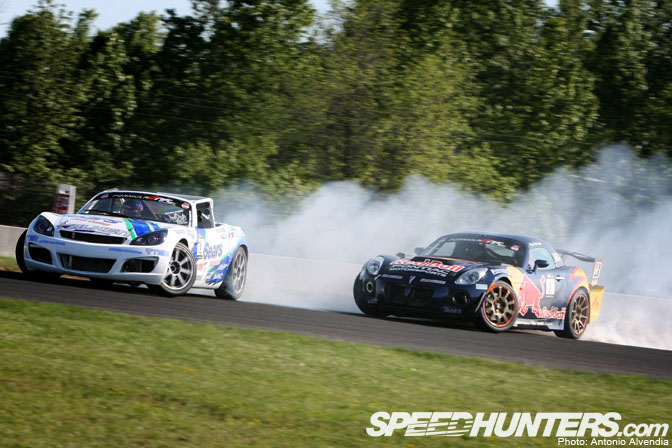 GM Battle of Drift! RMR Pontiac Solstice vs Sears AutoCenter Saturn Sky. Bridgestone vs Falken Tires. Red Bull vs Irish malt liquor. New Zealand vs Ireland. Millen vs MacNamara. These two cars look great drifting together! They should get together with Ryan Tuerck and his Solstice for a threesome! Get your head out of the gutter, I was talking about a 3-way tandem drifting run.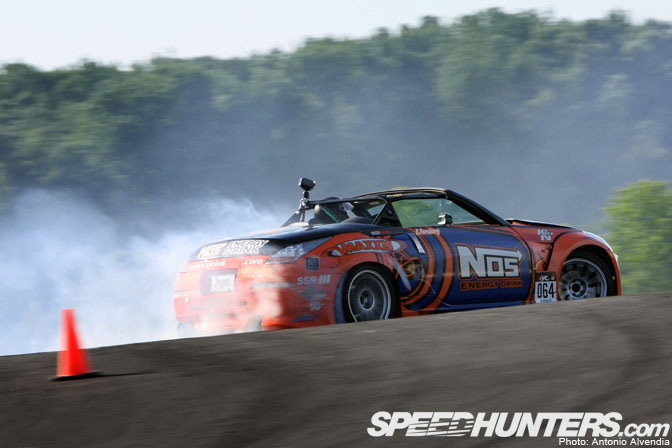 One thing I like about Chris Forsberg is the fact that even though he has a big V8 in his 350Z, he doesn't feather the throttle… he mashes it! He always drives at high RPM and with his foot to the floor. Very aggressive. I love it.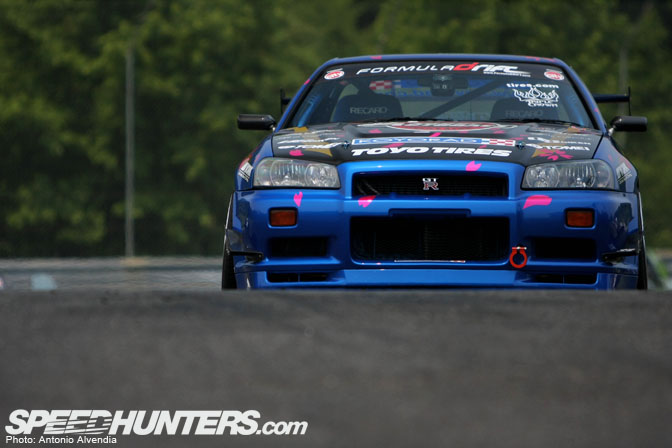 Michihiro Takatori's R34 GTR looks super cool even when it's just sitting! Notice the thin metallic lines protruding from his fenders… it's the outer lip of his rims sticking past his slightly stretched Toyo Tires! Awesome! I dig how you can see the camber and the polished metal lips sticking out…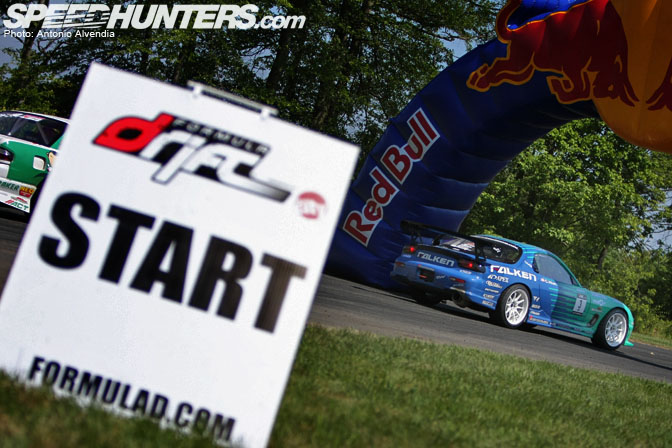 Here's Calvin Wan and Henry Shelley lining up at the Formula D start line, ready for launch!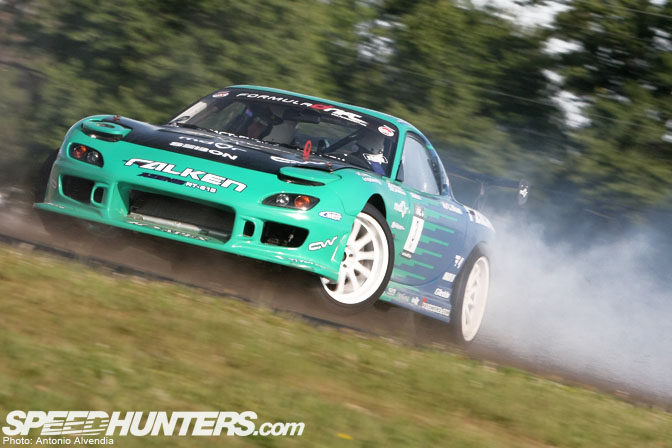 I think this photo is pretty cool, cause you can see Calvin Wan's personally owned FD3S RX-7 (formerly white) catching some air, as he does a dirt drop drift with a passenger on board! The front wheels lightly lifted off the ground for a moment as the rear wheel dipped into the dirt, stirring up a brown dust cloud underneath the car! Super cool looking!
-Antonio Alvendia
Formula D New Jersey Practice Day