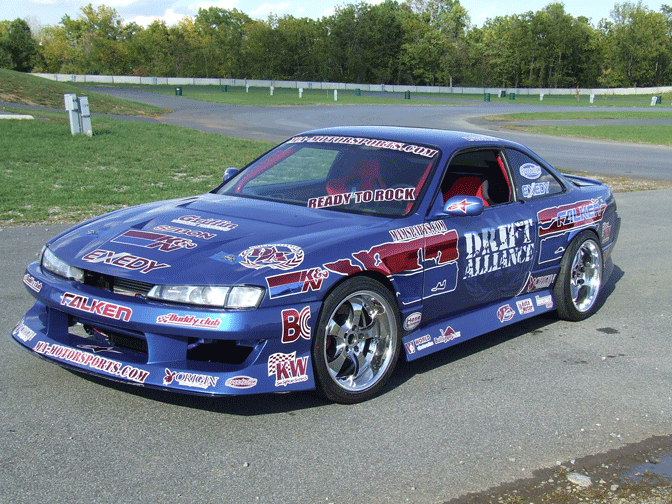 WARNING!!! This should not be read by those with a weak stomach!!! 
I have been waiting for a long time to publicly tell this story and share this build to the world. Out of respect for my friends at Super Street and unwritten industry laws, I had to wait for the feature to be released before I could spill the beans. For those of you that haven't gotten the July 2008 issue of Super Street, pick it up and check out the story on my S14 – it has a bit happier ending than the following story!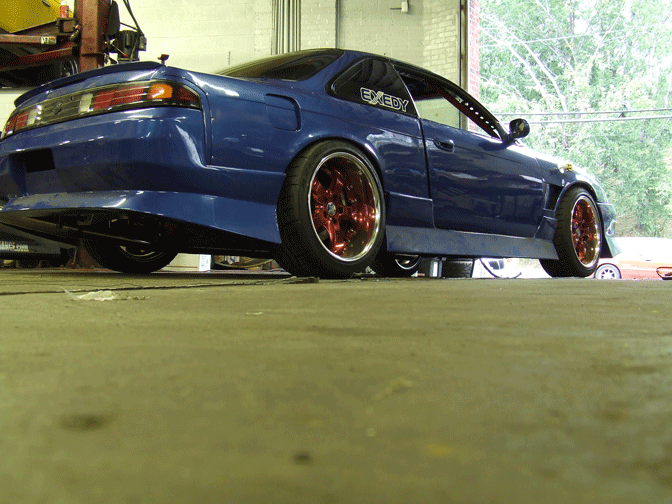 I bought this car from a guy in Pennsylvania who bought it from the original owner and builder in California. The initial plan for me was to upgrade a few things, slap on some sweet wheels, put a kit on it, paint it, and use it as a practice and demo car. It was a standard S14 with an S15 front-end, a half-ass cage, brake upgrade, sr20, coilovers – all the normal things.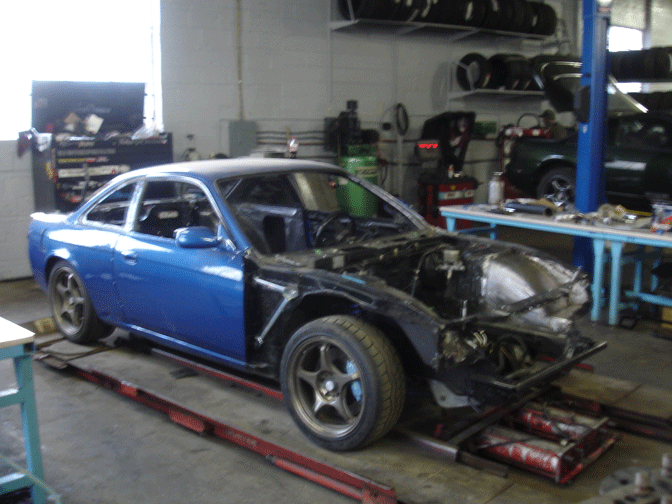 I took the S15 front off and got the whole car repainted. I took it up to my shop in Baltimore, MD (www.ma-motorsports.com) and we tore the car apart to do some of the upgrades we had planned. We came to an agreement that the initial build was just not going to be enough for us. So here I was with pretty much no choice but to build the S14 that I always dreamed of building but could never afford. We decided to build our version of the most insane S14 America has ever seen that would be fully capable of drifting for demos and competition, as well as a little time attack here and there.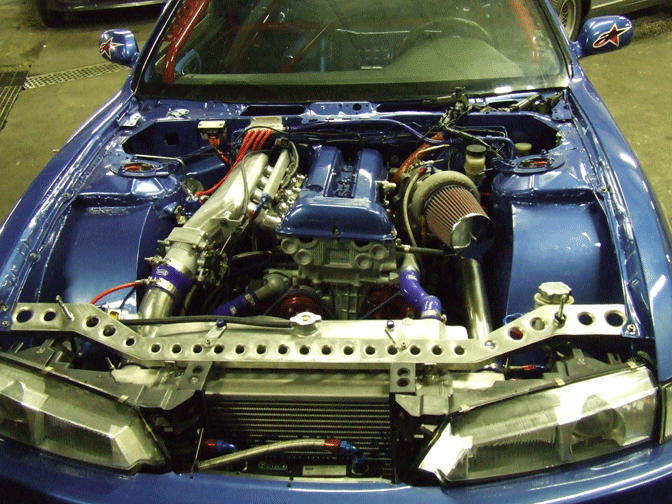 We completely gutted the car, tore out the old POS cage – in fact, it would have been better to just start from a clean slate instead of backtracking. Anyway, a real cage was installed by our fabrication crew. The car was completely seam-welded and the front was tubbed to make room for some added steering angle and plus it just looked so damn sweet! Once the chassis was prepped it went off to be painted. My whole vision for this car was a tasteful red, white, and blue theme (which I feel I accomplished). Once the car was back from paint it slowly but surely started to be assembled.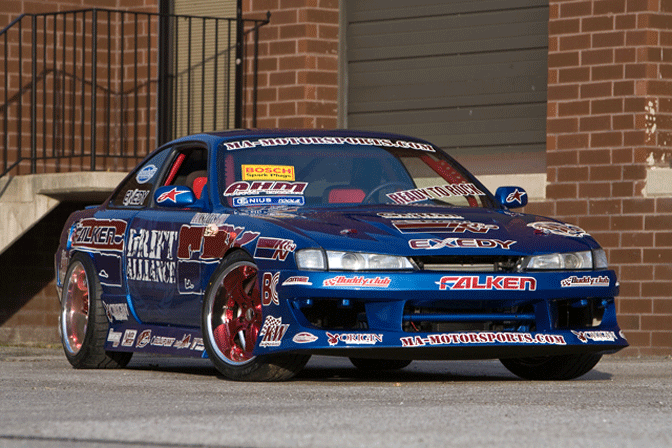 After about two years from concept to completion here is the finished product. The monster was (yes, I said was) powered by a Brian Crower 2.2 liter solid lash SR20DET with right around 500 whp and weighing in at around 2400 lbs.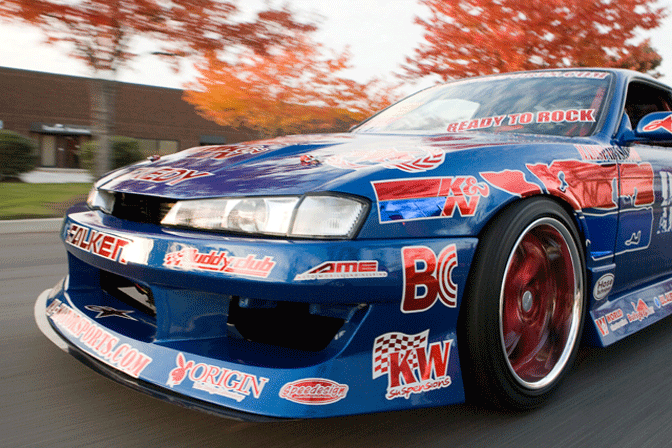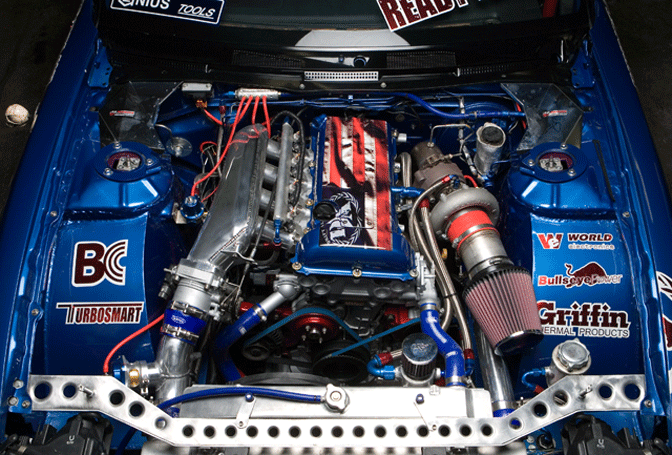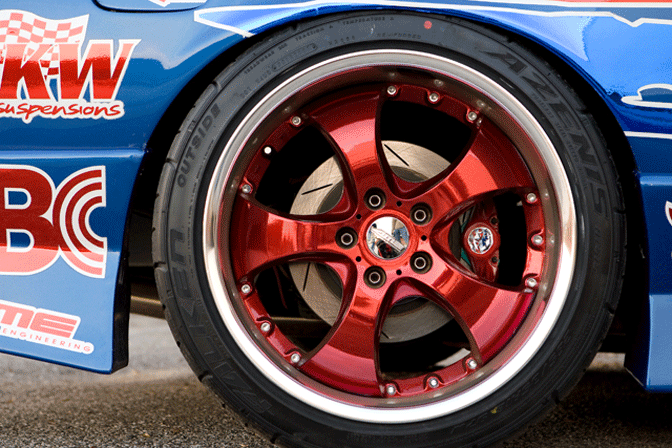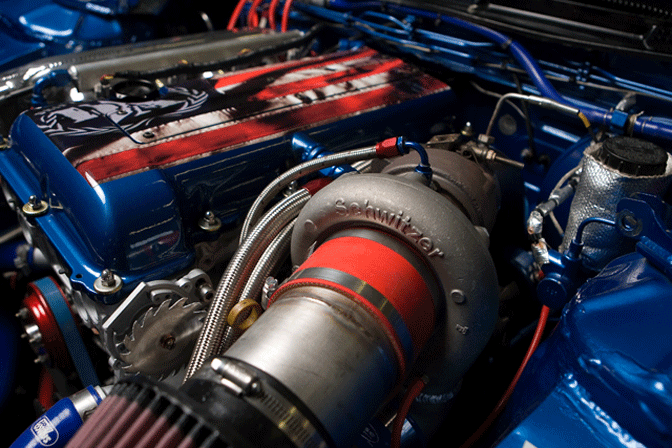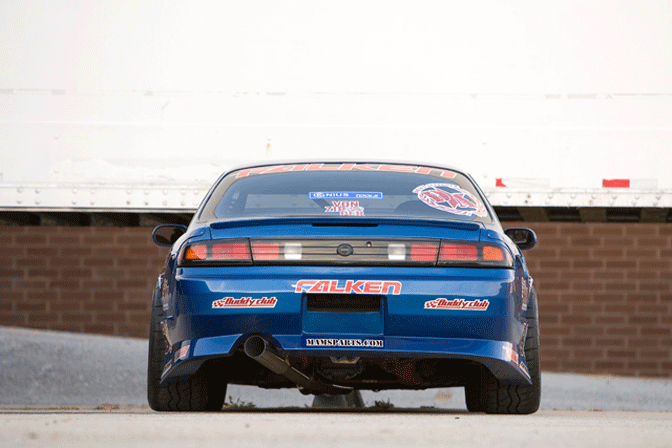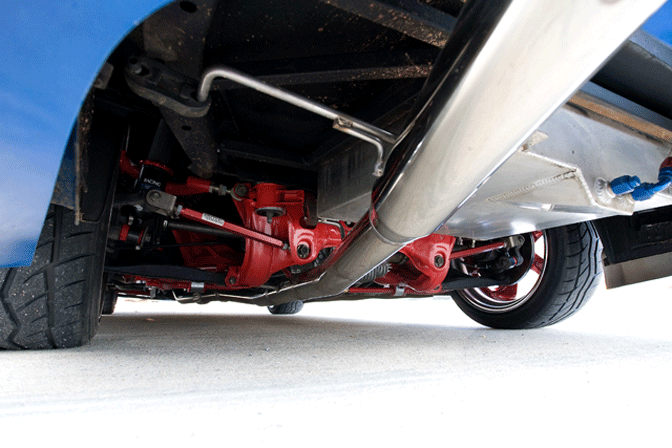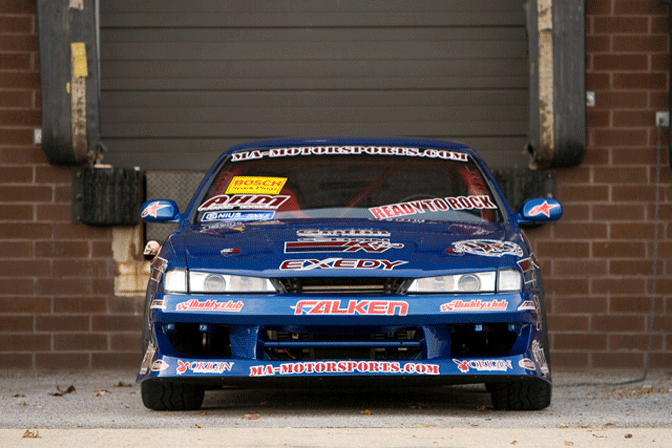 After a Saturday Super Street photo shoot (photos by James Pickett www.jamespickettphotography.com), the car was ready for its first full track day. I took it to Summit point in West Virginia for a Drift Practice day.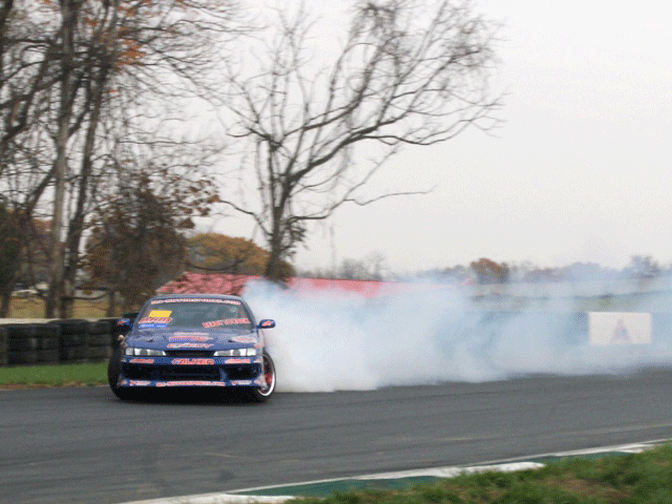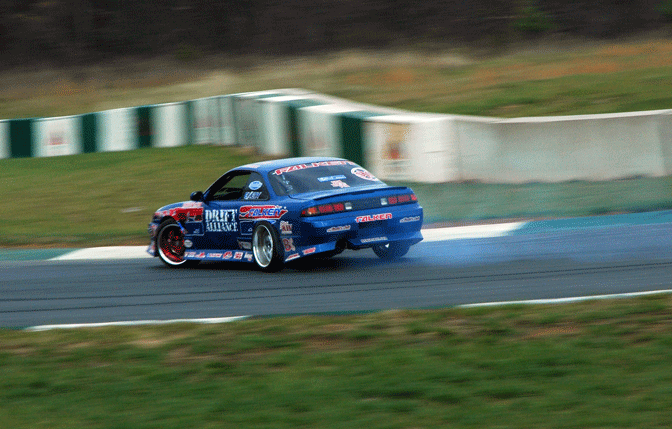 Let me tell you what a rocket ship it was. When the turbo came on, it sounded insane! I had a killer day and at the end of it all I pulled up to the trailer and looked over and saw my dad.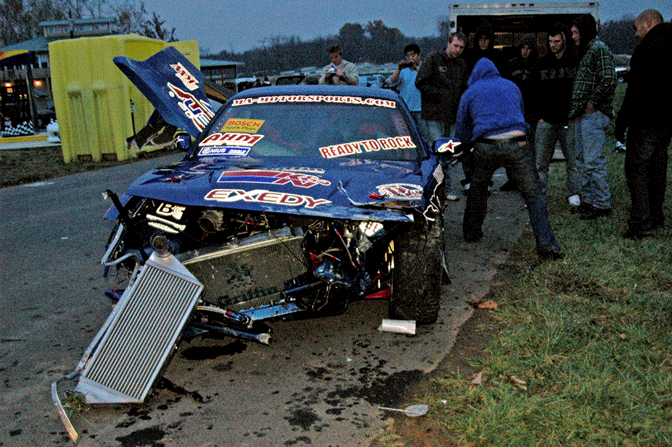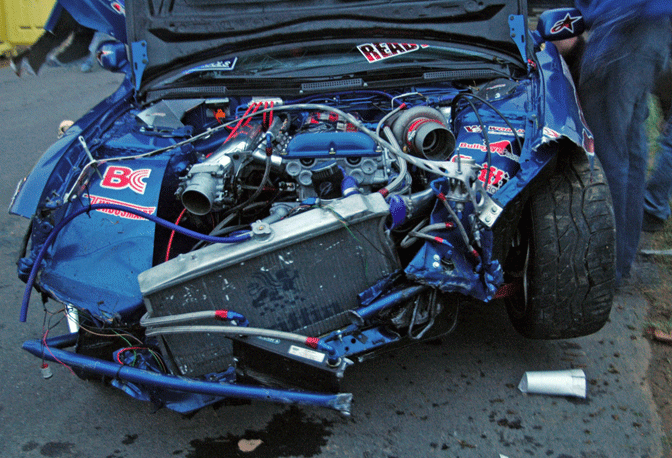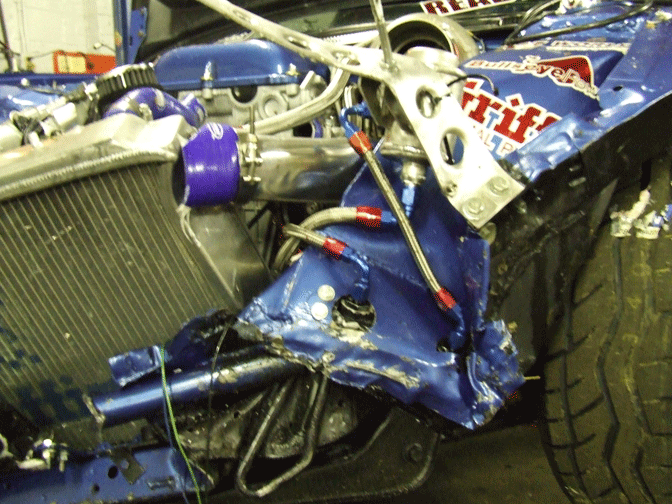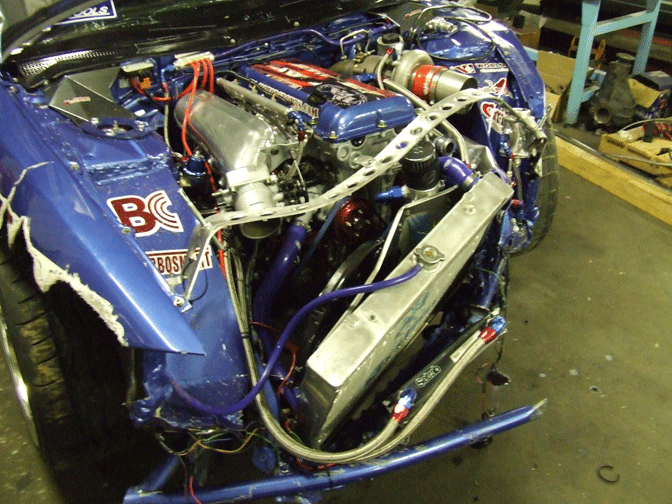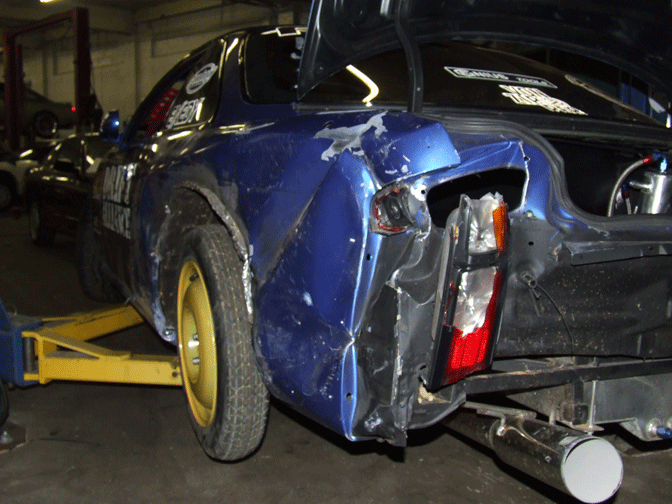 It was pretty cold and had been a long day. I thought to myself "I need to let my dad feel this monster I built!!" I offered my dad whom is an old school drag racer and hot rod collector to take it for a first and second gear straightaway pull. He hesitated and then decided to take me up on the offer. The crew that helped build the car  and I watched with excitement as my dad went to the start. He left the line a bit squirely, but recovered. He grabbed second gear and immediately he was sideways heading straight for the wall. The front left of the car slammed into the wall and the front-end exploded, then the rear left hit so violently the car spun and took the front right off on the return. Not only did I just watch my two-year dream explode, but my I watched as my father was getting rag-dolled in the car. I ran over to make sure he was okay and luckily he was…well, 3 broken ribs but okay for what it looked like.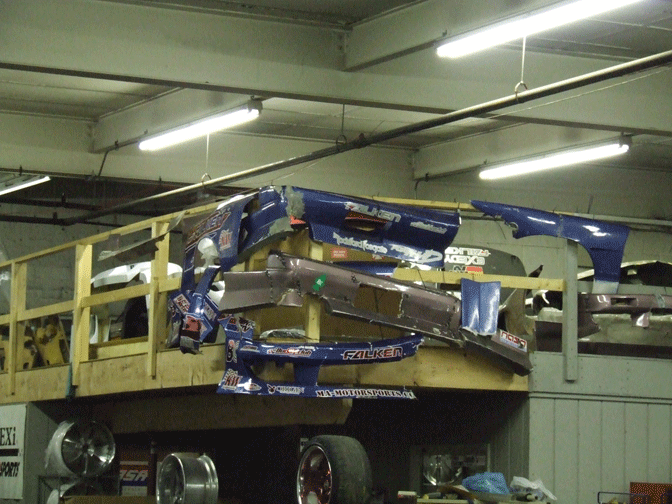 The car has been parted out since and as you can see there is only some remembrance of the car hanging in the shop. I'm not trying to preach, but sometimes people forget how crazy we are with these machines we build and drive 110%. Some make it look just too easy. Please take two simple lessons from this story. No matter how good a driver you think you are, always respect a car until you get a feel for it. Most importantly, when you build an insane machine make sure you have the proper safety equipment; a good seat, quality harnesses, and a good cage are for sure what saved my dad from seriously getting hurt!
-Vaughn Gittin Jr