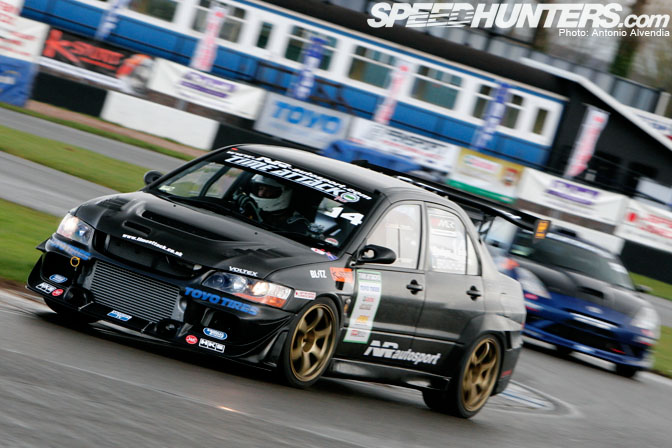 Walking through the paddock at the Time Attack UK event, I just couldn't help but notice this Evo. Even sitting in the pit area, it just stood out from the other cars in terms of its style and build quality. This is a 2005 Mitsubishi Lancer Evolution 9 GT, owned by privateer Lee Broadhurst. After talking to the owner, I found out that this car is actually the top privateer-owned car in the Time Attack Pro class, and is ranked at 6th place overall.
On the outside, the car is covered in carbon fiber, which looks extremely cool against the car's black paint. Notice the Voltex wide body flares, Seibon carbon fiber doors, front canard wings, bonnet… err… hood, and bootlid (we Americans refer to this as the trunk), and a Test&Service front bumper, side skirts, and carbon fiber rear GT wing.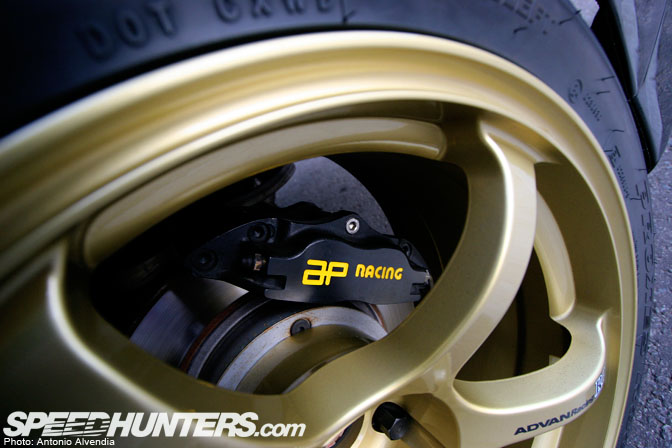 Check out the brakes peeking out from behind the wheels – in the front, the Evo 9 runs a combination of Ferodo DS3000 brake pads with AP Racing 6-pot brake calipers, and AP Racing 4-pot calipers in the rear.
In case you couldn't tell just by looking at the light gold colored wheels, the car sits on very nice 18×10 Advan Racing RGII wheels, with massively meaty 265/35/R18 Toyo R888 tires.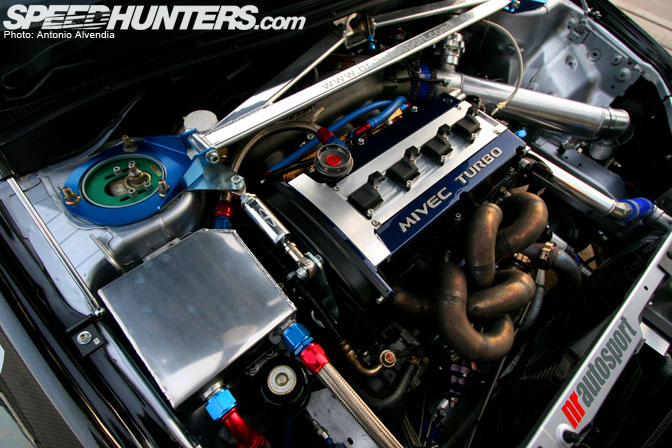 I think this Evo 9's engine bay looks super cool! Just by looking at the camber plates, you'll notice the Tein Super Racing coilovers and 3-point Cusco OS style strut bar, but the real gem is the 2.3 liter NR Autosport 4G63 race engine, which produces 752bhp and 660ft/lbs of torque!
Check out some of the specs:
NR Autosport race breather system
JE pistons
Crower conrods
NR baffled sump
HKS Kansai Service inlet manifold
Q45 90mm throttle body
APS intercooler
SARD 1000cc injectors
SARD fuel rail & fuel pressure regulator

NR spec large core radiator
NR 4″ inlet
NR 3.5″ stainless exhaust system
NR/ND GT4088 turbo kit
carbon fiber propeller shaft
Ikeya sequential shifter
Glebe dog box transmission
Exedy comp-r twin plate clutch
Evo 9 GT rear diff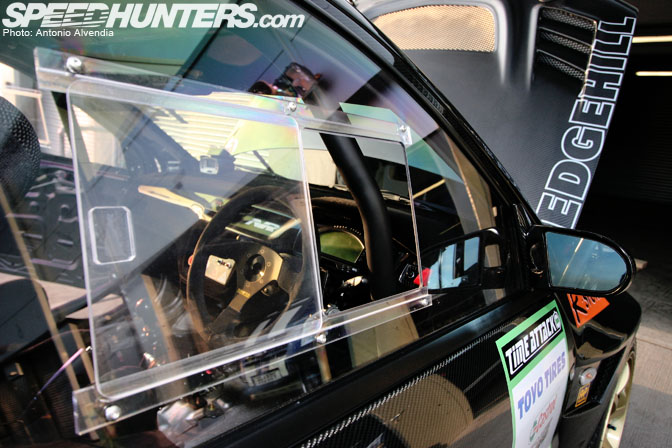 From this photo, you can notice the widebody fenders, Rexspeed aero mirrors, and top quality lexan windows, which have a very cool sliding window track built into them.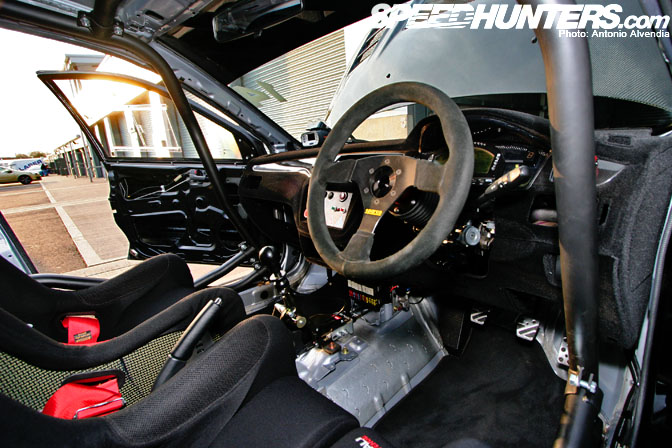 Steering wheel is a standard style Sparco suede 350mm with hub, but look past that, and you'll notice the top quality dashboard wrap, which prevents the driver from being bothered by light glaring from the sun. Super cool, and super high quality workmanship. I loved this detail when I saw it!
You can also notice the Ikeya Formula sequential transmission sitting right there, very nice…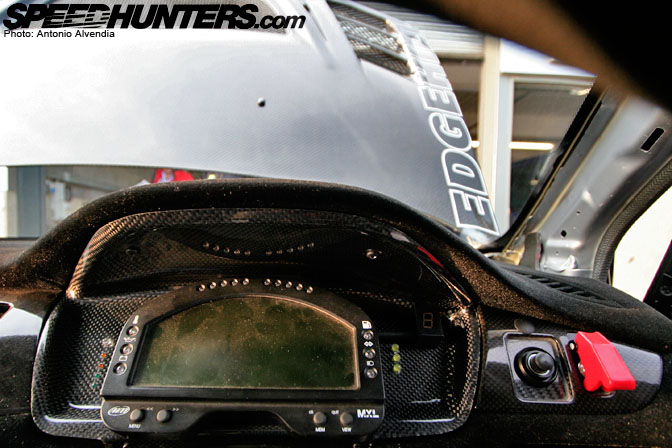 See? Isn't that "felt" dashboard wrap cool? I think so! I'm also a fan of this AIM digital dashboard with carbon fiber surrounds to match the car's exterior – the Evo 9 has also been upgraded with an NR Autosports lightweight wiring loom, an Autronic SM4 engine management system and a M&W Pro 12 CDI unit. The digital dash might have been a little dusty, but hey, it's a race car, not a show car. Get over it.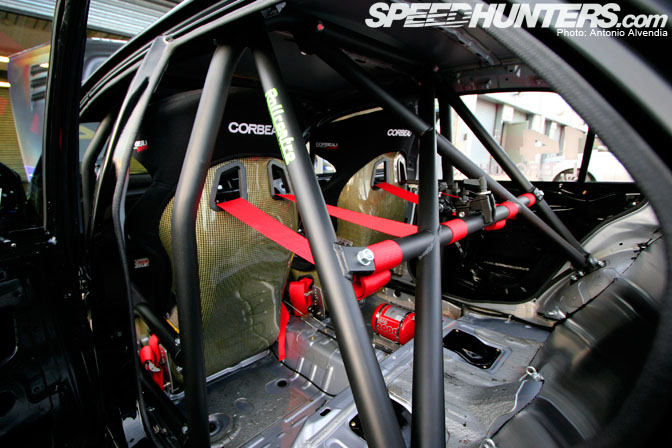 I absolutely loved this NR/Rollcentre customized rollcage, which was FIA approved. Look at the build quality of this bolt-on cage! Hmm… I wonder if those guys could make a cage for my car… I absolutely love the quality and fitment of this cage. It fits very tightly in the car, and is welded very nicely. I love it.
Upon further inspection, you will also notice the Zero 2000 fire system, and the Corbeau Revenge carbon kevlar seats – those are the coolest looking Corbeau seats I've ever seen in my life.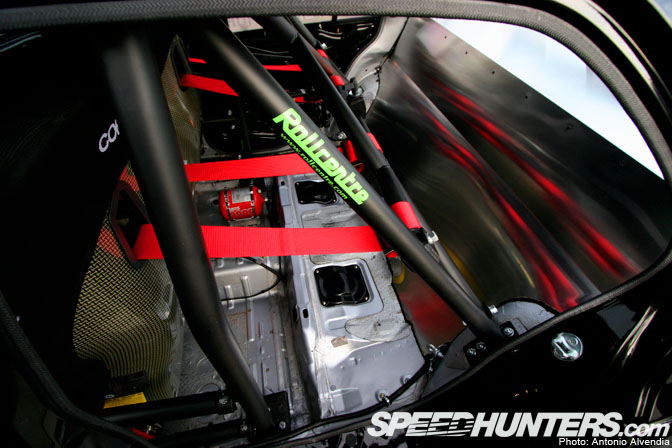 Check it out – www.rollcentre.com
I know I will! I like the functionality of how the 3-inch wide seatbelt harnesses have been properly tied down to the built-in harness bar on the roll cage, and the aluminum sheets covering the rear interior are certainly a nice touch as well. Excellent build quality on this car.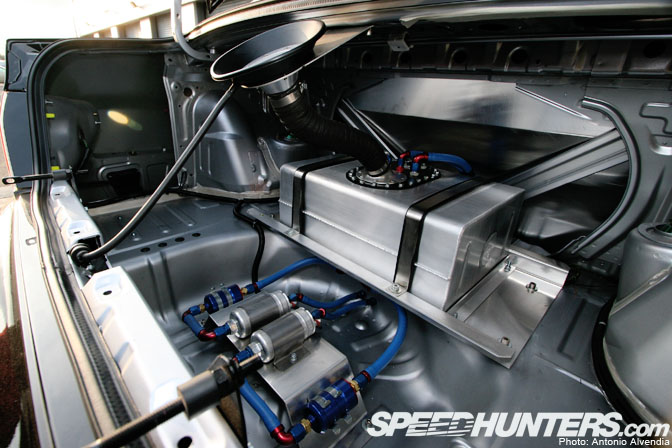 In the trunk, you'll notice the custom made aluminum subwoofer box, with the custom mounted subwoofer mounted up top, and capacitors custom mounted in the spare tire well, with huge gauge Monster cable used all throughout.
Just kidding. It's an NR spec PT500 fuel tank, with fuel filters and fuel pumps mounted in the boot. Err… trunk.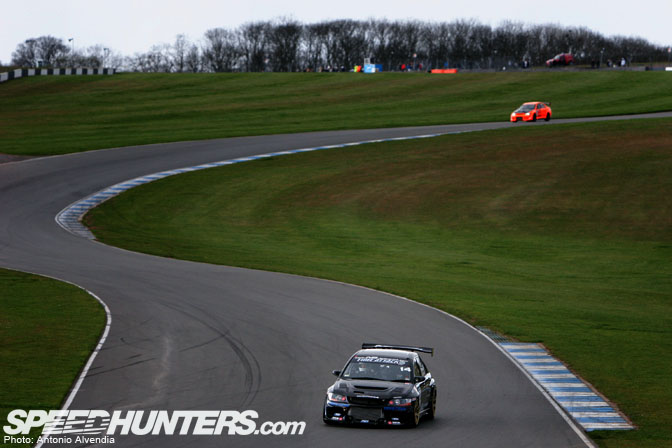 Donington Park is huge. And as I drove my golf cart all the way around the track to snap this photo of the Evo negotiating the Craner Curves on the back section of the track, I experienced a hot sunny day, freezing hurricane winds, a hailstorm, snow, and rain. All in the same 1.5 hour period. Crazy!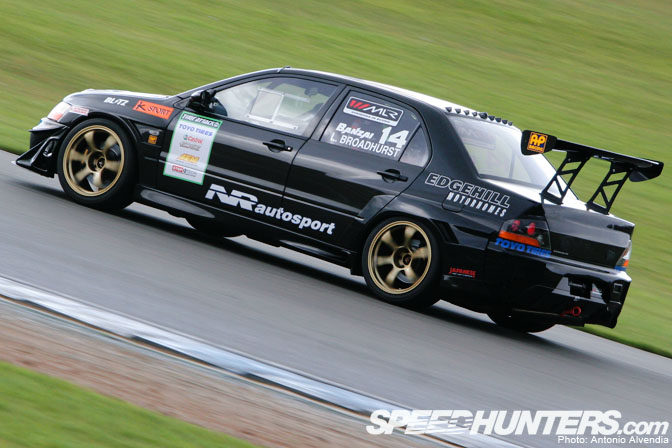 Lee Broadhurst's Time Attack Evo certainly looks cool from the exterior! I like the subtle details, like the rear towhook and MR roof diffusers, and of course the widebody fenders look cool on the car as well. All in all, I think this was my favorite car in the Time Attack UK series! What do you guys think of it?
-Antonio Alvendia