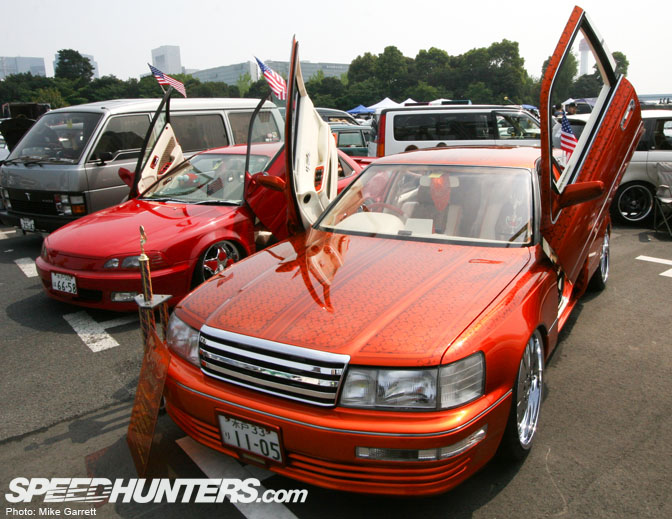 One of our goals here at Speedhunters is to show car culture on a
global scale, and the popularity of USDM and Spocom style in Japan is a
great example of this. While JDM fanatics in the United States and
elsewhere try to replicate car styling seen in Japan, a lot of Japanese
enthusiasts are doing the opposite and converting their standard JDM
vehicles into something that looks like it came straight out of
Southern California. Last month, I went to the Mooneyes Street Car
Nationals in Tokyo and the event gave me good chance see some different
types of USDM-inspired car builds. As an American, I was highly
impressed with the authenticity of the cars even if the style may not
have been my cup of tea.
The USDM movement in Japan has a number of different subcultures, so
let's take a quick look at some them. Of course, genuine imported
American cars also have a strong following in Japan, but for this post
we will just be dealing with Japanese-branded cars modified with a
heavy American influence.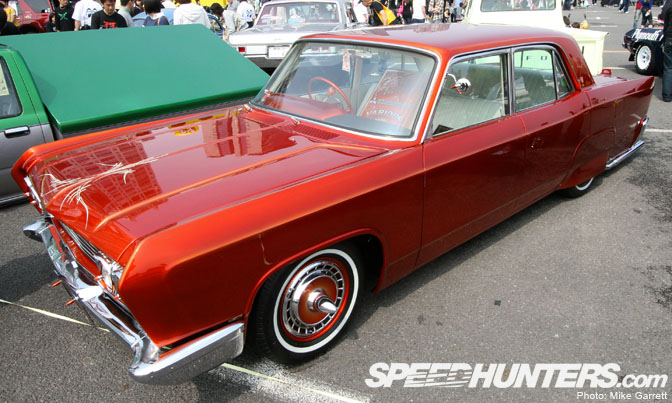 American-inspired JDM rides are not limited strictly to late model
cars. Here we see a classic Mitsubishi Debonair sedan done in a
traditional early '60s kustom style. The fender skirts, pinstriping,
and paint work give this car an authentic vibe. It also helps that the
original car's styling borrows a lot from its American counterparts.
Mooneyes makes a number of parts and accessories that allow Japanese
car owners to add some old school California-style flavor to their cars.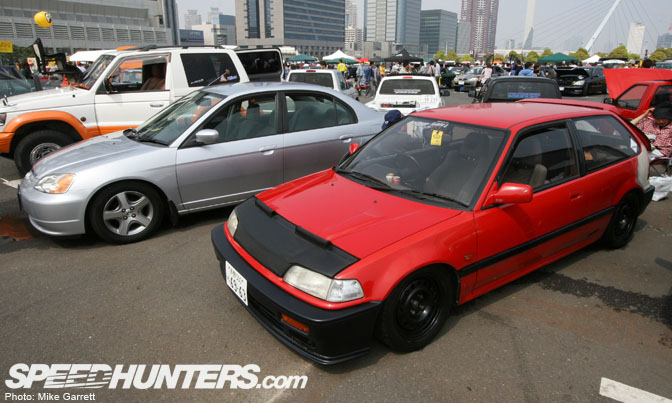 Other USDM fans like to build the cars to look like typical daily
drivers you might see in the states. Popular modifications for this
group include unpainted black bumpers and US-market corner lights and
emblems. Front car bras are also a popular addition to these cars,
though I don't recall seeing too many of these back in the states. Due
to it's tremendous popularity and the United States, the Honda Civic is
the most popular platform for this style. In Japan, older models like
the EF Civic pictured above are a rare sight and this makes them stand
out in the USDM scene.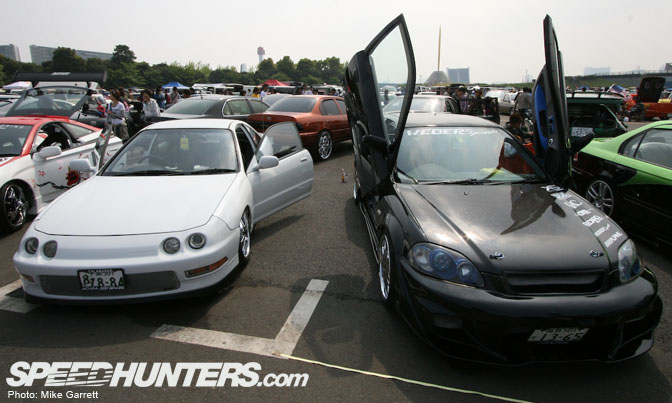 The spocom cars are probably the best known USDM subculture. Japanese
like to shorten foreign words, and the word "spocom" is a shortened
version of the term "sport compact". This style has been around for a
while and was originally inspired by the tuner show cars seen in the
United States. These cars are often over the top and heavy on cosmetic
work while being mechanically stock. The Civic on the right side of
this photo is classic spocom style. Recently, as the wild tuner style
cars have lost popularity in the states, some Japanese USDM enthusiasts
have evolved their style as well. The newest trend is "USJDM" style.
It's hard to explain, but it's basically Japanese copying the so-called
"JDM look" that is now popular in the US. That make any sense? Probably
not.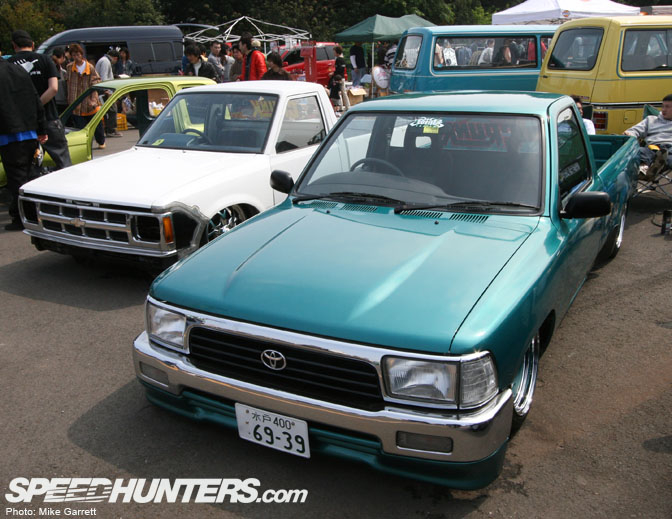 Japanese mini trucks are are very popular in the United States, but
they are actually quite rare to see in Japan. For general use in Japan,
tiny kei trucks and vans are much more popular than the standard small
pickup truck. The people that do have mini trucks in Japan really love
them, and there is a large custom mini truck scene here. Just like in
the states, Japanese mini trucks feature air suspension and body drops,
massive wheels, and wild paint. I noticed that a number of them are
also sporting engine swaps like the Toyota 3SGE or Nissan SR20DET.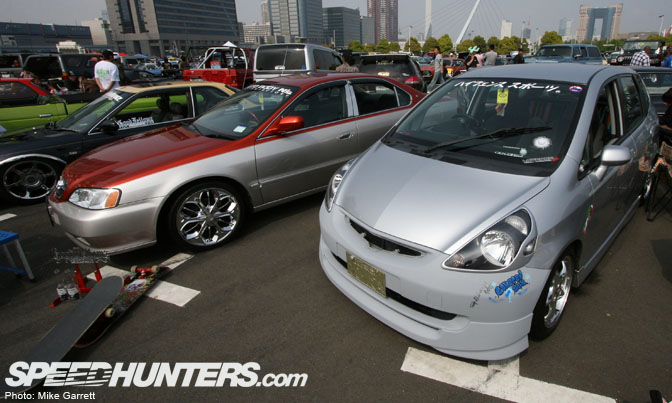 This Honda Inspire and Fit are of a subculture inspired by the urban
style seen in Dub Magazine and others. Large chrome wheels and massive
stereo systems are key features of these cars. There are a number of
Japanese magazines for followers of this style.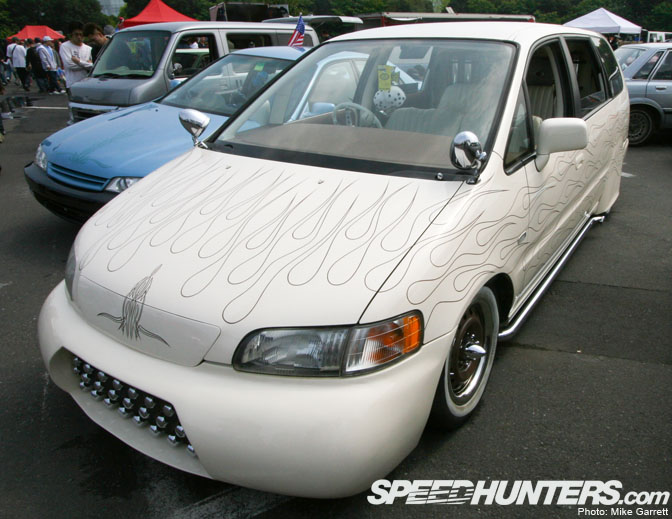 Here is the ultimate in JDM and USDM fusion. A Honda Odyssey minivan
with wide whitewalls, flames, and a tuck 'n roll interior. I love the fake sidepipes! This style has also been seen on cars like the Toyota
bB and Nissan Cube. I think it would be cool to see Americans start
borrowing from this look. At that point, the sharing of style between
the Americans and the Japanese will have come full circle.
That should give you an introduction to the USDM movement in Japan. Check out these links for more info.
-Mike Garrett