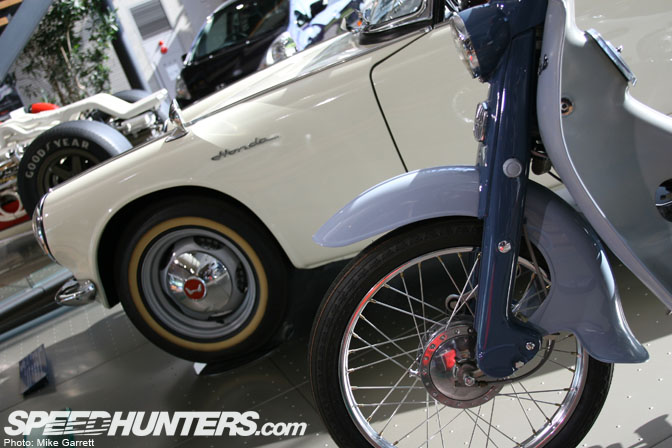 Passion. It's a word that you might not connect to a huge company like Honda that operates on every corner of the globe and makes everything from lawnmowers to jet aircraft. When Soichiro Honda founded his company so many years ago, it was a passion for motoring and a passion for the relationship between man and machine that led his humble motorcycle company to become one of the biggest and most successful automakers in the world. A visit to the Honda Collection Hall will make you feel like you personally  getting to know Mr.Honda as you watch his dreams unfold through the museum's displays. The Honda Collection Hall can be found nestled in the hills of Tochigi Prefecture adjacent to the Twin Ring Motegi racing circuit and motoring theme park. Whether you are a Honda fan or just a motorhead in general, I think you owe it to yourself to pay a visit sometime.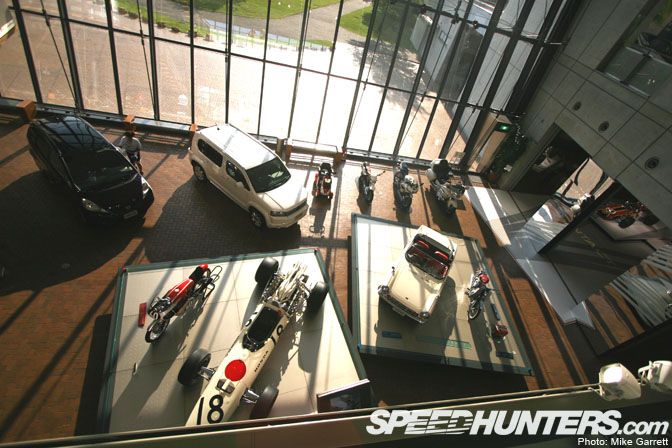 As soon as you walk into the Collection Hall, you are greeted by a central exhibit which displays a few historic Honda cars and bikes from the past alongside some of the newest two and four-wheeled Hondas. The atmosphere is quiet and peaceful, and the jazz music on the speakers encourages you to relax and soak in the three floors full of cars and bikes. I will mostly be focusing on the cars, but rest assured that there is also plenty to be seen if bikes are your thing.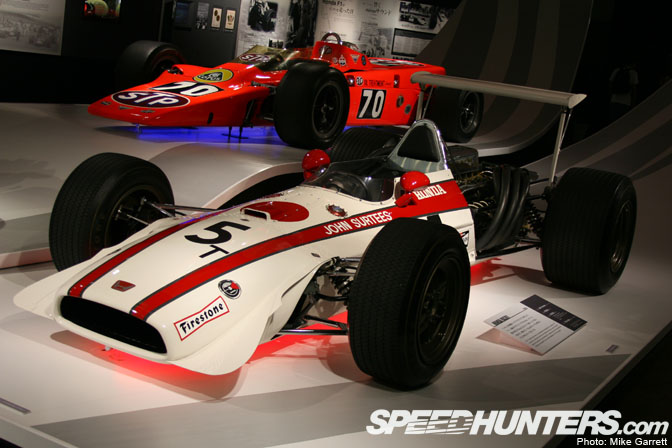 Twin Ring Motegi is well known for its annual Indy Japan race, and the Collection Hall is currently offering a special exhibit on the relationship between Honda's pioneering Formula One program and the Indianapolis Motor Speedway. The 1968 Honda RA301 was one the Honda F1 cars that came to Indy for testing back in the day.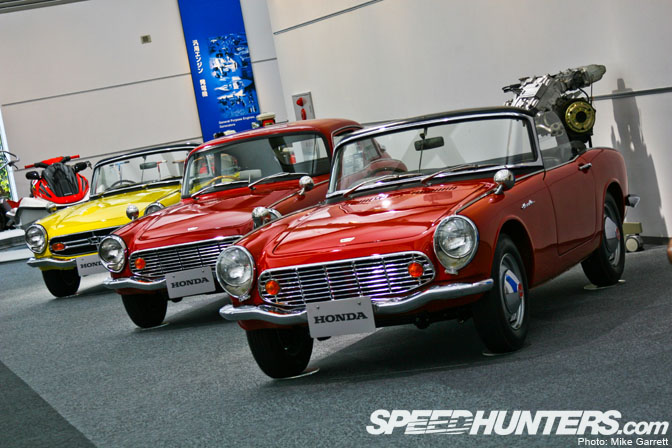 The main displays at the Collection Hall are divided into two wings, one with motorcycles and one with cars. The second floor has street cars and consumer products while the third floor is filled with race cars and bikes. We will take a look at the street car section first. Here you can see a number of iconic street cars like the trio of Honda S's seen above.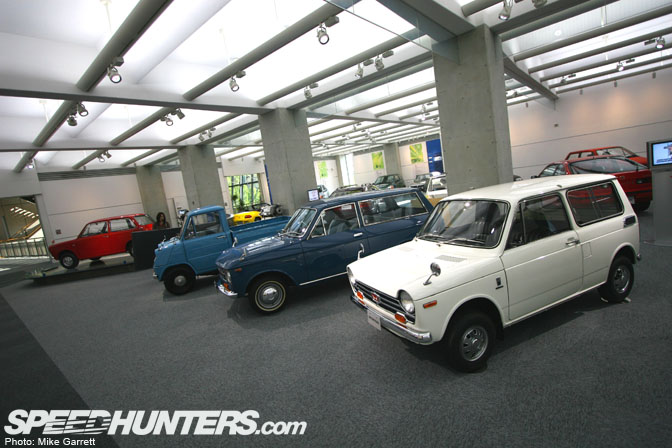 You can see everything from Honda's earliest cars that were powered by bike engines to its modern hybrids and sports cars. You can also see how these cars grew in size as the years went on.  I was really liking that blue T-series truck.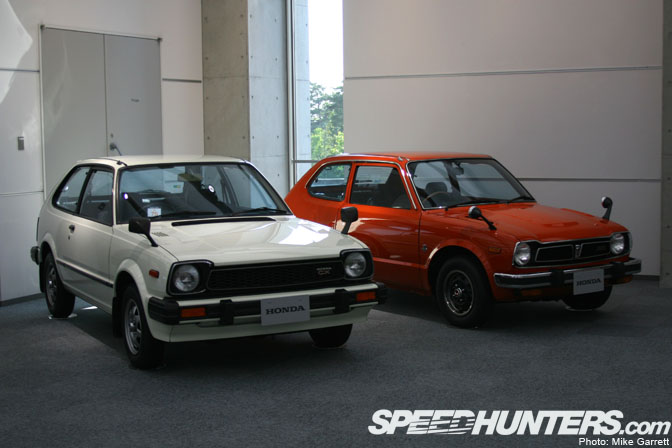 Early examples of a global icon. Cars like the orange Civic RS show that Honda could demonstrate the potential of economy car-based enthusiast machines long before the Type R.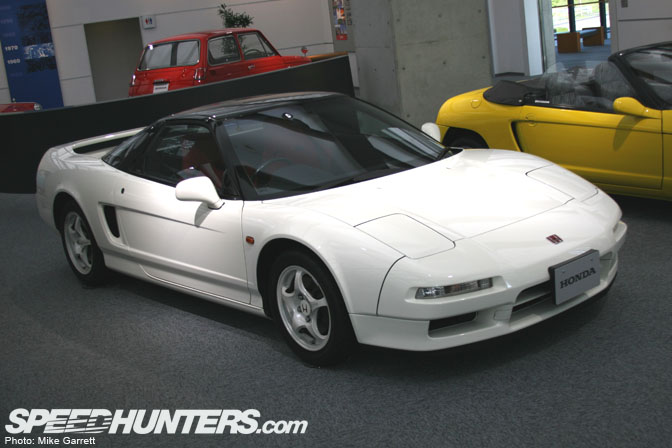 The "the everyman's exotic" is represented with this immaculate example of a first generation NSX-R. It's amazing how fresh this design still looks.
The NSX is also a good place to begin our look at the racing machines found at the Collection Hall.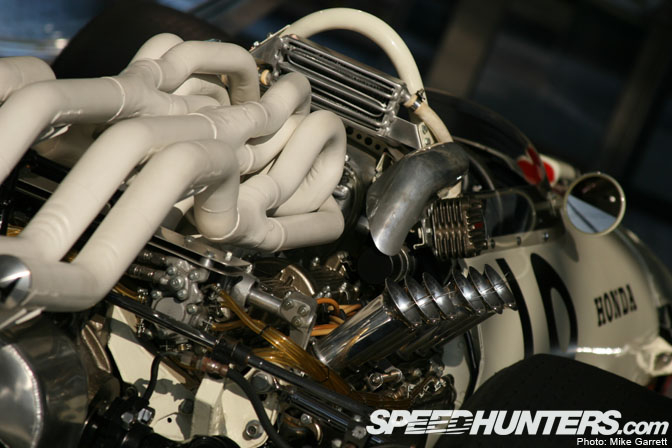 Honda's early F1 cars are absolute mechanical artwork. The only thing you miss out on is the sound that comes with them.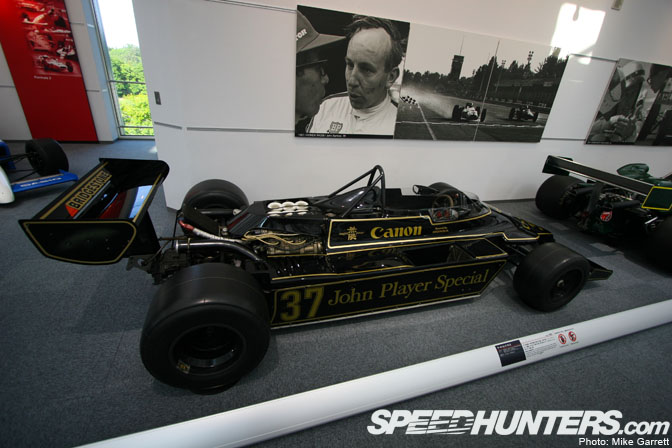 1981 March Honda 812 F2 car in classic John Player Special livery.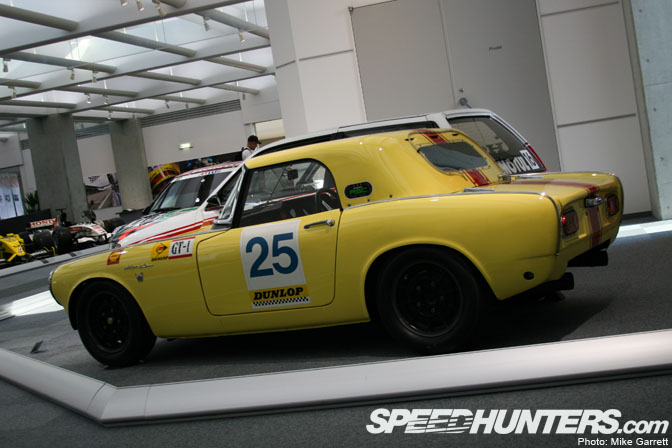 Honda S800 RSC race version. This might be my favorite car in the whole place.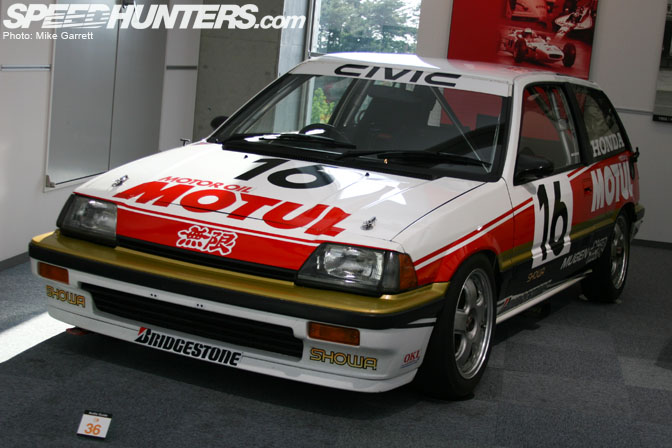 Mid 1980's Honda Civic 3-door Group A race car.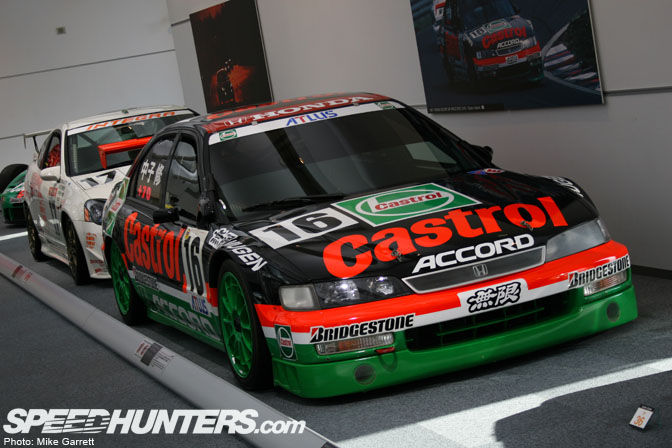 Another favorite was the Castrol Mugen Accord sedan from the now defunct Japanese Touring Car Championship. Just another one of the historic racing machines on display.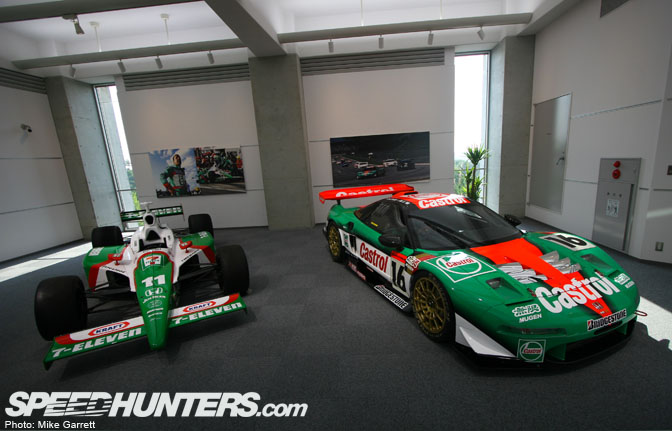 A Honda V8-powered Indy car alongside the JGTC (now Super GT) Castrol NSX.
Besides all the cars and bikes on display, there are also a few other things to see at the Collection Hall.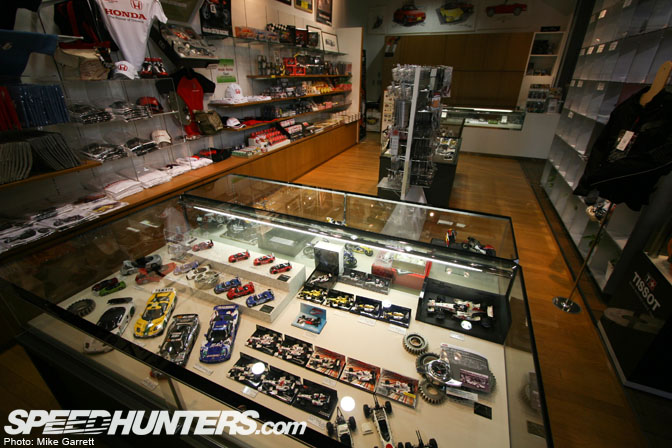 The Collection Hall store is fully stocked with collectables and other officially licensed Honda goods. A lot of them can only be found at the at this store.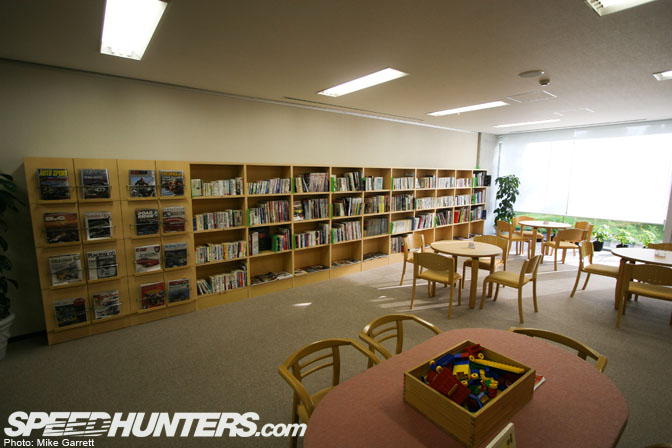 This library is fully stocked with books and magazines about all sorts of cars and motorcycles. You can also watch vintage Honda promotional and racing films. I could stay here for hours and hours.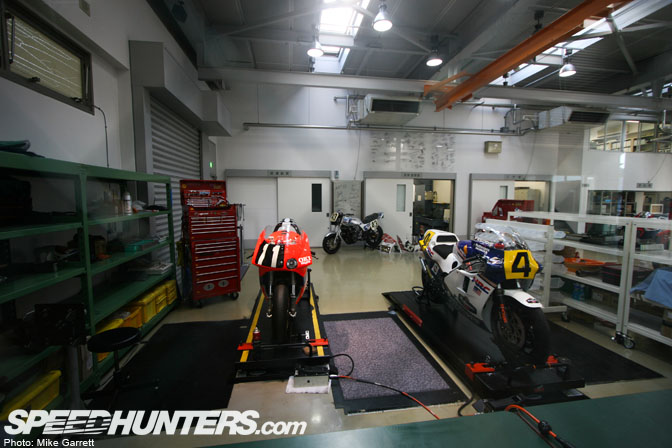 If you walk outside you will find the restoration and maintenance garage. This is where all of the cars and bikes of the Collection Hall are overhauled and worked on.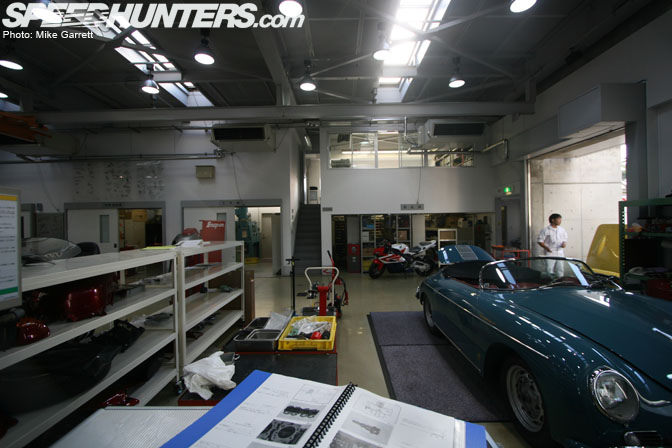 As you can see, the Collection Hall's efforts span beyond just Honda-branded vehicles. While I was there, some of the mechanics had one of the old F1 cars fired up and the sounds it made were unreal.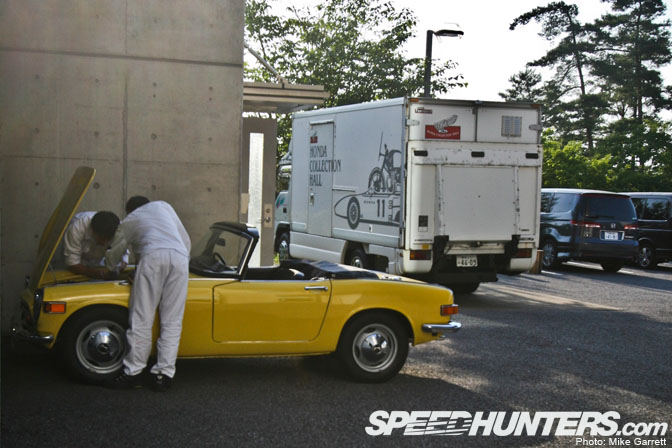 On weekends, you can see selected cars and bikes doing demonstration runs on a small course behind the Collection Hall building. Here we see the mechanics prepping a car for some of these demo runs.
I will leave you with one more shot that represents the spirit of Honda motoring.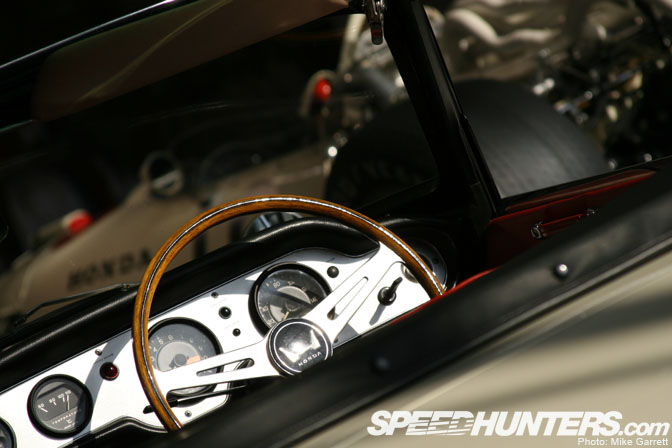 Like I said earlier, everyone should try and visit the Honda Collection Hall if you can get the opportunity. Even if you are not a Honda fan when you get there, chances are you will leave with a genuine appreciation of Soichiro Honda and his machines.
-Mike Garrett