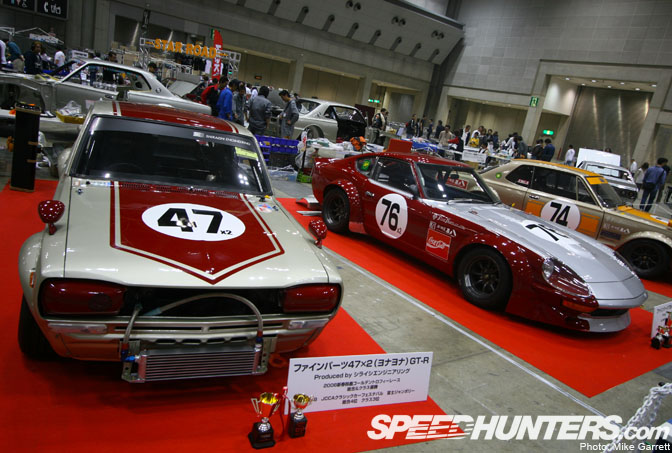 I was thinking that I had a pretty busy weekend last week, but after hearing Antonio's tales of waking up in three different countries on three consecutive mornings, I guess it wasn't THAT busy.  Nonetheless, I did end up packing quite a bit of action into just two days. Friday I spent the day checking out the Tokyo SIS, which you probably just read about here on Speedhunters. After spending the night in a not so large hotel room and a eating a traditional Japanese breakfast of Egg McMuffins, it was off to the Tokyo Big Sight for the BP Tokyo Nostalgic Car Show. The Tokyo Nostalgic Car Show is part of a series of indoor classic car gatherings that are held all over Japan throughout the year. I had attended this same event in the past, so I was curious to see what kind of new stuff there would be to find.
To tell you the truth, I was a little underwhelmed at this year's event. When I went to this show back in 2006, there was a separate outdoor area that included additional car displays and a swap meet full of rare parts. This year the show was limited to just one large hall within in the Big Sight. That's not to say I didn't enjoy the event, it just wasn't quite as big as I had remembered.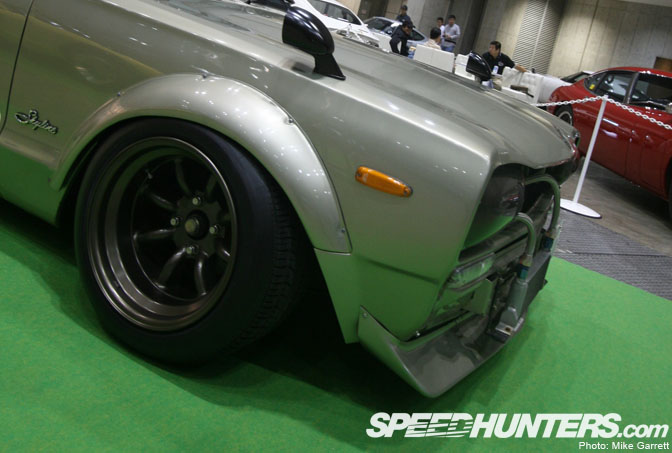 Though the show may have been smaller, there was still no shortage of beautiful vintage machinery to see. I could not keep my eyes of this '72 Hakosuka Skyline built by Rocky Auto. Even though I had already gotten a good look at this car at Tokyo Auto Salon, I was still unable to stay away from it. Kev from JNC/Grand JDM pointed out that this car is far from immaculate, but I guess it's just the car's overall vibe that does it for me. Let's move on before I get too carried away with this car.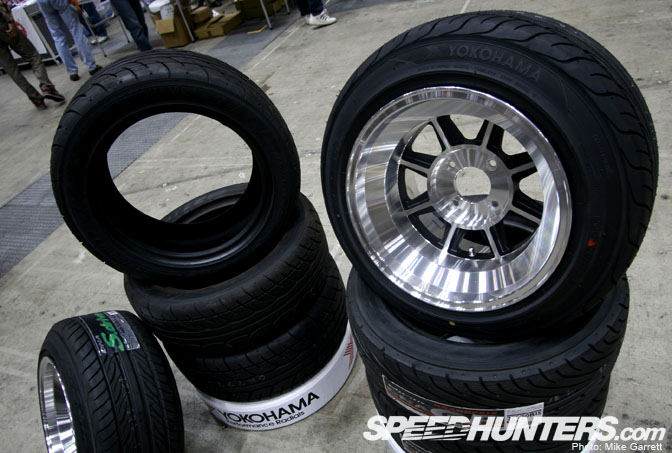 Even though they are not as popular as the RS Watanabe, the Hayashi Street is a much-desired wheel among hardcore classic Japanese car fans, .This set looked brilliant, shining under the lights of the Big Sight. I think it is such a timeless wheel design. Generally, I don't really get bothered by imitation wheels, but I was a little bummed to find out that copies of the this wheel are now on the market. Free market at work I guess.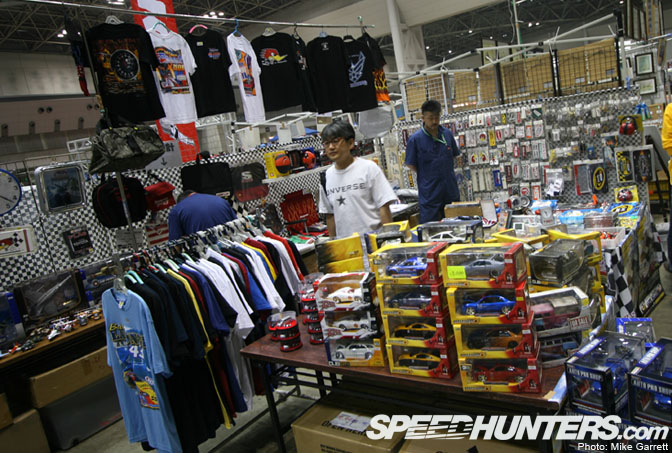 There was a whole section for memorabilia and collectables at the show. You could find everything from the latest in precision diecast models, to vintage Japanese toys from the '50s and '60s. If you look at this picture you will see a shirt with the famous Clay Smith Cams "Mr. Horespower" logo. For some reason the Mr. Horespower logo is very popular in Japan. I have seen the the sticker on several race cars around here. You can even buy them at Super Autobacs. Strange, but cool.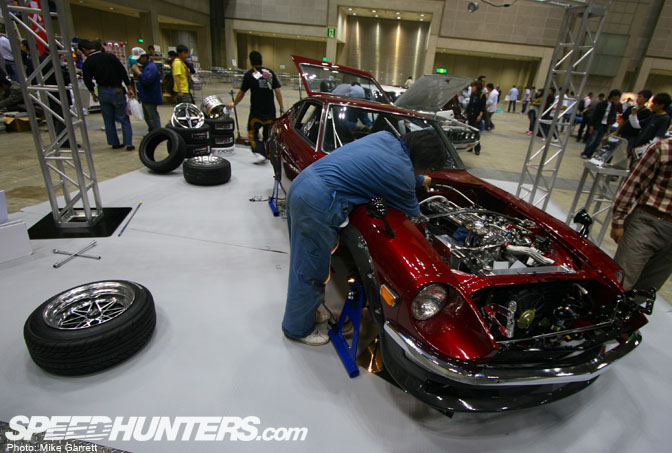 Here we see one of the mechanics from Star Road working on the the engine of one of the shop's S30Z's. The show goers really seemed to enjoy the displays that brought the art of classic car restoration to life.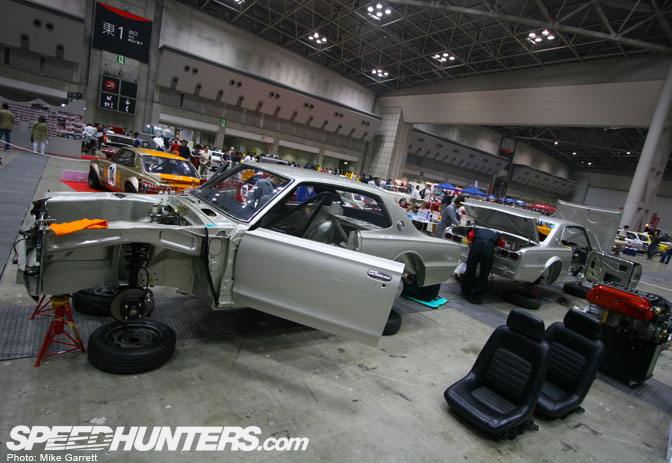 Taking the "live restoration" idea even further, there were a pair of genuine Hakosuka Skyline GT-R's undergoing FULL restoration right in the middle of the show. I love how all of the parts are set out just like a 1:1 scale model kit. Every nook and cranny on these cars was spotless. I don't even want to know how much these things are going to be worth when they are done.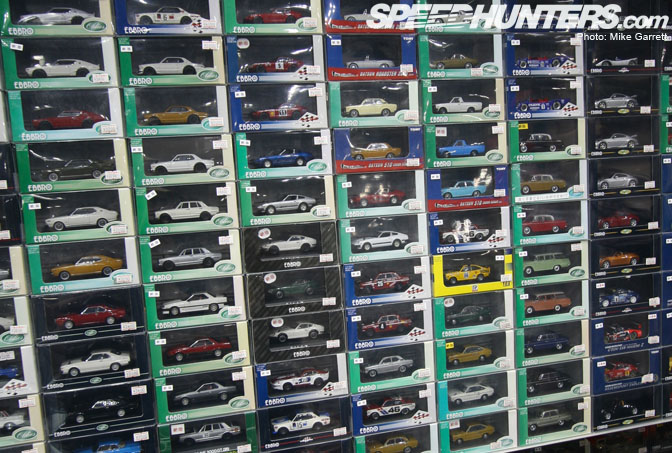 Like Ebbro diecast cars? There were enough of them on sale at the show to fill several rooms. The cars in this photo are just a small portion of an entire wall that was lined with them.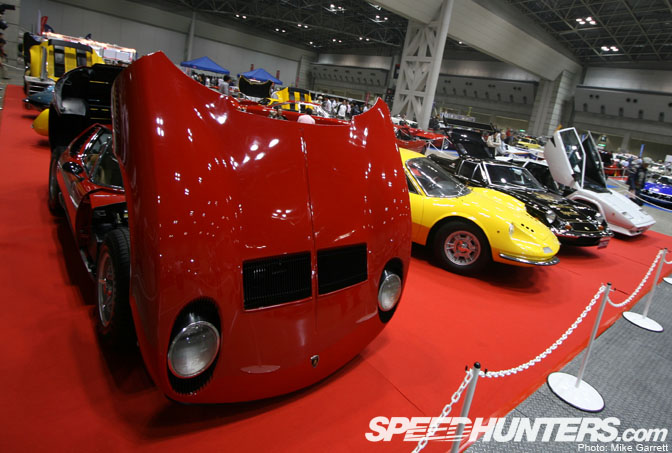 The displays weren't limited to only Japanese classics. I am scared to think about how many dollars (or yen) worth of vintage exotic cars were on display on the "red carpet" section. That red car is the third Lamborghini Miura I have seen in as many weeks. Gotta love Japan.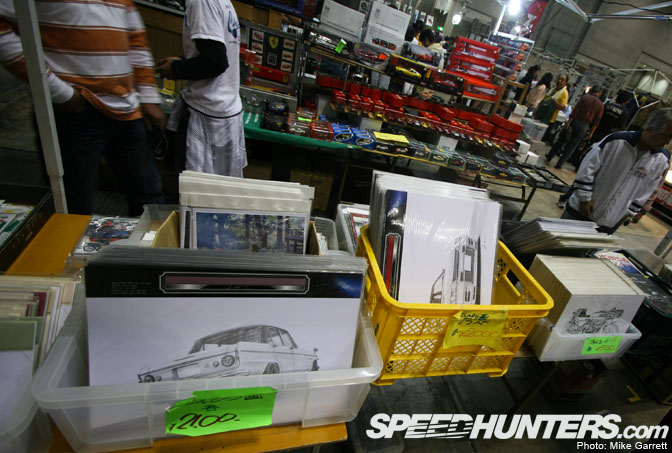 More cool stuff on sale. I actually didn't buy too much this time. I went home with just a pair of retro PMCS stickers. I picked up one for my friend back in California and another for my own future use.
Hopefully that gives you an idea of what the show was like. Check back soon for some more coverage as we take a closer look at cars from the show.
Nostalgic Car Show Official Site
-Mike Garrett