There's so much drama in the LBC, it's kinda hard competition in Formula D…
Forget
what you heard on those Snoop Dogg CDs… the
smoke we're getting down with is coming from the tires of drift cars! By
the time this Speedhunters website goes live, the 2008 Formula Drift
Championship season will already be in full swing, so let's take a look
back at some photos from the opening round in Long Beach California – especially this first one, of Chris Forsberg and Conrad Grunewald killing it!
Look at all that smoke! The Doggfather himself would be proud!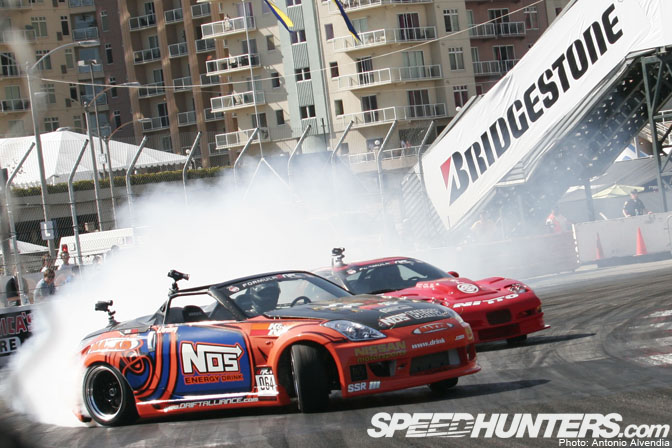 On the morning of Formula D Round 1, I had a super hard time getting to the track on time. I was super jetlagged! I had just returned from my UK trip (shooting at EDC Round 1) only two days before the Long Beach Event, not to mention I also decided to stop off in Vancouver the day before the big event!
But whatever… if you had the chance to spend three consecutive days waking up in three different countries, wouldn't you do it? Exactly.
Anyway, the actual day of Formula D Round 1 was HOT. Super hot. I was definitely not used to this type of heat in Cali, after spending all that time in the freezing cold of England, but it's all good. Being around drift cars and smelling race gas made me feel at home.
I really gotta give it up to the drivers of Formula D. Every year, they bring it. Without fail. They were fearlessly throwing their cars into the corners, only inches away from concrete walls and such. Not to mention, they had loads of people gathered in the stands watching their every move. And photographers and videographers capturing it all. Props, drivers! You get my utmost respect!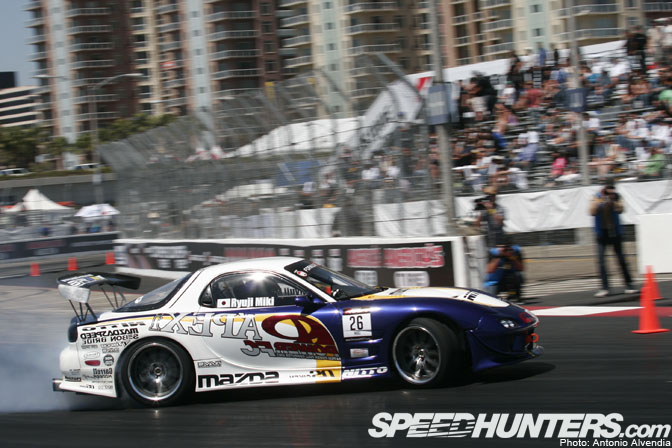 One driver I always watch out for is Ryuji Miki, in the Bergenholtz Racing/Apex'i FD3S RX7. Even though I can't stand how the new blue/yellow graphics look on the front of the car, I absolutely love the Apex'i RX7. (Sorry Bergenholtz Bros, I know they're your thing, but I think
your graphics on the nose break up the FD's formerly gorgeous body
lines! But much respect to you guys for killin it as privateers in NHRA Sport
Compact!) This car is the left hand drive backup car that Apex'i had when they were sponsoring Youichi Imamura. Too bad Apex'i couldn't give Miki the right hand drive Apex'i FD that Imamura used for D1 competition, because I'm sure he'd be assasinating people with that thing!
Speaking of D1, I always greet Ryuji in the morning when I see him at events… telling him, "Omae wa cho sugoi D1 driver… datta. Ganbatte Miki!" (Loosely translated from Japanese, it means "You are an awesome D1 driver… Oh… well… you used to be! Good luck Miki!" LOL. He usually punches me after that! It's okay, we're good friends, and he knows I'm joking! Sort of! =)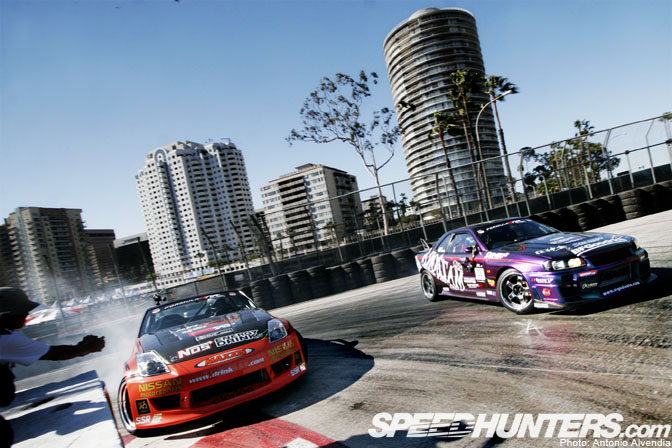 This here is the signature shot of the "Long Beach hairpin." This is the one where the photographers bravely stick their upper torsos and cameras out over the K-rail in an attempt to get a super close photo as the cars slide by the clipping point. Don't worry, nobody's gotten hurt doing this! Drifting is a completely safe motorsport! By the way, in my experience shooting here, the drivers who have come the closest to my camera as they passed were Samuel Hubinette and Chris Forsberg.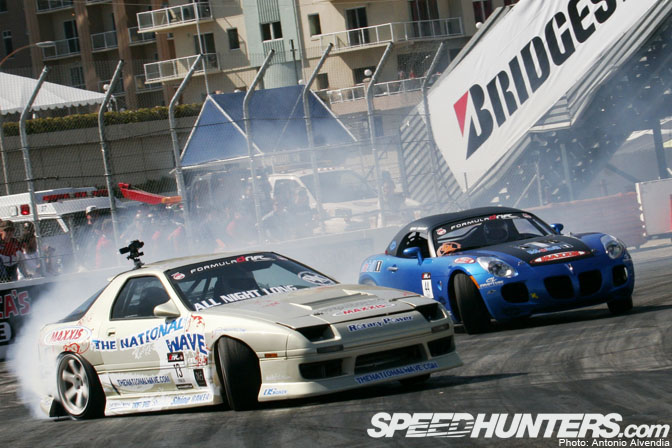 This is one of my new favorite cars in the Formula Drift series. I'm talking about Justin Pawlak's FC3S RX7, not that bone stock looking Pontiac Solstice! I love how Justin's FC is super low, with his MA-Z1 tires stretched over his wide Volk TE37 wheels, with low and aggressive aero, tasteful drop vent hood, and aero mirrors! I think a lot of drifters all over the world could benefit from having an aggressive stance like Justin's FC. Aggressive stance just makes your car look cooler when it's drifting! (Or even when it's just sitting there)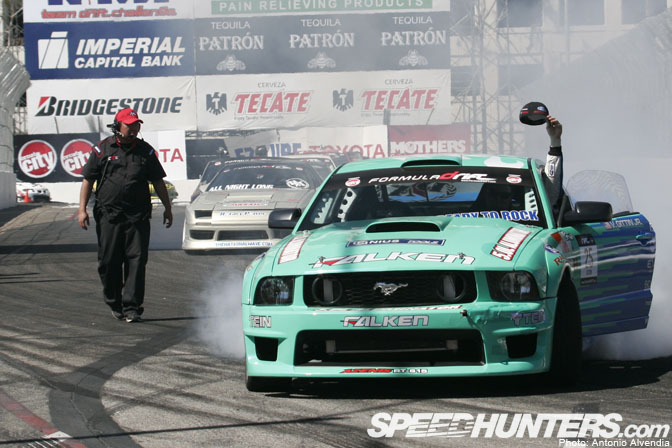 You know the face. You know the name.You can hear him coming even before he
comes around the corner… Loud and proud, you know who I'm talking about – Vaughn Gittin Jr!  And it gets even louder when he turns on the engine! Haha! JR Gittin is All-American, like apple pie and baseball. When he's not making big noise, big smoke, and charging down the track, JR is shouting out his sponsors and making the crowd go nuts! Here he is at the Top 16 driver intro ceremony, doing a standing burnout on the streets of Long Beach, holding his hat in the air to let yall know that Ford Racing got his back!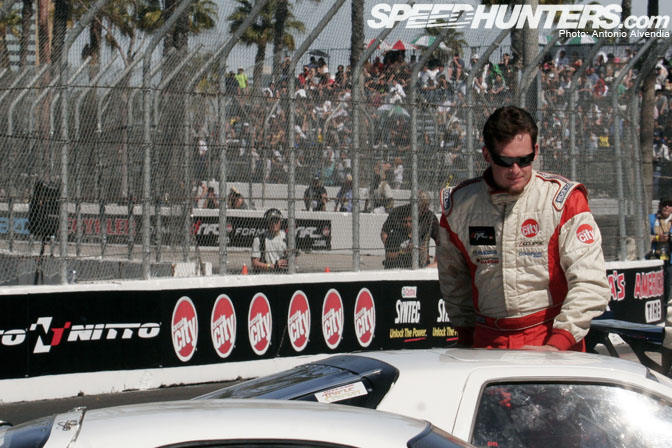 During the Top 16 driver introductions, I captured a brief moment shared between Kyle Mohan and his trusty FC3S RX-7. Look at his expression, it looks like he's thinking, "we've come a long way baby, don't let me down now." Kyle surprised us all by making it into the Top 16, and advancing all the way up the ladder to 4th place! Apparently Kyle was just as surprised he made it that far, at least that's what it said in the post-event press release I got from his PR guy. Seriously, the emails from his PR guy just don't stop. =)
Much respect to Kyle! He's no drifting newbie! This rotary fiend works on rotaries all day long at Mazdatrix, and I remember seeing him out at the early drift days in his FB RX7! You have come a long way Kyle. Congratulations on making it happen!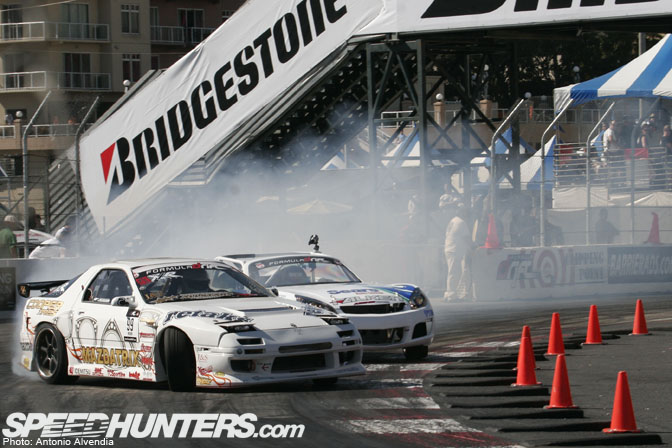 Here's an epic moment from the event… one that Kyle Mohan will never forget… it was in this particular tandem battle against Sears Auto Center's Darren McNamara that Kyle advanced up the ladder, as Darren spun out as he passed the big grandstands in Long Beach. As D-Mac spun his Saturn Sky around to take it off the track, I could see through his helmet's visor, noticing the furious look in his eyes. Darren's eyes said it all – he could not believe he spun, and he was not happy about it, to say the least.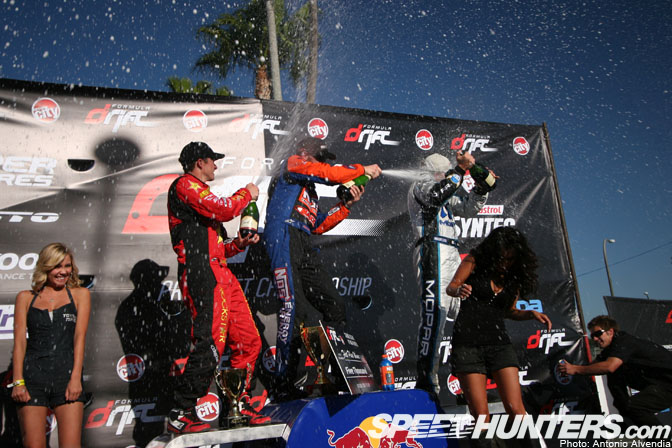 The fight for the Final Four was an intense one. Every single round had the audience members on the edge of their seats!
By the end of the day, however, it was Chris Forsberg who took First Place honors at Formula D's first 2008 event. On top of the podium, Forsberg really let Samuel Hubinette have it by shooting him in the eye! Samuel might be the man when he's on the track, but apparently he's not as fast as he needs to be when he's on the podium!
What an exciting end to a long and exhausting day. To say Formula D Long Beach brought the heat is an understatement!
-Antonio Alvendia