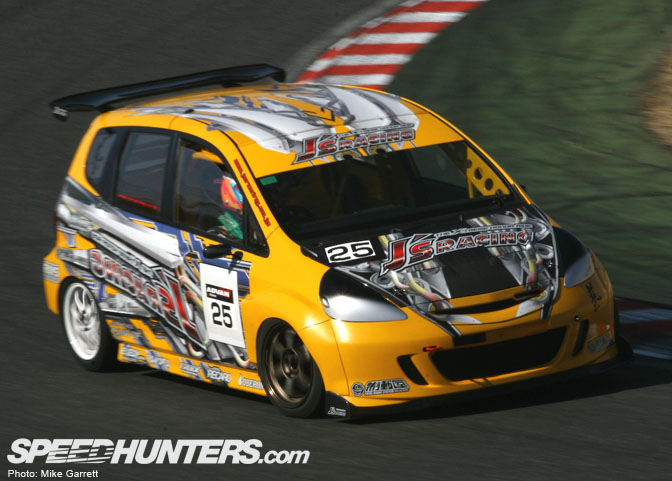 The Honda Fit is the best selling car in Japan by a long shot. Even I
drive one! Despite the fact that our Fit is painted a somewhat less
common color, there have still been times when I've had trouble
figuring out exactly which Fit was ours in a crowded parking lot. The
Fit also has a strong following among tuners in Japan, although most of
them are pretty mild as far as modifications go. Then on the other
hand, you have the J's Racing Fit GT seen here. Mild is the last word I
would use to describe this once humble 5-door hatchback. The car's
scorching yellow paint and sci-fi inspired graphics will draw anyone's
attention, but that's just the start.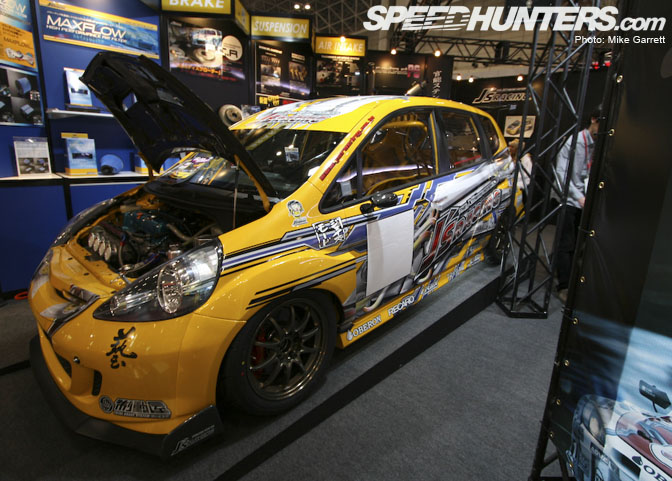 Here is the car at the J's Racing Booth at Tokyo Auto Salon 2008. No
part of this thing has been left untouched. Aero parts include front
and rear bumper diffusers, widened fenders to accommodate more
aggressive wheels and tires, as well as a carbon hood and rear spoiler.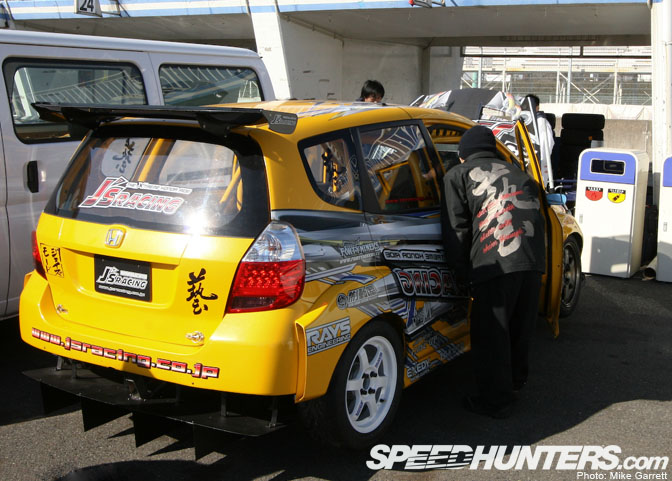 What was once a spacious interior known for its cargo capability and
comfort, is now stripped bare and filled with a full roll cage painted
in matching yellow. Of course the brakes and suspension have all been
replaced with race-ready parts from J's Racing. The wheels are Volk
Racing TE37's wrapped in popular Advan rubber.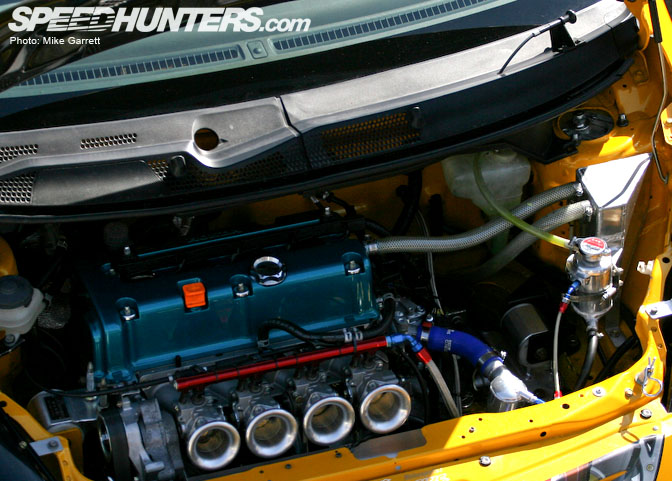 Here is the heart of the whole vehicle. The factory 1500cc engine is
long gone, and in it's place is a fully built, naturally aspirated twin
cam K24 powerplant. Immediately noticeable are the individual throttle
body system and the signature J's Racing valve cover. J's claims this
set up has been dyno-proven to about 350 horsepower. 350 horses from a
naturally aspirated 2.4 liter? After seeing this car in action, I have
no reason to doubt that claim.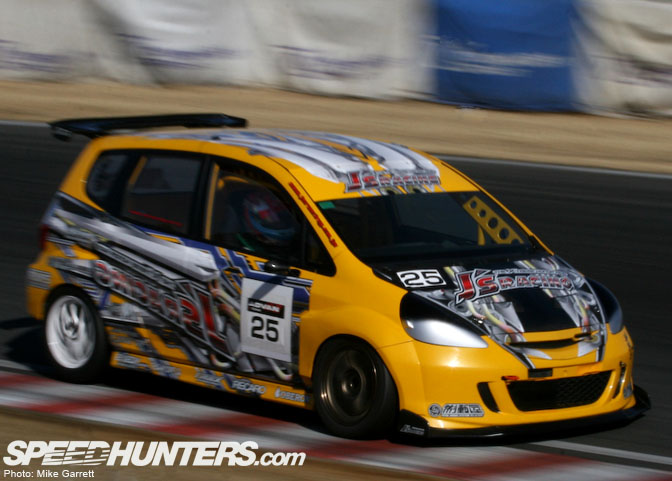 In February of this year, the J's Racing team brought the car to Tsukuba
Circuit where it set a new best lap time 1:00.459 seconds. That is an
amazing lap time for any car, let alone a front wheel drive subcompact.
The car is just fractions of a second from braking the one minute
barrier, and I have no doubt it will happen soon as I'm sure J's Racing
has a few more tricks up their sleeve for this mild-mannered economy
car turned track beast.
-Mike Garrett