A few months back, I took a look at three AE86s for 86 Day. Today I'm back with another Hachiroku trio, and trust me, I'm not complaining. These three Corollas are a little different to those that I've covered in Japan, and it's safe to say they aren't exactly what comes to mind when you think of the Texas car scene.
During a recent trip to the Lone Star State, Dino and I were welcomed with open arms by plenty of fellow enthusiasts. One of those people was Pec, collector and AE86 fanatic.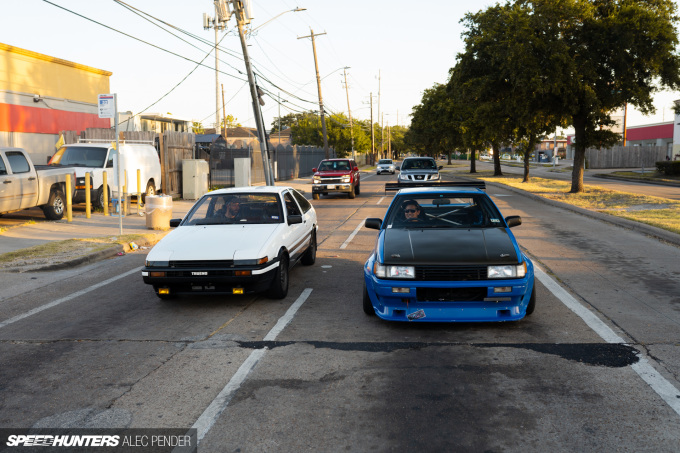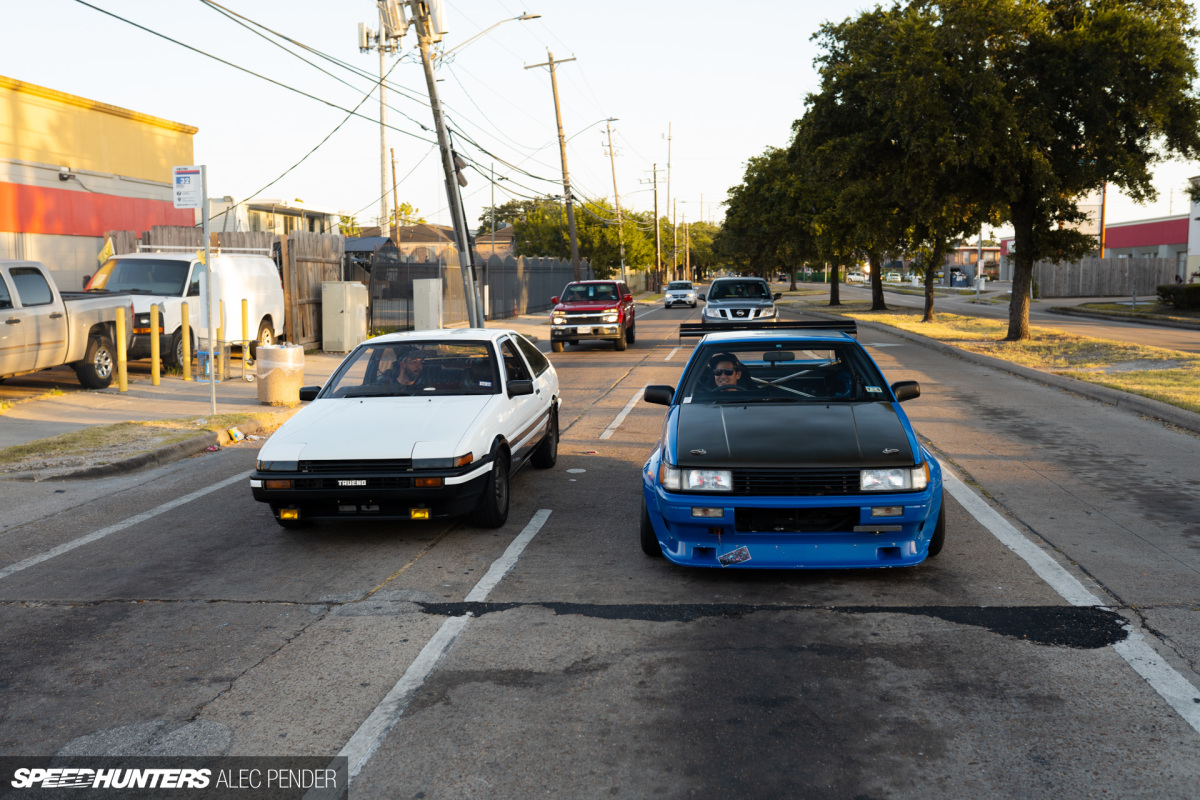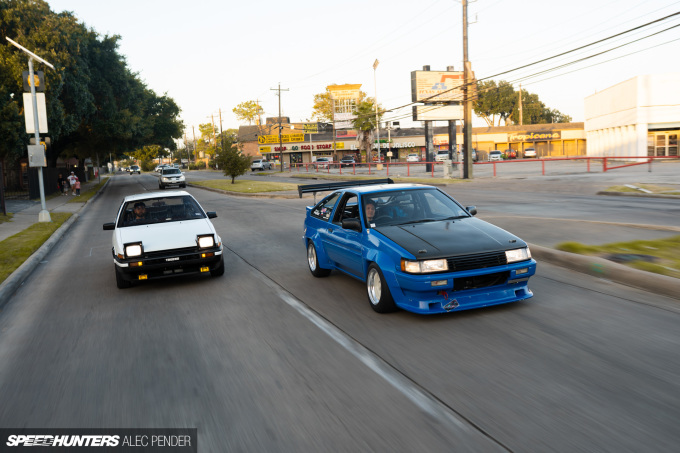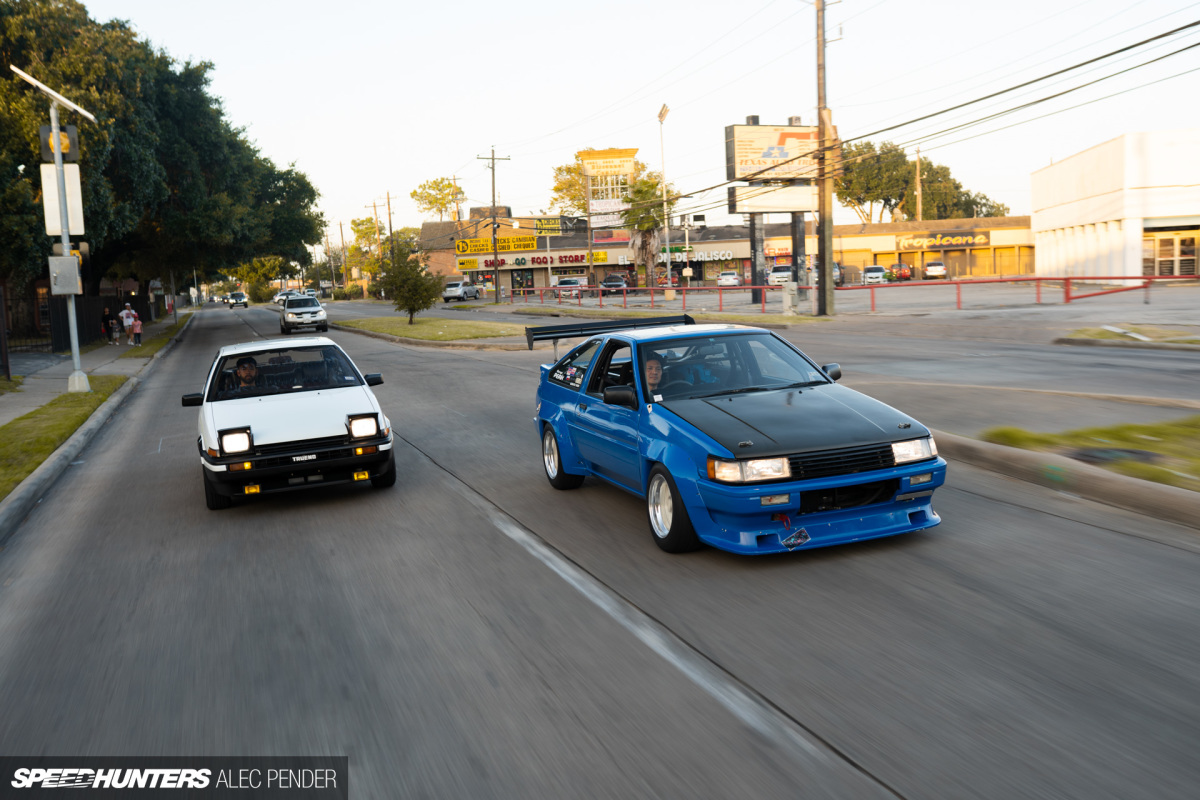 Pec's collection doesn't stop at Toyota's iconic '80s rear-wheel drive Corolla though; it includes everything from a Datsun 240Z to an FC3S Mazda RX-7 and even a Hakosuka. There's quite a bit to cover with those cars (and others), so they'll have to wait until another time.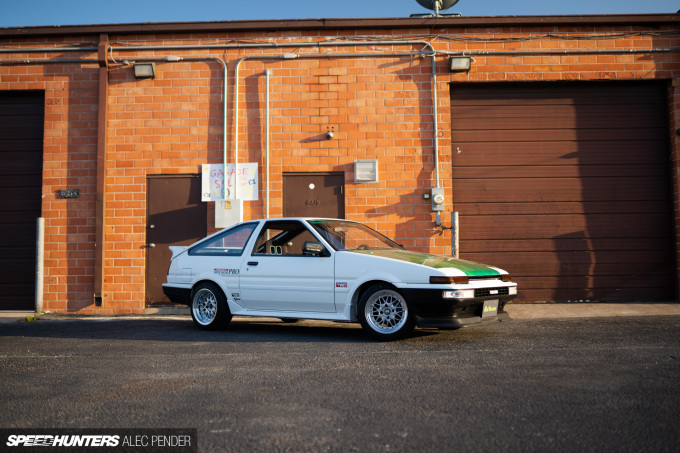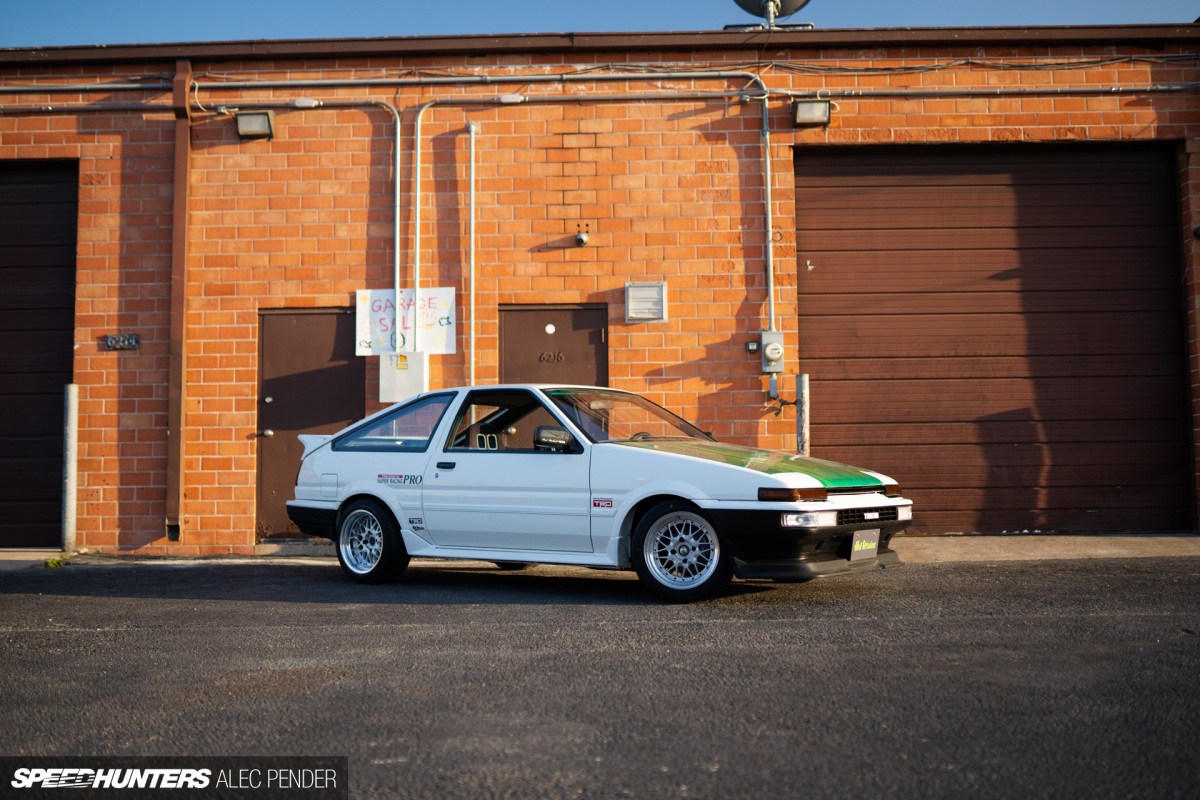 This first AE86 should look rather familiar, and I wouldn't blame you for thinking it's Keiichi 'Drift King' Tsuchiya's actual Tec-Art's-built AE86. The story for this one begins in 2003, when Pec bought a completely standard '84 Corolla SR5 as his daily driver. At the time, Pec wasn't aware of the drivetrain differences between the SR5 and GT-S, but the Corolla was all he needed to get around for work.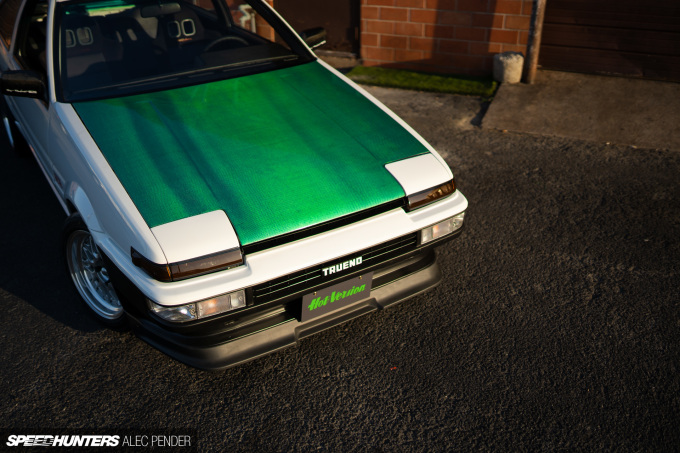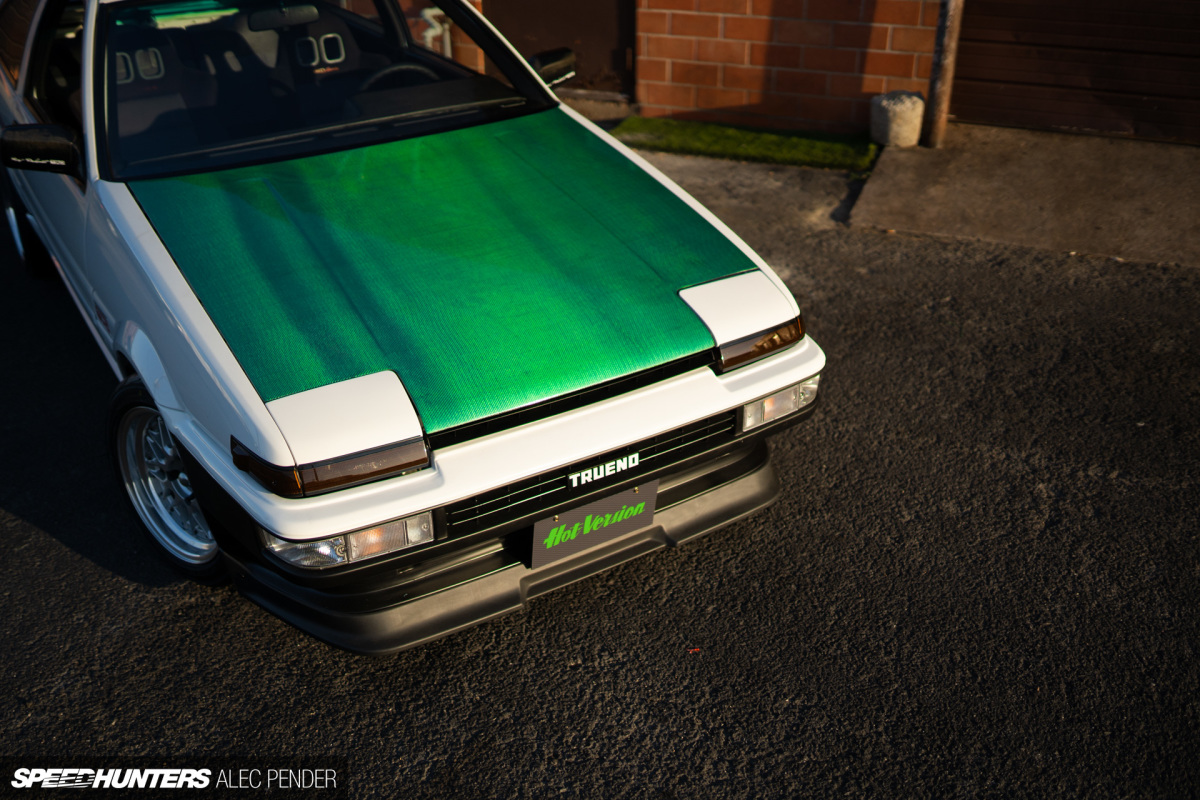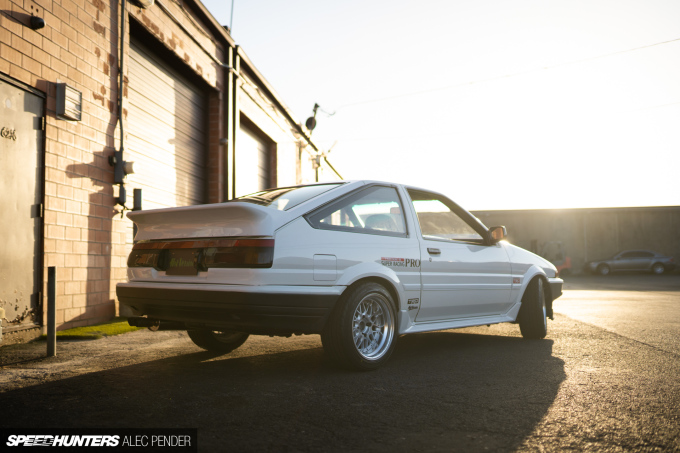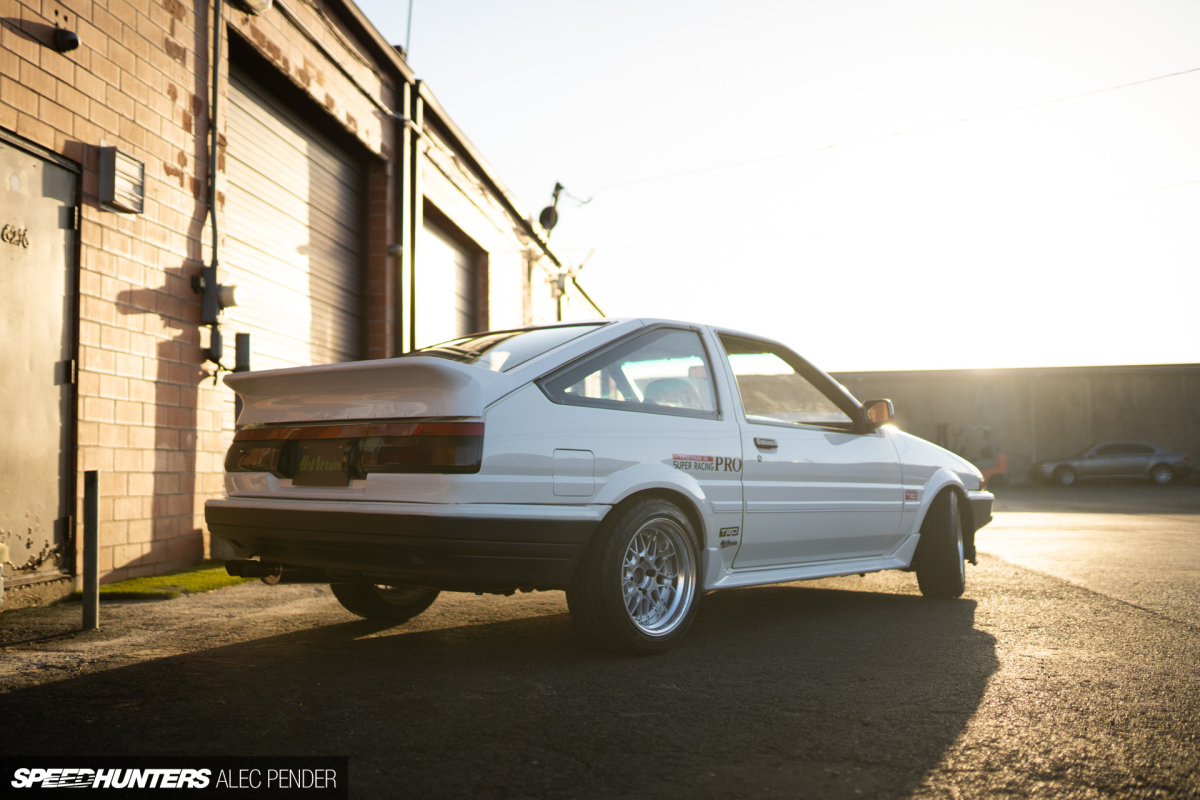 Eventually, Pec decided he'd give the car a complete makeover, but only when its factory 4A-C engine gave up. He followed through with it too. The build was certainly not a quick process though, taking almost 11 years from when the car came off the road in 2012.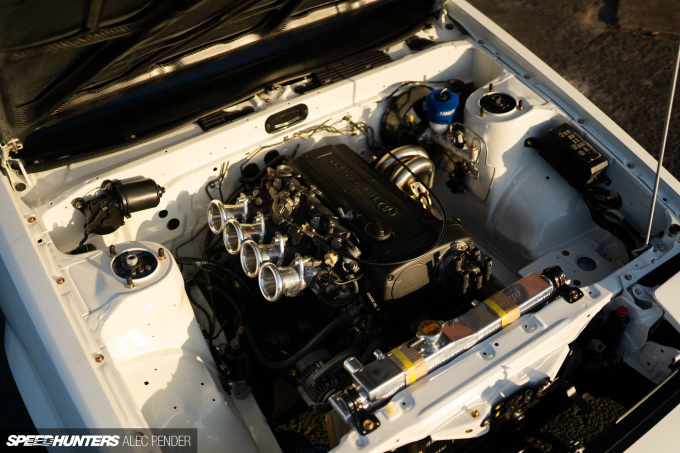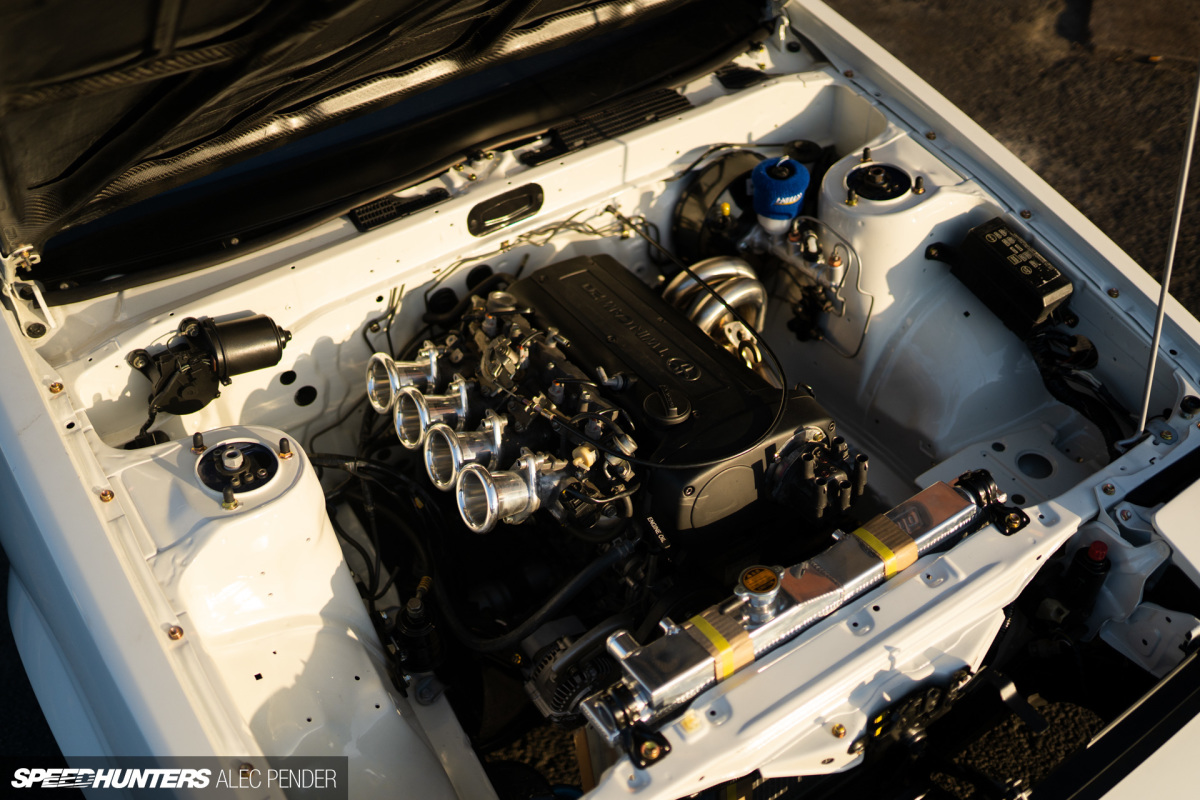 Starting with the drivetrain, Pec replaced the asthmatic 4A-C with a 'Blacktop' 20-valve 4A-GE from a JDM Toyota AE111, and mated it to a custom cross-mission gearbox. Paired with a custom exhaust manifold and a nice set of velocity stacks on the engine's factory ITBs, it may as well be a musical instrument.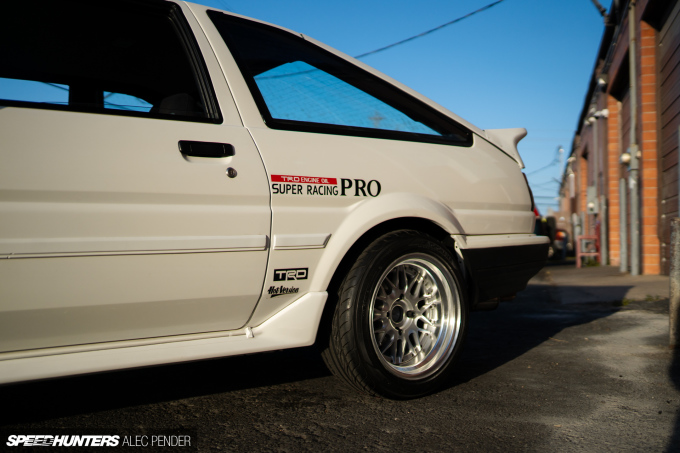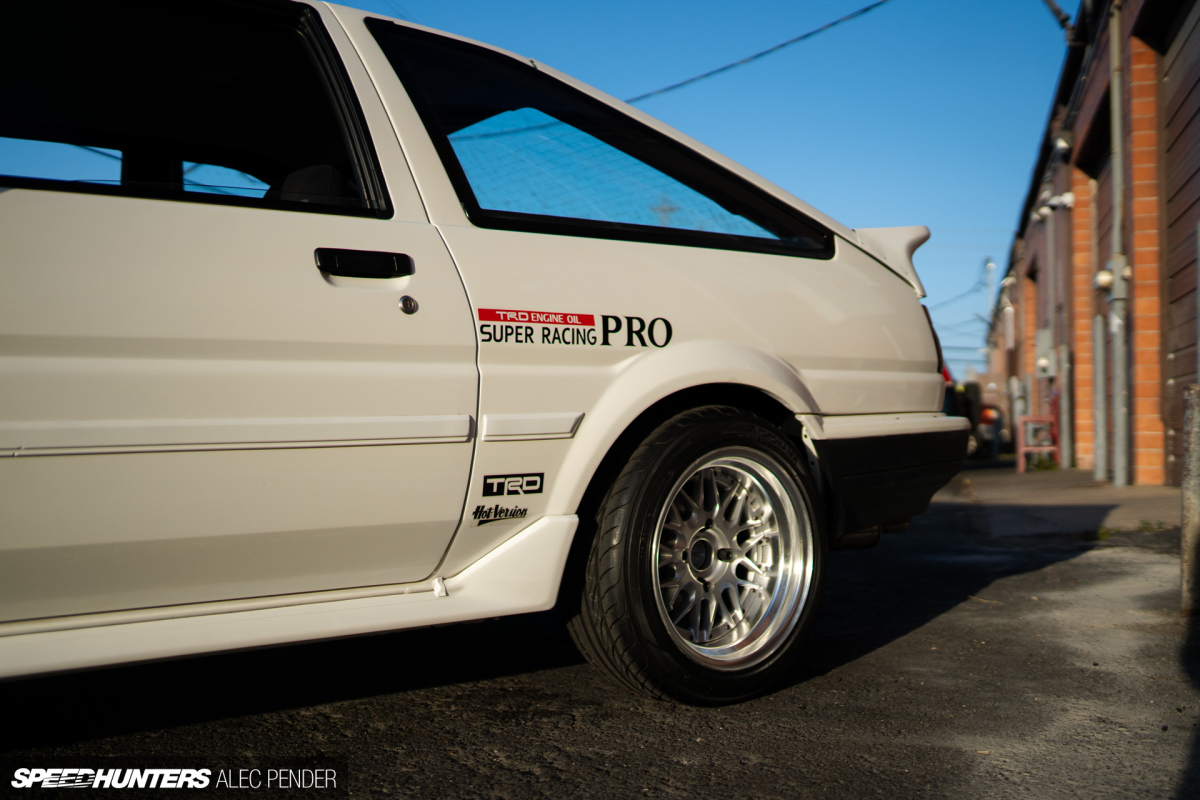 For the footwork, TRD dampers all round with TRD sway bars and a GT-S rear end swap help the car sit nicely over its rare SSR Dori Dori Mesh wheels. Completing the DK86 look, the car was painted in Toyota 040 white and fitted with kouki bumpers, side mouldings, front lip, side skirts and JDM taillights. The cherry on top was the green carbon fibre bonnet, which was custom-made in Thailand and air freighted to Texas.
As you probably guessed, in building this car Pec put some decent mileage on his collection of early 2000s Best Motoring DVDs.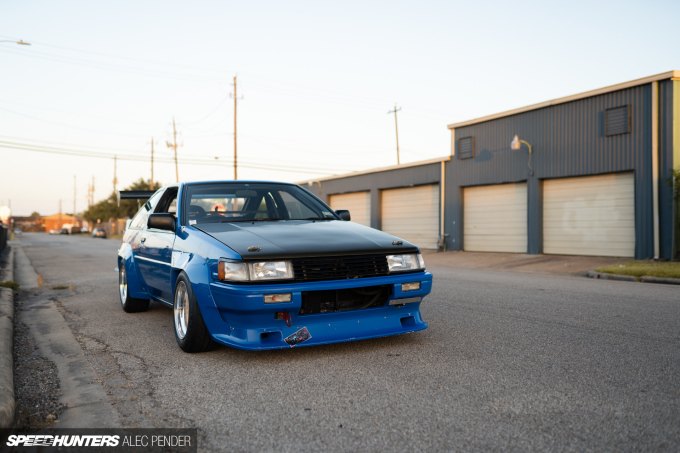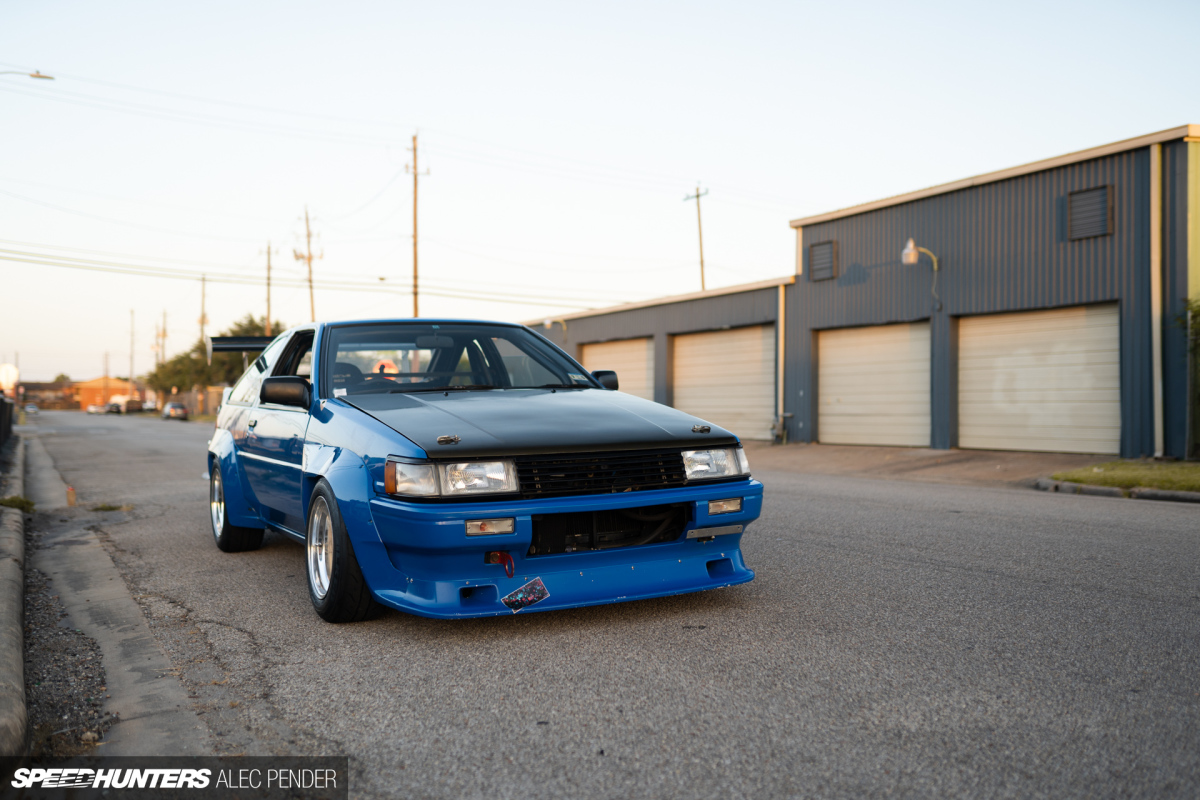 If that's not exciting enough for you, how about an original AE86 N2 race car? 2012 was obviously a fun year for Pec, as that's about the time this Corolla arrived from Japan.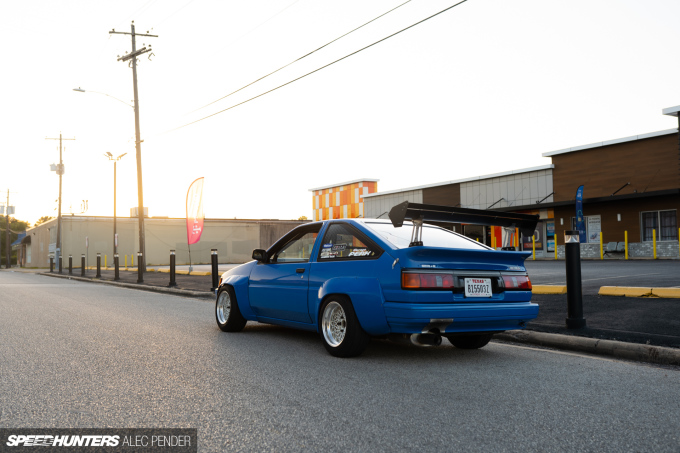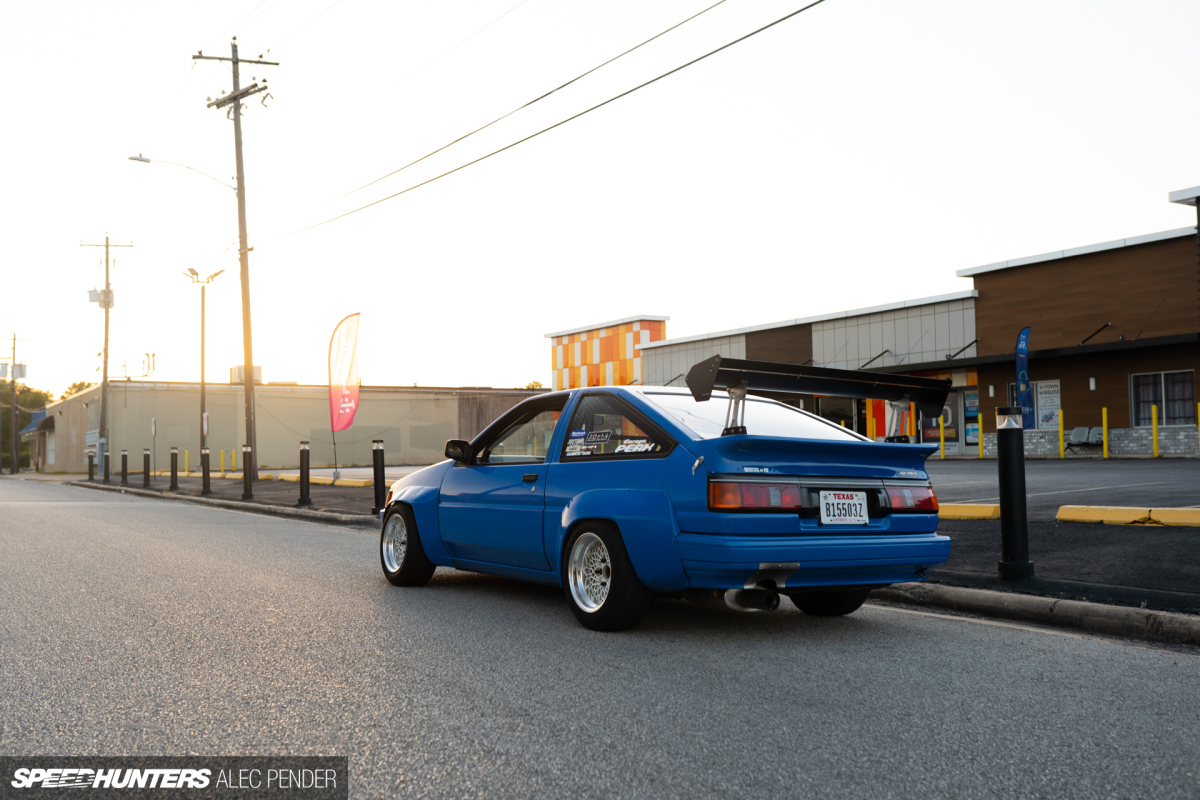 The history of the Corolla is a little bit up in the air – all we know is that it's an original N2 race car from the '90s. In the interest of keeping the car as close to original as possible, Pec has mostly left it as is, with a few modern-ish touches. The car is fitted with a full TRD N2 body kit sporting those legendary flares and the look is completed with a period correct C-West GT wing on top of the TRD N2 hatch spoiler.
When it comes to the motor, Pec isn't entirely sure of what's going on inside, as it hasn't been opened during his ownership. What we do know is, the 16-valve 4A-GE has been fitted with a set of Toda cams, OER SK ITBs and a beautiful Silk Road exhaust manifold. This is all kept in harmony with a Toda ECU and a recently-installed MSD programmable ignition system.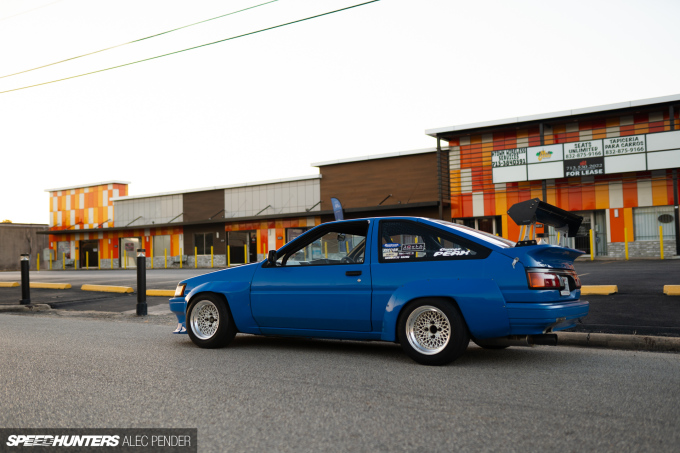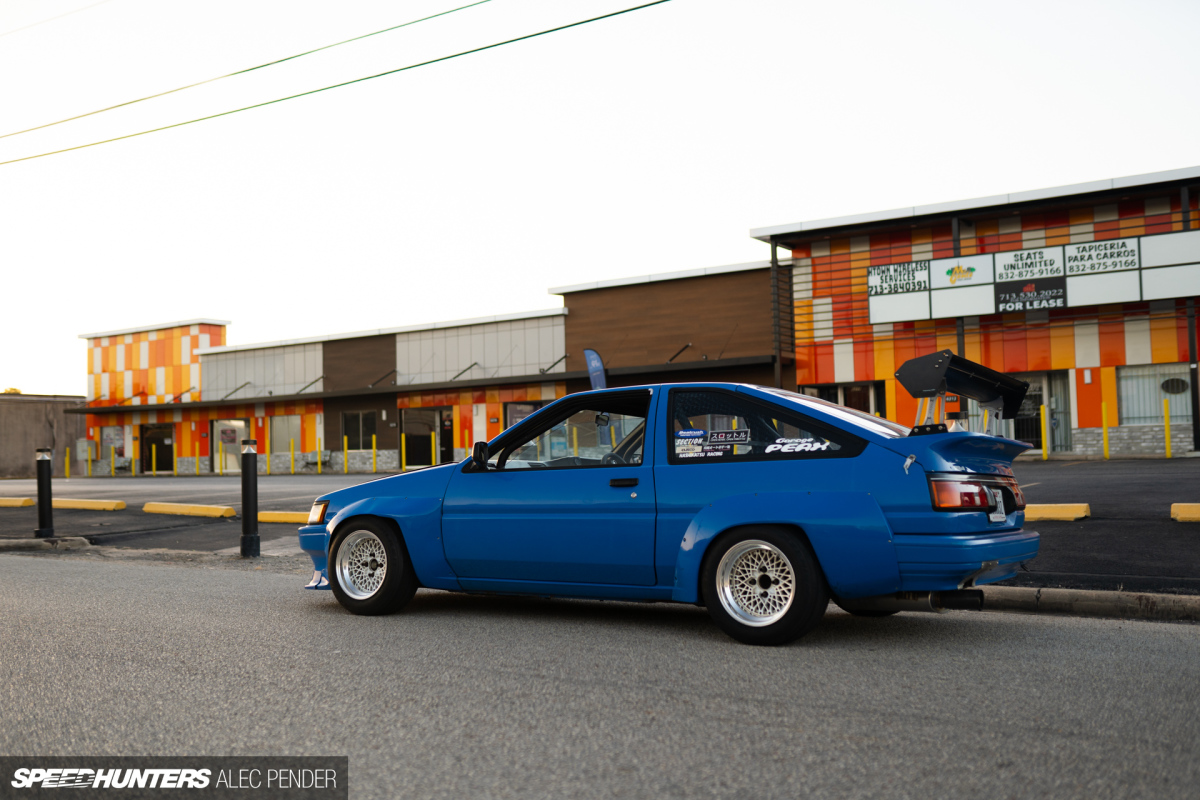 On the topic of recent additions, Pec has also fitted a set of 14-inch SSR Mesh wheels and a plethora of bracing bars. The interior is about what you'd expect for a race car too – a Prodrive WRC seat, Sabelt harnesses and a variety of different gauges and meters. I was lucky enough to have a quick drive of this one, and let me tell you, what an experience…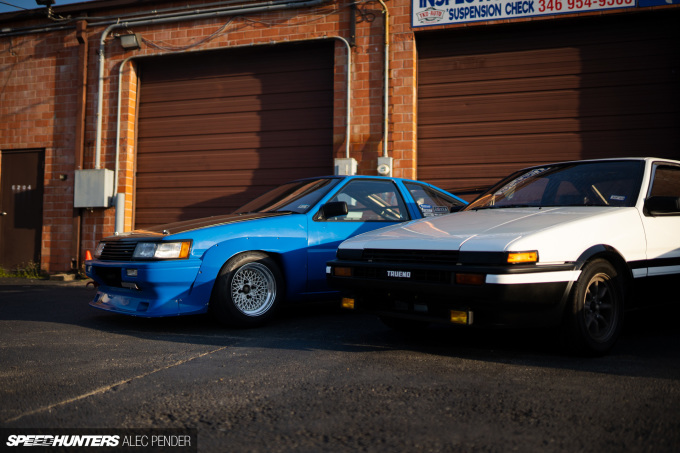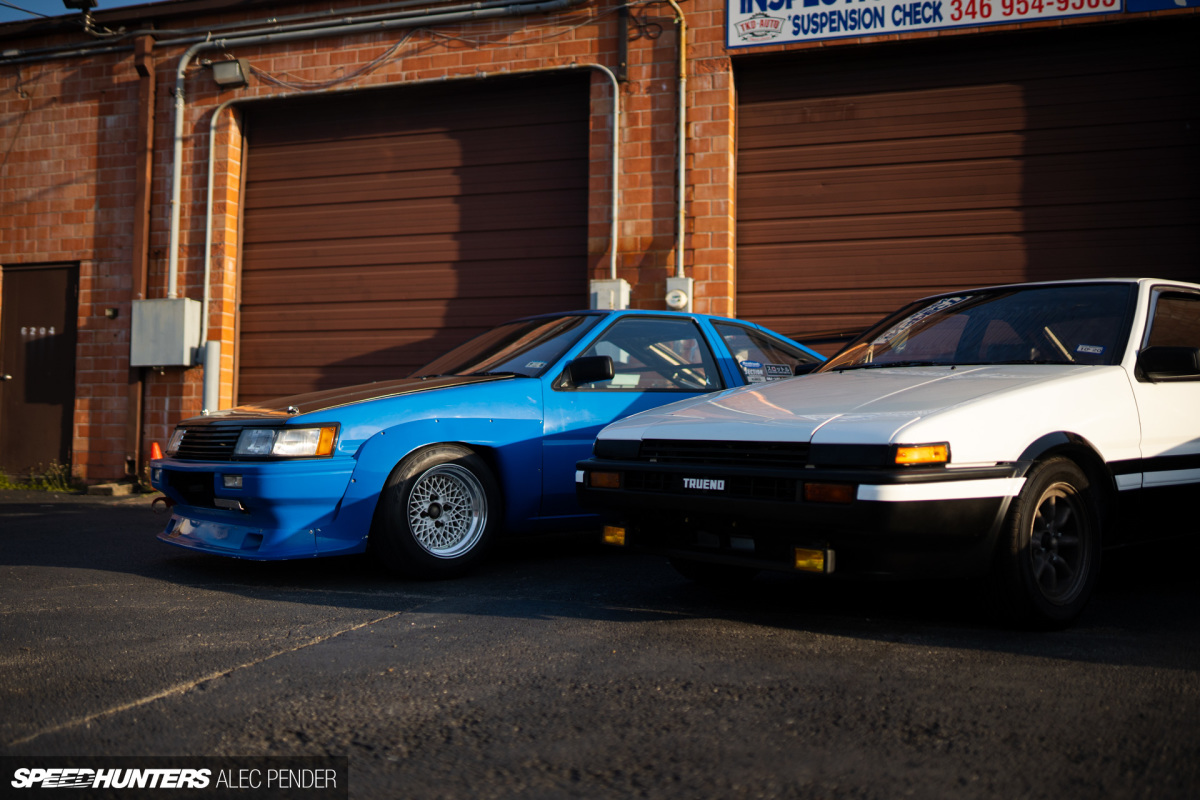 Last, but certainly not least, is Pec's ode to Initial D, the iconic automotive manga. Suffice it to say, anyone with an interest in Japanese cars and specifically AE86s would know of the Fujiwara Tofu Shop Trueno. Apart from a HKS sport exhaust system, lowering springs and a set of RS Watanabe wheels, this one is mostly mechanically standard.
But don't let that fool you – Pec has spared zero expense.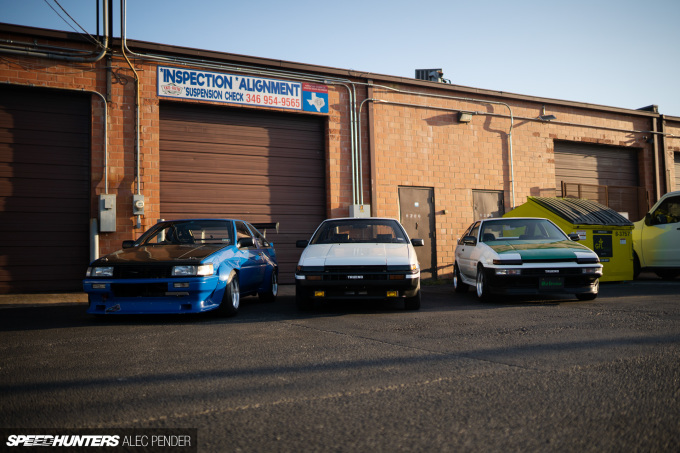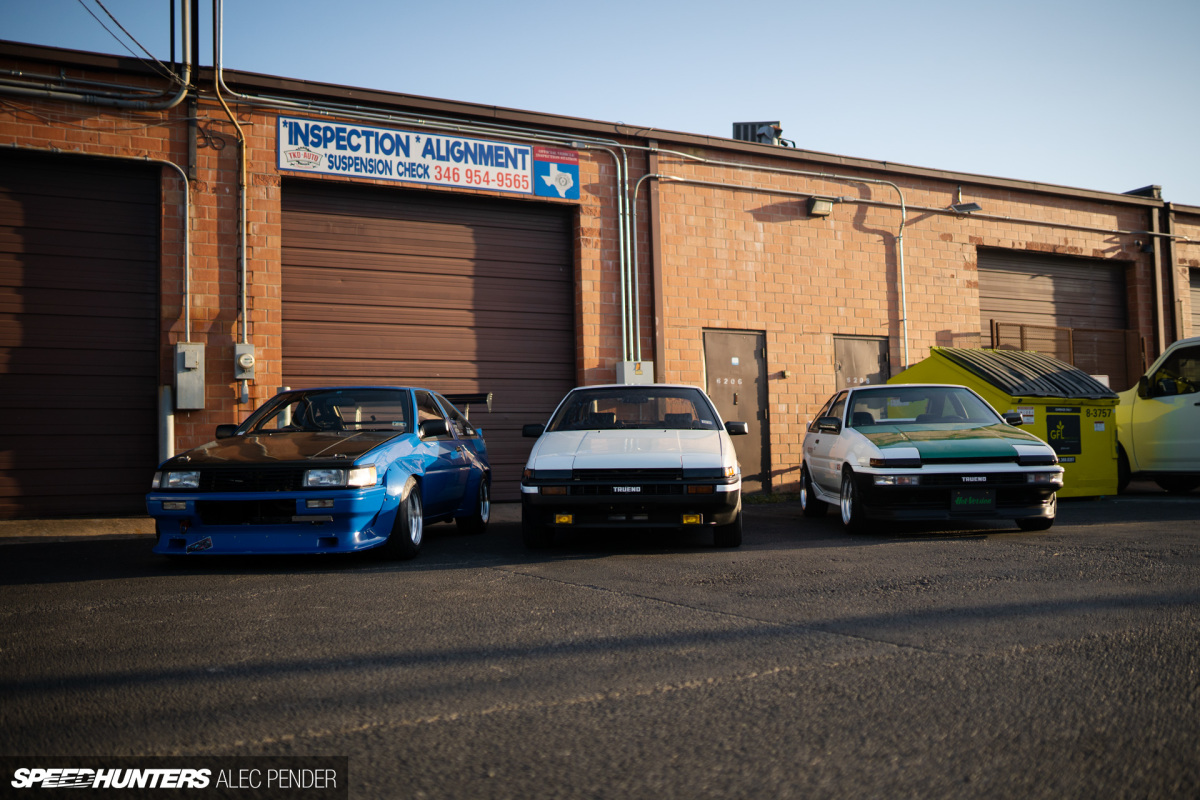 Much like the white SR5 covered above, this AE86 took over 10 years to complete. Starting with a rolling GT-S shell and a JDM Trueno GT Apex front cut, Pec made it his mission to build the ultimate OEM+ AE86. In addition to a complete respray in the classic black-on-white panda colourway, the car was treated to early model bronze window glass, JDM bumpers, full maroon GT Apex interior trim, and even an Initial D-correct Italvolanti Admiral steering wheel.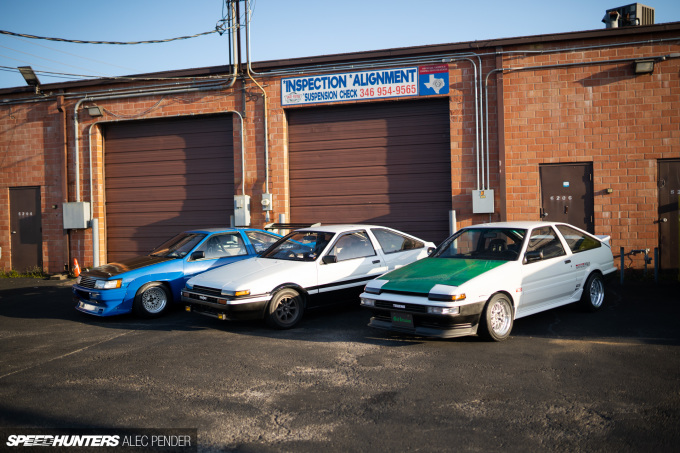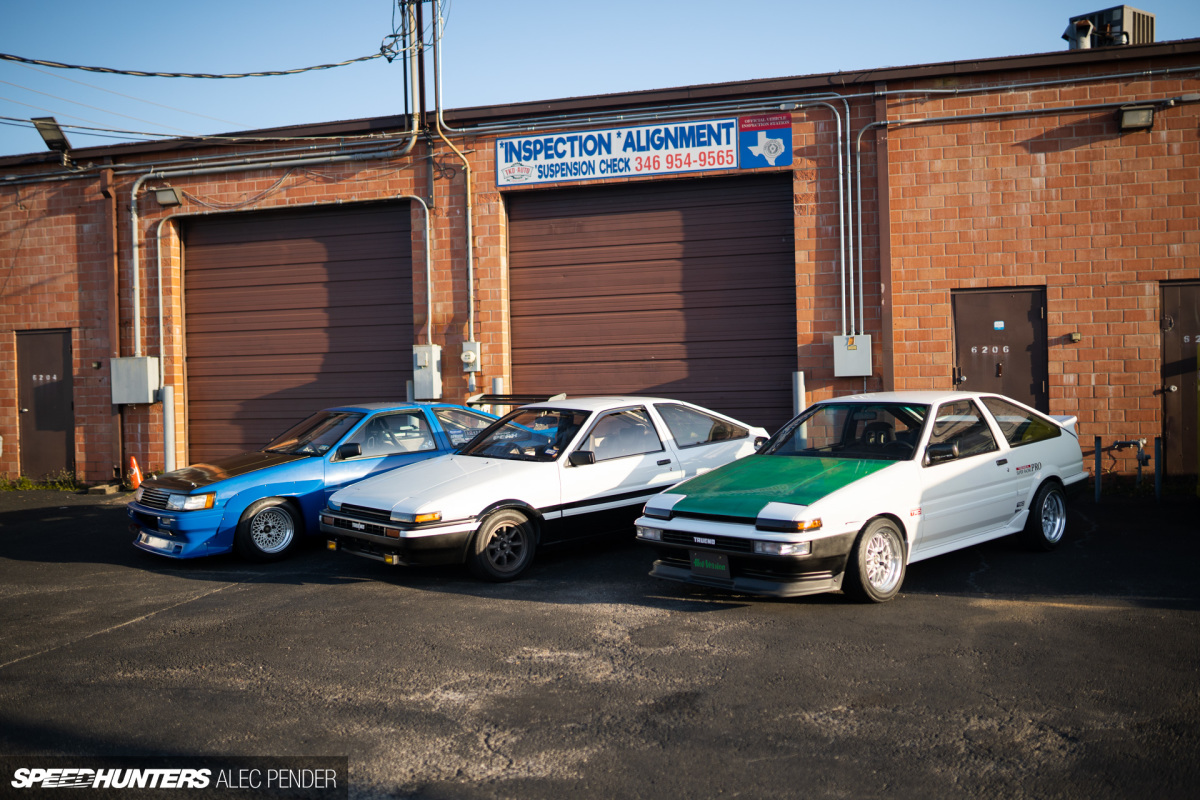 There you have it, three of the same that couldn't be any more different. Some might even say it's the perfect three-car solution, but which one would you take the keys to?
Alec Pender
Instagram: noplansco