Does size matter? It's a question that has plagued humanity for centuries. When it comes to turbochargers at an event like Gatebil though, bigger is always better. And what's better than one big turbo? Two, of course.
During my recent weekend at Rudskogen Motorsenter in Norway for the biggest Gatebil event of the Scandinavian summer, I saw a lot of turbos. Big ones. In pairs. Strapped to diesel engines. So, for my final 2023 Gatebil Rudskogen event story, I thought I'd take a look at some the wildest compound turbo setups I found in the paddock.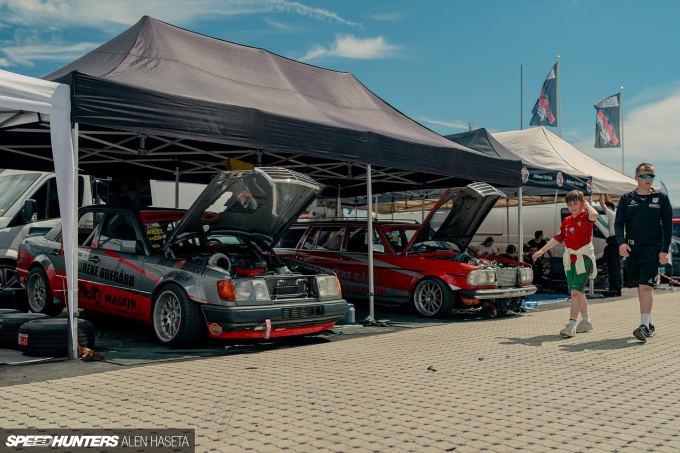 Let's start with the Bekkevold brothers, Marius and Jonas, whose diesel-powered Mercedes-Benzes are sights to behold when they're out on track doing what they do best. Their engine bays were sights to behold in between circuit sessions too.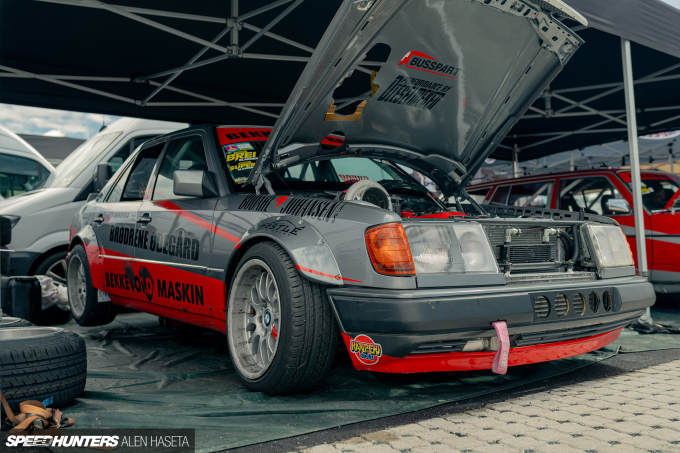 Let's begin with Marius's turbo setup, as fitted to the Mercedes-Benz OM648 3.2L straight-six diesel engine in his 1990 W124 sedan. Compound turbo arrangements are common in OEM diesel turbo applications, and it's easy to understand why they're carried over into custom aftermarket setups like this one.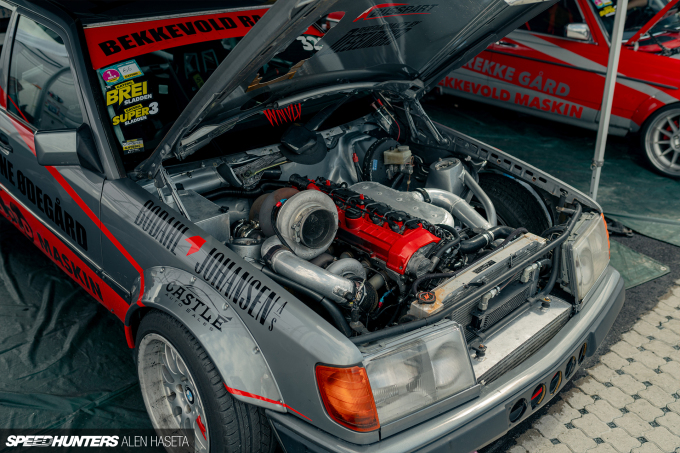 Very basically speaking, in a compound setup a smaller turbo (high-pressure turbo) and a larger turbo (low-pressure turbo) work in series. Air feeds into the larger turbo first, where it is compressed and then fed directly into the mouth of the smaller turbo, which in turn feeds into an intercooler and then the engine itself. As the engine RPMs rise, the larger turbo spins quicker and produces boost, and that's fed into the smaller turbo once more. In Marius's case, the smaller turbo is a rather large Holset HX40, which on its own would be laggy. In this scenario though, the larger turbo in the setup – the BorgWarner S476 mounted up top – ensures that the Holset produces boost from low-RPM and then keeps making it right through the rev range.
Other upgrades in Marius's setup include Dieselmeken race injectors, a high-pressure stroker pump and a Baldur DSL1 piggyback ECU.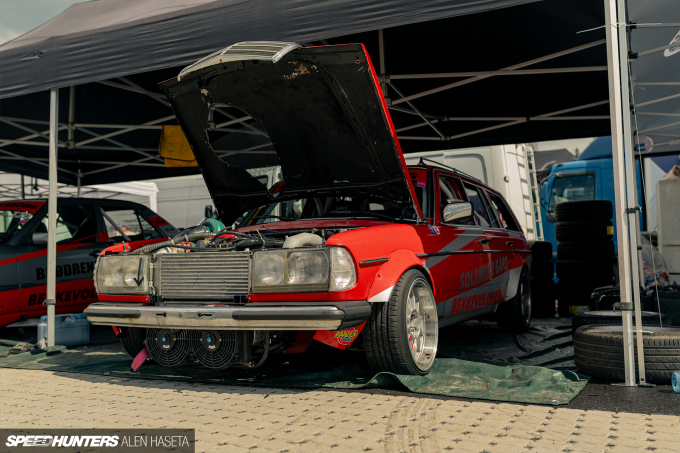 Jonas's compound turbo setup in his OM648-powered 1985 S123 is similar, but uses Holset HX40 and HX60 turbos and engine management from Black Smoke Racing.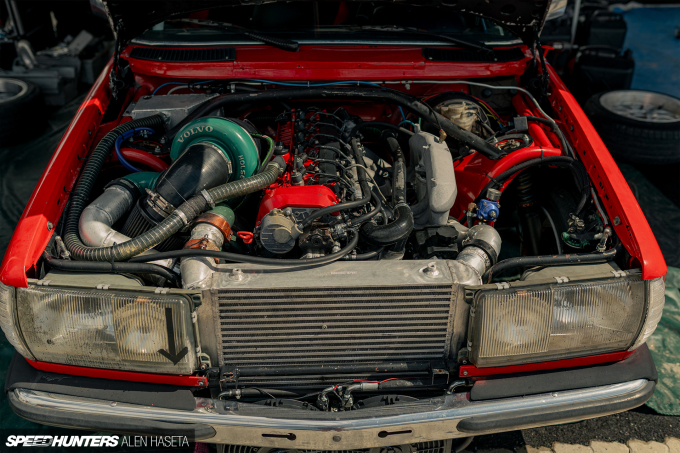 Both cars are pushing somewhere around 570whp, and rely on Mercedes-Benz 722.6 automatic gearboxes fitted with OF Gear controllers. These standalone controllers sit in place of the 722.6's factory TCU, and allow Marius and Jonas to have full control over their transmissions with manual shifting and the option of paddles.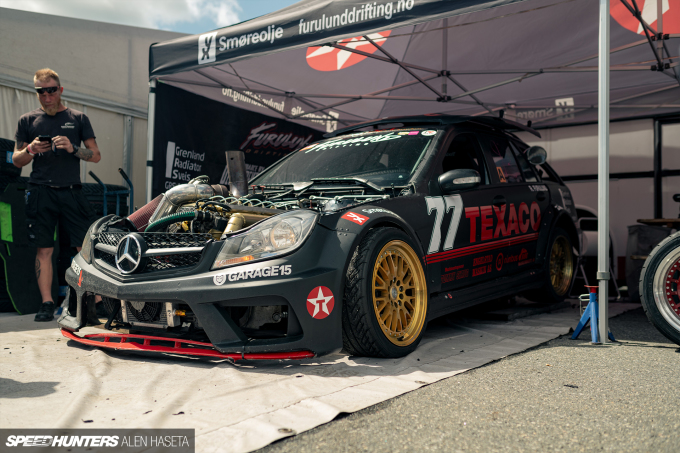 Next up, we have another diesel Mercedes-Benz. Under the skin it's a W203, but the exterior resembles a W204 C63 Black Series. Once again, it's OM648 powered. This one's been built up with custom forged pistons and H-beam rods, and race-spec cams and valve train. ARP fasteners hold it all together.
The compound turbo setup features a Holset HX40 and HX60, both custom-modified for increased boost production. The result is a wild 700whp and 1,200Nm.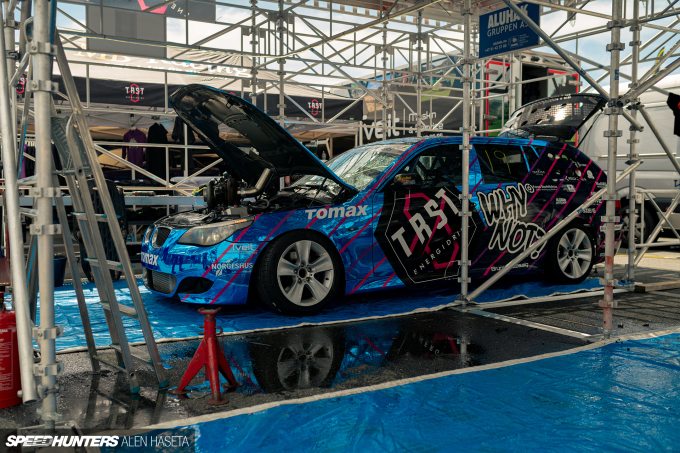 Last but certainly not least is Why Not? Racing's BMW E61 wagon.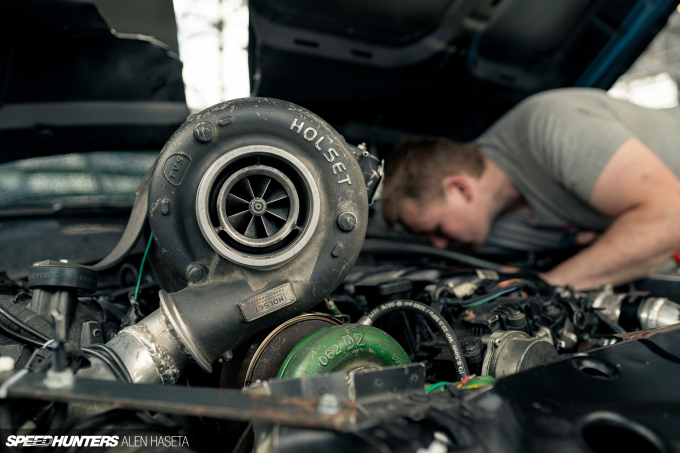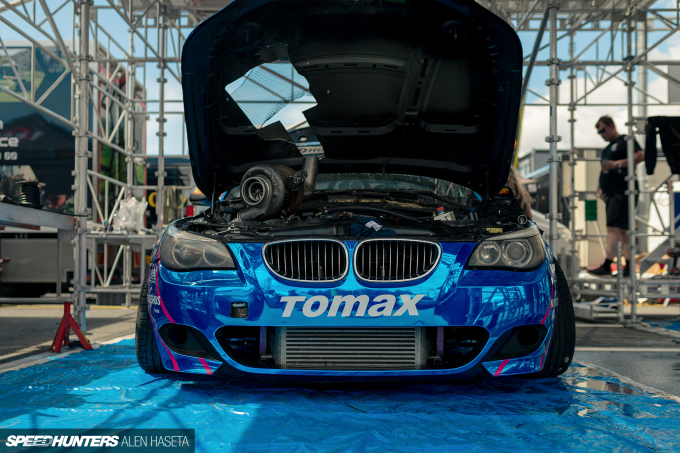 Are you surprised to see another compound turbo setup on a diesel engine? I didn't think so… This time we have a BorgWarner S200 VGT paired with a jumbo Holset HE551V.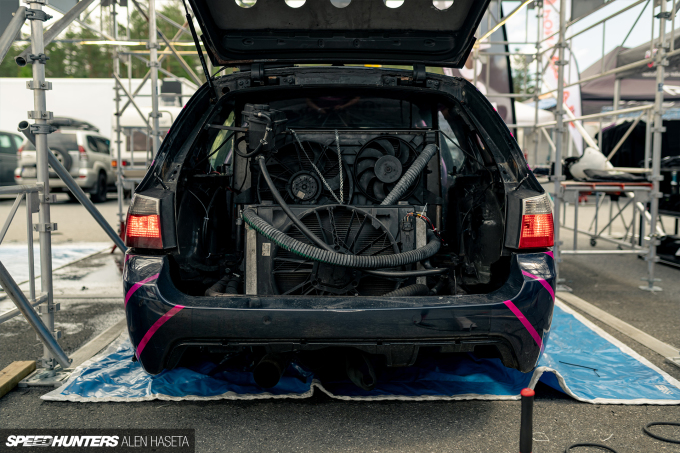 When I checked out the back of the wagon, I immediately thought of Mad Max for some reason. The 28-litre-capacity cooling system features a Volkswagen T5 radiator up top and BMW E61 radiator at the bottom, plus a 12-row diesel fuel cooler. There's also a Davies Craig EWP150 electric water pump in there somewhere…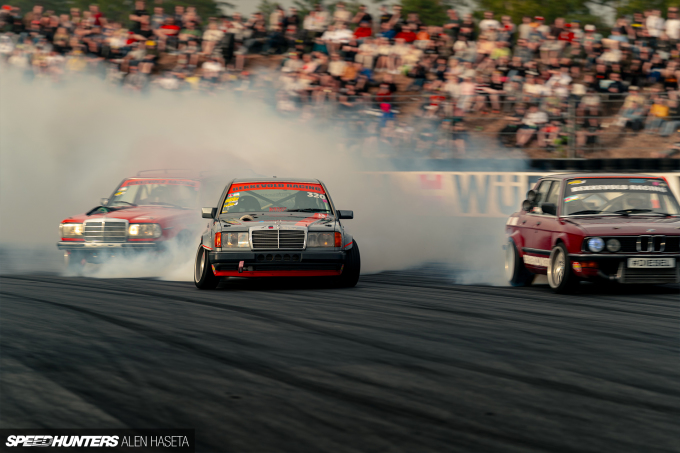 Diesel-powered, compound-turbo-equipped drift machines are a Scandinavian staple, and they've been a big part of Gatebil for a long time. Bellowing white smoke from their tires and black smoke from their exhaust systems, they might not be the most environmentally-friendly vehicles, but they sure are fun to look at it – whether drifting or – as we've seen in this post – parked up in the paddock.
Alen Haseta
Instagram: hazetaa