The other day, I was sitting in an open-air coffee shop in one of Portland's many historic districts, watching steam dance around the rim of my mug, when it hit me: My life is fuller than I ever thought possible, all because of these things we call cars.
I used to see cars as lifeless tools that had only one real purpose: to get their owners from point A to point B. But as my exposure to car enthusiasts and their vehicles increased, the depth and soul of these seemingly utilitarian objects began to reveal themselves to me. This vitality around cars is proven to me time and time again, and it never gets old. The deeper you dig the more gems you find. Maybe the jewels are in the shape of a friend, an event, or a car that is more art than anything. Or maybe it's a beat-up daily driver that becomes your partner in crime, or perhaps simply the culture itself or a life lived out with cars at its core.
Regardless of how you look at it, we all find life in these seemingly lifeless objects. I could go on with my heartfelt rant, or I could give you an example of a gem that became unearthed in Long Beach, California a while back.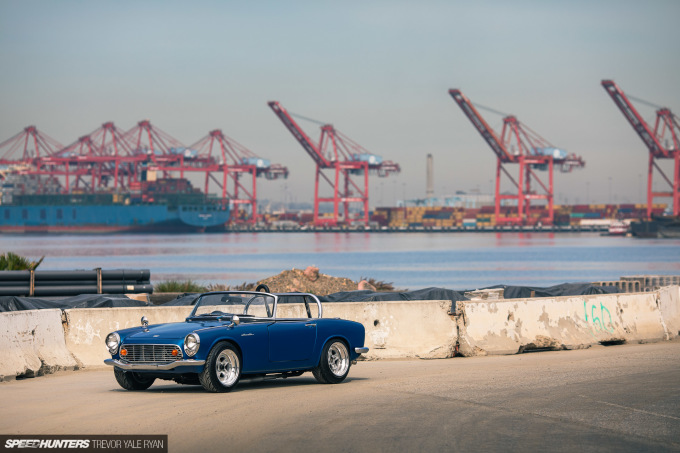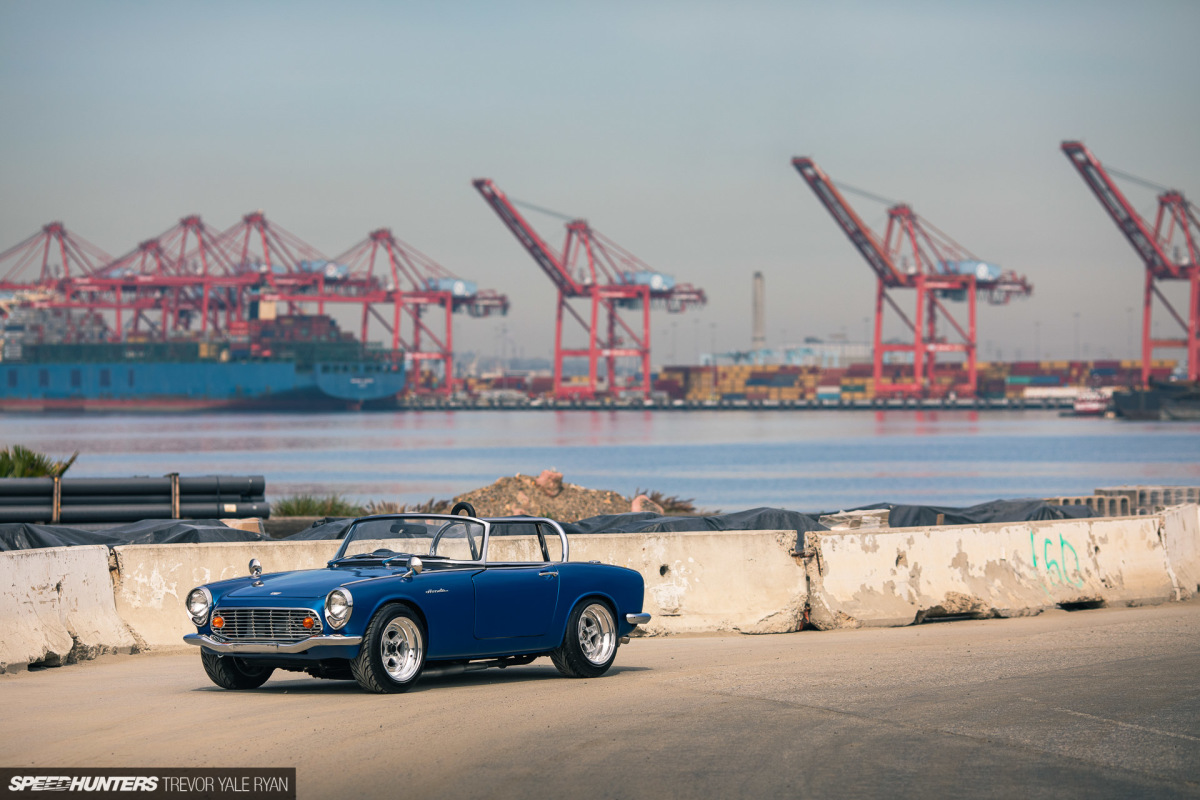 Do any of you know a rad old man who somehow has been cool in every era? He has a basic look that stands the test of time but he also evolves to stay relevant. That's this S600.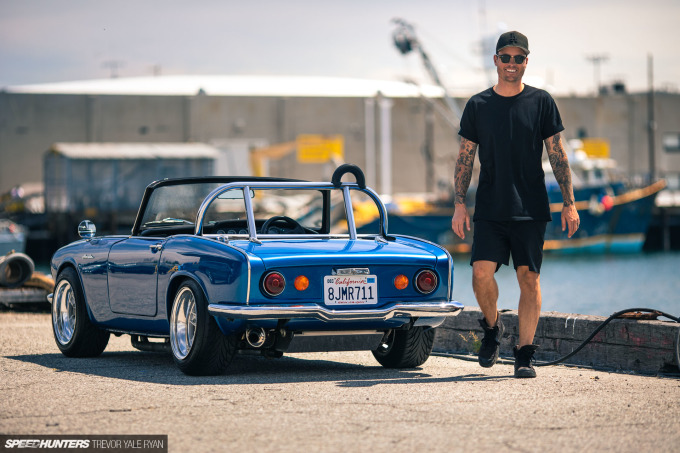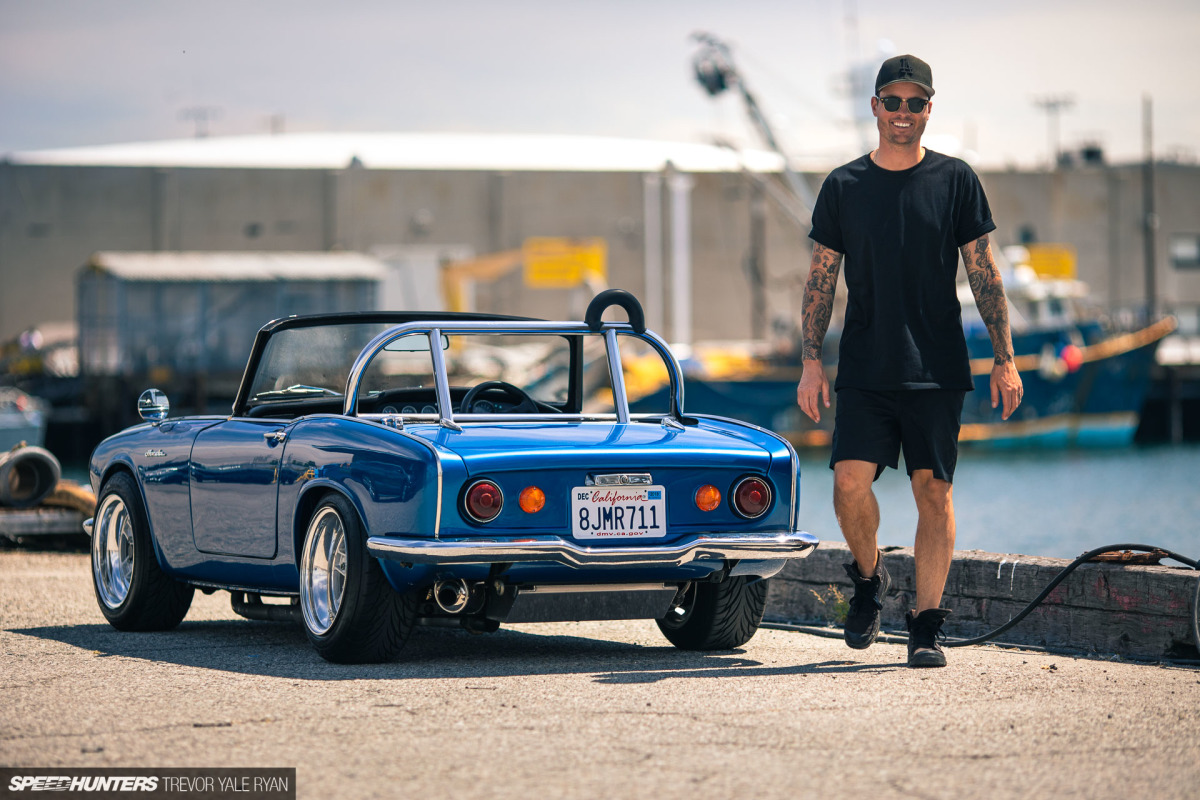 Of course, that old guy needs help from younger cats to keep in touch. And that'd be Johnny Humphrey with his quintessential Los Angeles outfit and his excitable Kiwi accent, who guided this old car along a path of modern redemption.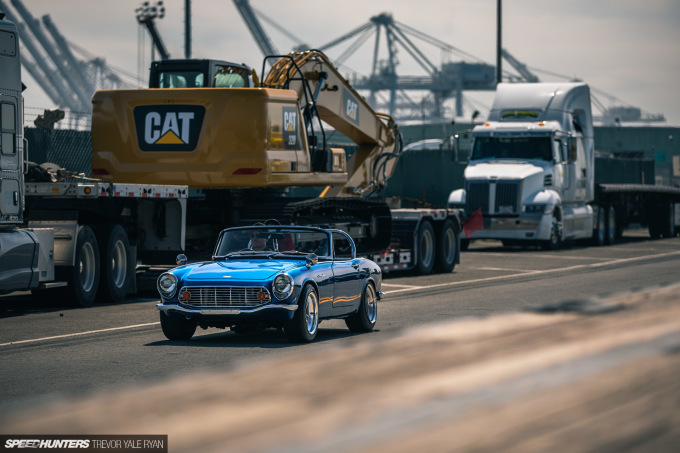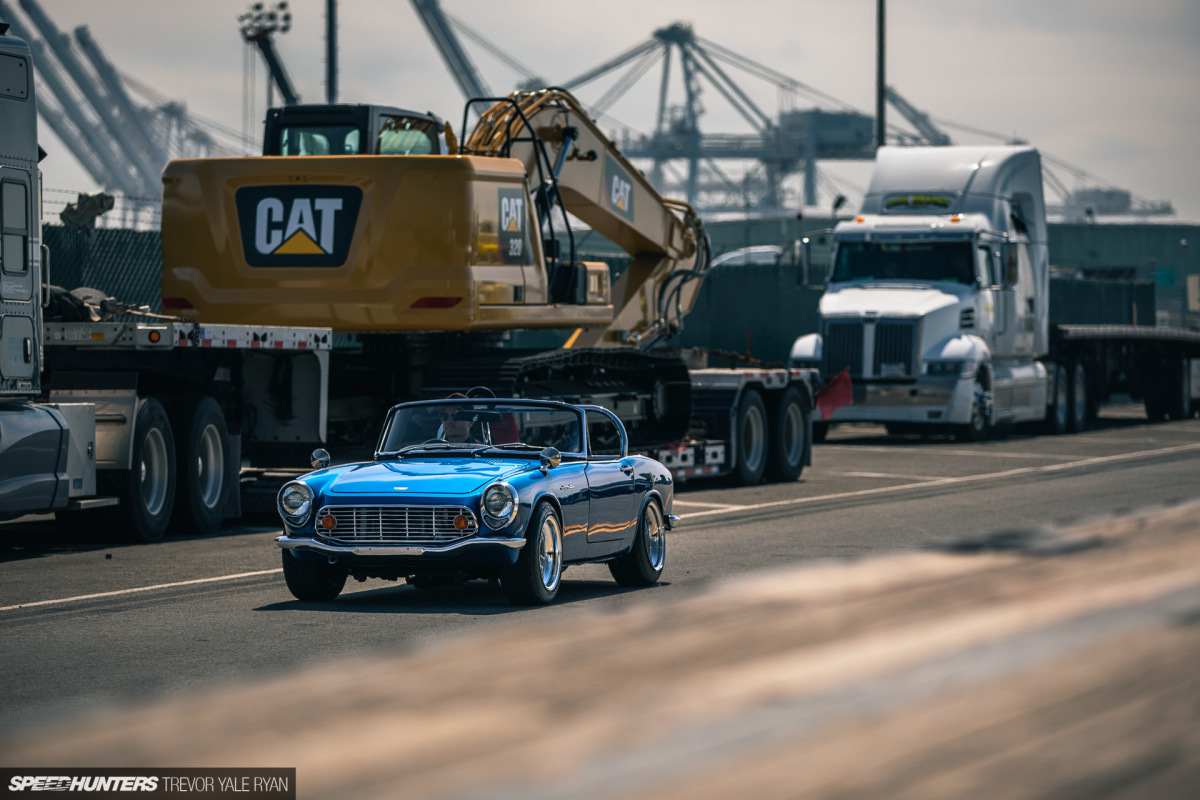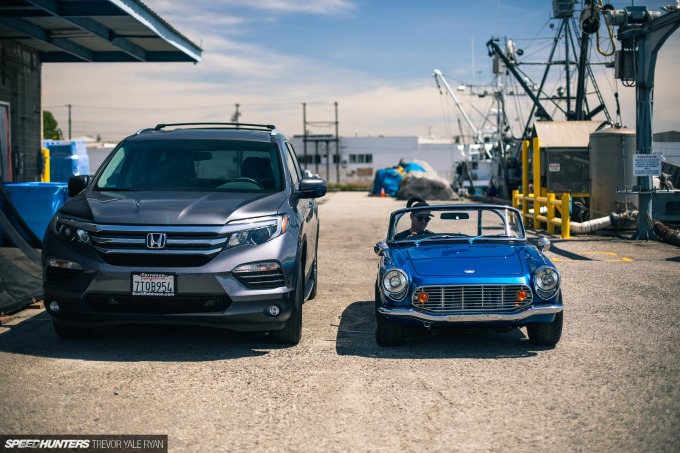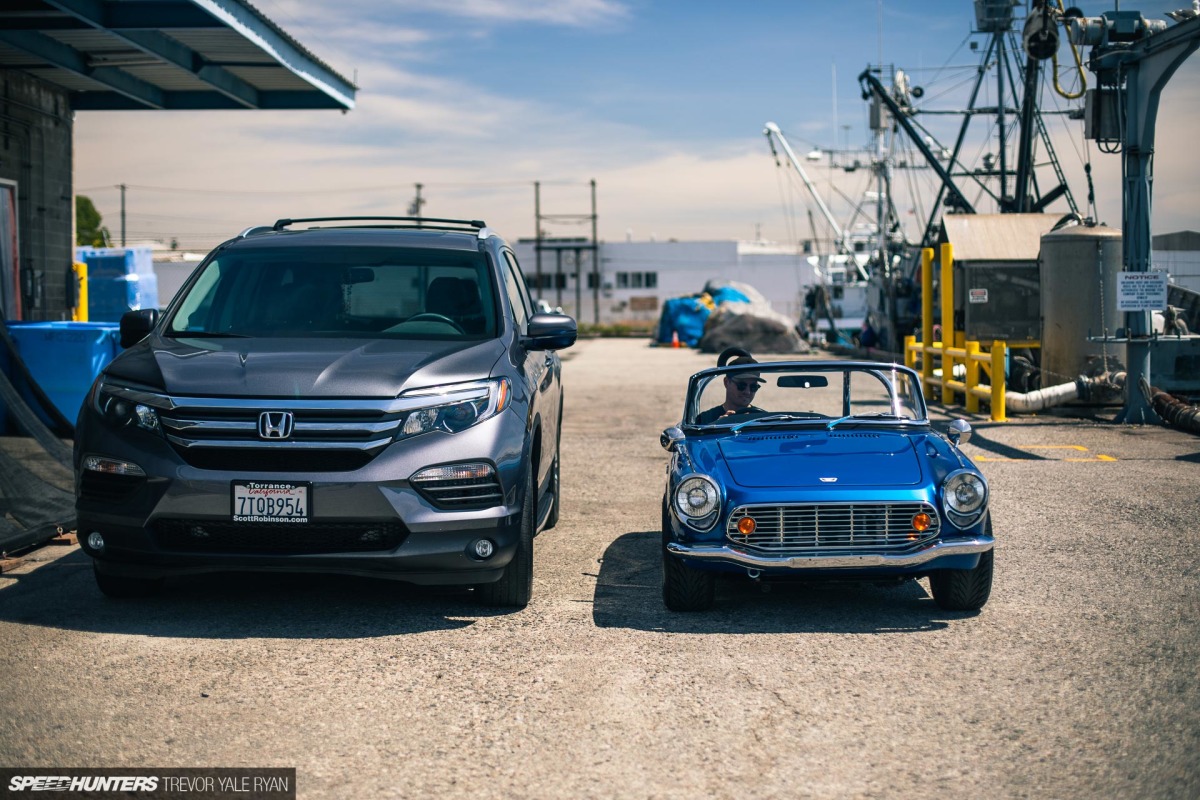 We were to meet the S600 and its stylish owner outside an enormous shipping yard, and after meandering through a rather homely industrial environment, it was easy to spot the tiny-but-mighty Honda.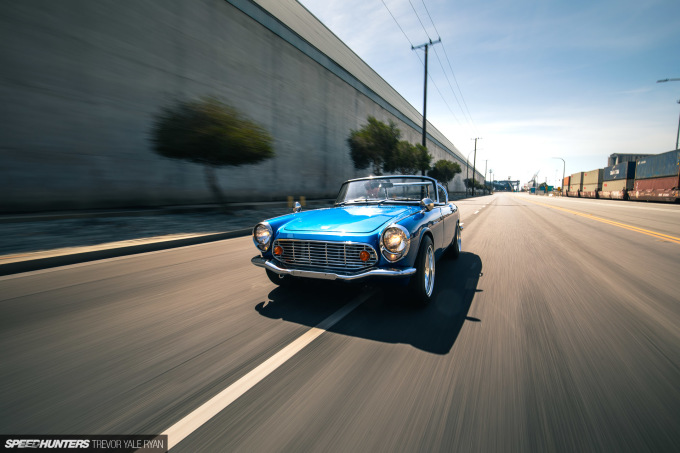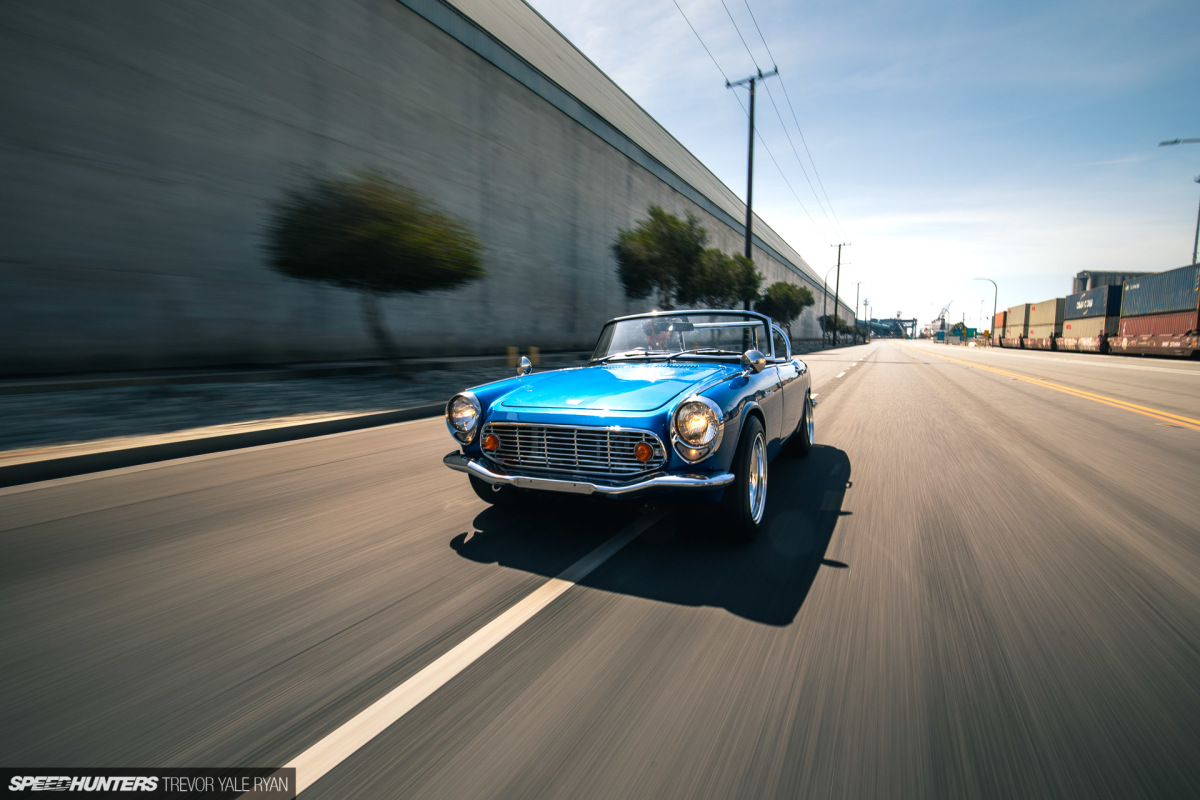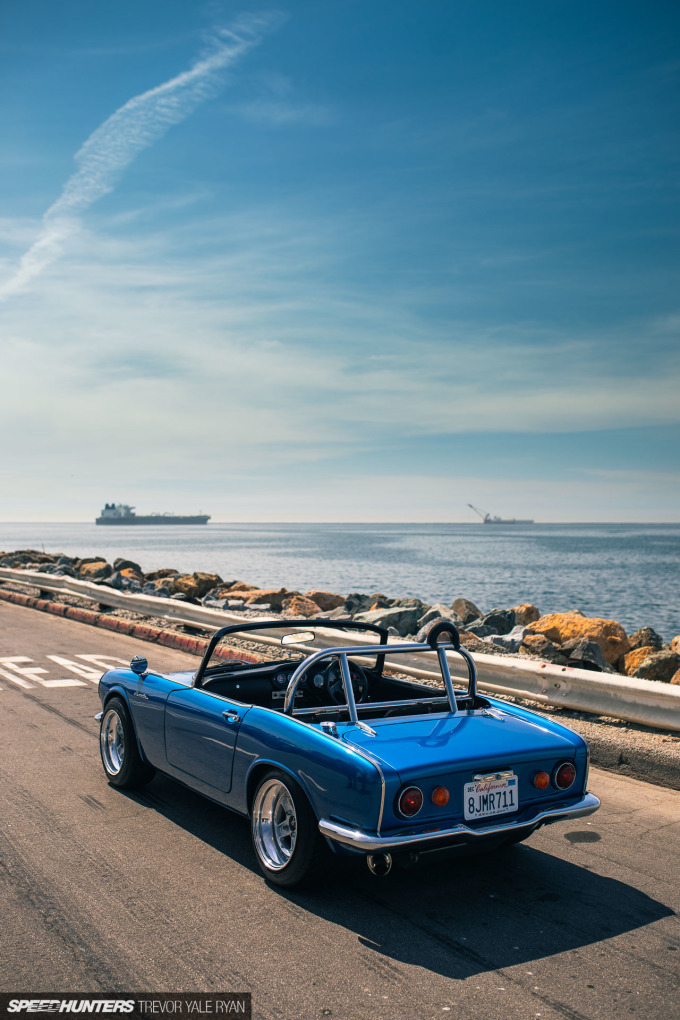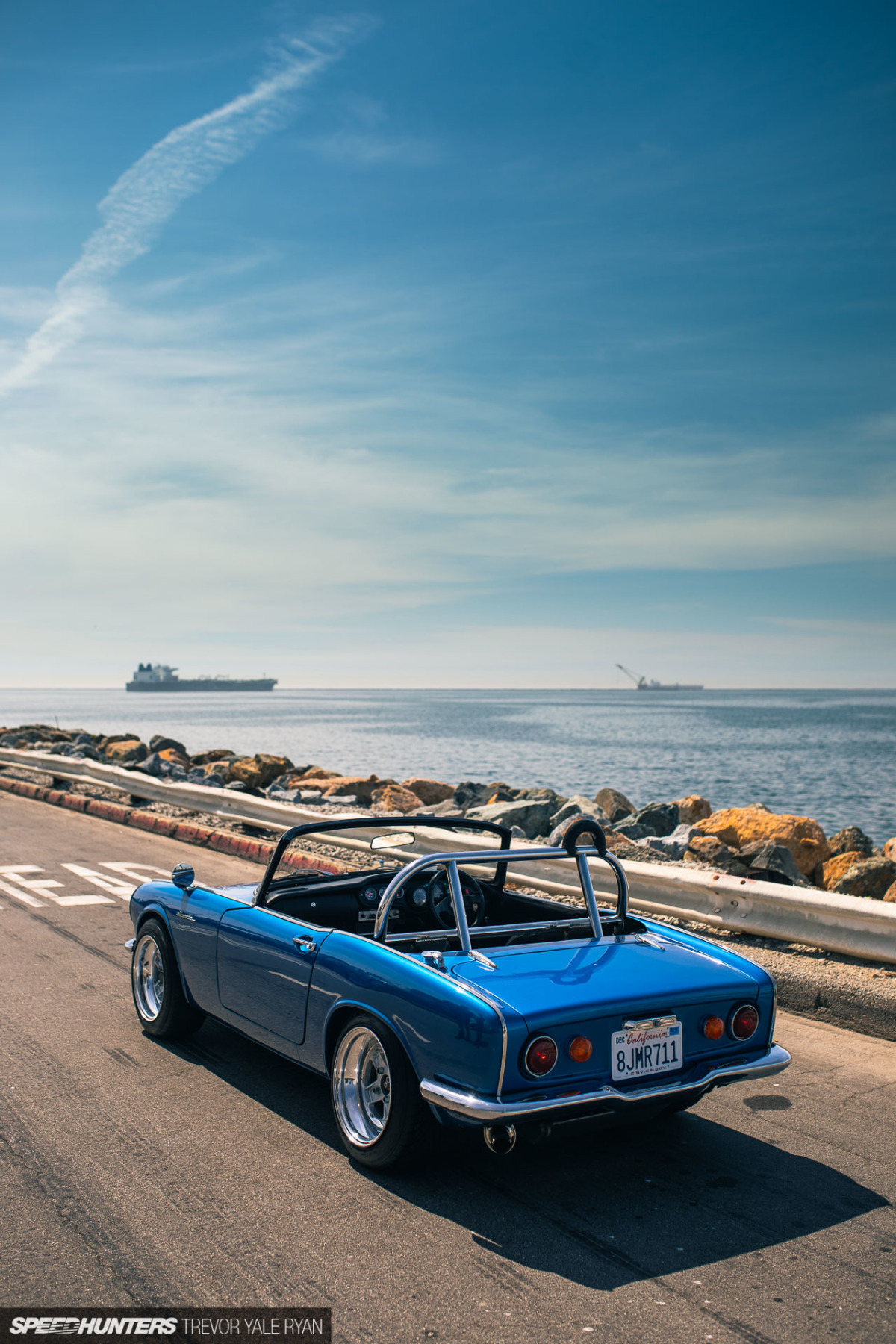 I literally gasped when I saw the little beaut. It was so clean, so tiny, and the car's deep shade of Subaru WR (World Rally) Blue gave us a chrome-twinkled smile back. We knew we were in luck if whatever was under its hood was as striking as its skin, and truly, it's actually what you can't see that makes this car so special.
Beauty & Poise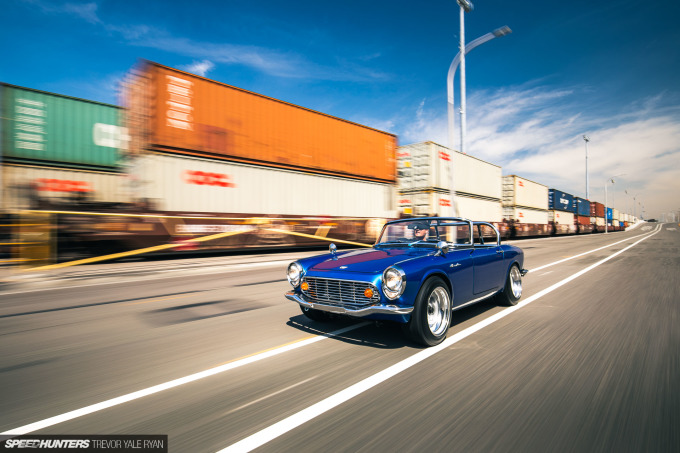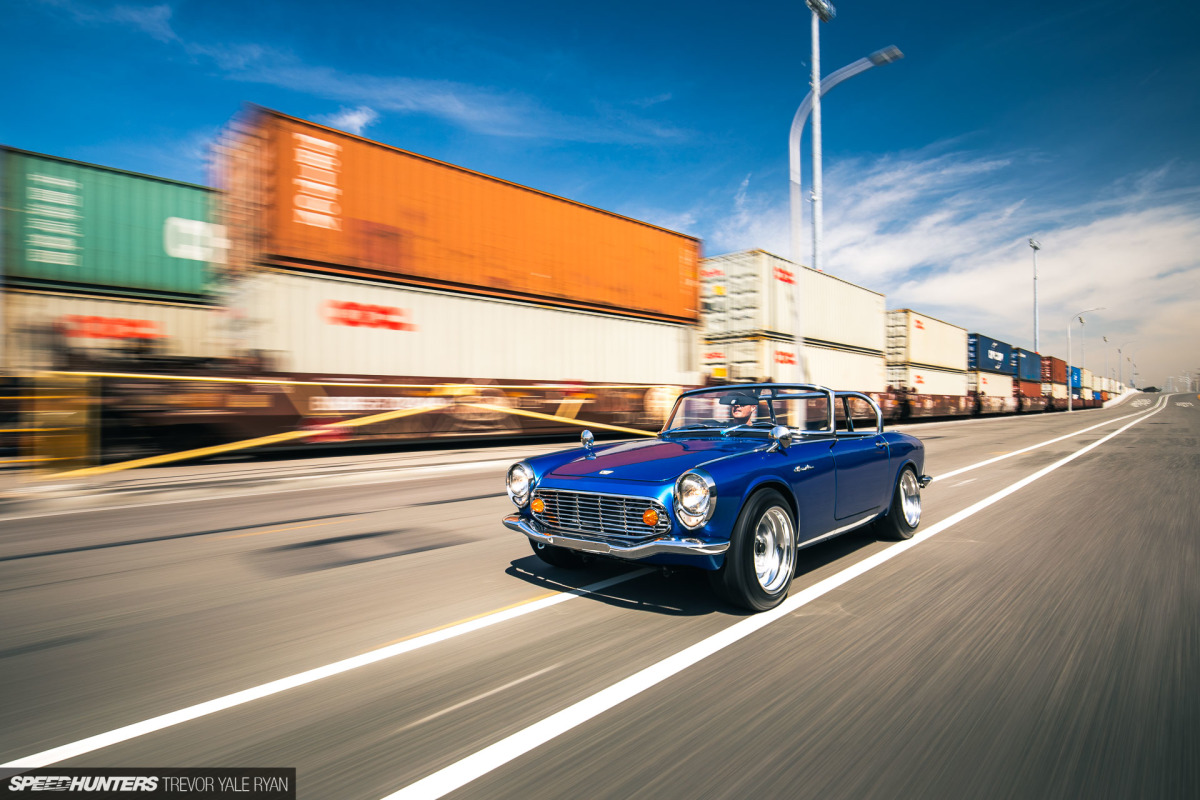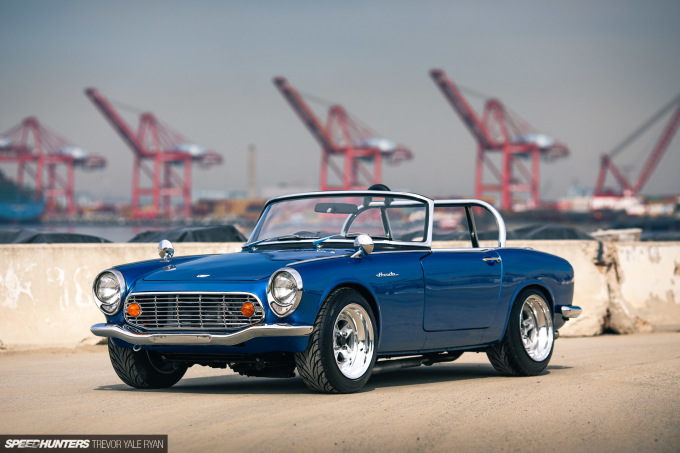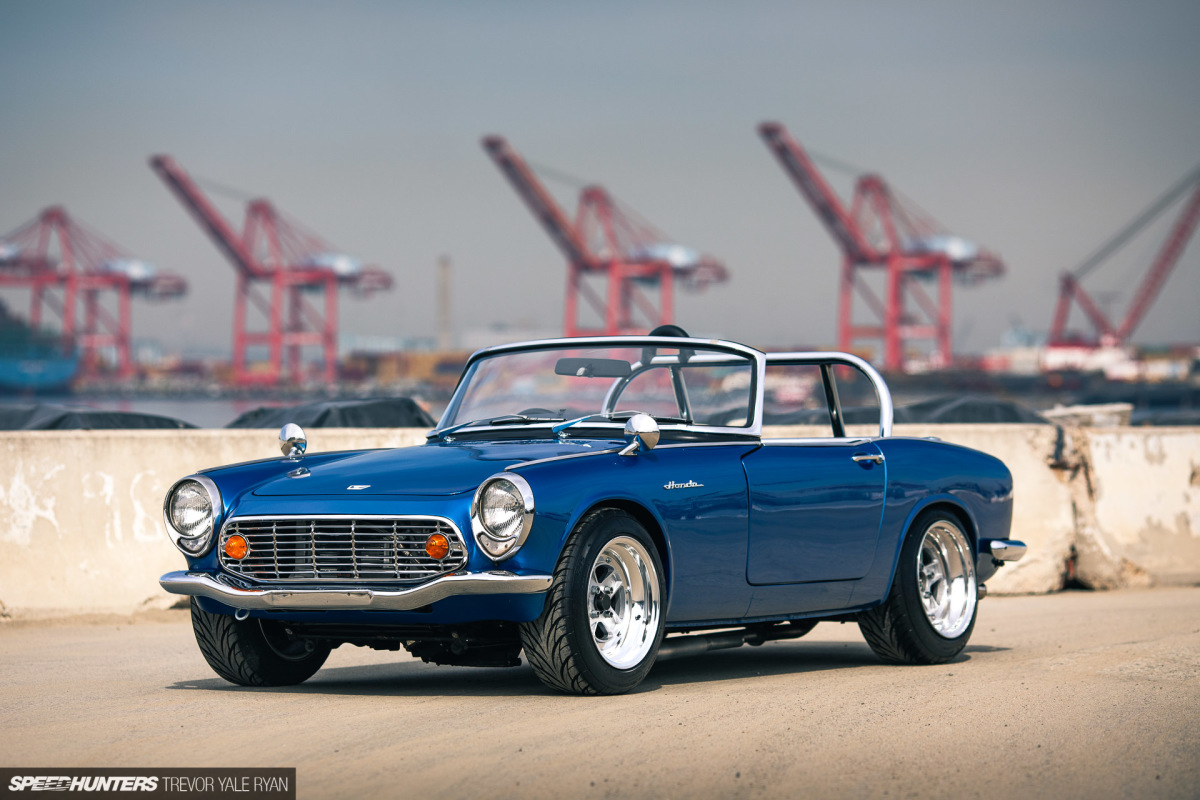 Johnny's 1965 Honda S600 Roadster is said to weigh in at just over 1,300lbs (590kgs) and has been rotisserie-restored. The refresh work alone is enough to grab your attention, but once you discover the way the Honda moves — and more what moves it — it's impossible to get over how cool this car is.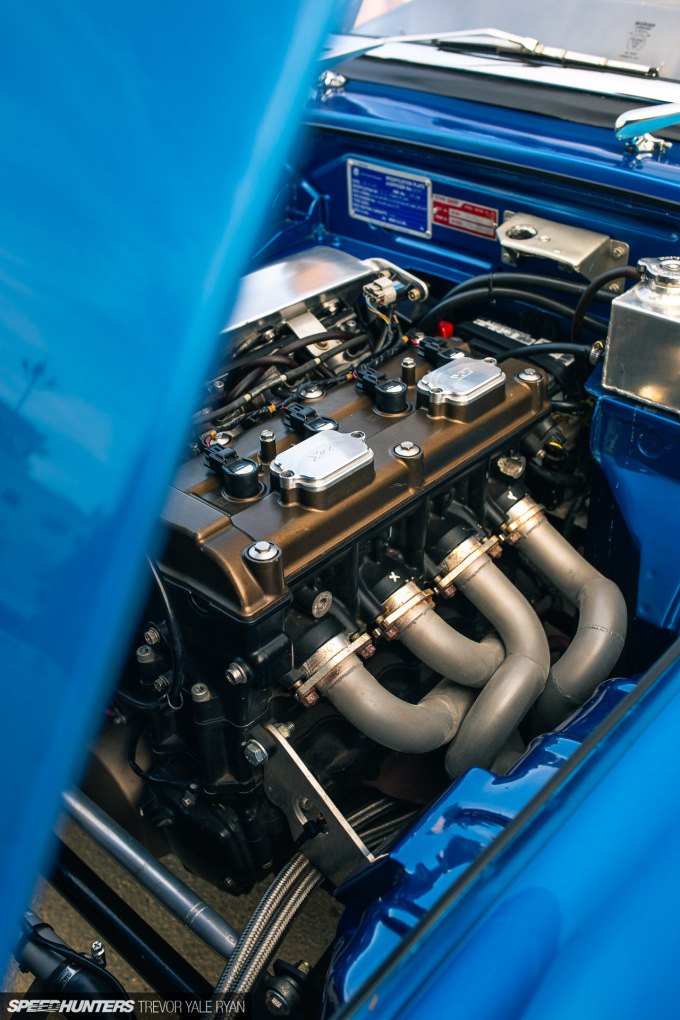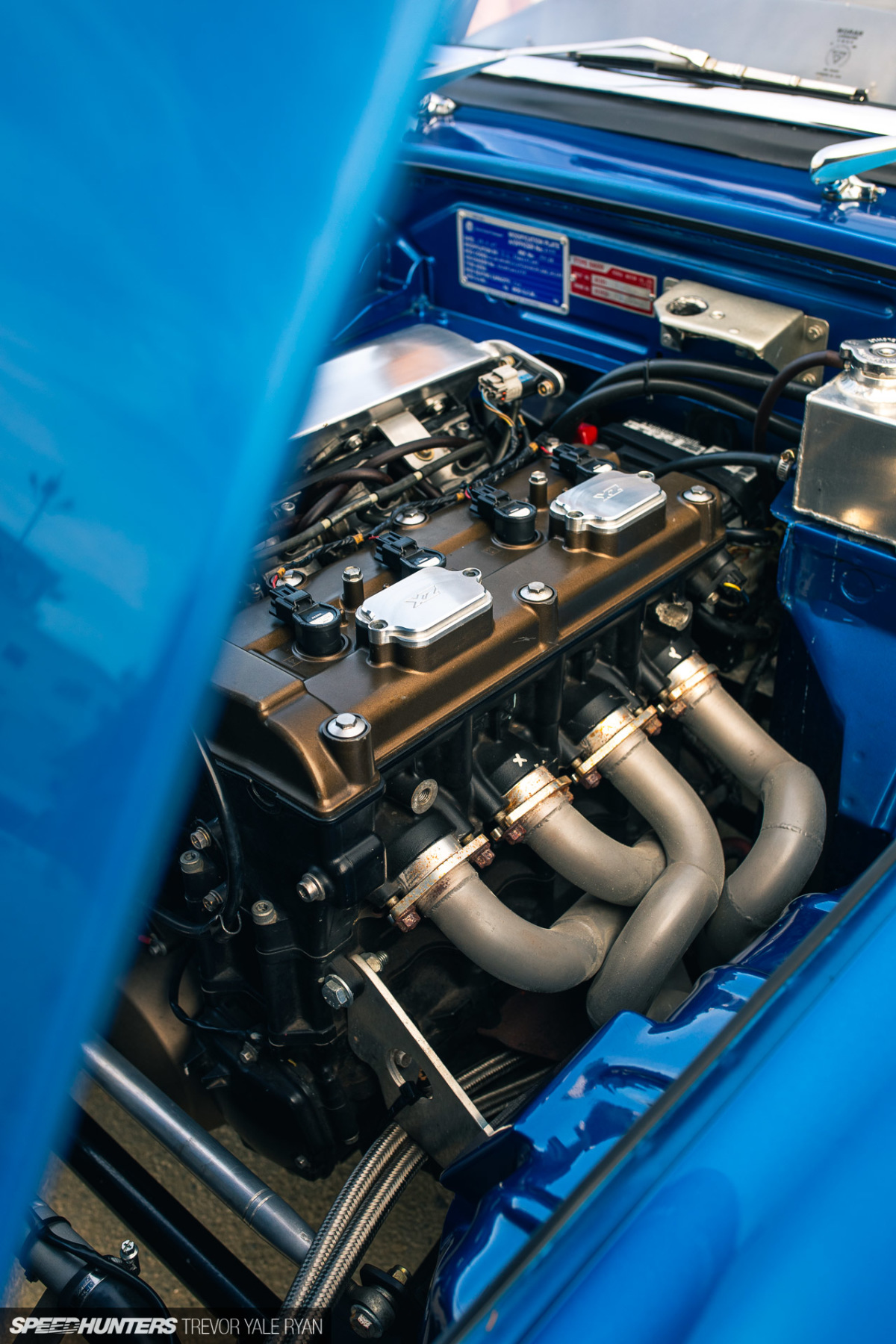 When Johnny lifted up the hood for us, a rather playful 1,200cc from a 2006 Kawasaki Ninja ZX-12R revealed itself. It's a water-cooled DOHC inline-four, just as the factory four-stroke was, but it doesn't take a genius to realize that this is where the similarities between this high-revving fuel-injected late-model engine and the stock 531cc/606cc engines end.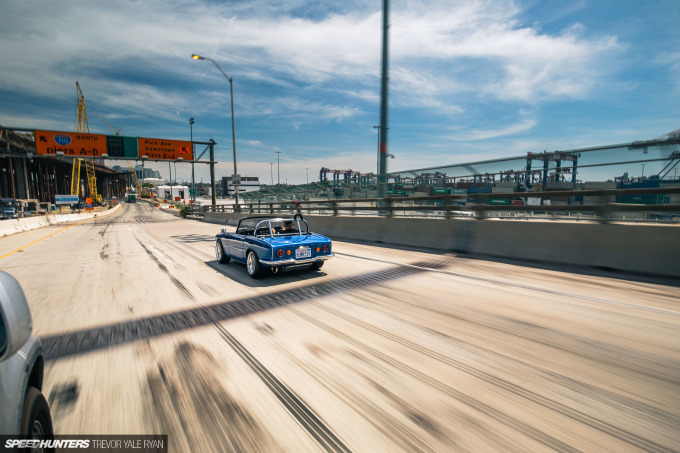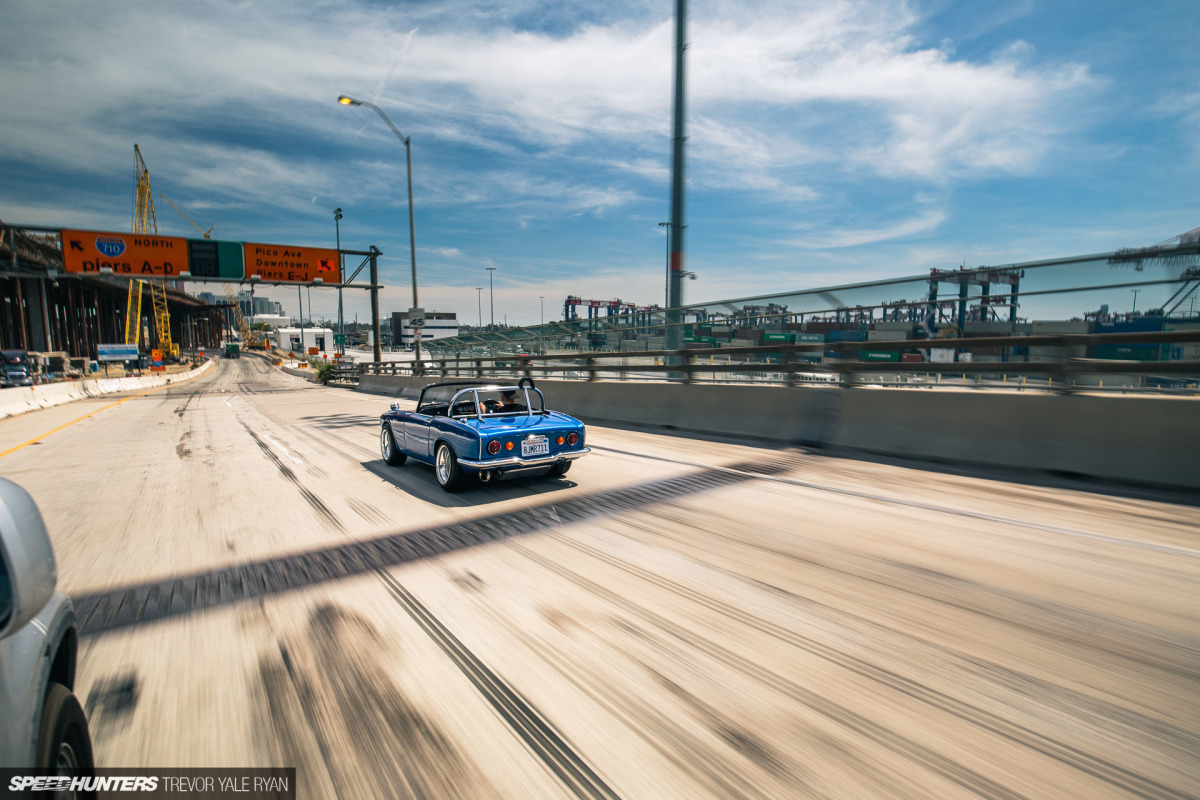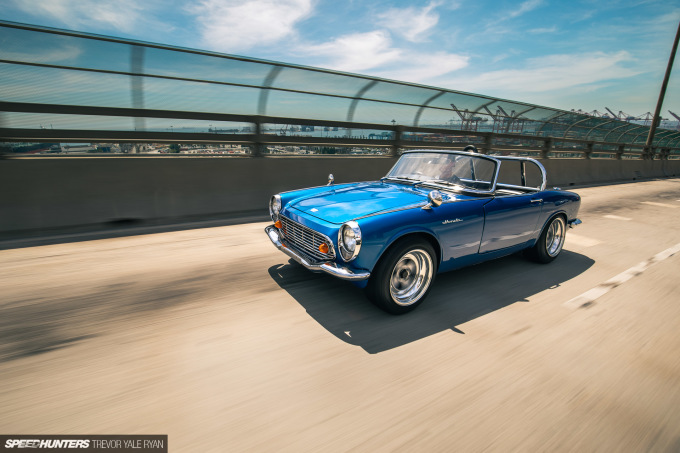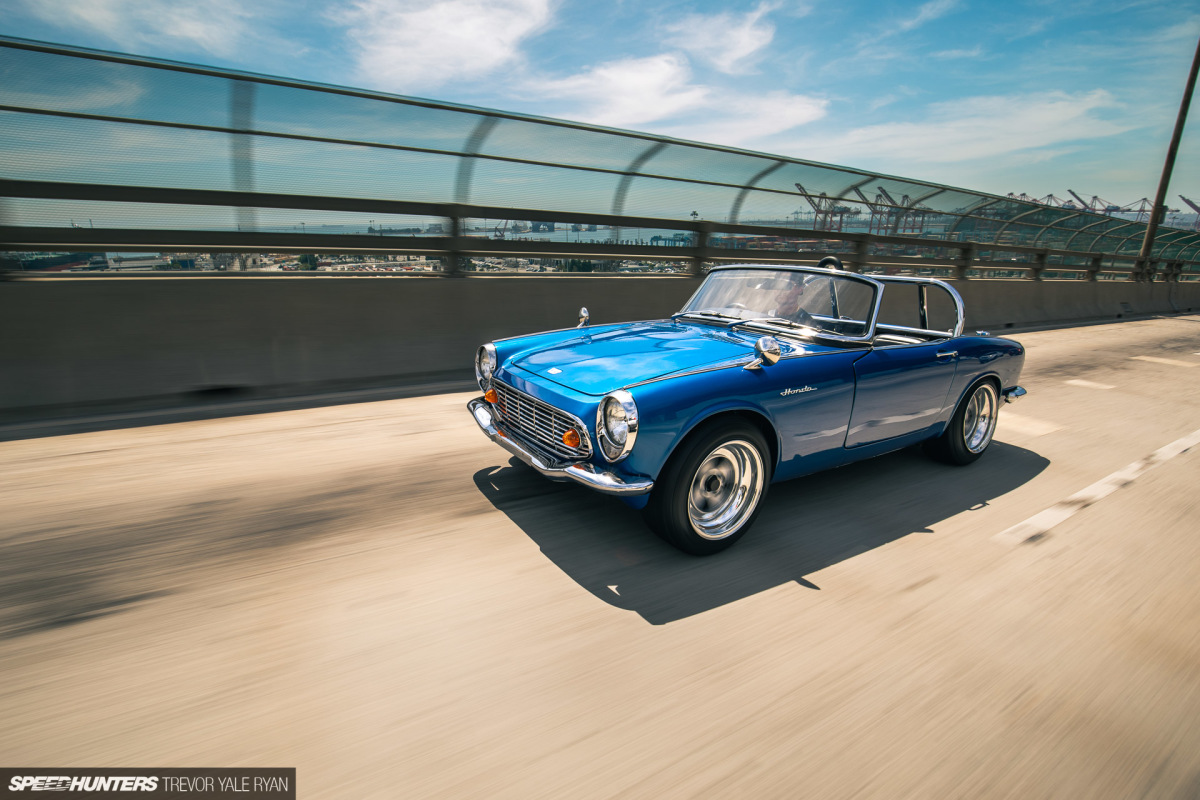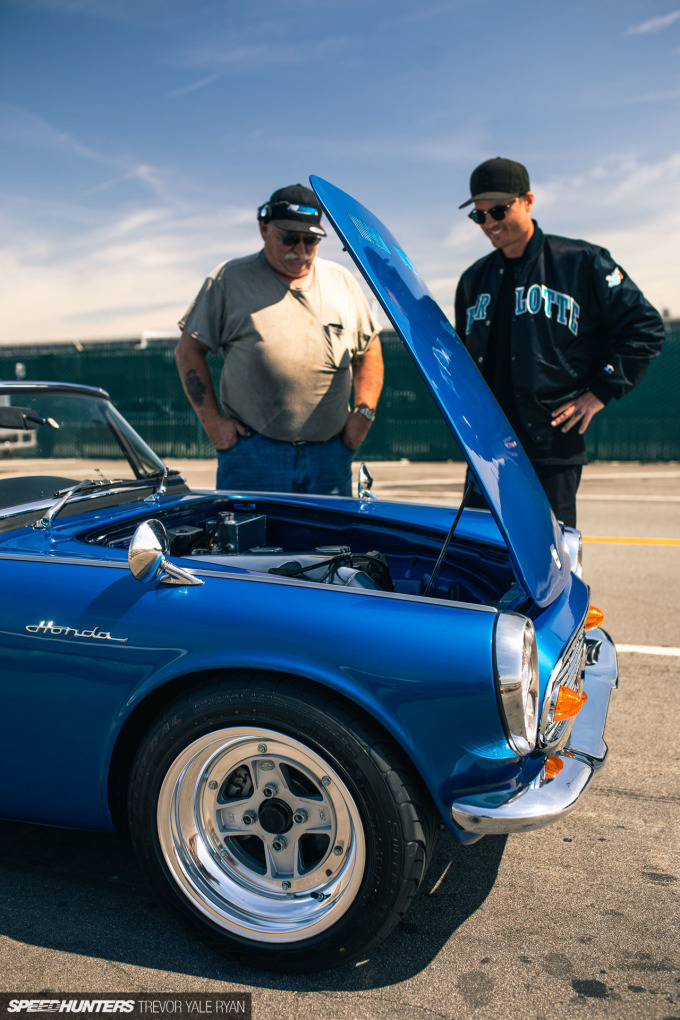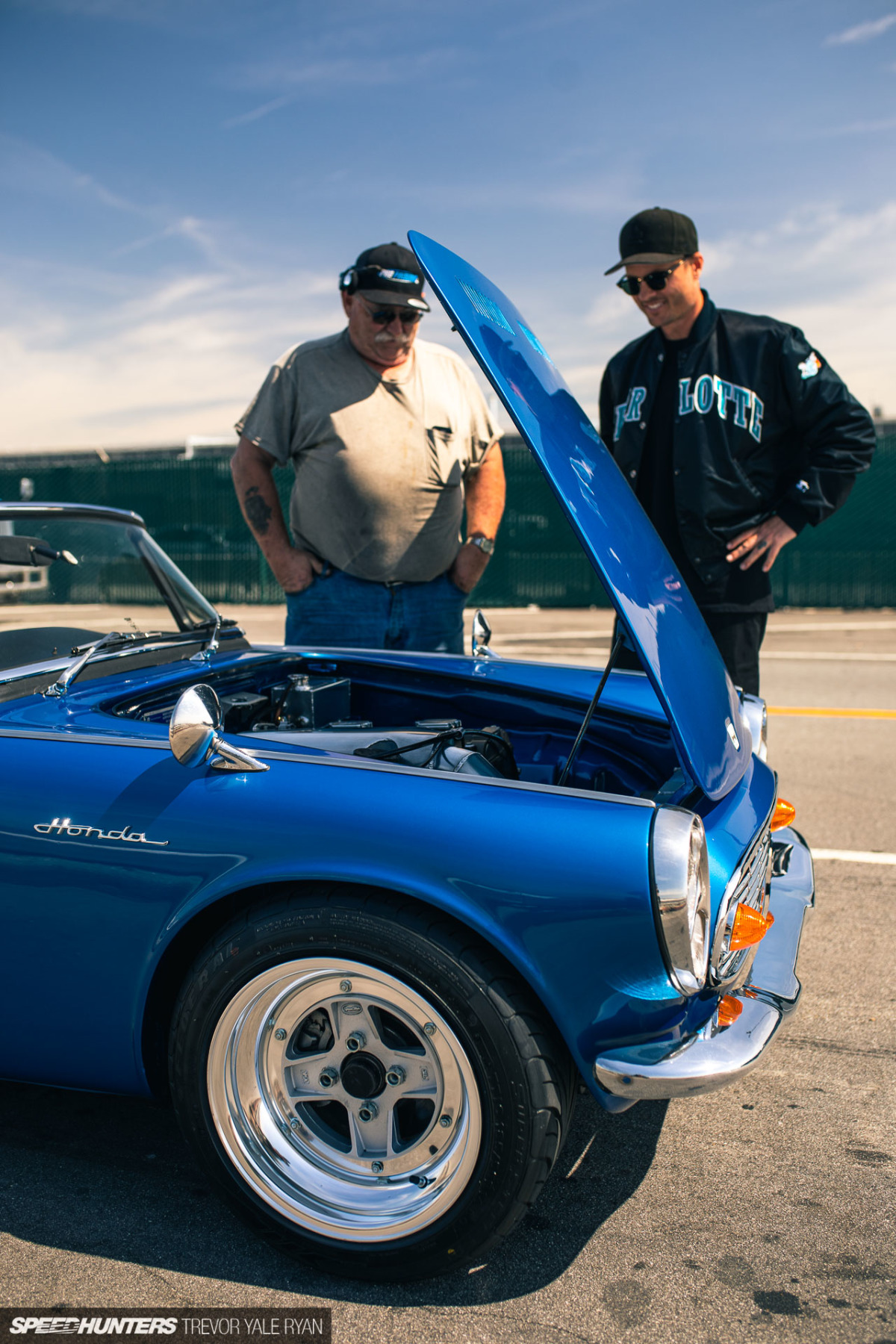 In 2006, the ZX-12R was the most powerful production bike around, generating 190 peak horsepower. That's triple what the S600 came with, and yet with the compact motorcycle power plant the engine bay is still neat and tidy. The air box is a tight fit but overall there's still ample space, which has been used very effectively. Heading out back, a Gonzo's ceramic-coated header feeds a tailor-made exhaust, which provides a great sound and allows the engine to breath freely.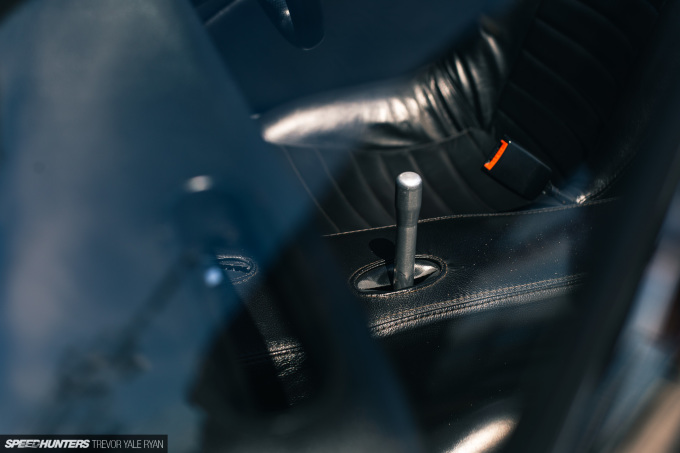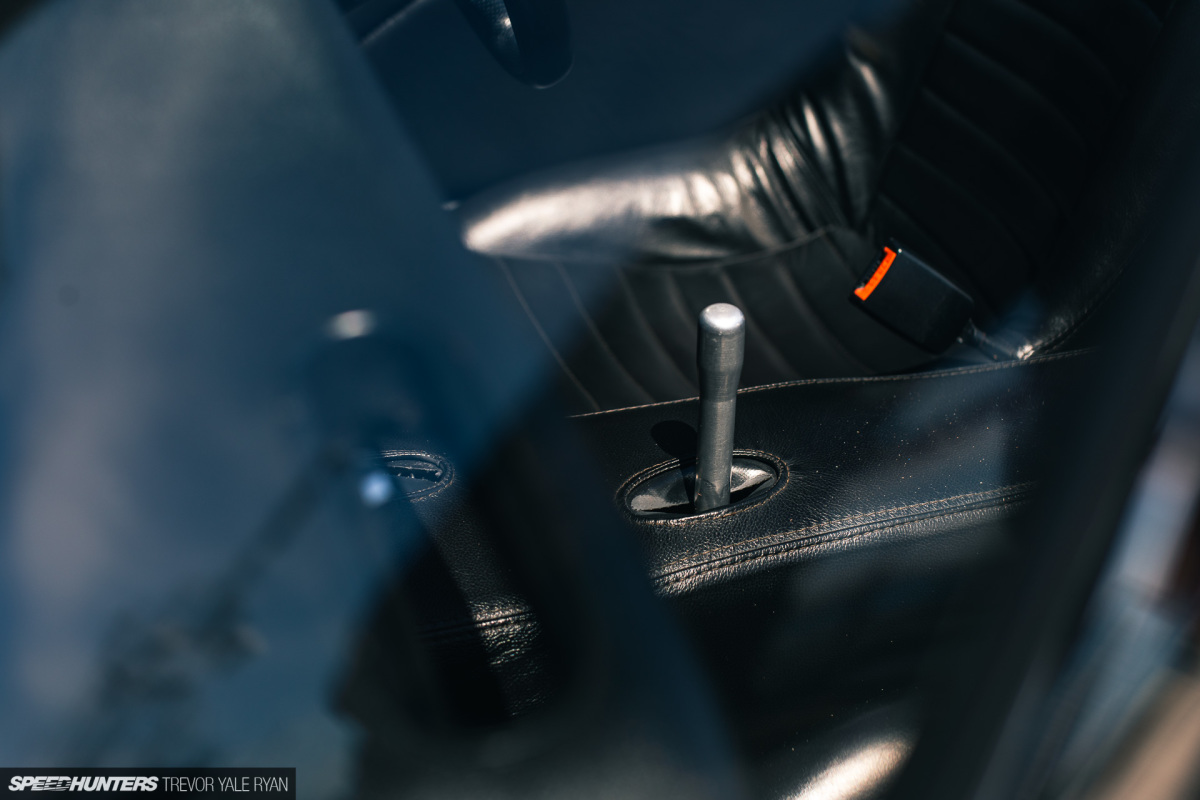 Also underneath, the chain drive has been ditched and the Ninja's 6-speed sequential gearbox is able to fully utilize the engine's 13,000rpm redline. There is a clutch, but you don't need it for shifts at speed, which makes the car feel an absolute terror from the passenger seat.
Power delivery through two wheels still yields very little traction with the street tires Johnny was running, but he's confident with some sticky rubber the 0-60mph time would be well south of five seconds. A neat bit of trivia is that this S600 would pace its ultimate successor, the S2000, which had a 4.9-second 0-60mph time. The 55-year-old car certainly felt much faster than its modern counterpart riding shotgun, though, and it gets even better once the S600 starts taking some curves.
Cat-Like Reflexes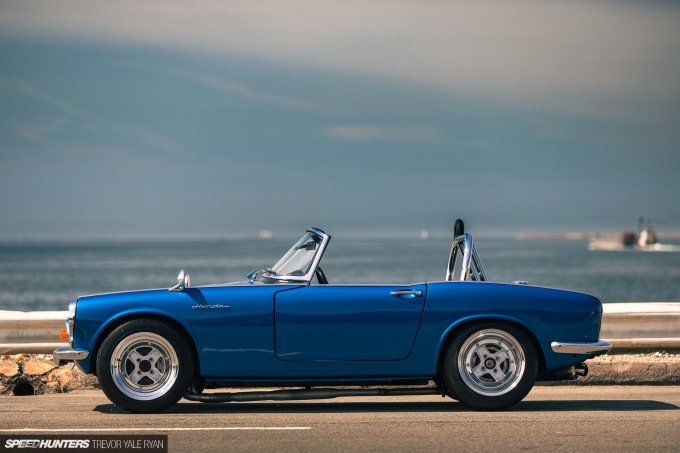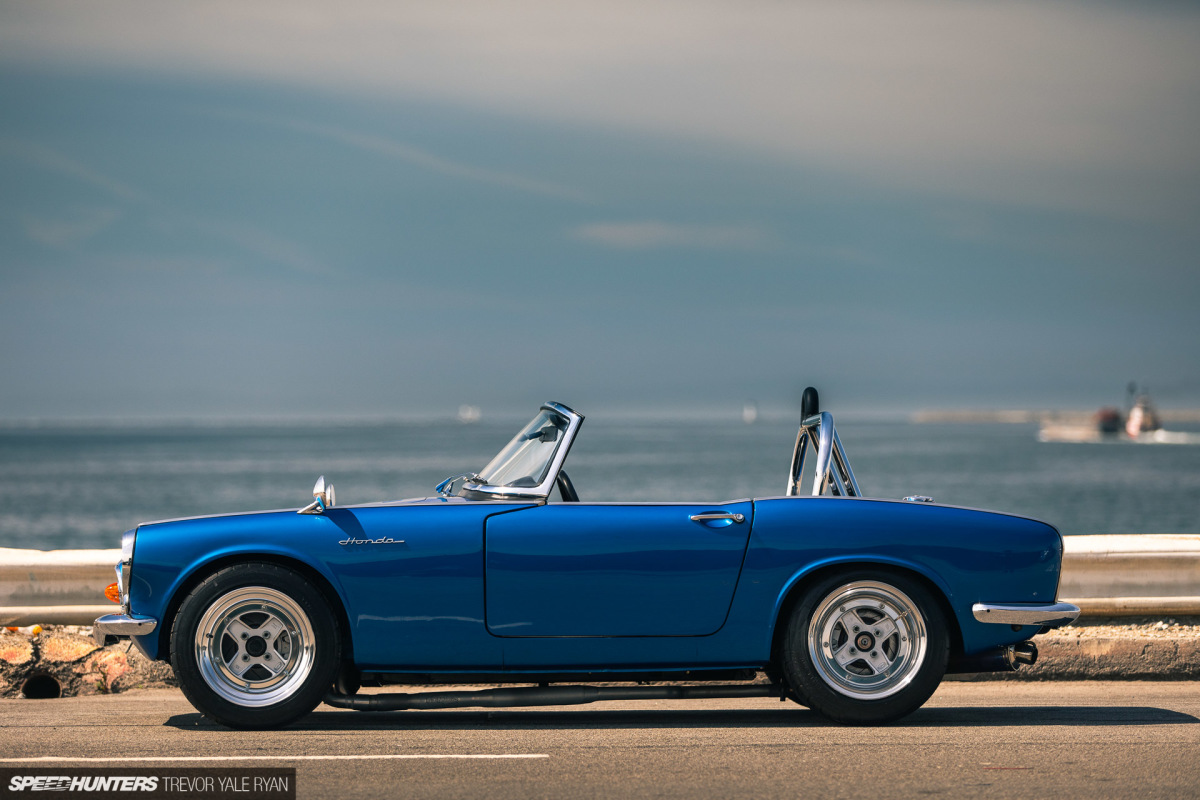 So how does it all fit together and work so well? The body is arranged on a modified Miata MX5 subframe, and since the S600 is so small and light it makes you feel incredibly planted at just about any speed.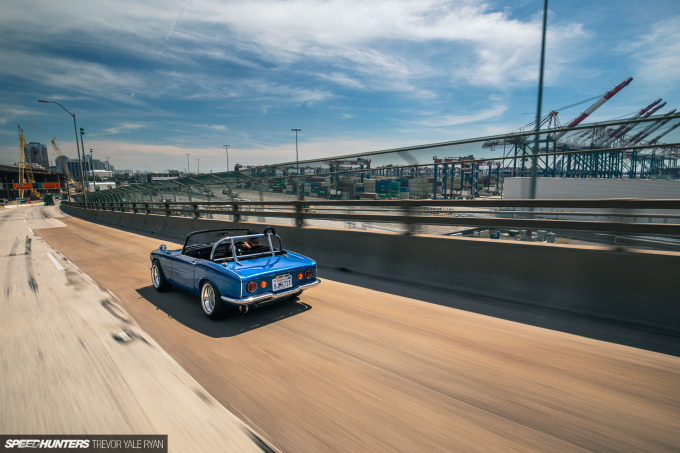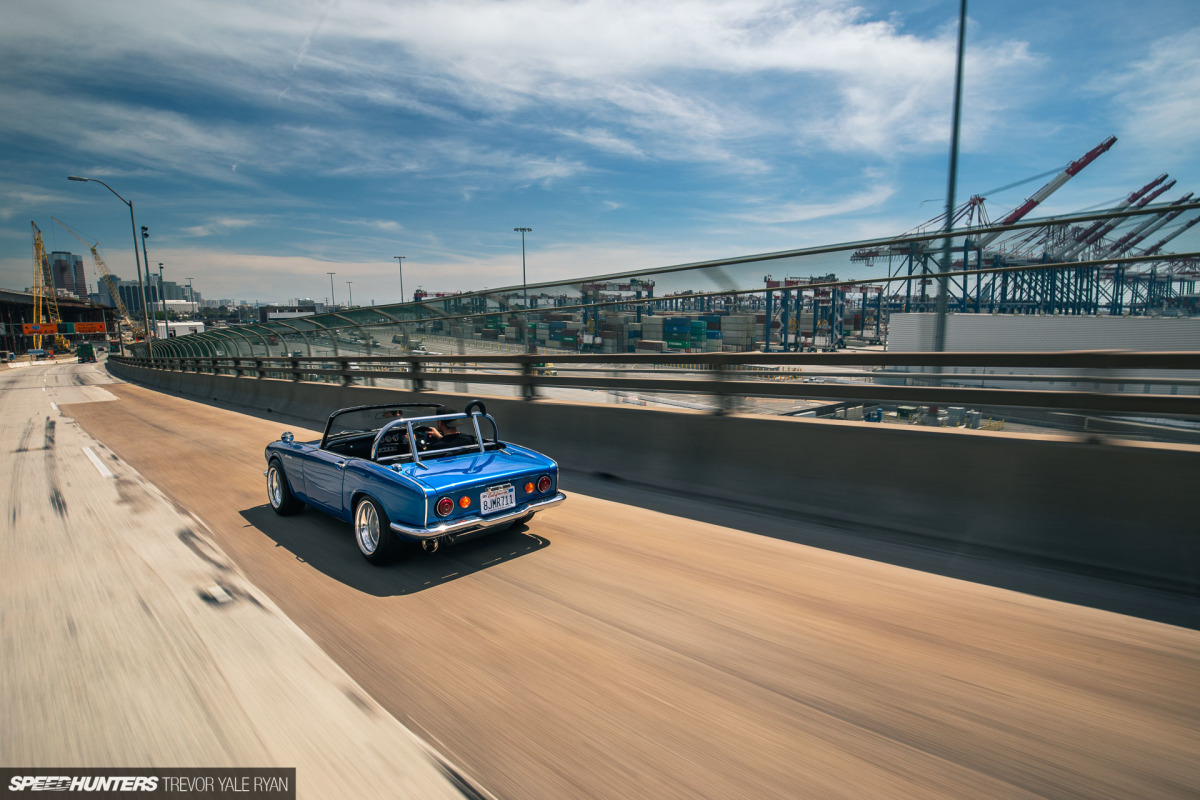 The geometry is extremely well-developed and proven so it's predictable on the limit, too, despite the subframes being cleverly narrowed. As some of you might remember, my (very close) colleague Trevor had a Miata a couple of years ago and, despite the little Japanese car's lack of horsepower, its cornering ability made it totally thrilling. Add a good 50 horsepower, subtract nearly 1,000 pounds, and the result is potent.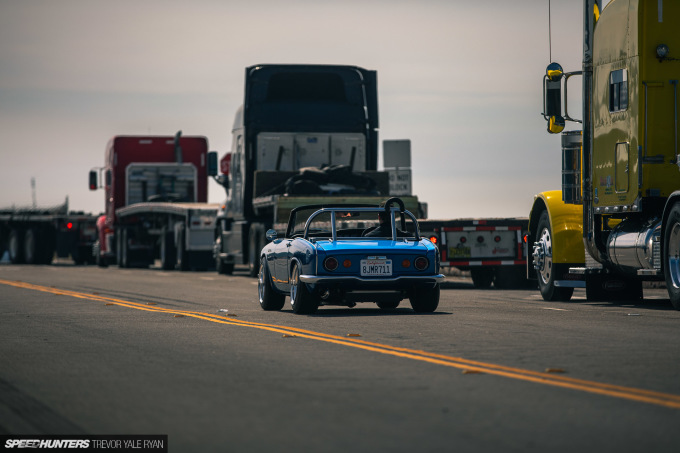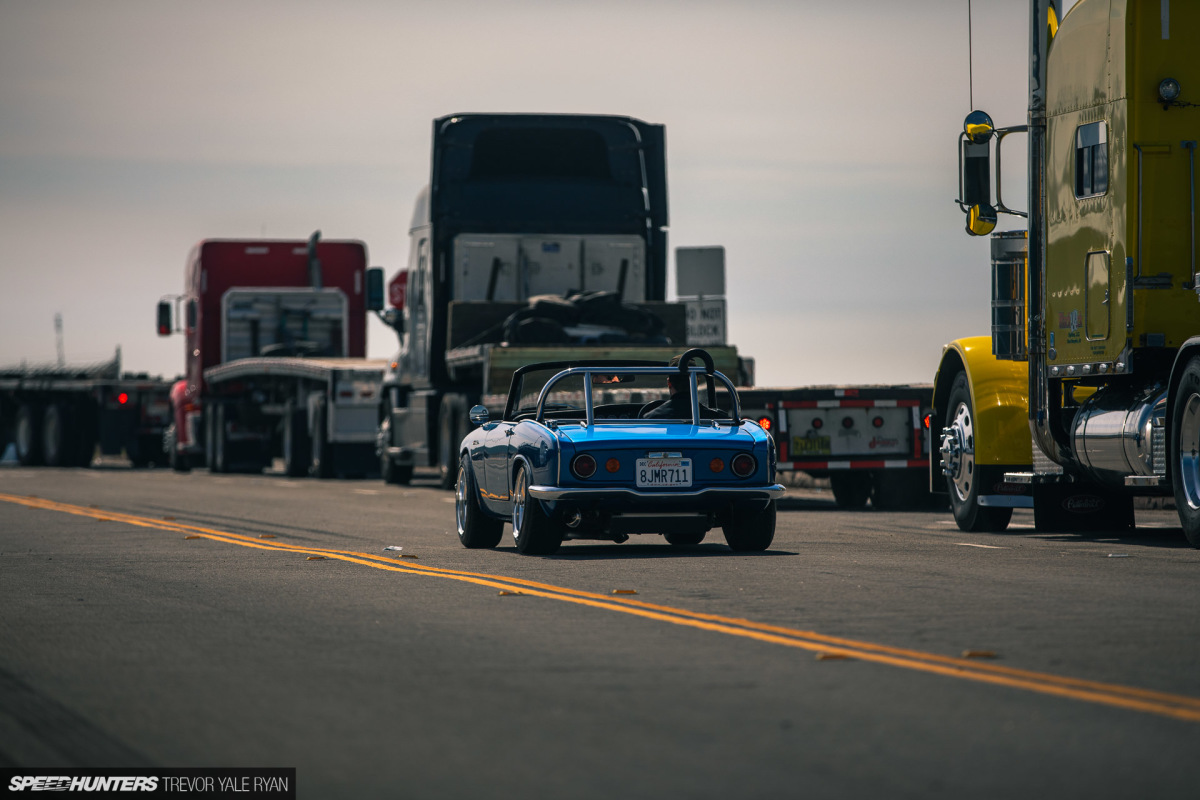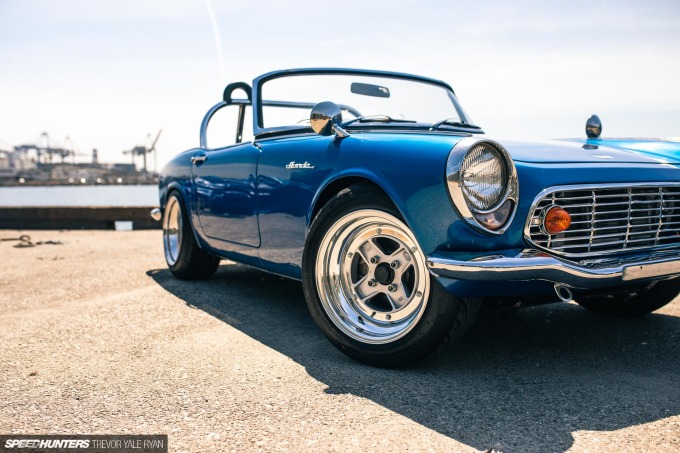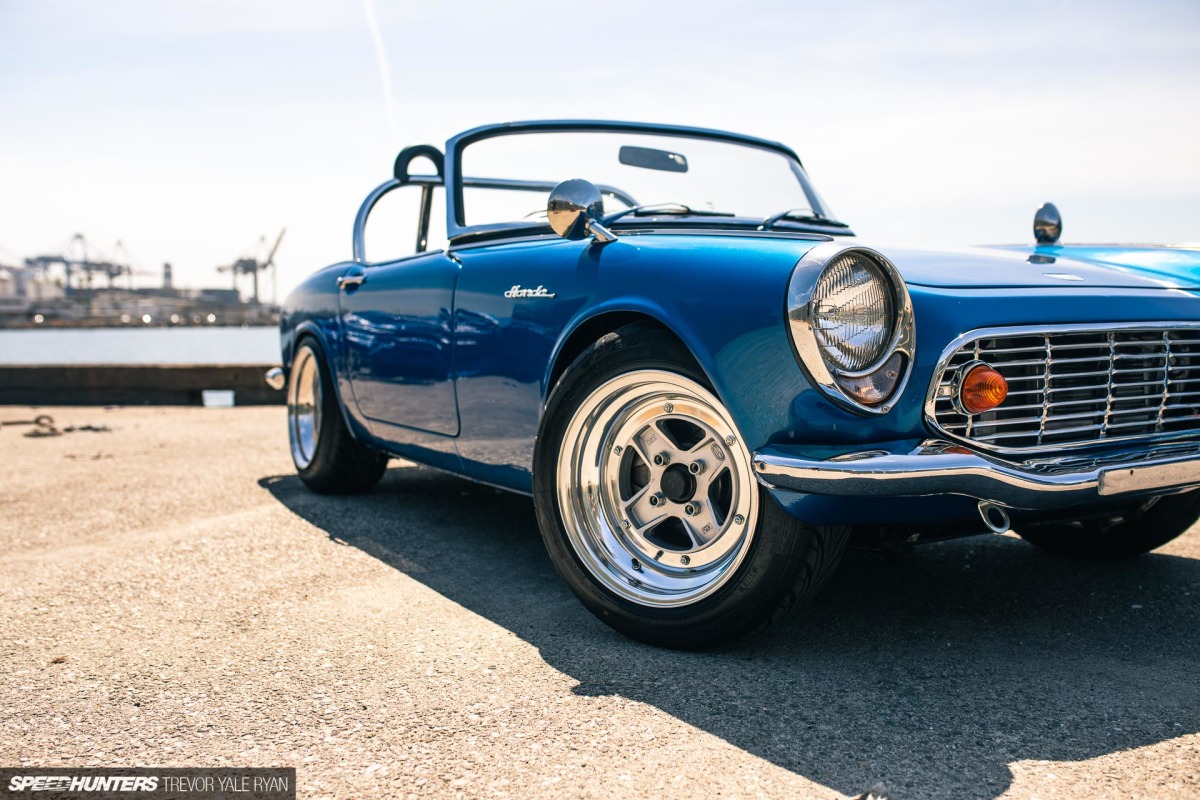 GAB adjustable coilovers have been used to dial in the little Honda, which maintains a usable ride height that still looks fantastic. By carrying over the Miata subframe and suspension, Johnny is also able to take advantage of modern four-wheel disc brakes as well as a Miata limited-slip differential with a 4.3:1 final drive.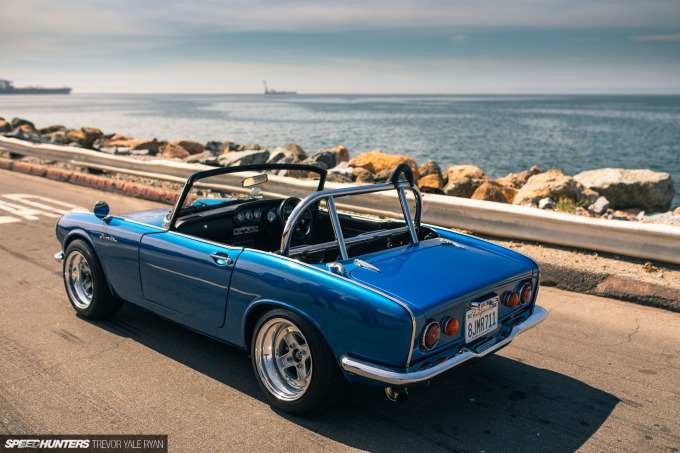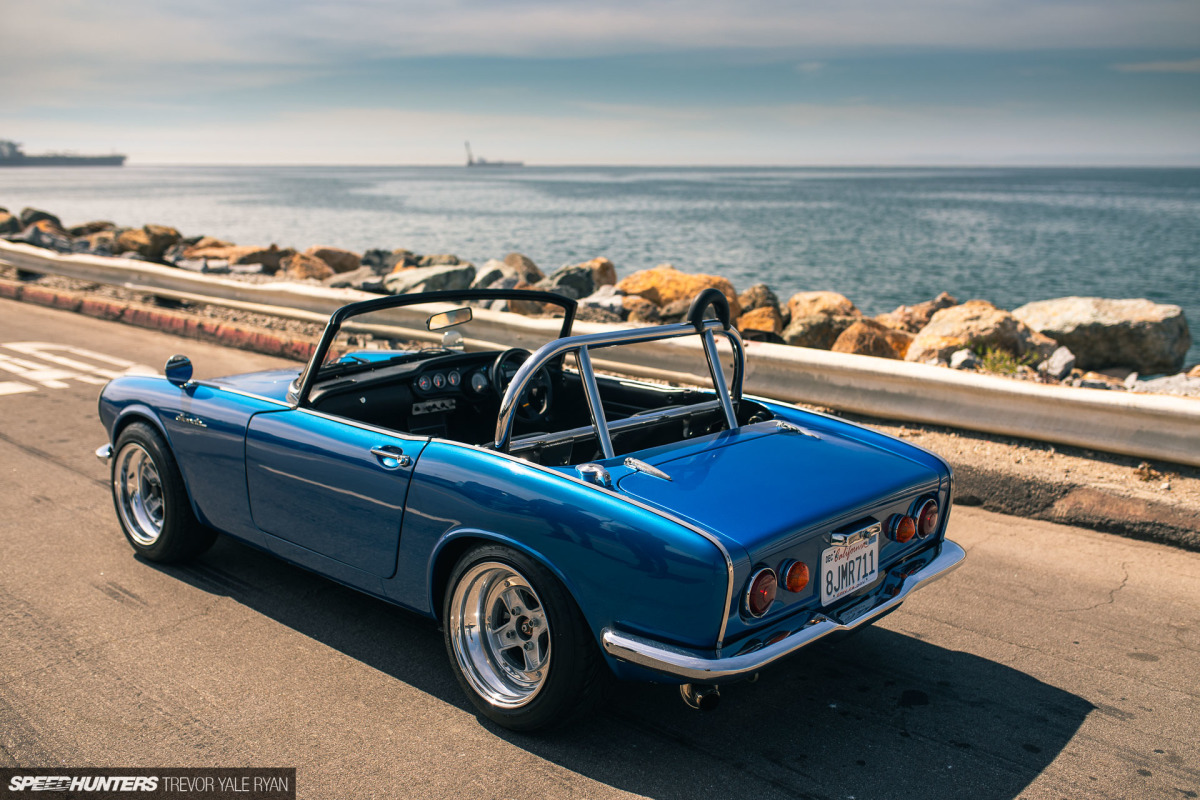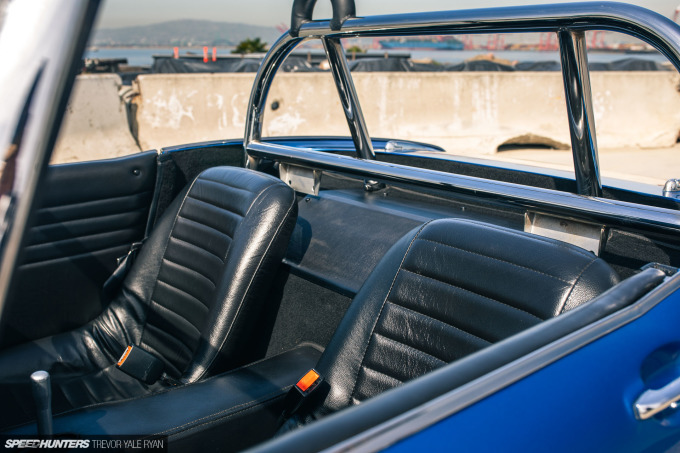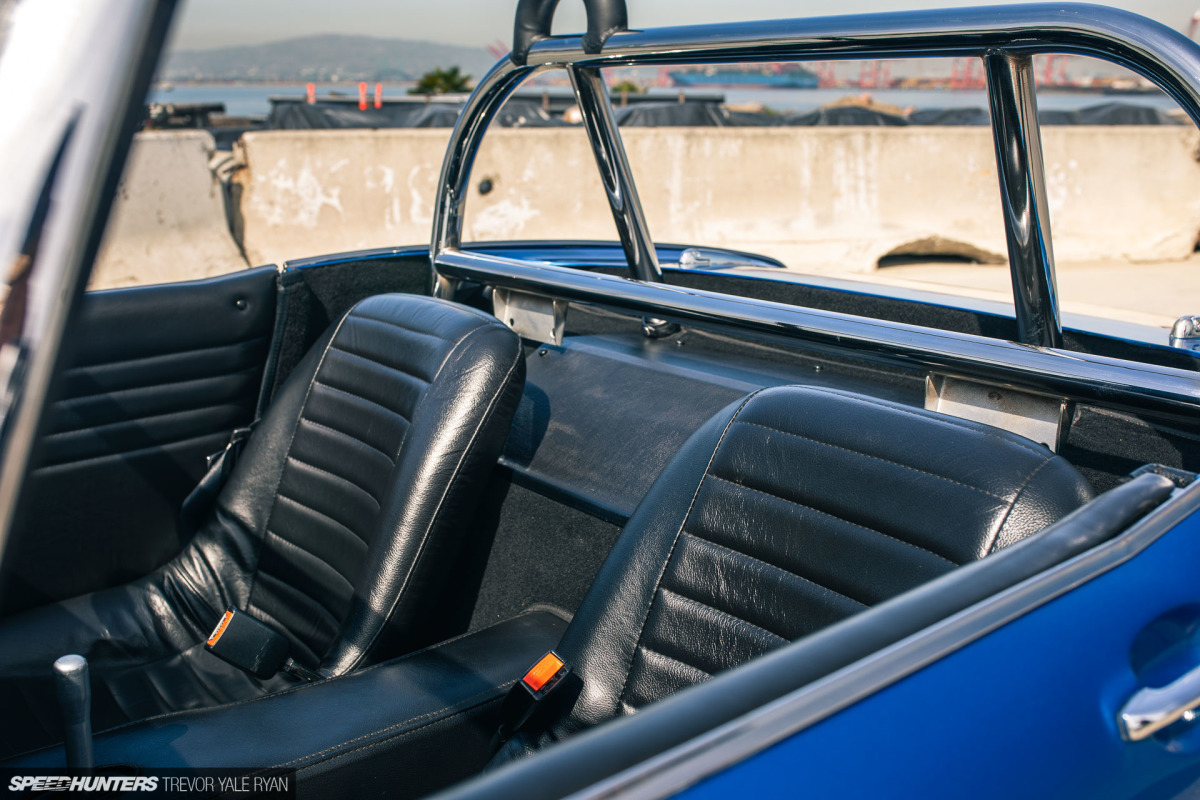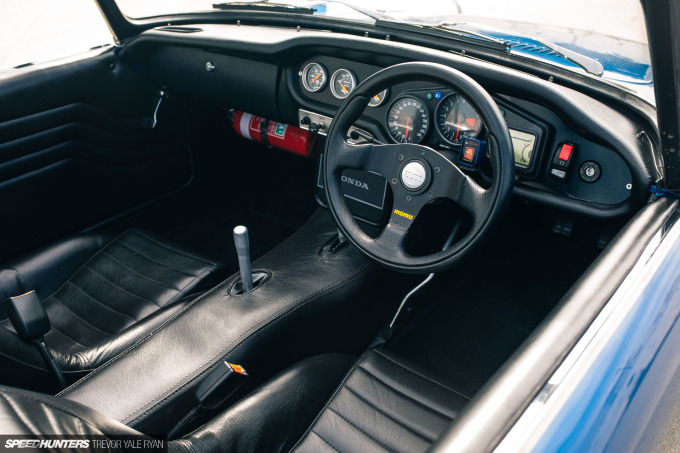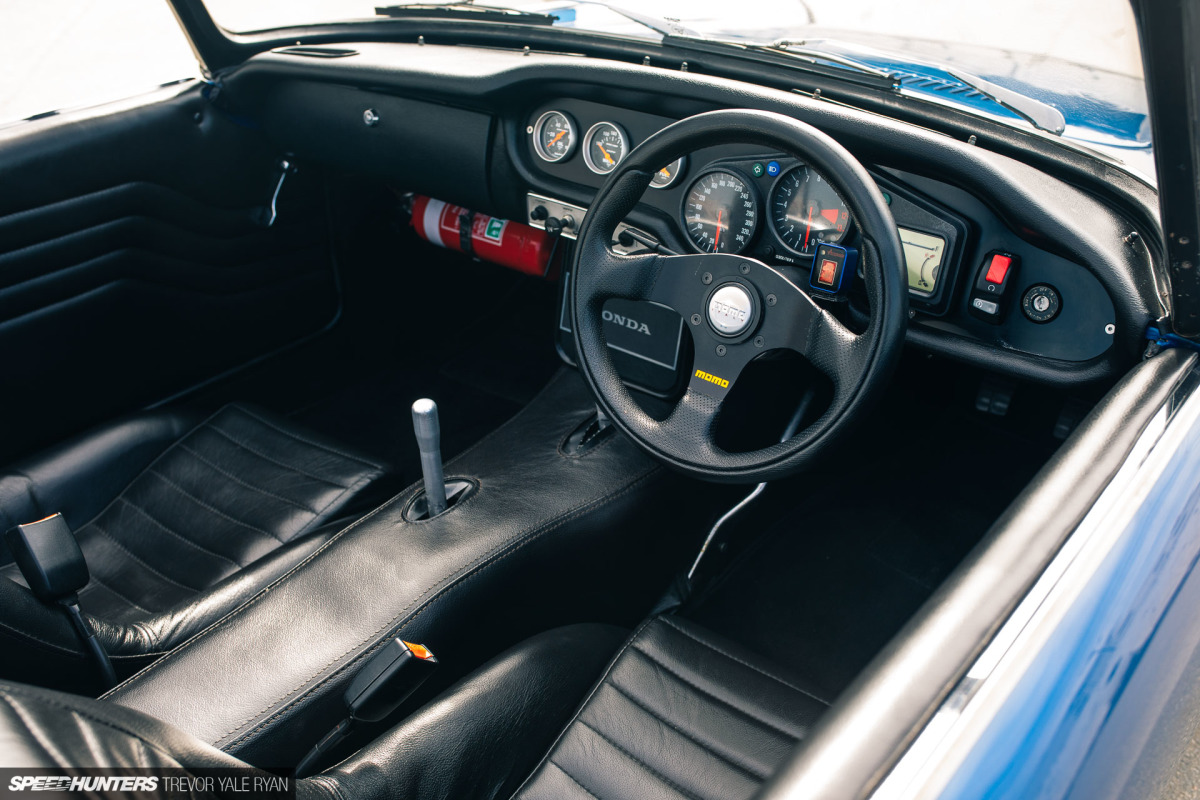 The inside of this little car is understated but certainly not to be ignored, either. Tasteful black leather upholstery coats the entire cabin. Stylish Cobra low-back bucket seats, a classy Momo wheel, and that glorious sequential shifter setup greet whatever daring driver jumps in. Nearly all the details in the cockpit appear as if they could be factory, but of course several alterations have been made with style and utility in mind.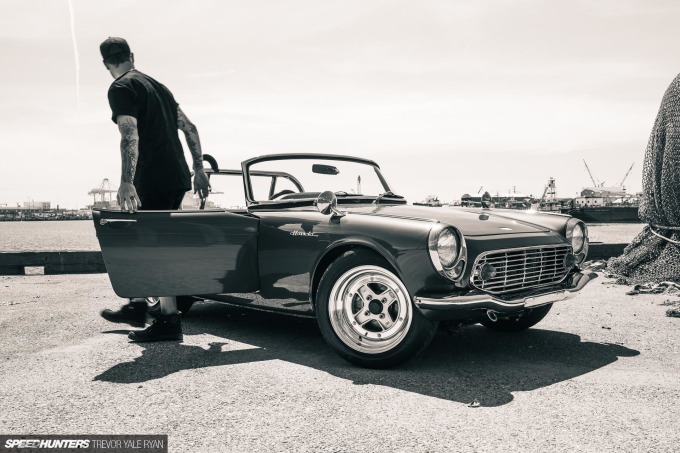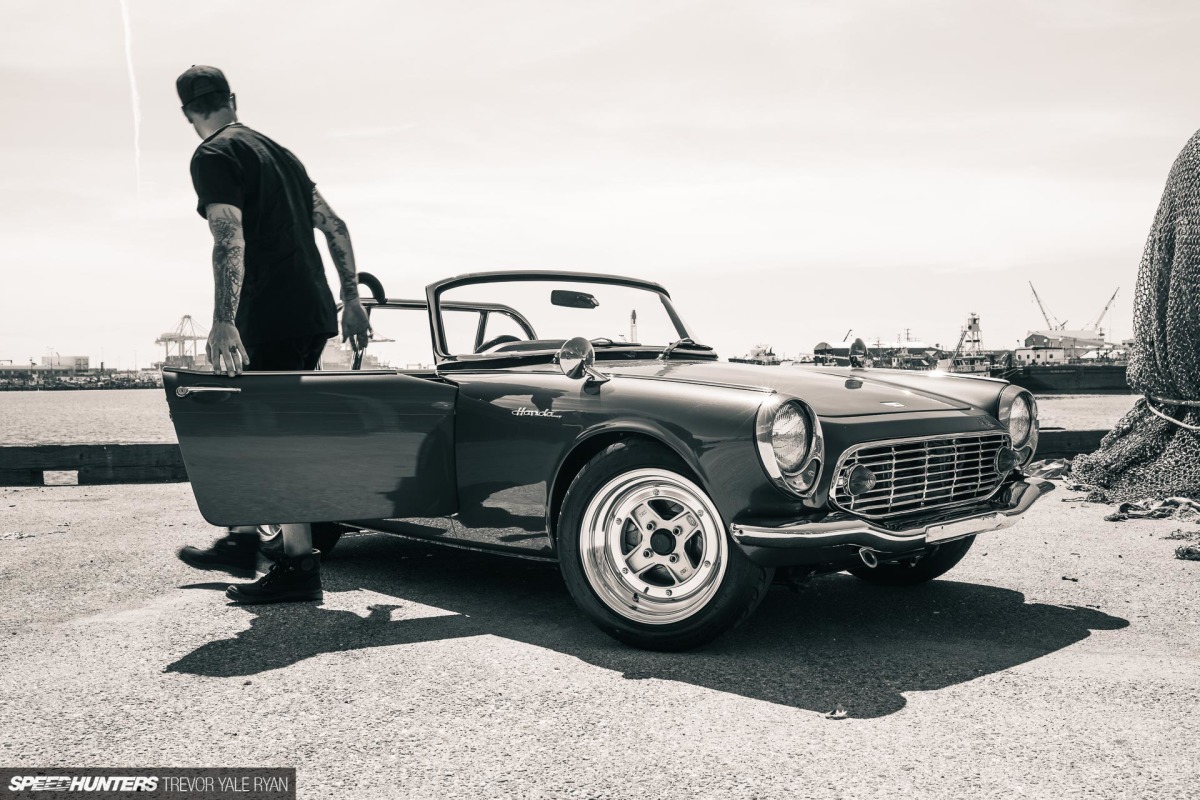 Unobtrusive, simple, clean, contemporary are all words that might not come to mind when you think about a modified car, but this S600 shows that a car doesn't need to be aesthetically loud to be special.
Decades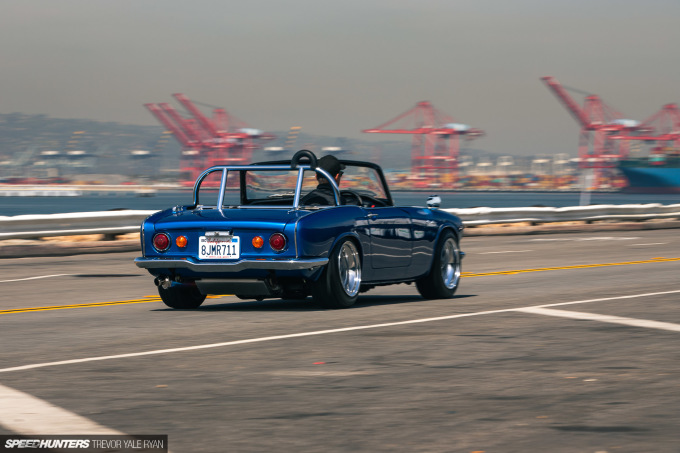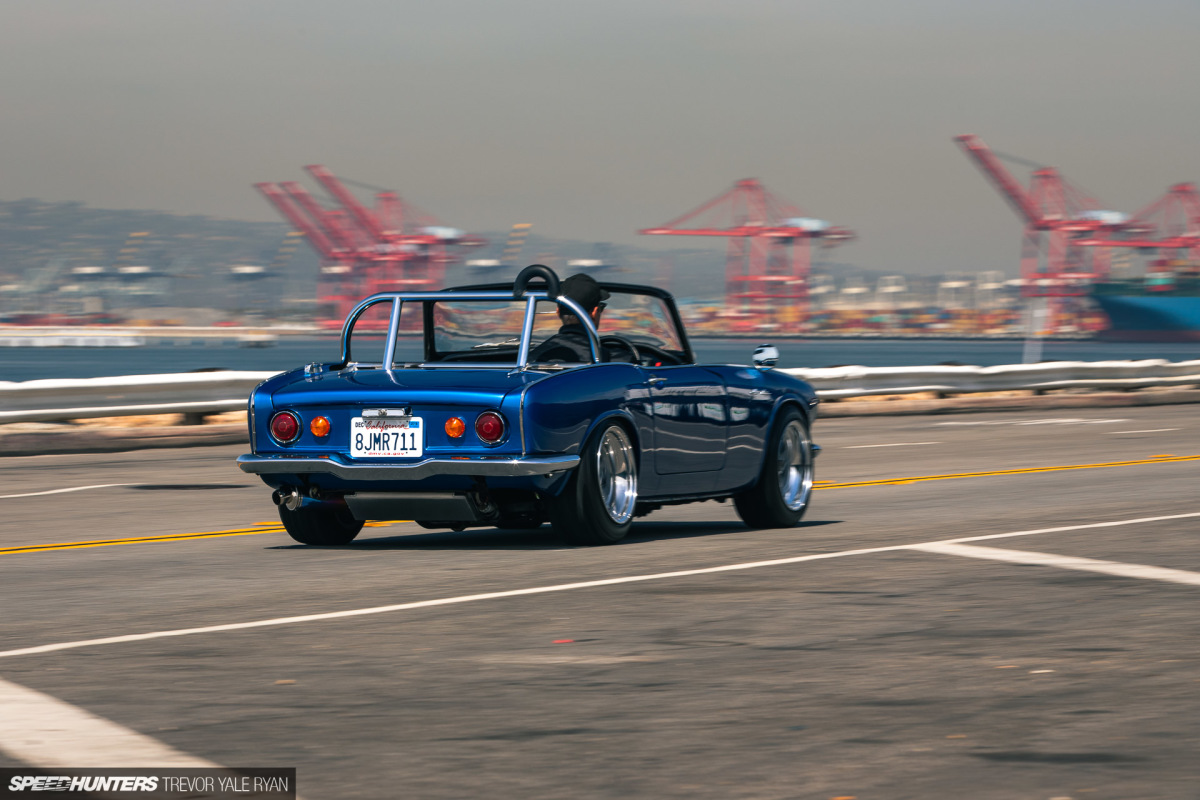 Thinking back on the S600, the way it felt and the package as a whole, I really would love to see this car up against an S2000 on track or side-by-side on a canyon backroad. It's really neat that the ethos of Honda's sports car carried over after a span of five-plus decades, and that despite their age gap the experience is strikingly similar. Not too many old cars can compete with their grandkids, but — if you haven't figured it out yet — this elderly machine is different.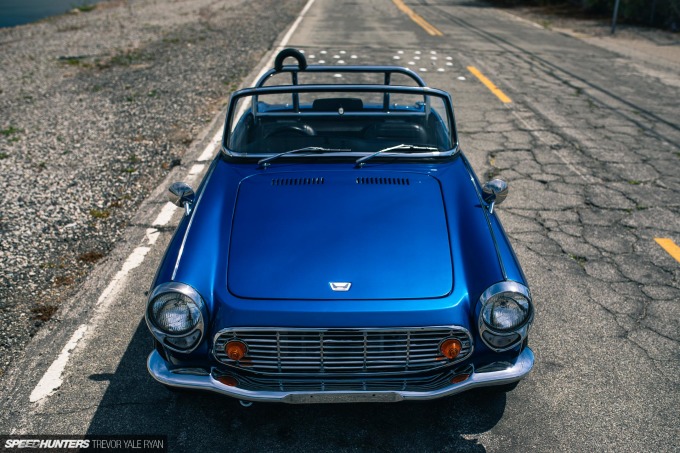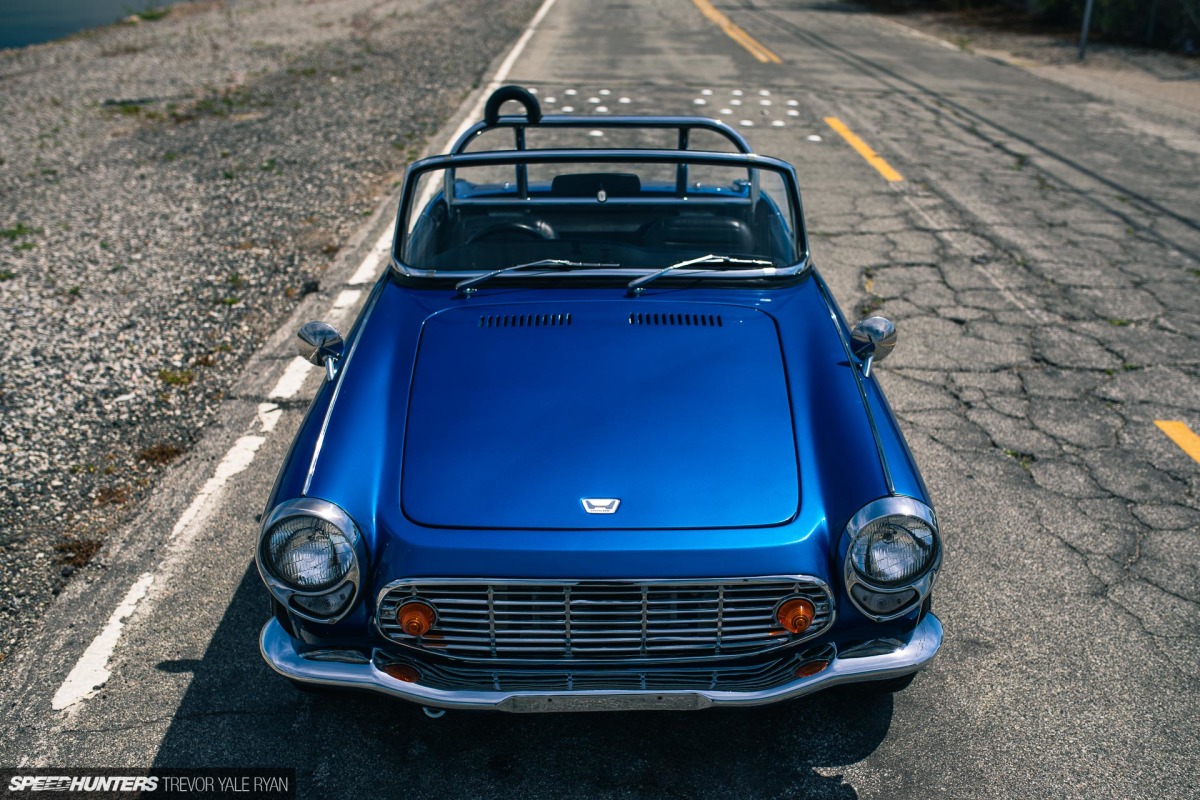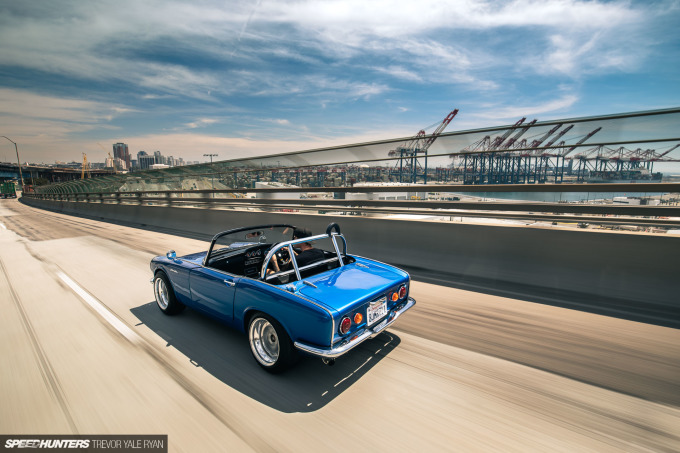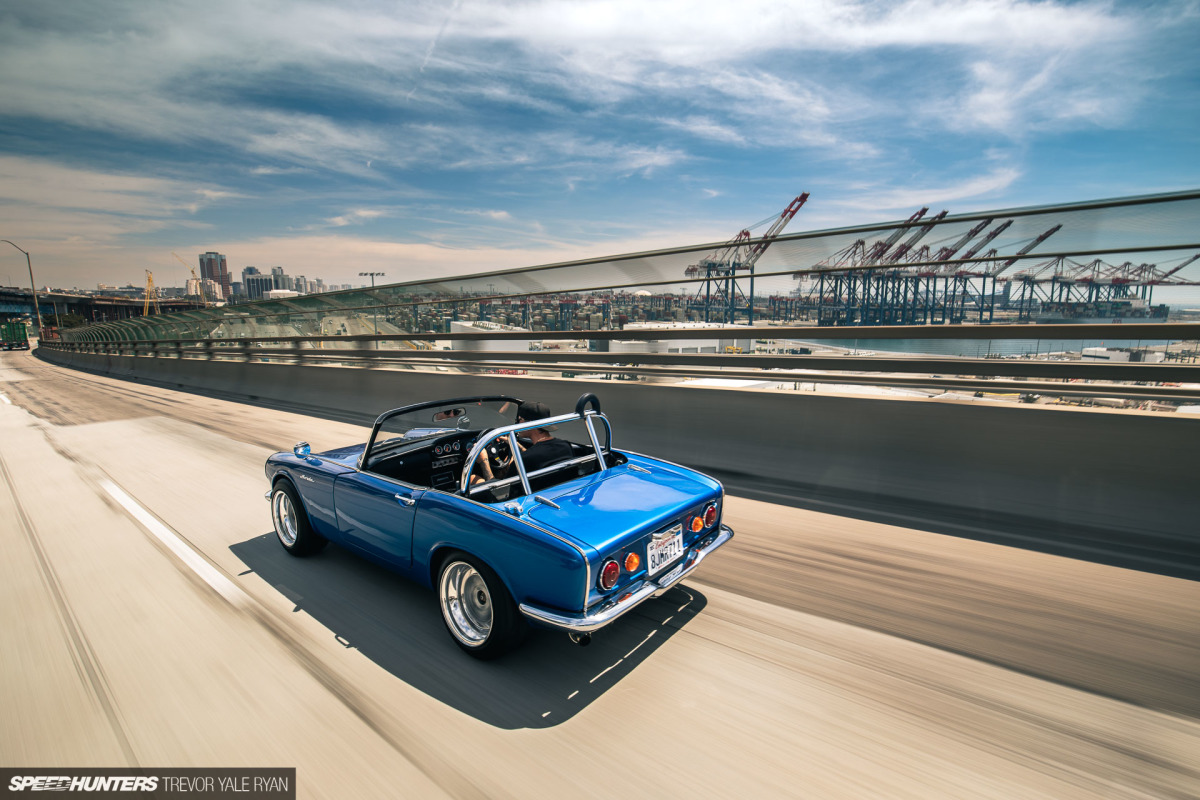 On that note, I'd say this Honda S600 has something for everyone. It's tiny and quick, a blend of new and old, stunningly restored, rare, and full of surprises. I think you'd be hard-pressed to find someone uninterested in a car like this one. With that we've come full circle, and arrived back at where I started.
Cars made with passion, skill, and creativity — like this one — and the owners behind them are what give life and spirit to these moving mechanisms we call cars. And to me, builds like this one are, well, moving.
Sara Ryan
Instagram: pockowokosara
Photos by Trevor Yale Ryan
Instagram: trevornotryan
Tiny But Mighty