The Outcast
Nissan's R30 and R31 variants have always felt like outcasts of the Skyline lineage, but that hasn't stopped hardcore fans of the models building up tough examples.
The Skyline name is one that's always demanded respect from enthusiasts, from the first generation model (post Prince Motor Co.) Hakosuka, to the Kenmeri and of course the more modern R32, R33 and R34 cars. Somehow though, the R30 and R31 were overlooked by Nissan.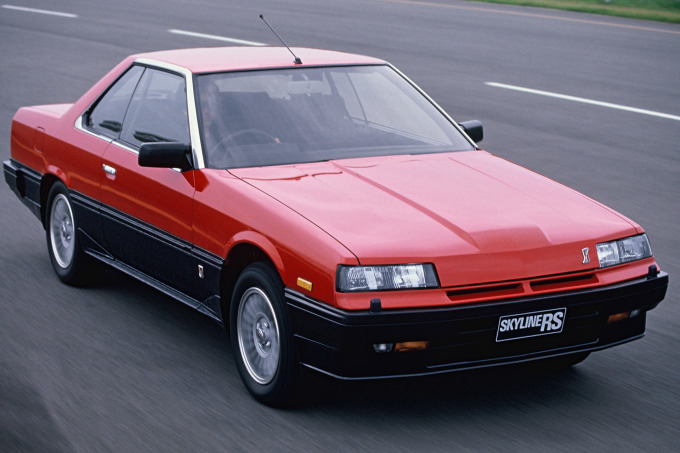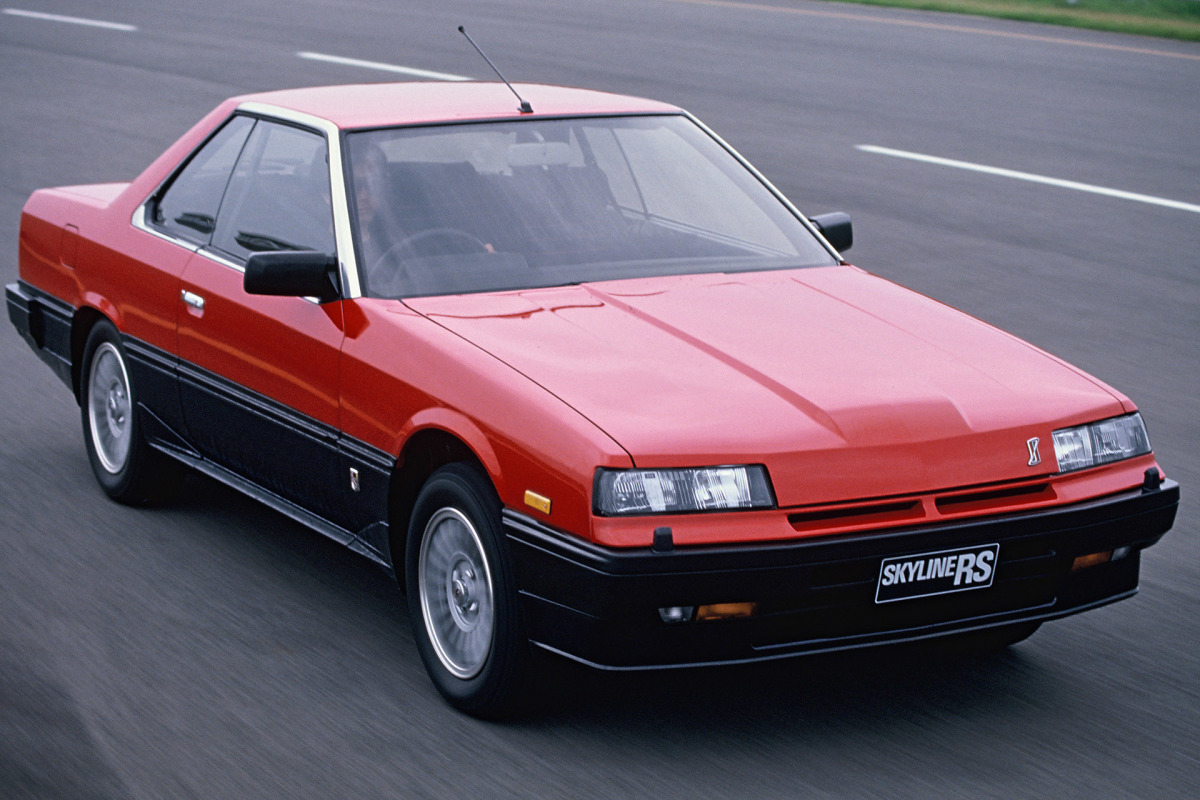 These models never had any GT-R iteration, and the only cool road-going car from the R30/R31 era that I can remember is the 1983 Skyline 2000 Turbo RS, which wasn't great, but not bad either.
There were two cool racing versions, though: the 1983 Skyline Super Silhouette and the 1988 Skyline GTS-R, but that's about it.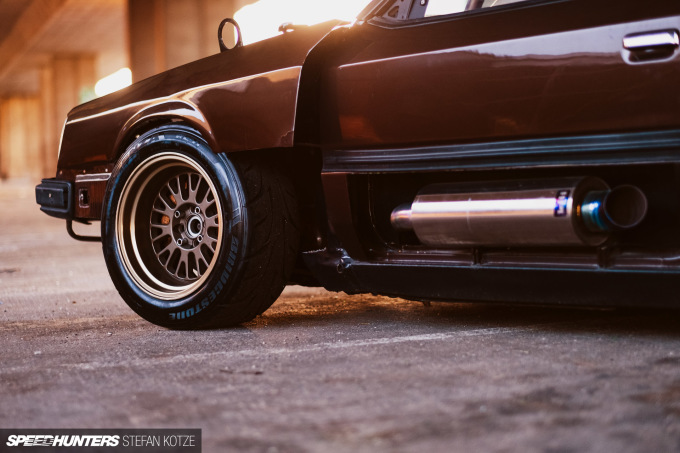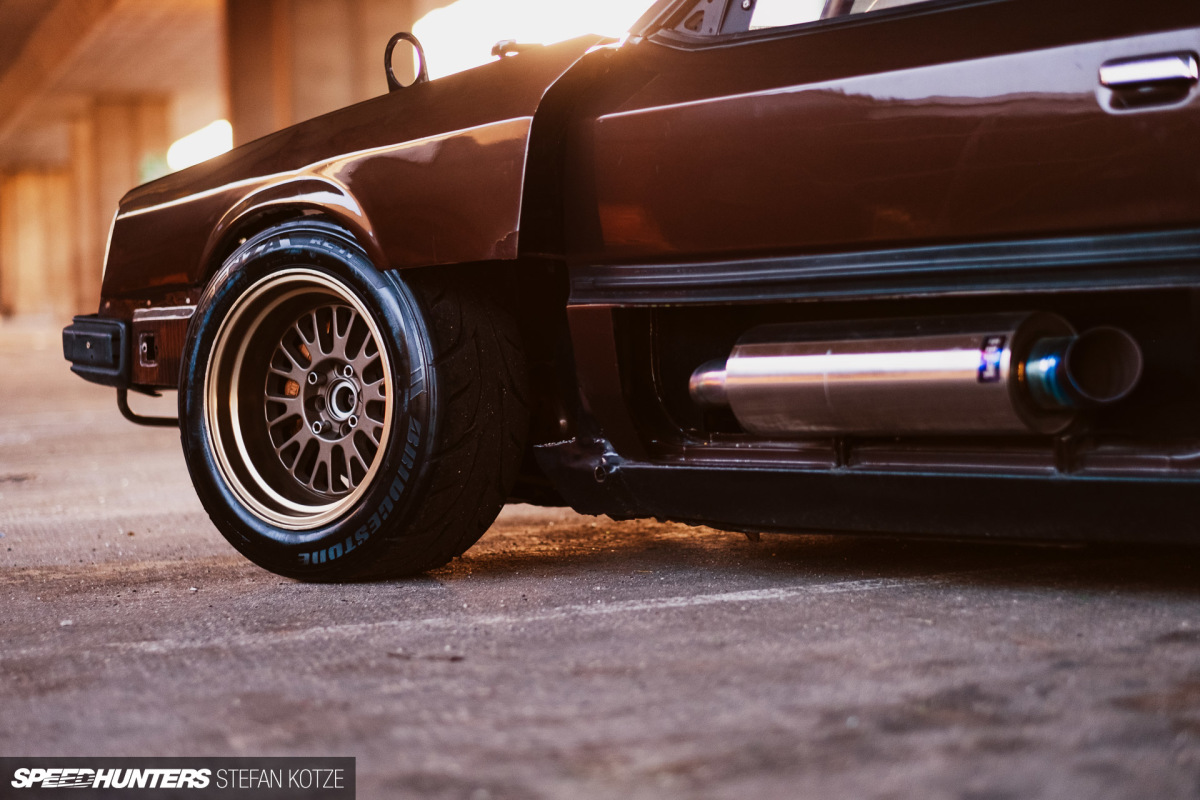 But just because Nissan itself wouldn't do it, doesn't mean others couldn't. Case in point, one of the raddest Skyline R30 GTXs I've ever seen.
This build is the culmination of over five years and 1,500-plus hours of hard labour by the R30's owner, Quinsley Sale, with help from a few mates and other involved parties. You might have seen my recent feature on Quinsley's mancave, and if you did there's a good chance you spotted this car in one or two of the photos.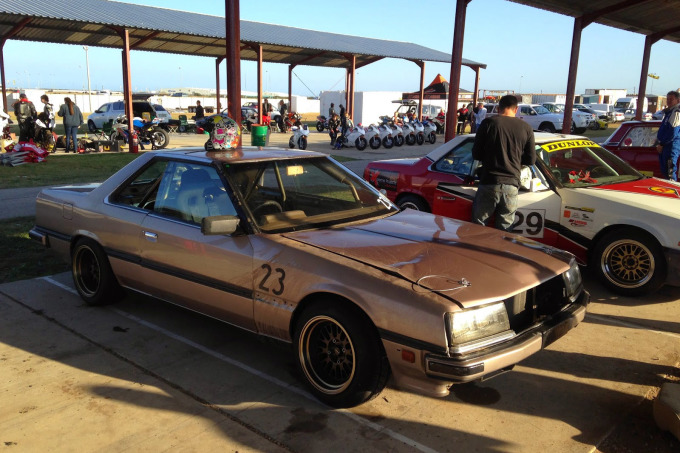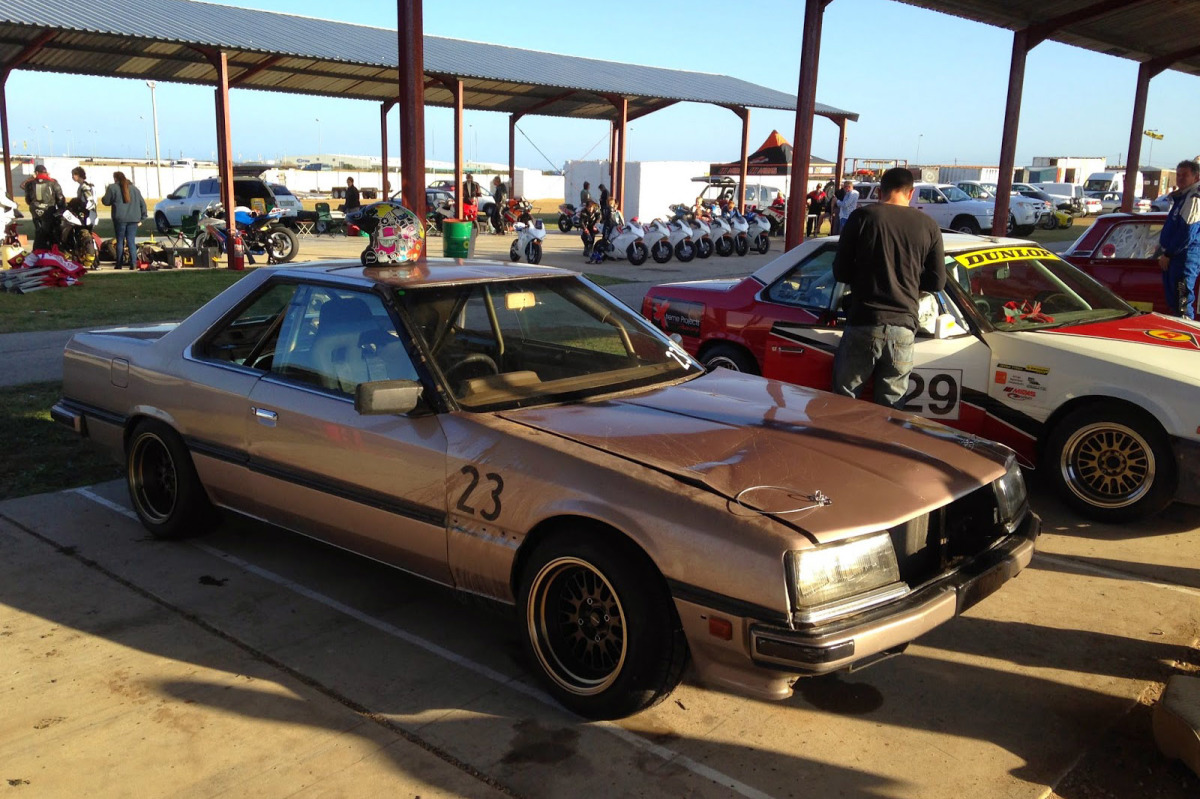 Building A Black Sheep
Not so long ago the car was quite stock, with just some aftermarket wheels, suspension, and a stripped-out interior with roll cage the main modifications. It was run in a local race series for fun more than anything else, and although it wasn't pretty it got the job done.
The tipping point came when a cooling system problem caused the original L28 engine to overheat. While the inline six was away being repaired, Quinsley decided it would be a good time to clean up the engine bay and make a few other changes.
During this time he found a little bit of rust, but instead of patching things up he made the decision to chop the entire front end off. And this is how the whole process of turning a once mundane car into the ultimate R30 racer began.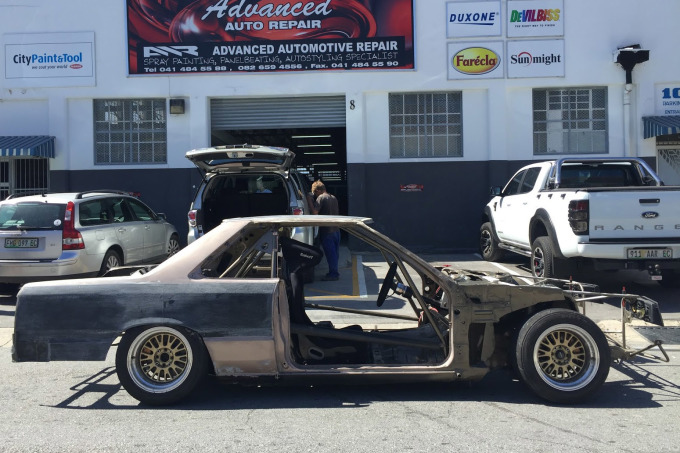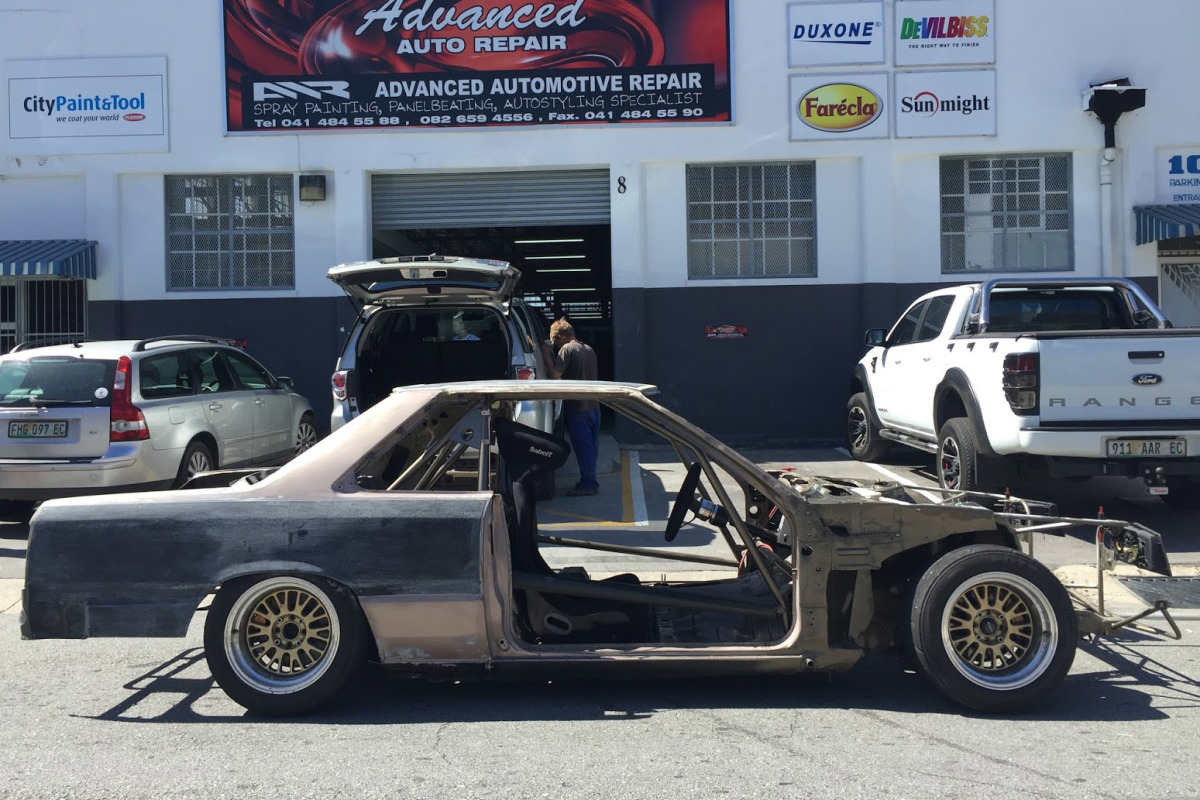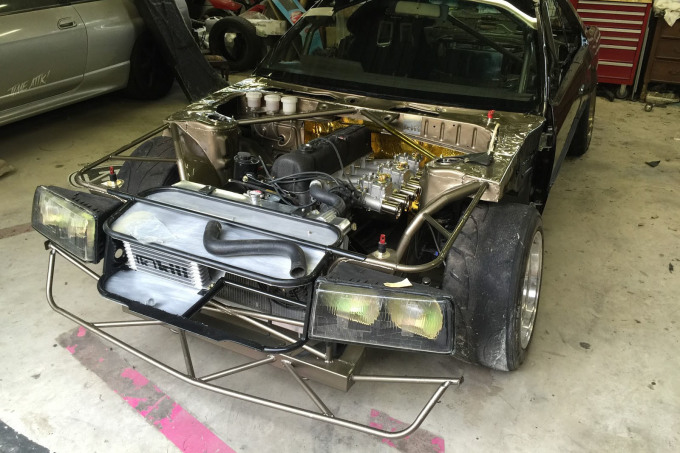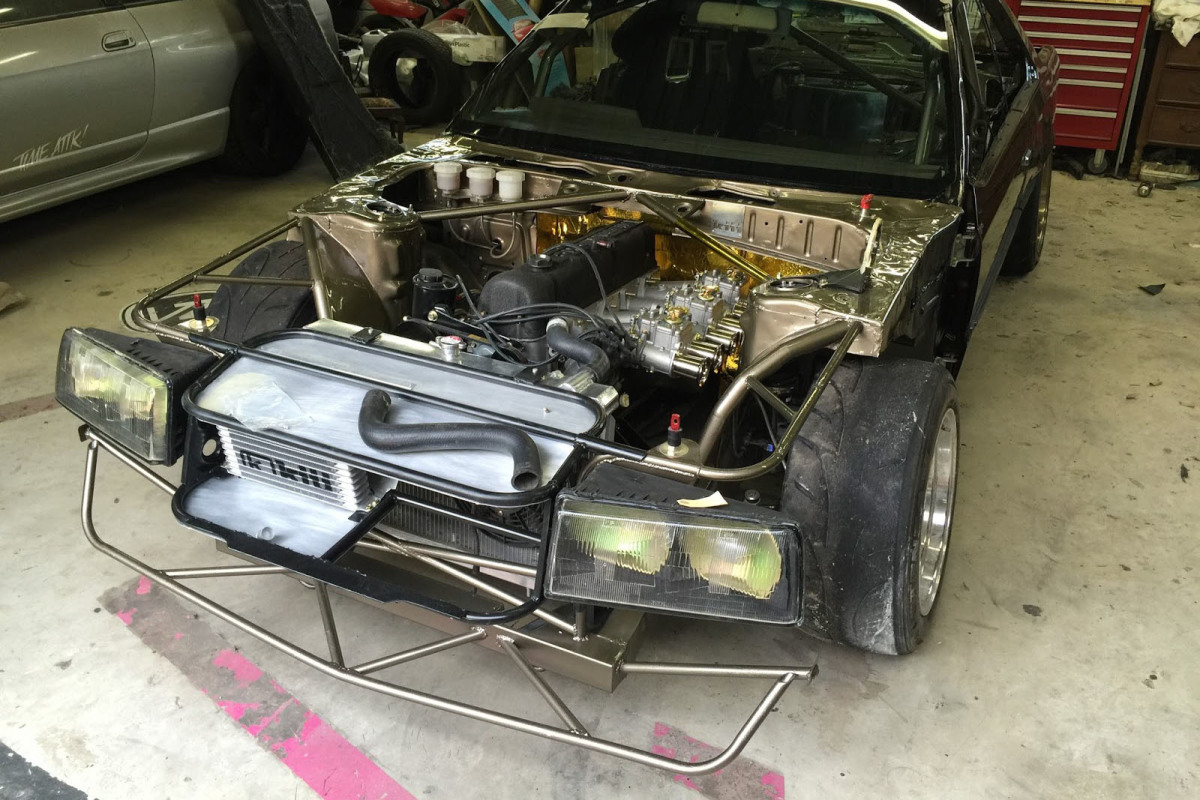 The original plan was to use the car for local historic racing, but as you can probably figure out, once it started down this extreme path that all went out the window.
Five years is a long time to build a car, but it's understandable when you learn that Quinsley likes to do as much of the work he can himself, and that can only happen in his spare time as by day he's an architect. The R30 wasn't the only project he had on the go, either.
But eventually the build was finished. Well, as 'finished' as any project car can be.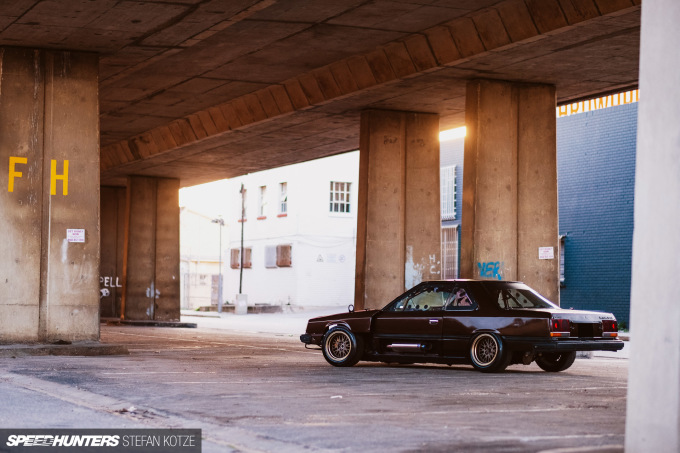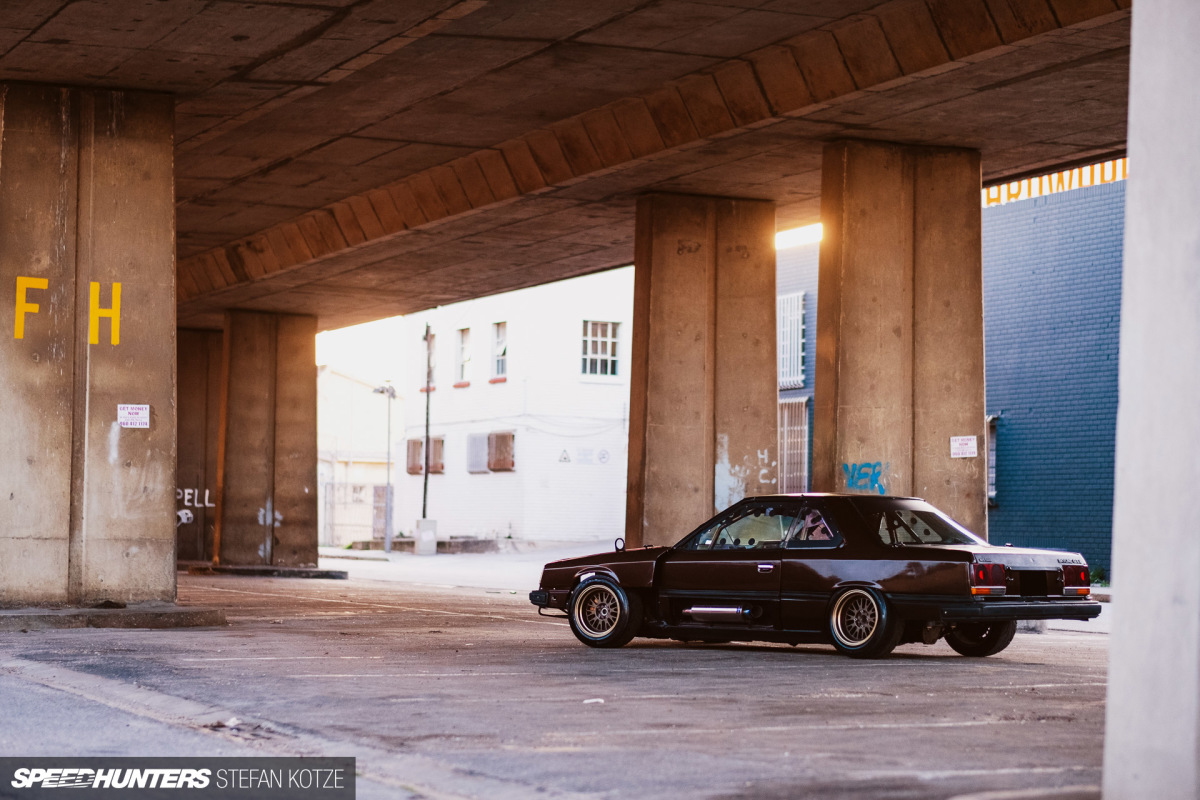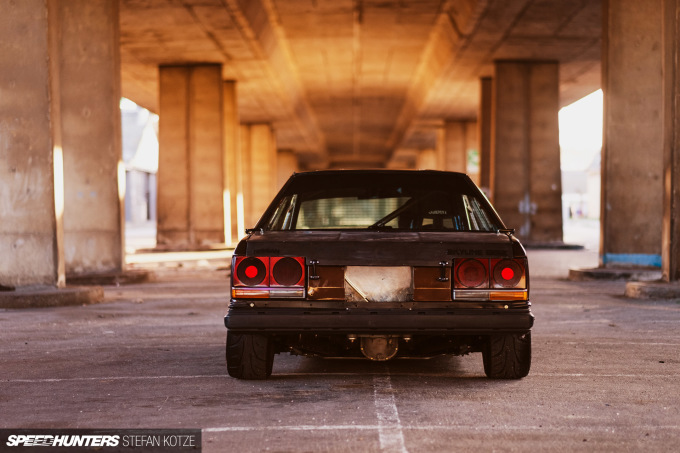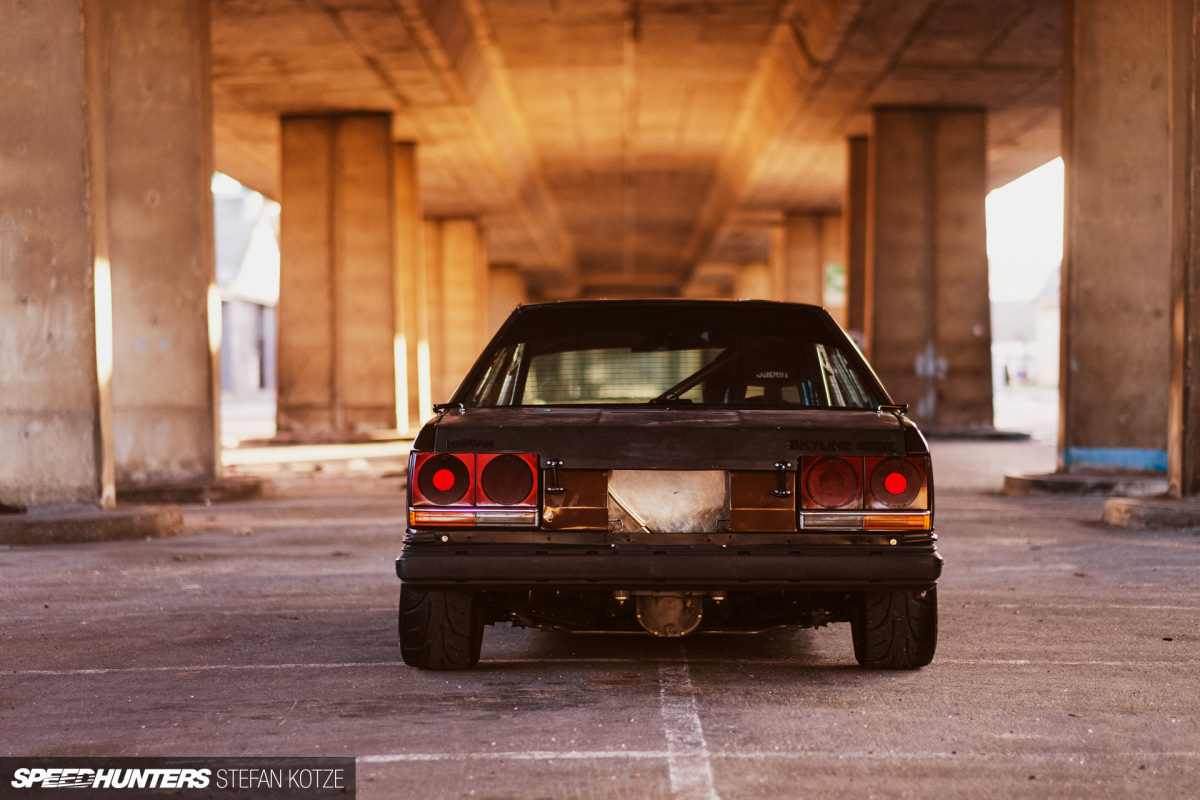 If you're wondering what the term 'hok' in the title means, Merriam-Webster defines it as "a small enclosure". This is very much a South African word, and when calling a car a hok, it usually means it's rough and far from perfect, hence why this one has been labeled 'Super Hok'.
It's still rough in some ways, but it's easy to see where the 'super' came from.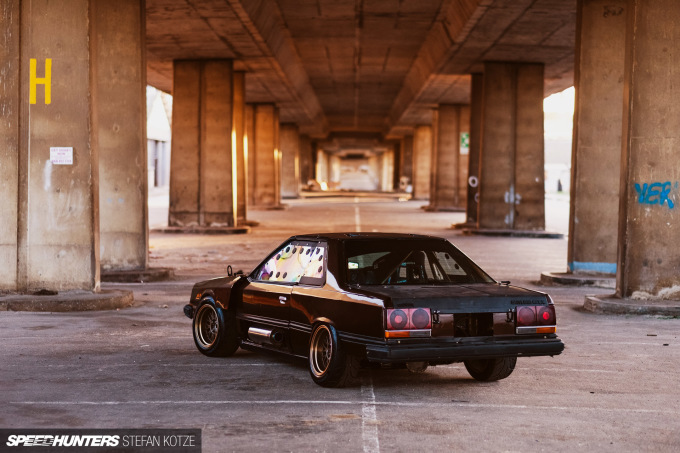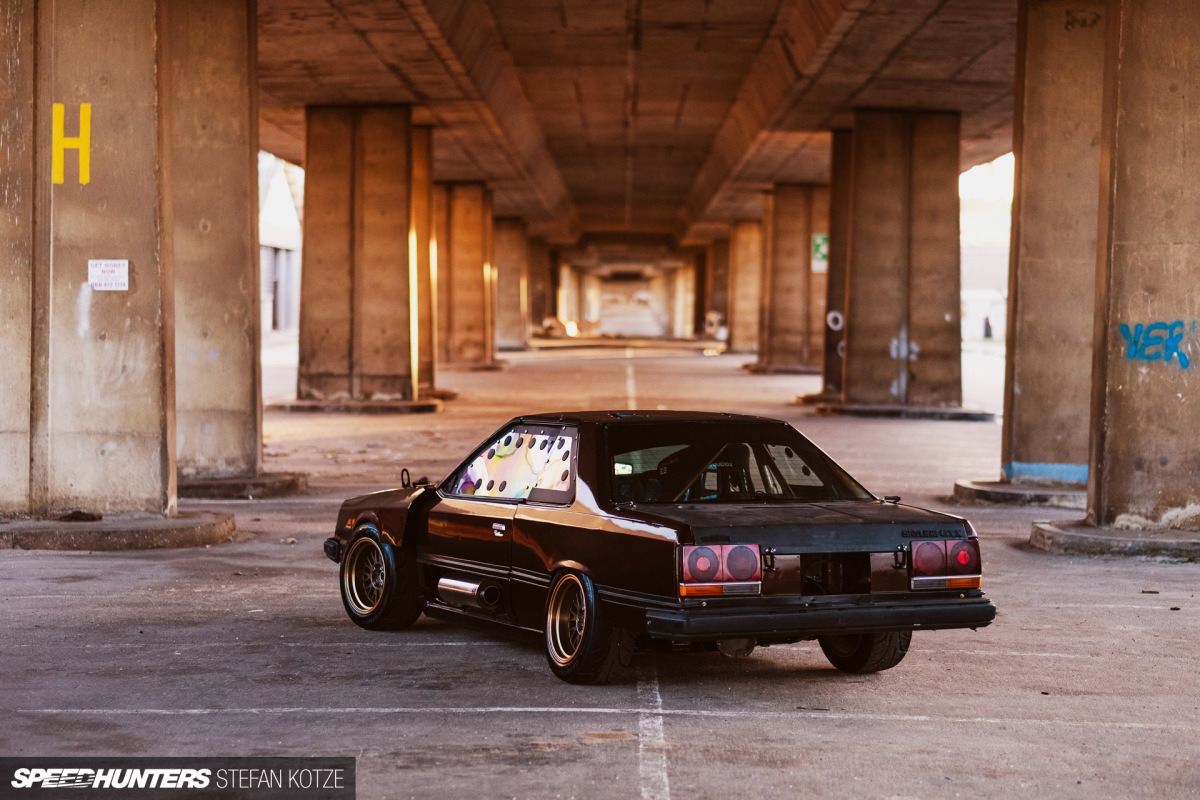 Shed That Weight
At first glance you can tell that the body has been treated to a few carbon fiber bits and pieces, but in reality it's basically the entire body that's made from the composite material. Richard Rath, who runs VaderVI, collaborated with Quinsley's Garage KIU to design and then hand-form all the carbon parts on the car.
The side widows are Lexan items with grommets that can be removed and installed depending on the required airflow into the cabin, while the front window is new-old-stock find.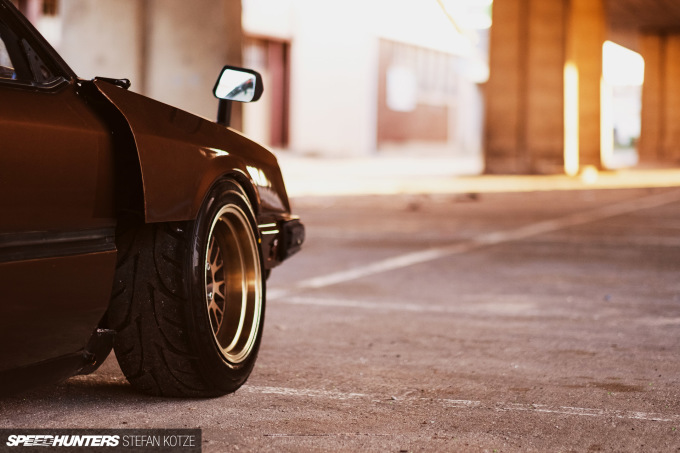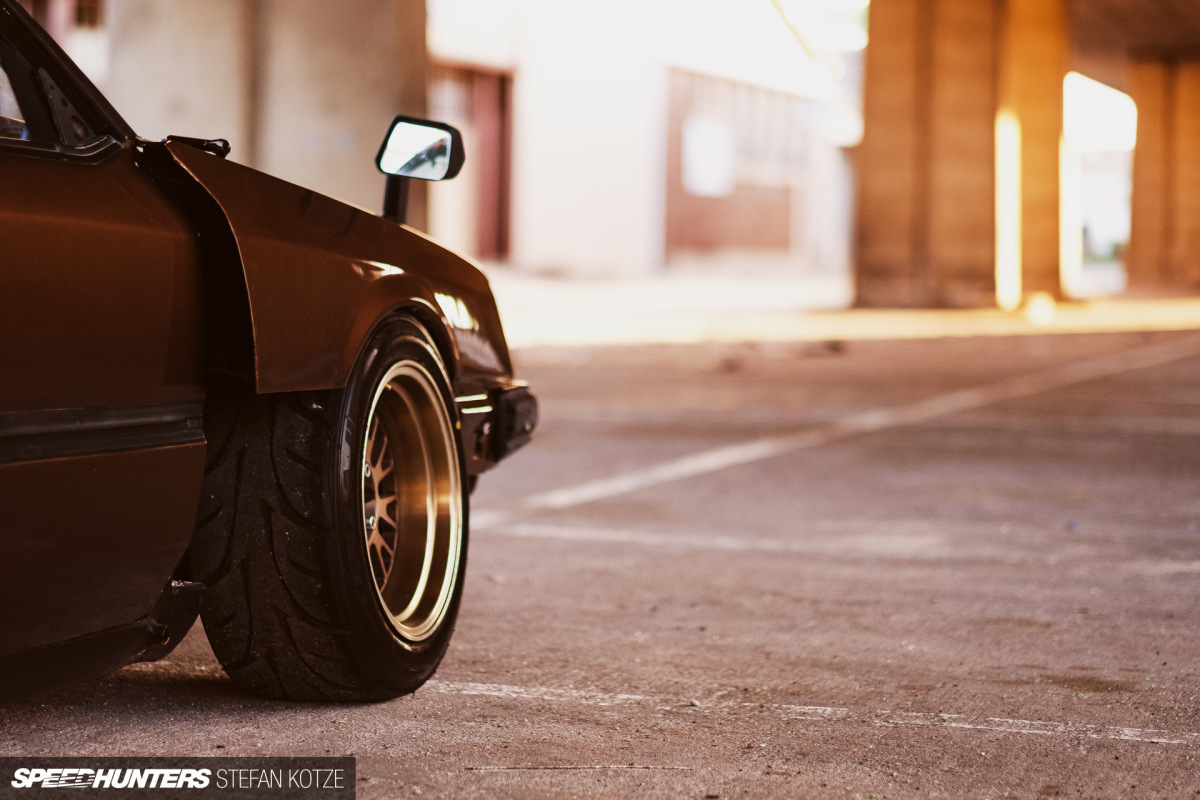 If you're going to the trouble of custom-making carbon fiber body panels, you might as well spec them perfectly for the application, hence why both the front and rear fenders are wider than the original parts they replace – 60mm wider at the front and 25mm wider at the rear. The roof was also cut out and replaced with a carbon fiber skin.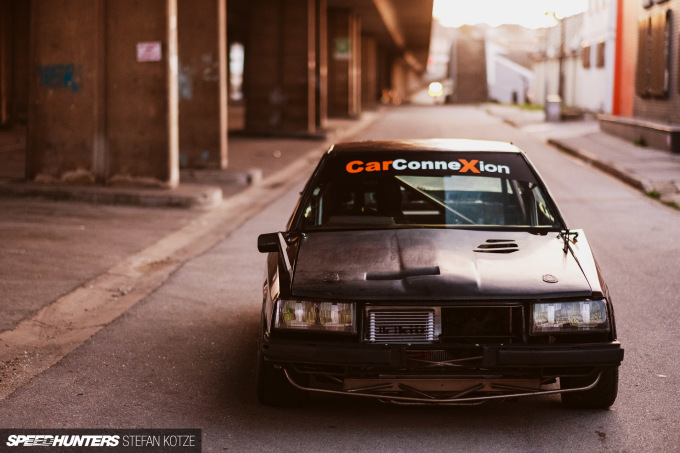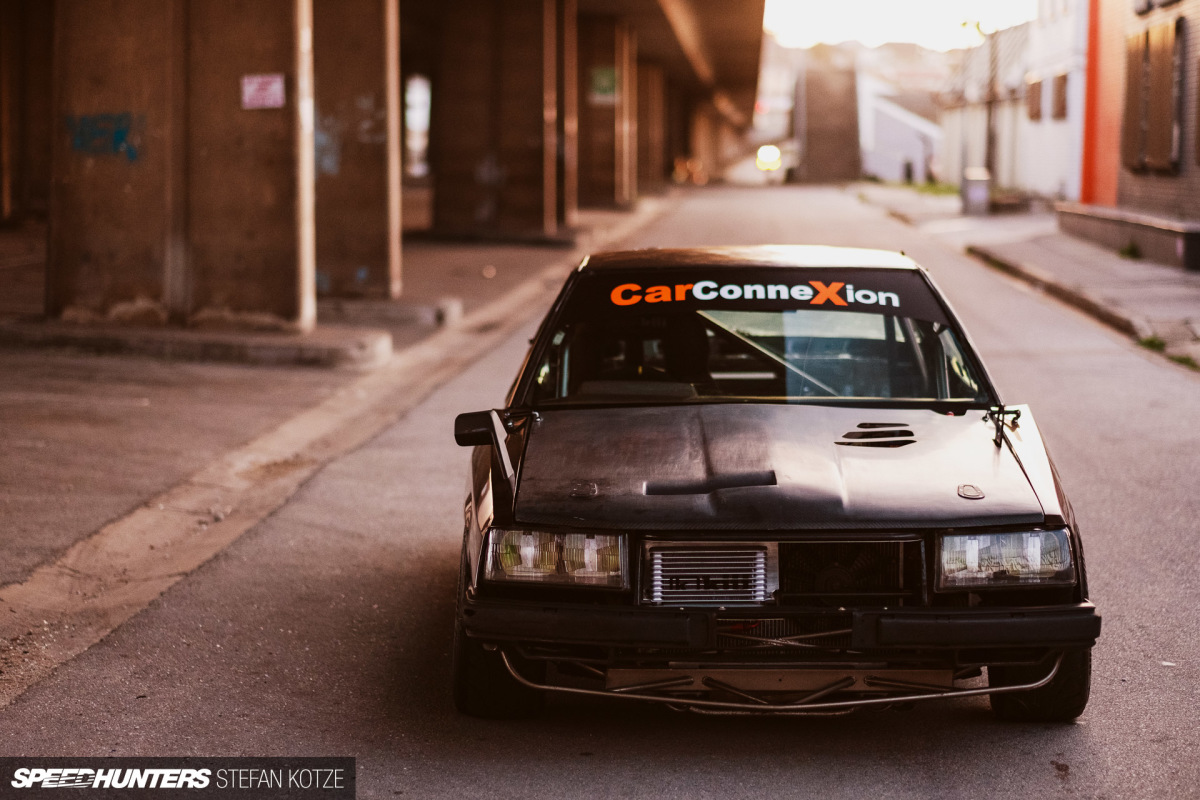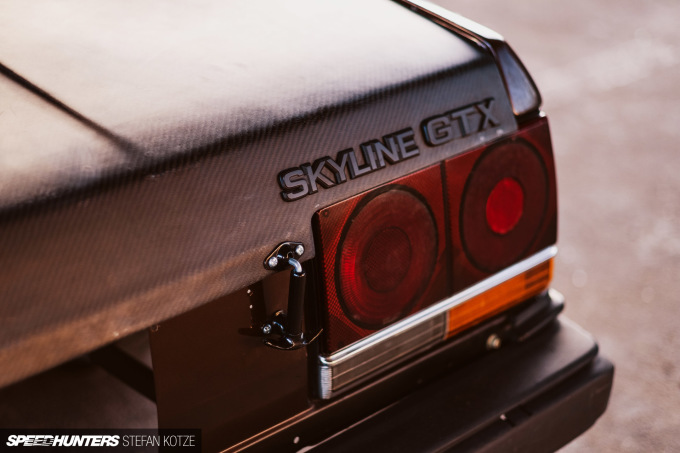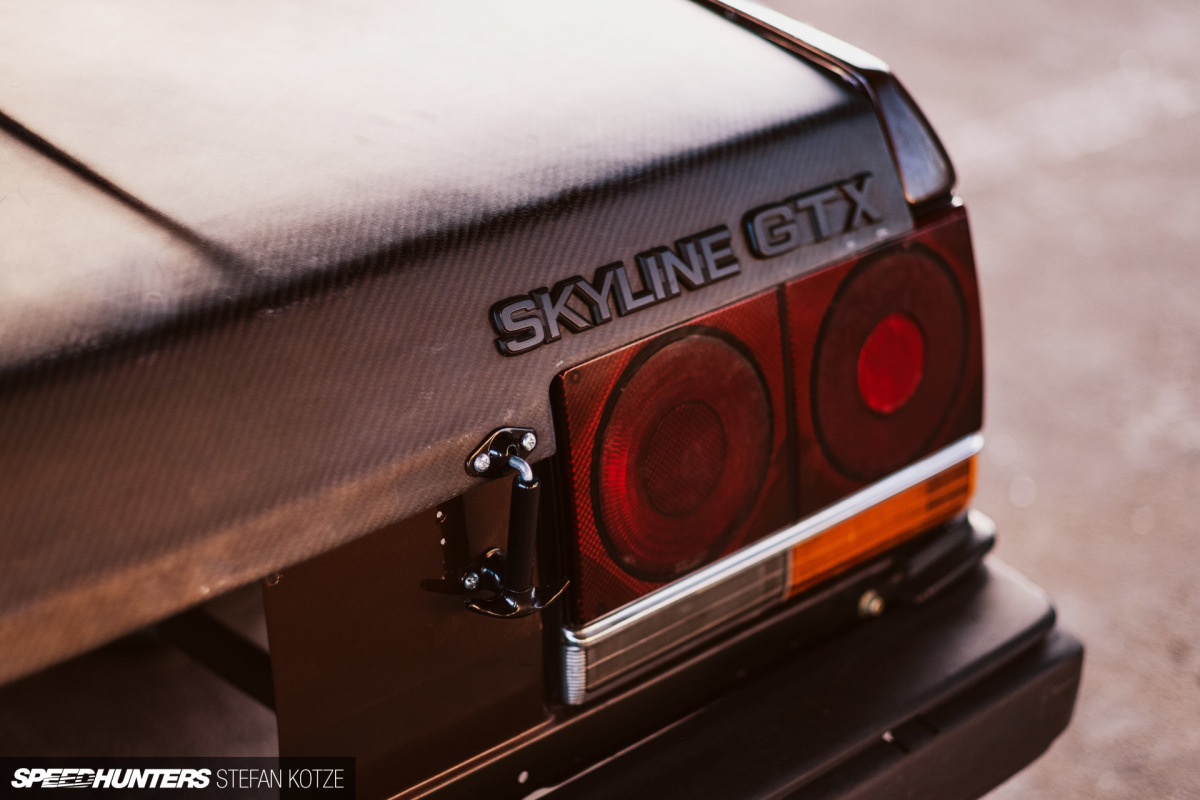 The hood and boot lid are also in carbon, as is the driver side door. The passenger side uses the original metal door, but it's been heavily modified to accomodate a side-exit muffler.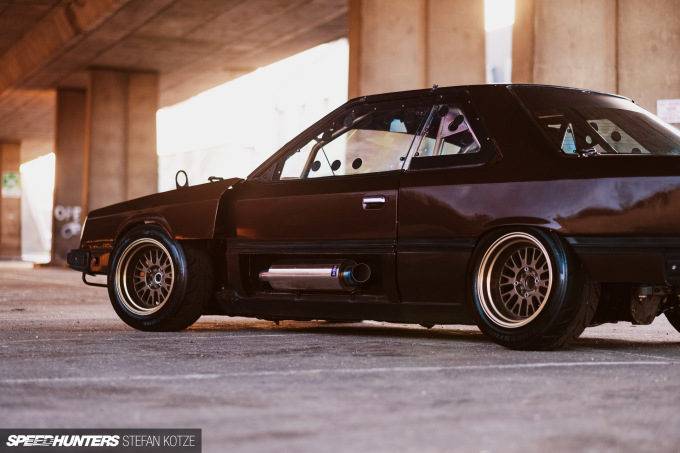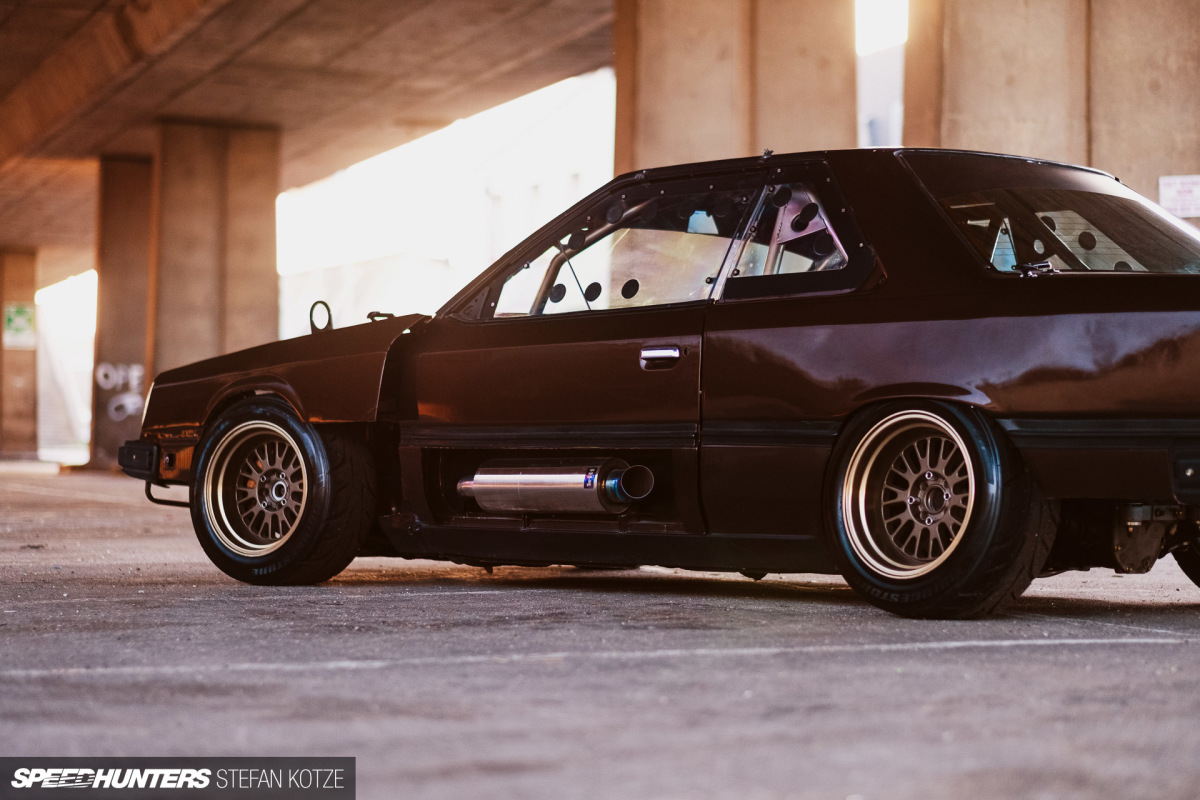 As expected, the 15×9-inch wheels sit very tightly under the widened arches, finished in a two-tone brown and copper hue that complements the car's chocolate color paint.
The Skyline's brakes have been upgraded with calipers and discs from a Z32 Nissan 300ZX, with custom brake ducts added for extra cooling.
And for proper grip, the wheels have been wrapped in Bridgestone Potenza RE-11S semi-slicks measuring in at 225-section on all four corners.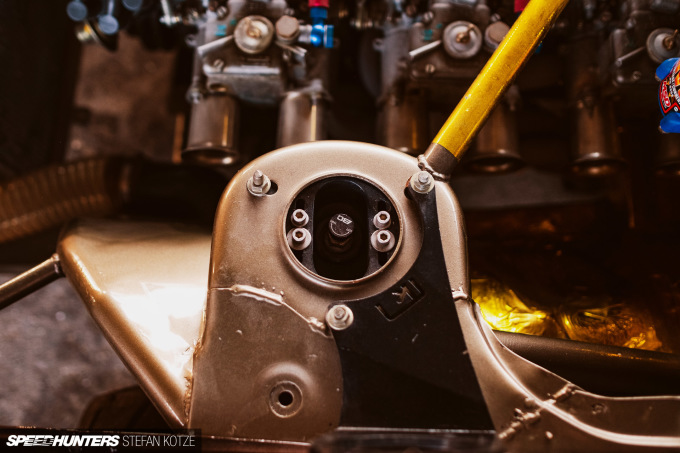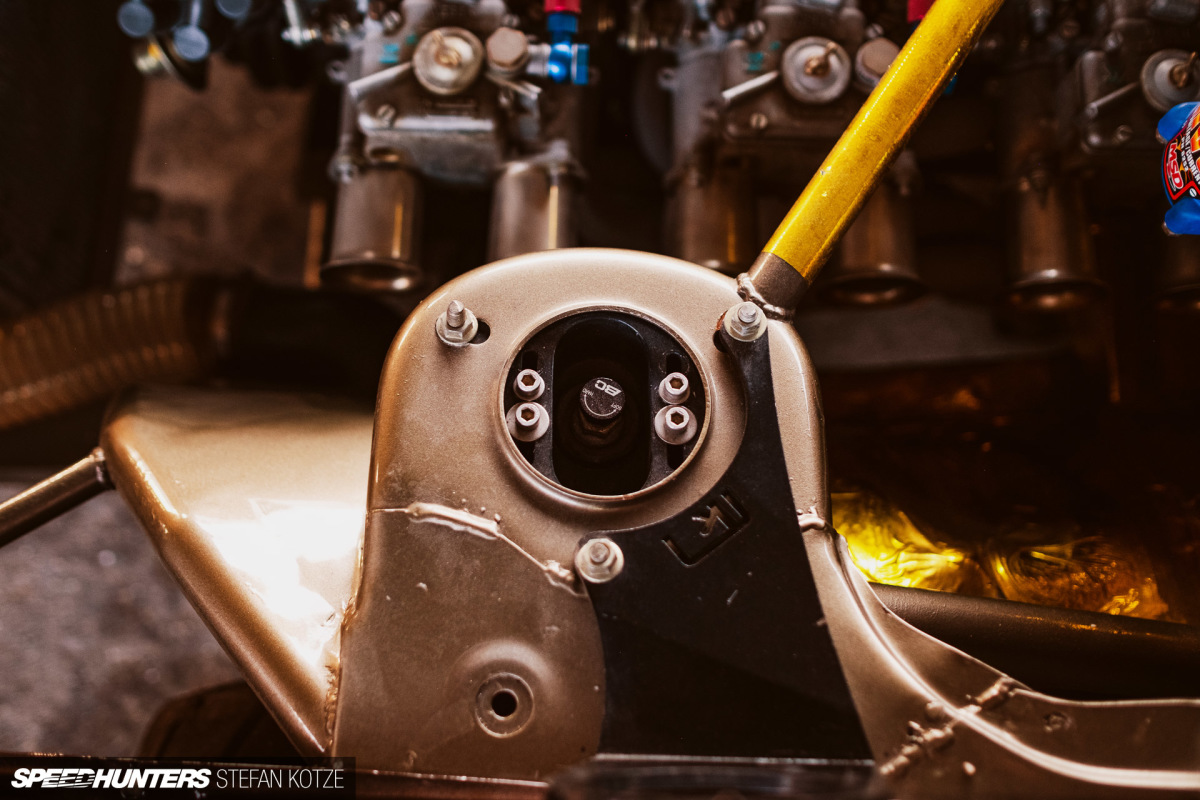 On the suspension side, there are S13 stub axles, custom-made bump stop spacers, and custom rose-jointed front lower control arms. The coilovers are BC Racing Type RH series units with S13 lower mounts and custom top hats.
The car was also converted from its OEM steering box specification to an S13 rack setup on custom mounts.
Original, But Better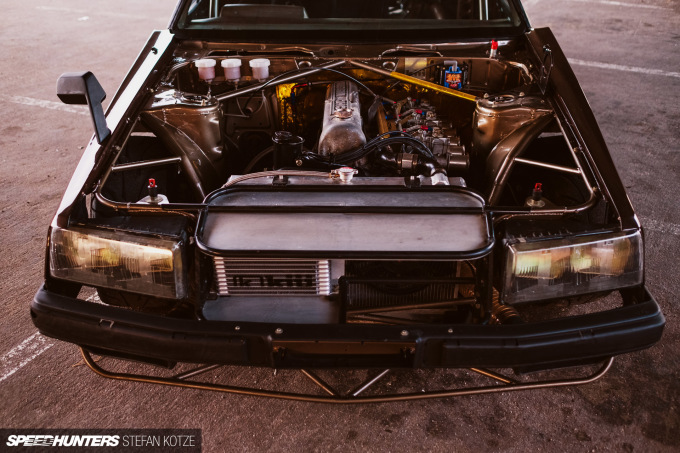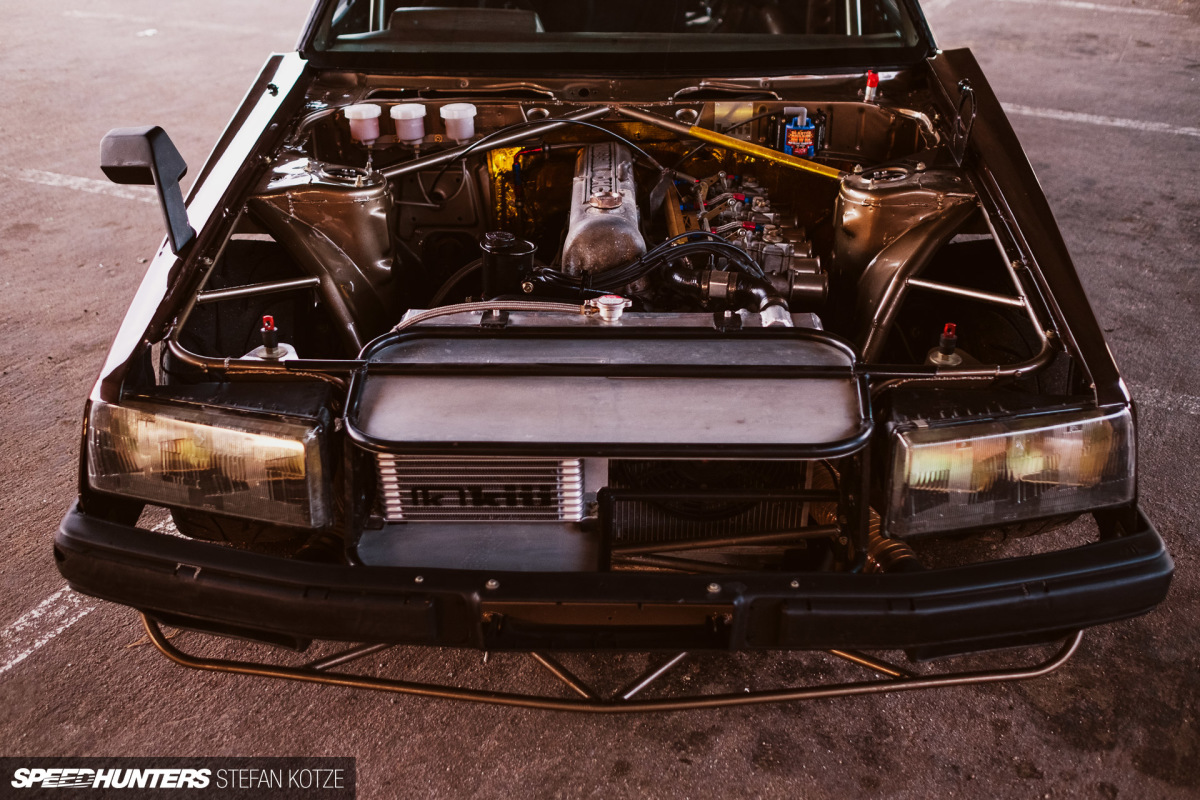 The idea to drop a Toyota 2JZ engine in the bay did cross Quinsley's mind during the build, but in the end he decided to extract as much performance from the L28 as possible.
With all the custom chassis work up front, it was possible to relocate the engine 120mm rearward from its original position. Sitting on an R31 crossmember, the L28 itself has been fully balanced, and now runs a 310-degree billet camshaft, a custom ported new-old-stock cylinder head with larger valves and dual valve springs, and custom pistons.
Other engine upgrades include a custom billet front pulley, custom plug leads, an MSD 6AL-2 ignition module, MSD Blaster high-voltage coil, custom lightened flywheel, and 45DCOE Weber carbs that drink like mad but give the engine a great power increase.  The rest of the fuel system features a custom tank in the rear, Holley fuel pump, a custom surge tank, braided lines, and a custom KIU fuel rail.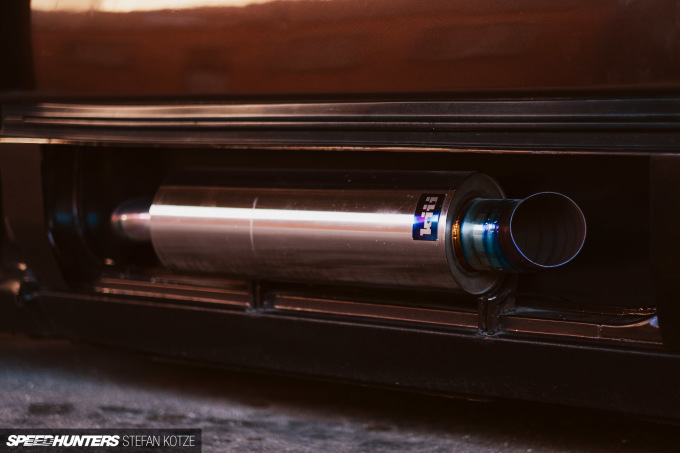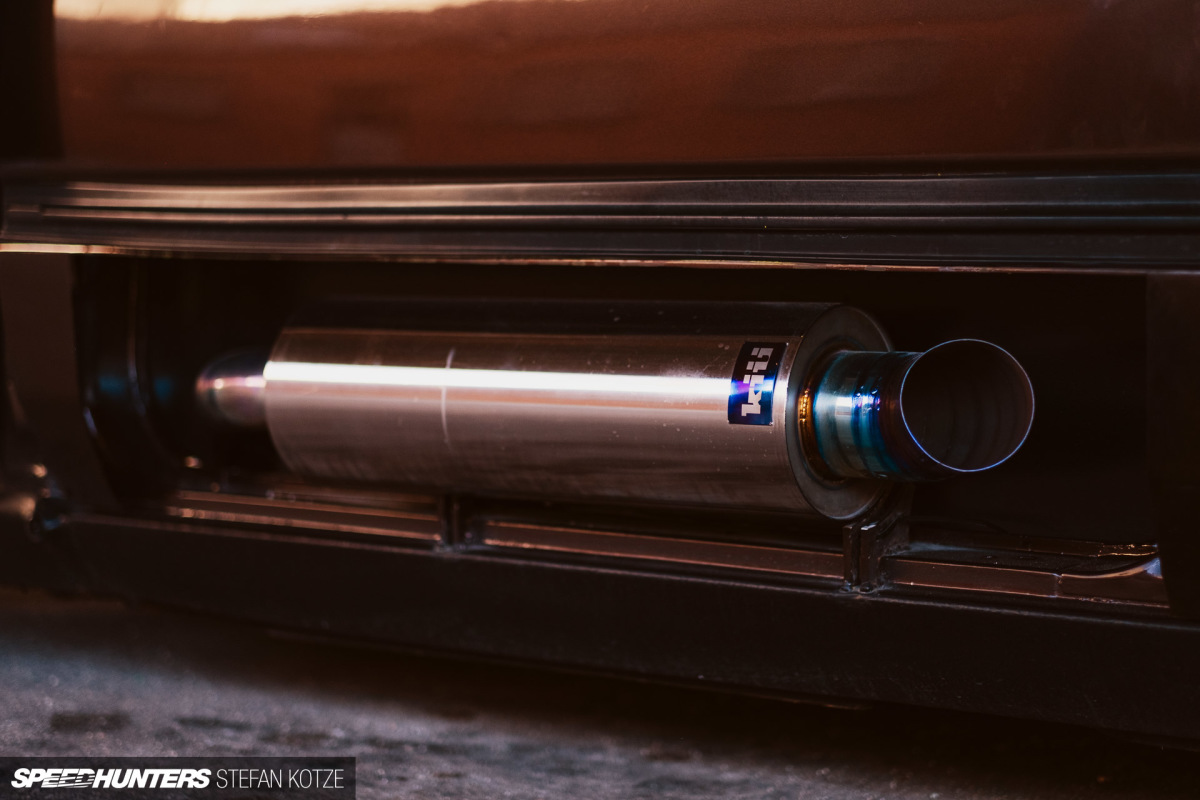 Adding to that and also providing a great soundtrack is the free-flow exhaust. I mentioned before the side-exit muffler, and that runs from a one-off – and very short – KIU titanium system fed by a tubular exhaust manifold.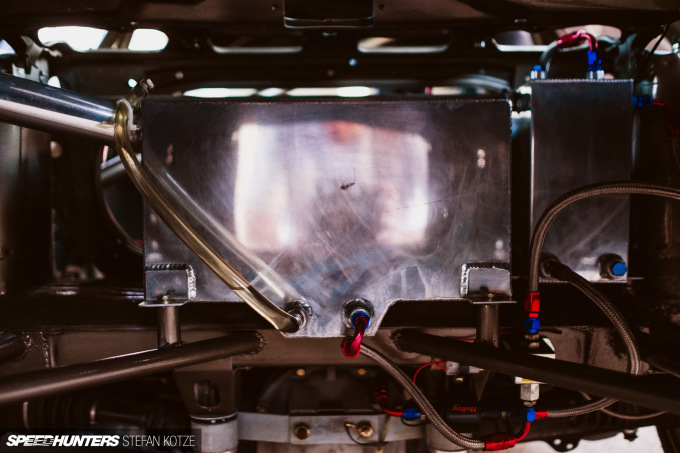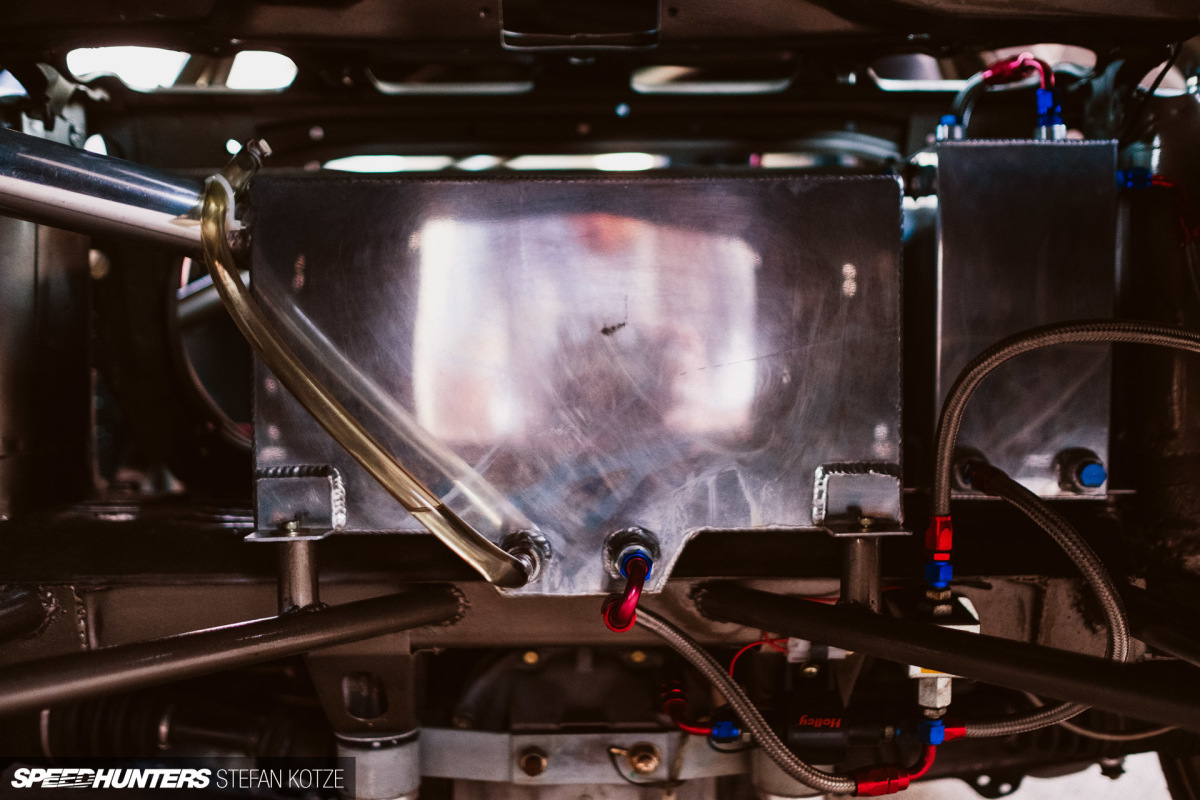 For cooling there's a S13 aluminium radiator, KIU oil cooler, and a custom KIU sump. And to help get the power to the ground as efficiently and reliably as possible, the R30's original driveline was upgraded with an SR20 gearbox running a LUK clutch and an S13 limited slip differential.
All in all, the engine makes just over double its stock output with 200kW at the wheels with an 8,500rpm redline. Quinsley tells me that with all the modifications it can safely pull 9,000rpm.
This newfound power, along with the car only weighing 1,022kg (2,253lbs) now, makes it rather quick.
Cabin Crunch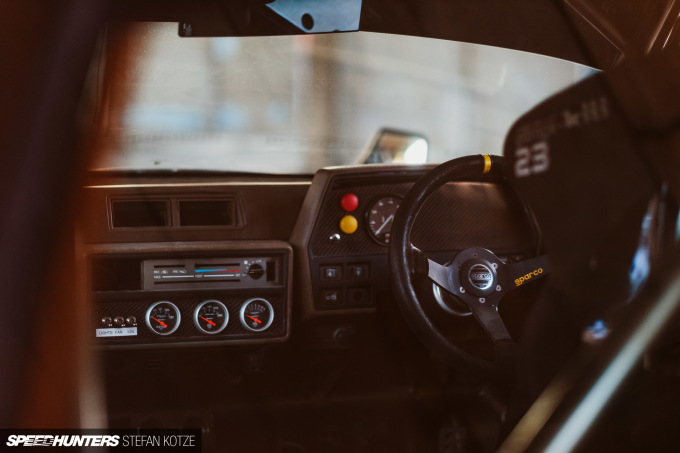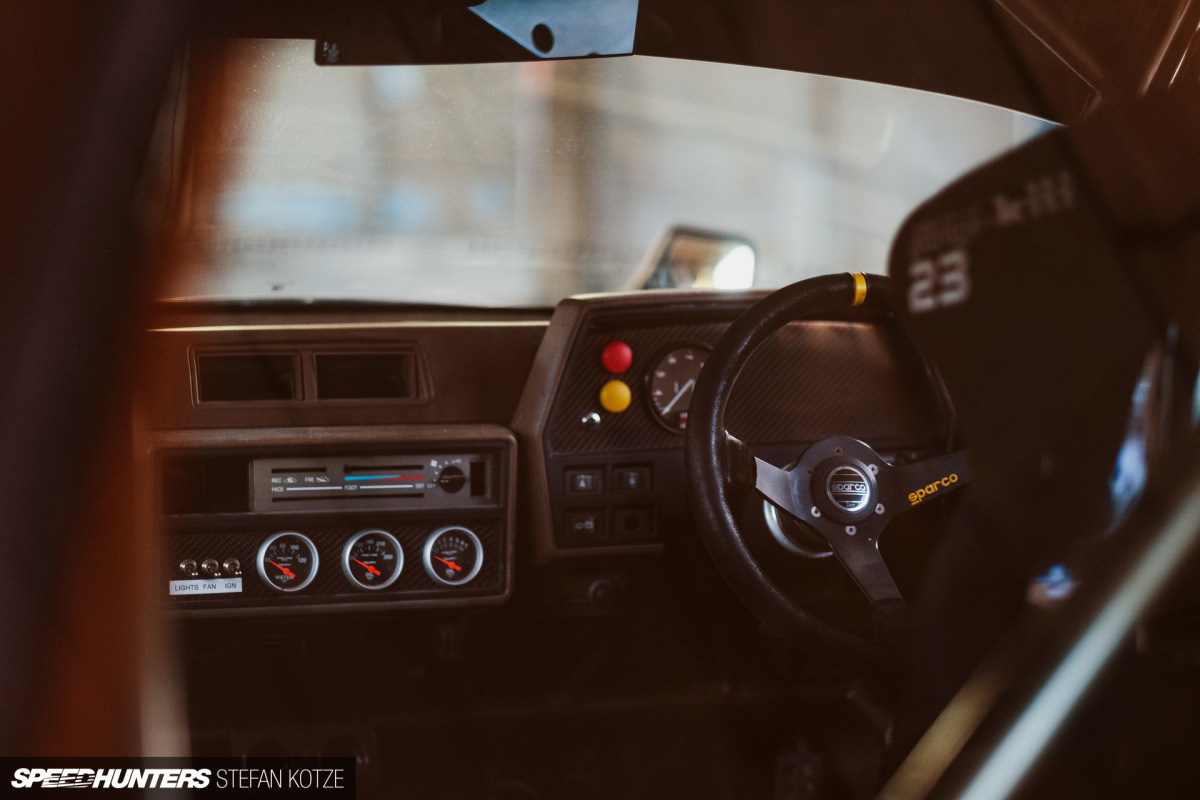 Inside the very race-esque cabin you'll find a deep-dish Sparco steering wheel along with a VaderVI carbon fiber dash panel featuring a period-correct Stack tachometer that goes all the way up to 10,000rpm. No speedometer is required.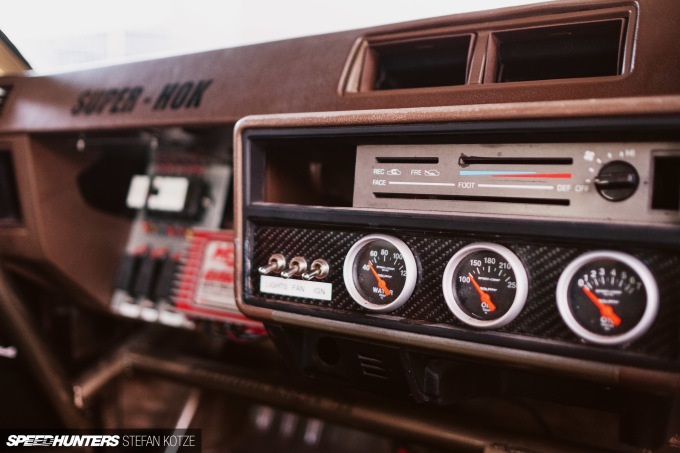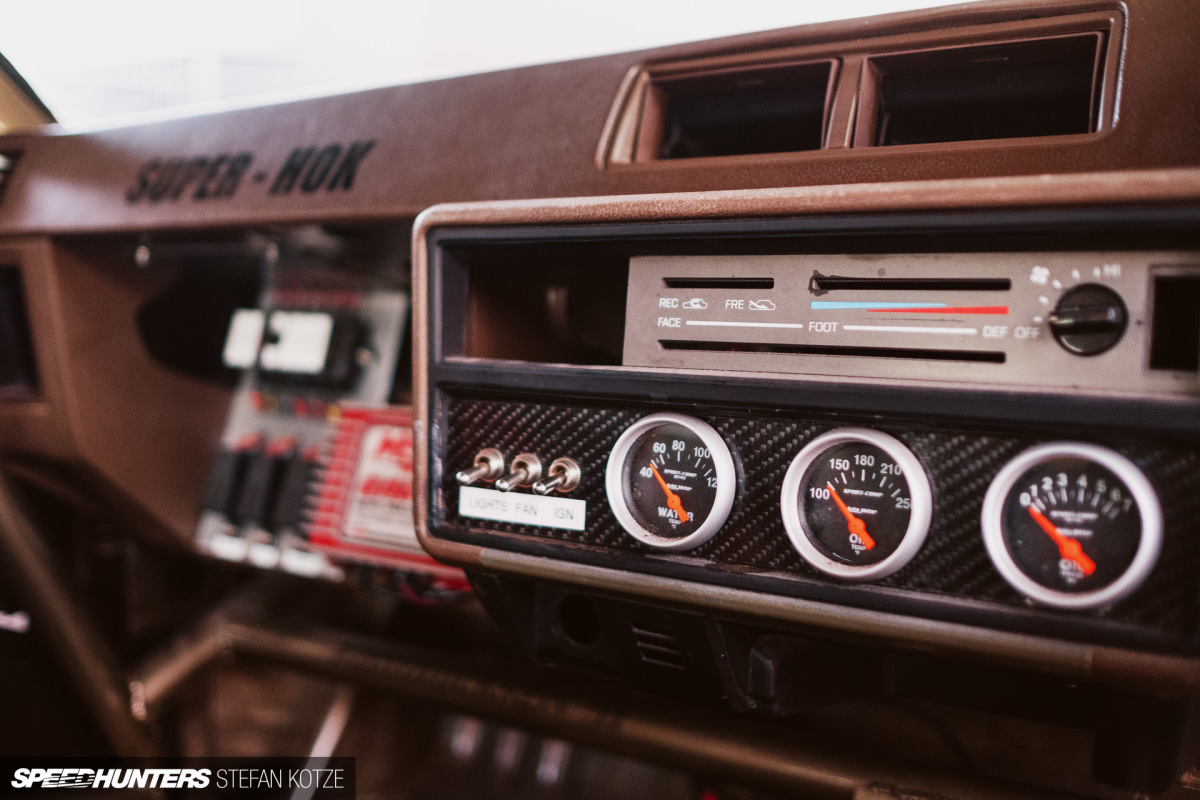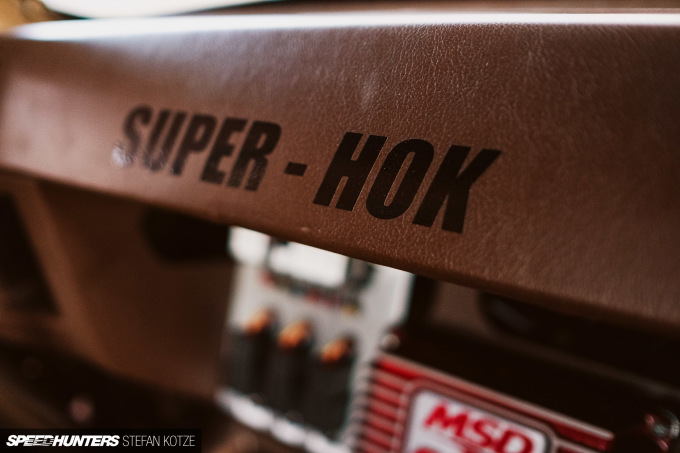 AutoMeter gauges to monitor water temperature, oil temperature and oil pressure are fitted in the center console, along with switches for ignition, fan and lights. Through a custom wiring loom, the fusebox was also relocated inside the car for easier access.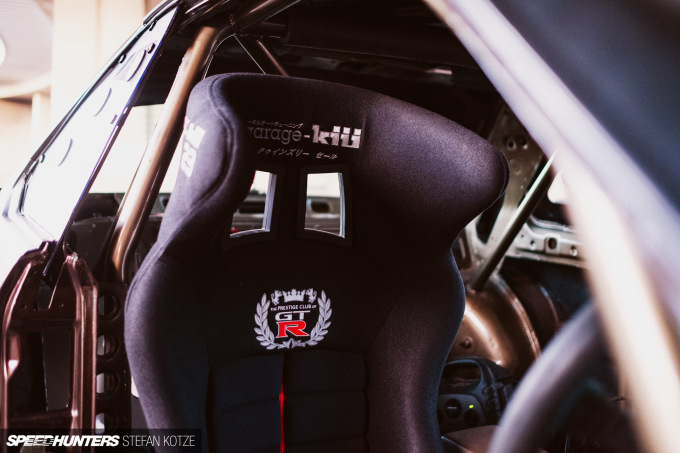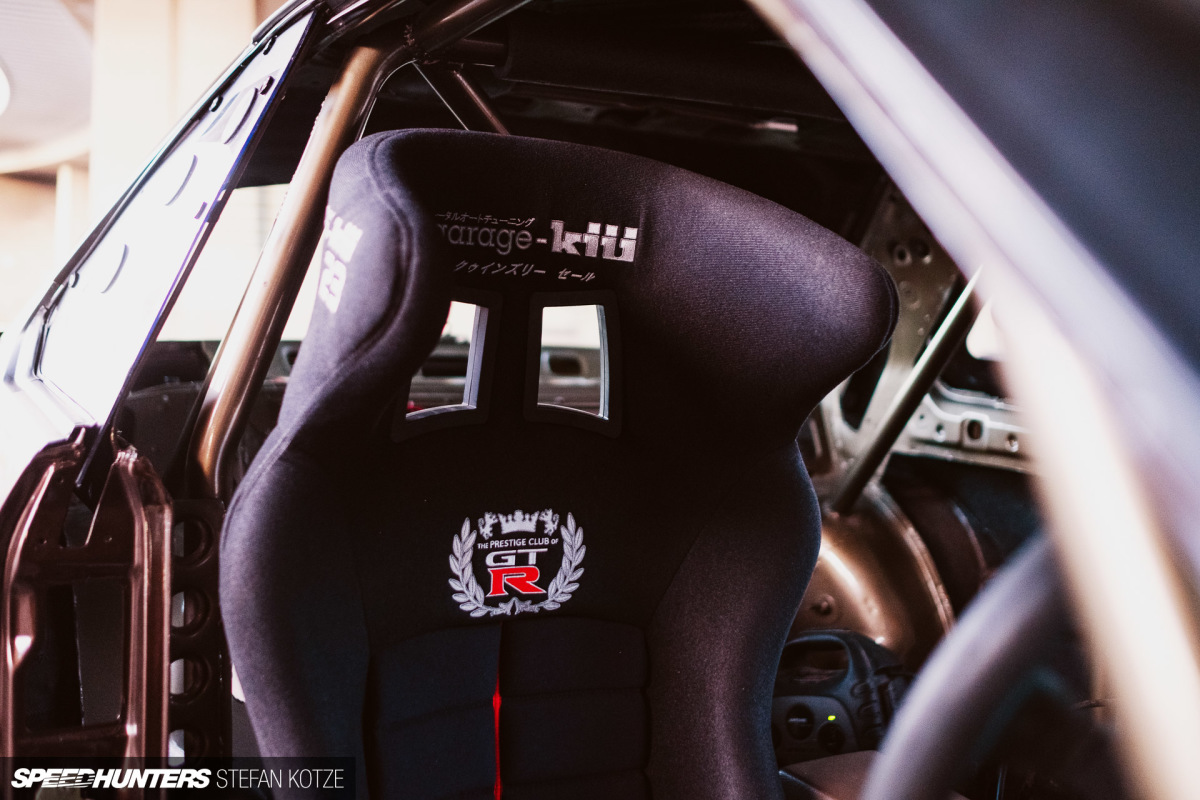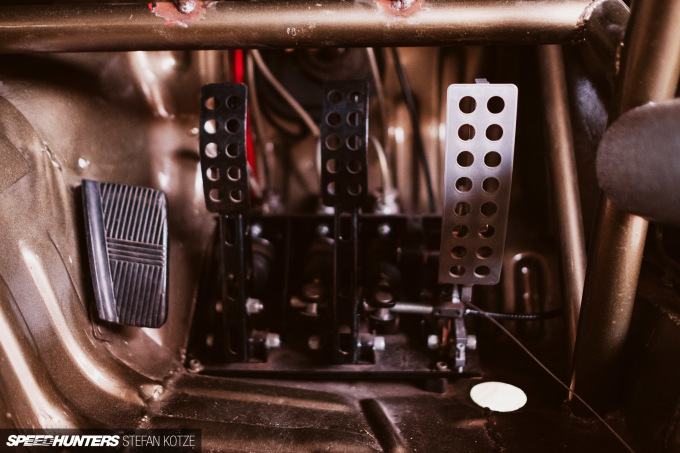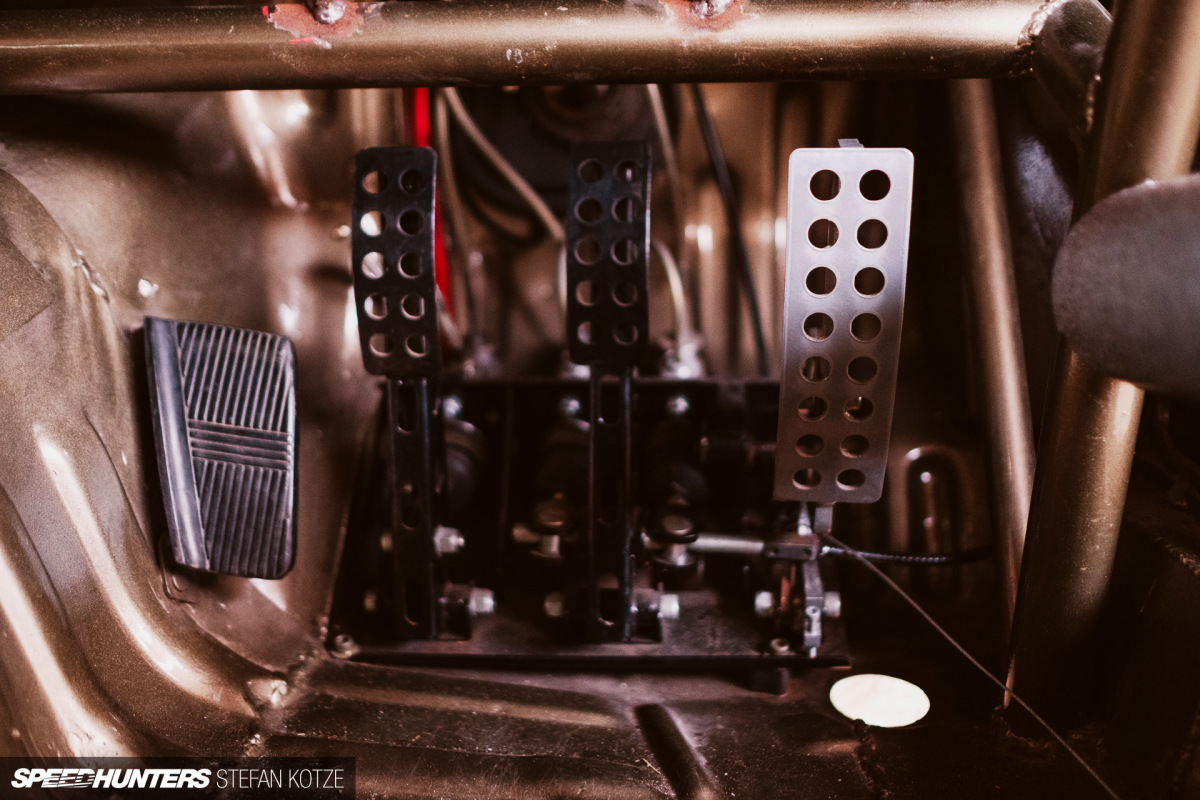 The interior also features a Sabelt seat with custom Garage KIU stitching, and an adjustable OBP pedal box.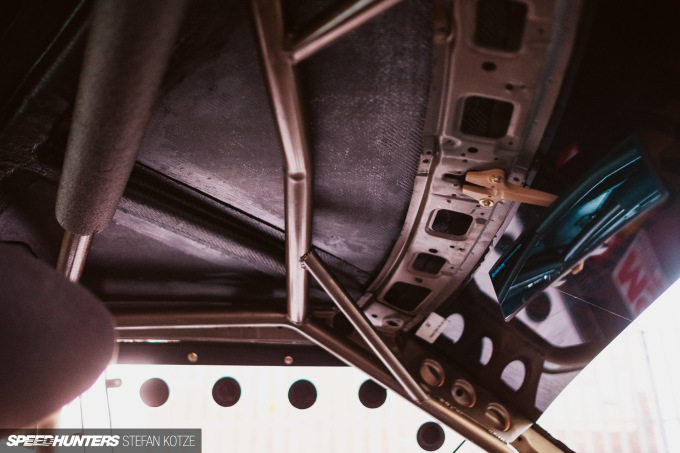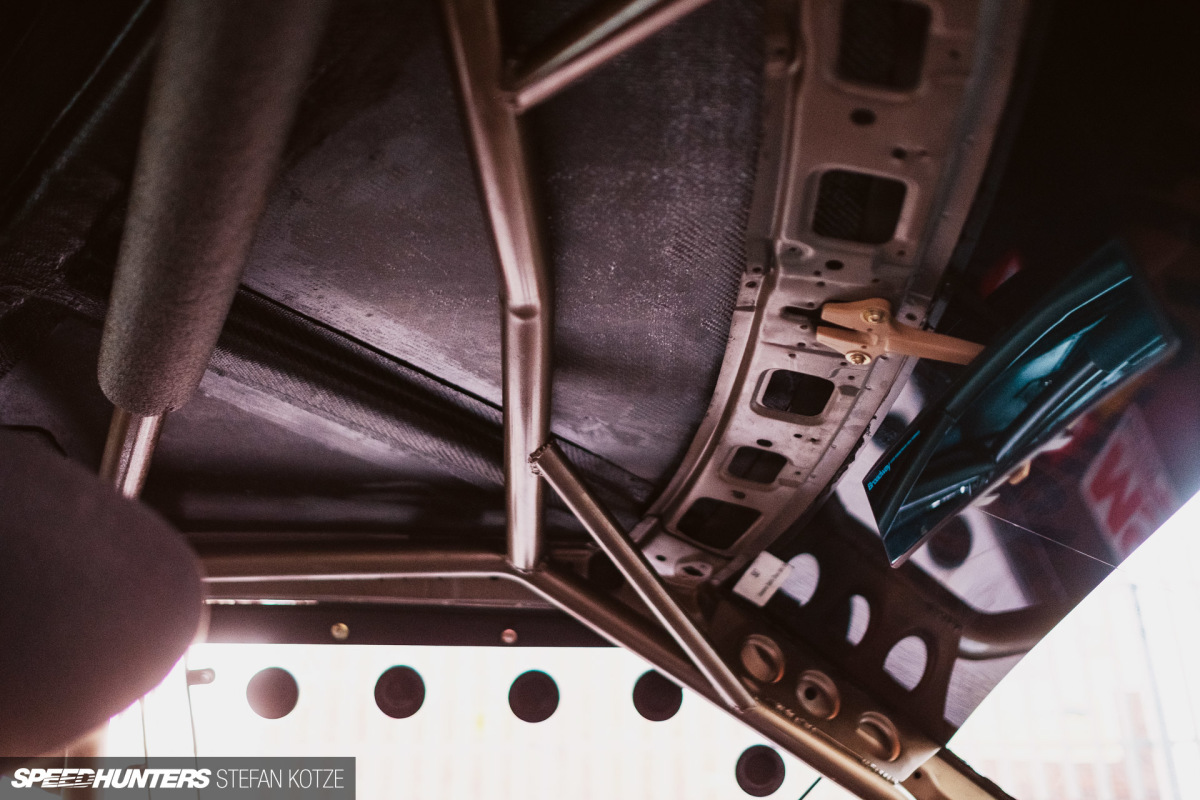 No race car would ever be complete without a proper crash protection, and this one has a custom-built and colour-coded KIU roll cage.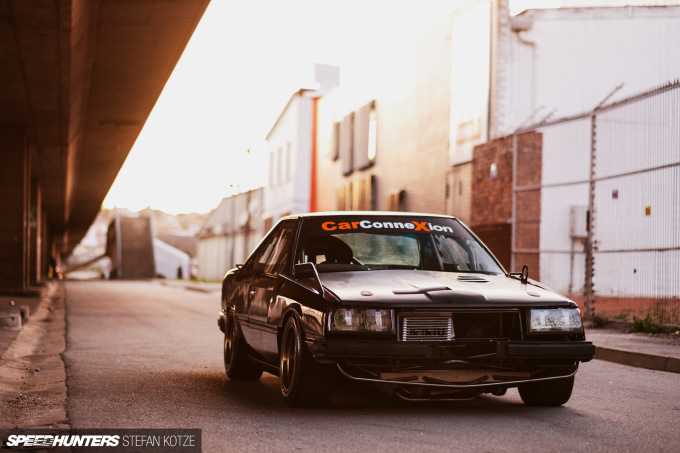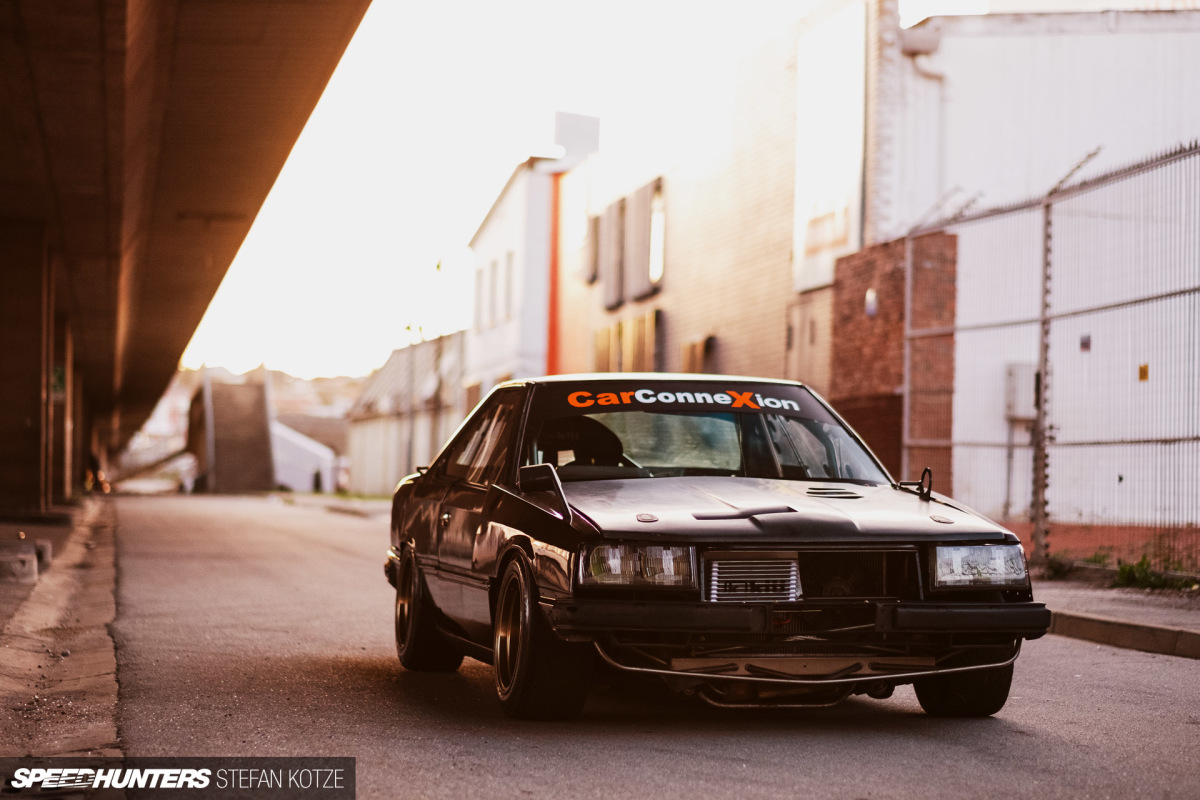 It might not be your typical choice for a race build, but this R30 Nissan Skyline is an epic one. I also love the fact that even though it has so many painstaking hours invested into it, it's far from showroom-perfect.
Yes, there's a lot of attention to detail and quality parts, but it still looks like was built to be used and abused, which is exactly what Quinsley set out to achieve when he embarked on the build.
Stefan Kotzé
info@stefankotze.com
Instagram: stefankotzephoto
www.stefankotze.com
Cutting Room Floor