Harsh Lines
The eighties were a great time for the automobile in so many ways.
It's perhaps one of the few eras where automakers couldn't seem to agree on how a car should look, meaning that while harsh lines ruled, many left-over influences from the '70s prevailed and all the while the swooping curves of concepts for the '90s were looming in the background.
If you weren't there for it — I wasn't — look no further than Blake's recent analog coverage, or Dino's search for the perfect wedge at Daikoku PA during the New Year meet to see what I'm talking about. Anyhow, by 1986 the automobile seems to have reached peak angularity with a slow decline into the soft and mushy shapes of the '90s during the years that followed.
This was the year that Jacob Lafemina's Nissan 300ZX was built, rolling out of the factory with a T-top, turbo, and a 3.0L VG six. Today, all three of these features are gone, with many more in their place.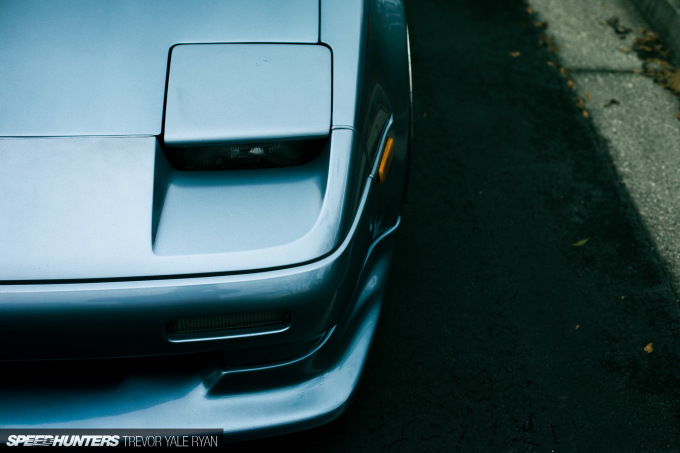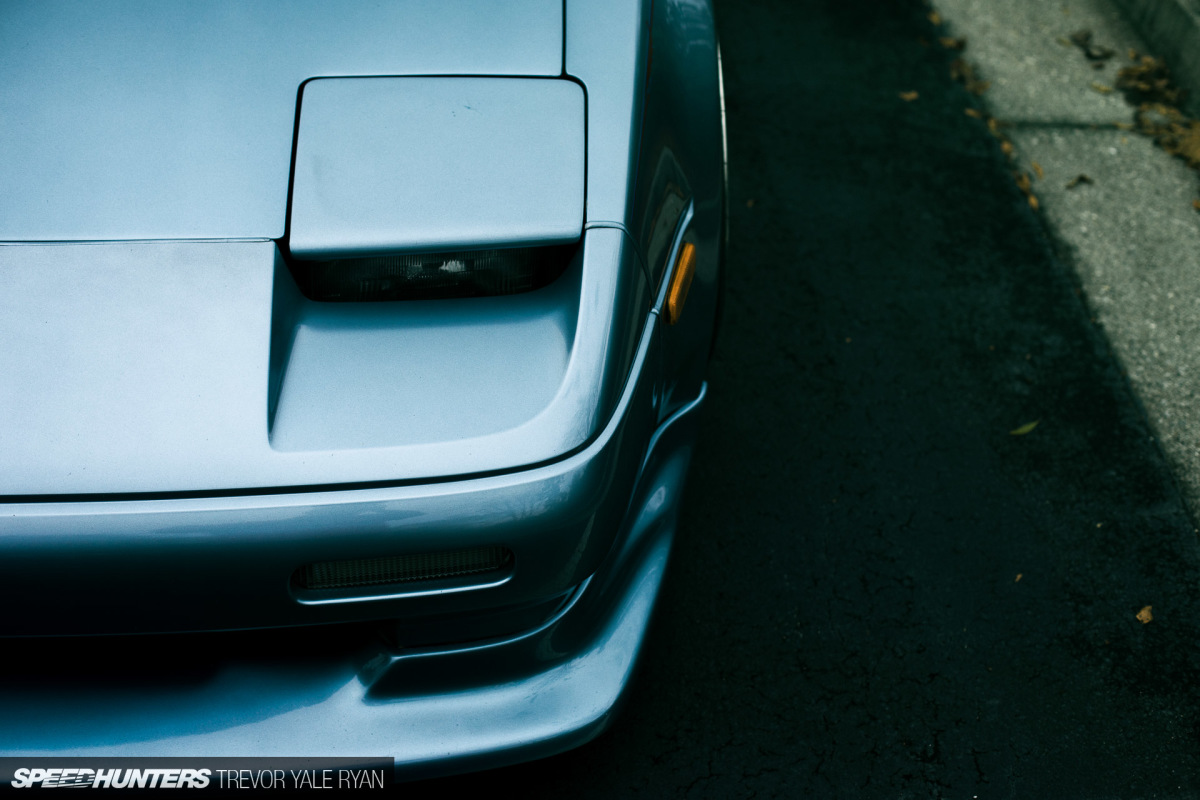 I came across Jacob's baby blue Z31 when I was in Atlanta for ZCON during their concours event. Hilariously, I overheard one of the judges walking by who muttered, somewhat hopefully, "I guess everyone has to start somewhere." The irony is that if she hadn't said this, I might have just appreciated the car to myself, and kept on going.
Instead, what she said rubbed me the wrong way, and I was all the more intrigued. When I looked closer, I started to notice little details, likely the same ones which she disapproved of.
This certainly isn't a concours car and it definitely was never meant to be; this car is a driver if I've ever seen one, and Jacob even tows with it. Given the handbrake setup it's apparent he also drifts it, which is how he got into this chassis in the first place.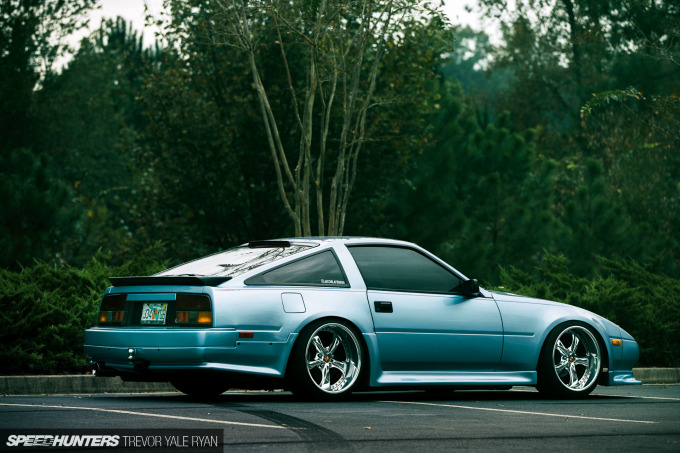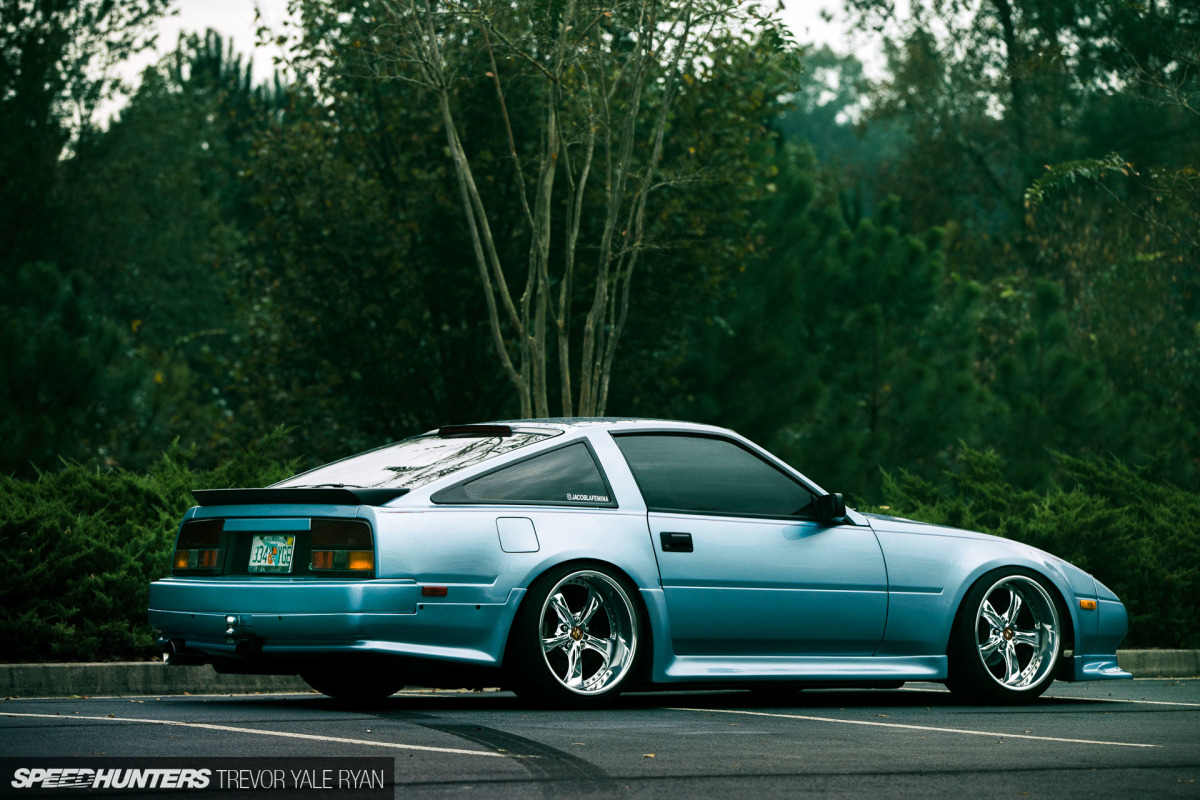 His friends were all buying up the standard early nineties cars to go sliding with, but Jacob took a liking to his friend Grant Olson's 1988 2+2 300ZX. Desperately ready for an alternative to his beat up '76 Charger (which Jacob still has), he went on the hunt. As you might expect, this journey has has some ups and downs.
This is Jacob's third Z31, the first of which he purchased for $700, and by the way he talks about it, seems to have subsequently destroyed. Next, he picked up an '87 and built it over eight months, finally treating the car to fresh paint after all of his work. Naturally, this car was then rear ended by a Mercedes traveling at freeway speed.
Then, just before Christmas in 2013 Jacob found the car you see here in Miami. The deal was done just in time for Jacob to drive his other Z31 — which, remember, was totalled (and lacking a heater) — up to New York to his parents for the holidays. Having survived the frigid journey, he set to cutting apart his precious, gold-colored 300ZX to salvage all of the good parts for the new-to-him '86.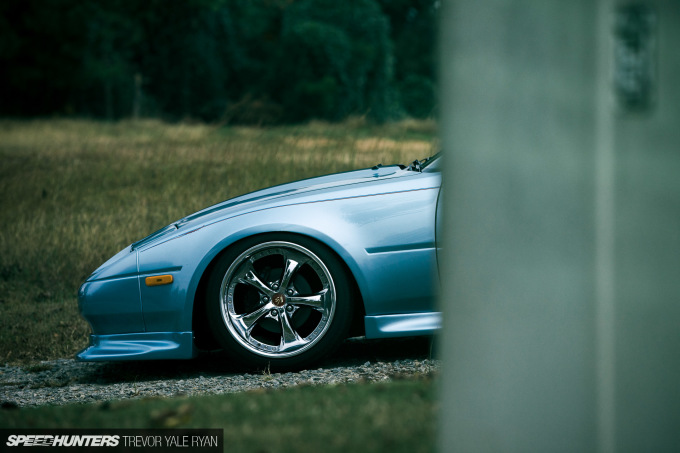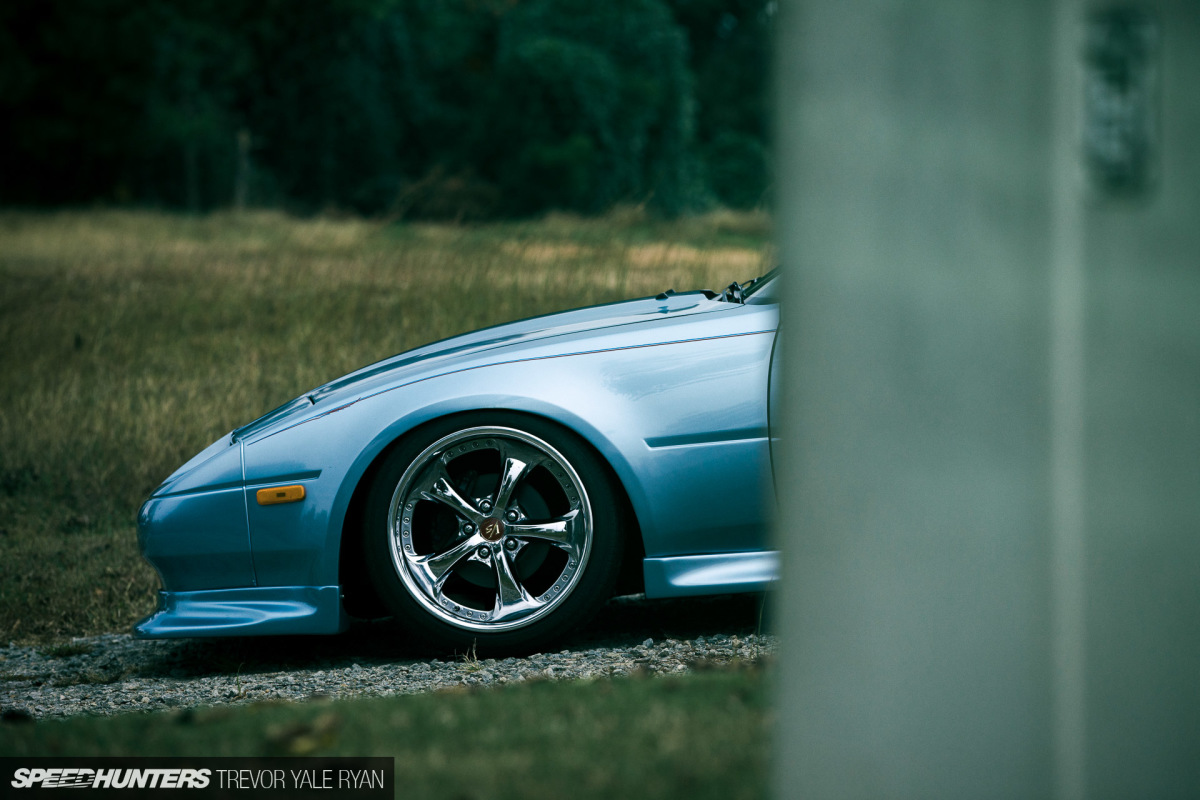 Since then it's evolved from a daily to a drift car to a show car and then back again, now sitting as a drift-ready daily.
Thinking Aesthetics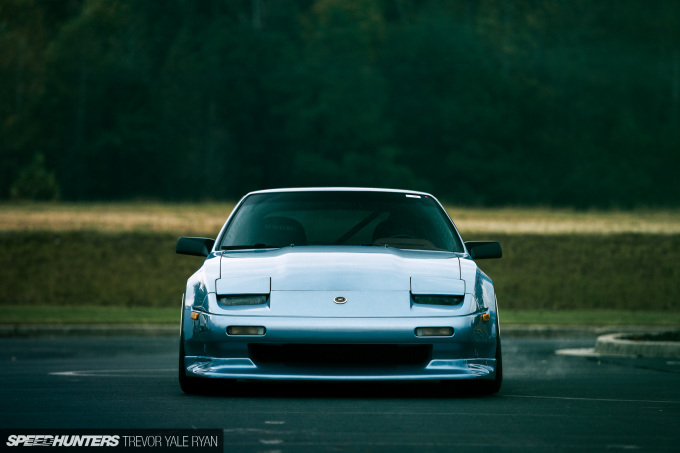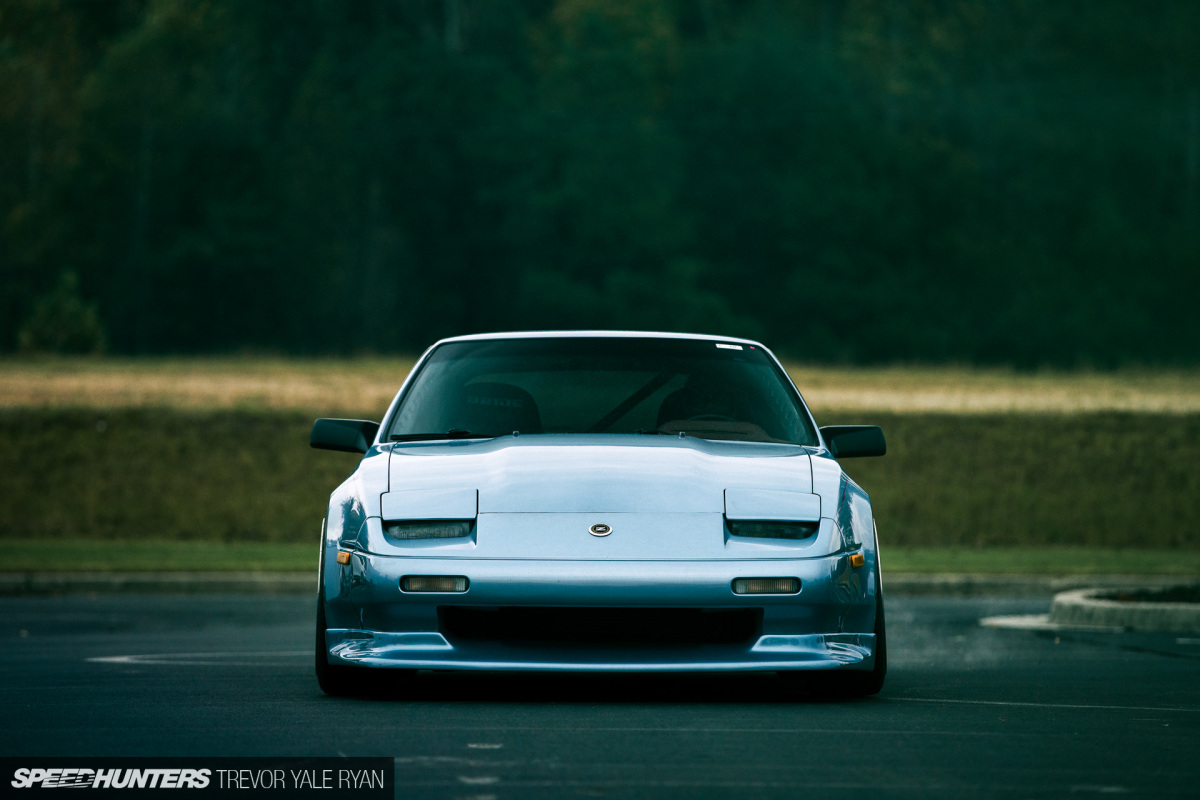 Personally, I love the aesthetic mashup going on around the car. You've got the '87-and-up kouki front end with an additional Kaminari fiberglass lip. These Kaminari pieces continue around to the side skirts and the valance out back, giving the already sharp-looking Z31 even more angularity.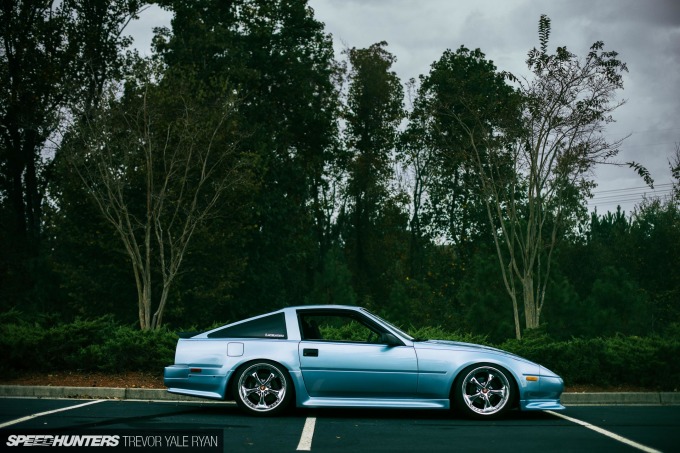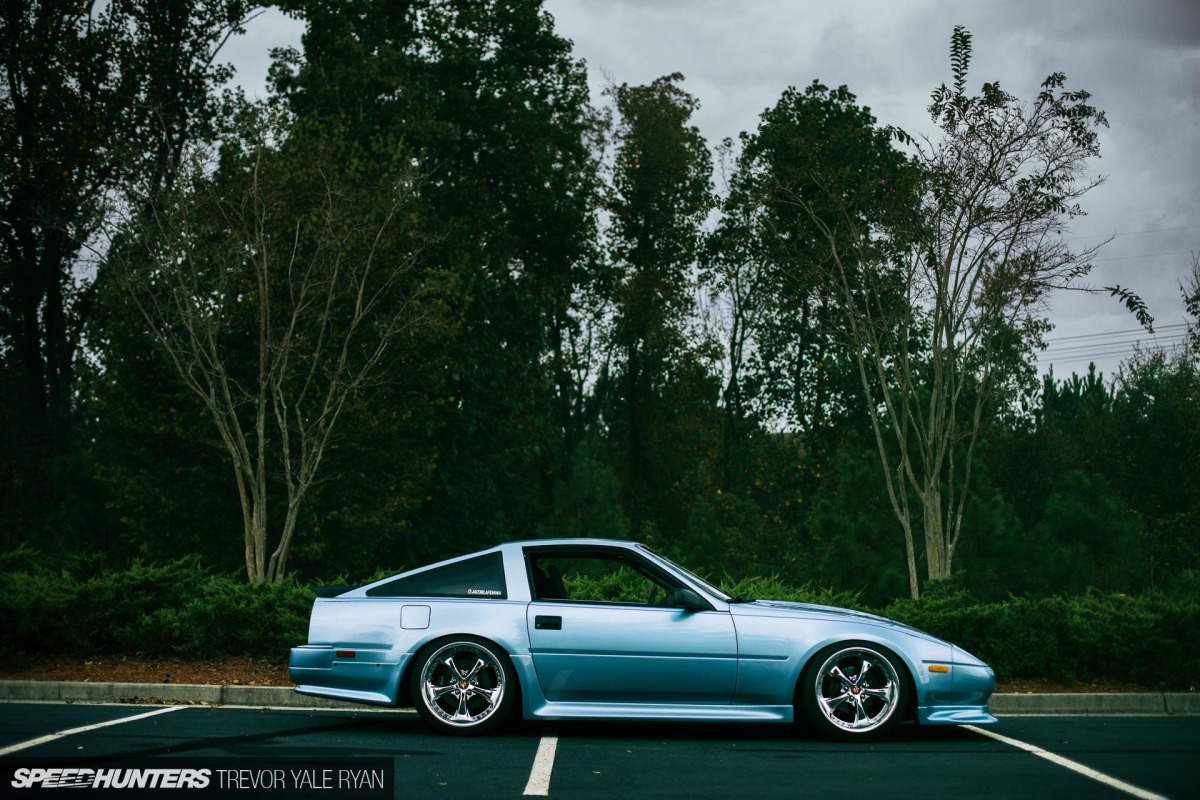 They also serve to make the car appear a bit lower and more aggressive without changing the important lines of the car. Coupled with the simple factory turbo spoiler from '88 and a set of Work VS-KF wheels it's a nice balance of old and new, conservative and liberal.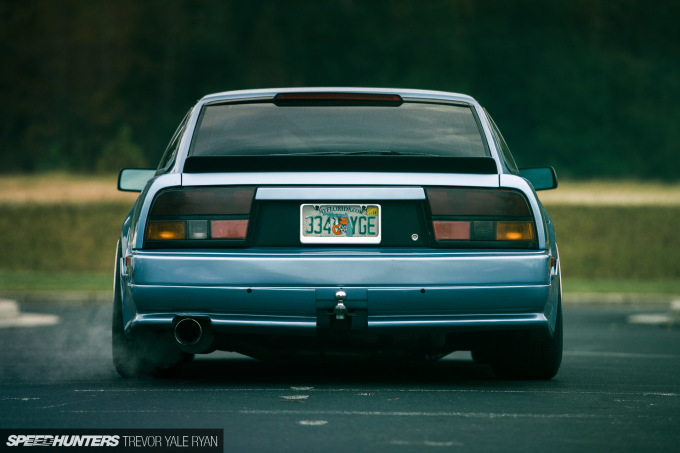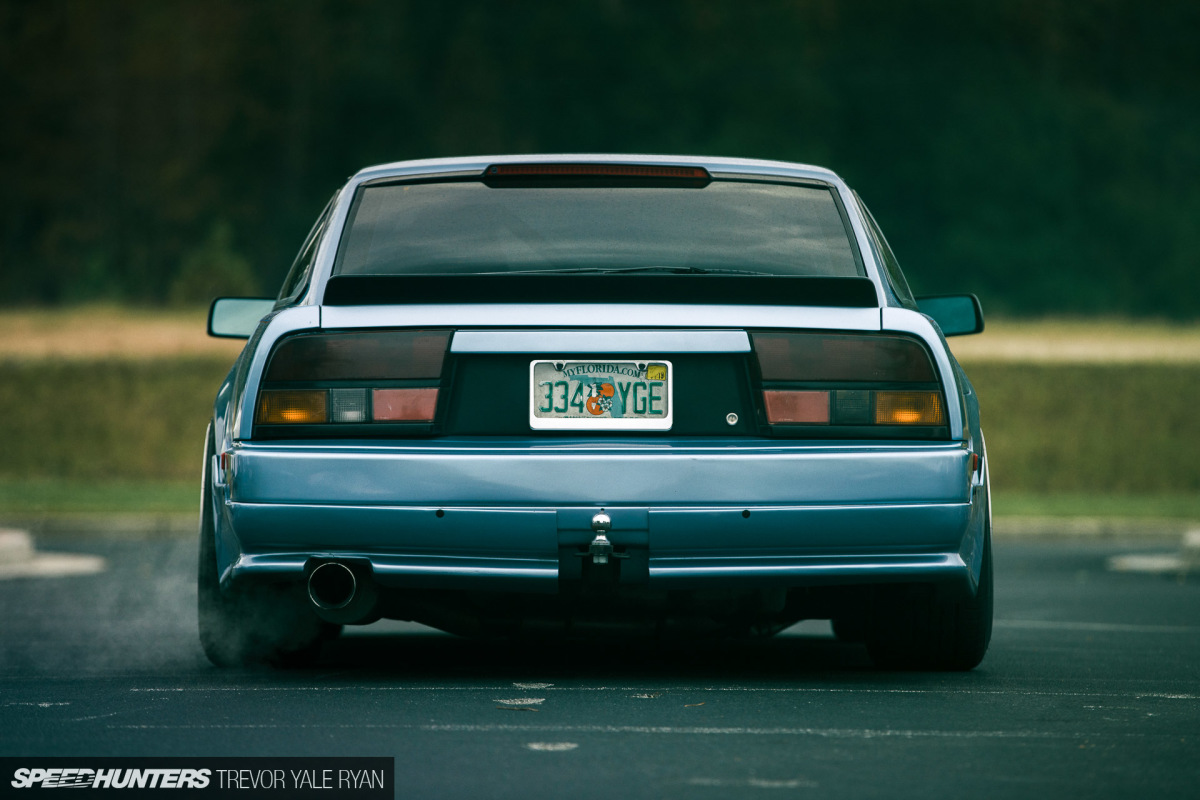 I love the little cut-out for the hitch, too.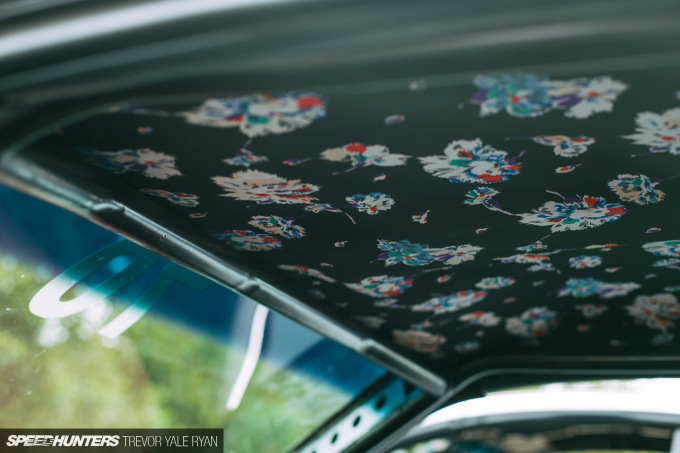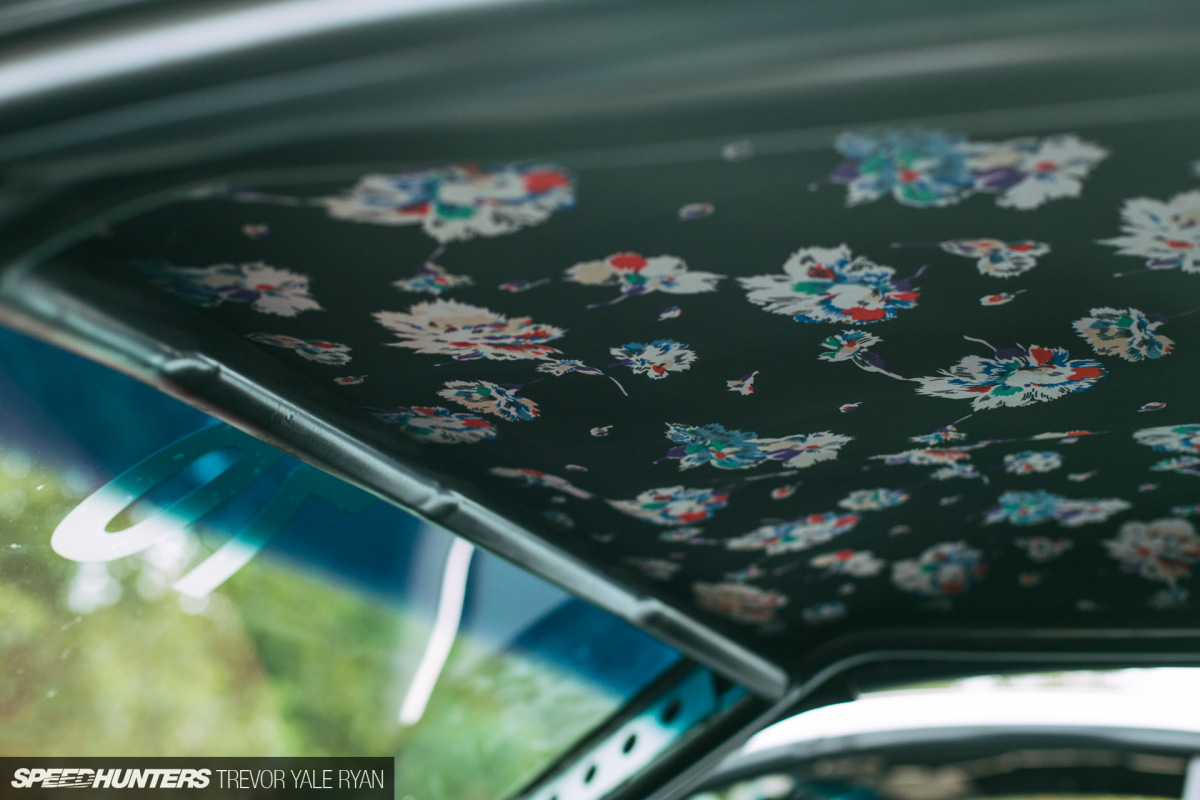 Another significant change was done to the roof, as you'll remember I mentioned that this was a factory T-top car. Jacob tells me he and his friend James Ruby drove from South Florida to Alabama over a weekend to pick up a slicktop roof in good condition.
When they got it back they braced the car, cut out the perfect T-top and began the painstaking task of grafting the hardtop onto the car. After this, the 300 went off to James and his other friend Bryan Nystrom for bodywork and paint.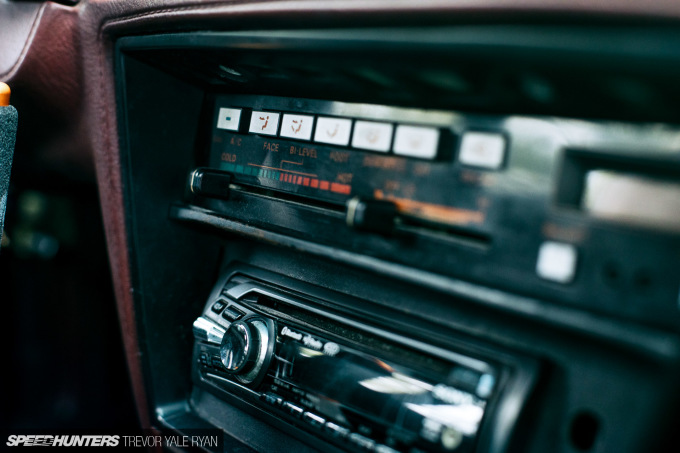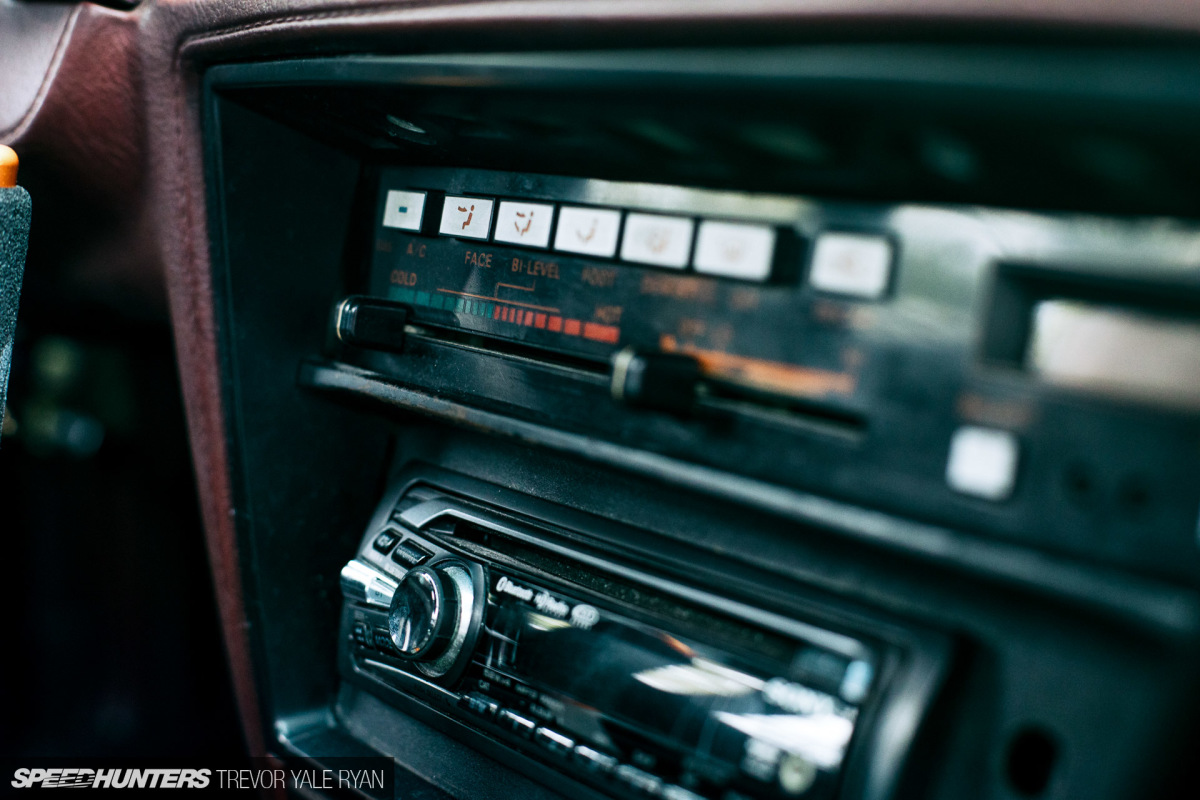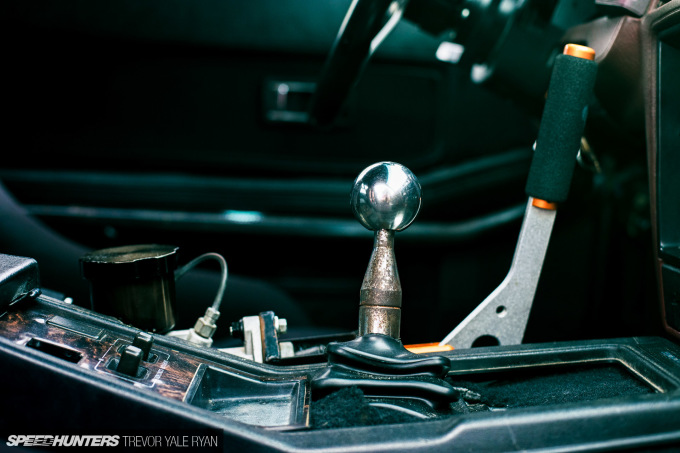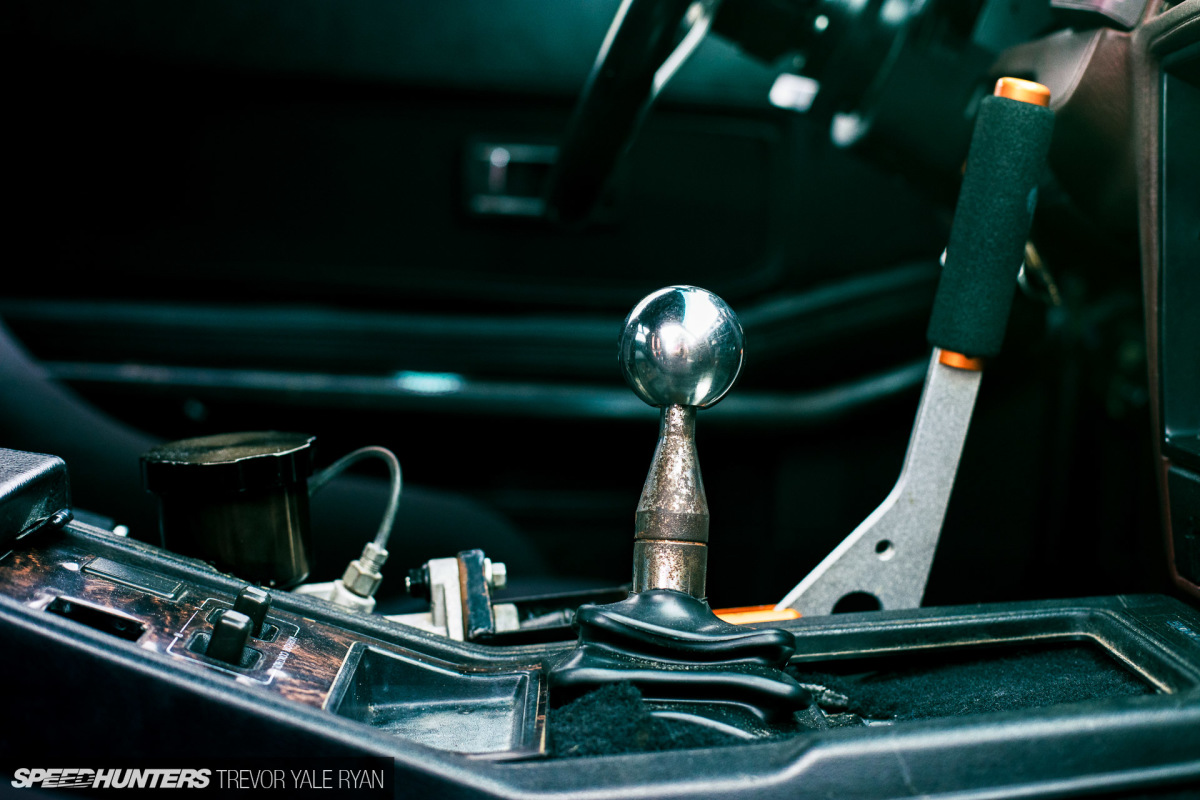 Inside the car, a lot of the original details remain alongside some glaring additions. You'll find Bride Low Max buckets sitting on Corbeau rails with RaceQuip five-points snaking through. The driver interacts with the car through a Nardi Classic wheel, and a K-Sport hydraulic handbrake has been added along with a Wilwood 3/4-inch master cylinder. There's also a 10-inch subwoofer hanging out somewhere inside, too.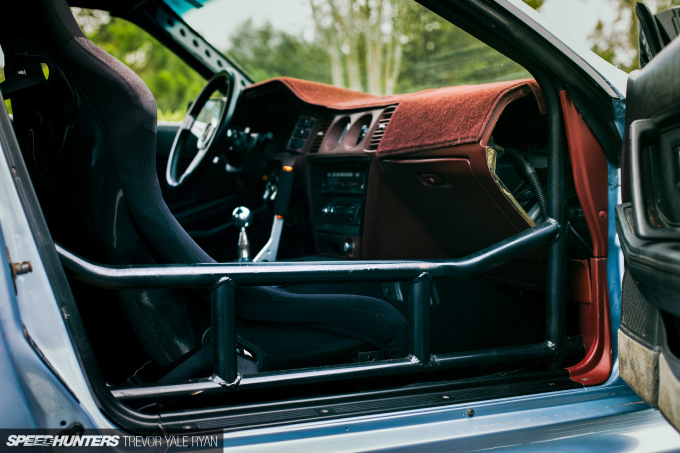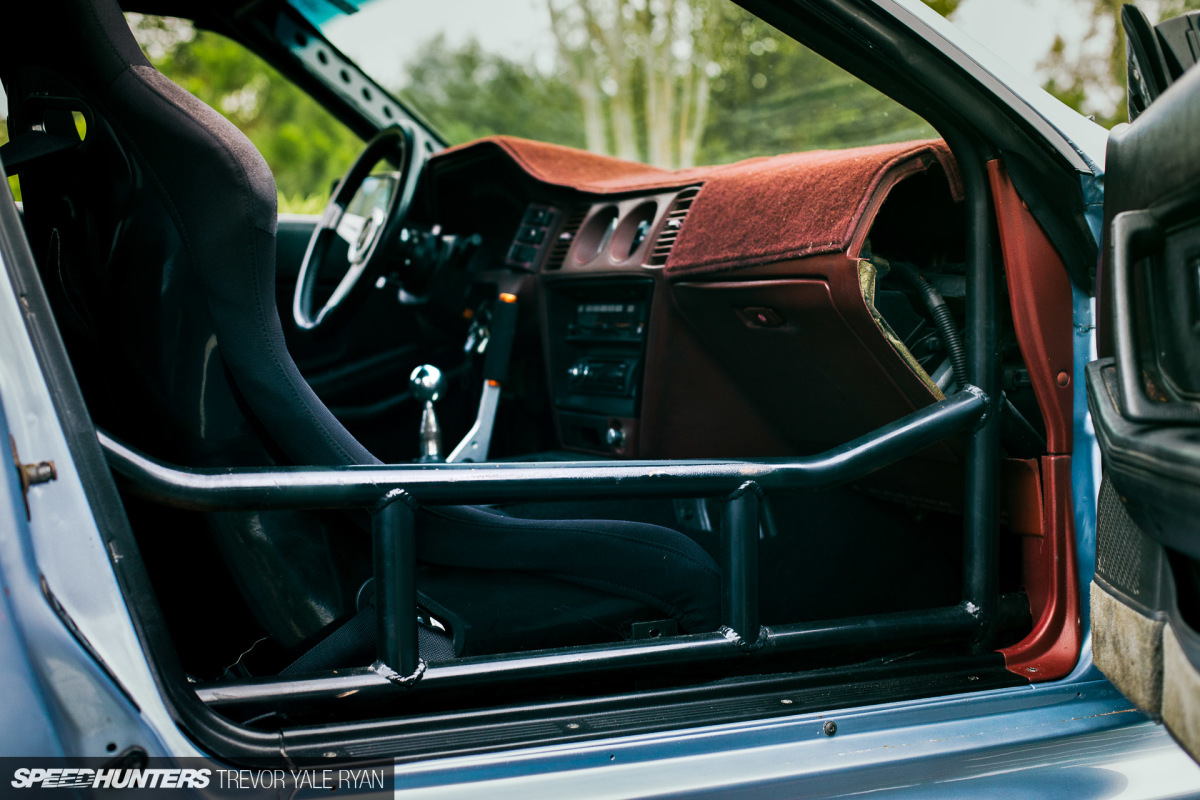 I really like the mix of the original aesthetic up against the functional changes, most notably the fully race legal roll cage. Fabrication for this was completed by Jacob's friend Cameron Harris — another Z31 owner — at Pucker Factory Lab.
It turns out it works, too, as Jacob found himself in a tire wall at 45mph a couple years back at Palm Beach International Raceway. The entire drivers side was crunched in, which Jacob entirely replaced himself. Jacob says "even though it was a huge pain in the butt it was still better than having a bondo-mobile."
I have to agree, especially since I didn't do any of the work.
The Underside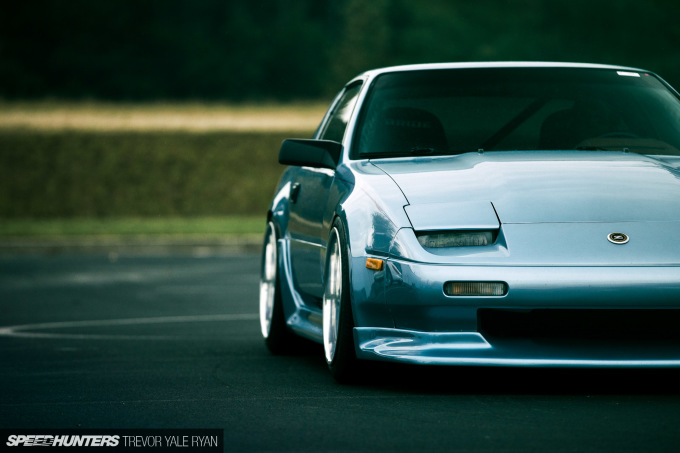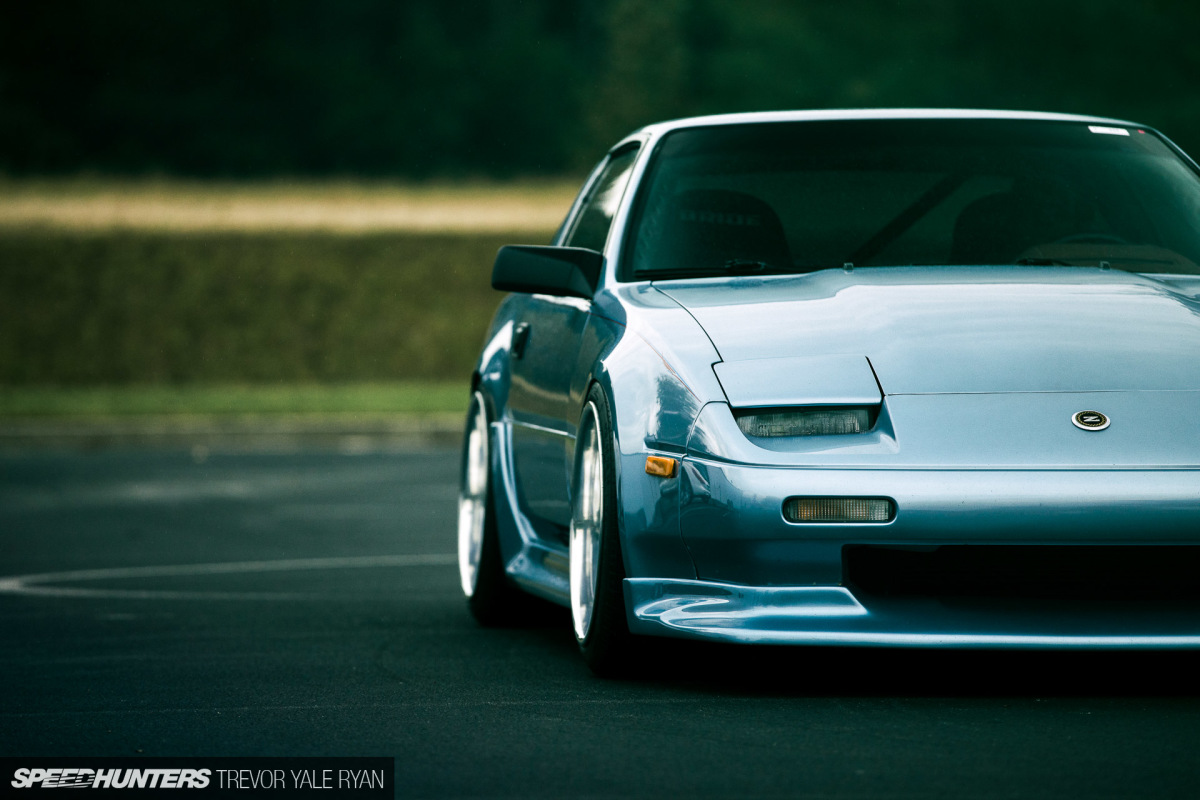 Peeling off the skin, an incredible amount has been done to the car that you can't see.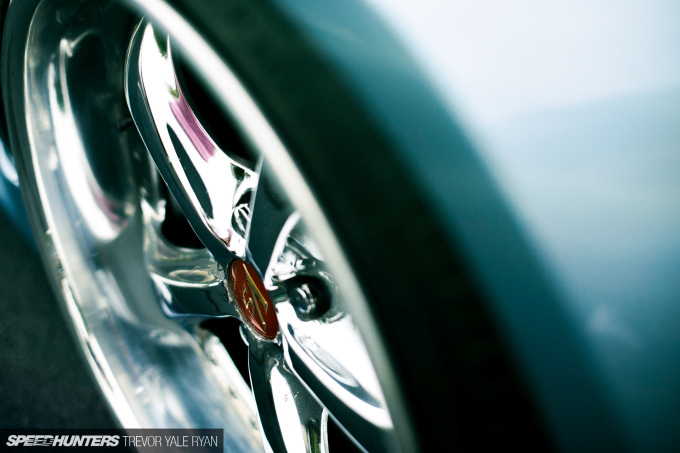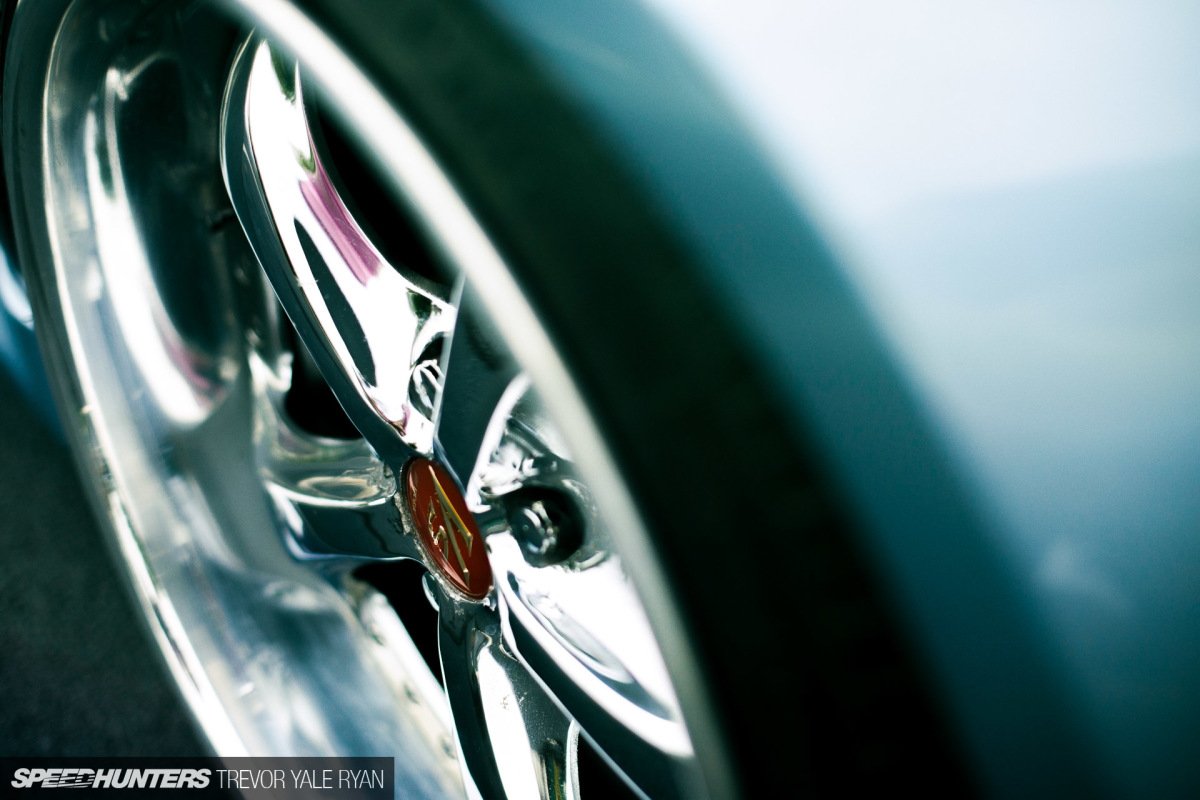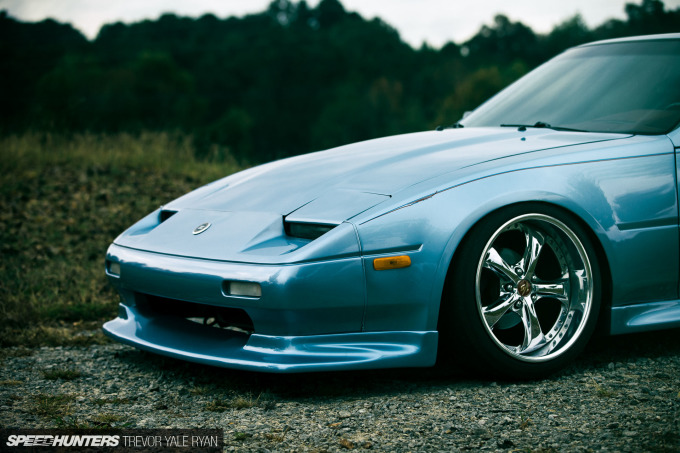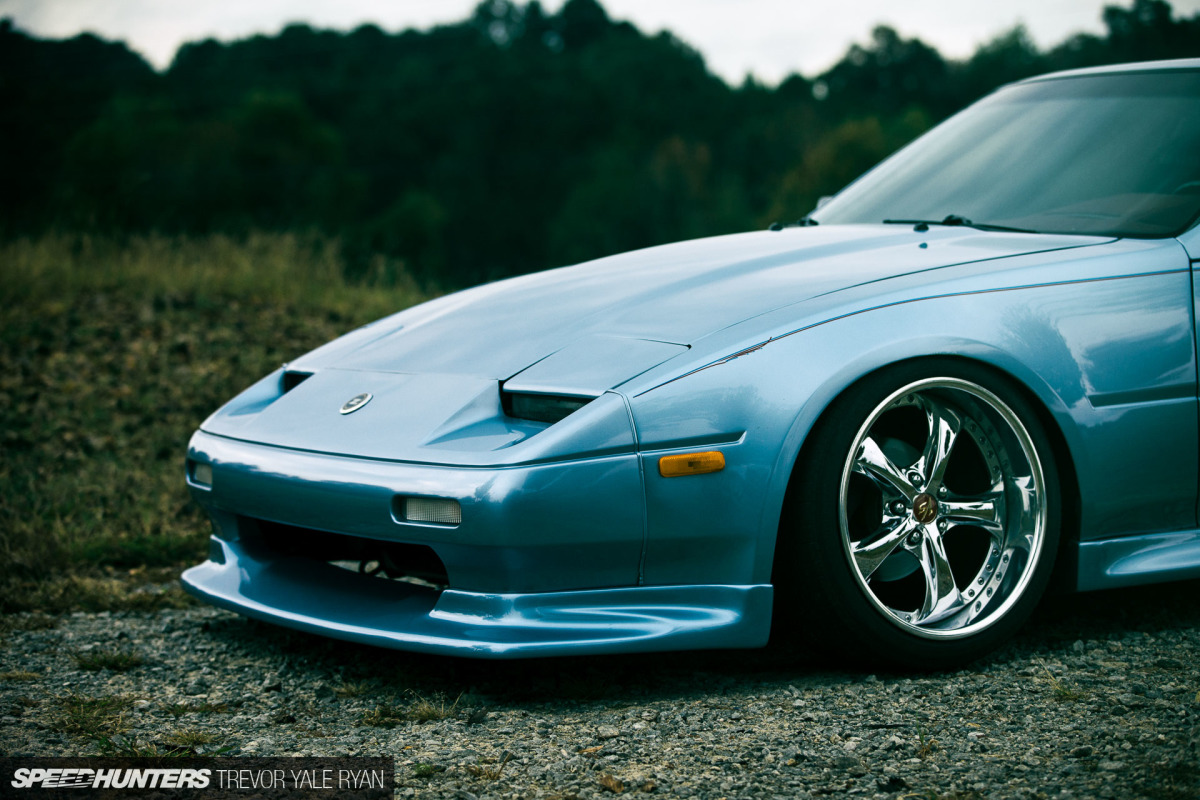 Up front, Stance SS coilovers help to just barely tuck some of the tire on the 18 by 9.5 inch front wheels which are wrapped up in 225/40-series rubber. Response Type lower control arms with heim joints, front tension arms by Stance, poly bushings, and a lower knuckle angle kit round off most of the suspension changes in front of the driver.
Behind the driver and underneath the body you'll find an S14 subframe swap which came as a kit courtesy of Zachary Ard at Acadiana Sports Car Orphanage. The subframe itself connects to the chassis via Parts Shop Max offset solid subframe bushings. This setup was then paired with the same Stance SS coilovers as you find in the front, although coupled with Parts Shop Max drop knuckles which integrate dual caliper mounts.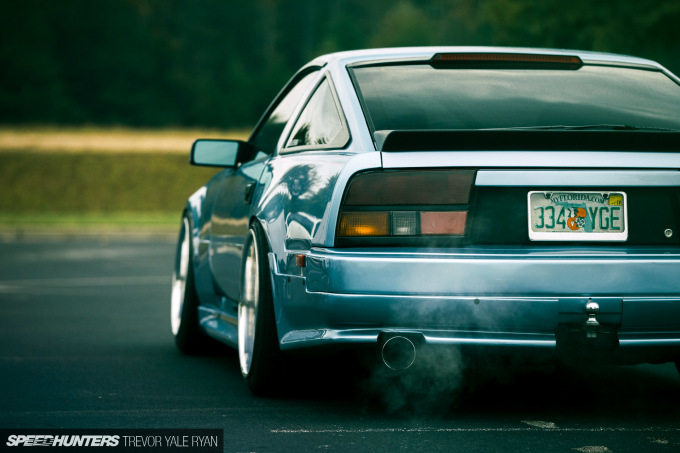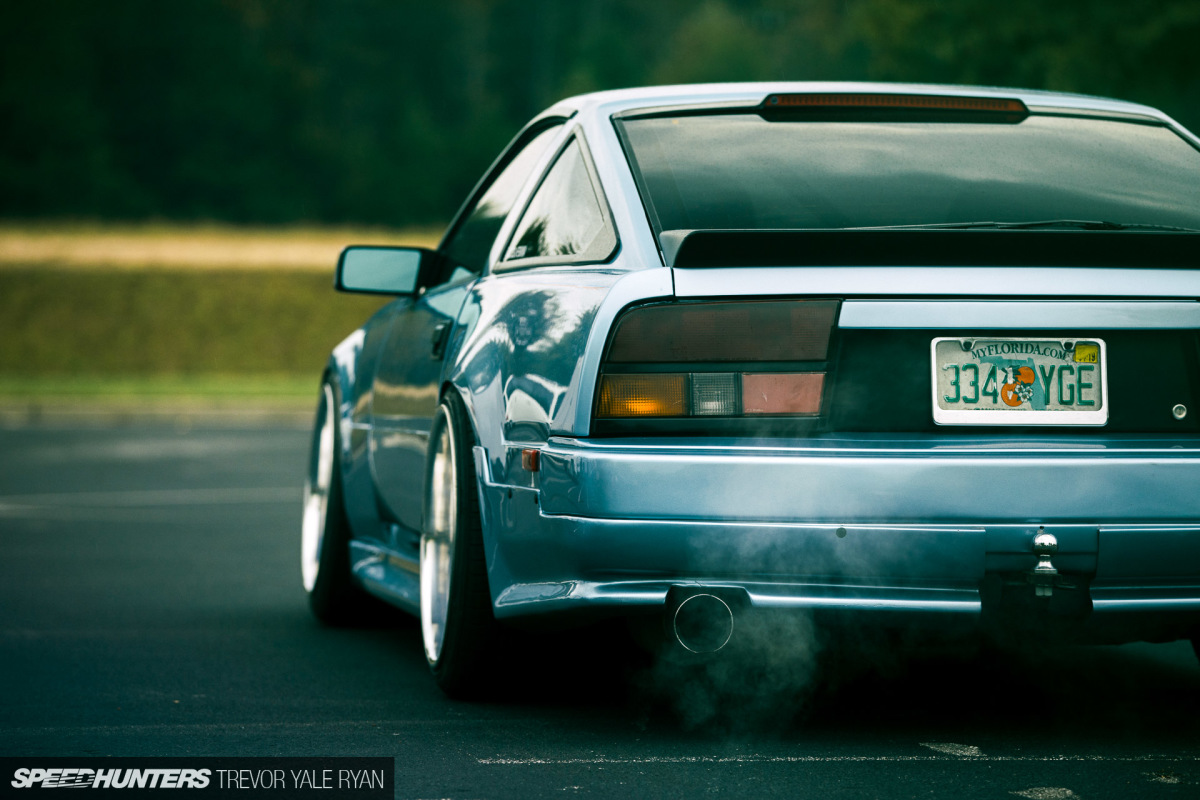 Again, this results in the 18-inch diameter Work wheels (this time measuring 10.5 inches wide) pushing their boundaries with the rear fender lip. To keep the geometry happy Jacob has gone with ISR-Pro upper control arms and toe arms while the factory S14 lower arms remain, although upgraded with polyurethane bushings. In the center of it all is an R230 differential from a 2005 Pathfinder which is accommodated by GK-Tech's solid Z33-to-S14 diff bushings.
When I shot the car all four corners featured Z32 calipers (with two pairs out back, of course), but Jacob tells me he's since upgraded the front to an AP Racing setup. As you'll see next, this stopping power is indeed needed thanks to the upgraded power plant under the hood.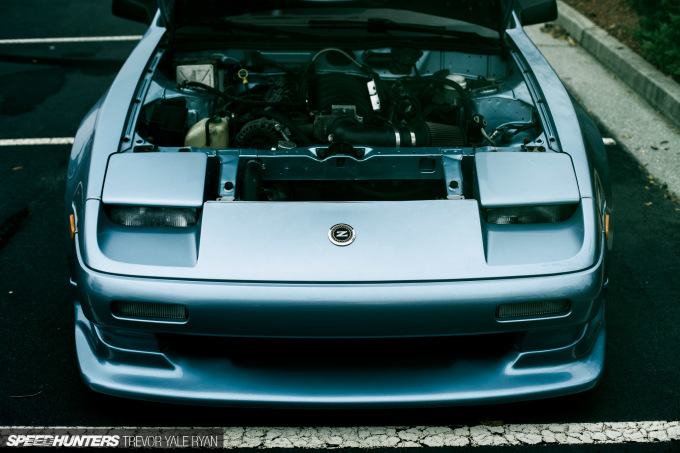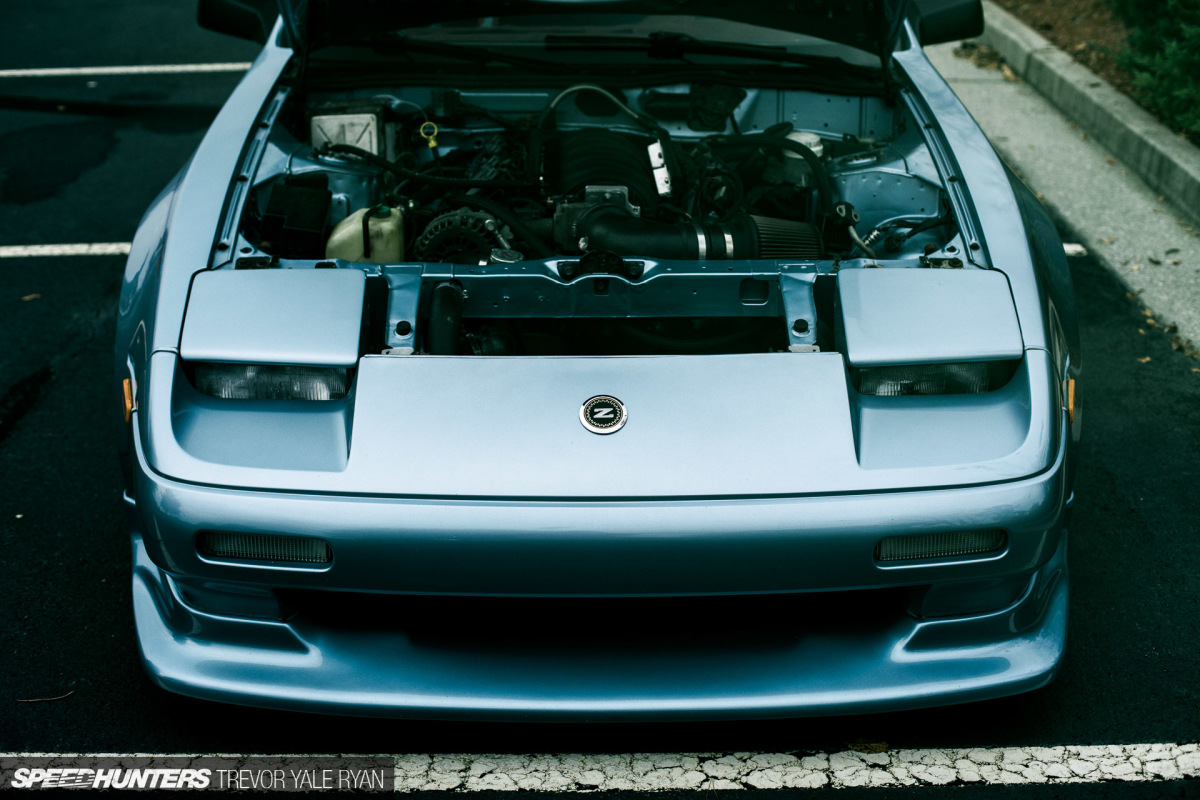 An iron block 5.3-liter LM7 engine has replaced the old six, giving Jacob a healthy bump of naturally aspirated — and very American — torque. Some odds and ends need cleanup, but Jacob has so far put on an LS2 intake from an GTO as well as some cheap headers which feed a completely custom exhaust built by Harvey Hutch at Hutch's Welding which makes use of a CM performance muffler.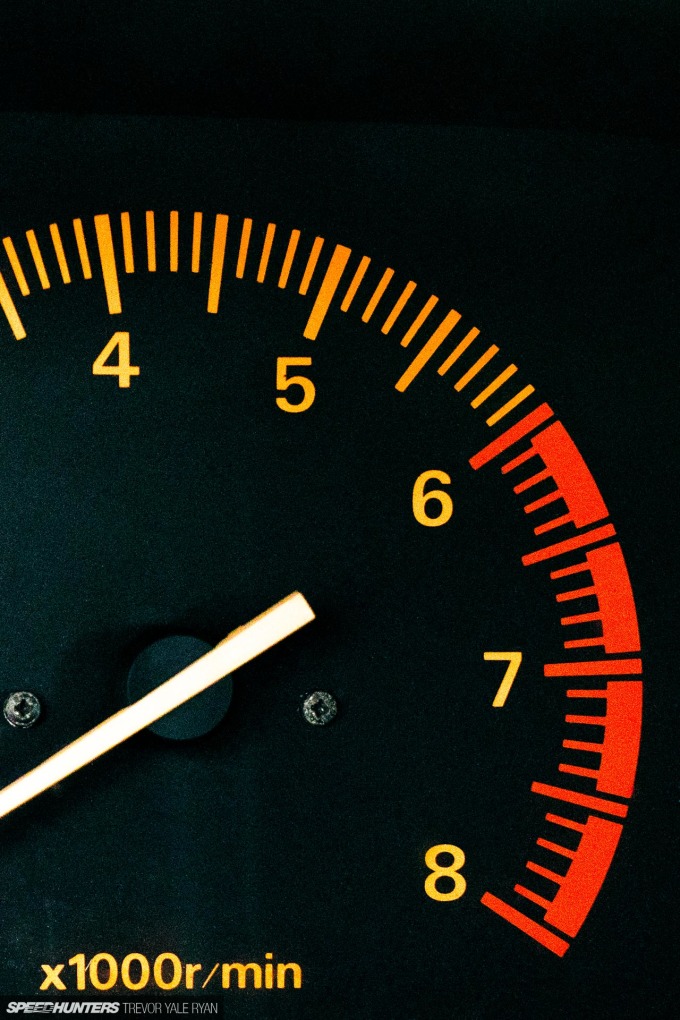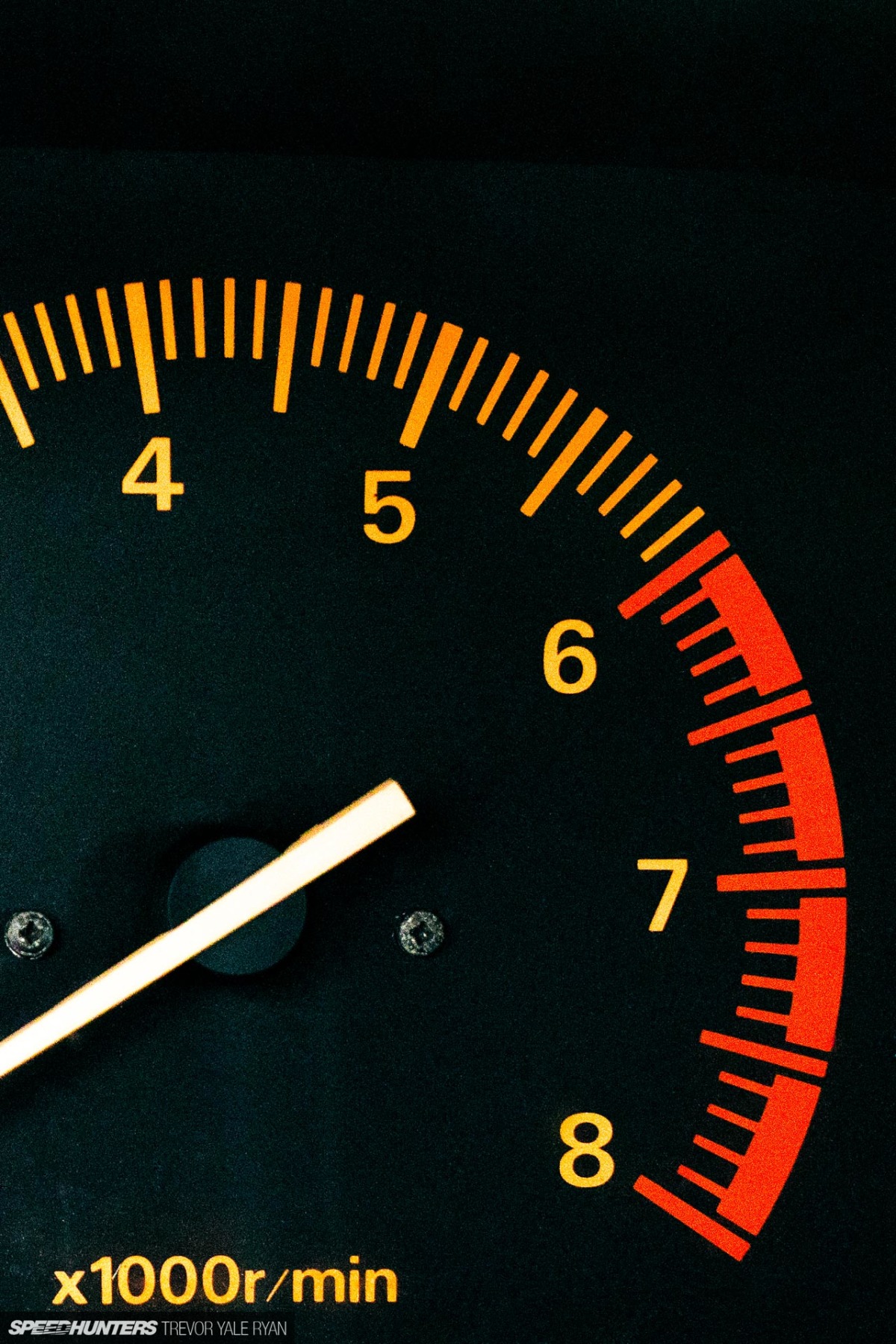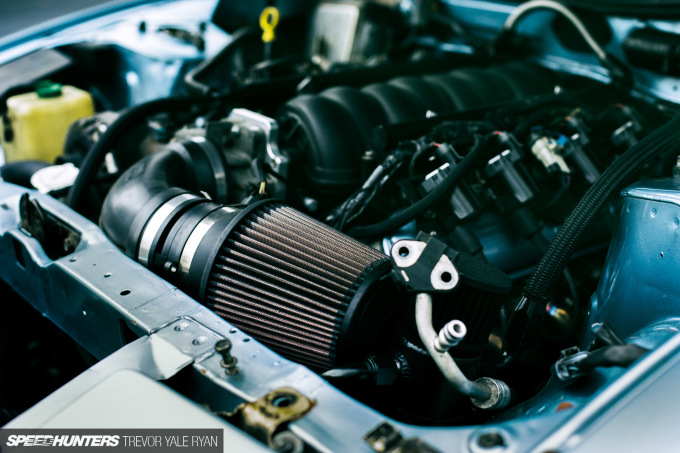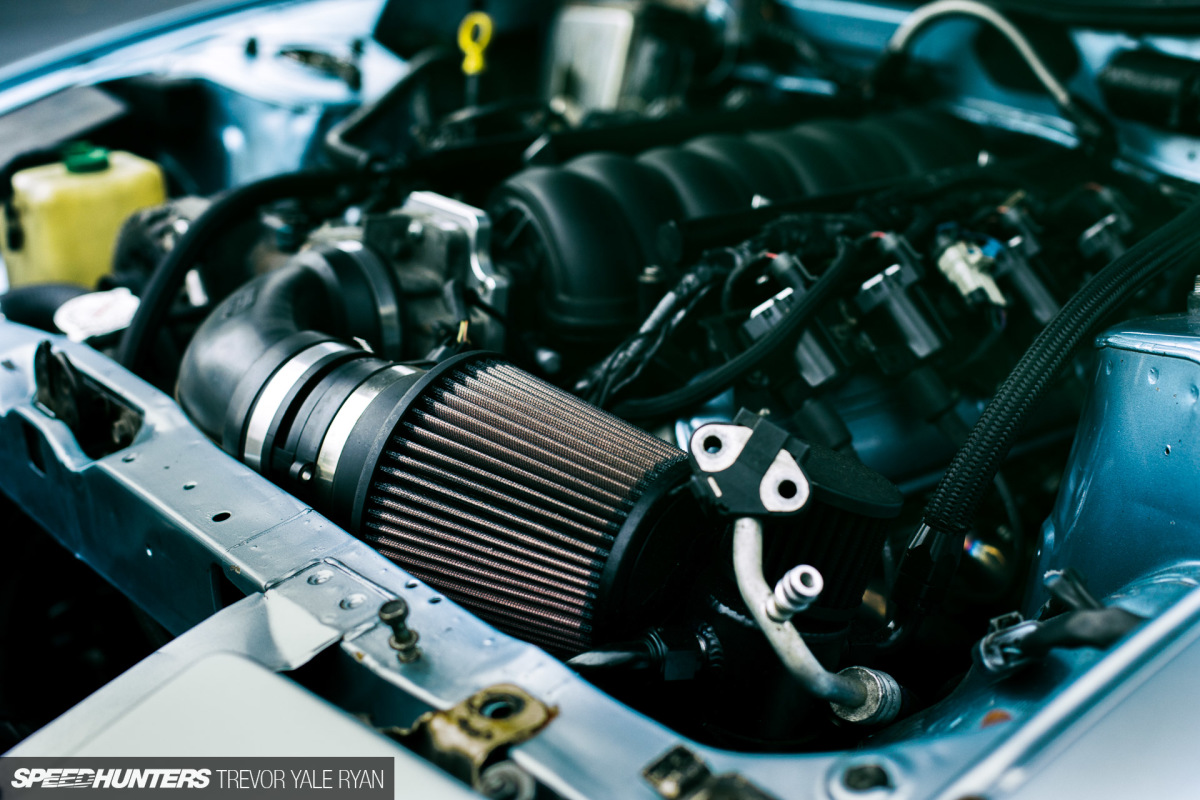 Nearly 300 horsepowers (and at least 325 foot-pounds) push their way through a Centerforce clutch and find themselves in a Z32 twin-turbo five-speed 30A transmission. Jacob made this happen using a G-force adapter, along with their flywheel.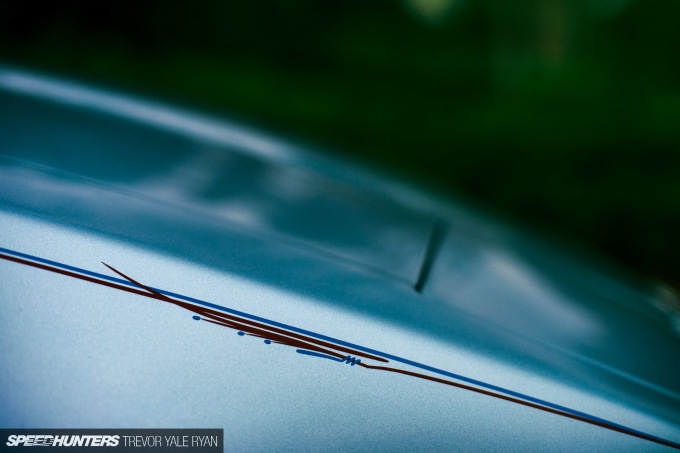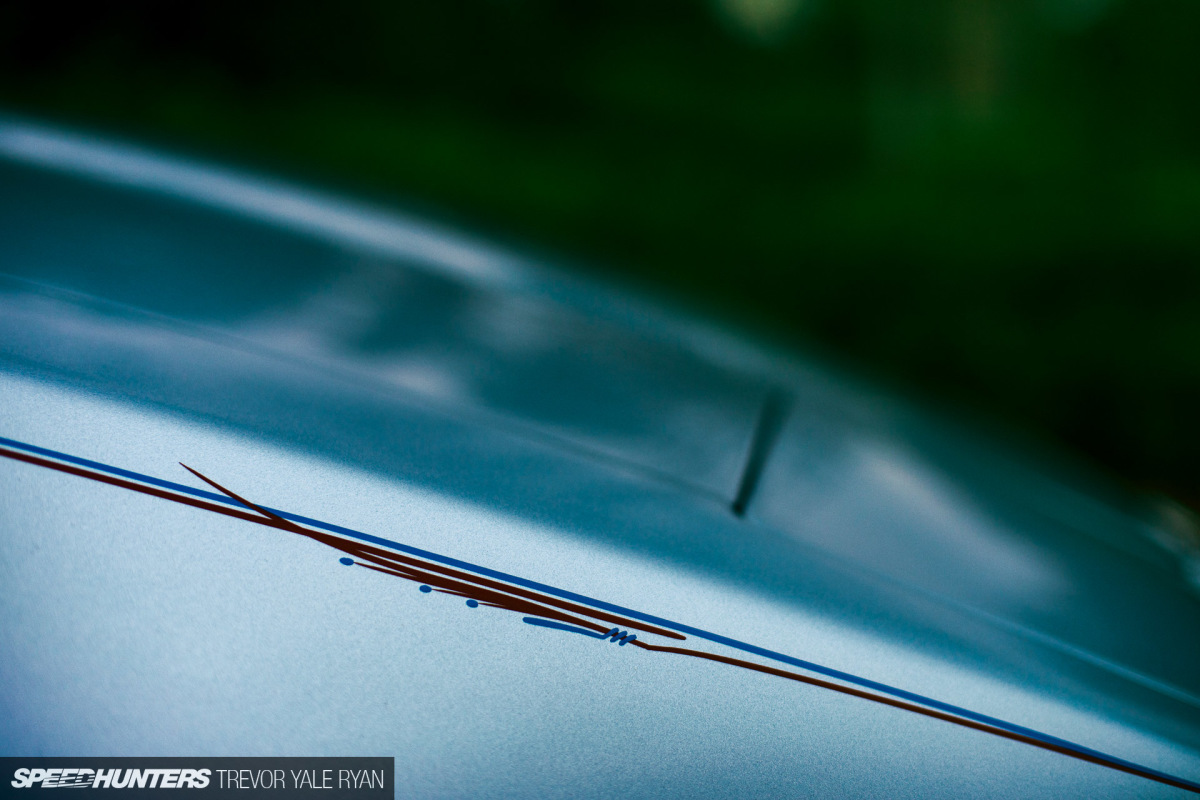 In case you missed it, allow me to point off one of my favorite features of the car before signing off, a hand-painted pinstripe. The couple who did it for him, the Littels, said they thought the feathered tips were too "Cadillac-esque" for an '80s sports car but after they were done they admitted they saw why Jacob asked for it.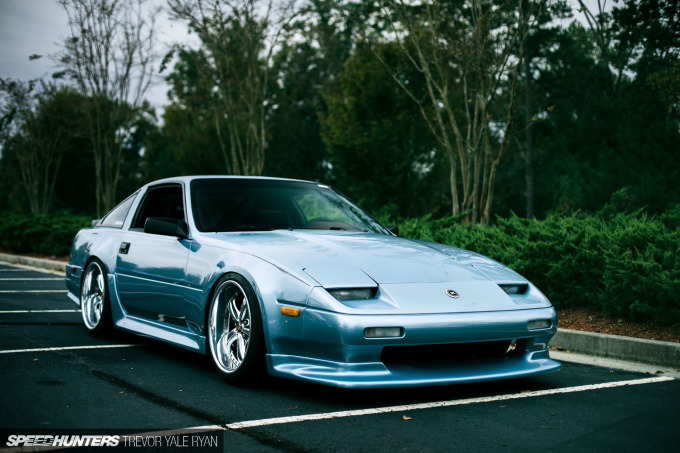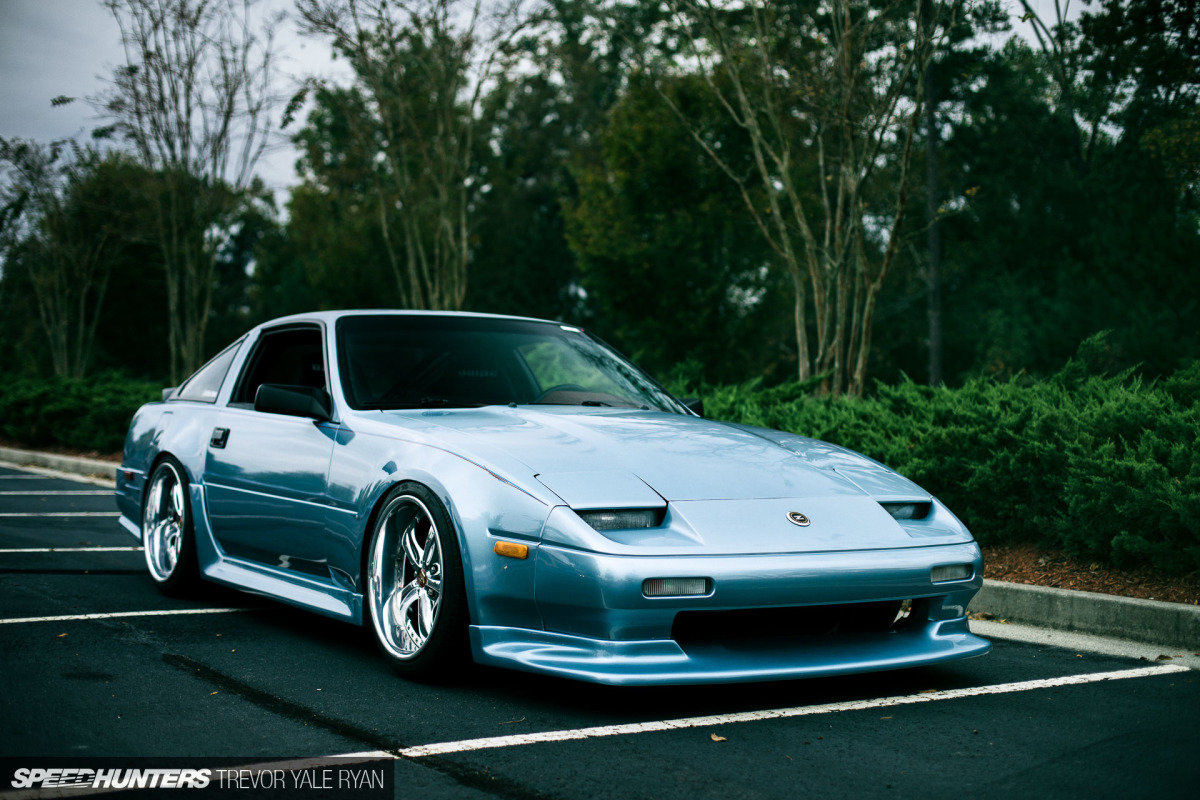 All in all, this 300ZX is a car that Jacob drives every chance he gets and has been built for the abuse. I think it looks absolutely wicked, too, especially knowing that it was in fact set up to go hard. Given how many serious conversions have gone on I can only imagine the amount of time that Jacob's put in the car.
But "everyone has to start somewhere," right?
Trevor Ryan
trevor@speedhunters.com
Instagram: tyrphoto
TYRphoto.com