Think electric vehicles today and you tend to consider MPG over MPH, but that looks set to change in the near future.
As much as we might not want to admit it, fossil fuels are finite, and EVs (electric vehicles) undoubtedly represent the future of transport. In Norway for example, EVs now make up over 50% of all new car sales – a trend that is already starting to affect the oil industry after a year-on-year drop of almost 3% in petroleum sales in that country. At the moment, EVs appeal to those wanting to travel in a more eco-friendly manner, but what about the performance side of going green?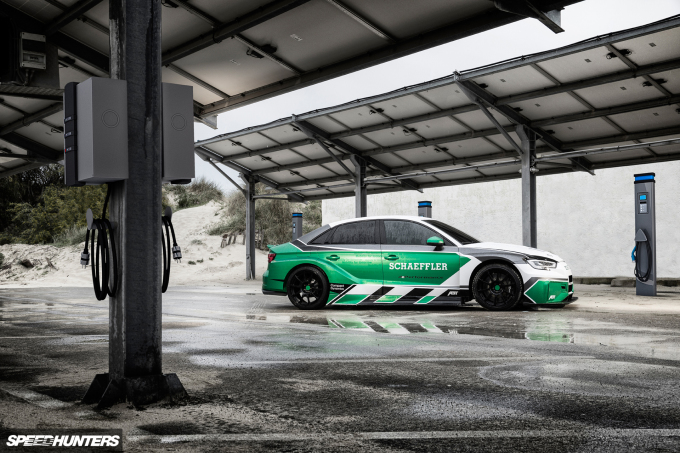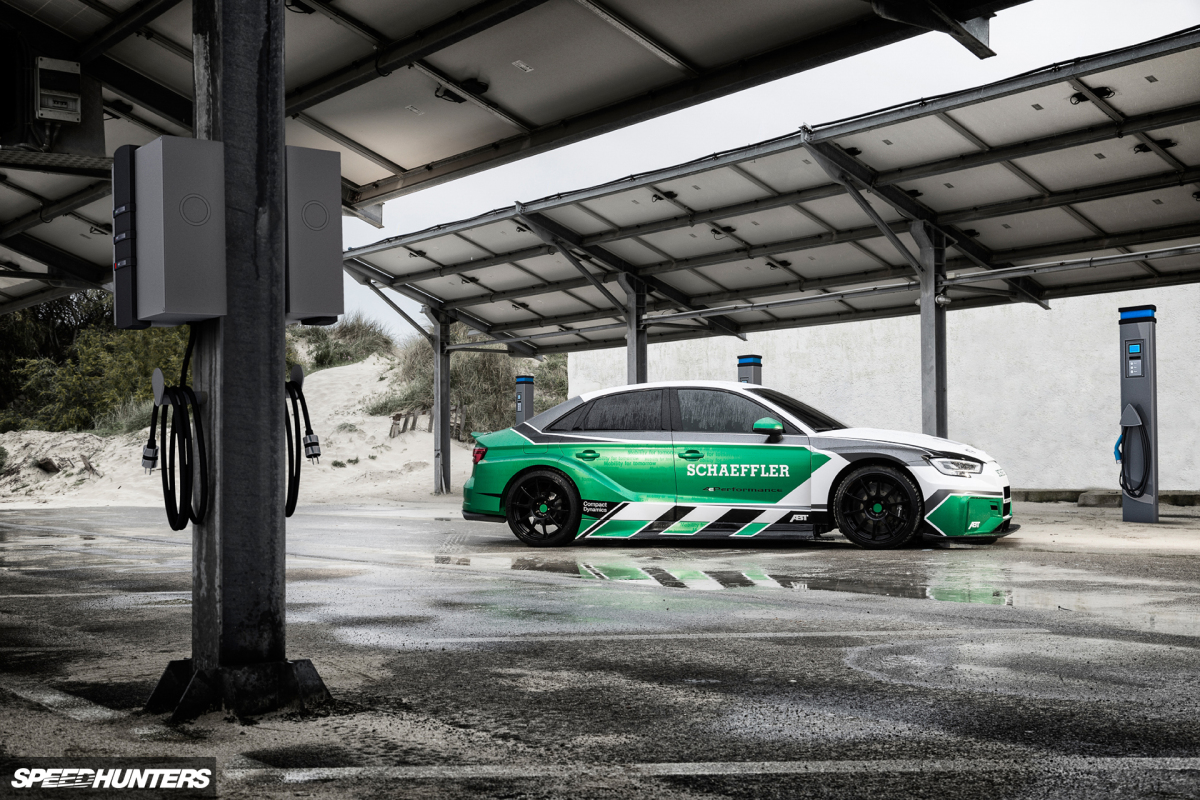 Yes, we've already seen performance EVs and hybrids in the form of the pricey Tesla Model S, Honda NSX, LaFerrari, 918 Spyder and so forth, but what you're looking at here is pretty exciting stuff for the future of all performance road cars. It's called the Schaeffler 4ePerformance concept.
Although this car is exactly that, a concept, it's a great demonstration of how applicable technologies such as those developed and used in Formula E can be used in road-going cars. The Schaeffler team, for all intents and purposes, essentially transplanted the running gear from the ABT Schaeffler FE01 Formula E race car into an Audi RS3 TCR chassis, plugged it in and then hit the racetrack. These are the very same motors that propelled Lucas di Grassi to victory in the 2016/17 Formula E season.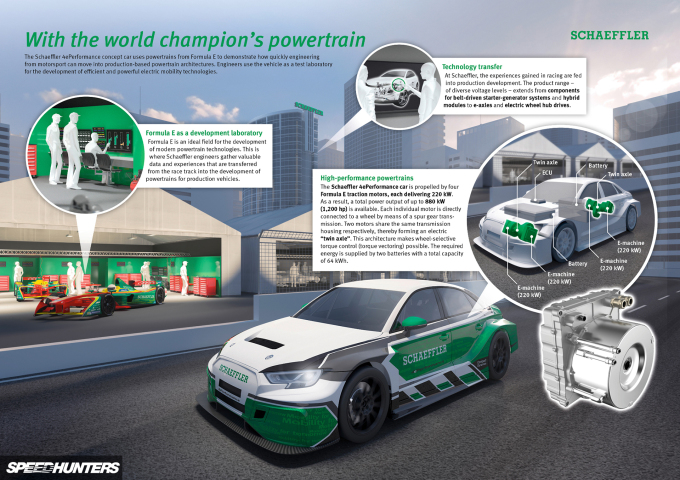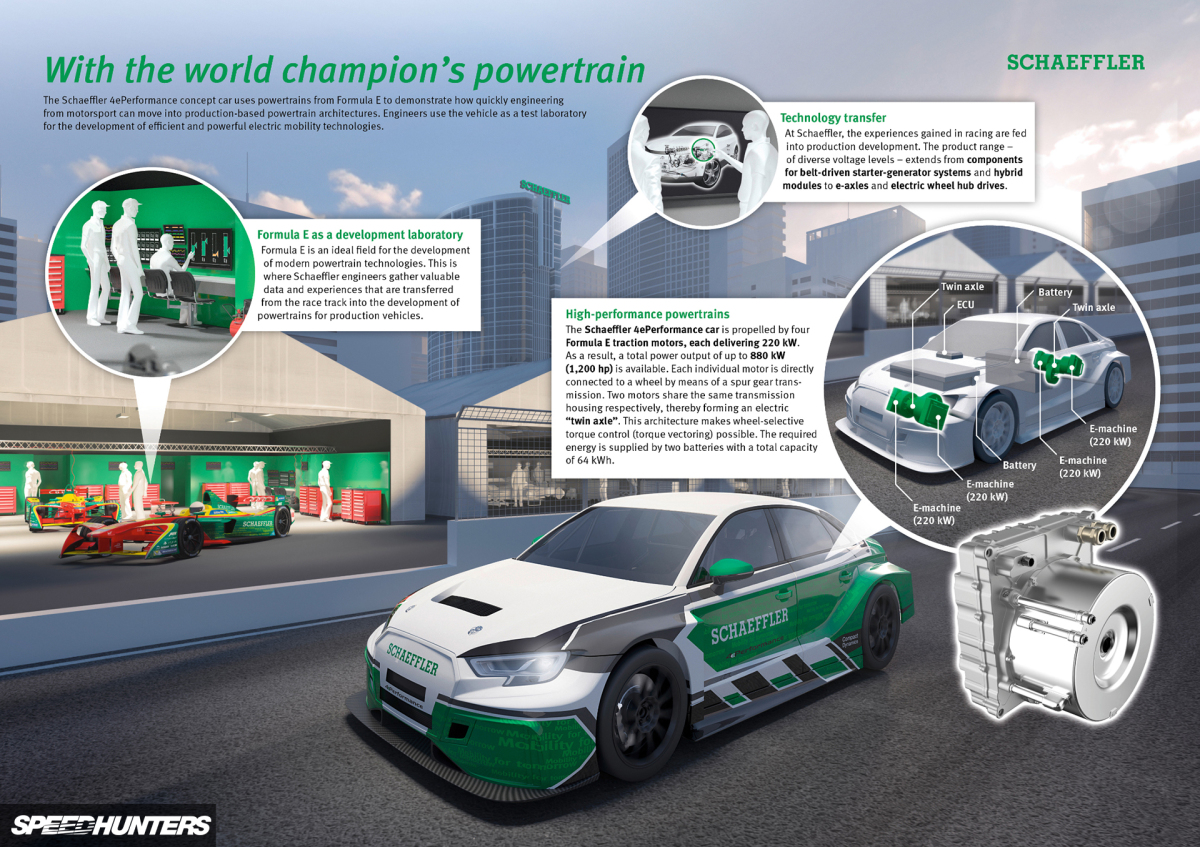 Behind each wheel is a 220kW electric motor, providing the equivalent of 1,200hp in total, enough to propel the 4ePerformance concept from 0-200km/h (124mph) in under seven seconds. Power is provided by two batteries under the bonnet, with an overall capacity of 64kWh.
Each axle has a shared transmission housing for the two motors, and there's plenty of clever electronic wizardry going on behind the scenes too, such as active torque vectoring, which allows the ECU (and the driver) to determine exactly how much torque is sent to each wheel – you could dial in more under or oversteer instantly at the twist of a dial.
As you can see in the video above, this thing absolutely rips. Granted it's a bit odd hearing tyre noise over the engine and exhaust, but the instant torque delivery, bags of power, and huge amount of control over exactly how the car handles makes this a pretty exciting prospect.
While Formula E might still be finding its feet in motorsport and hasn't received the strongest response from motorsport fans up to now, if it's the driving force behind road-going potential such as this landing in dealerships, then I can't wait to see where we're heading.
Jordan Butters
Instagram: jordanbutters
jordan@speedhunters.com