Back To School
The tacho needle dances playfully just below the 7,000rpm redline, before my steering wheel suddenly flicks to the left. I re-engage my clutch shortly after and heave on the handbrake, sending it almost vertical. My gunmetal grey R32 slides effortlessly through the abandoned industrial zone, its raging RB and the squeal of tyres disrupting the usual early morning silence of the area.
I was a king. Or was I?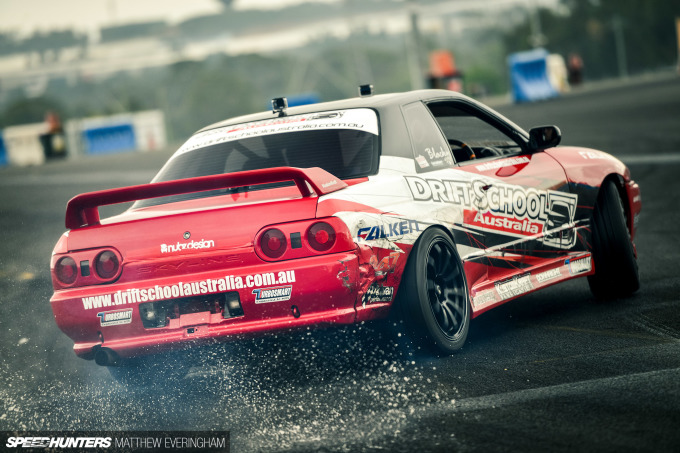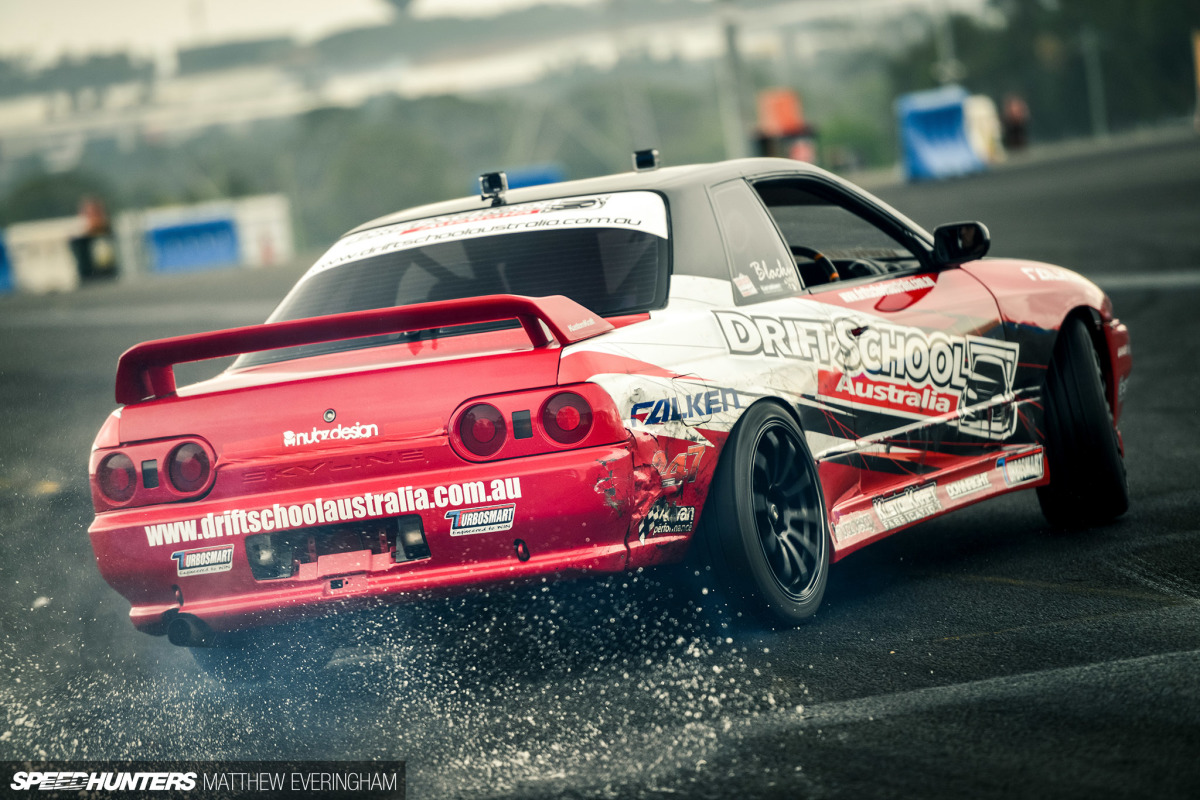 Once the haze of both memories and tyre smoke disappear, I'm returned to reality. Back to the here and now; back to the driver's seat of another R32 GTS-T. It feels like home again.
Seat belts on, kids, this could get ugly. We're milliseconds away from my second attempt at initiating a proper drift. Full disclosure: the first attempt was less than spectacular.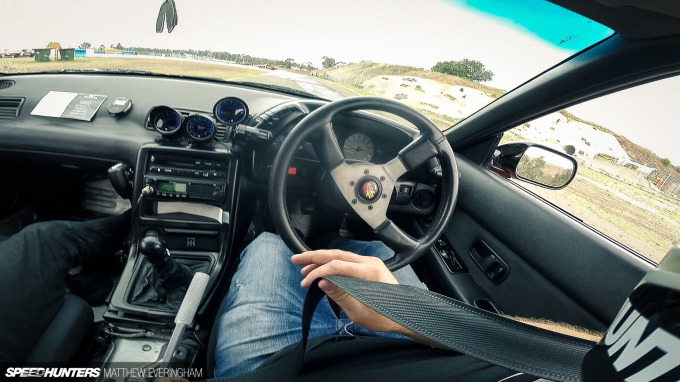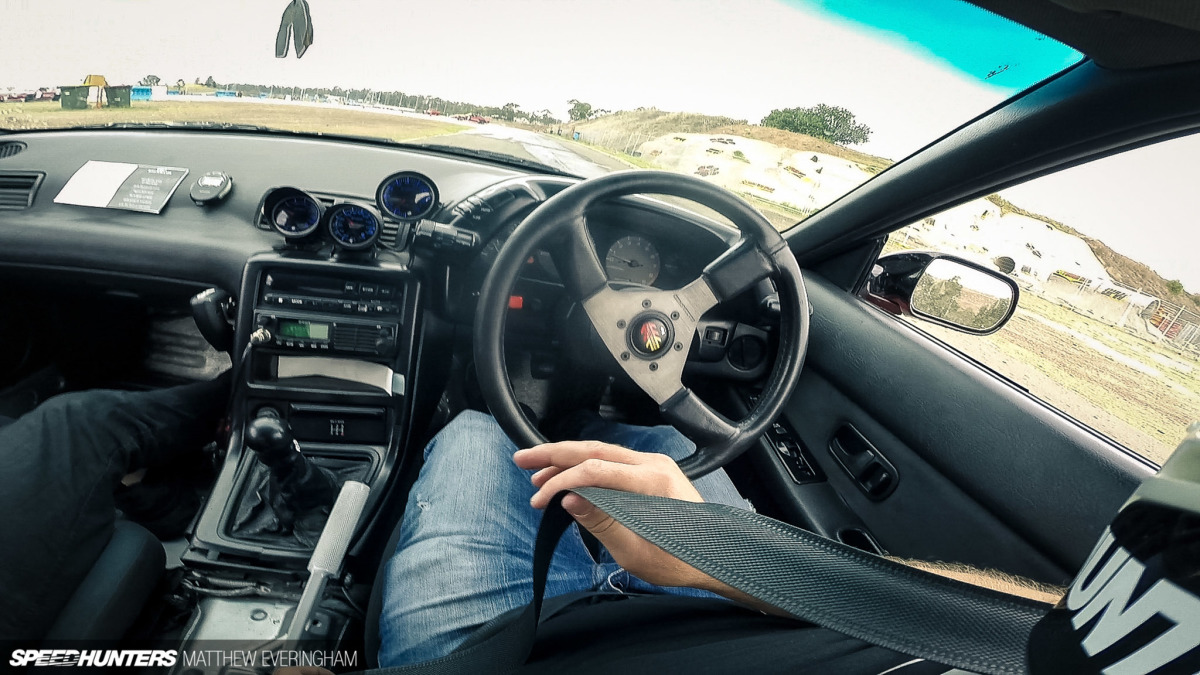 Memory is a curious thing. I could swear I used to be pretty decent at late night slides in my own R32 GTS-T Skyline back in the day. But right here, right now, sitting in GTS-T driver's seat again, I'm forced to question the accuracy of those memories. Maybe I'm just rusty? Perhaps it's all the time I've spent in the all-wheel drive camp?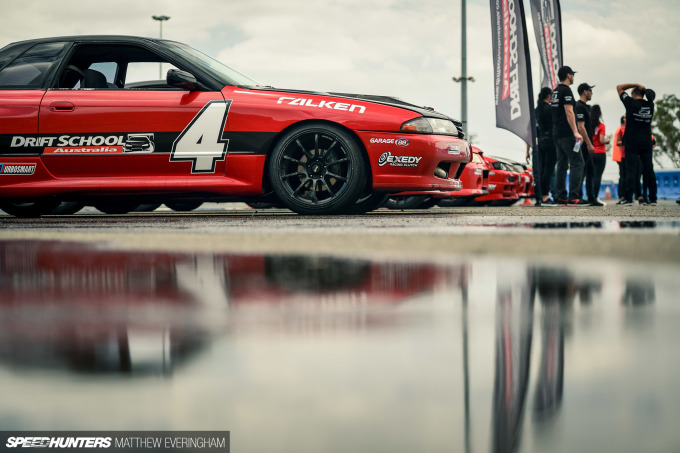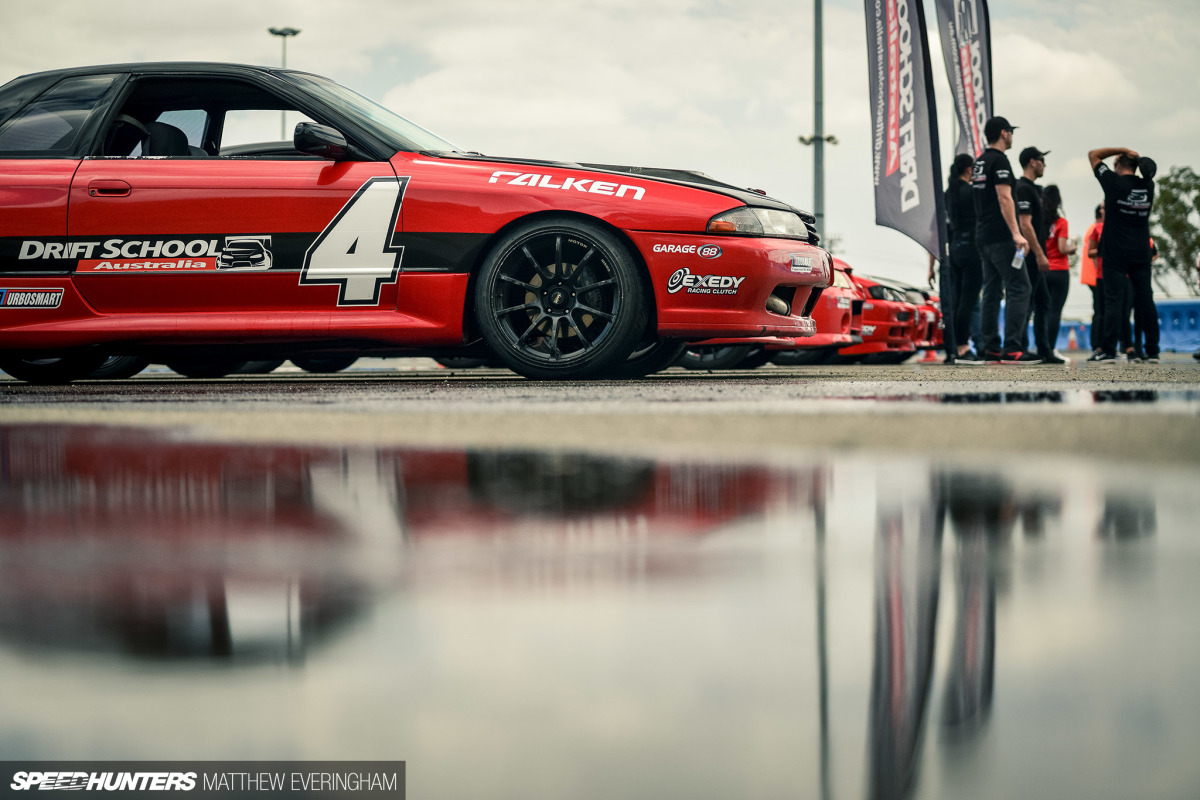 If my first attempt at initiating – not even holding – a drift is any benchmark to go by, it was only by divine intervention that an ambulance was never called to unwrap my cold, dead body from around a power pole or fence. A compelling statement if you understand how little faith I have in a higher power.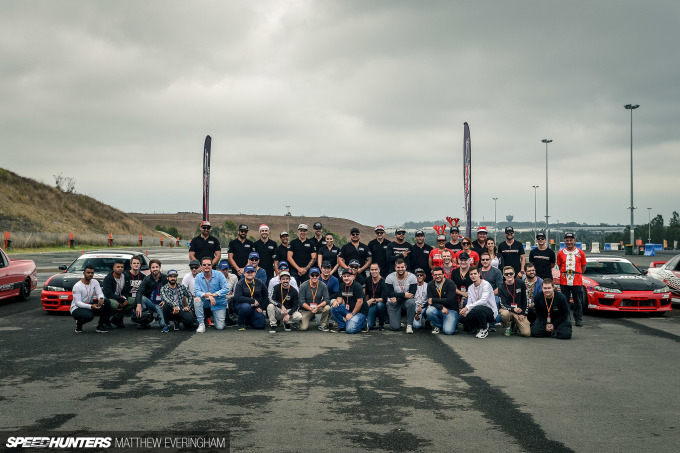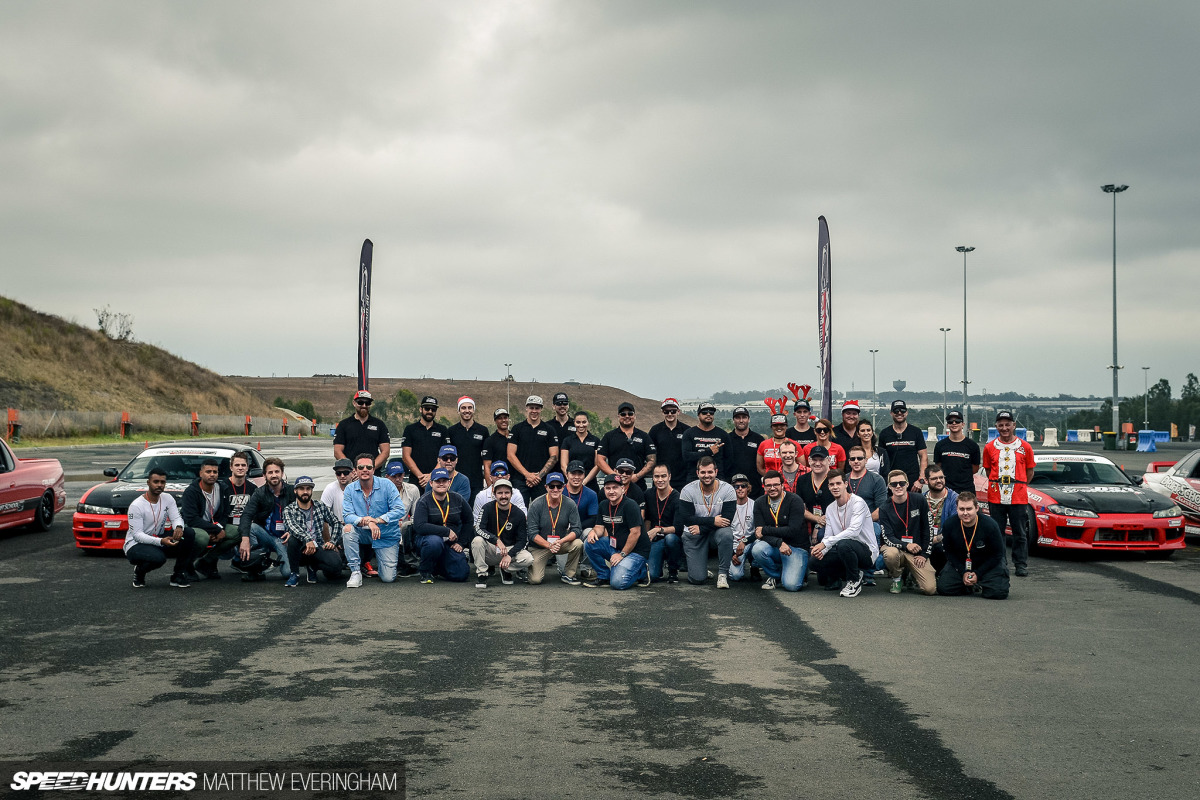 Uncharacteristically, I found myself in the right place to come to terms with the cold, bitter reality of just how useless I was behind the wheel of a speeding sideways car. It was time to get schooled.
This was no regular school, though. Burning rubber replaced pens and blank notepads were exchanged for the black tarmac of Sydney Dragway's pit area.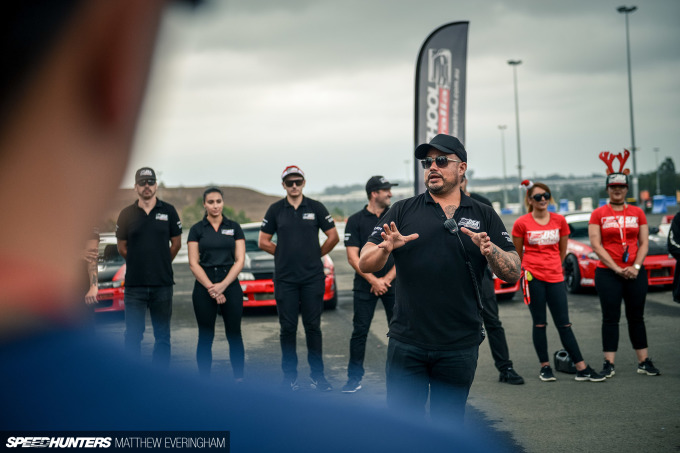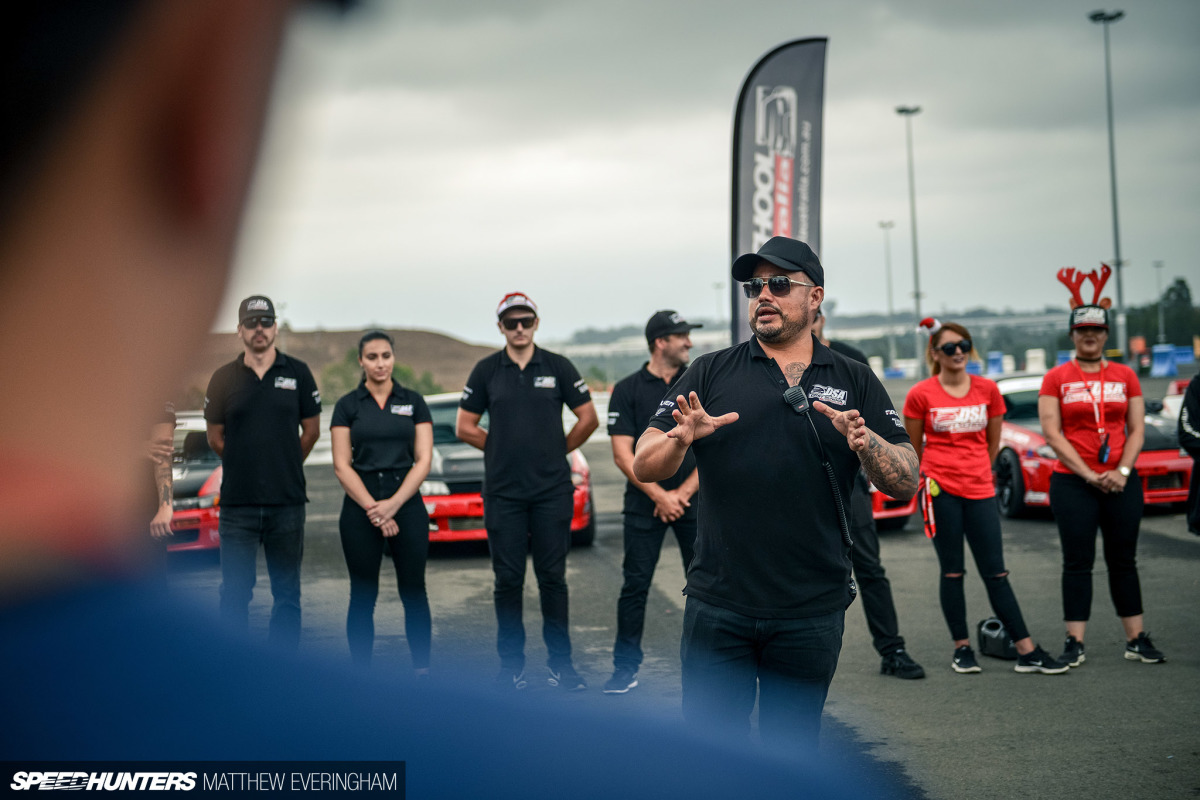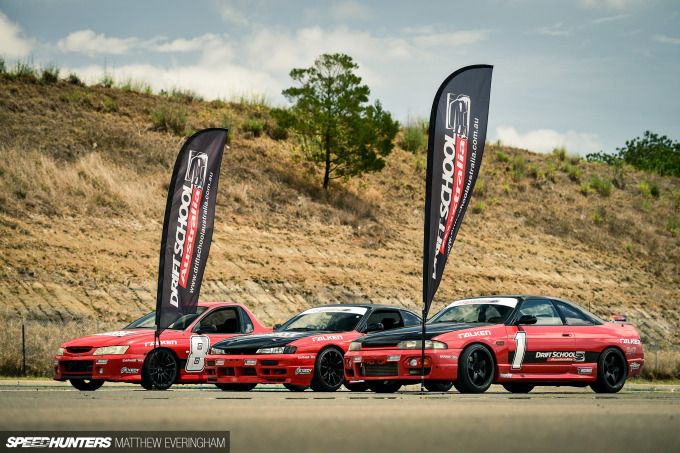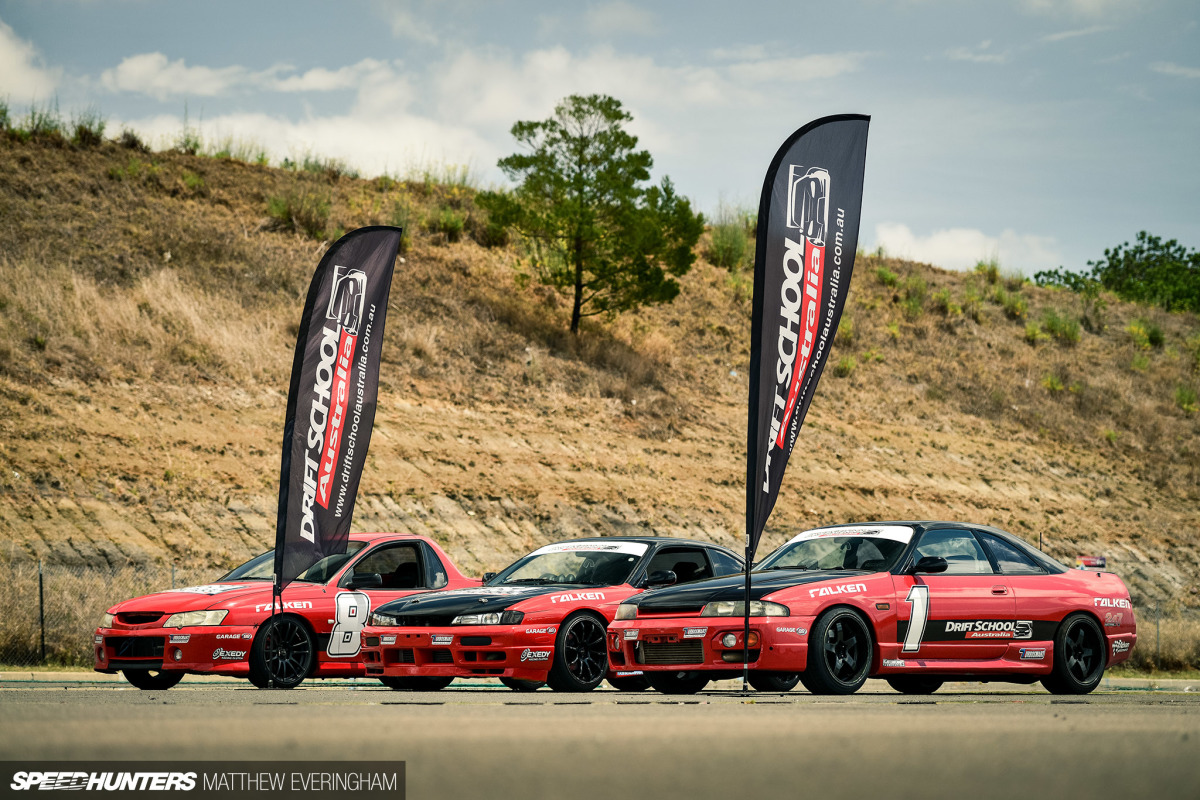 And our teachers? Well, they'd be a little different from the middle-aged, mild-mannered educators one usually associates with higher learning. As I mentioned, this was no ordinary school. Welcome to Drift School Australia.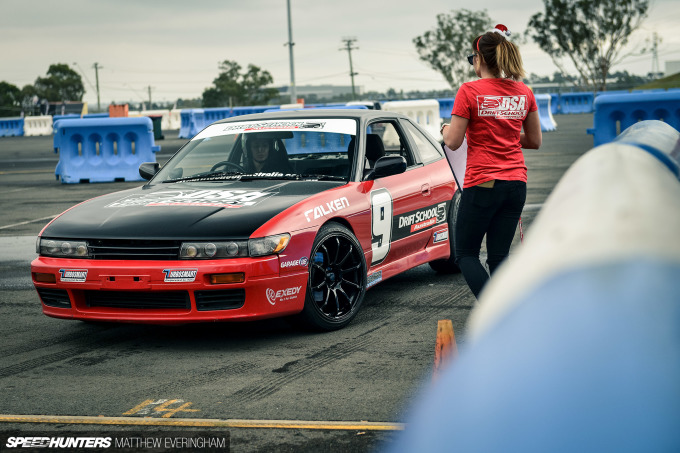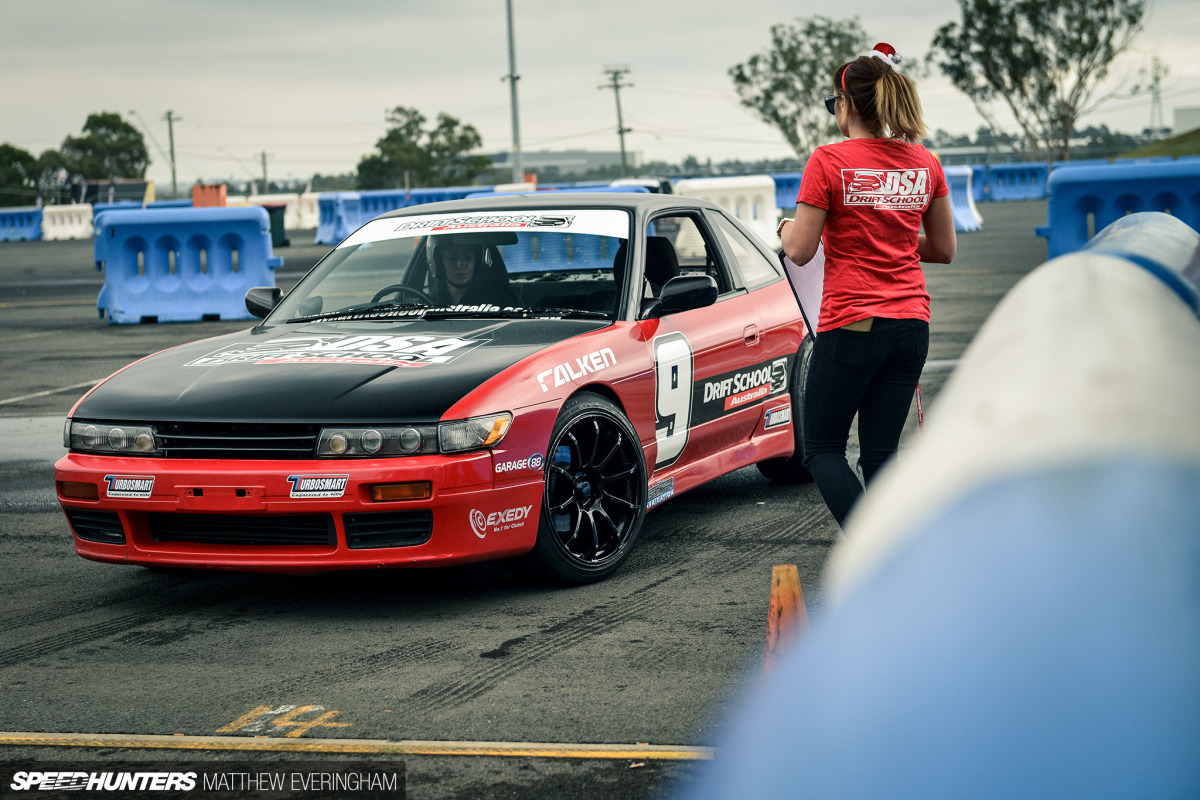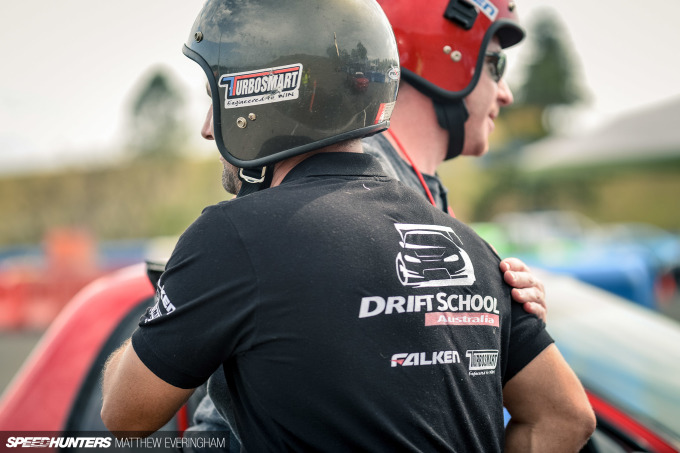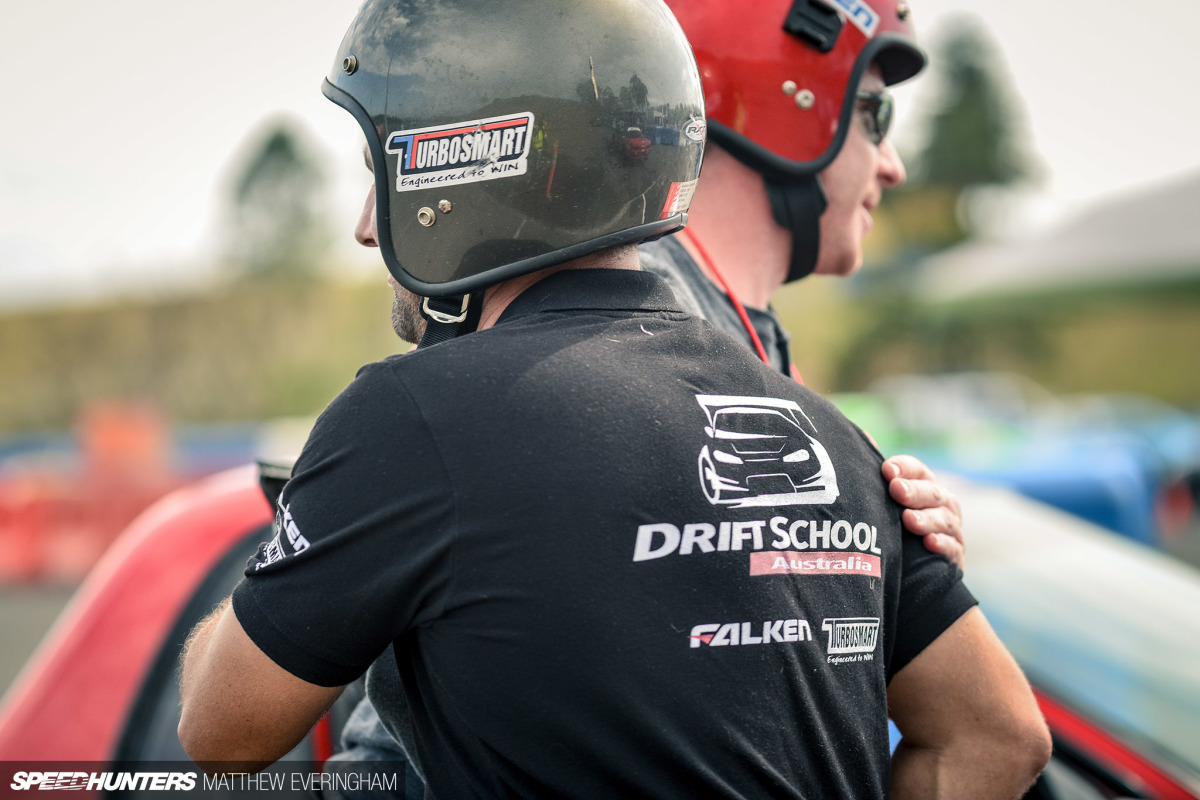 After a quick introduction to the team and the usual safety briefing, drift students were allocated cars and instructors. The crew wasted no time; our class was in session.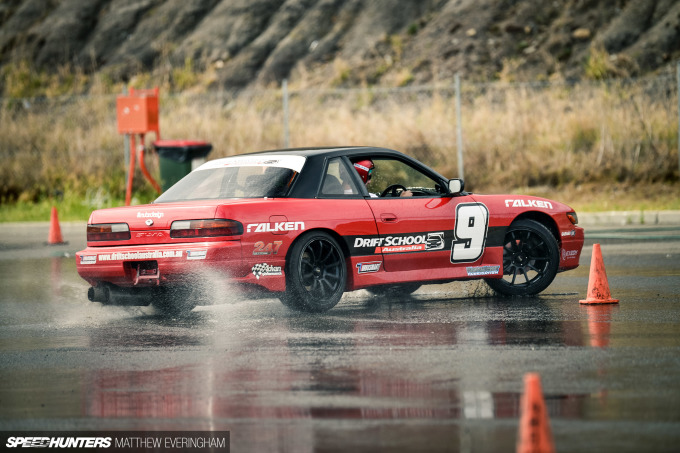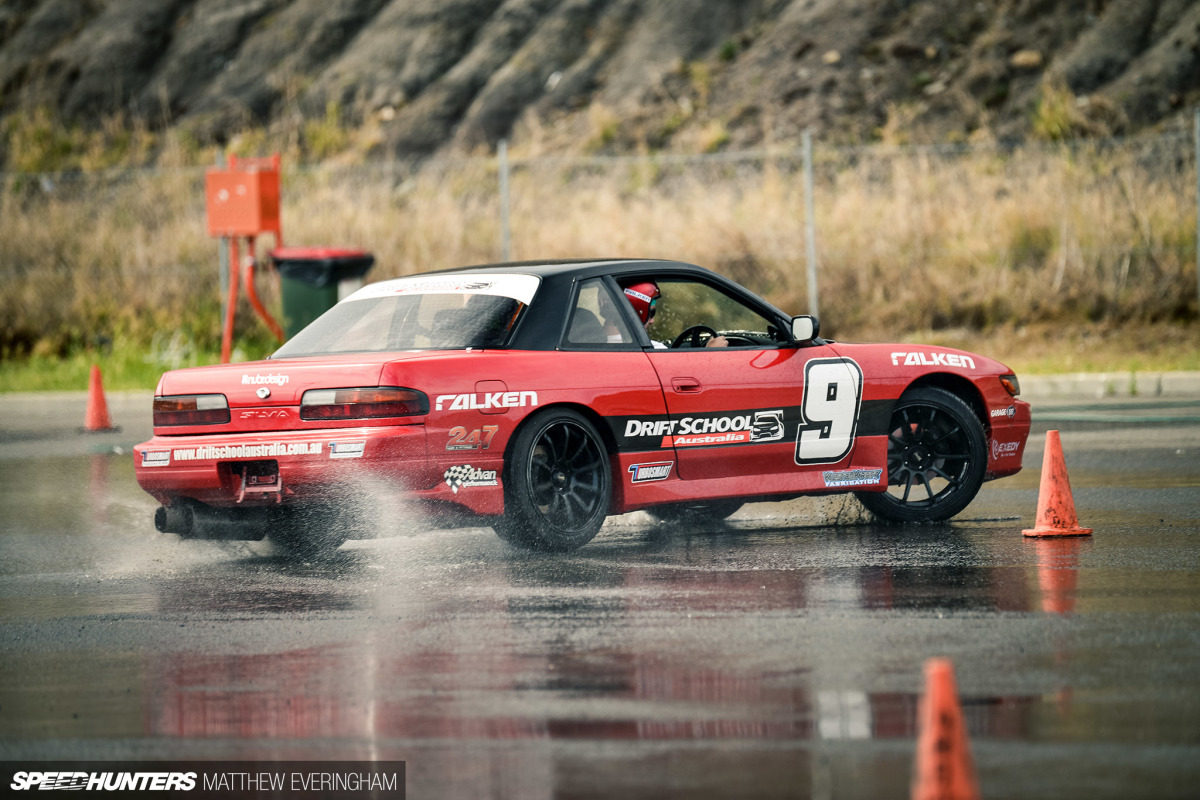 Old habits die hard; I sat at the back and chose to go last, spectating the morning's proceedings. I was curious to see how well my classmates would attack the track and complete their exercises.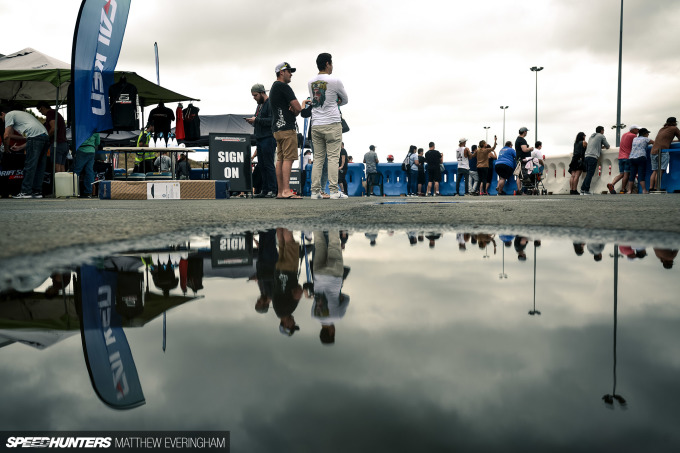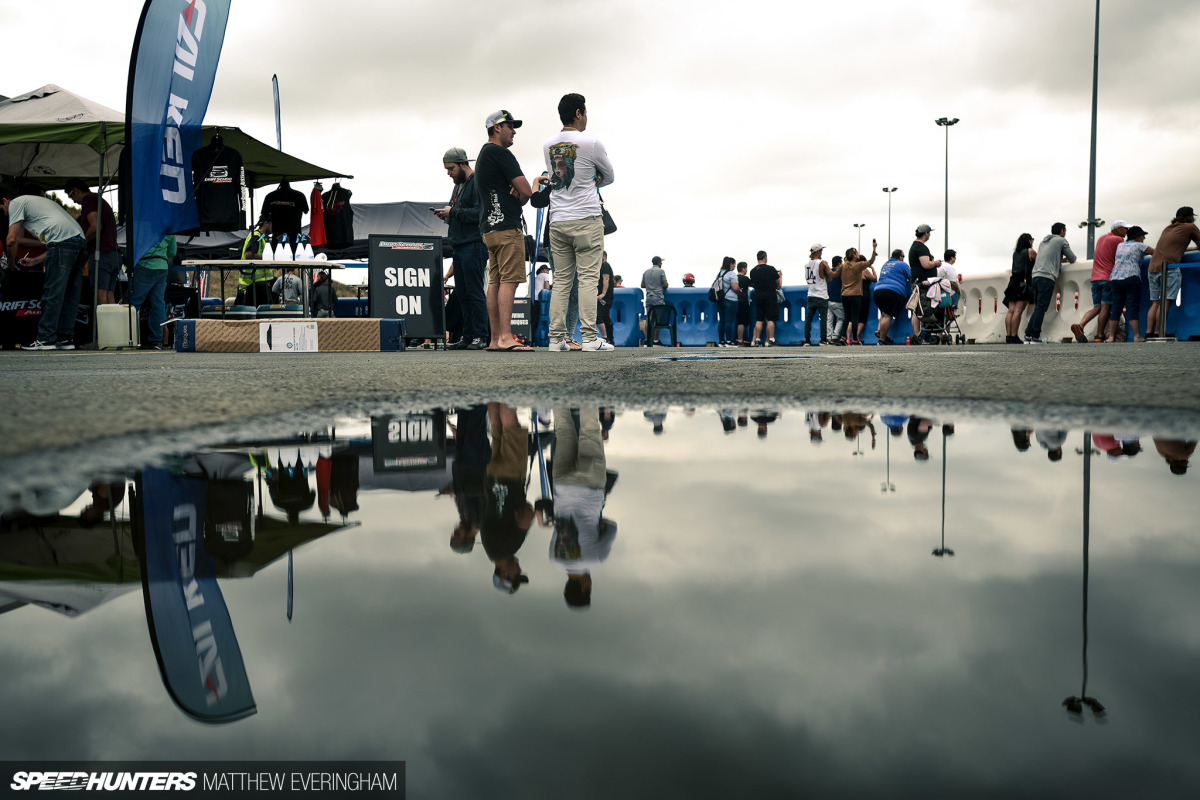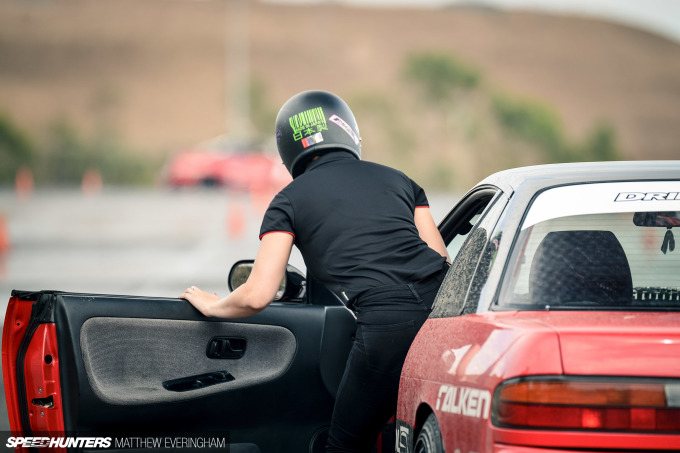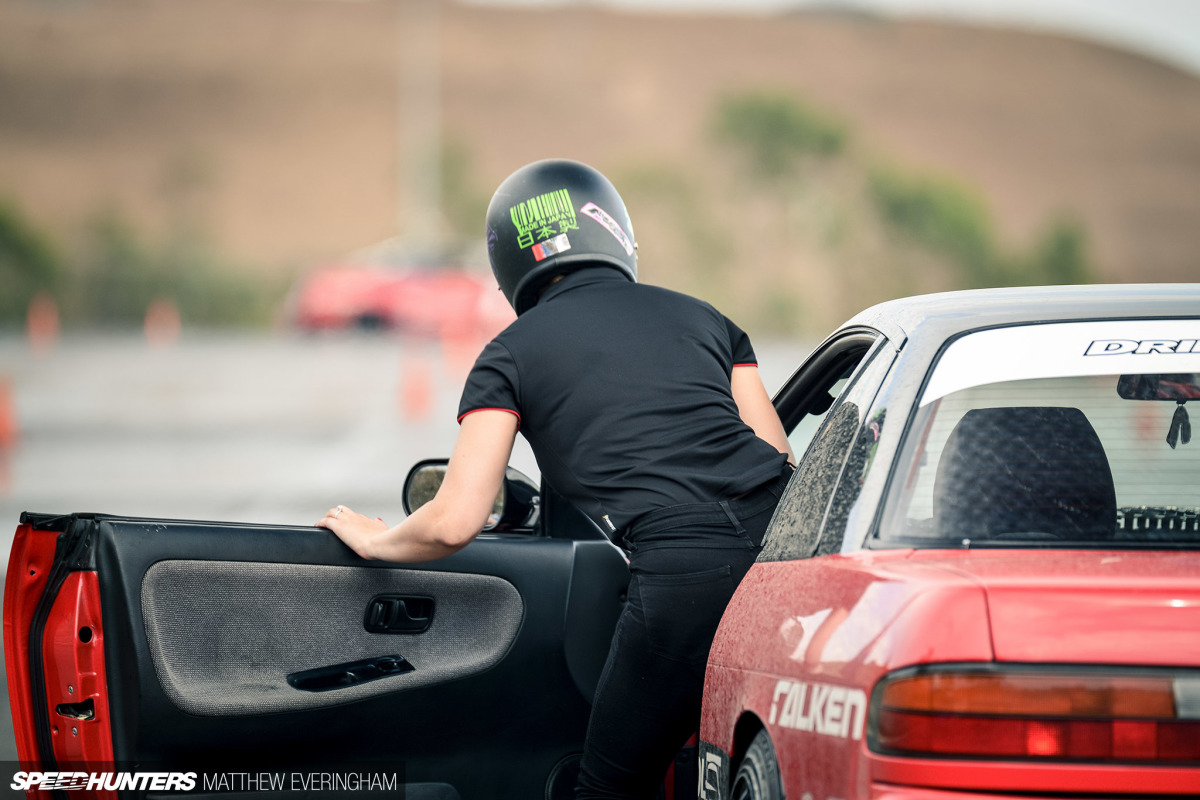 I'm ready. Let's do this. Buckle up.
The Portable Classroom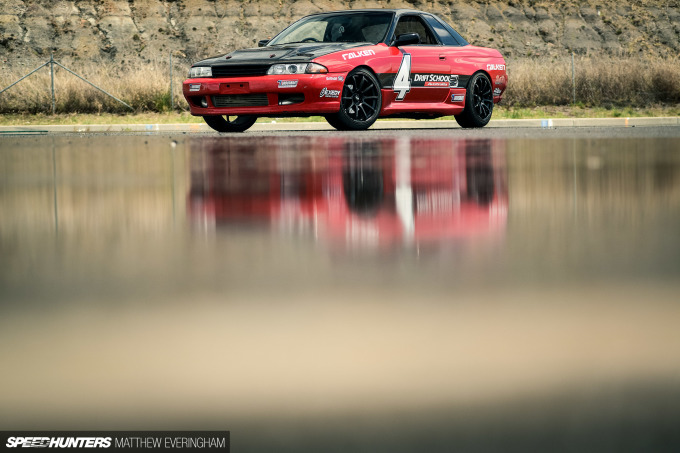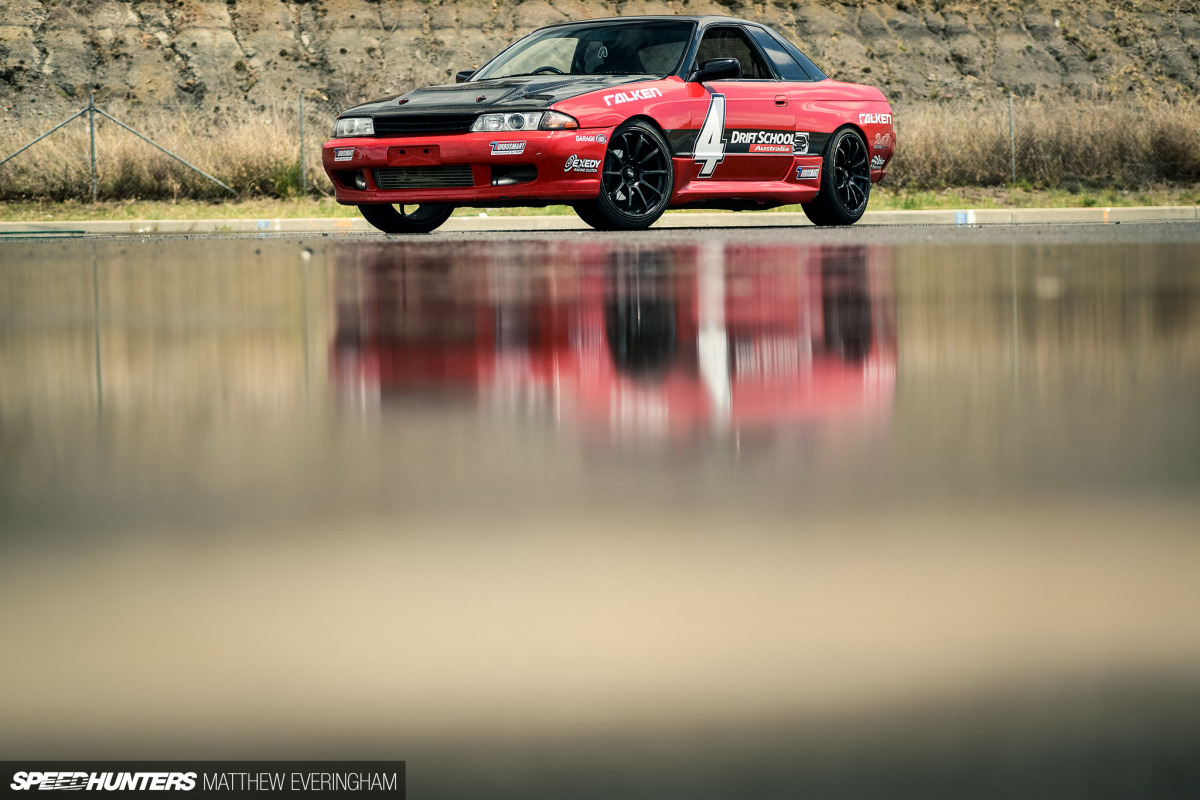 Before we get out there and try to fry tyres, let me introduce you to my rolling classroom: a humble 1990 R32 GTS-T that still retains the majority of its original parts except for a few minor additions under the hood for a moderate increase in power.
The most notable difference between this Skyline and ones you're likely to find on the street is the added pneumatic hydraulic handbrake plumbed to the rear wheels. The hydraulic link replaces the steel cable link to the rear calipers, increasing the braking force and reliability. The additional stopping power makes breaking traction a breeze and helps drivers slide on demand.
Under the hood, the original 2.0-litre RB20DET engine has been replaced with a 2.5-litre RB25DET, liberated from an R33 Skyline. A larger front-mount intercooler replaces the standard in-guard cooler, and a rebuilt T25 turbocharger running a little more boost increases the power to somewhere around 270hp (200kW). That number might be underwhelming on paper compared to pro drift cars, but remember, there are no pro drivers here. Only hacks like me, eager for their first real taste of drifting in a controlled space.
Aside from those few essential skid-school mods, the most noticeable difference from a street car is how beat up it looks after providing years of educational service. It's quite a pig. I like it.
Controlled Skids 101
Finally, it was time to jump in the driver's seat and sit through my first practical, hands-on lessons. My first instructor, Scotty Porter, is a local, up-and-coming drifter with a mean S13 Nissan Silvia took me through the motions of each lesson before handing the wheel over to my on-loan R32.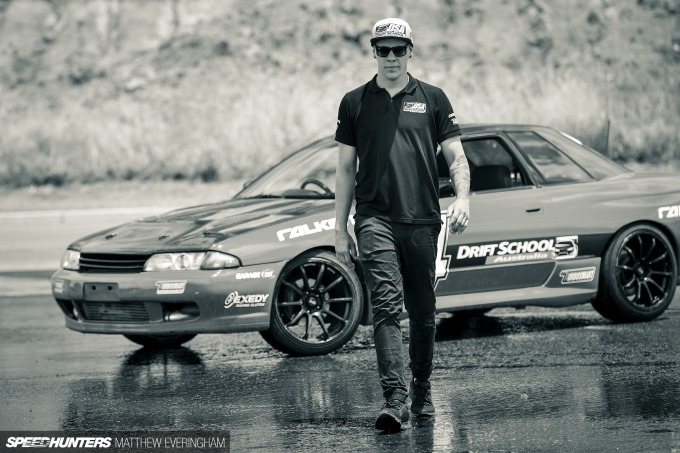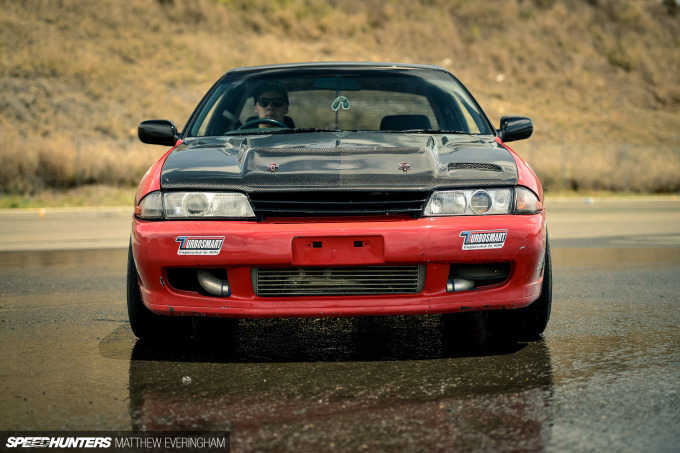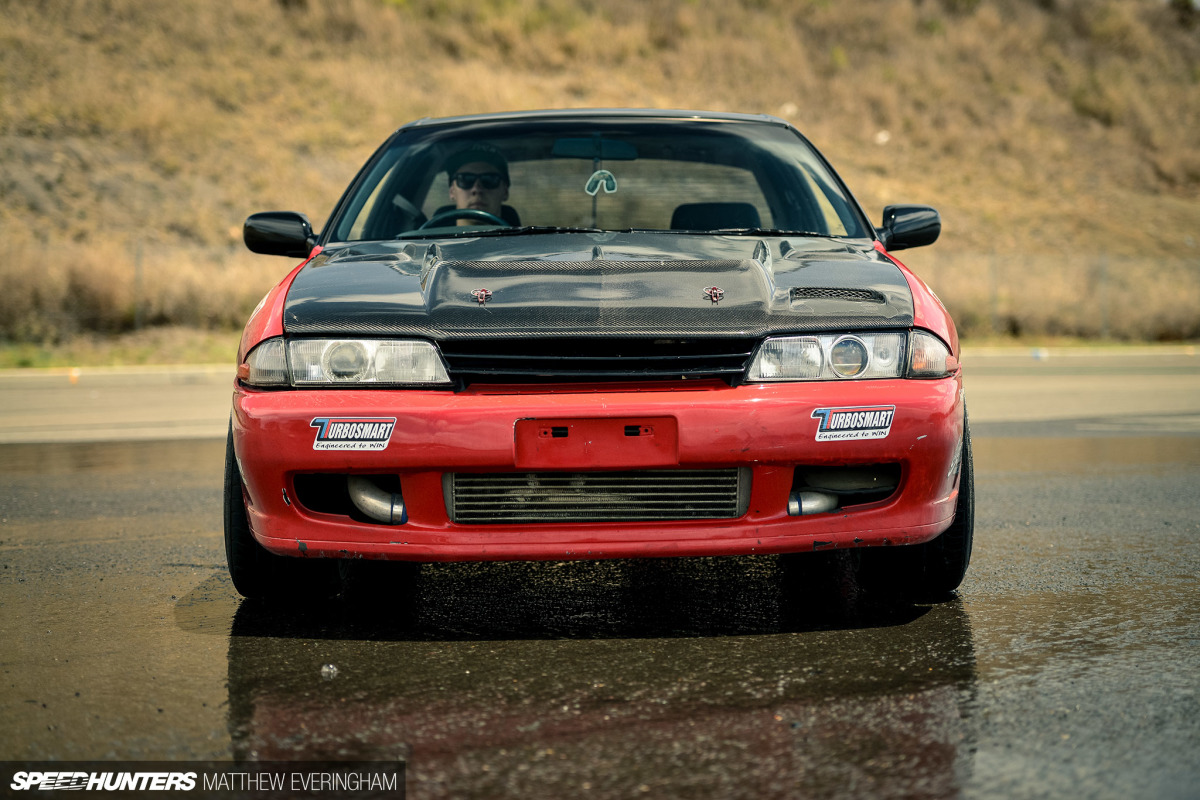 Driving was split into three main lessons, and I'll run through each part and might even follow up with some insight on what worked best for me. I indeed proved that I'm no expert, but when has that ever stopped people offering or taking advice within the glorious realm of the internet before?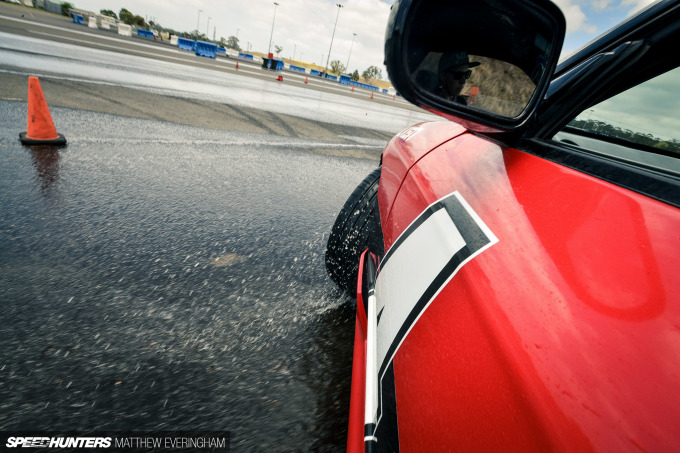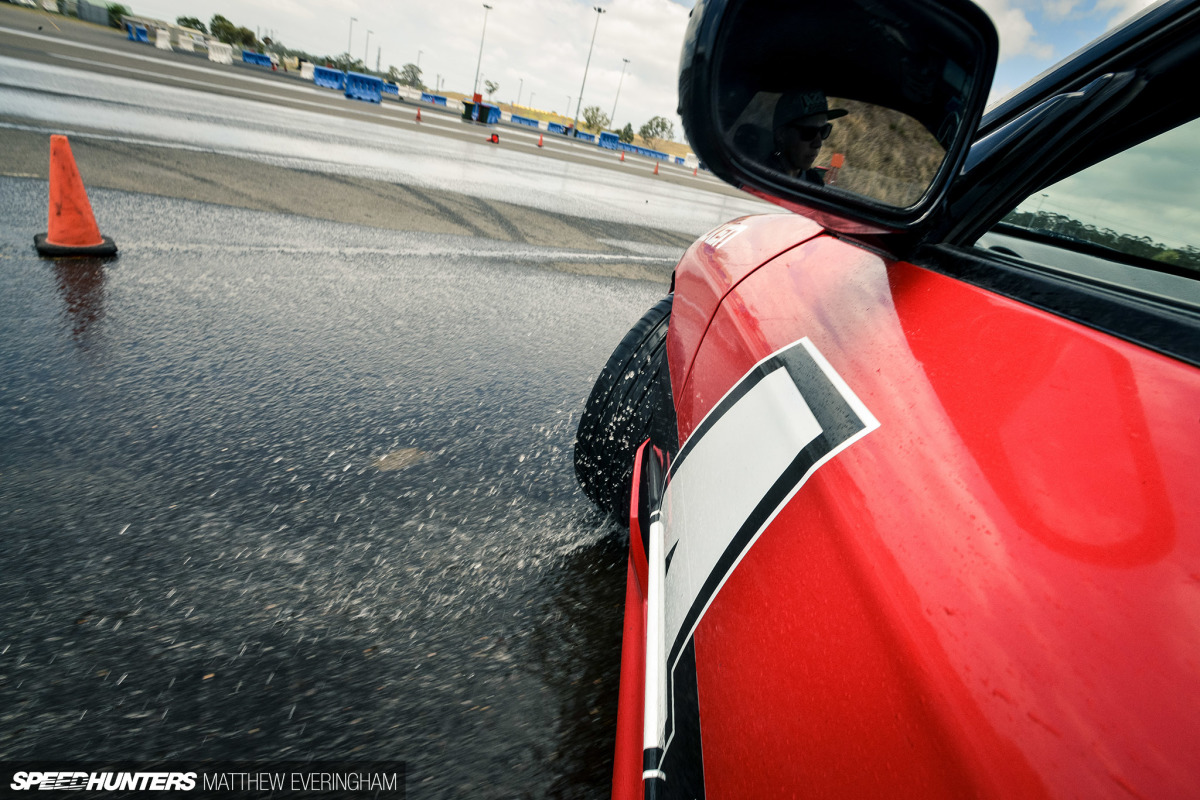 Hopefully, I'll be able to pass on something useful. Worse case scenario, it'll provide plenty of fuel for heated discussion in the comments below. Just promise you'll wait for my popcorn to cool down before you get really fired up.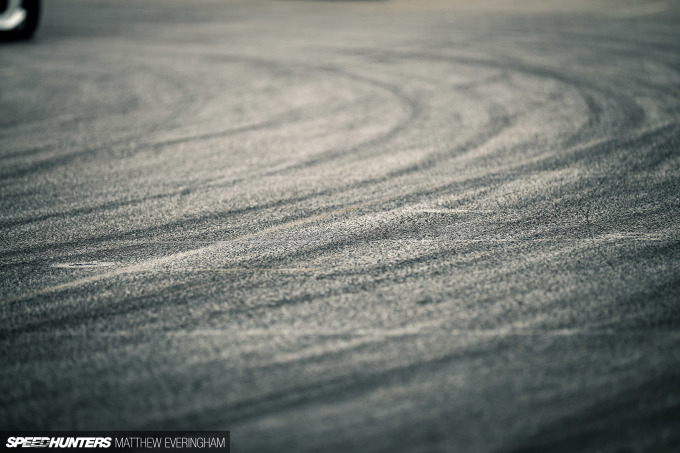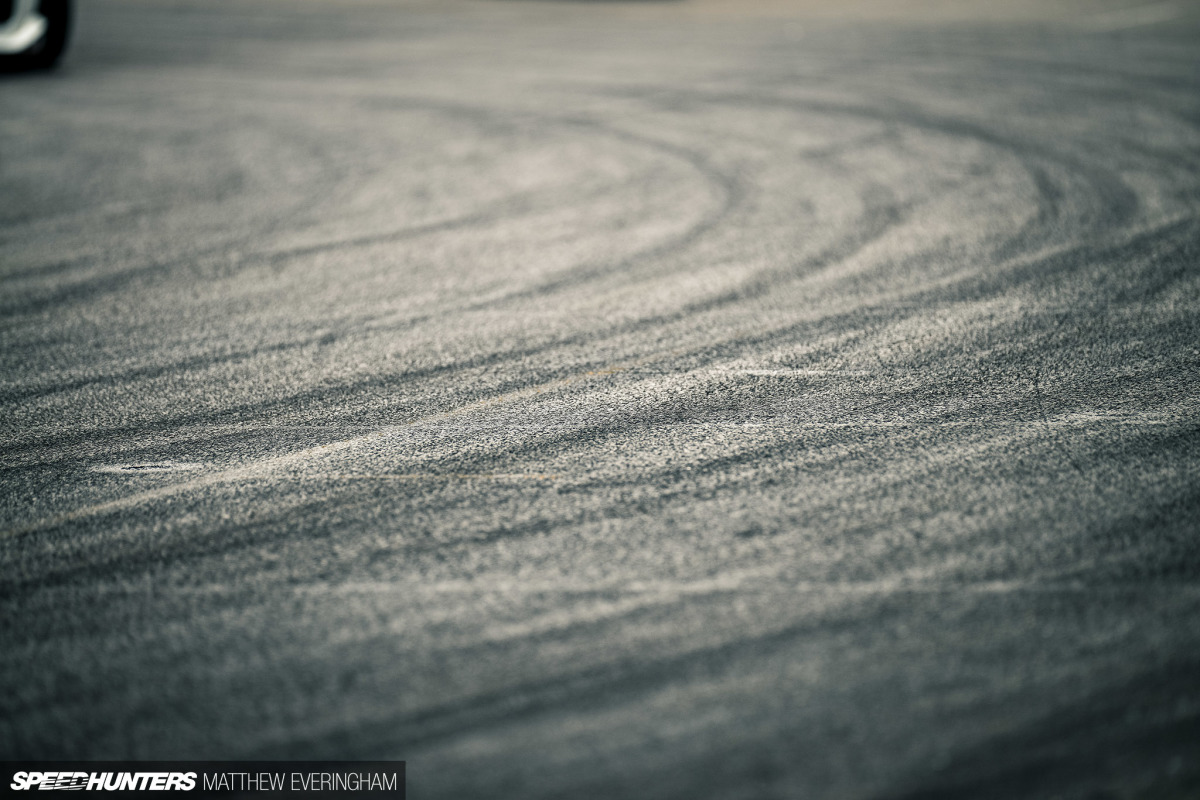 Our first lesson was initiating the drift. The premise was simple enough: boost the car to the right speed, turn in, handbrake, slide the car past the cone, and finish with the right angle to drive straight through to the exit lane. It couldn't have looked simpler when Mr. Scotty Porter gave me a demonstration. I had this, surely?
Aparently not. Well not at first. As simple as the task was, after the first couple of attempts, which weren't bad in all honesty, I really seemed to get caught up overthinking things which led to me mixing up the order and disrupting the flow of the slide.
If I had any tips to offer they would be to drive by feel, and to enjoy the moment and let your body do all the hard work. Trust yourself, you've got this. A more relaxed approach certainly seemed to help me increase the fluidity and success of the slide. Here's another tip: keep your foot away from the brake pedal and rely on the handbrake alone to swing the rear end out.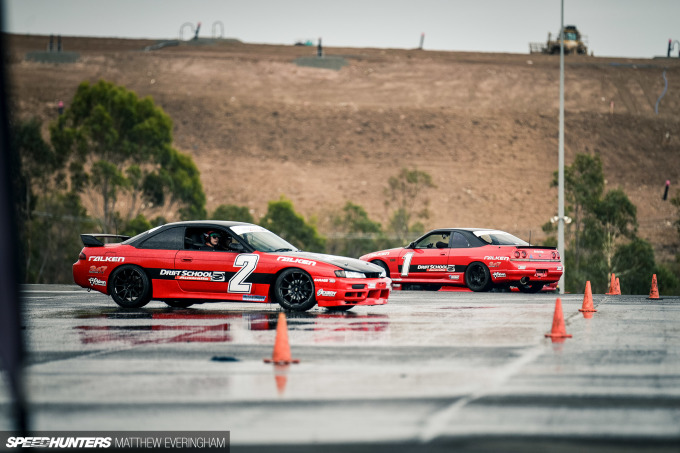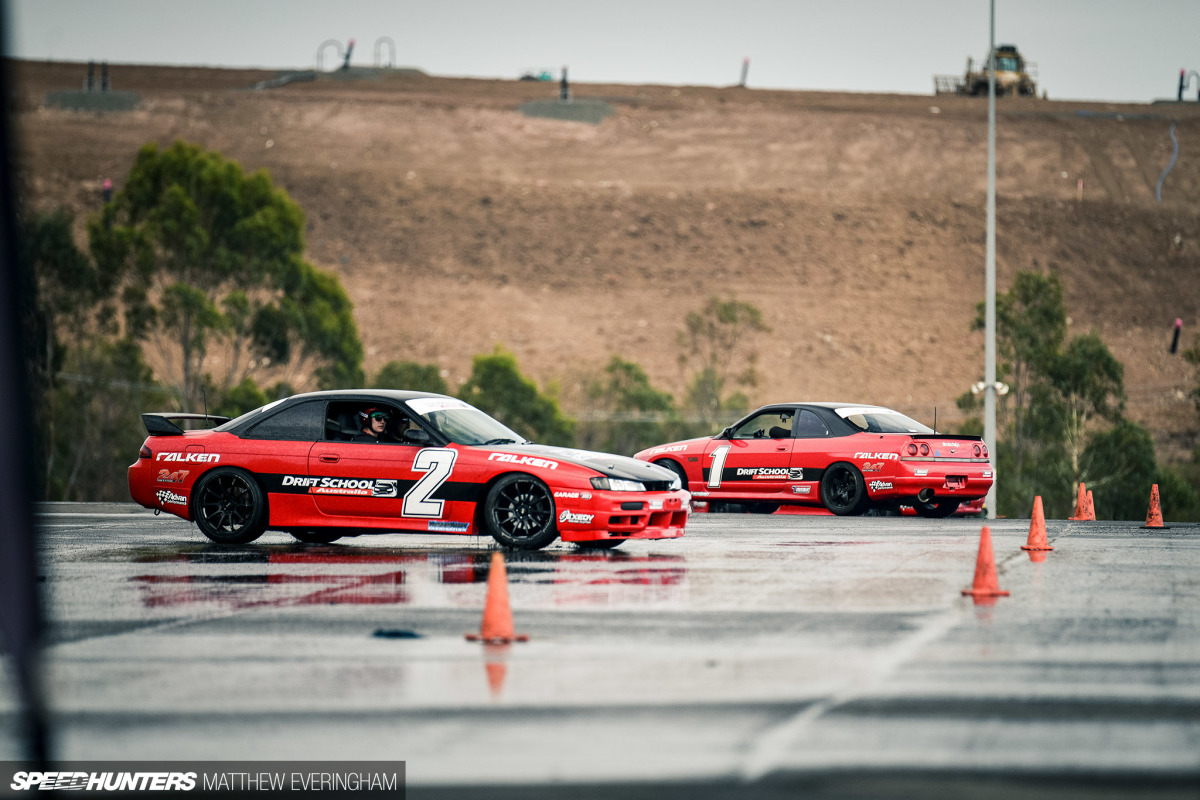 The second excerise was fun. Extremely fun. Controlled donuts on a wet surface in a car I wouldn't have to maintain. Of the three tasks to complete, I was by far the most comfortable circling the cone. I need to admit though, it did feel somewhat strange to do this during the daylight hours and with an audience, no less.
With a few successful laps under the belt, the simple excercise was expanded by drifting the car in closer for some tighter circles, and then drifting out further away for some wider circles. The hot tip for this part of the drift is to be as gentle as possible on the throttle and to give the car half a second to catch up. A heavy foot will see you spin clean out every single time.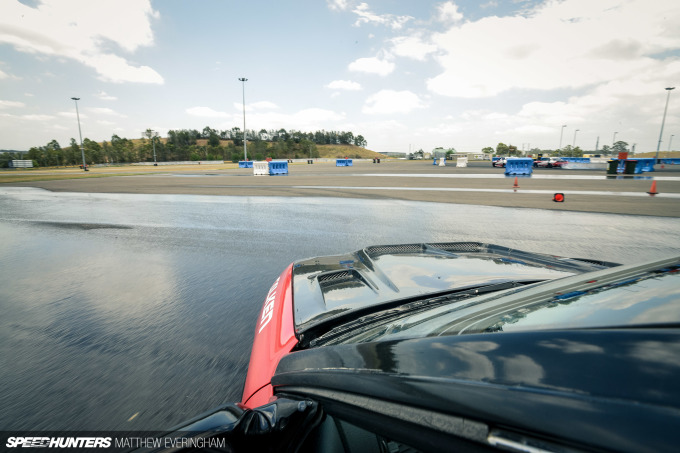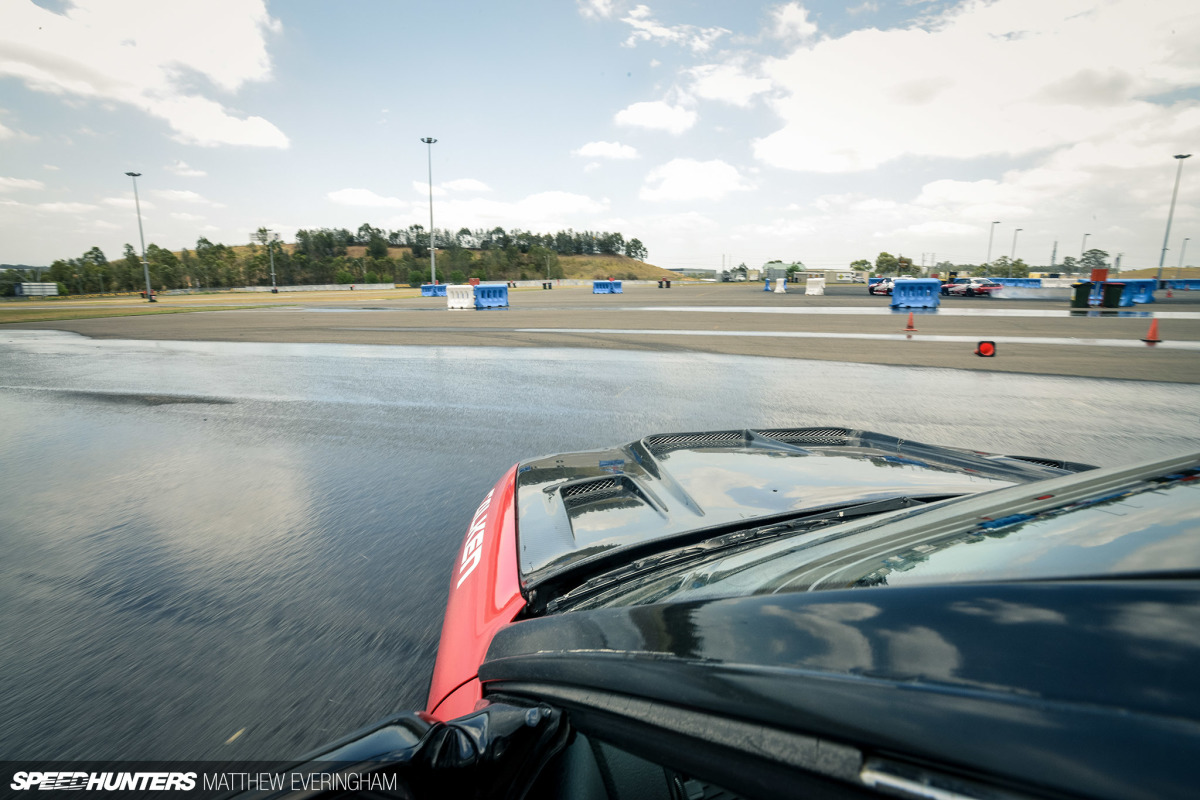 Finally, after completing the slower paced tasks, we headed to the far end of pitlane to see if we put together all of what we'd learnt in a higher speed environment. The goal this time around was to initiate, drift and exit the course at around 80km/h.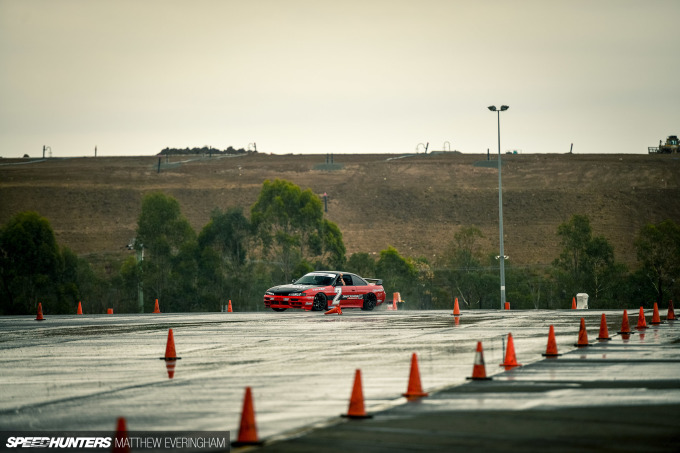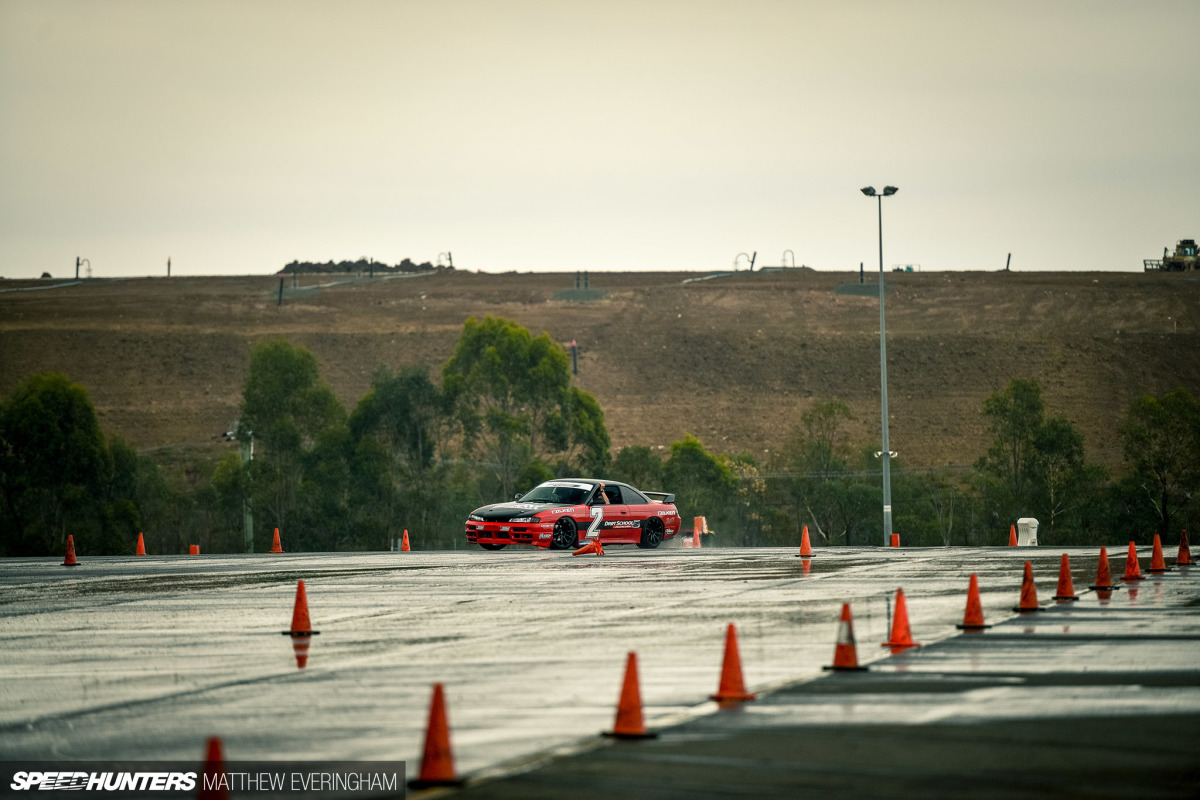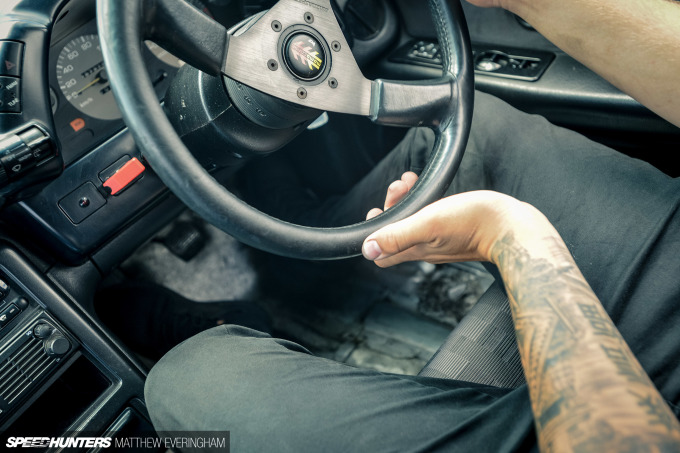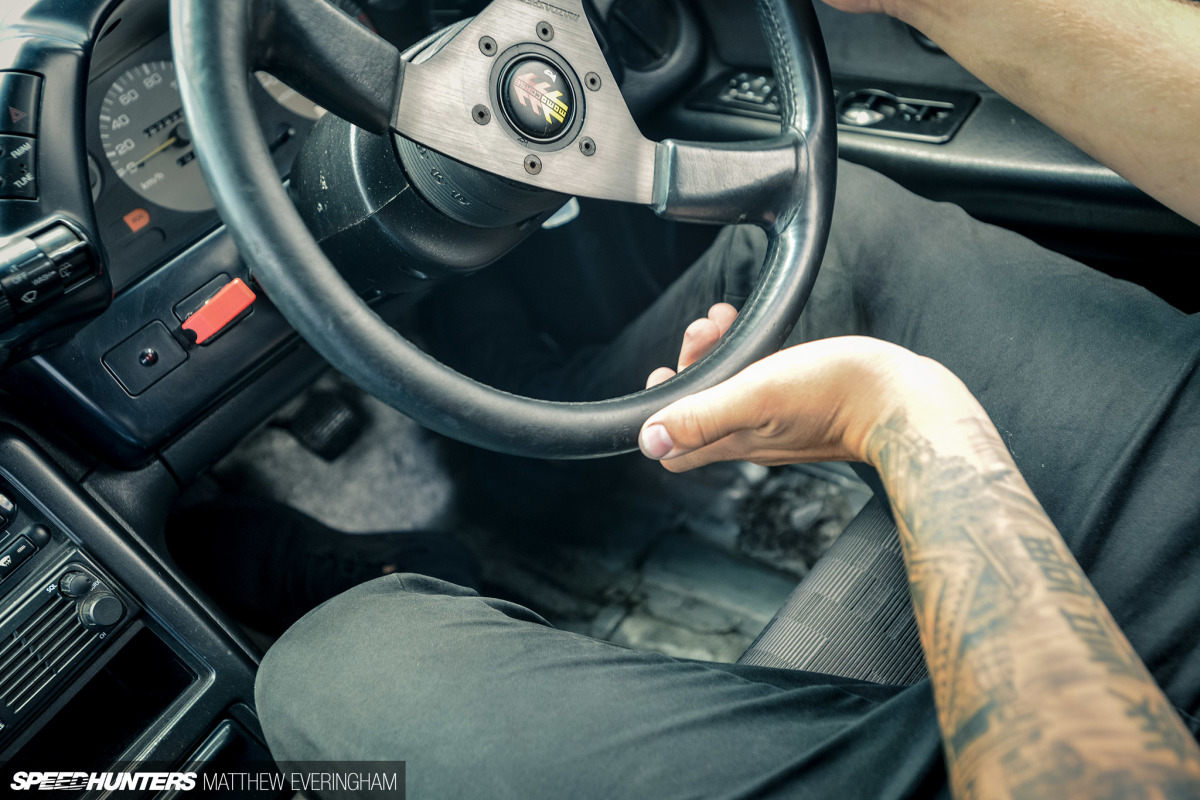 It took a few attempts to find the right level of pedal enthusiasm to induce the best drift without sliding the Skyline out completely. Similar to the first task, my most significant hurdle was to not overthink the situation. The drifting got worse before it improved, but eventually, Scotty had me sliding comfortably across the whole course. During a second attempt in an S14 Nissan Silvia later in the afternoon, I was even able to maintain the slide all the way back to the exit road.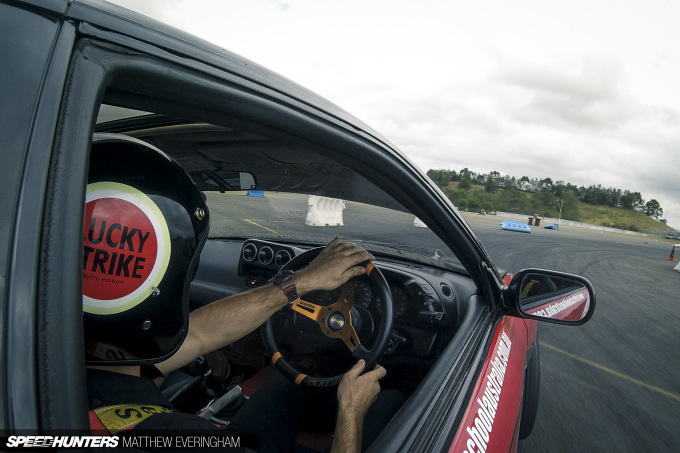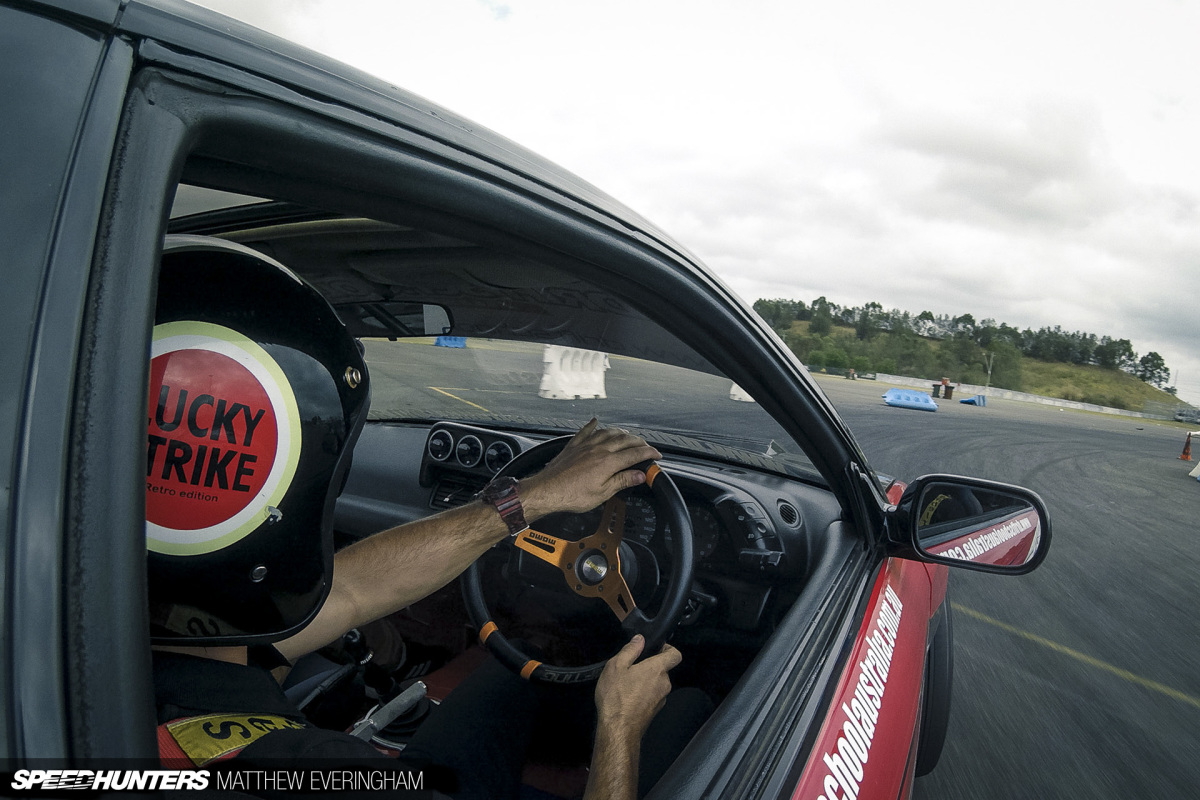 Let's answer this story's opening question: can a Speedhunter become a Driftmaster? More specifically, did this Speedhunter master the art of drift in the afternoon? Absolutely not, but I did acquire my first taste of drifting and have since been craving another hit of adrenaline that only riding the edge of control can bring.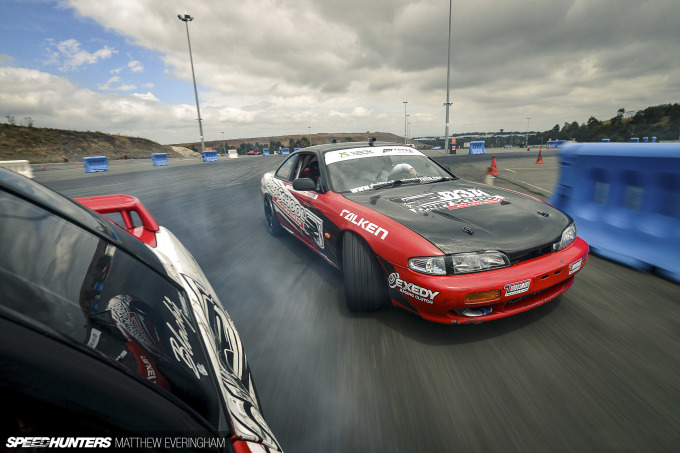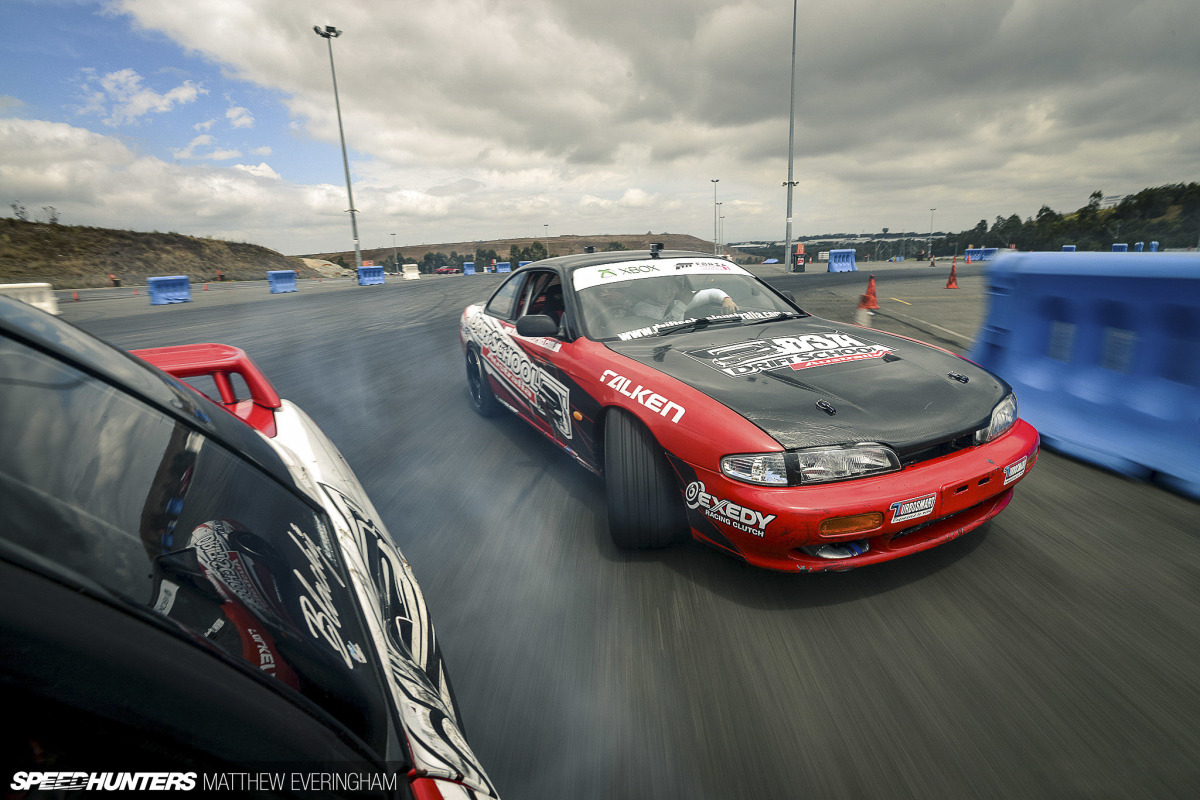 Initially, I was disappointed that we didn't unlock some dormant drifting superpowers. But luckily, you don't need to be an instant champion to enjoy something.
If I was already worried about getting hooked on another form of motorsport, I shouldn't have agreed to passenger laps when instructors offered to show me how it's done correctly. During those hot laps, I'd learn two final lessons. Firstly, I was taught just how little I knew. If I thought I was taking baby steps I was dead wrong. I'd just started to crawl – awkwardly.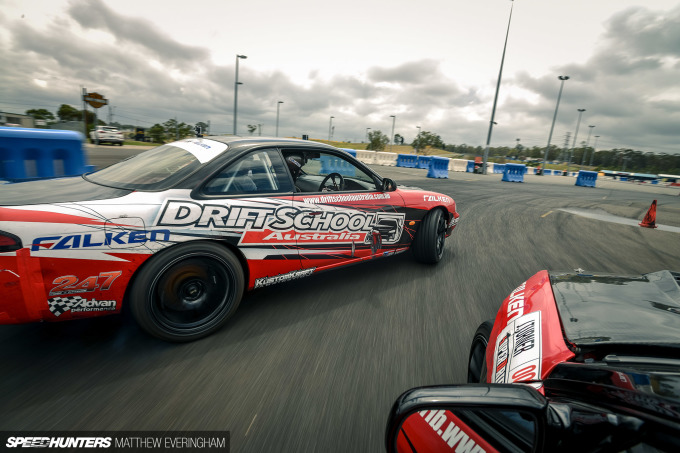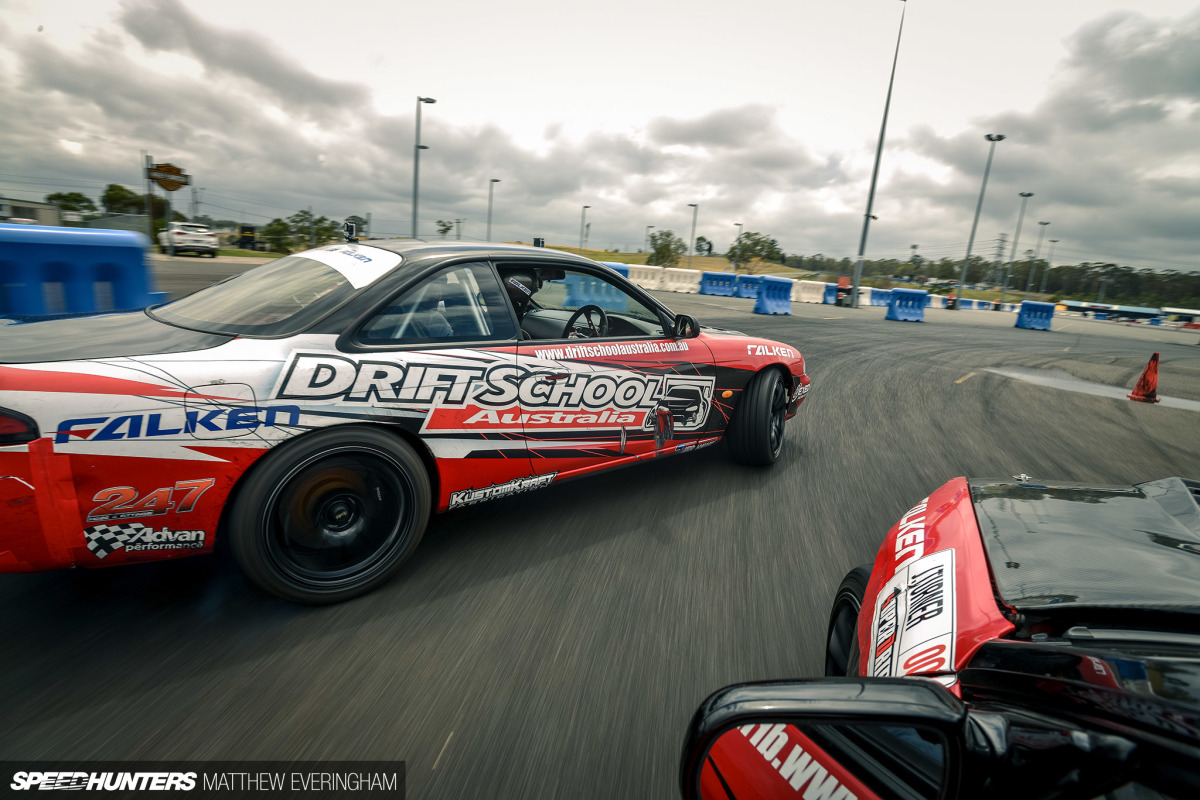 Lastly, they demonstrated why drifting is so popular and drifters so passionate. Drifting provides a completely different kind of rush to regular circuit attack. A rush that I wager would be hard to see outside of a high-speed police chase. A buzz that's entirely addictive and something you can't possibly understand from an armchair.
Get out and drift. And if you can't drift, get out and learn.
Matthew Everingham
Instagram: matthew_everingham
matt@mattheweveringham.com
High-Speed Antics
Instead of the regular Cutting Room Floor, I'm going to dedicate the final chapter to our shenanigans, and keeping the content richly Australian we'll even finish off with some ute skids. While you're busy flicking through the gallery, I'll be on eBay shopping for a cheap drift missile of my own.