Every year, sanctioning bodies change the rules to make sure everyone remains on an even playing field.
Well, most of the time in a perfect world, 50 percent of the time. Formula Drift is no exception and is considered one of the world leaders in drifting sanctioning bodies. So, let's look at how Kevin Wells is going to tech the 2018 FD cars gunning for James Deane's title.
One thing you need to keep in mind as you read this is that my findings are from what is stated as Version 1.0 of the 2018 Rulebook. Some of the things I mention here will likely change throughout the year, perhaps even by the time you read this. That is, unfortunately, how 'alive' a rulebook is and can change at any moment if someone brings up an issue or correction. So, don't say we didn't warn you.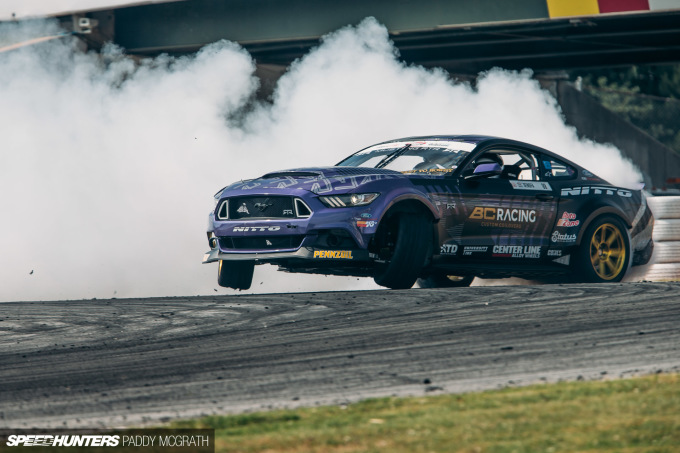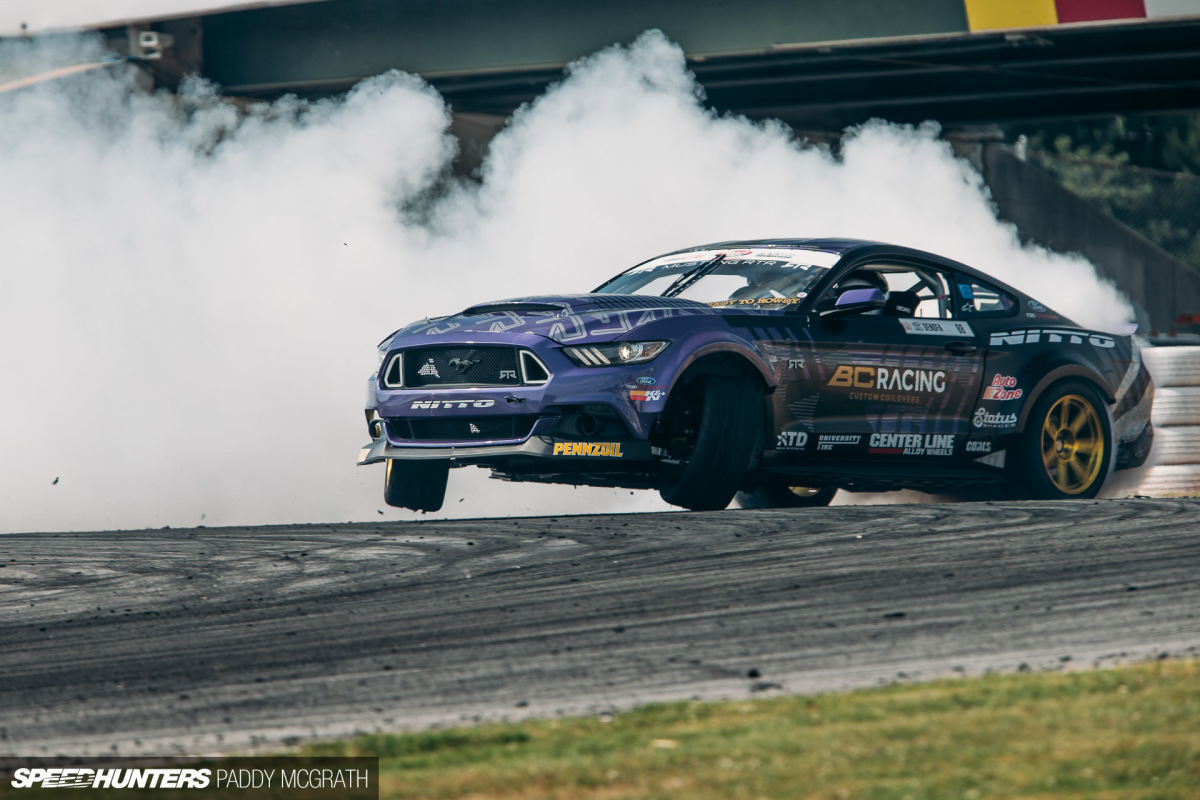 The pleasant thing about this rulebook, though, is that all changes are highlighted in red text so they can be easily seen by the crew chief or car builder. Many of the big rules, like where modifications can be done to the floor pan and chassis, have remained the same, however, the first substantial change for 2018 is that air jacks are "strictly prohibited". Rules 2.1 K has been modified to state: "No other modifications may be made to the vehicle chassis, frame, or unibody including the installation of air jacks." 2.1 L has been added to state that: "The use of air jacks during Competition and Competition time out is strictly prohibited." So, we're not going to see Kristaps Blušs install air jacks this year.
Next up is the brake system where 3.5 K has been added to state: "Carbon fiber, carbon ceramic, and carbon variant brakes or rotors are not allowed." I imagine this is more of a cost saving measure more than anything else, though, it would also be a way to reduce some un-sprung and rotational weight. The thing about a full carbon brake system (carbon pads, carbon rotors) is that they need heat to work and, in most cases in drifting, the heat built up by the brakes isn't always enough. Though carbon ceramic would probably work fine.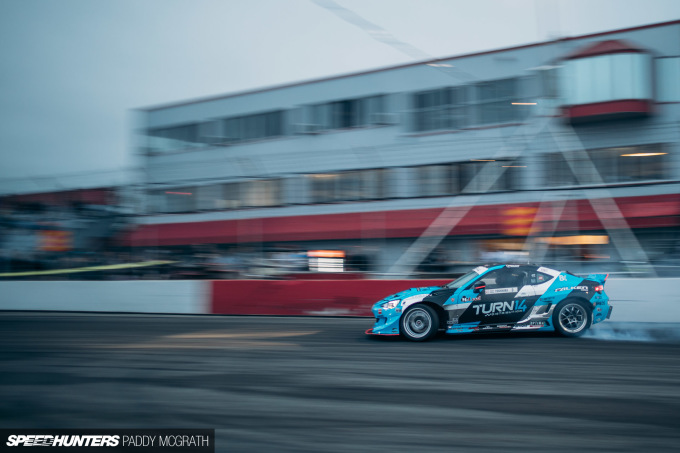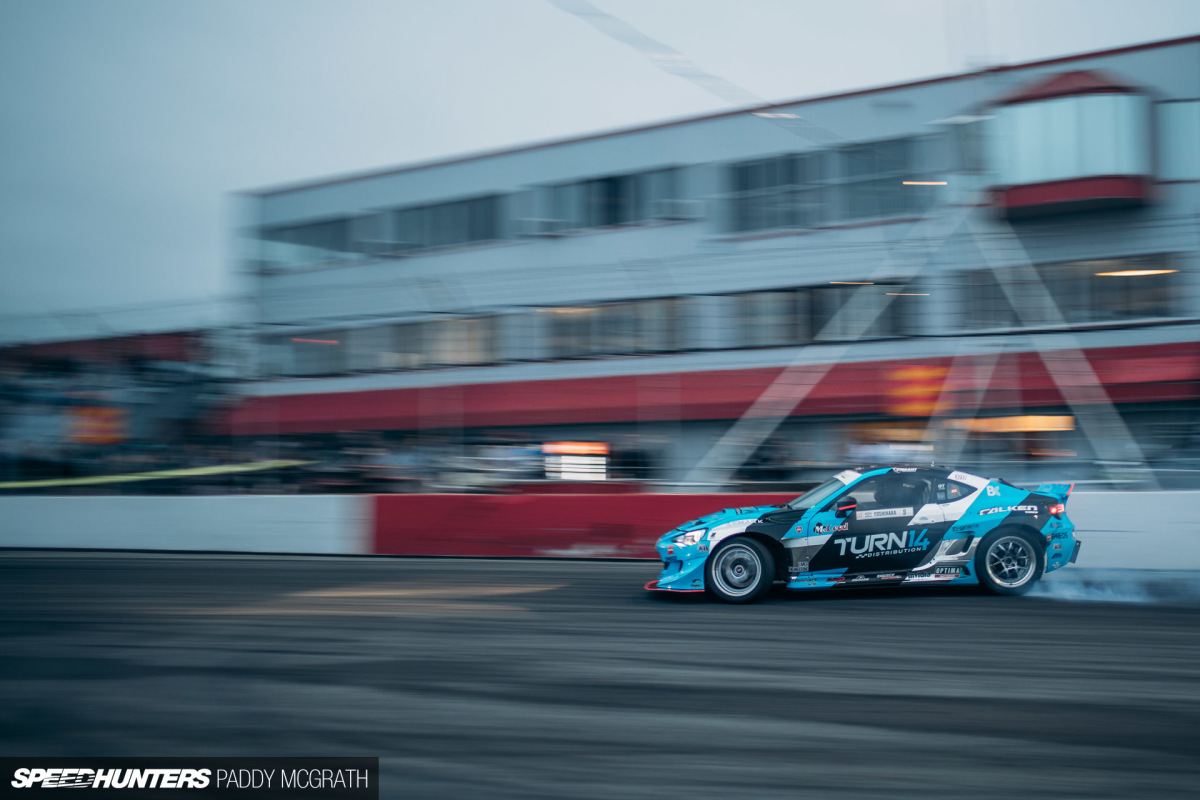 Wheels see some substantial changes with completely new rules. Beadlocks, wheel screws, and bead securing devices other than the normal lip of your wheels are still not allowed, but three new rules have been added. 3.6 D states: "Center lock, mono lug, and center lug wheels are prohibited," so no Porsche GT3 center-lock wheels this year. 3.6 E states: "Carbon fiber or hybrid carbon fiber/alloy wheels are not allowed," so no Ford Mustang GT350R carbon wheels are permitted either.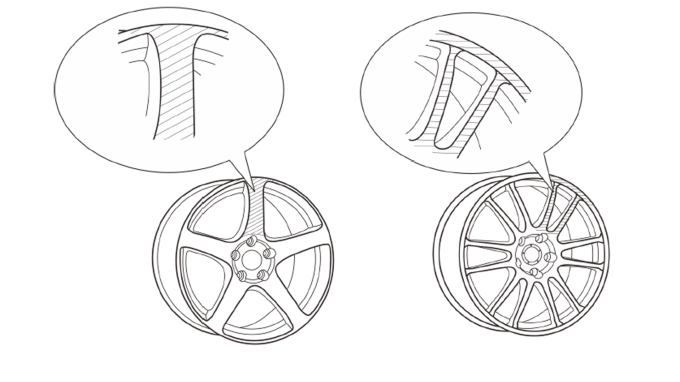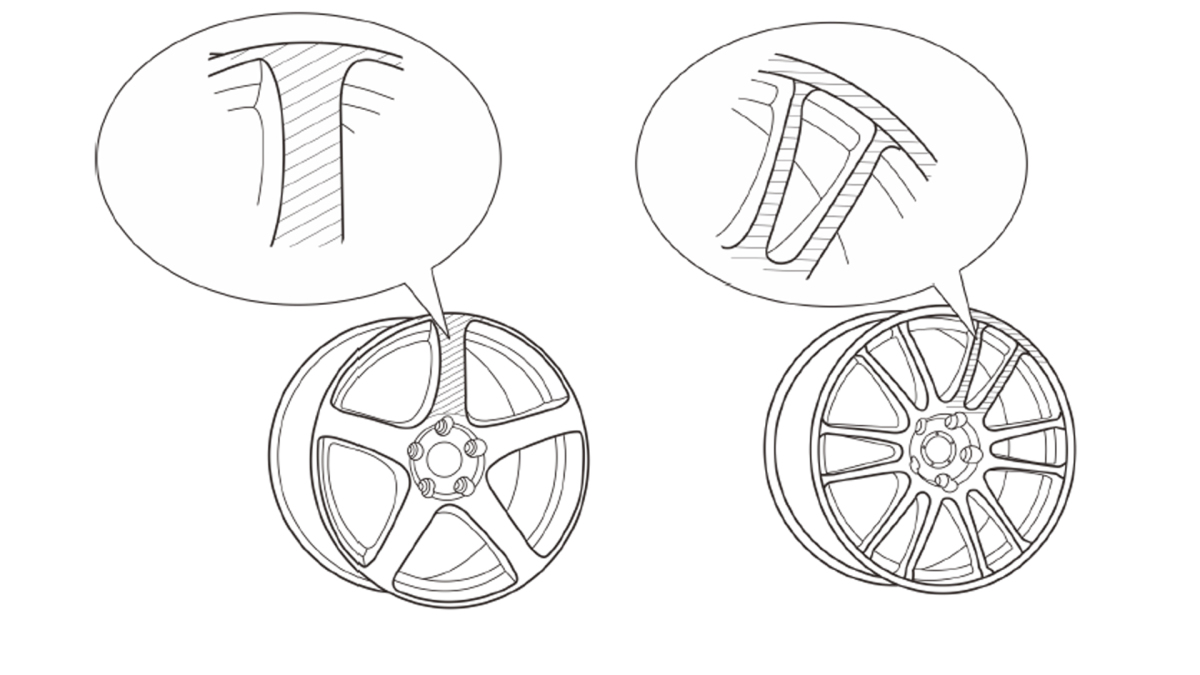 Finally, 3.6 F states: "PRO Series vehicles will be required to have stickers on each tire or a contrasting color on a specific portion of each wheel during official practices, qualifying and competition." This is a response to the dark and black wheels that have been used for quite some time. Specifically, 3.6 F subsections (a) and (b) specify the requirements for the decals. 3.6 F (a) states: "Tire stickers must be a minimum of 1 inch tall with 2 stickers per wheel," while (b) gives examples with illustrations.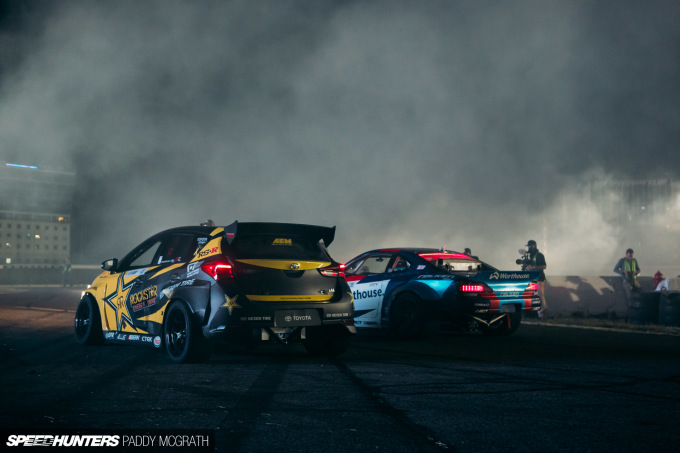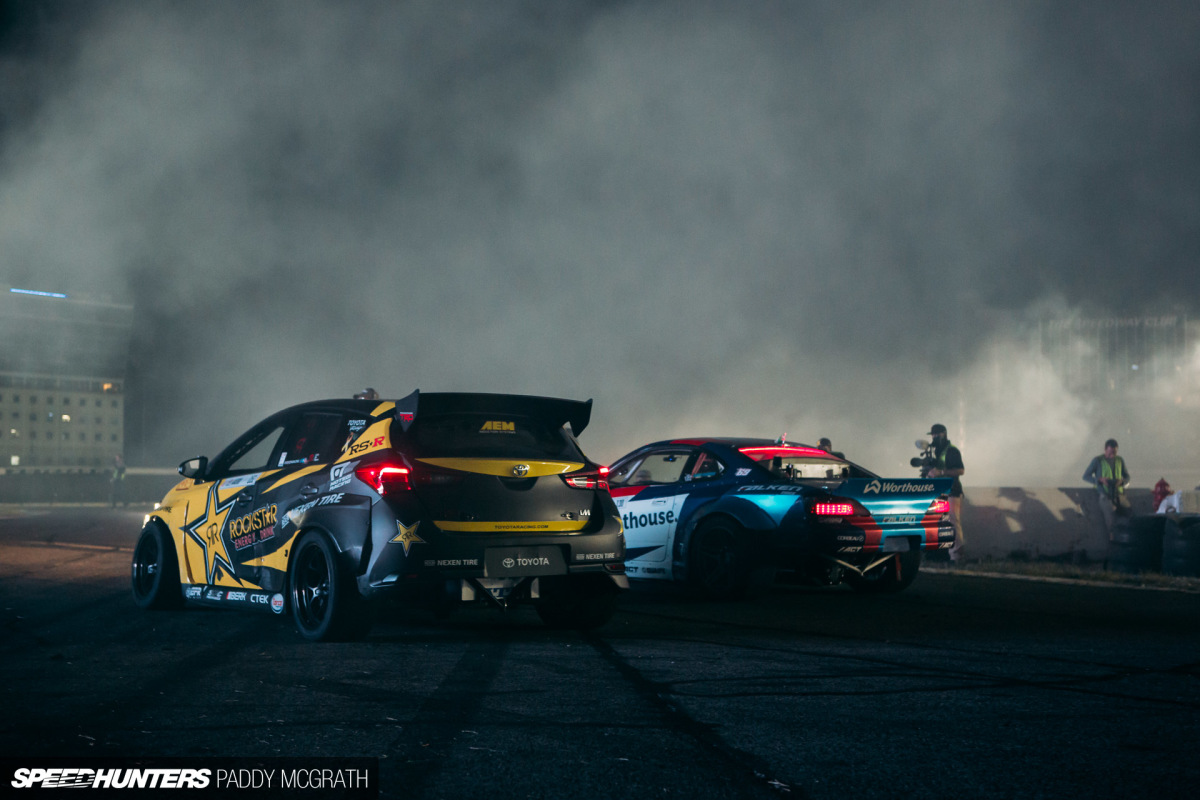 Section 4 is all about the drivetrain, where some new rules have been written. You're still allowed any engine you want to run, and you can still use gasoline, diesel, or ethanol, but no other fuel is specifically allowed. However, you can write Kevin if you want to use something else, which makes me wonder if anyone has asked about jet fuel or nitromethane yet.
4.1 deals with the engine but a new rule has been added. 4.1 C allows for skid plates, but within reason, stating: "Skid plates are allowed for the protection of engine associated components such as lines for oil, cooling, and fuel. Skid plates shall cover the minimal area needed for the protection of those components. Metallic skid plates shall be made up of a maximum thickness of .125-inch steel or .1875-inch aluminum."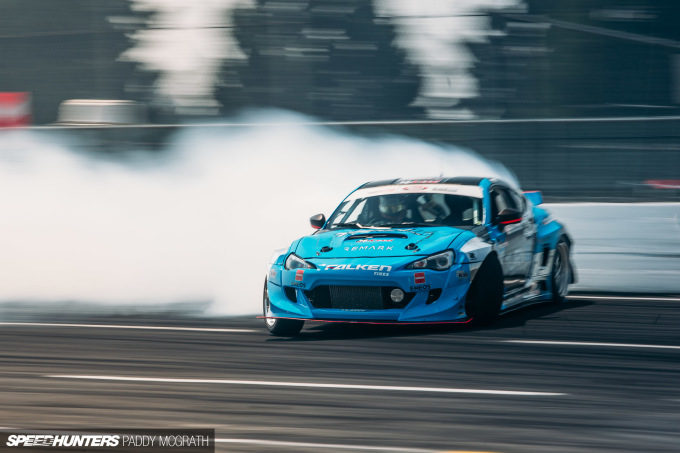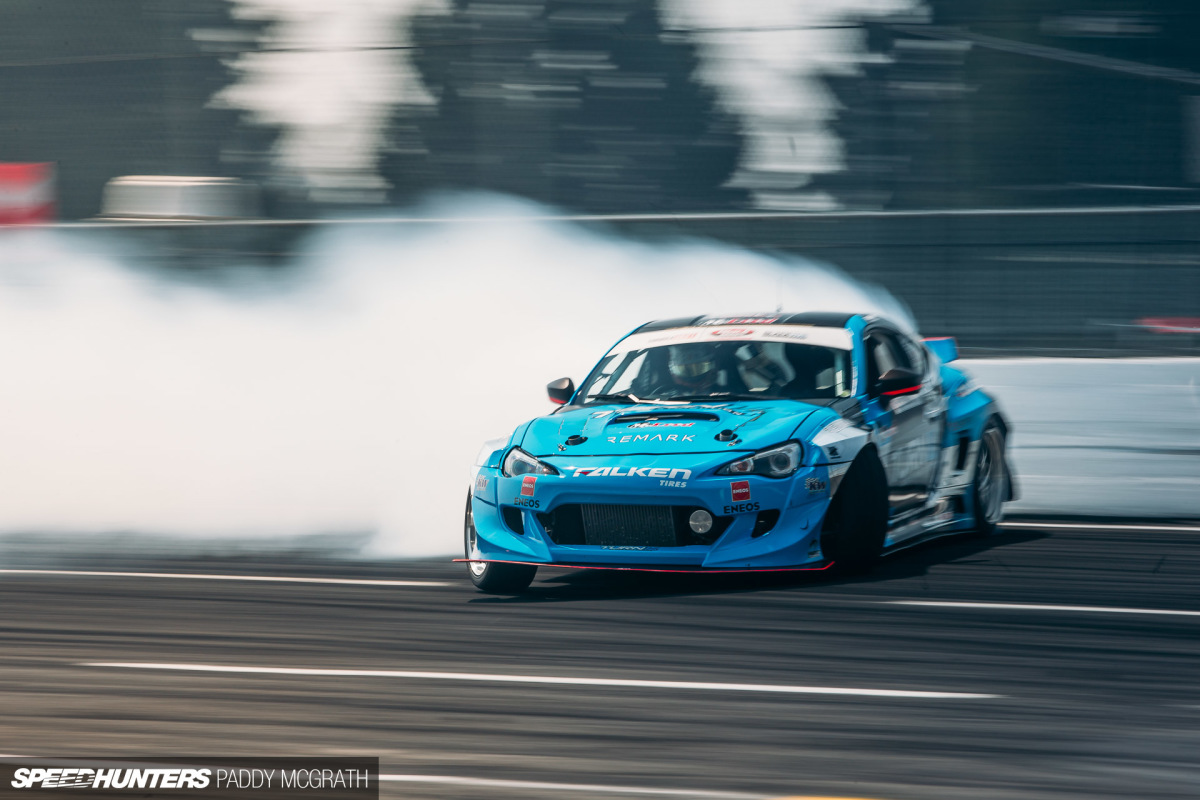 This is probably in relation to someone trying to go into the flat bottom route at least up to the front wheels, though, according to Mike Kojima of MotoIQ, it probably wouldn't work too well. On a topic about aero on drift cars on the Maximum Driftcast discussion board on Facebook, Mike noted: "A flat bottom won't work on a drift car at all due to the angle of attack. It would also eliminate the possibility of doing any five-minute repairs." He does point out that a splitter on the front works and, when they don't get too damaged, a barge board side skirt sort of works, too.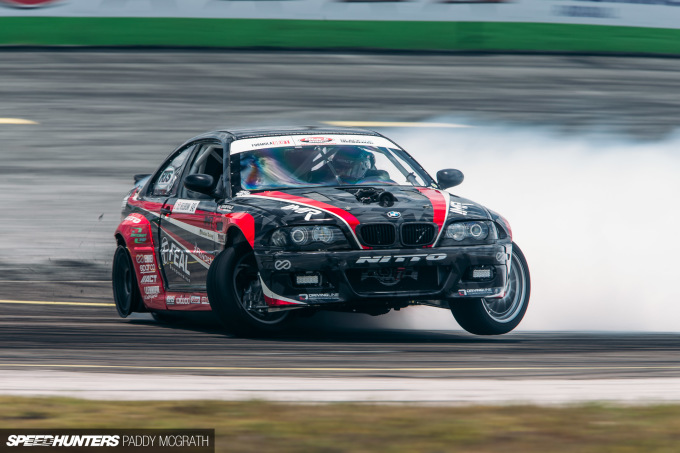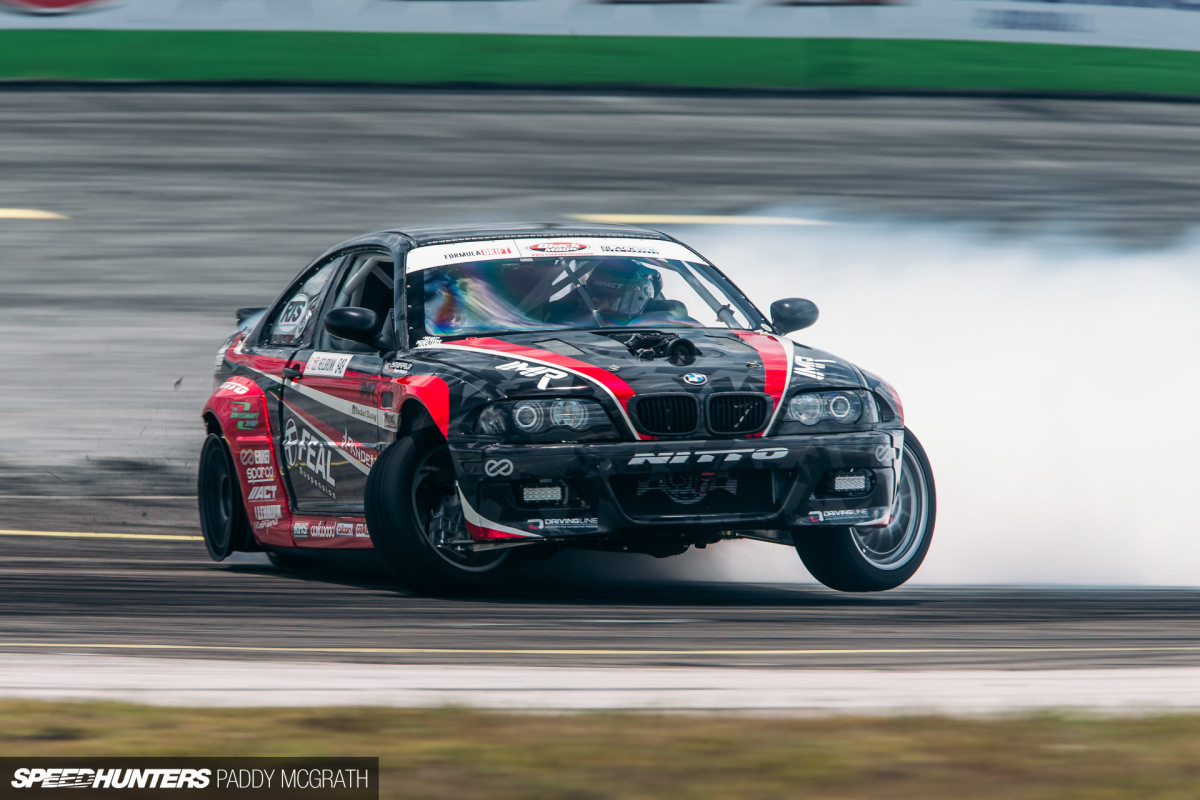 4.2 D is an interesting addition: "All engine components and exterior components that support engine operation such as coolers, pumps, tanks, and lines must be protected and within the confines of the factory frame rails and factory bumper or tubular bumper structure." What I'm getting from this is they are trying to get away from the trophy truck-style radiator placement. So, while you can mount your radiator to the rear still, it's got to stay within the bumper or frame rails.
4.3 deals with the oil system and it's mostly the same but 4.3 D gets an addition: "Oil catch tanks with a minimum capacity of one (1) quart are required. Catch tanks must be securely fastened and sealed from the driver's compartment. Wristbands are recommended on all breather filters. Basically, the filter breather should be held on by more than just friction, which makes sense and I wonder why that wasn't there to begin with. Though, I think this one will be modified to say something other than "wristbands" before the year starts.
4.4 is dealing with the fuel system and fuel tank or cell. Again, not many changes but 4.4 L will no longer allow pressurized refueling. This was common for years in trophy truck racing and several other motorsports as well. It's a huge risk for fire as the mist from the nozzle could be combusted by the heat from the exhaust or even the brakes. Even in drifting, this would have been a fire hazard waiting to happen, so I'm glad to see it prohibited.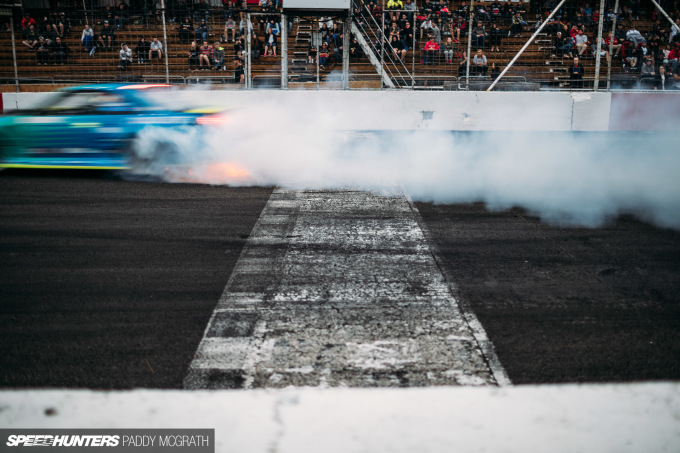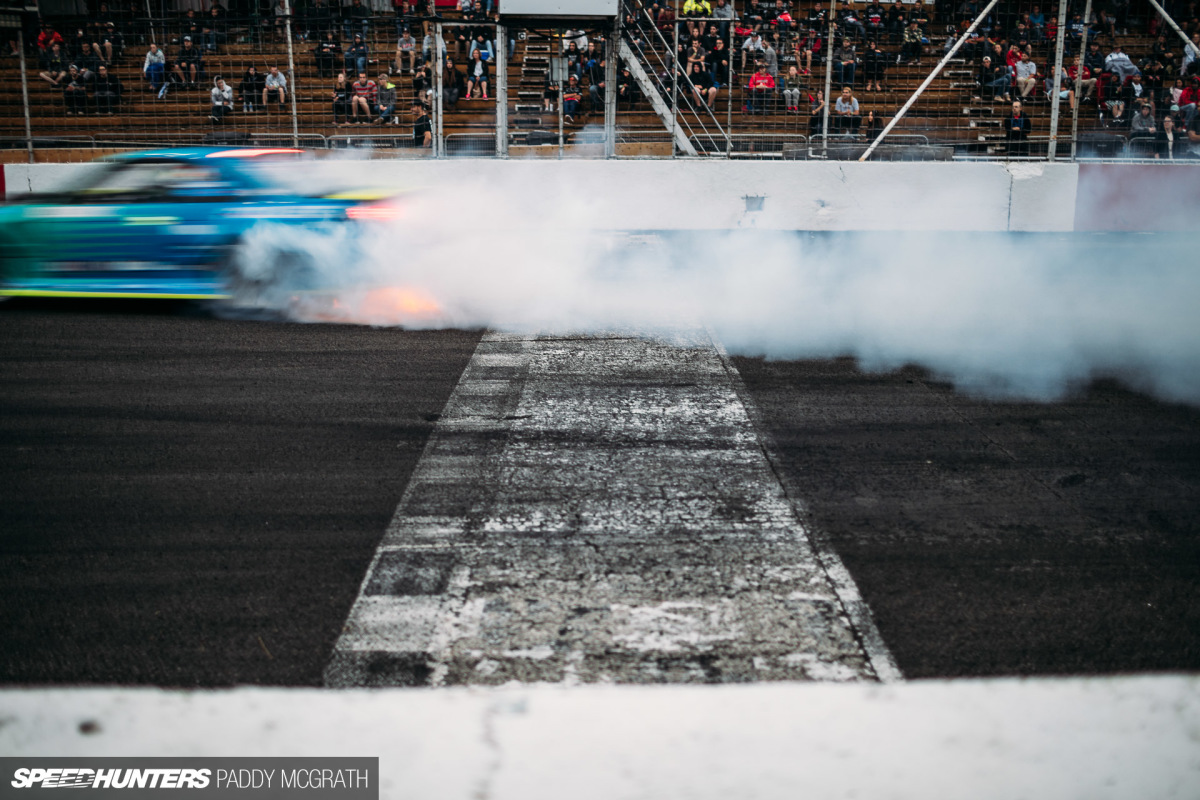 Section 5 relates to the electrical system and, immediately, I'm pretty sure that someone was using a battery as ballast. 5.1 B adds: "All batteries must be connected and in use." I wonder who had a 'spare battery' in their car for 'emergencies.'
I mentioned aerodynamics earlier, but Section 6 is where we see the full rules about the body and the aerodynamics. 6.3 A has been added to specify when wings mounted on standoffs must be mounted to the trunk. "Wings that are multi-piece mounted on standoffs and those that are not directly attached to the trunk will be prohibited at tracks where they may come into contact with walls, fencing, and signage. Examples of such tracks include, but are not limited to Long Beach, Orlando, Wall, Las Vegas, and Seattle."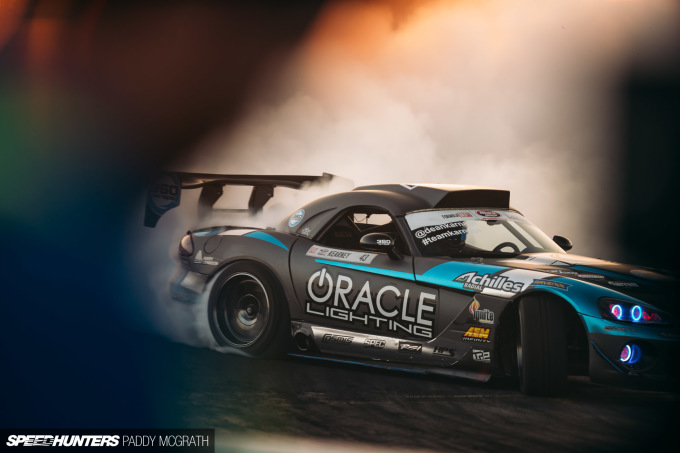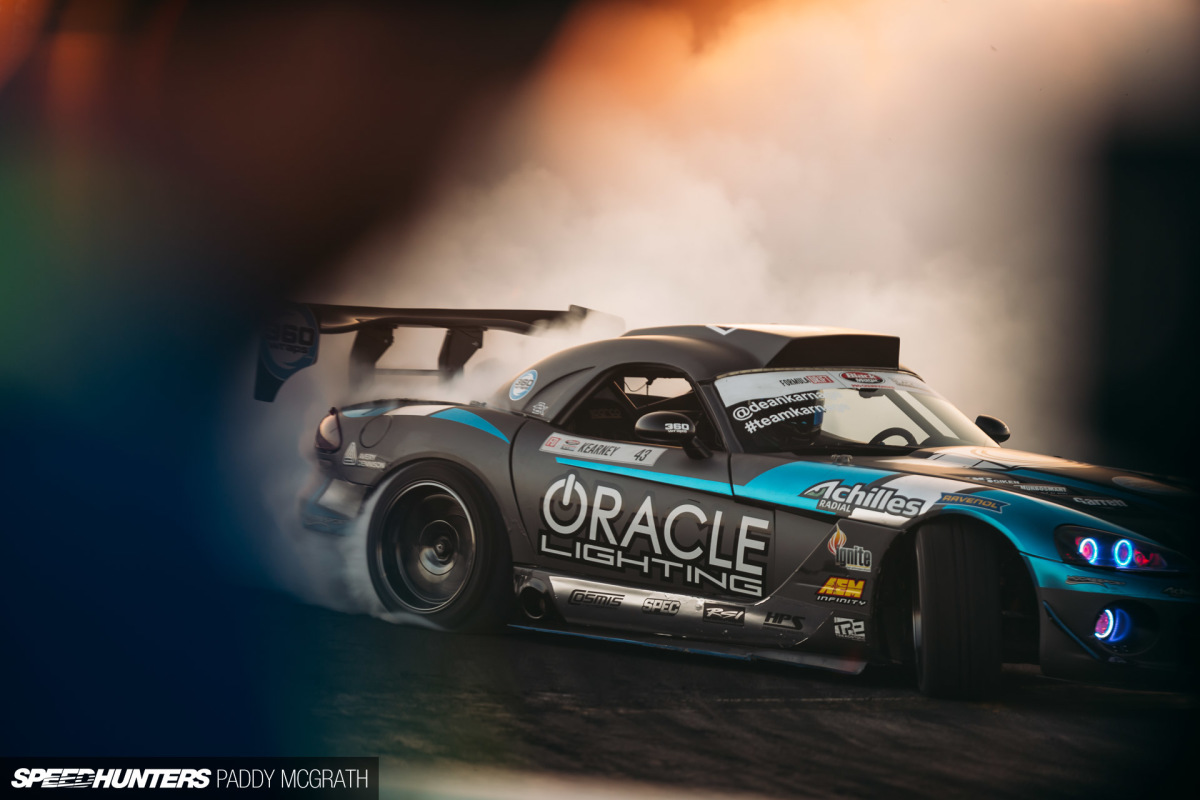 So, no bumper mounted standoffs at those tracks like you see on Dean Kearney's Viper, which I think is the only car that will be affected. Most are running standoffs on the trunk or using a ducktail spoiler. It's self-explanatory as to why this is the case as the spoiler will hit before the bumper does and can fling it up on the follow car or, worse, into the spectator stands. I don't know how likely that latter one is, but I know of cases where end plates have flown up and hit people before their size was mandated.
Oh, by the way, you can't run non-approved Formula Drift tire sponsor or supplier logos. 6.9 D states: "No non-approved Formula DRIFT Tire Sponsor or Tire Supplier logos are permitted anywhere within the event venue(s), on vehicle transports or rigs, competition vehicles, uniforms or driver suits. Additionally, no material or promotional items are permitted with non-approved tire manufacturers branding and/or logos allowed at Formula DRIFT events." This is probably about Josh Robinson, who had Tri-Ace on his truck, er, Commodore ute before Magnuson became his title sponsor. However, his trailer still had Tri-Ace and the 530 logo and tire on it, if I remember correctly.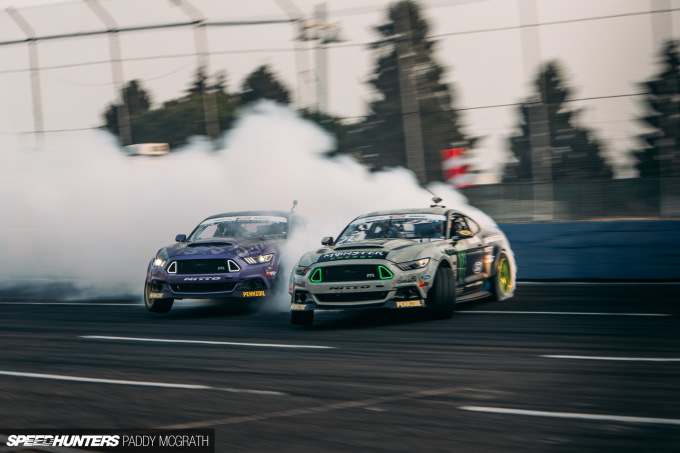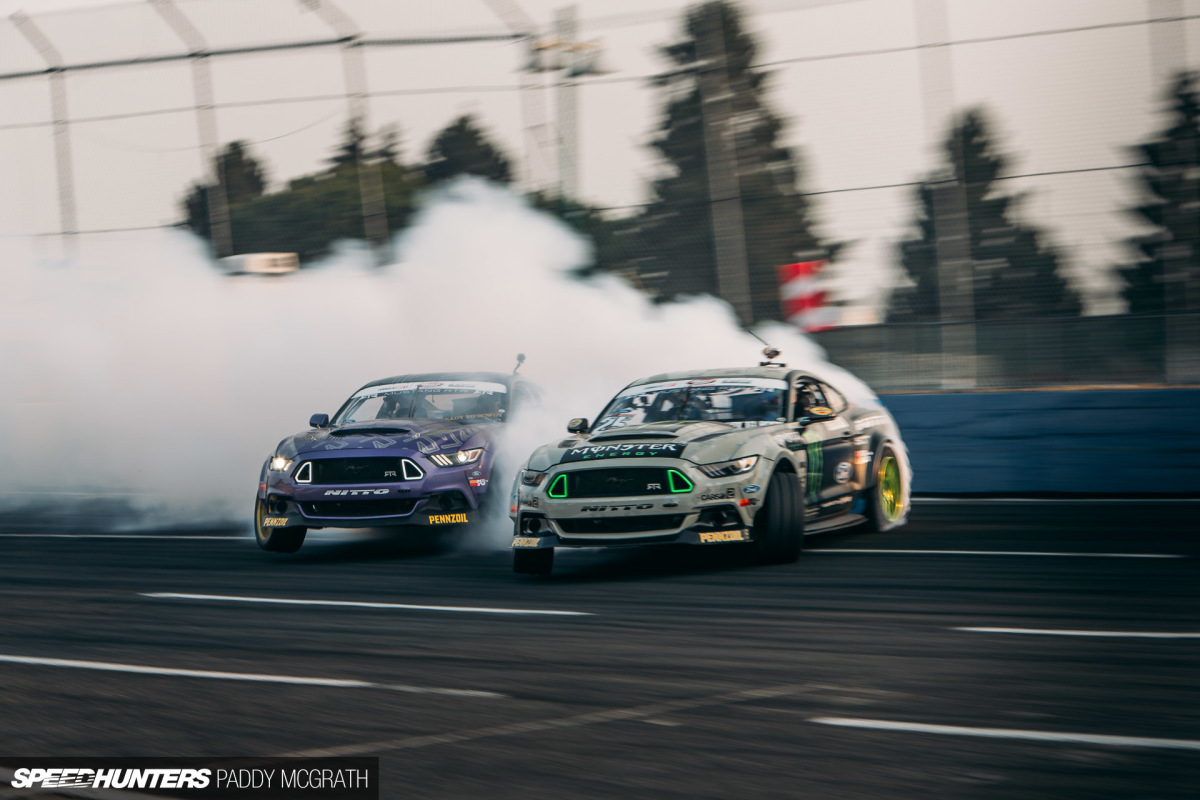 Decals are regulated by Formula Drift, just like most any sanctioning body, but 6.9.2 adds the requirement of a single "Formula Drift Sponsor Decal" on the passenger side of the windshield, which can change depending on if the car is left-hand or right-hand drive. Miss that and you'll be hit with a $500 fine per event if it's issued. The fine wasn't added, it was always there, but I wanted to point out what would happen. For Pro you'll see a Black Magic decal here while Pro2 will have the Link Engine Management logo.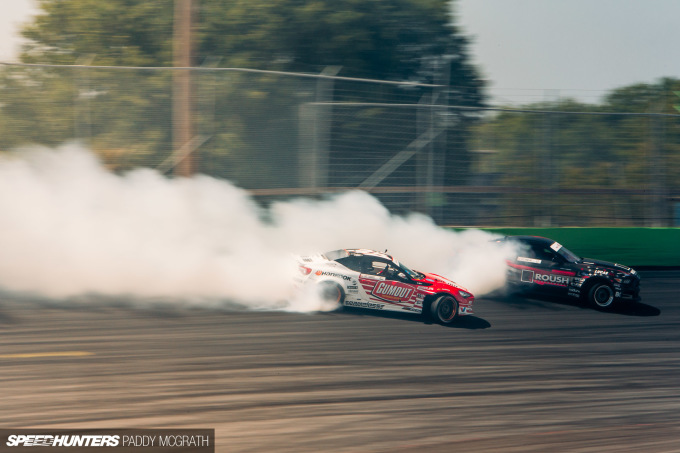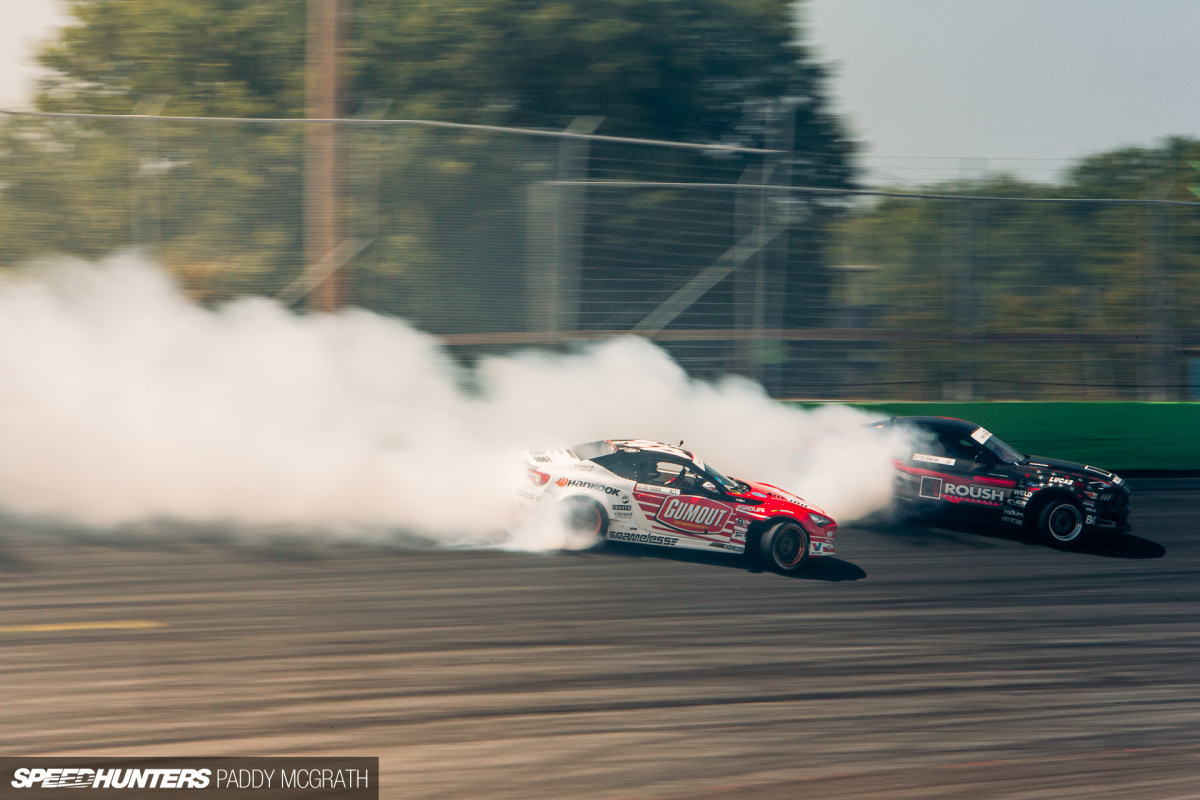 While 6.11 hasn't seen any changes, the rule is now being enforced that all OEM lights, including headlights, must remain in place and function normally. So, we won't see the intake scoop like we saw on Matt Field's S14, or projector lights with blacked-out housings like Kyle Mohan was going to run this year. I'm not entirely sure why this rule is in place other than to make the cars look as close to showroom cars as possible (minus the roll cages and body kits). I understand the need for lights at night events, too. However, most FD events take place during the day and the only night events that were done on purpose were Atlanta and Irwindale. The only other event is the Motegi Super Drift Challenge, which doesn't even follow FD rules.
For driver safety, Section 7 stipulates the rules on what the driver must wear during competition, but 7.1 C has been added to state: "Helmet visors must be closed during on-track sessions." Someone must have enjoyed eating rubber before that rule was required. Though, I know many drivers who wore glasses had safety glasses with corrective lenses required by Formula Drift and would leave the visors up. So, now they either don't run a visor or must deal with the visor and the need for glasses. I can see why FD would want this as it fully protects the driver's face from debris other than tire rubber like rocks, fiberglass, and metal. Also new for driver suits for 2018 is the new Pro and Pro2 patches. They will both need to be located on the right upper chest area of the suit, but Pro and Pro2 will have different patches this year.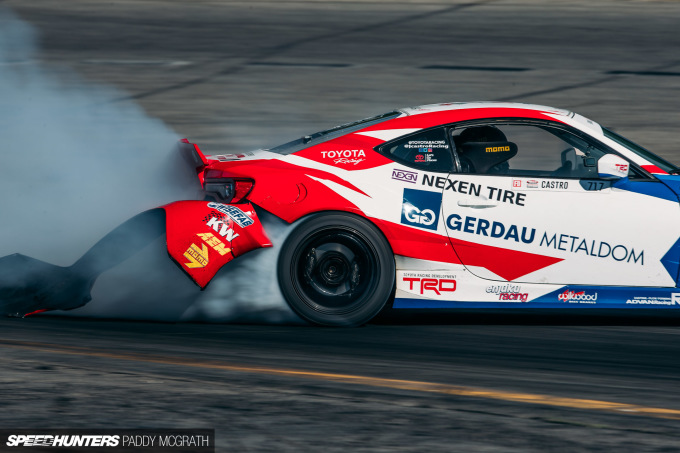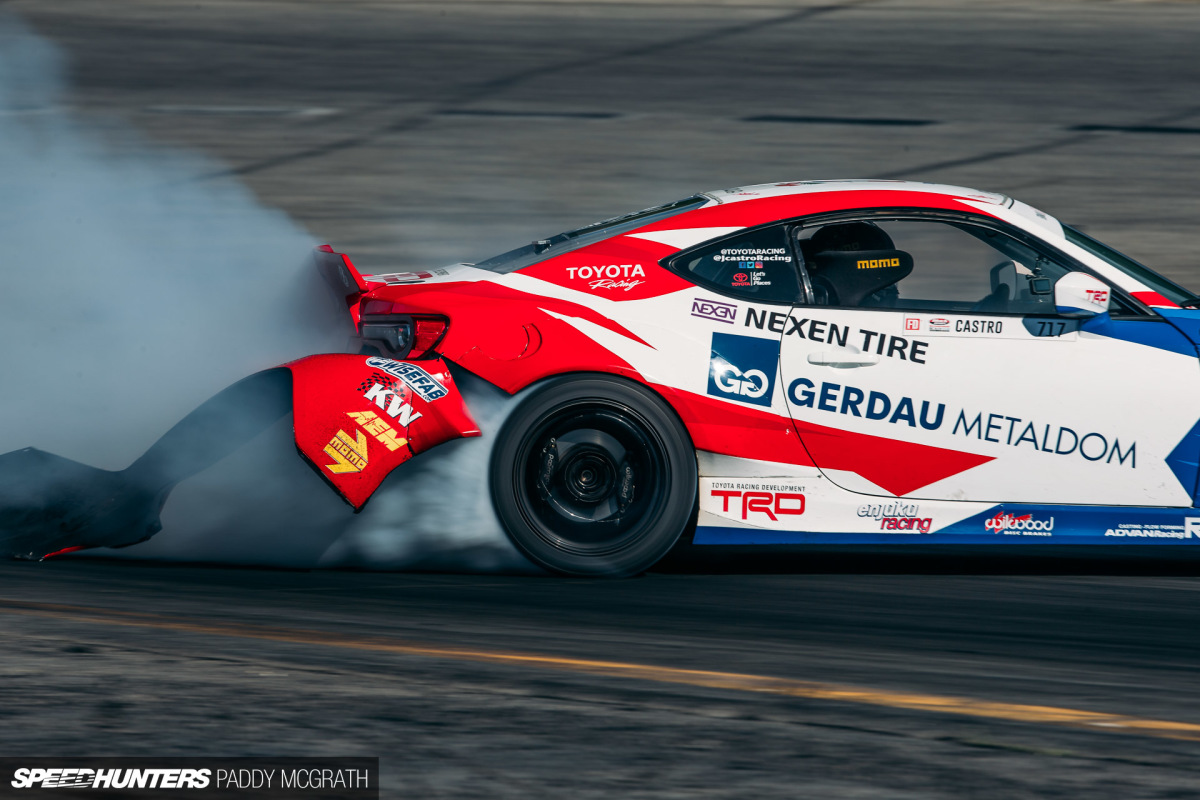 8.3 goes into all the tire regulations enforced for Pro2. There will be two official Pro2 tire suppliers, Achilles Radial and Nexen Tire. You can't get any other tire; you can't use any other tire. However, the good news is that those tires will only cost $100 per tire including delivery, mounting, and trackside support. Achilles and Nexen can sponsor a team, but it's totally up to them if they do or not in Pro2.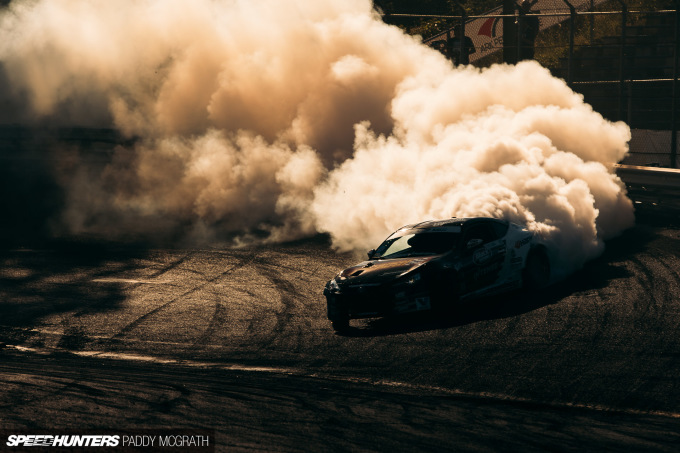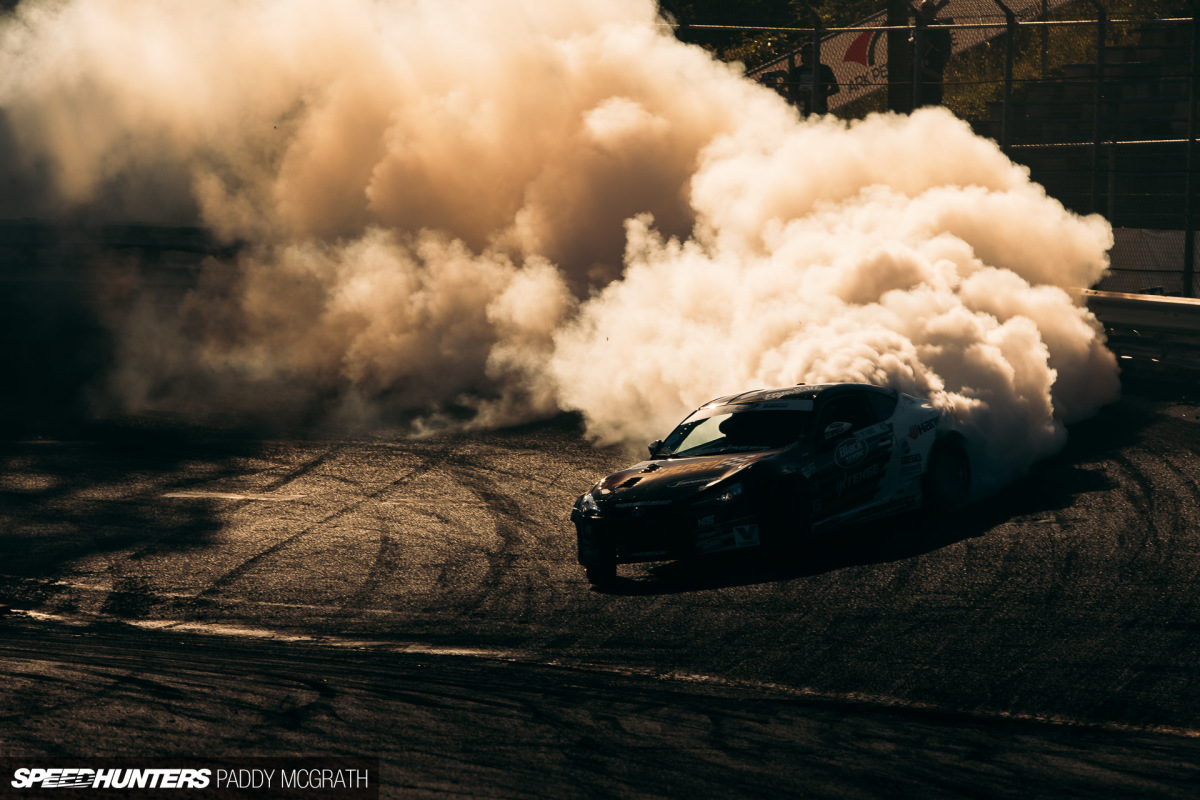 The new rules for Pro2 also include the new sizing requirements. Front and rear tires are still limited to 260mm with the minimum vehicle weight with driver for that measurement still at 2900lbs, however, tires advertised as wider than 255 will no longer be allowed; it doesn't matter if it's from Nexen or Achilles. Tires can also not be shaved, chemically treated, and you can't use tire warmers. You also can not buff or file the tire logos or markings off. Teams will also be required to show proof of purchase in the event of an eligibility protest is filed. So, if you're sponsored by another tire brand, you can't hide that you're using an Achilles or Nexen tire.
At the time of writing, these are the new additions to the Formula Drift Rulebook for 2018. Again, these can and most likely will change through the year, including right up to the first event at Long Beach.
Words by Justin Banner
Instagram: jb27tt
Facebook: racerbanner
Twitter: RacerBanner
Photos by Paddy McGrath
Instagram: pmcgphotos
Twitter: pmcgphotos
paddy@speedhunters.com