Step One: The Go
There are plenty of cars out in the world that can steal your attention for a minute or two, but the nature of my limited Speedhunting time means I often have to be content with that fleeting moment, perhaps grabbing a photo for the archives, and then moving on.
Occasionally, however, you find it – the feature car – and as I'm sure all Speedhunters can attest, it's an endorphin-high that we keep coming back for. The build should never be formulaic in its approach, however, and I'd like to share with you what might embody the perfect example of a Speedhunters feature car. This will be a straightforward lesson on how to build your own feature-worthy car and your instructor today is Hidaka-san, owner and driver of the 1970 Porsche 911S you see before you.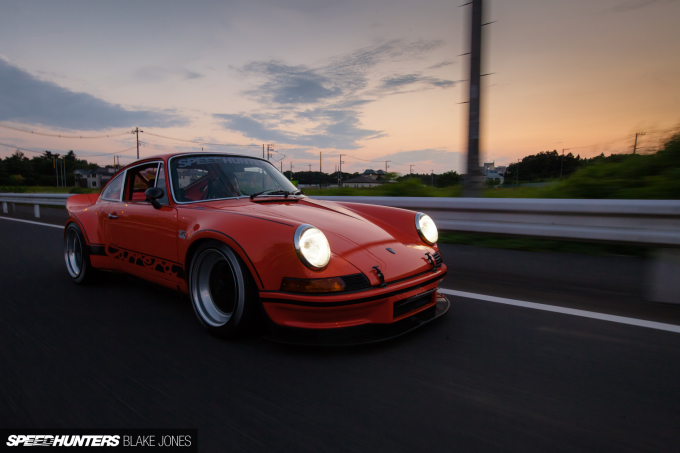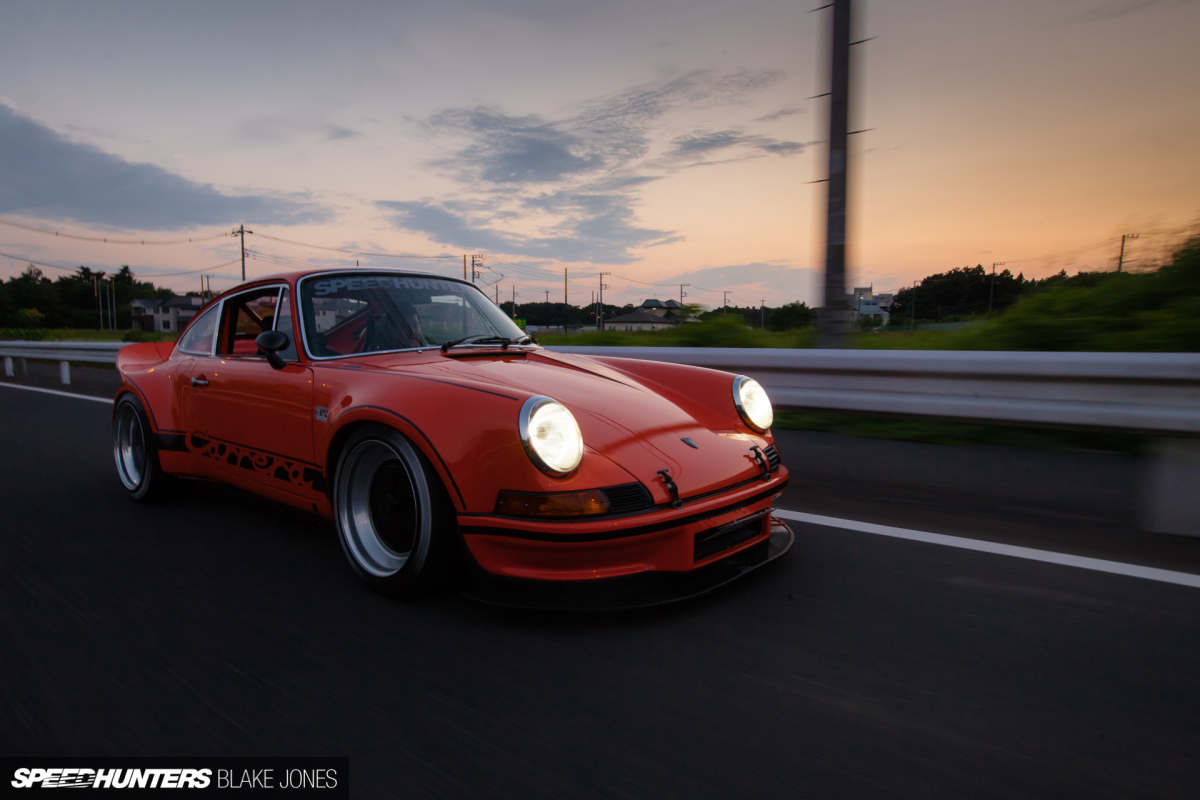 Your first checkpoint when building the perfect feature car is making sure it's fast; we are Speedhunters after all, right? The formula here is pretty simple thanks to those ever constant laws of physics: add power (P), subtract weight (W).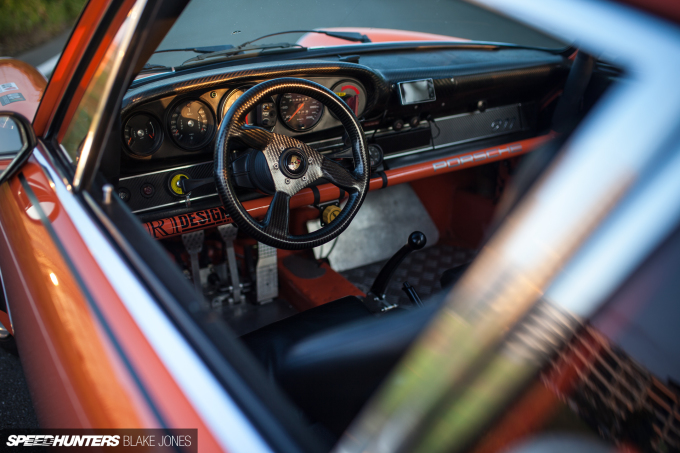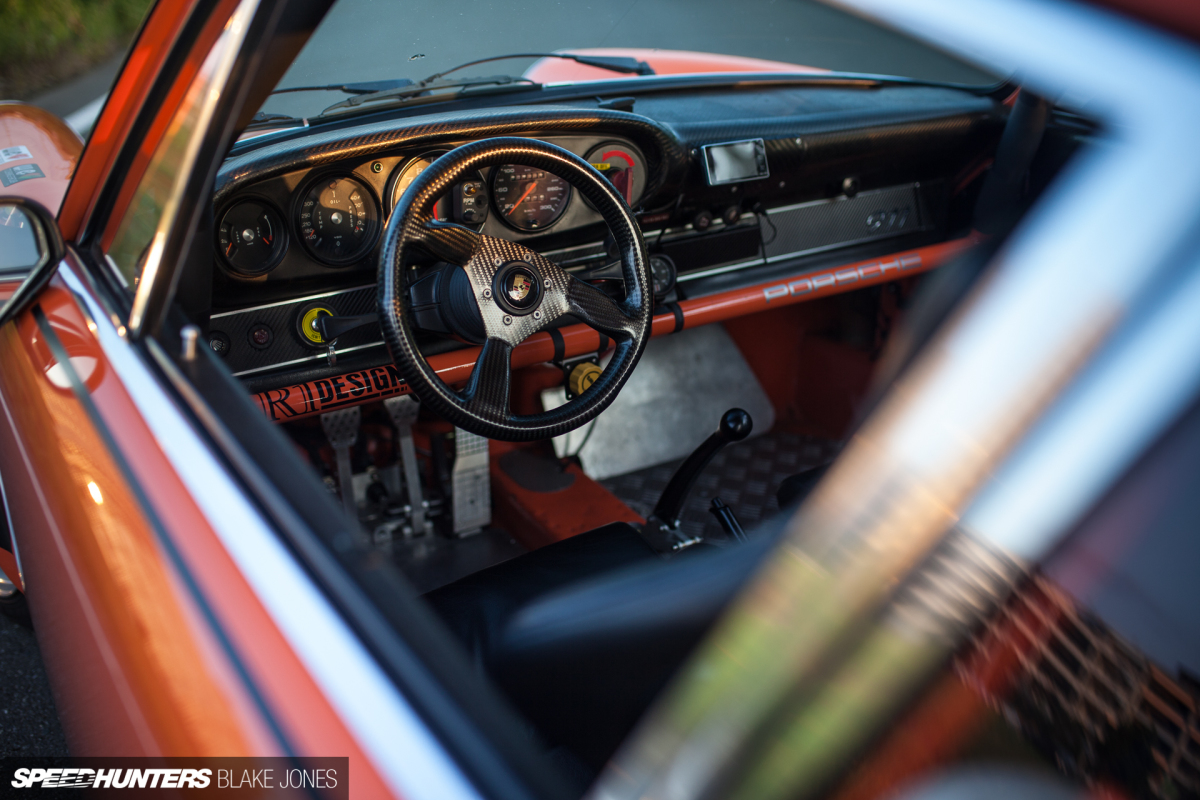 Stripping weight is almost always the cheaper option to improving your power to weight ratio, but once carpets, sound deadening and audio equipment have been deleted, more extreme measures are required. For Hidaka-san, that meant looking to alternate materials (namely carbon fibre) to replace stock panels. It's hard to miss the full carbon dash, of which apparently only two were made; the other one belongs to none other than Nakai-san of RWB.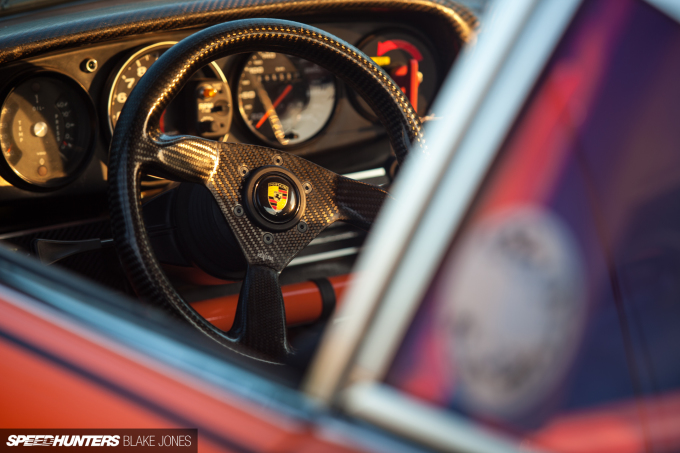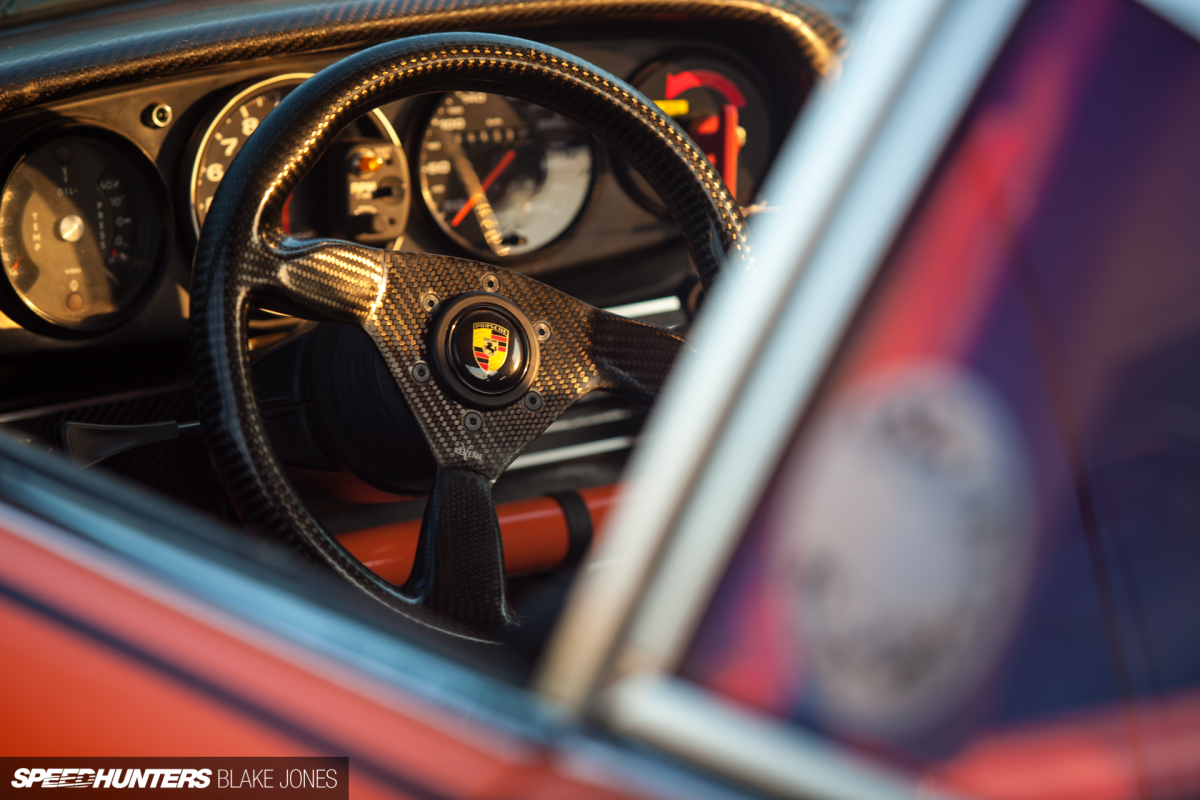 The dash is capped off with probably the one most standout pieces of this build, a carbon fibre wheel from Reverie, a UK-based manufacturer who also supplies F1 teams with their oblong wheel direction control units.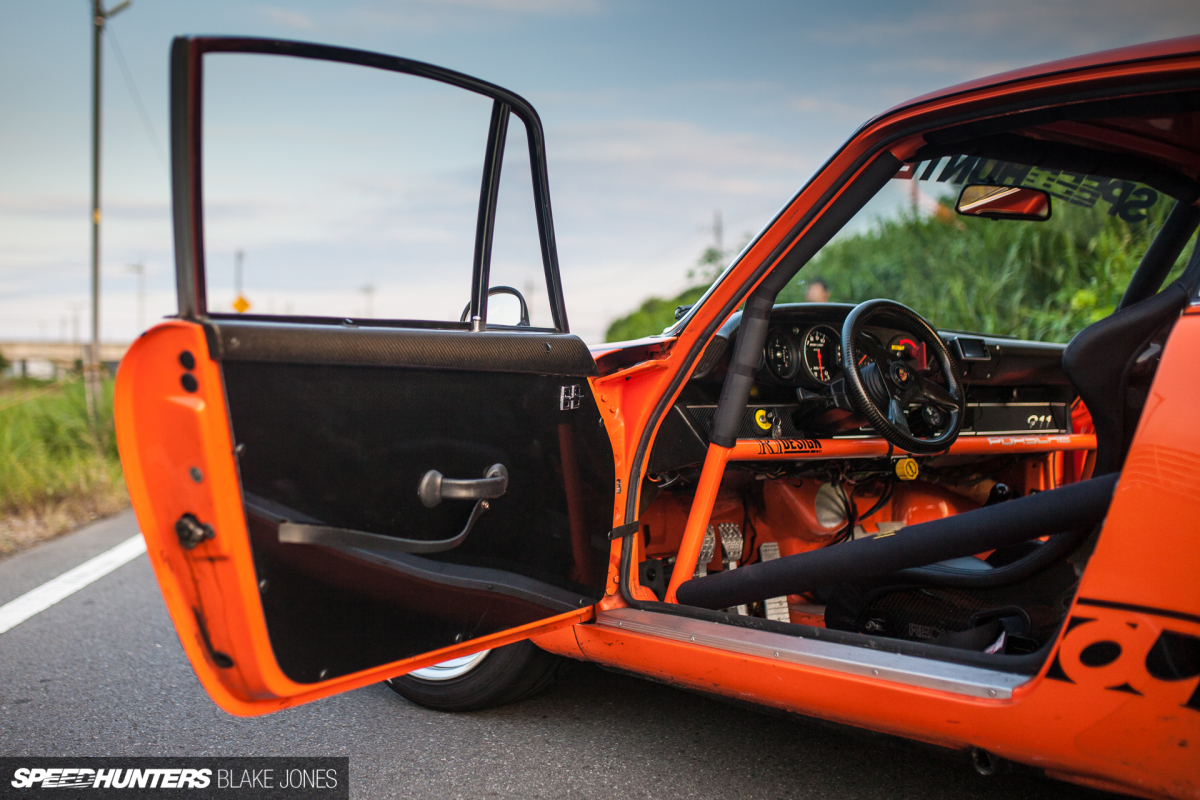 It goes without saying that glass windows and factory door panels are extraneous, and here they were unceremoniously evicted so Lexan and our favourite composite, carbon, could take up residence.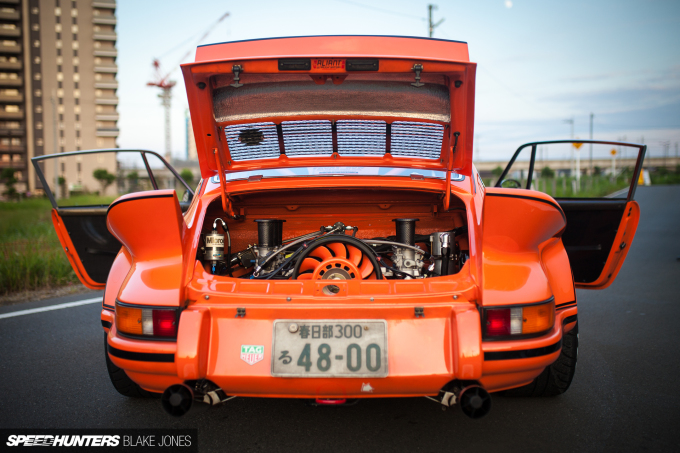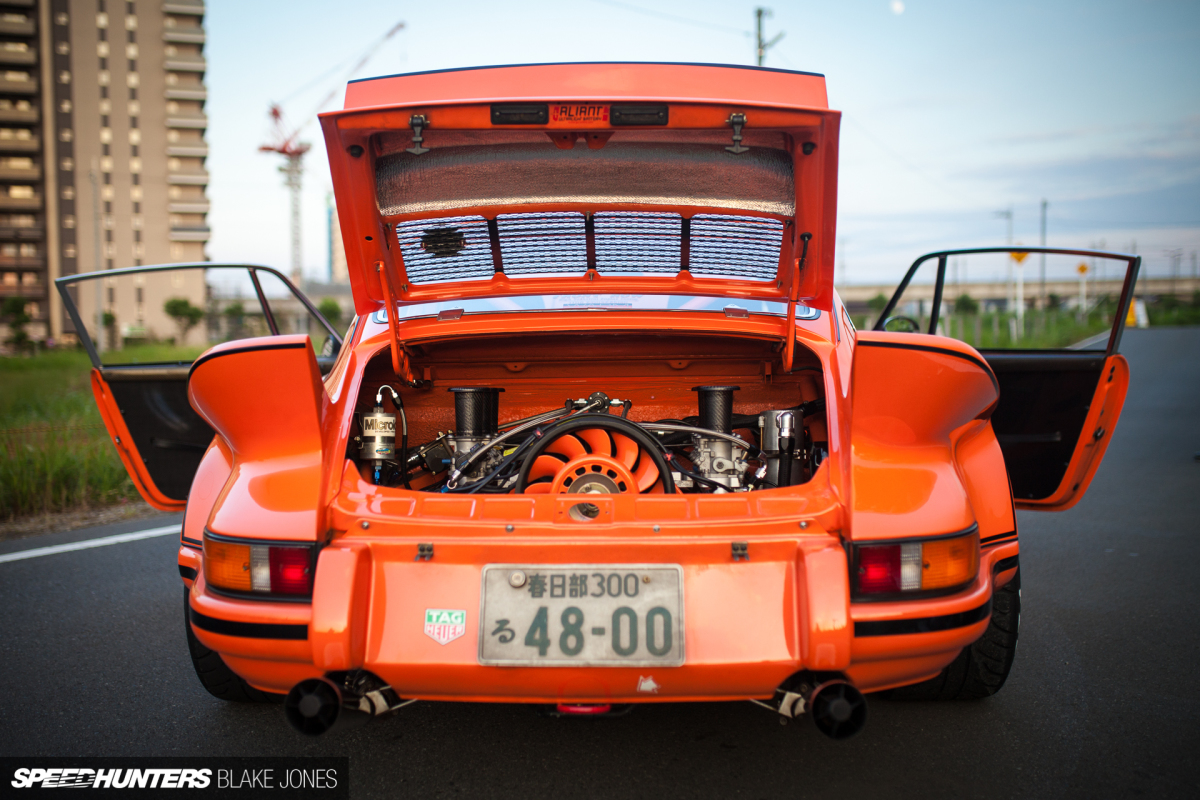 On the P side of the equation, we have a textbook execution of 'turning it up to 11.' The 911S originally shipped with a naturally aspirated flat-six engine, and a naturally aspirated flat-six engine is still what you will find behind the rear axle of Hidaka-san's car.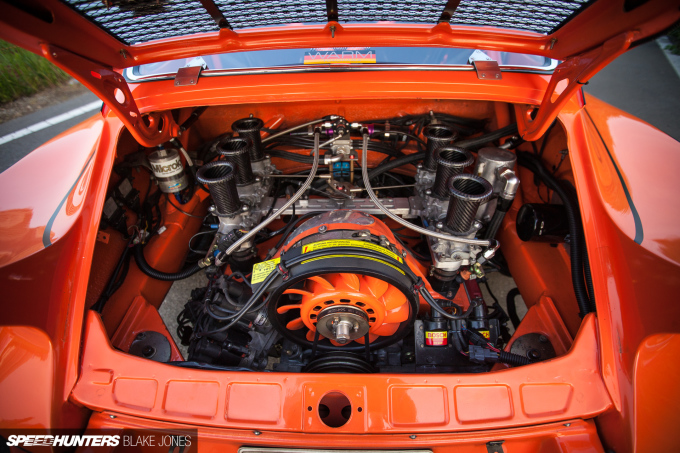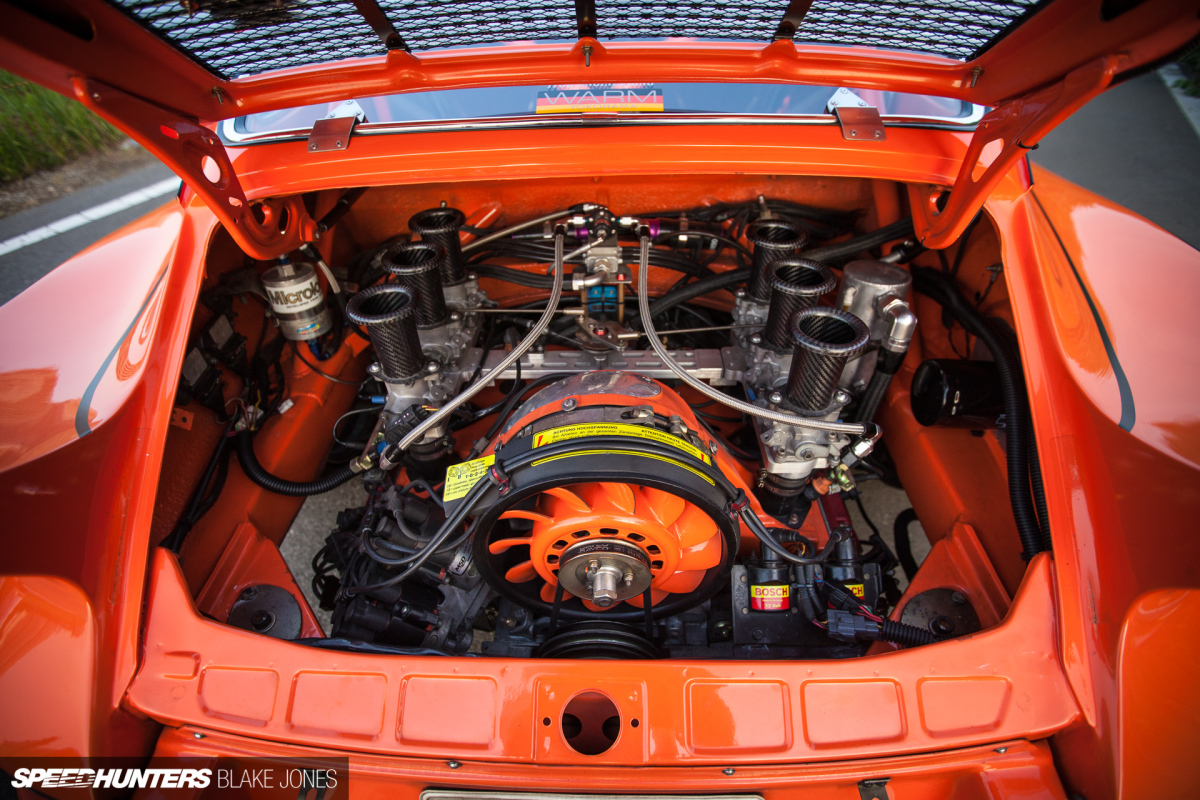 Except this power unit is an M64 transplanted from an early '90s 964, and it's been teased into a state of excitement by Saitama-based engine builder Front Row. Mahle high compression pistons sweep 3,800cc in accompaniment with a genuine Porsche RSR-spec crank and camshafts.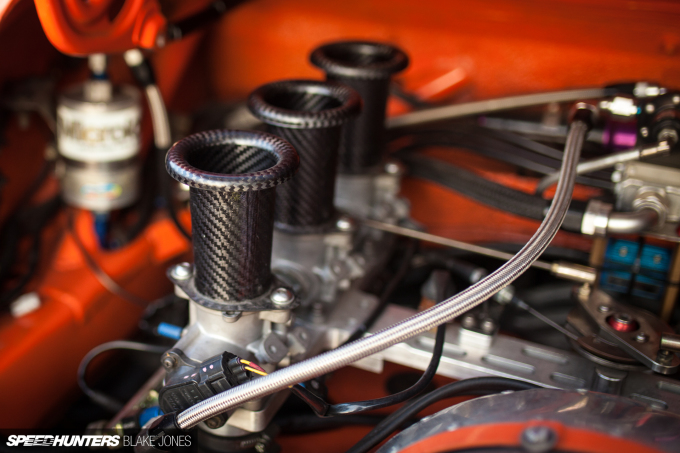 Being a later engine, carburettors are nowhere to be seen. Instead, individual throttle bodies are actuated by a mechanical throttle linkage and topped with beautiful custom carbon fibre funnels. This approach earns extra credit for preserving the original spirit of the car despite the pants-wetting power figure – take notes, please.
The powerplant is managed by a JDM favourite – the HKS F-CON V Pro, while drive is sent through a later G50 5-speed box and this suitably raw Wevo shifter. M's Machine Works, a Japanese Porsche shop that you'll be hearing a lot more about on these pages soon, supplied the pedal box.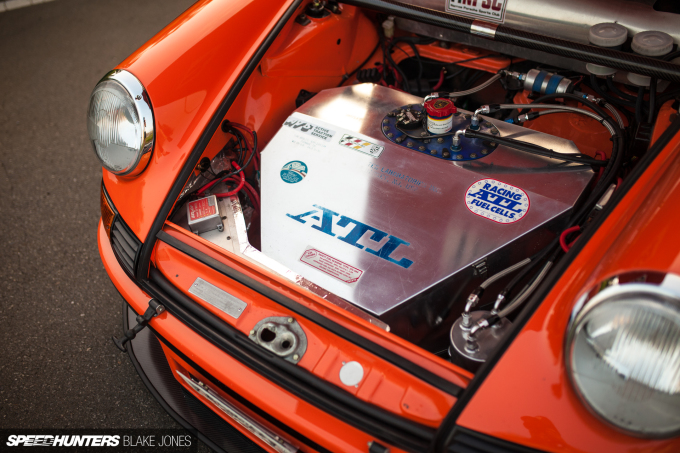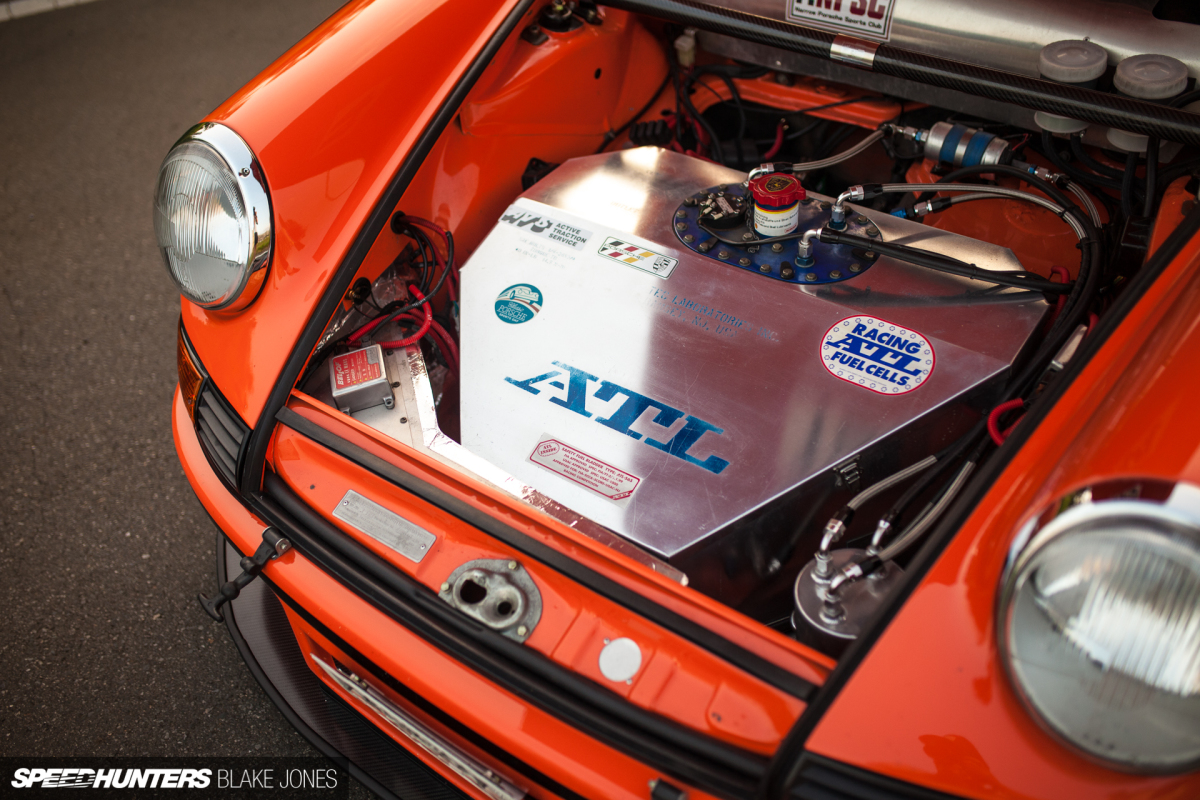 The frunk holds a massive 100-litre ATL safety fuel tank and motorsport pumps, providing the engine with reliable fuelling for cross-country blasts or the odd endurance race.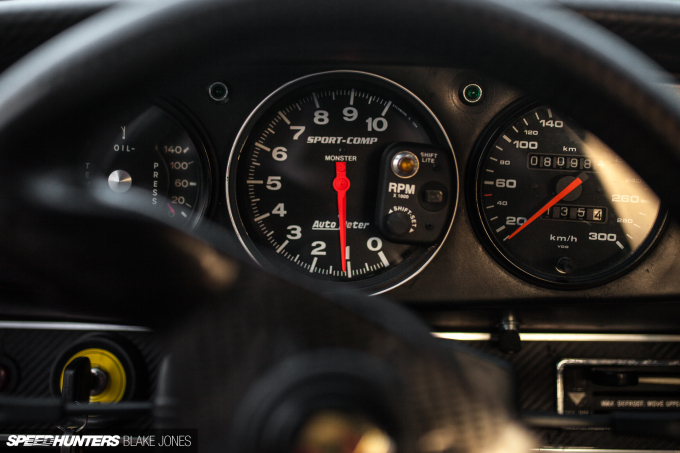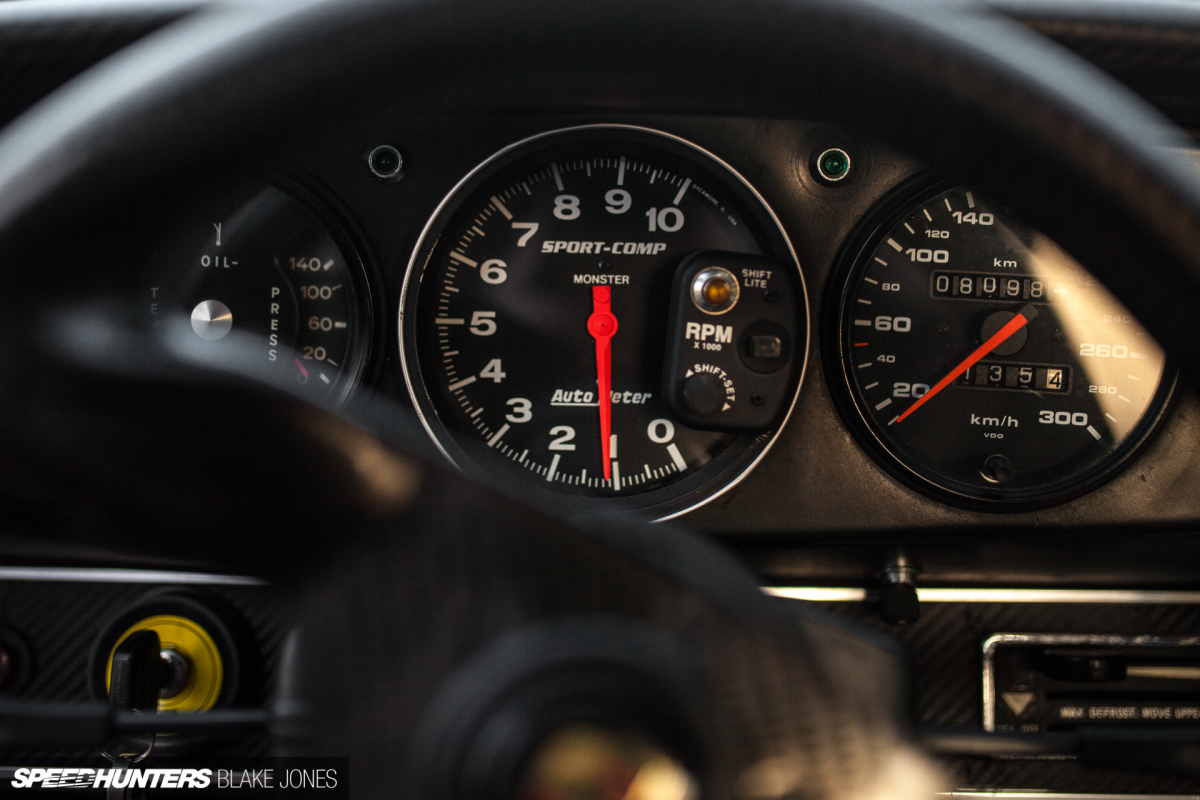 It's this writer's opinion that not much comes close to a worked Stuttgart flat-six for aural indulgence, Hidaka-san once again scores full marks for the symphonic section of the feature car course. But I don't expect you to just take my word for it…
Evidence of this fact is provided here, in video format.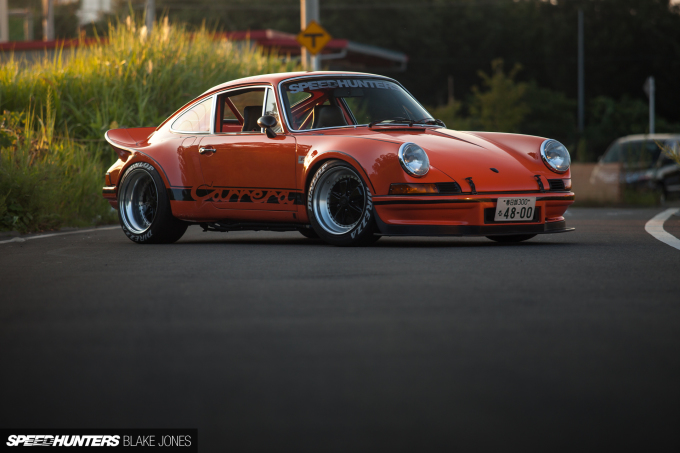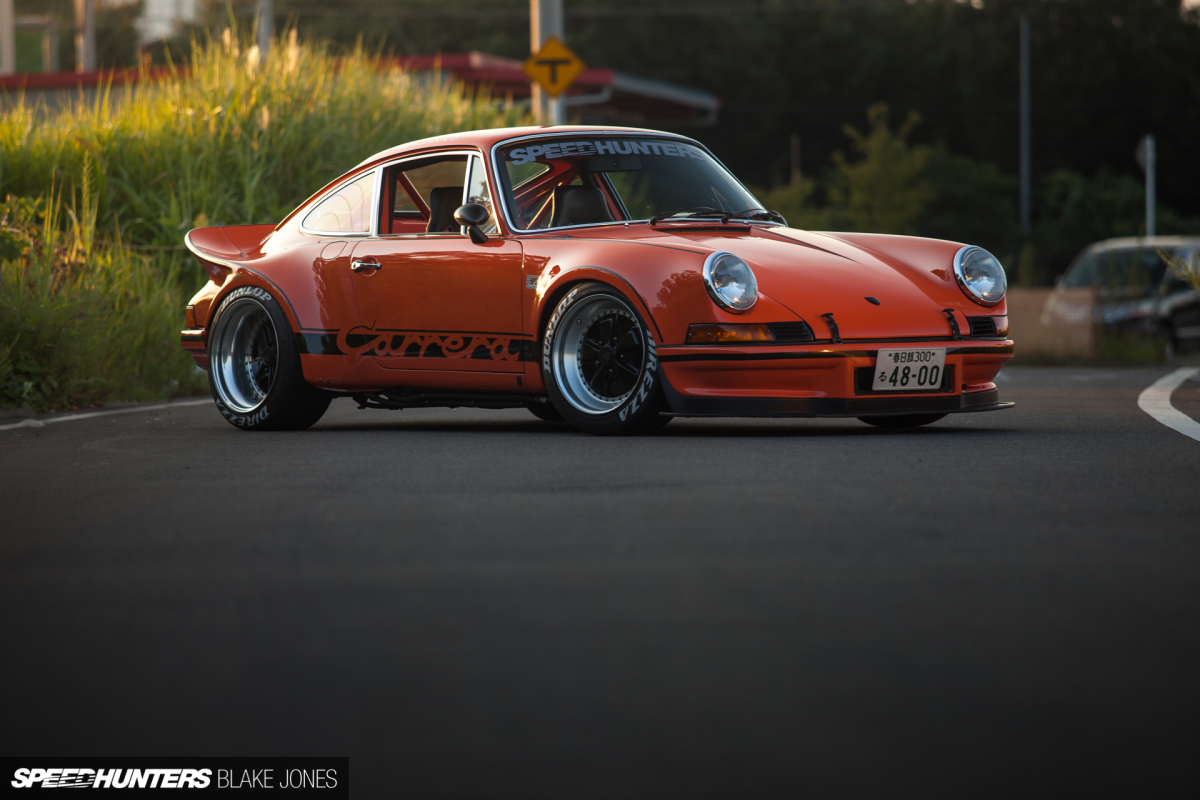 With a kerb weight right around the 1,000kg mark and power at 380hp, our equation neatly sums to approximately 380hp/tonne. Suitable reference points at this figure are the Ferrari 458 Italia and McLaren 570S – and ahead of the most recent 4.0-litre Porsche 911 GT3 RS. For further reference, the original 911S on which this car is based packed 166hp/tonne when it hit showrooms 48 years ago.
Step Two: The Show
We've undoubtedly reached peak 911, even to a point where diehard 911 guys and girls are starting to yearn for the 'next 911,' whatever that may be. Yet even amongst a sea of fantastic modified 911s in 2018, Hidaka-san's creation stands out. It's a car that doesn't seem constrained to an era, effortlessly combining stylistic elements with unashamedly modern technologies like carbon fibre (which was not seen in Formula 1 until 1981).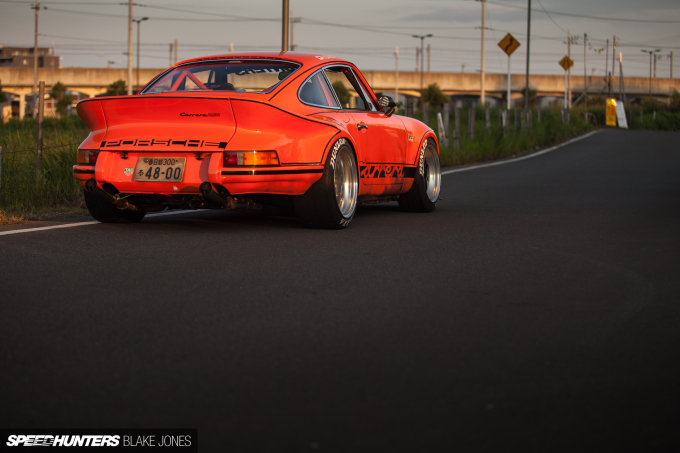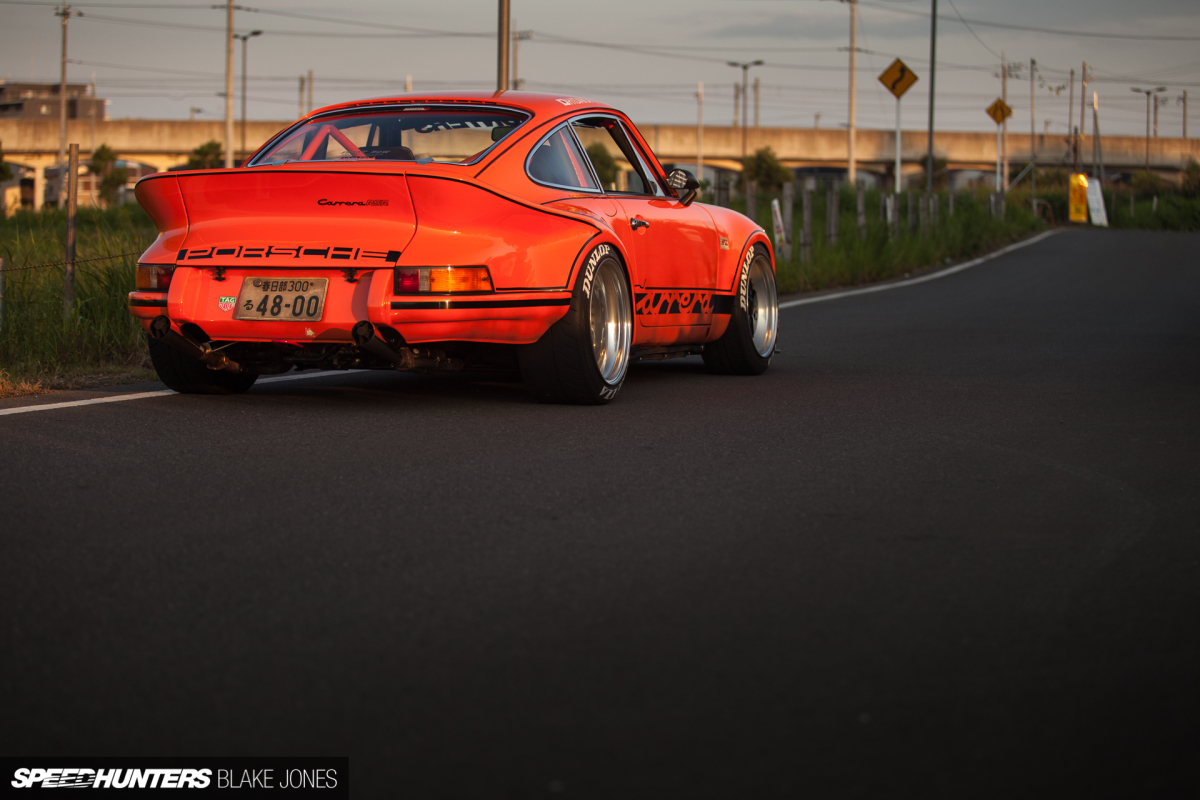 One detail I completely overlooked until I was sorting through the photos after the shoot is the thick black pinstripe that traces the 911's key body lines, giving them extra definition. It's an aesthetic master stroke, so simple in theory and practice, yet I can't imagine the car having the same visual presence without it.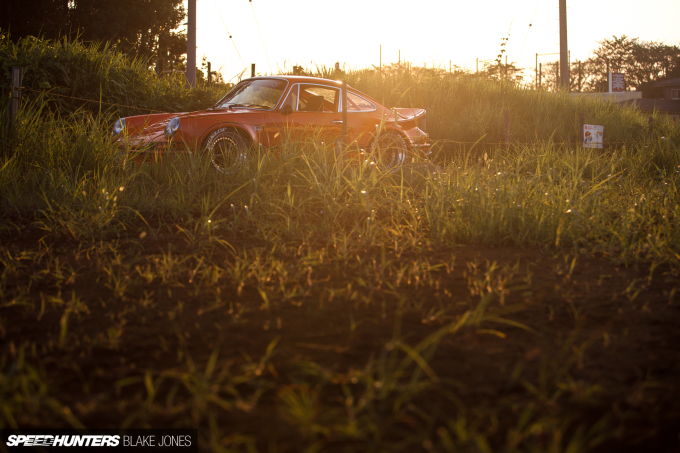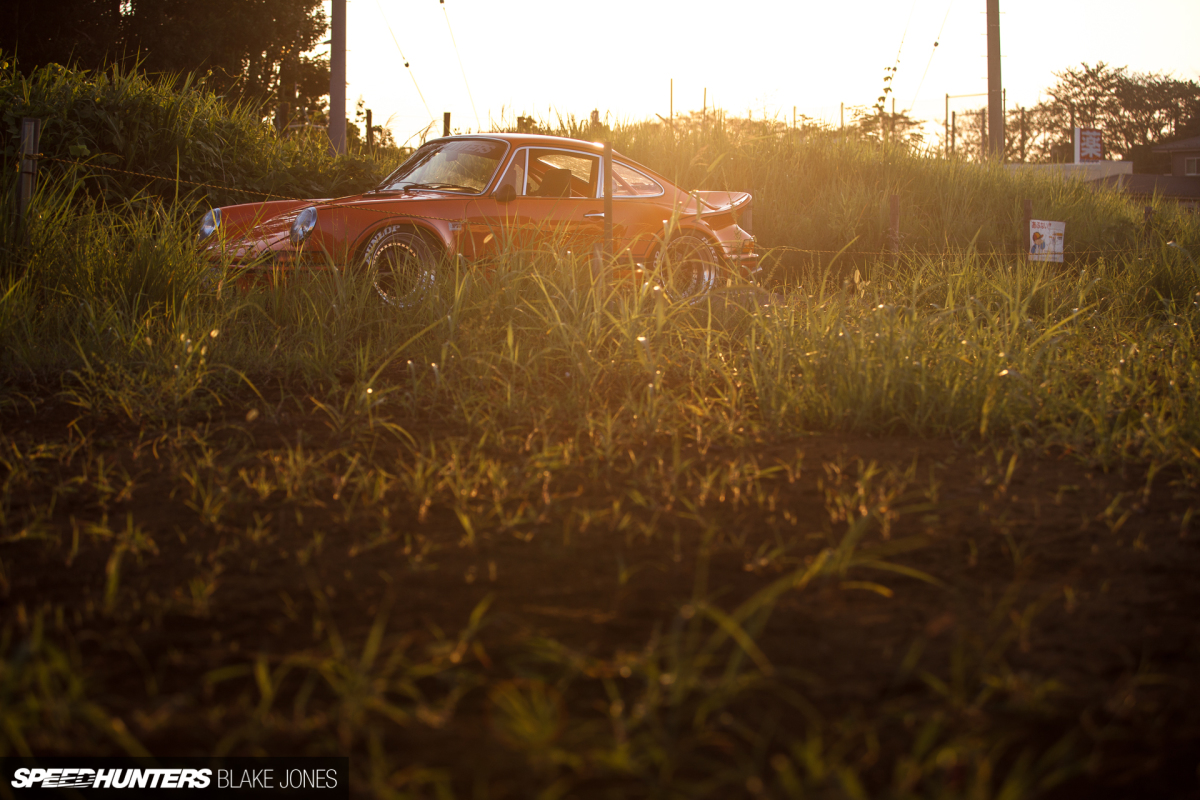 That pinstripe is overlaid on Porsche's 'Gulf Orange' hue – the colour Hidaka-san found the car in, but alas not its original paint (Gulf Orange was offered from 1972 onwards, as a recognition of Gulf Oil's sponsorship of the factory 917 racers).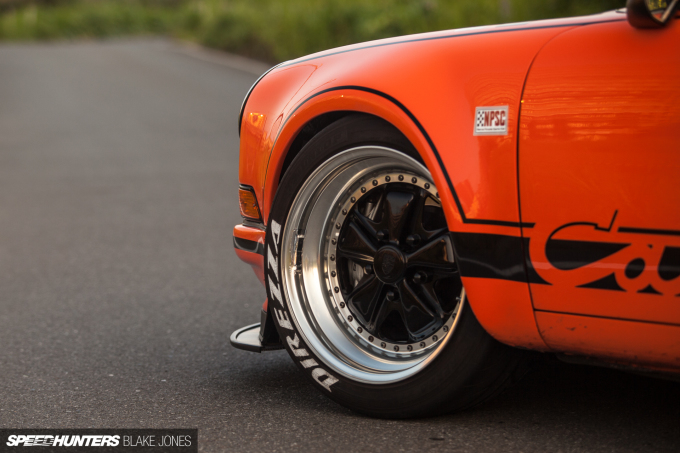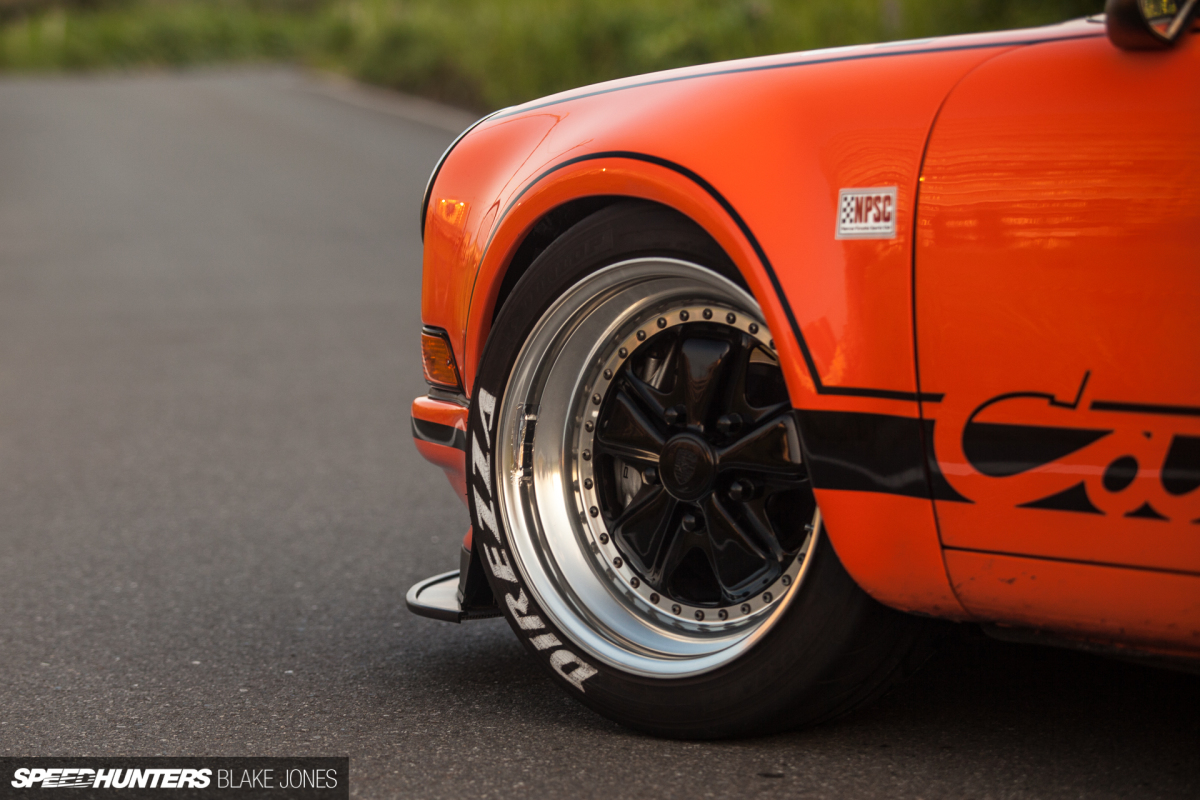 When I shot the car it was wearing Lindsey Racing P3 three-piece Fuchs replicas, 17×9-inches up front and 17×11-inches in the rear, with plenty of negative offset to fill up those lightweight fenders.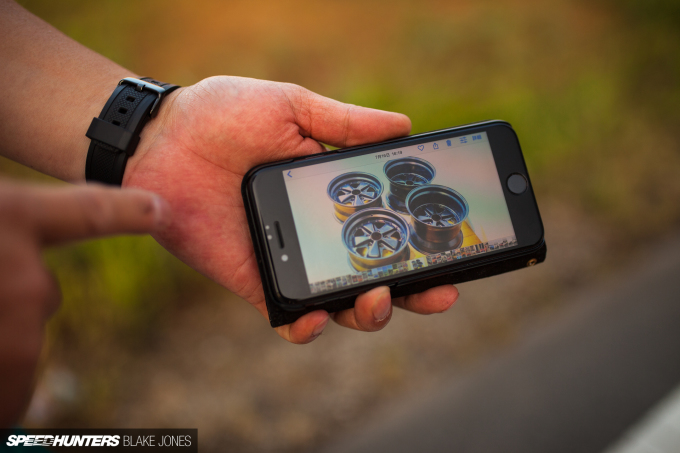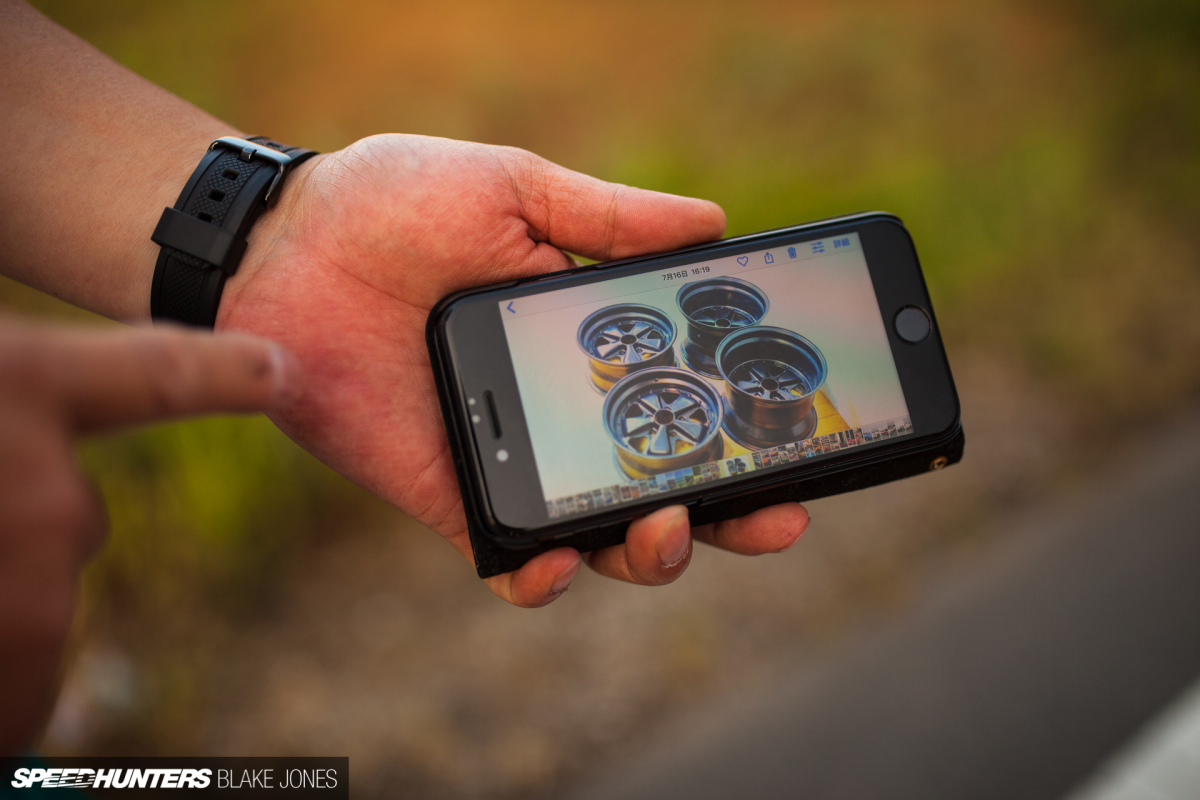 Hidaka-san has his eyes on some even lighter and wider units, however. Students, take special note: this is a minor symptom that typically accompanies builds of this level – constant obsession with TNP (The Next Part).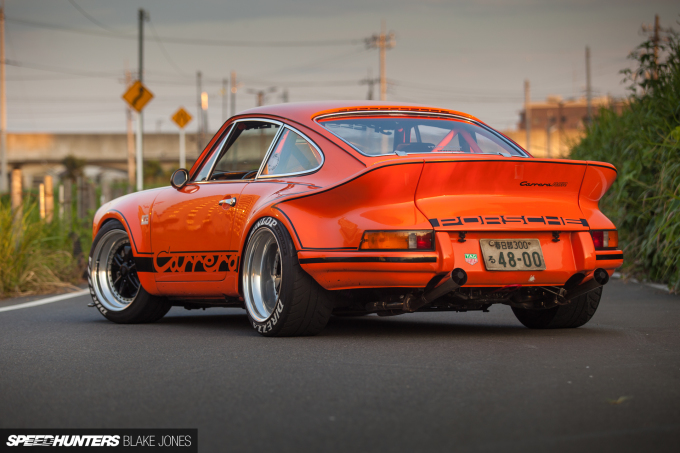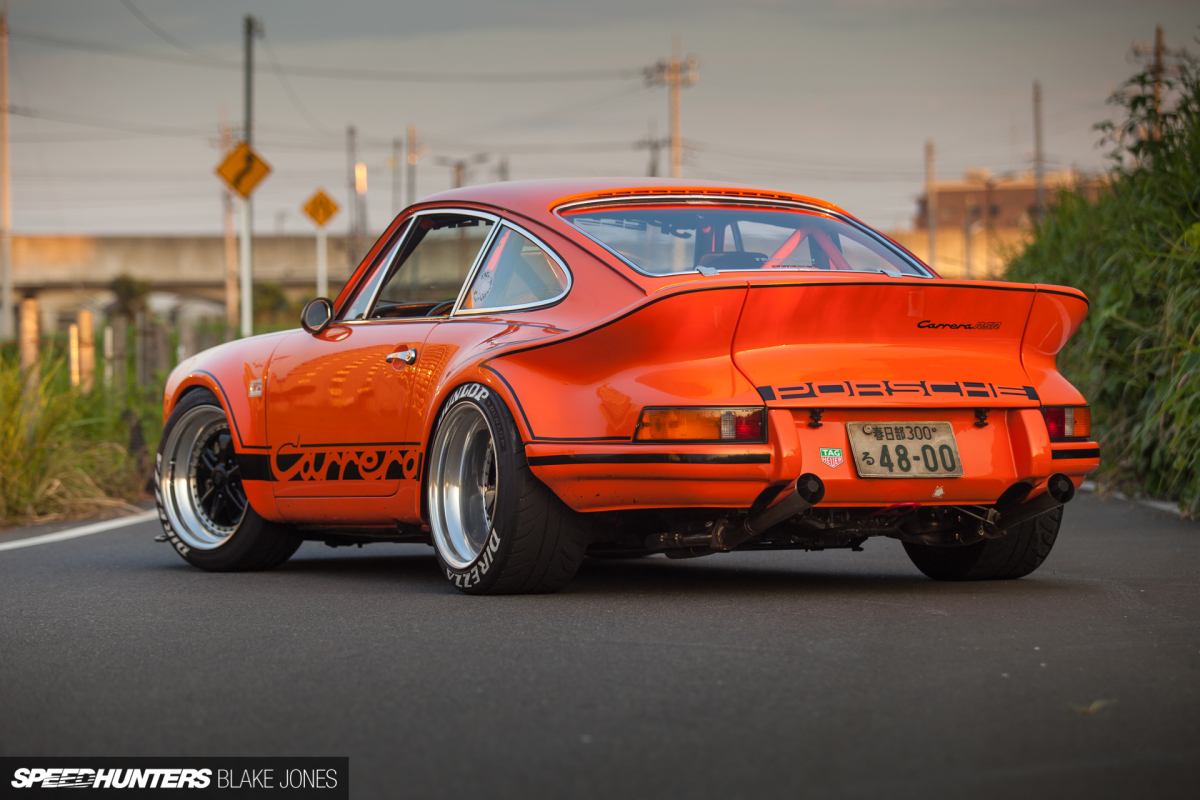 Yet despite the solar-flare intensity of the paintwork and mouth-watering motorsport stance, it's that rear wing that commands the most attention from outside of the 911.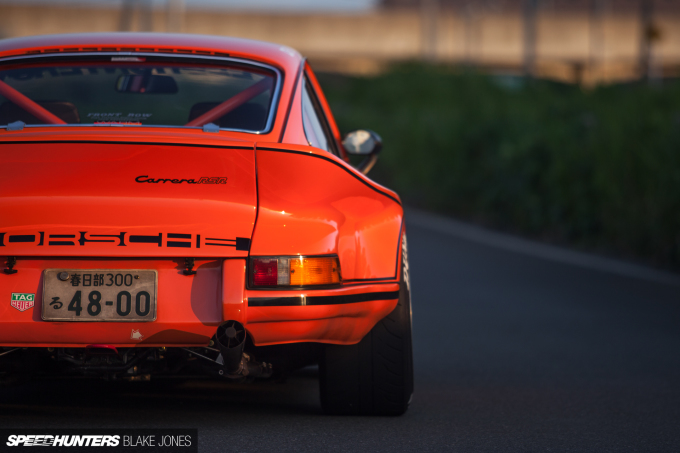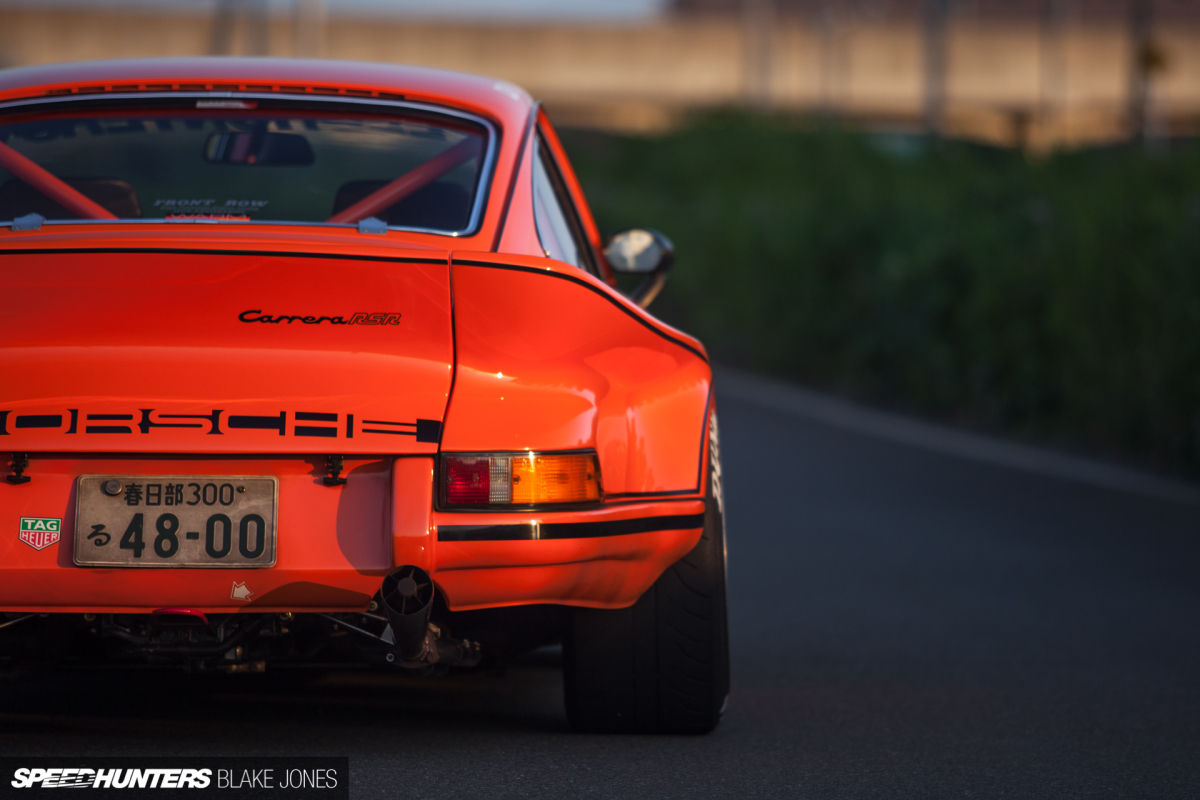 It's a unique style that I've never seen on a street car before, but the inspiration does indeed come from Porsche's rich motorsport archives, namely the 1973 Martini Racing-liveried 'Mary Stuart' RSR.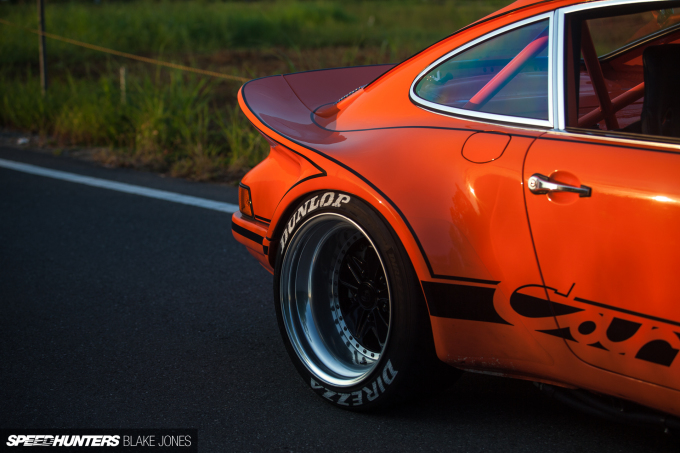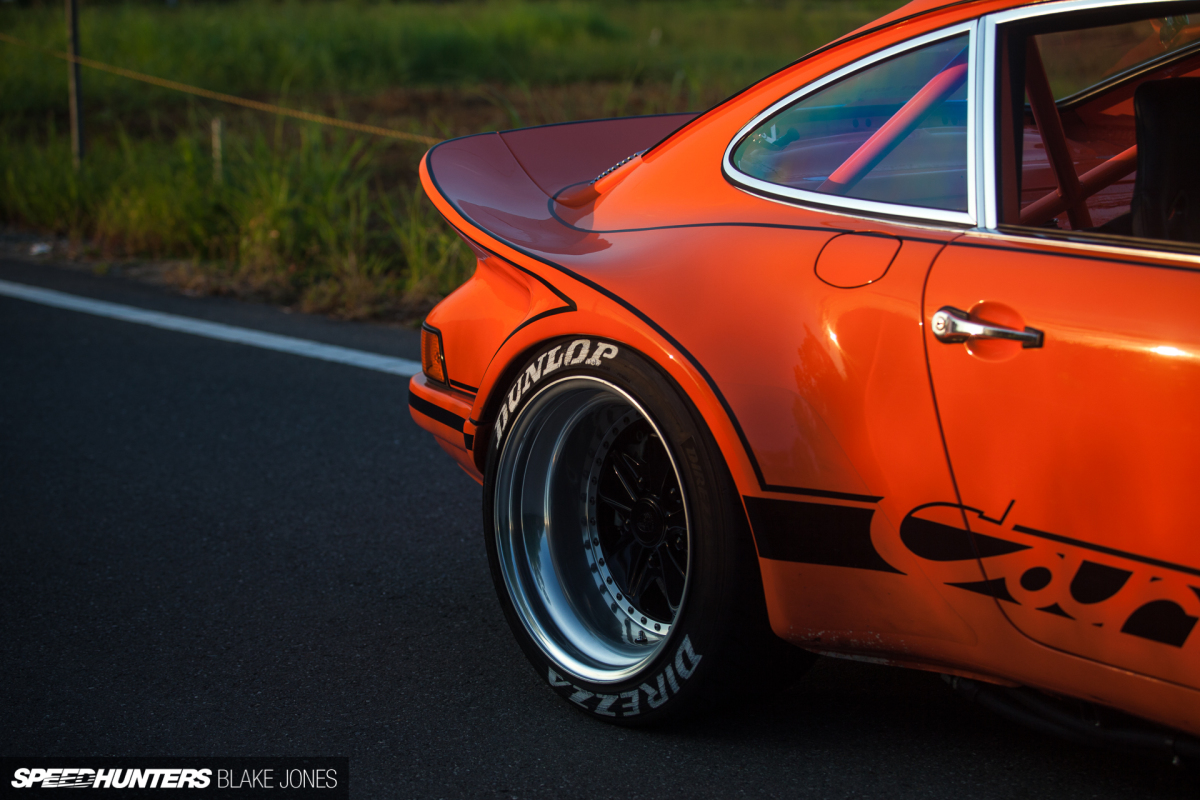 A series of bodywork shops refused to take on the project due to the complexity of custom-forming a wing into the complex curves of the 911's rear haunches. But finally, Bodyworks DB, a small shop that sits in the shadow of Mt. Fuji in Yamanashi Prefecture agreed to tackle the wing. Using only a scale model of the 1973 Targa Floria winning-car as a reference, Johnny Daibatsu of DB crafted the fibreglass bodywork over several months through a process of trial and error.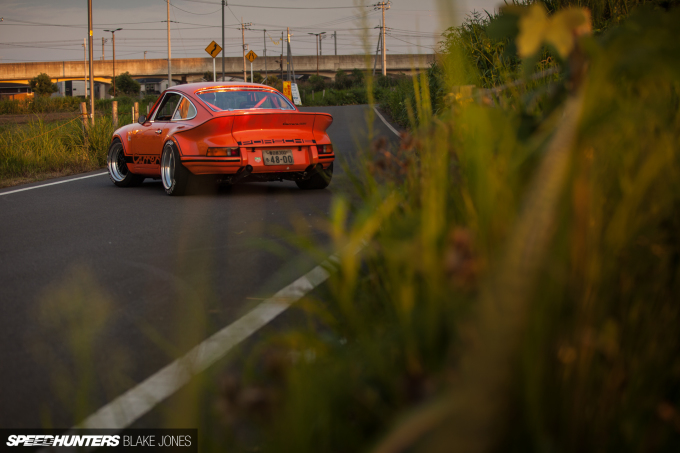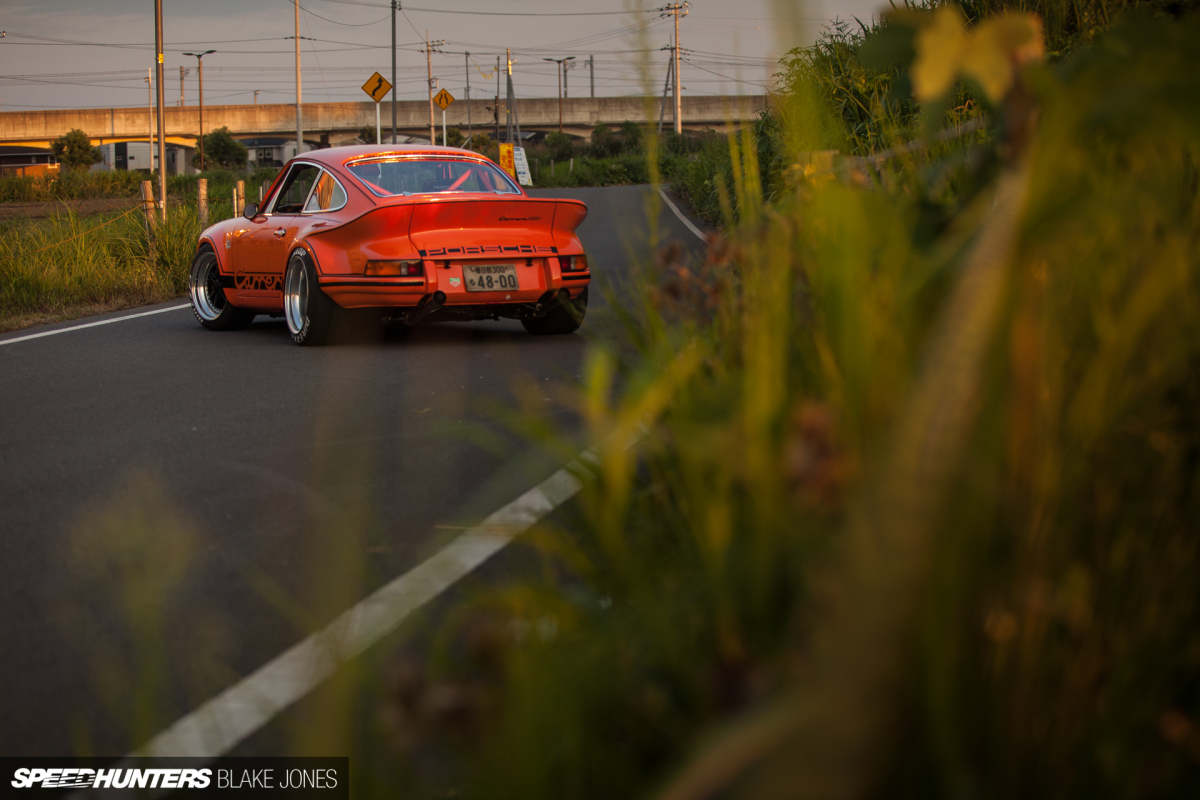 Full marks for creativity and execution here.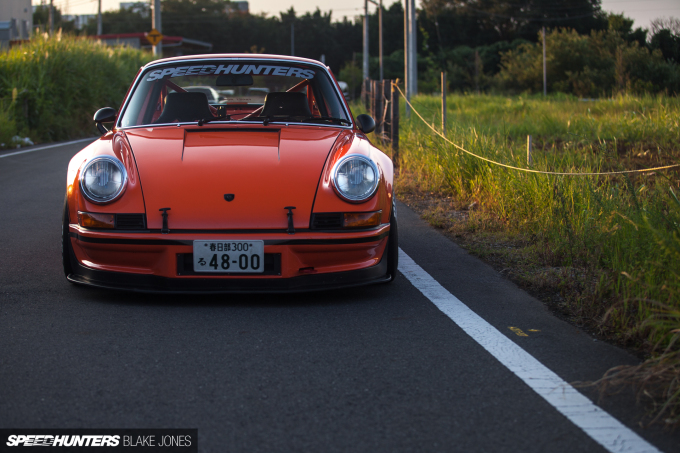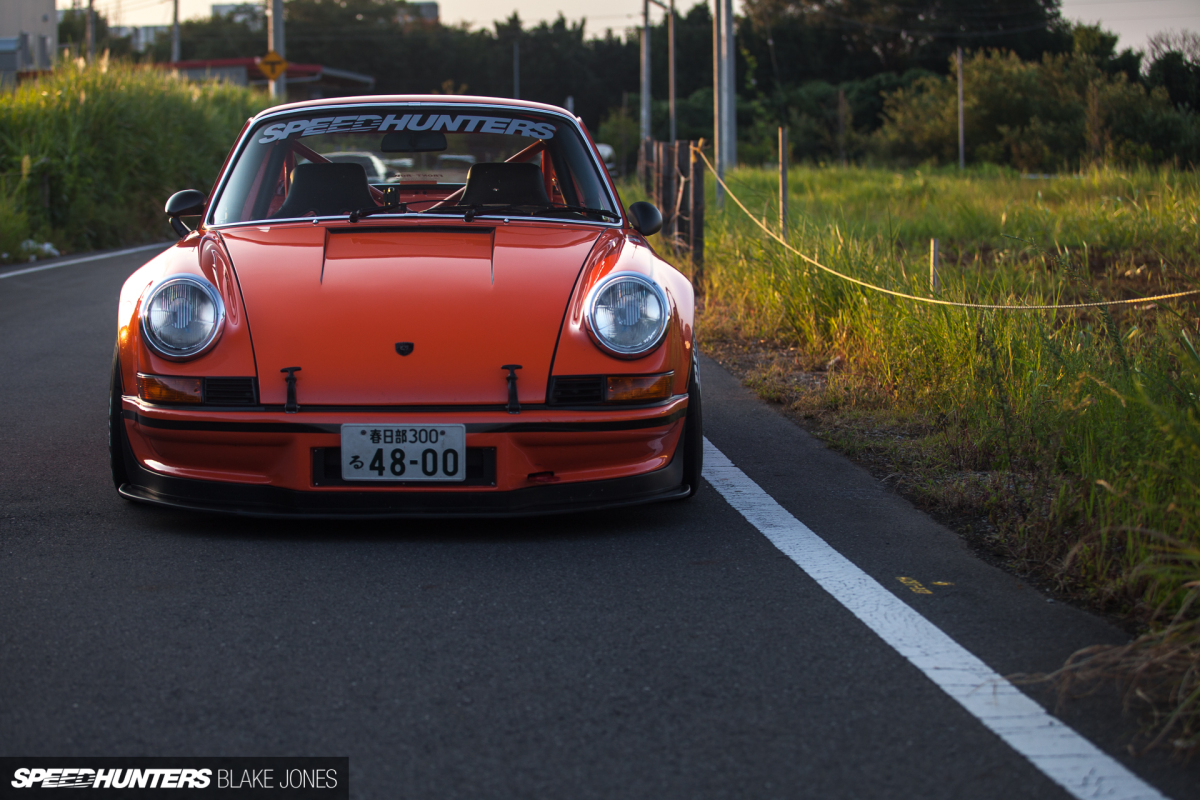 In this photo you can also see the asymmetrical Vitaloni side mirrors, a practical touch that minimises drag on the drivers side but keeps the passenger-side mirror visible to Hidaka-san. Oh, and you'll never hurt your chances of feature car success with a Speedhunter by appealing to his vanity – the silver Speedhunters windshield banner should do the trick.
Step Three: The Part Where You Drive The Wheels Off It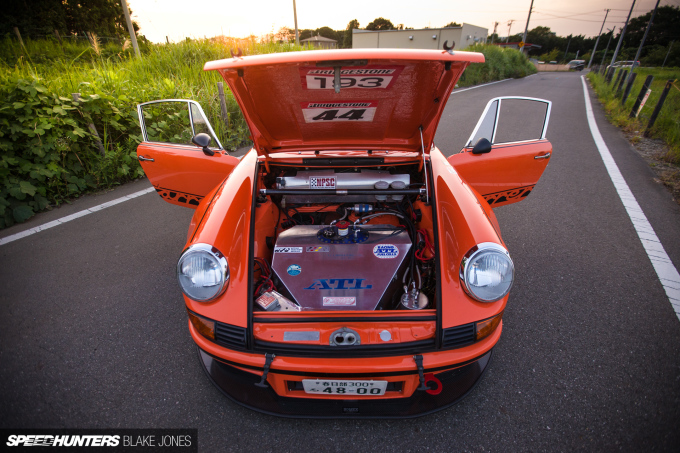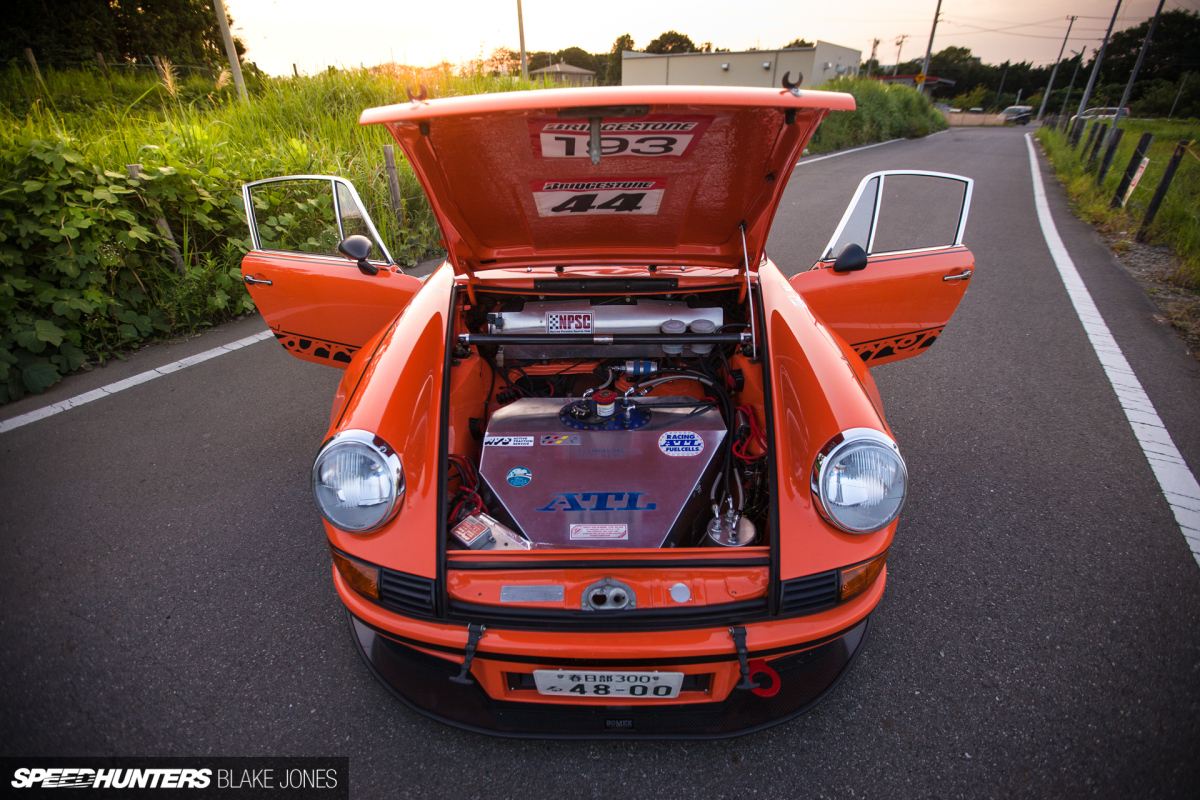 So, like Hidaka-san, you've now built up your dream car over 10-or-so years and are wondering what the next chapter contains?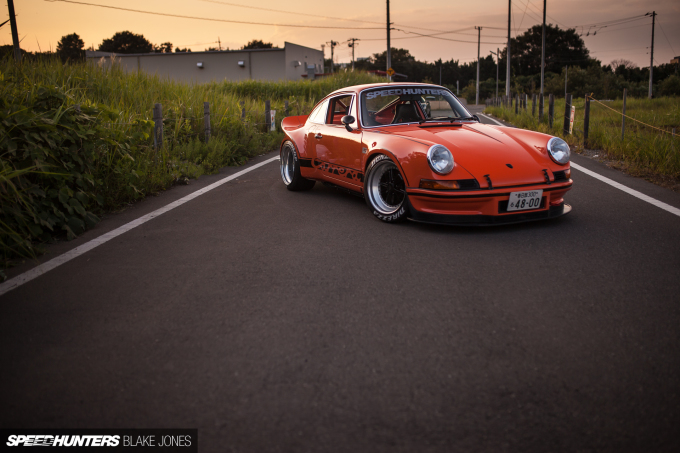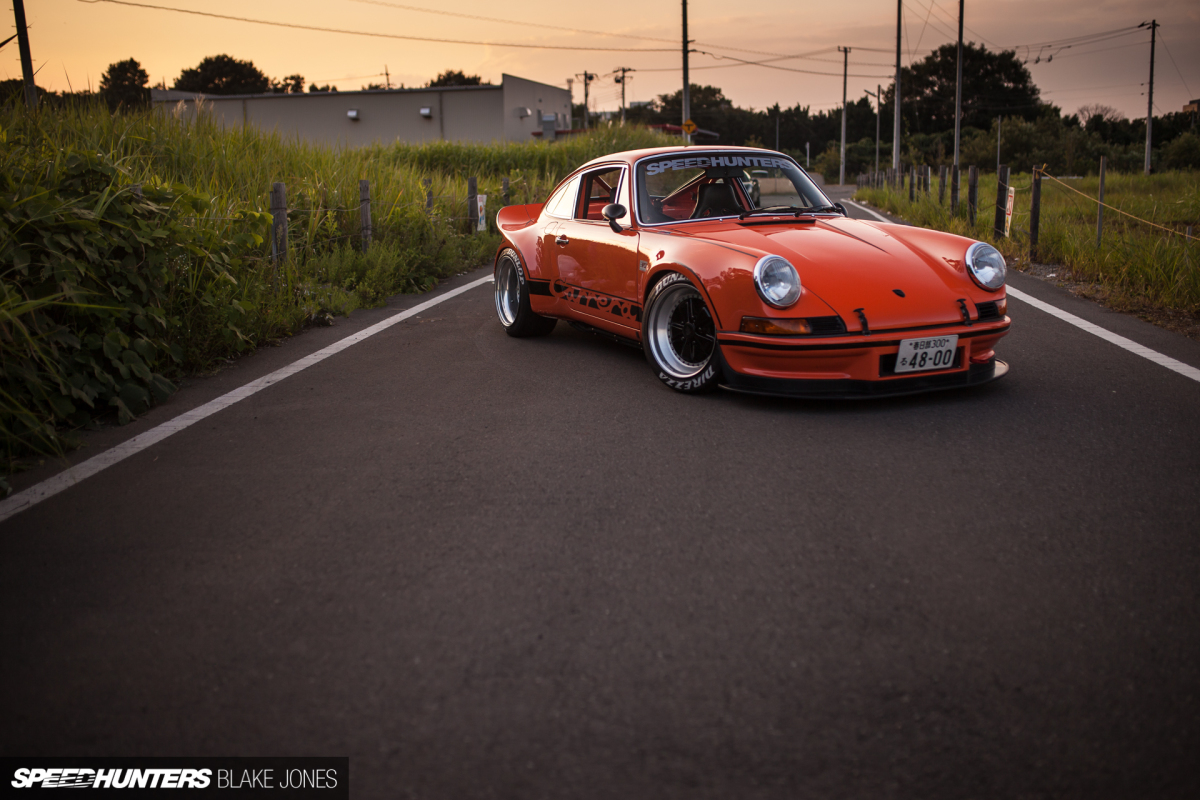 Well, this is no longer a theory course – it's time to get into the field for a practical syllabus.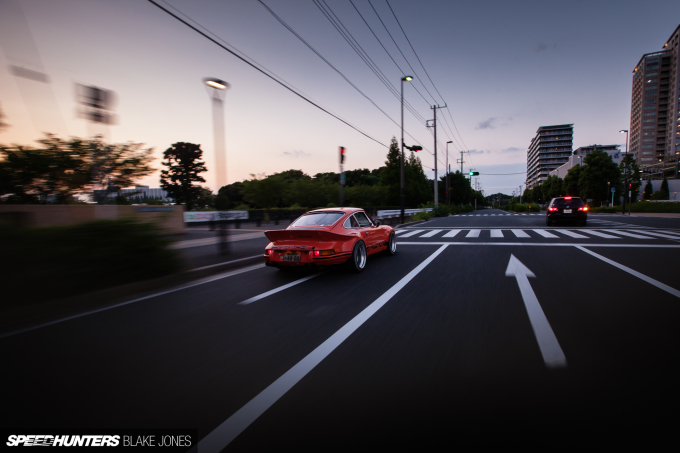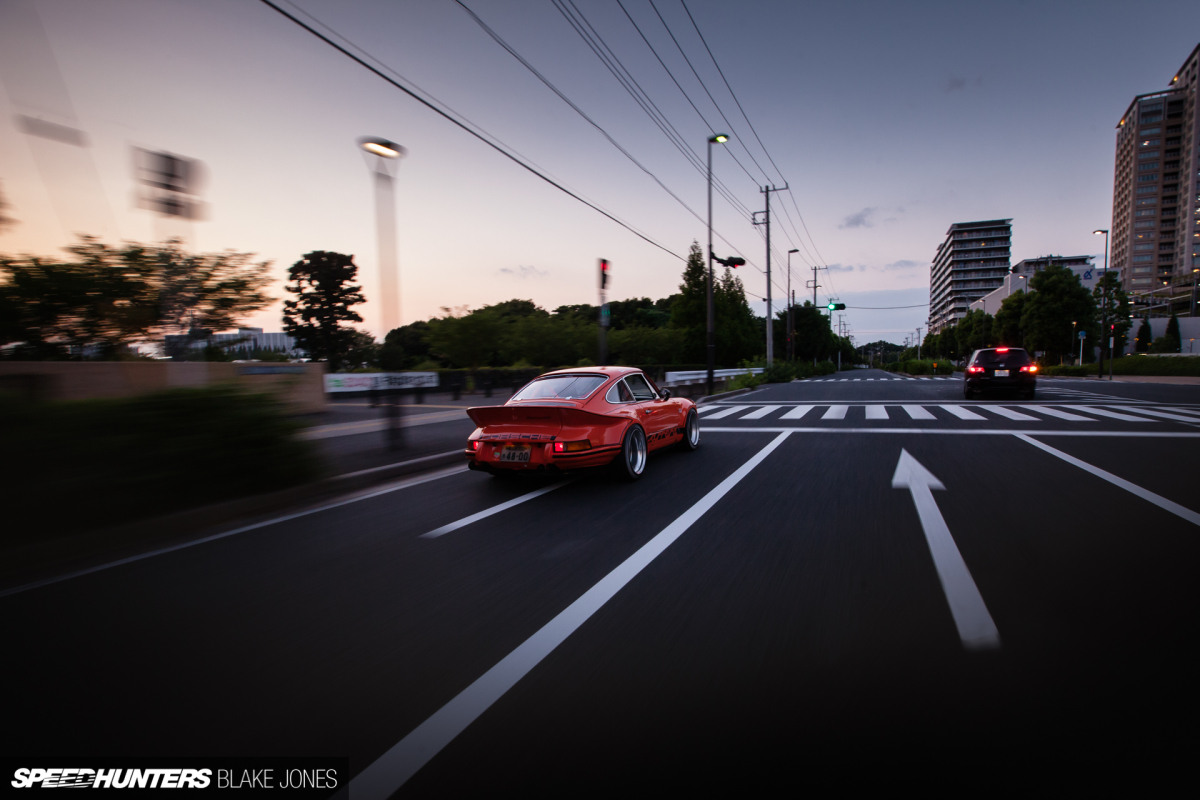 As the plates suggest, this 911 is still road registered and street driven on a regular basis. I can't stress enough how much appeal this adds to a potential feature car; there's something inherently badass about what is for all other purposes a race car being driven on public roads.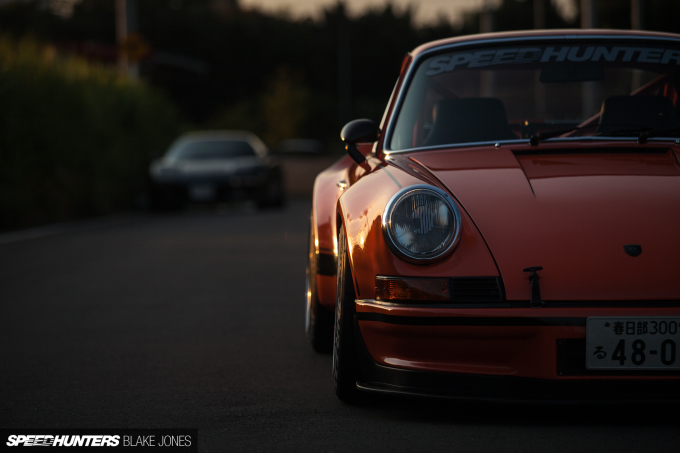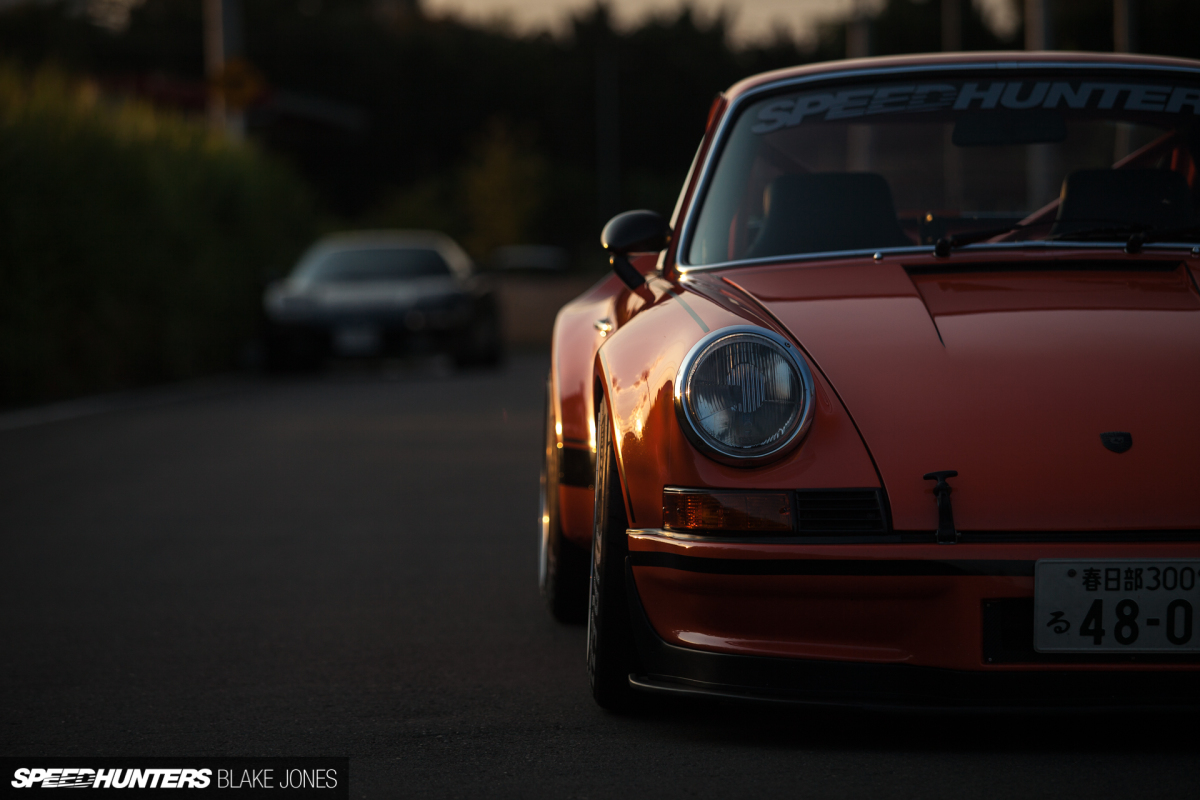 That might seem like an easy criteria to fulfil, but it means that many items which a race car can neglect, like working driving lights, indicators, windscreen wipers and so-on, must be retained and maintained. Porsches have proved themselves over the years to be adept at splitting road and track duties (arguably more than any other make), and if you follow Hidaka-san on Instagram, you can see just how much he and his orange 911 get around.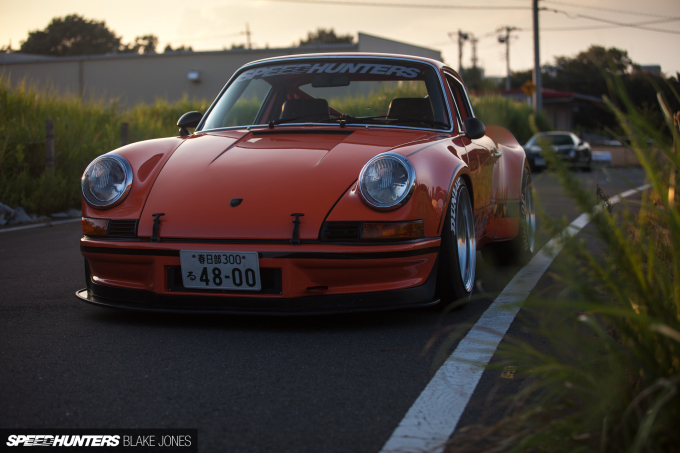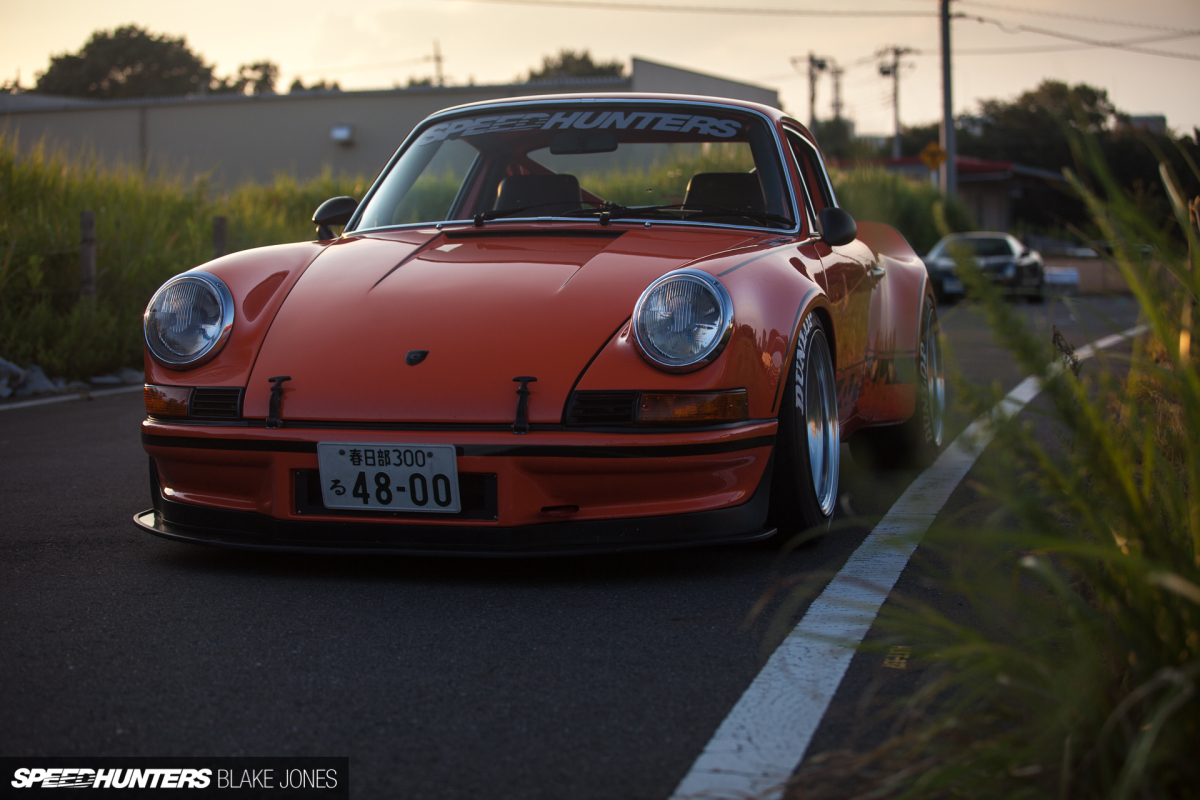 As the tow hook and one-off Bomex front splitter (connected to a flat carbon underbody) suggest, this Porsche has racetrack aspirations. The racetrack is the ultimate test – just the car against the clock – and no matter what your car looks like, a fast lap time will earn the respect of your peers.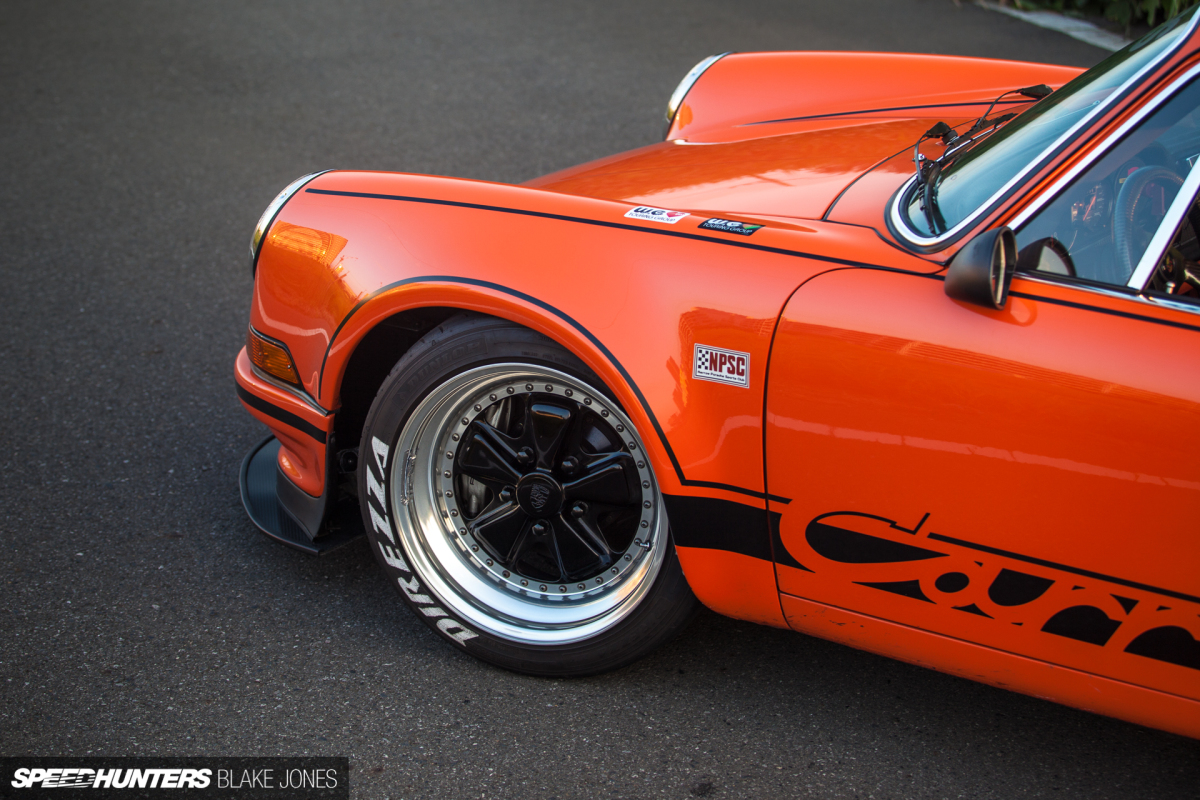 As such, certain tracks have time barriers – thresholds that represent when drivers pass from the realm of casual enthusiast into that of esteemed graduates of the school of speed. At Tsukuba Circuit the benchmark is a flat minute, and still today tuners struggle to get highly-boosted and be-winged cars around the 2km track before the second hand passes 12.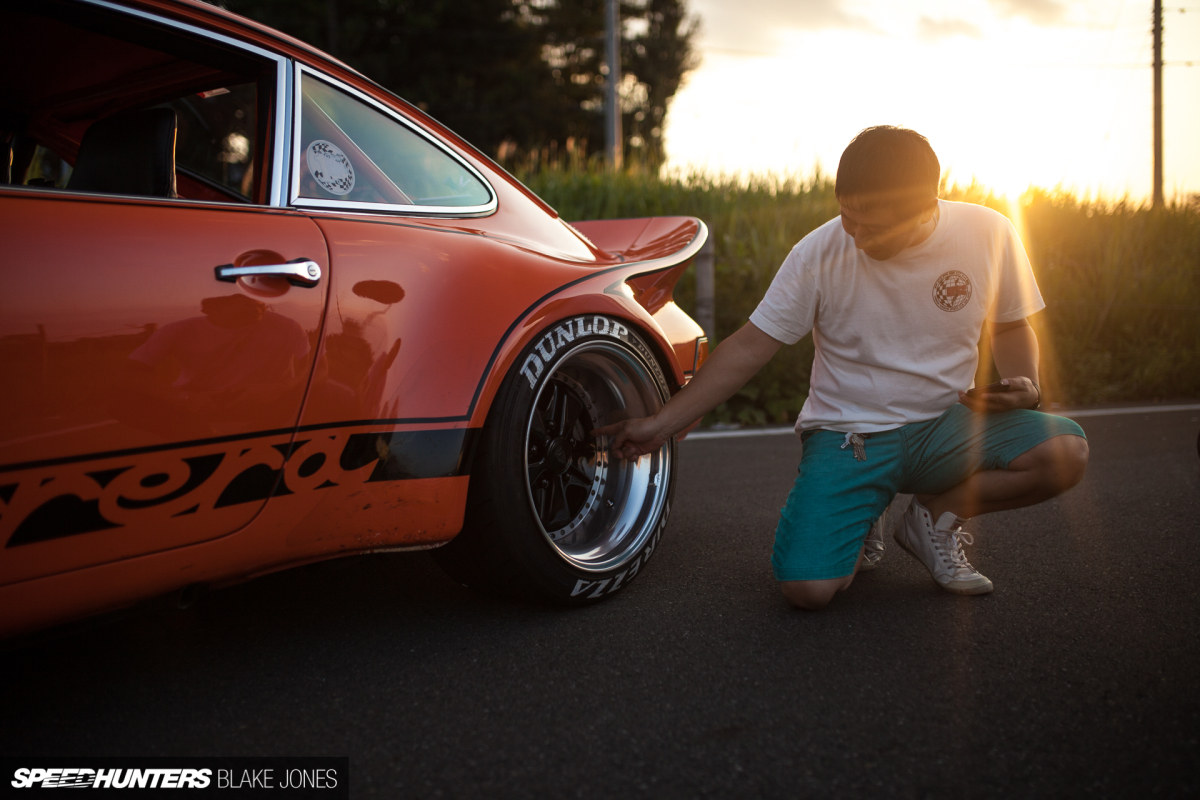 Hidaka-san's 911S is a member of that exclusive 59-second club. Now is perhaps a good time to remind you that this is a car almost 50 years old and driven by its owner. He's not ashamed to mention his scalp's either – a 997 GT3 RS 4.0 amongst them.
As you might have assumed at this point, hygiene factors for this level of speed – big brakes and a proper roll cage (still a rare treat in Japan) are present. A 964 RS donated front calipers and a 930 Turbo at the rear. Coilover suspension is from Quantum, with 24 points of adjustability.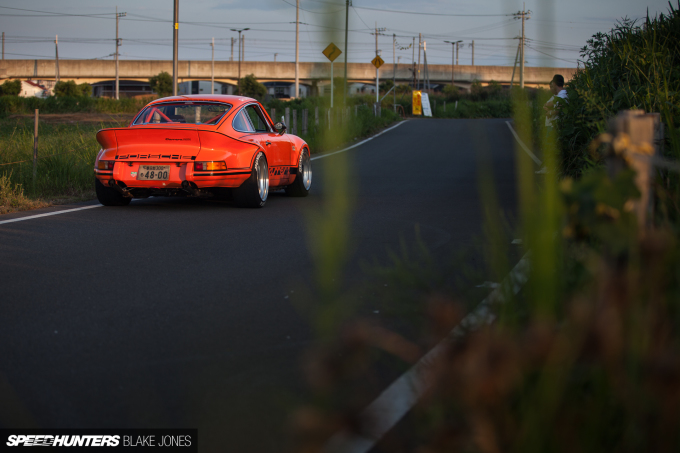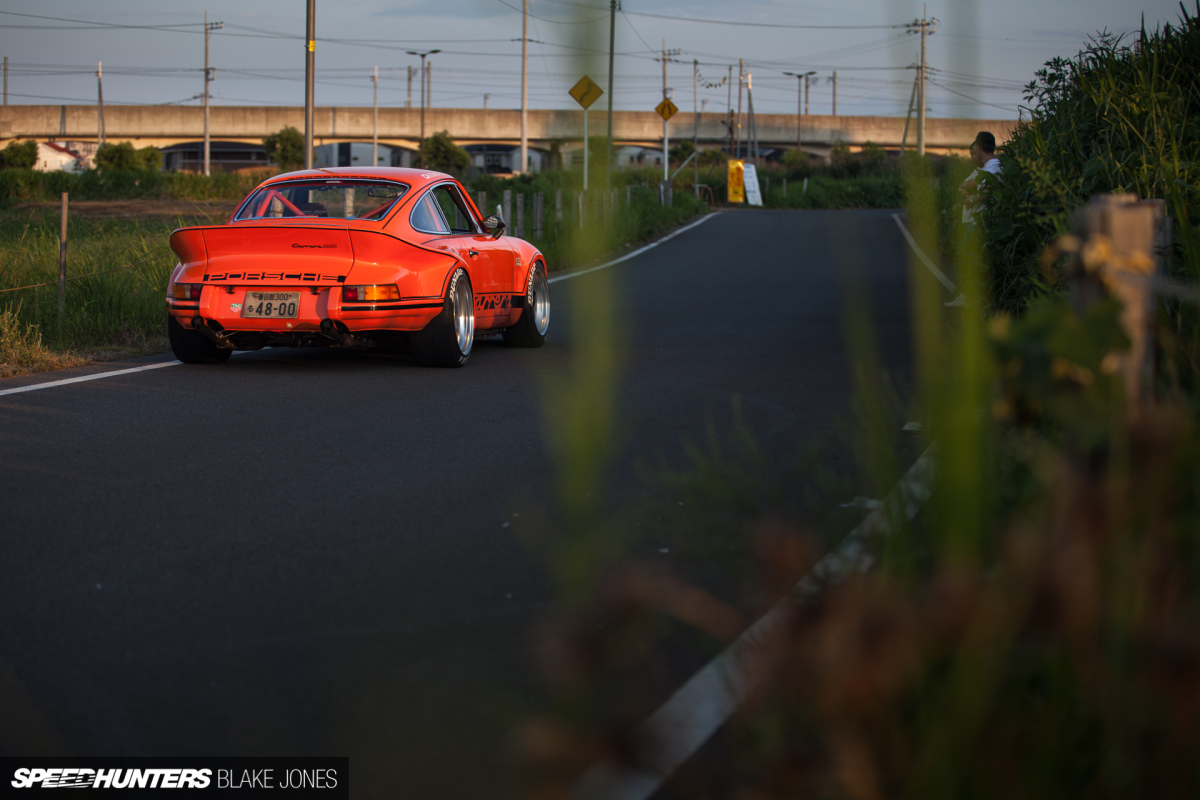 Prior to purchasing the 911S, Hidaka-san owned a number of powerful new 911s, but none satiated his need for a raw, engaging driving experience. I think it's safe to say he has that now.
You can see Hidaka-san's personality reflected through countless small touches and details throughout the car. It's probably not intentional, but these little details cement it as feature car perfection by imbuing spirit into what is, at the end of the day, a cold machine.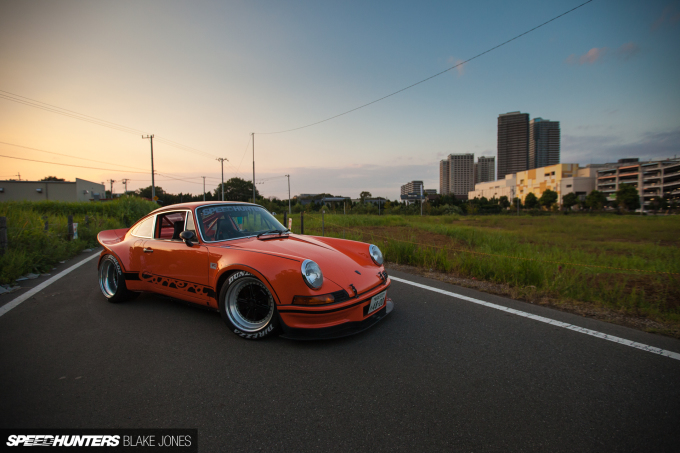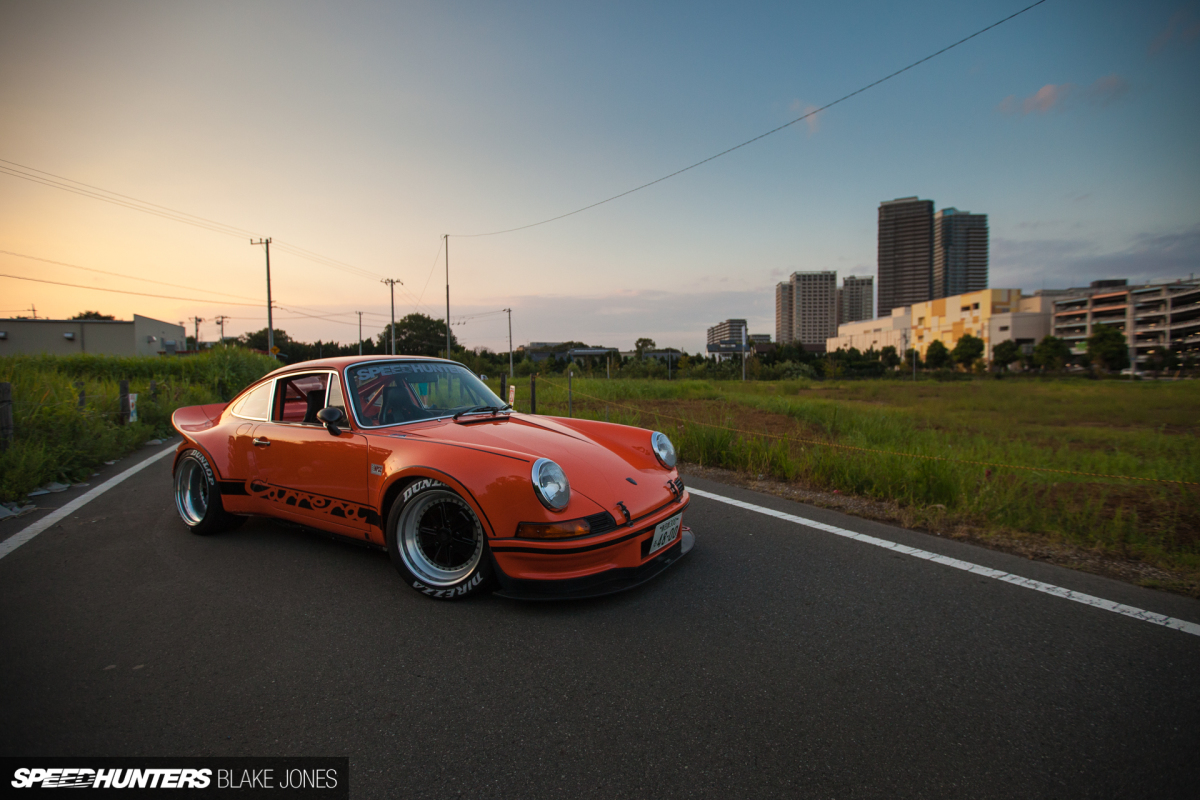 Ultimately, the best feature cars aren't built for Speedhunters readers, nor even for us over-opinionated writers and photographers. They are built for an audience of one, the owner, and any broader appeal is purely consequential.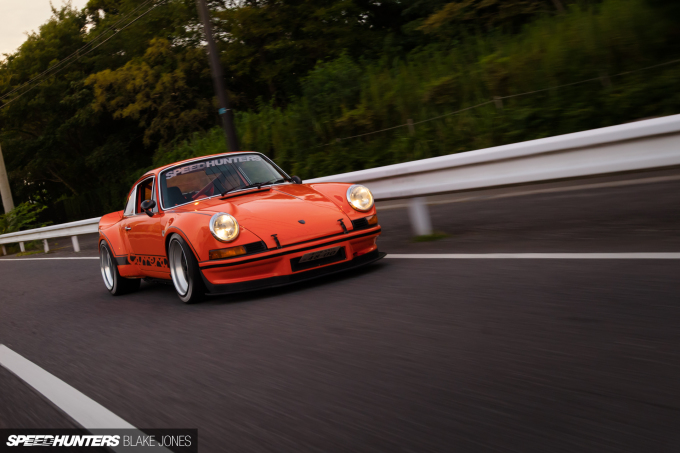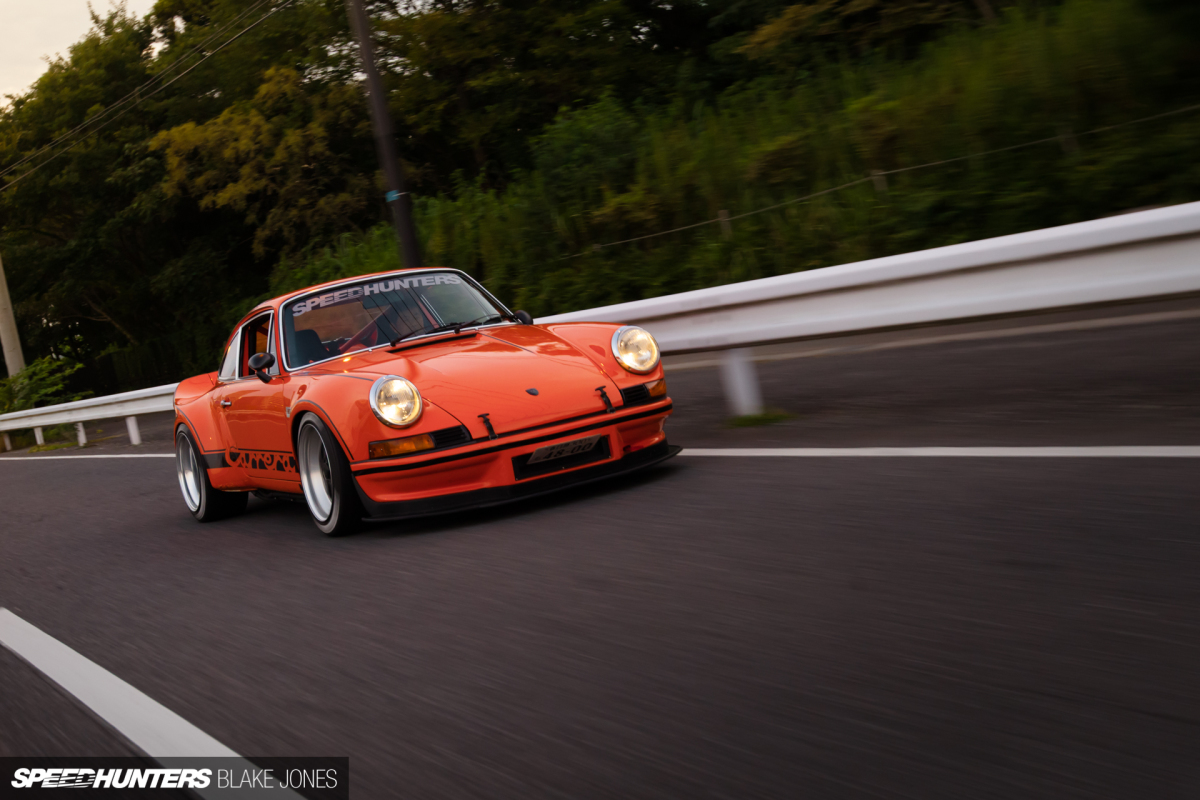 So really, students, you can throw your notes in the trash on the way out – the only metric that really matters is how big your smile is behind the wheel.
Blake Jones
Instagram: blaketjones
blake@speedhunters.com
Cutting Room Floor