An X, Evolved
Sometimes, the best way to build a new race car is by starting with someone's old race car.
Case in point, this Mitsubishi Lancer Evolution X, a former Pirelli World Challenge machine turned masterpiece thanks to the ambition of its owner, Ravi Dolwani of CSF Radiators, and the car-building talents of some of his closest friends in the aftermarket industry.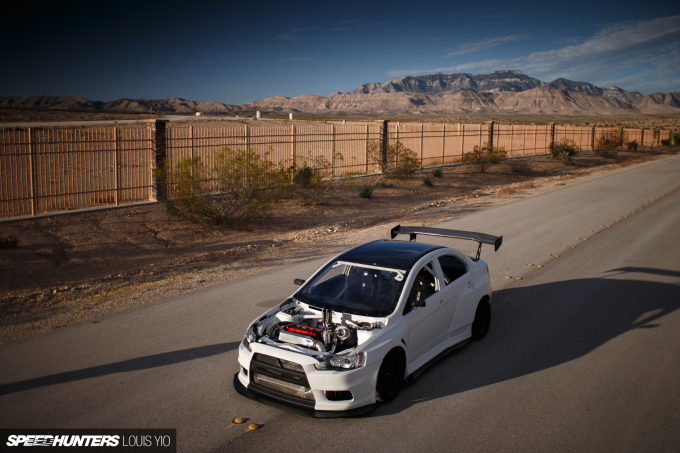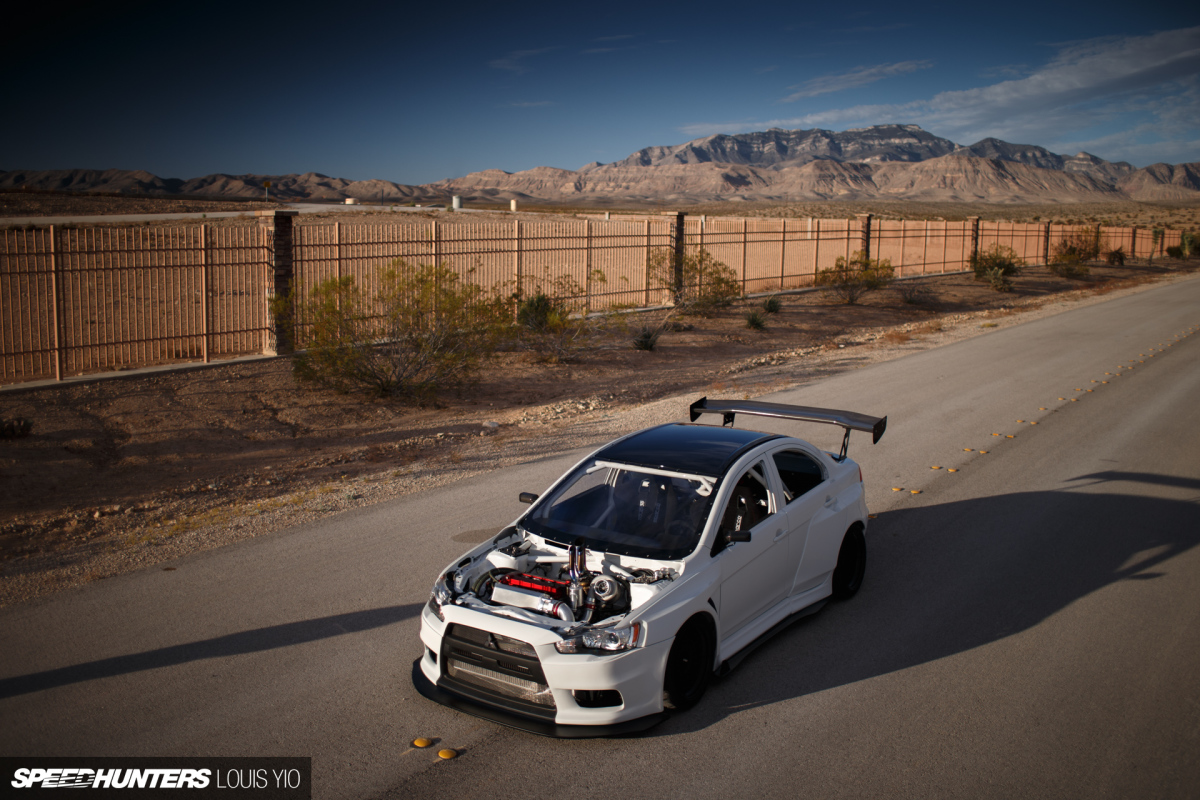 Buying a pre-loved race car is the not-so-secret secret to obtaining a race car, as you'll always end up spending less than what you could to build and then develop a new one from the ground up. This World Challenge GTS class car was also maintained by one of the best motorsports teams in the business, GMG Racing, so its history and development is beyond what a backyard builder could do.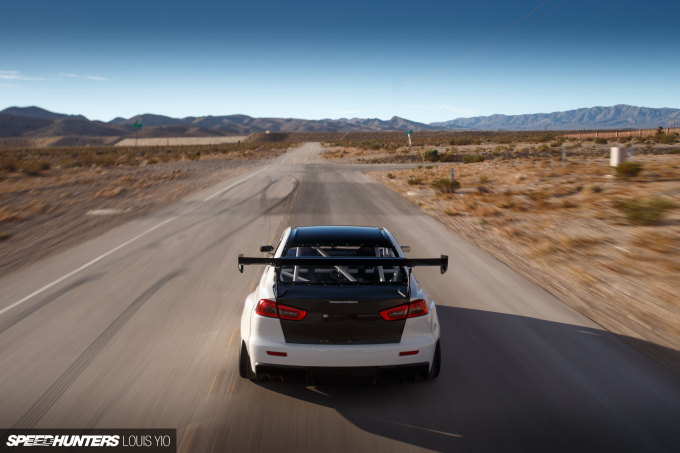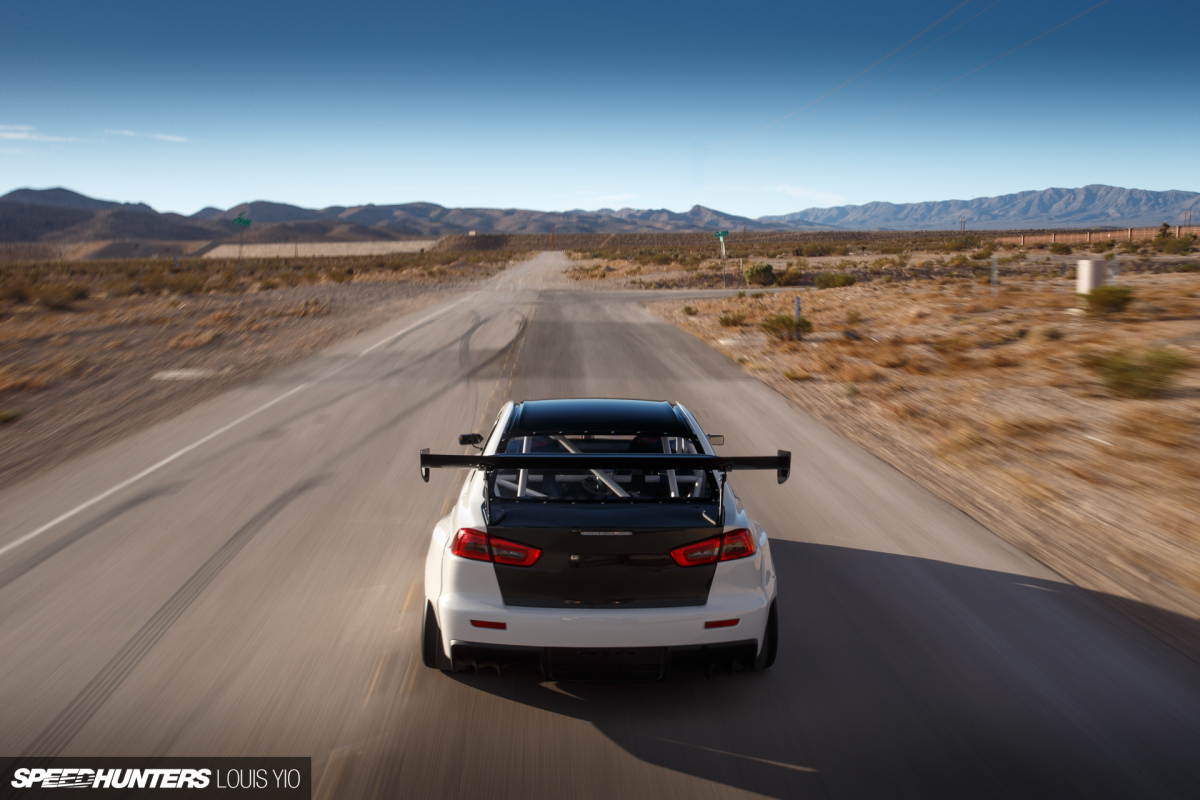 Crashed during the 2013 season, the Mitsubishi sat for three years before Ravi picked it up as straightened and rolling shell complete with bins full of Evo X parts, all for less than 30 grand. Now it's destined to go back racing in 2018, but not before making its debut at the 2017 SEMA Show, happening in Las Vegas right now.
While this won't be a show car and won't go back to street driving, it doesn't mean that some time and thought didn't go into the aesthetics of the chassis. Helping bring the dream to life on the road to Las Vegas were a number of well respected industry names including MotoIQ, Techno Square, Sheepey Built and Rywire.
New Suit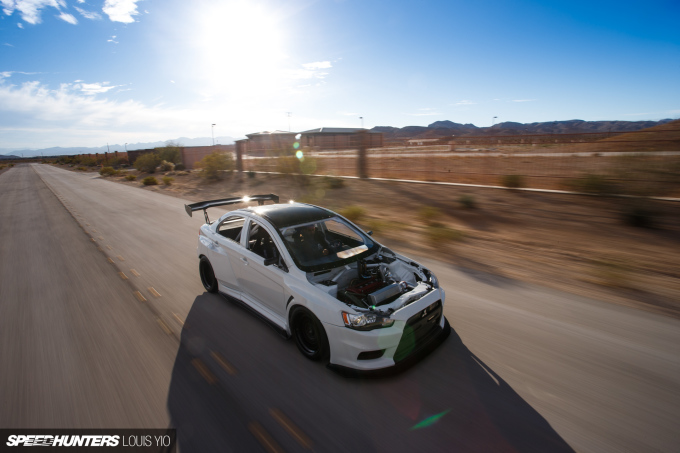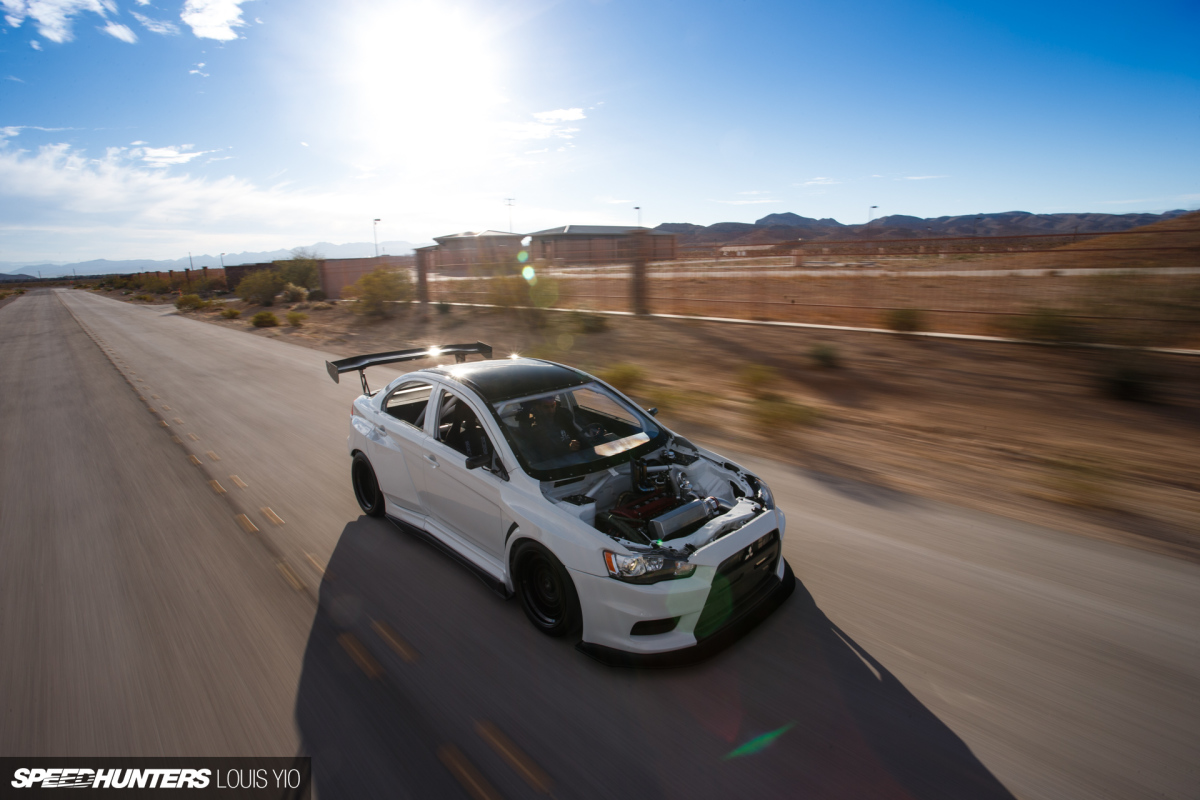 The exterior features a selection of choice parts, including Varis LED tail lights, Downstar hardware and Jun x Craft Square carbon mirrors, but it's the actual bodywork that really sets it apart. Jon Sibal rendered and designed the wide-body kit for Street Fighter LA, and LTMW custom molded it after rectifying the last of the Evo's crash damage and shaving the engine bay. LTMW then shot the whole car in BMW Alpine White paint. All of the windows have been replaced by Lexan versions for safety and some weight reduction.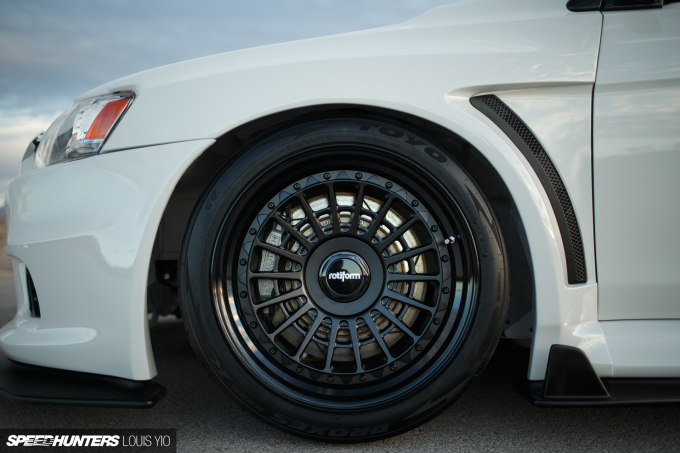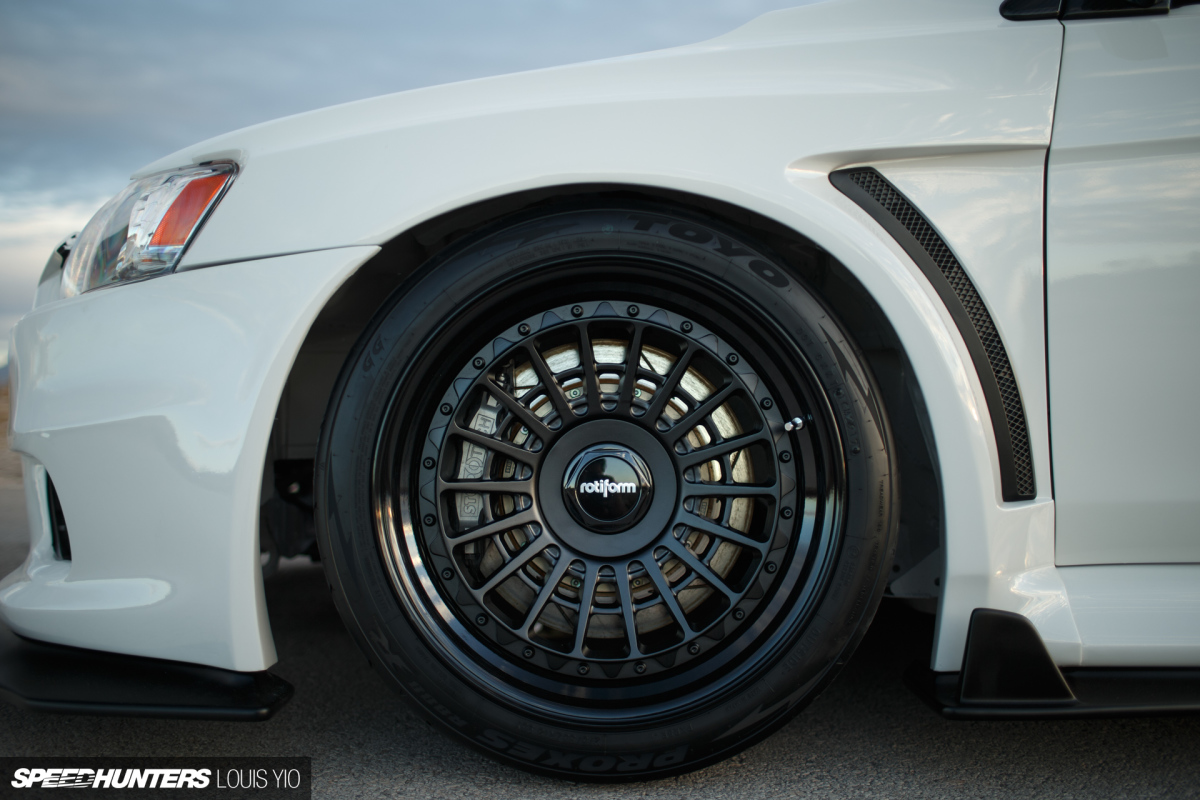 Those wheels are a custom set of 18-inch Rotiform LAS-Rs wrapped in Toyo Proxes R888Rs in 275/35R18 all around. Behind those wheels and getting the Evo to a stop in a hurry is a StopTech Trophy big brake kit with Aero rotors. Custom made Rywire brake lines send StopTech's 660 race fluid to those calipers after a Wilwood brake proportioning valve splits the pedal force between the front and rear systems.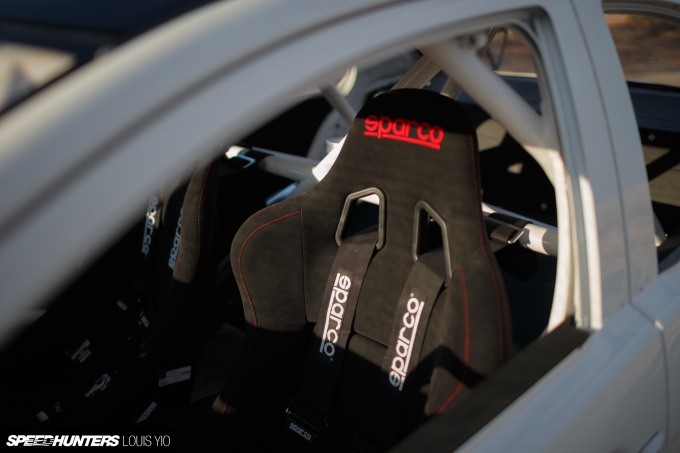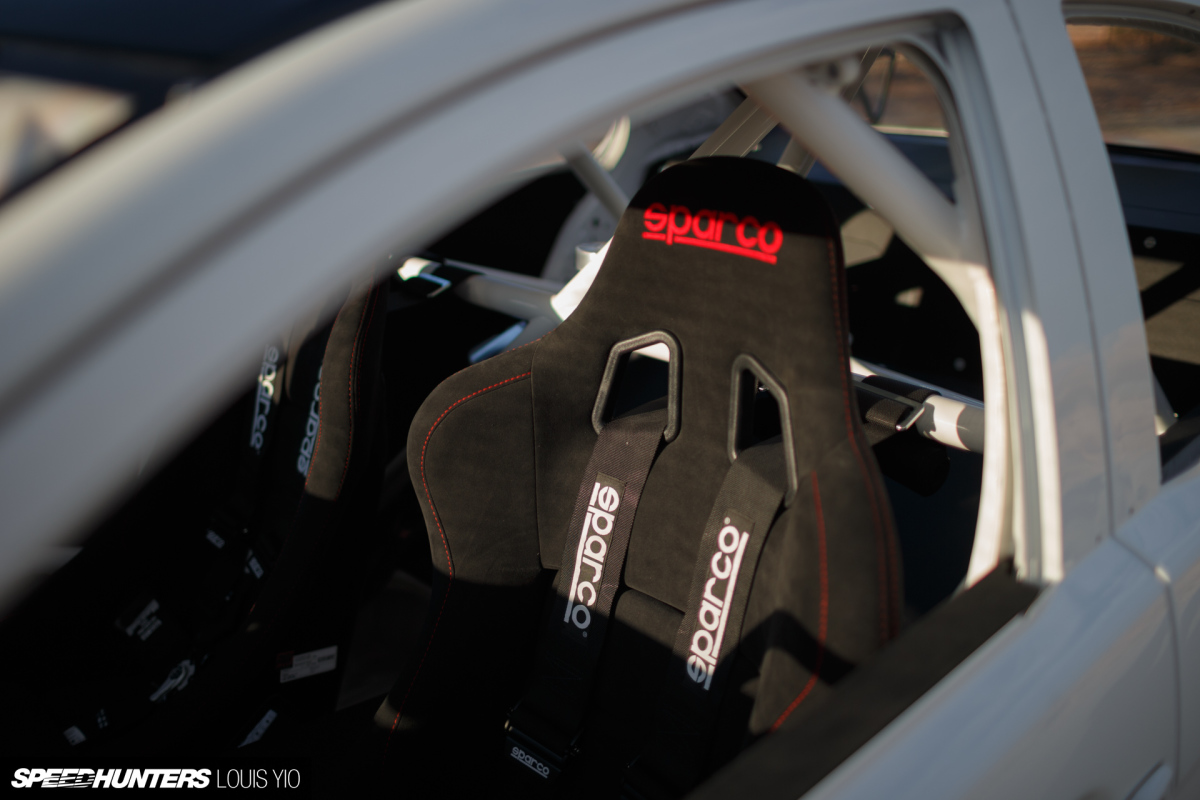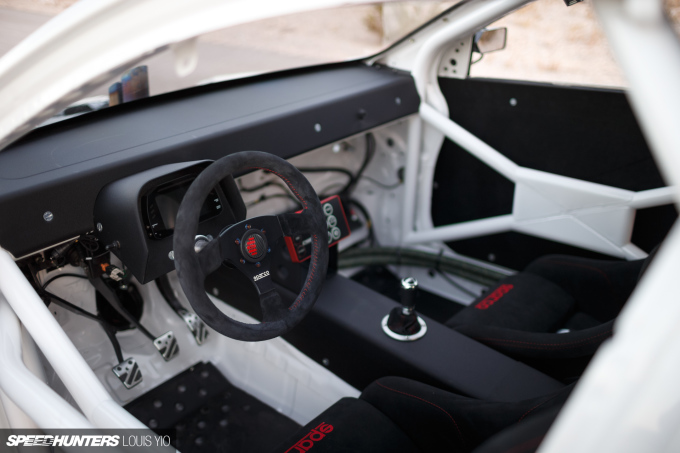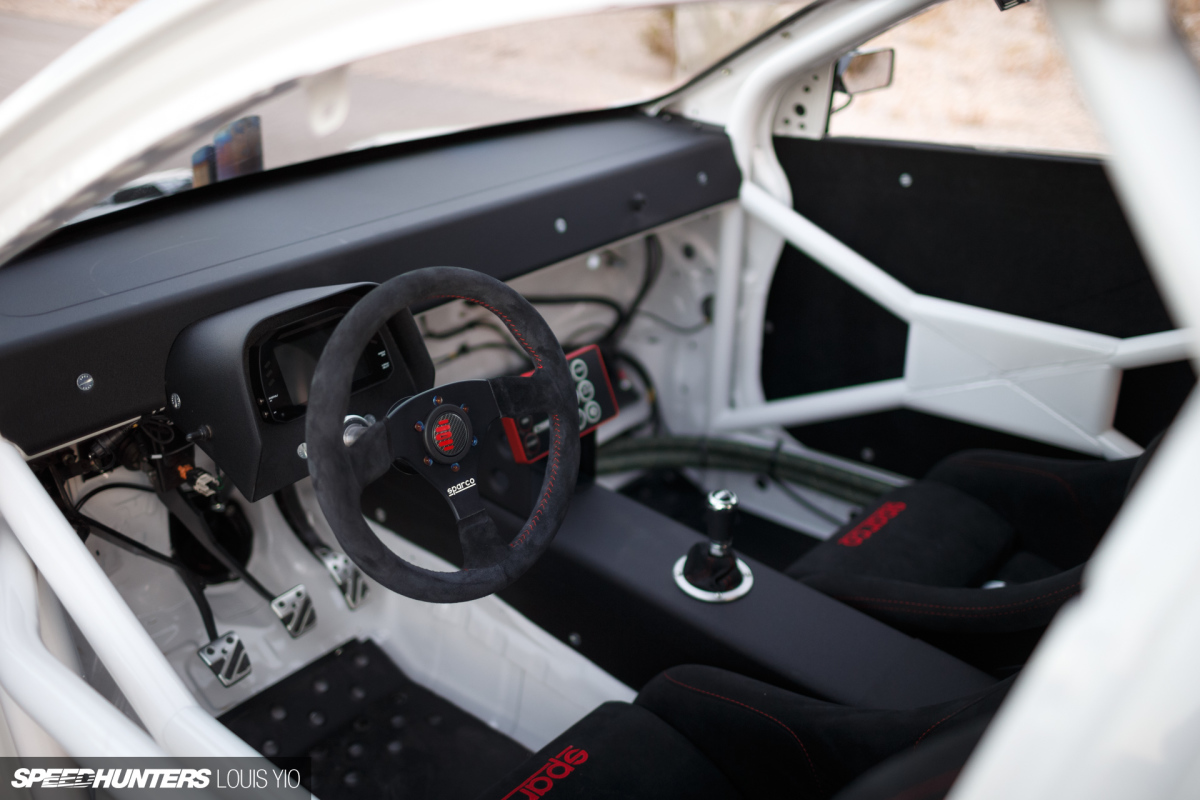 The original FIA-spec roll-cage constructed by GMG is still in place, but custom ASC Speed Metal door panels with pulls form around the door bars. Instead of bare metal, though, the panels are upholstered with black Alcantara by Rogelio's Upholstery. Rogelio's also reupholstered the Sparco Rev II seats and steering wheel in matching black Alcantara with red stitching to bring out the shapes of the Sparco pieces, while the window net, shift knob, harnesses and carbon fiber pedals remain as Sparco designed them. The interior panels in the back that close off the cabin from the trunk are ASC Speed Metal custom items that were powder-coated by Embee Performance with Downstar hardware holding everything together.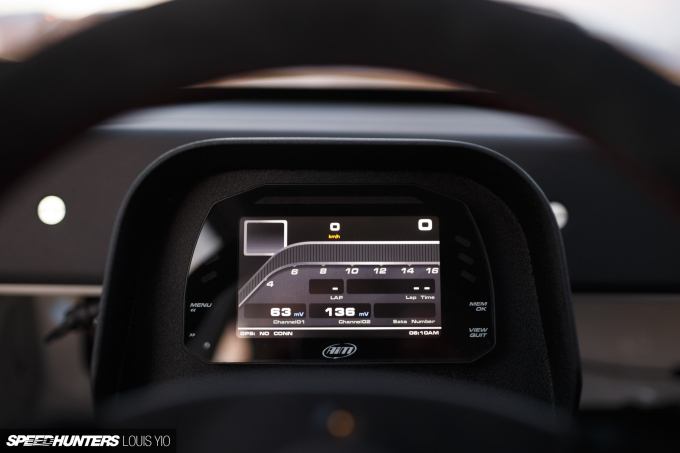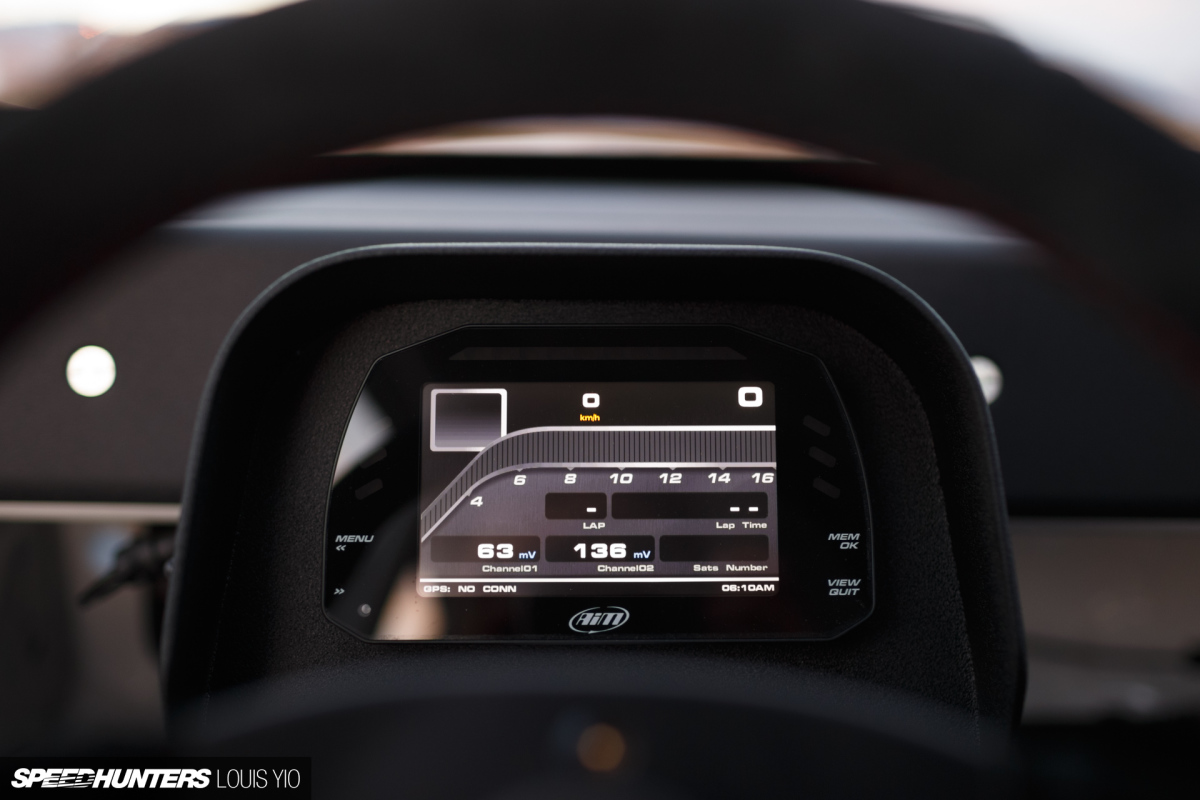 An AiM Sports MXS Strada five-inch color display relays vital information from the Syvecs S8 engine management system, and the HP Electronik power distribution module controls the lights, fans, fuel pump, and other parts that need switching from the cabin. All of these are wired up to the body and engine by a custom made race-spec loom by Rywire.
Planted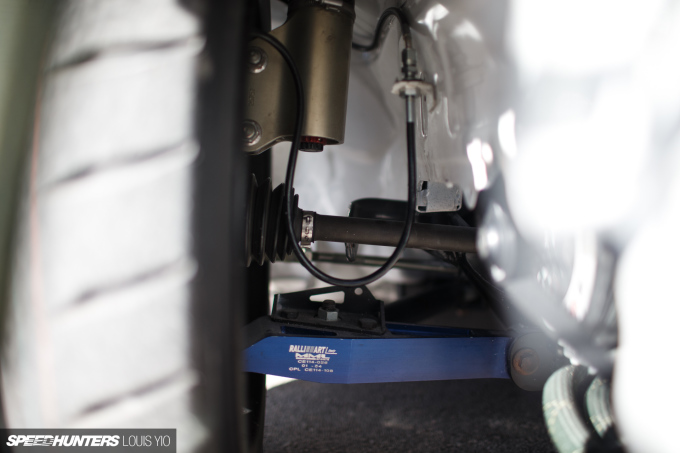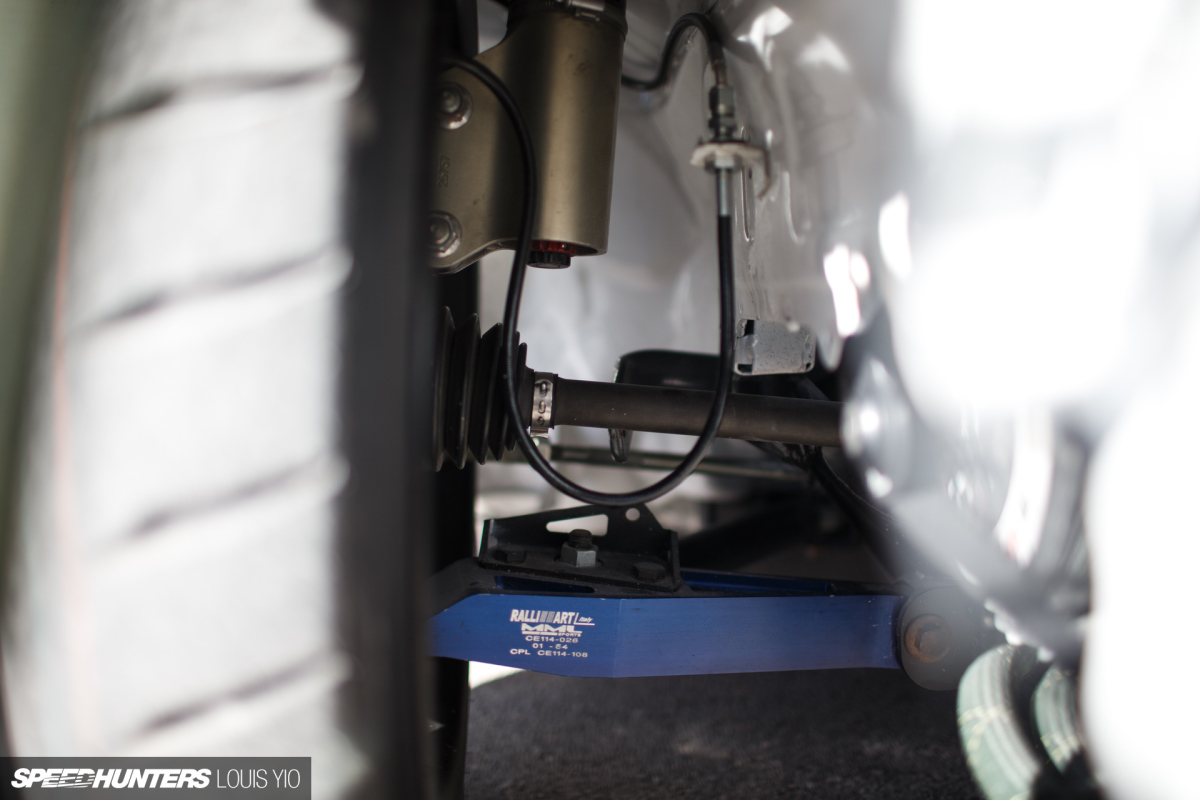 The suspension package can make or break a race car, because if it doesn't feel right to the driver, they will never drive it to full potential. For this build, JRZ two-way adjustable coilovers attach to the hubs and control the body movement with finite precision and adjustability. The front and rear subframes are T45 steel tubular replacements of the Mitsubishi parts made by AKmotorsports, as are the 7075 aluminum front control arms. While you can easily TIG weld most metals, special welding rods for T45 had to be used as these are carbon steel with manganese infused instead of 4130's chromium-molybdenum alloy steel that is typically used in race car chassis. T45 is normally used in aerospace parts like pilot and crew seats due to the material's ability to withstand high g-forces without snapping or splitting.
AKmotorsports also constructed rear triangulated wishbones along with the short, long, and bent replacements, too. The full package was developed by a 3D scan of the chassis that was imported into a CAD program to model new parts. These parts were then FEA-tested before actually being made, as this not only proves the designs prior to building but also reduces construction time and testing. The strut towers are fabricated with custom caster/camber plates attached to the coilovers.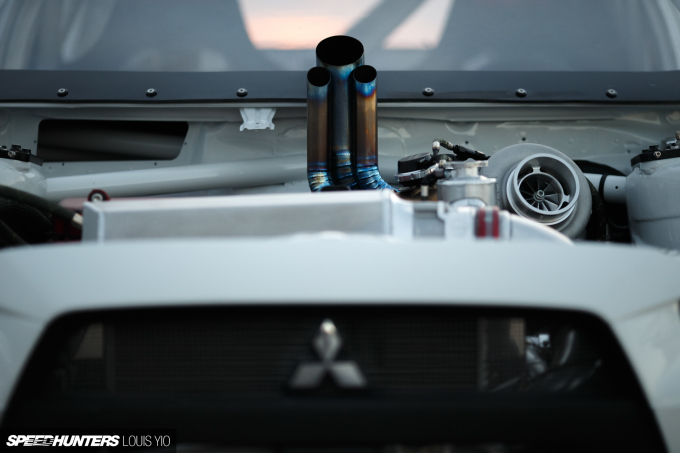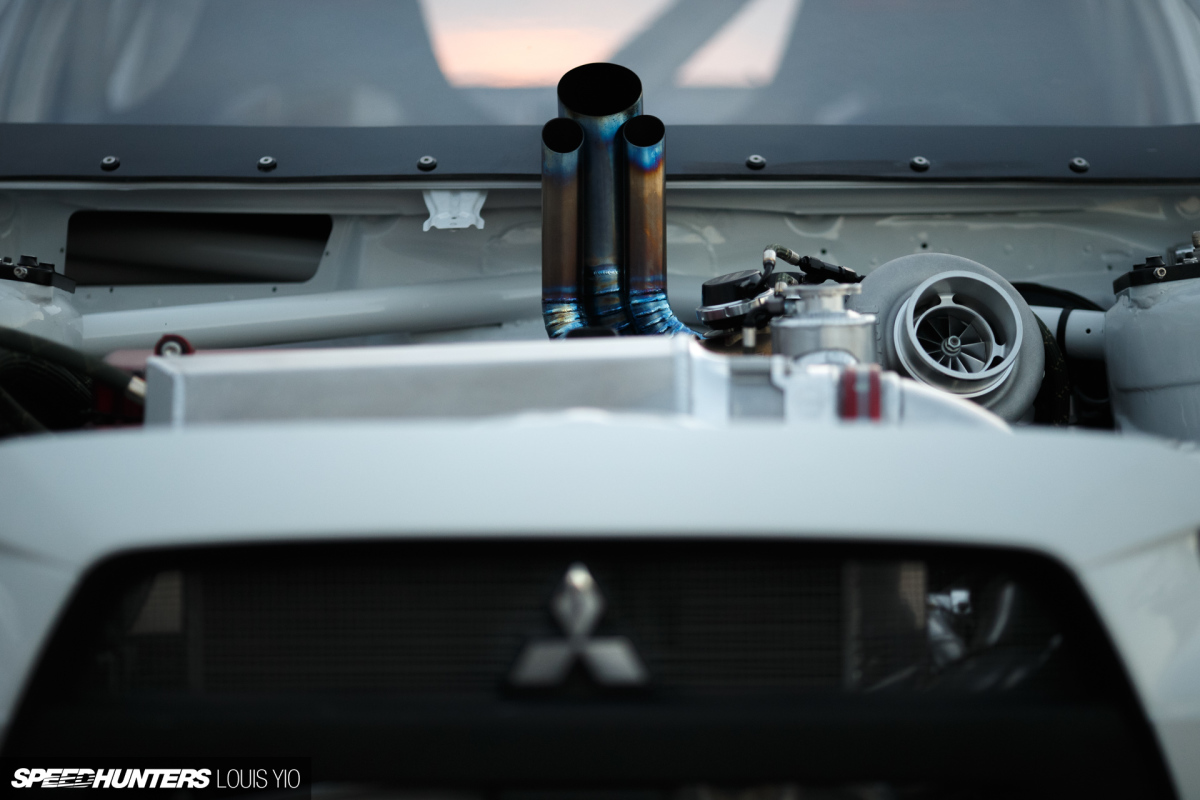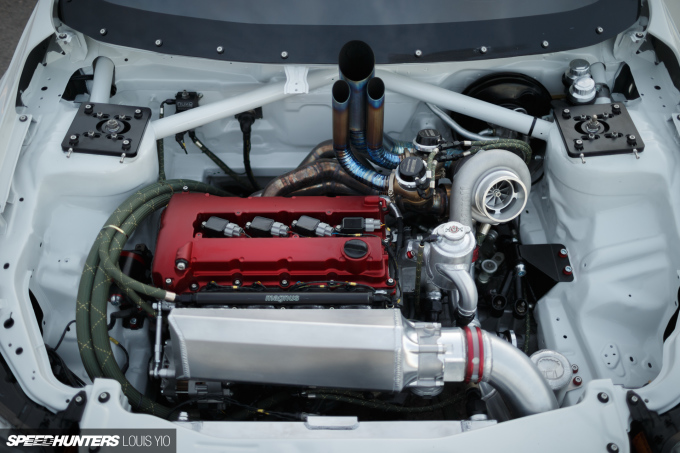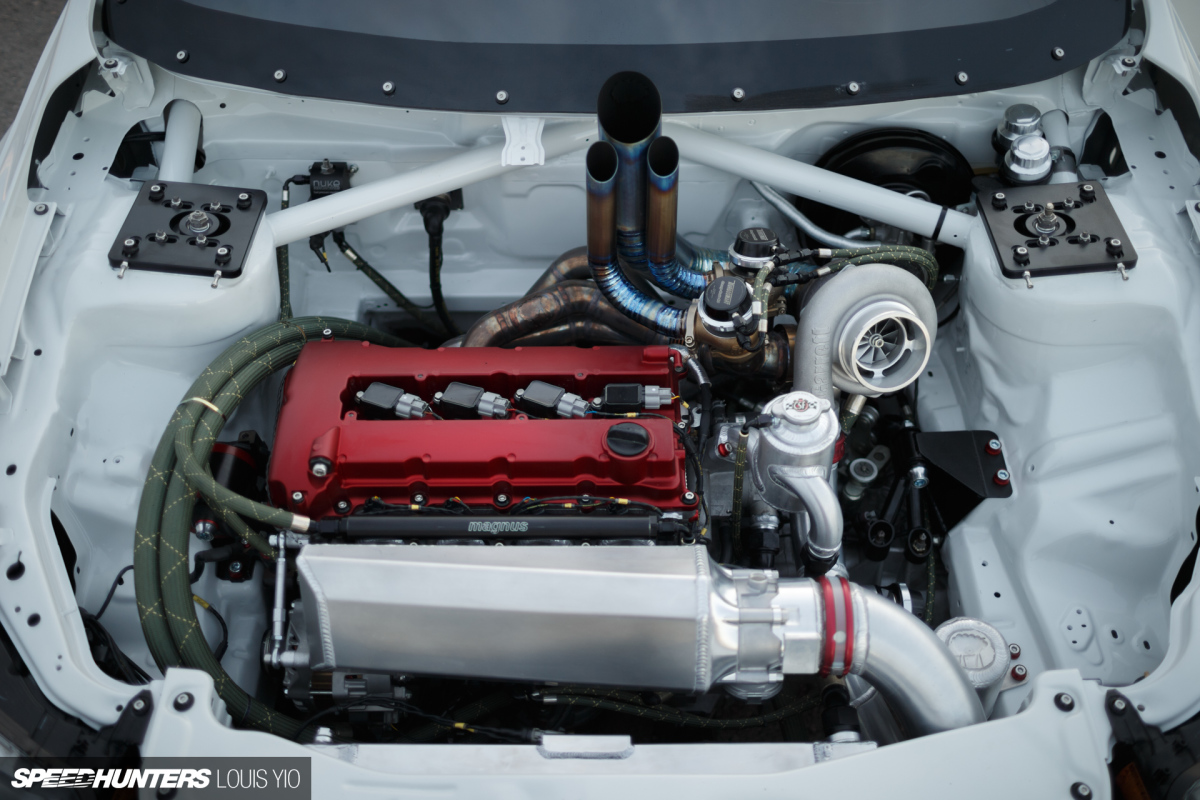 The 2.0-liter 4B11T from Mitsubishi is a fine engine from the factory, but for the rigors of racing GMG originally blueprinted it for the GTS class. While this limited GMG from going all-out, Ravi's no longer restricted by any rules set by the Pirelli World Challenge, and you can see that from the parts installed outside of the block.
The Honeywell Garrett GTX3582R Gen II is designed as a reverse rotation (counter-clockwise spin) turbine and compressor wheel. This doesn't improve power, but it can improve how to package a turbo in certain cars or under-hood designs. In this case the compressor outlet points down and is beside the block, and this shortens the boost tube path to the intercooler for better response. The manifold, outlets, and intercooler tubing were all fabricated by Sheepey Built with Ticon Industries titanium up-pipes, dual Turbosmart Comp-Gate40 wastegates, Turbosmart Race-Port blow-off valve, and Hydraflow clamps by Burns Stainless.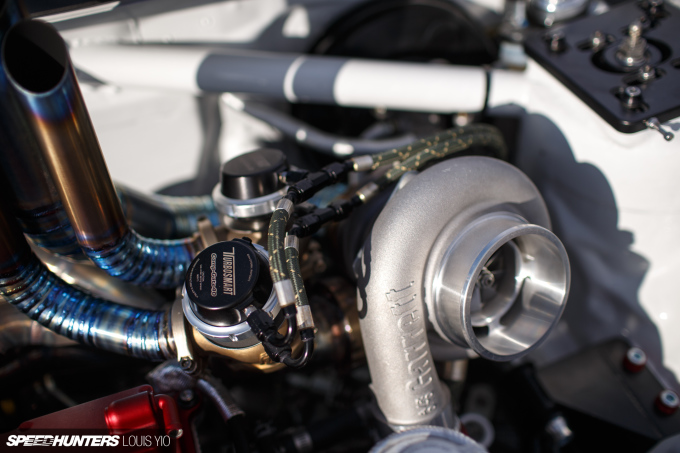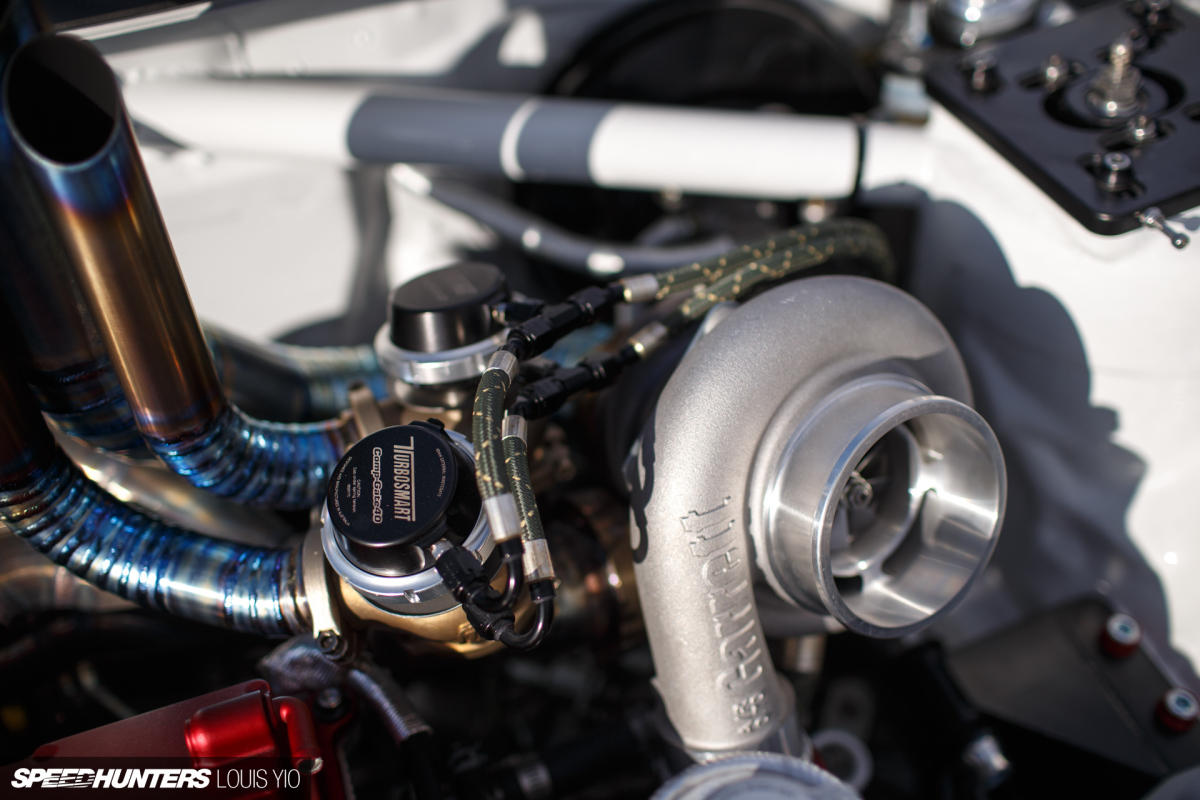 The intercooler is a CSF vertical flow core unit that was fabricated by Sheepey Built, which leads to a Magnus Motorsports Bosch 82mm drive-by-wire throttle body and onto a Magnus Motorsports race intake manifold that gets its fuel from a Magnus Motorsports fuel rail. A KTN Thermodynamics intake manifold spacer adds more volume between the head and manifold. The fuel rail attaches to a set of Injector Dynamics 1700X injectors that are fed by a Nuke Performance fuel pressure regulator and a custom fuel bladder with Bosch fuel pumps. The radiator is also a CSF unit that was made in collaboration with Rywire, while the oil cooler is a CSF bar and plate design.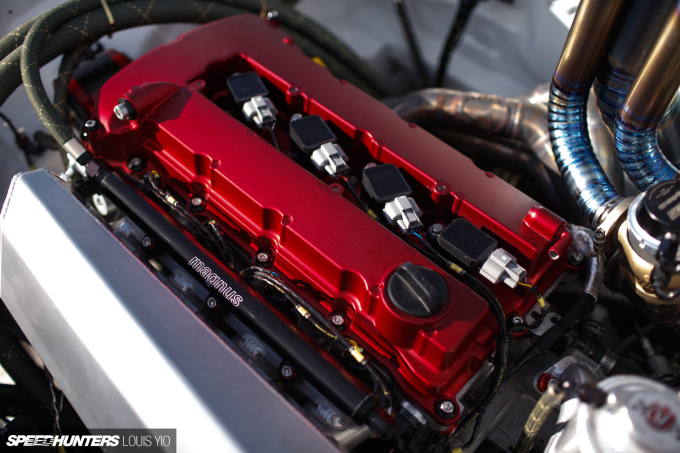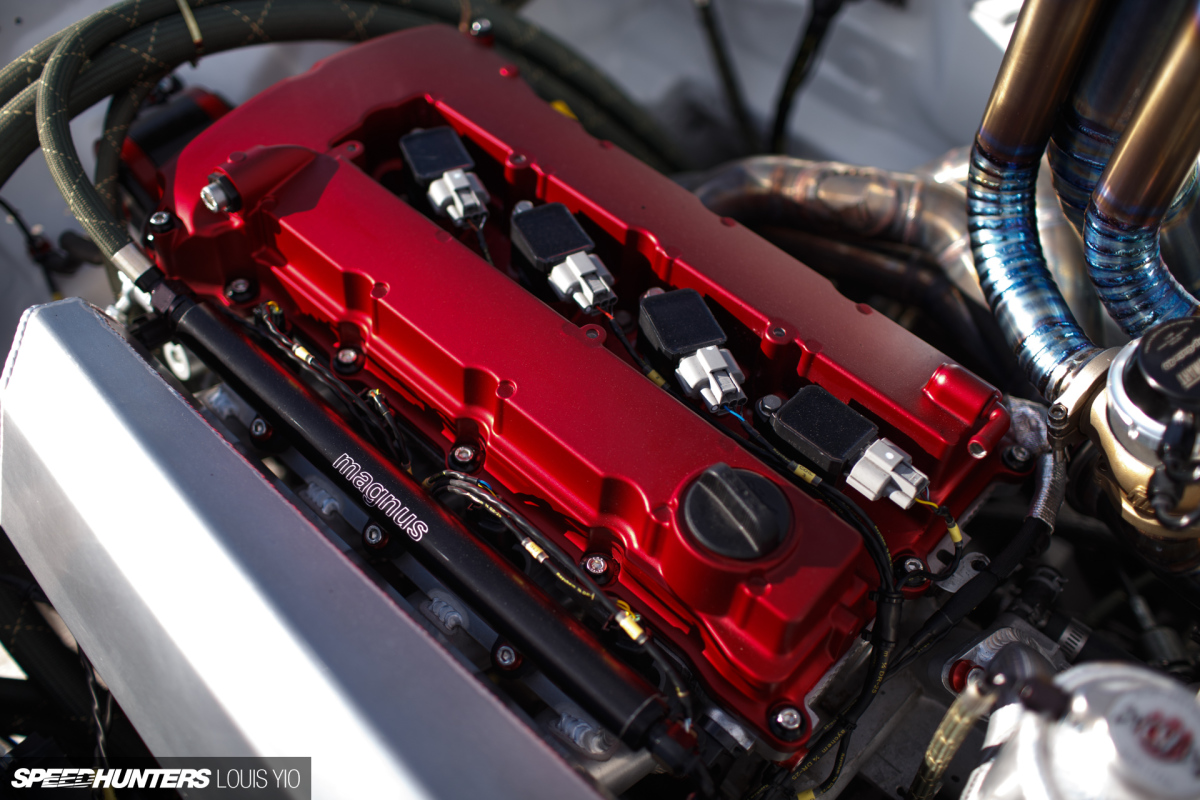 For lubrication in a racing environment you can't go past a dry sump setup, and Magnus Motorsports put one together for this engine package using Peterson components.
We don't have final power numbers yet, but those will be set by 5150 Racing after the SEMA Show, and only once they've torn down the motor and built it back up with race-grade internals. Wherever it ends up, the Spec lightweight flywheel won't drag it down and the Tilton clutch will ensure that every clutch drop through the 5-speed gearbox is quick.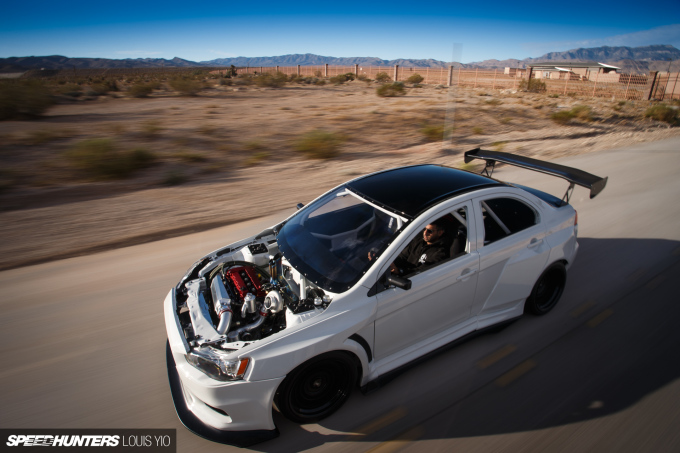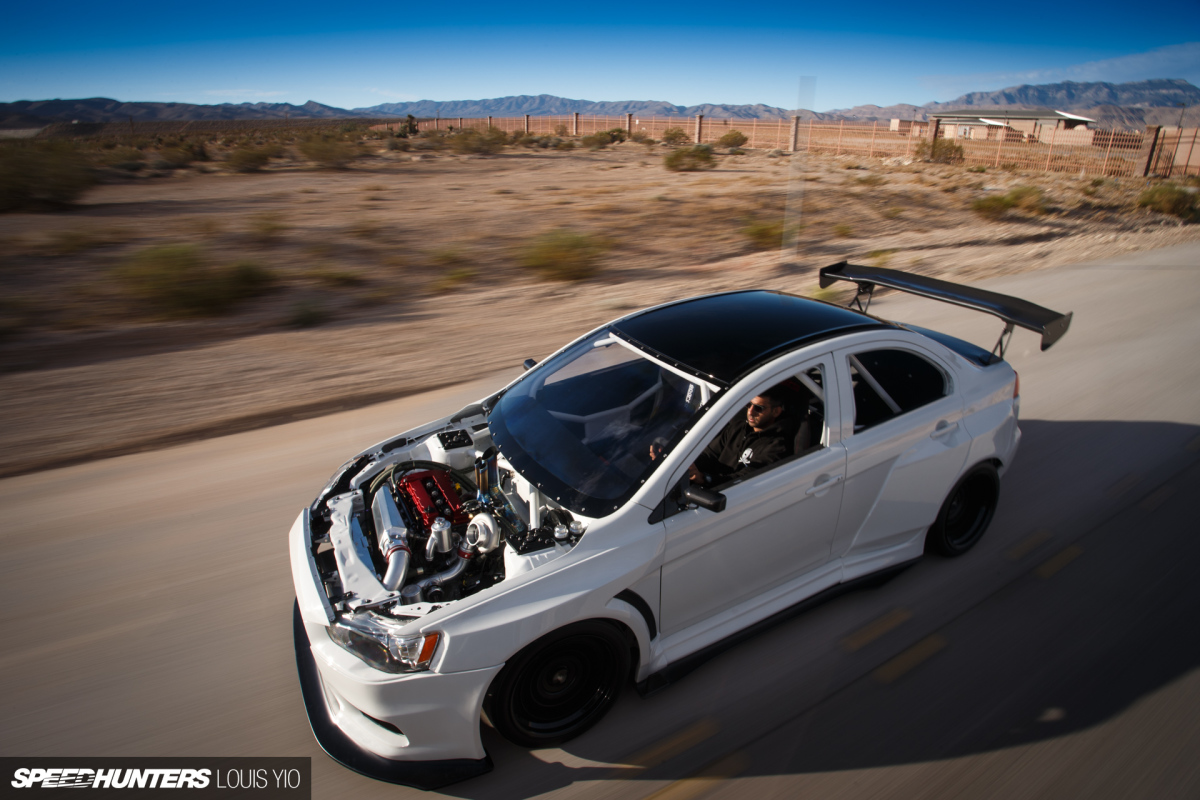 While most kids will assume that building a race car and not buying one is the only way to go, a previously built machine can often be the better option. It's developed, the cage is in, and you'll always come out on the better end of the built-versus-bought stick. It also gives an old race car new life and you can't argue that's a bad thing, especially when it's an ex-Pirelli World Challenge car. Those cars live some brutal lives, but with the right parts and care they can be made great again.
What Ravi and his friends have created in this tough Evo X is proof of that.
Justin Banner
Instagram: jb27tt
Facebook: racerbanner
Twitter: RacerBanner
Photos by Louis Yio
louis@speedhunters.com
Instagram: lusciousy
Cutting Room Floor