LSX 454 & More
Stop! Before you write down that comment, you first need to know the story of the world's first LSX-powered Nissan GT-R. Because trust me, there is more to it than just an LS-swap and being done.
Yes, in many cases it's easy to hate on the notion of the GM LS V8 exchange, but sometimes you must work with what you can get in the timeframe you're given as a builder. "We had two-and-a-half months with two-and-a-half guys to build the GT-R for Battle Drift 2," said Steve 'Baggsy' Biagioni when I spoke to him about the SB Motorsports build. "As much as we wanted to use the VR38, importing the high-quality parts that would give us the power and reliability we needed would have pushed us over our time limit." So, the decision was made to use an engine that could produce over 1000hp reliably with the boost needed to make that kind of power.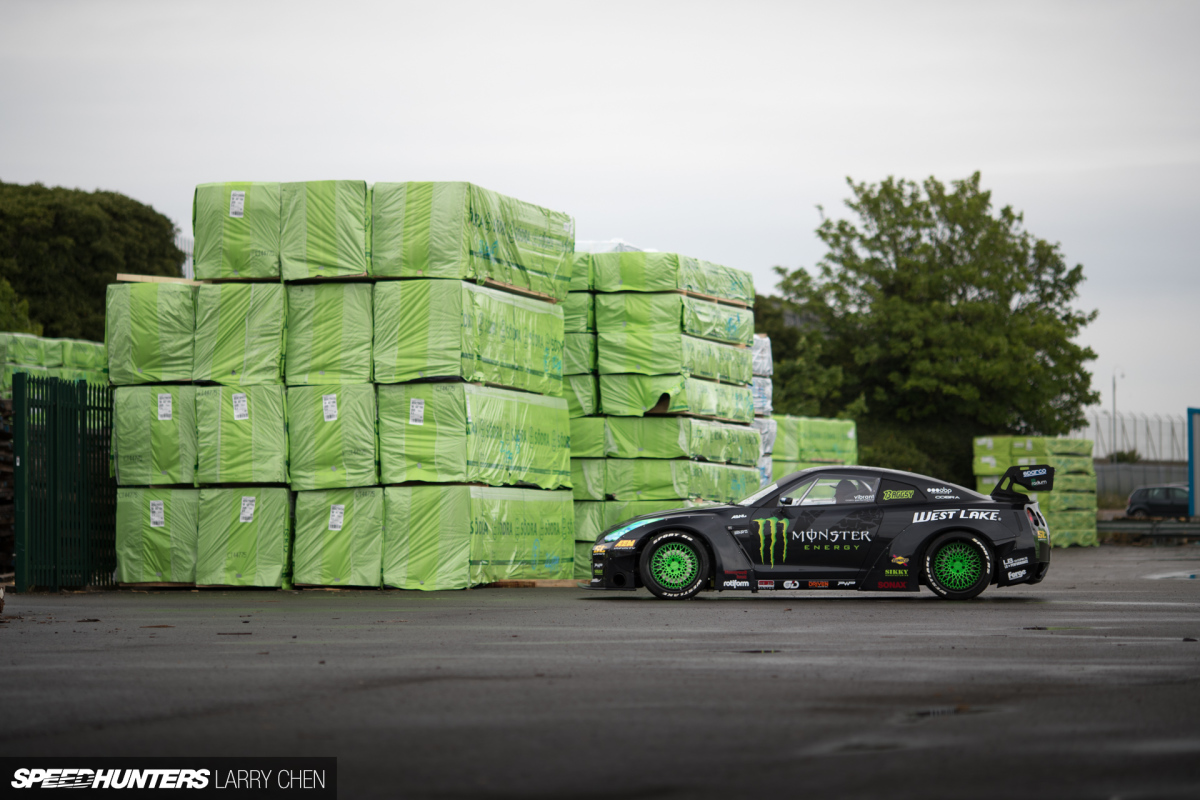 If you're going to build the ultimate LS for the ultimate drift GT-R, you can't just use some standard LS block. You need the true Chevrolet Performance engine, the LSX 454. Enter, UK's official importer and stockist of Chevrolet Performance, Partsworld Performance in the United Kingdom.
While you will encounter a weight penalty with the LSX, you get the strength that only cast iron will give you along with the improved block design of the Generation IV GM Small Block V8. The 7.4-liters of brute force features a bore and stroke of 4.185×4.125 (106.3×104.8mm) with a six-bolt cylinder head design for superior cylinder pressure containment. Out of the box, the LSX 454 can produce 627hp and 586-lb/ft with the LSX-LS7 single-plane carbureted intake manifold, but this monster needed more. Baggsy called up Formula Drift veteran and skilled builder and mechanic Chris Jeanneret, who runs his own motorsports and fabrication shop in Monroe, Washington.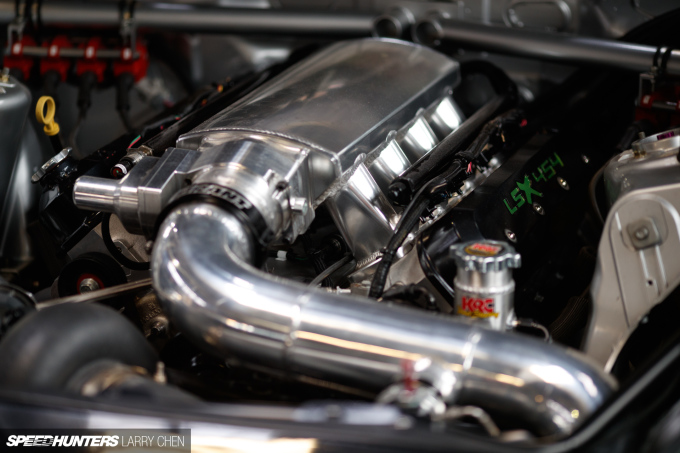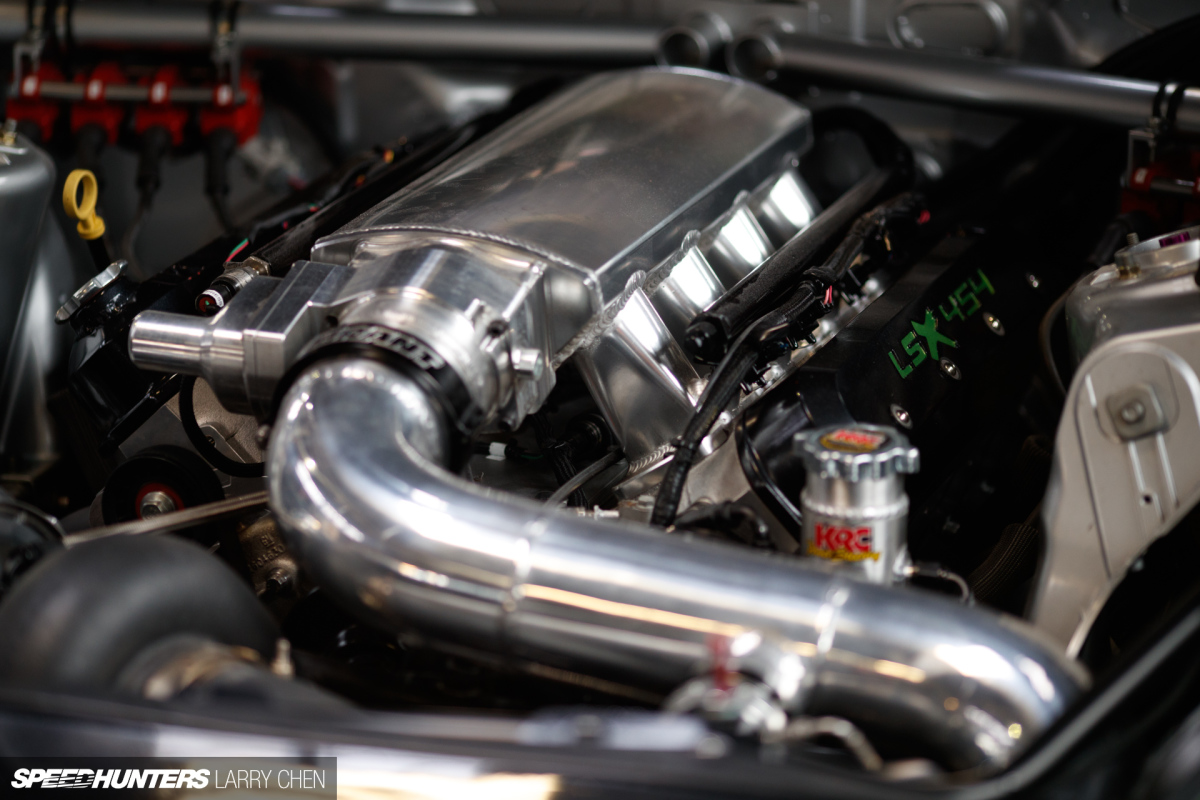 "I came to SEMA about four years ago and met Chris for the first time," said Steve when I asked him about the relationship came to be. "He seemed like a real solid dude when we talked, and he was on my wavelength. So to me it was kind of natural to go to him when I wanted to build my LSX engine." Chris is no stranger to drifting himself either; he competed in Formula Drift with the Vibrant Performance Honda S2000 back in 2014. That car ran an 800hp K24 turbocharged engine built in conjunction with Speedfactory.
For the the LSX, Chris sent Baggsy a custom grind camshaft for the LSX and worked as the specialist for the rest of the engine build. And what an engine it has become.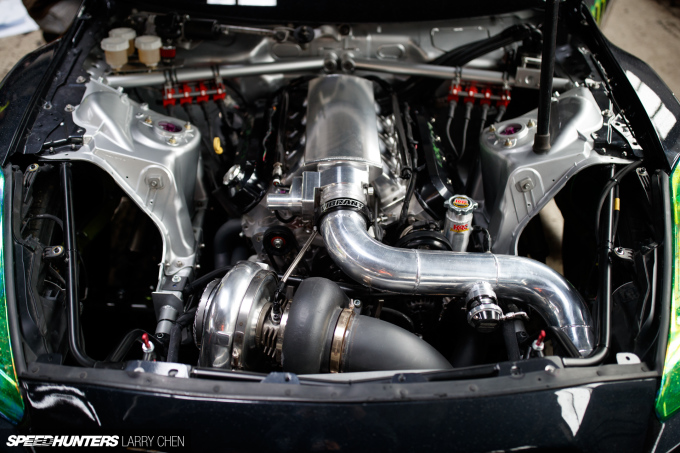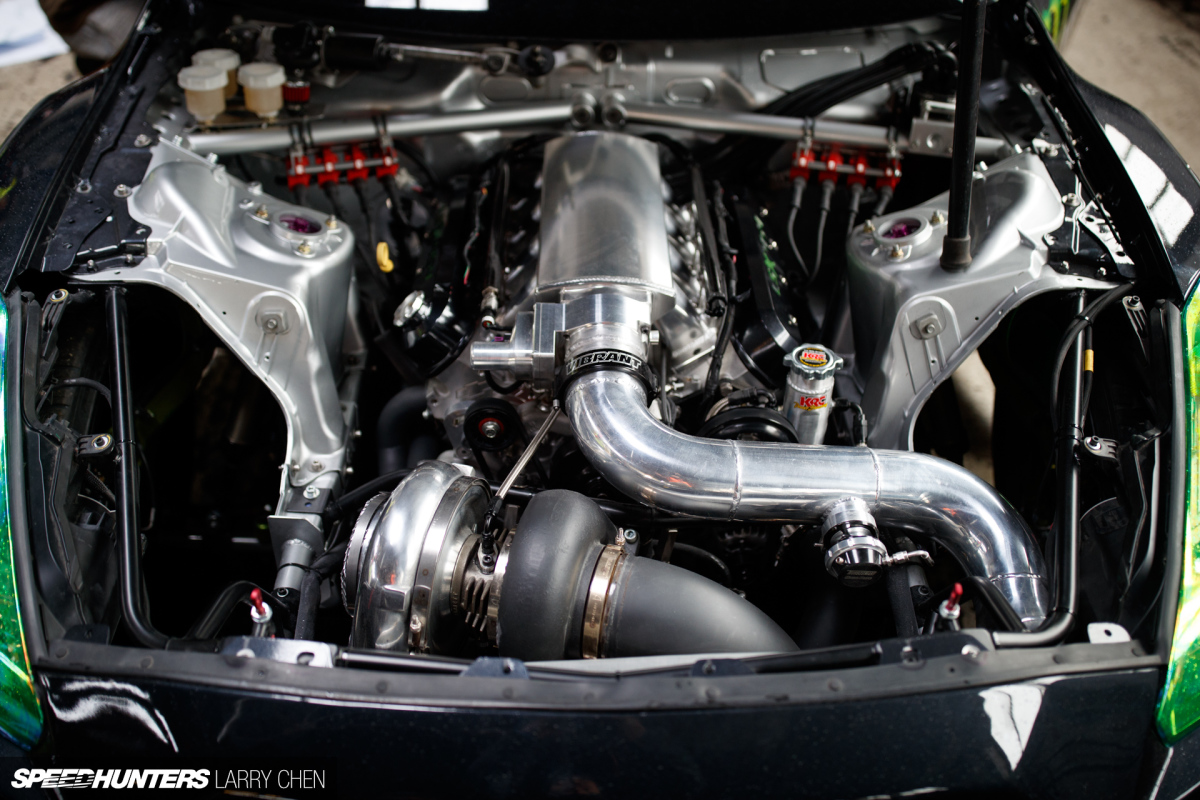 From the molds of GM's best engineers, Baggsy's SB Motorsports team and Chris Jeanneret Racing have re-forged this engine into a beast worthy of the GT-R's engine bay. While Chris won't give too much away on the cam grind, it's advertised as having around .600-inch lift on the intake and exhaust, with around 240-degrees duration at .050-inch lift on the intake lobe, around 250-degrees duration at the same lift on the exhaust lobe, with a 116-degree of lobe separation angle. We'll talk cam specs in deeper detail soon, but that's a fairly lumpy camshaft with some decent valve opening overlap. Then again, we are talking about a pure racing camshaft for a turbocharged LS engine.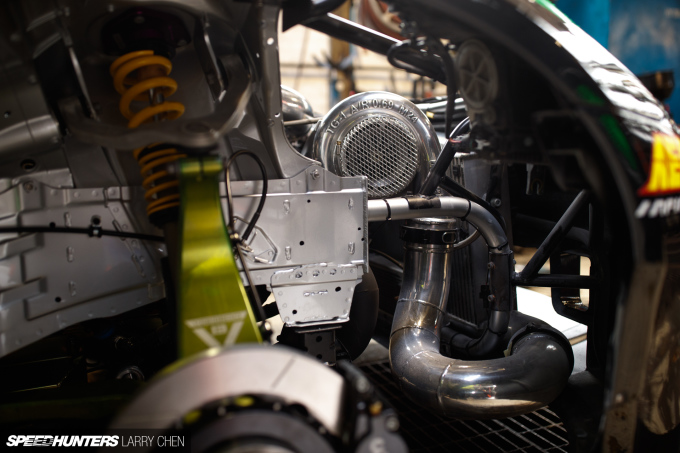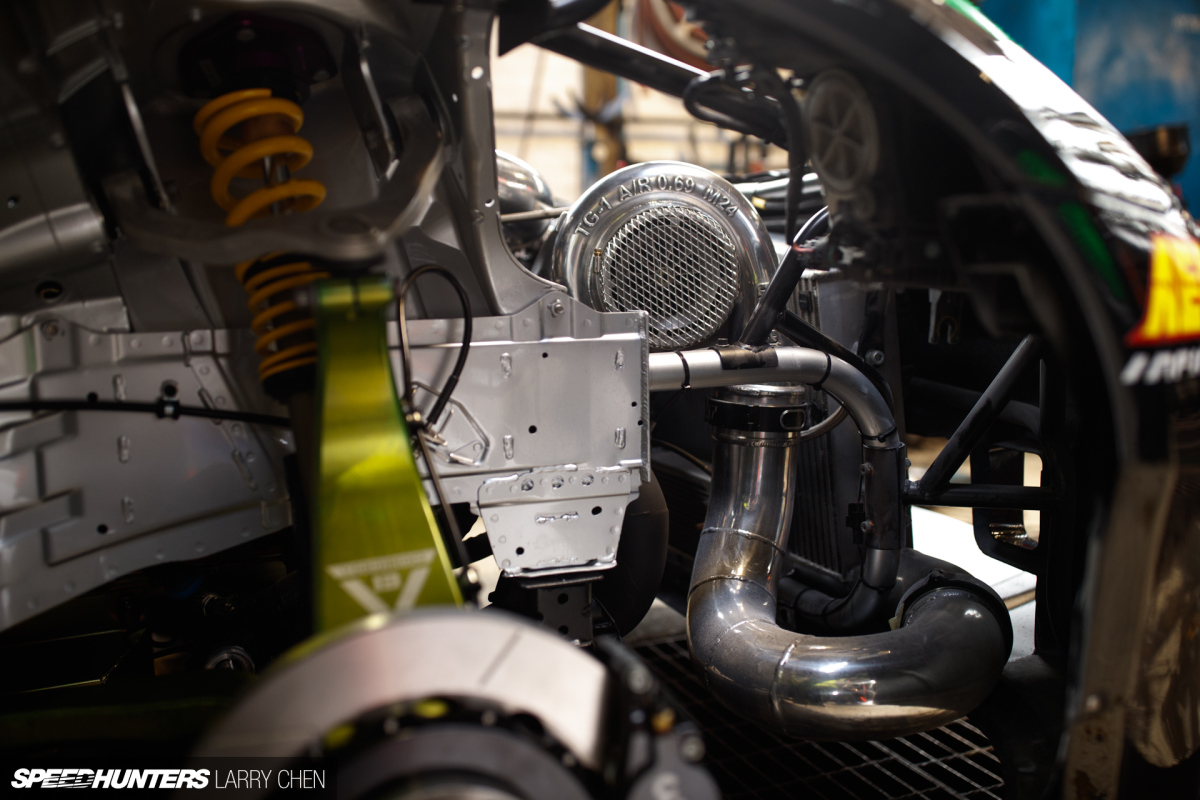 The turbo, a Honeywell Garrett GTX4718R with a 1.25A/R exhaust housing, is the main attraction and power builder for the engine. The exhaust manifolds and collector are custom made from stainless steel by SB Motorsports, and the downpipe is a gigantic five-inch unit that pokes out the front bumper for some impressive flames from the twin 44mm Turbosmart wastegates that dump into it. The compressor side feeds into a Forge Motorsport custom intercooler with Vibrant four-inch intercooler piping that leads to the 102mm drive-by-wire throttle body with four-inch Vanjen clamps holding the piping in place. The intake manifold is a custom piece held in by ARP fasteners, which are also used clamp the heads, main studs, and Canton Products drift-spec rear wet sump oil pan.
Feed the LS Beast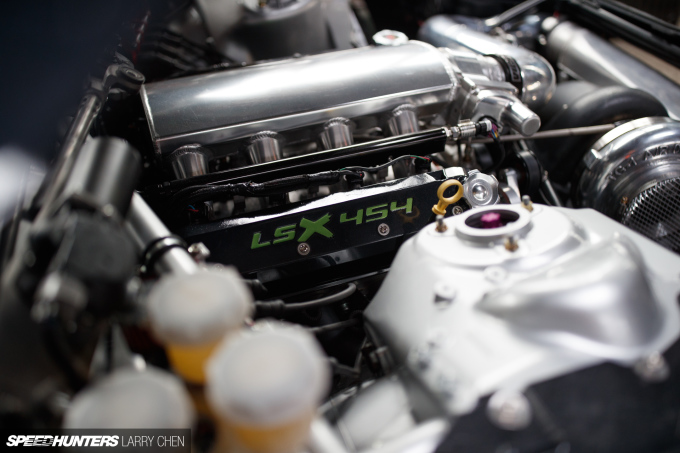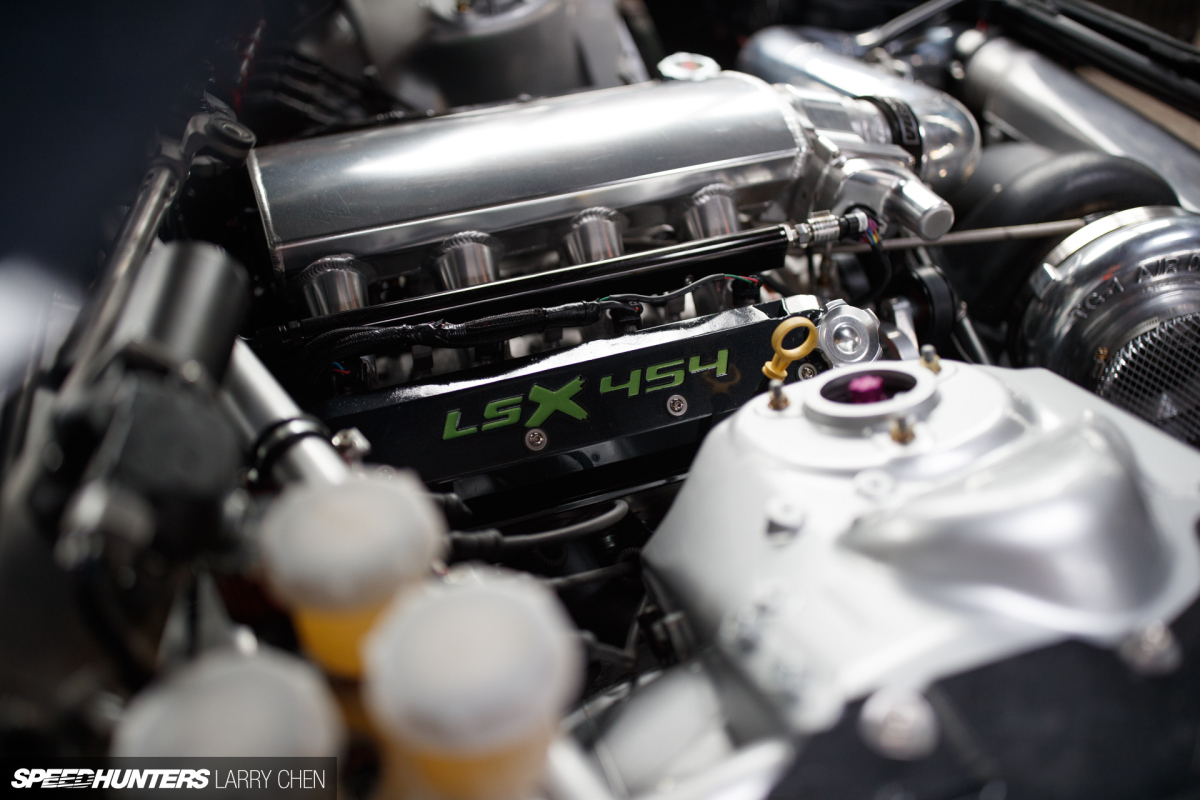 When it comes to feeding the beast, ASNU 1500cc/min injectors mist out Sunoco E85R fuel into the intake ports. That fuel comes from a Radium Engineering/Fuel Safe 15-gallon fuel cell with four Walbro 450lph pumps inside, and fuel pressure is regulated by a Radium multi-pump regulator designed as a return-less system. The fuel lines and fittings between them and the engine are all Vibrant parts.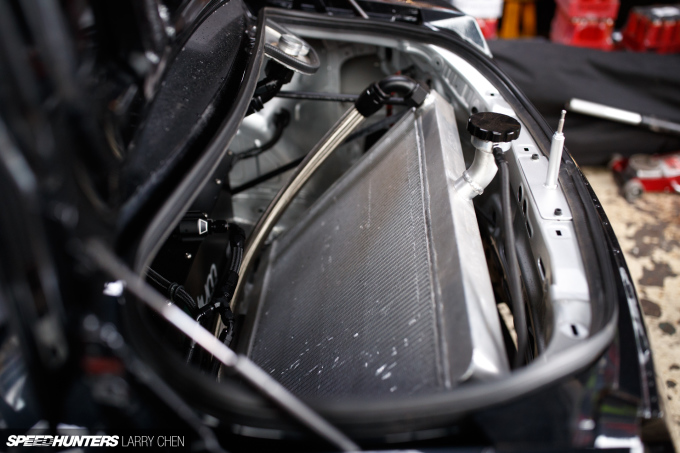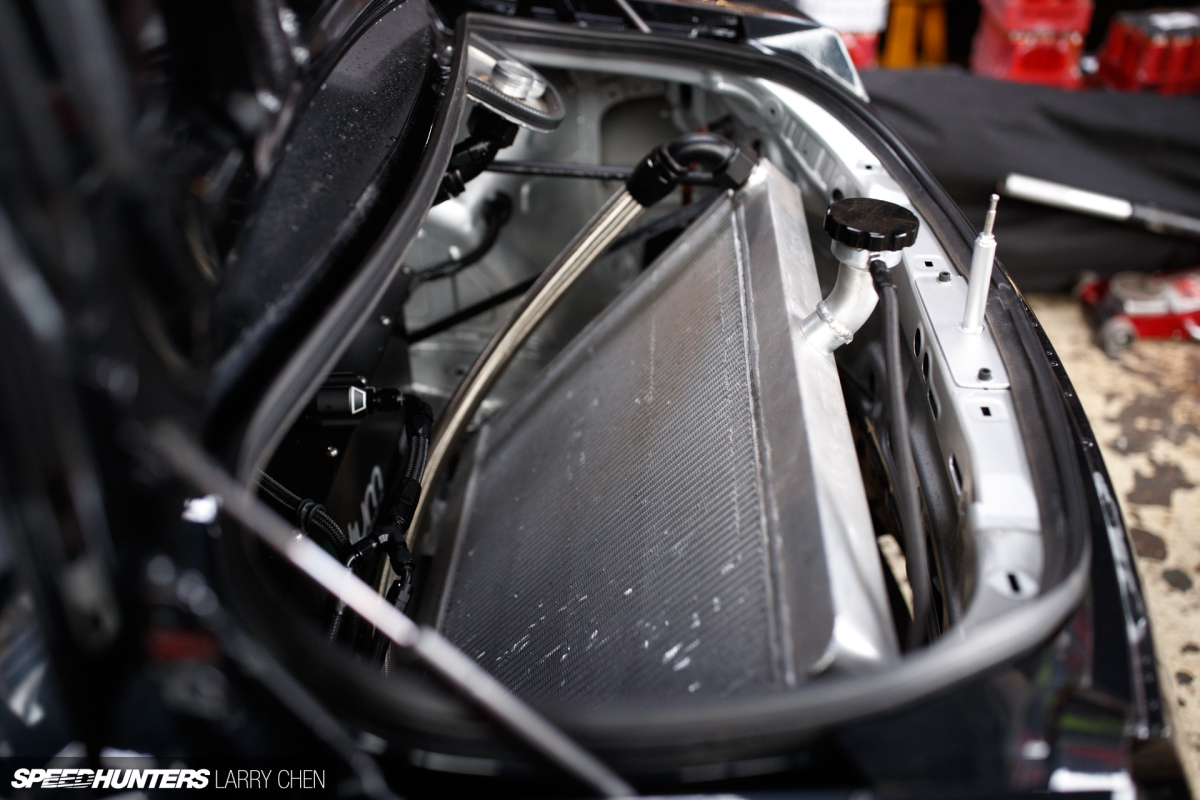 Pushing 1200hp, bouncing rev-limiters, and the other rigors drifting that punishes an engine means you need a reliable way to cool it when your doors are the parts moving forward in the air. That's why the custom Forge Motorsports radiator is located in the rear. Further cooling is handled by OBP oil, transmission, and power steering coolers.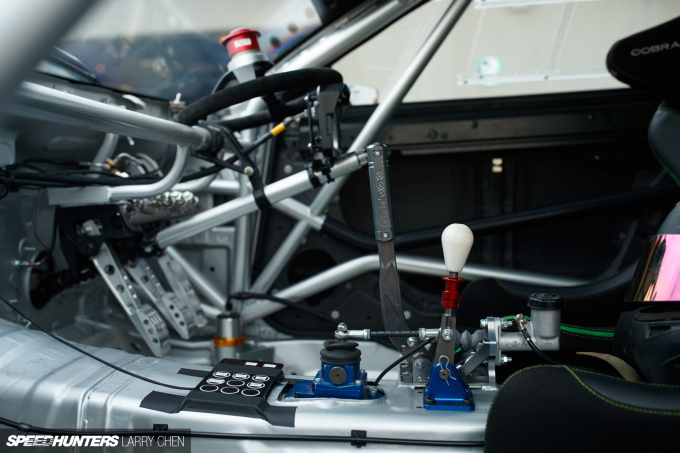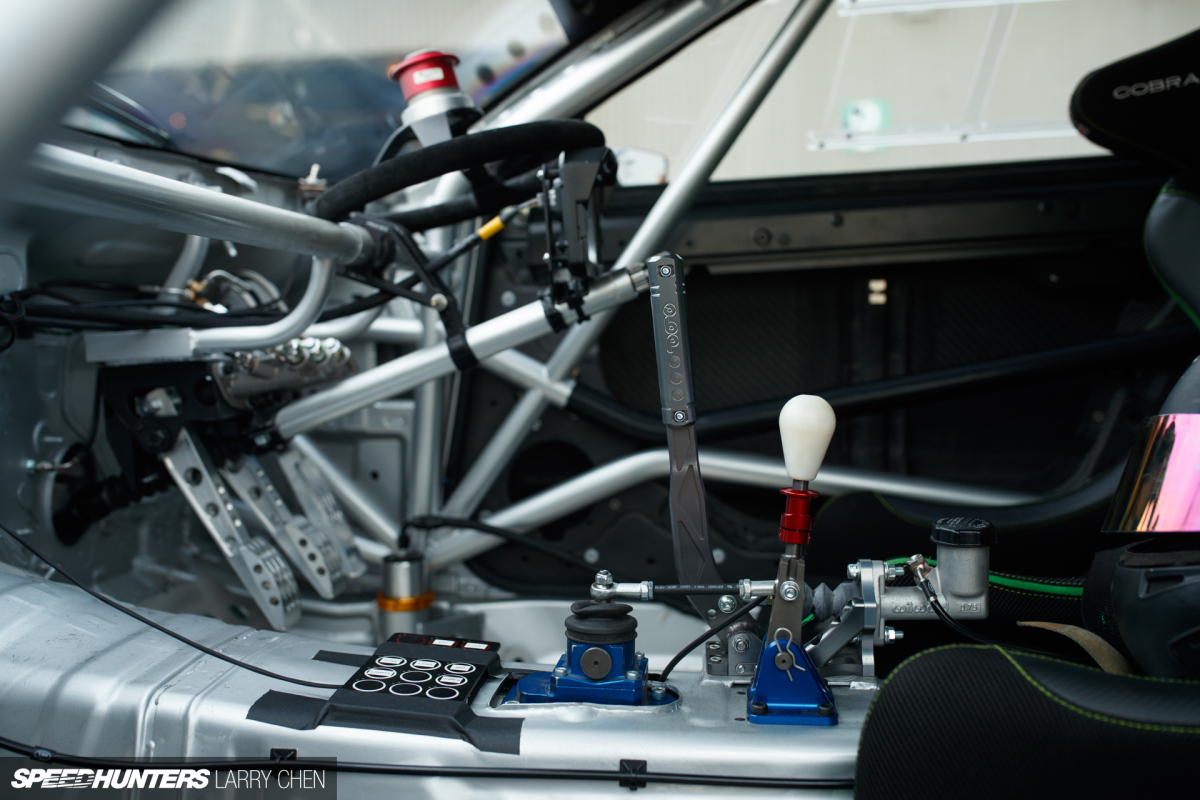 That power is transferred to a Winters IRS quick-change rear differential by a Quaife QBE69G sequential transmission with a Competition Clutch 7.25-inch triple-disc unit. The transmission features a rather impressive dog engagement gear set that has an integral oil pump and a drum-type sequential gear change system. You still need to briefly lift off the throttle to upshift, but that's something the AEM Infinity 508 engine management system can tell the drive-by-wire throttle body to do. From the diff, a pair of Pro-Level axles from The Driveshaft Shop transfer power to the rear wheels.
Keeping It Planted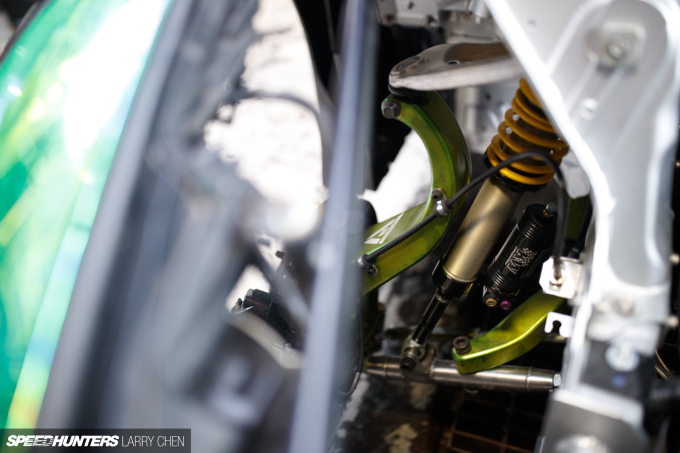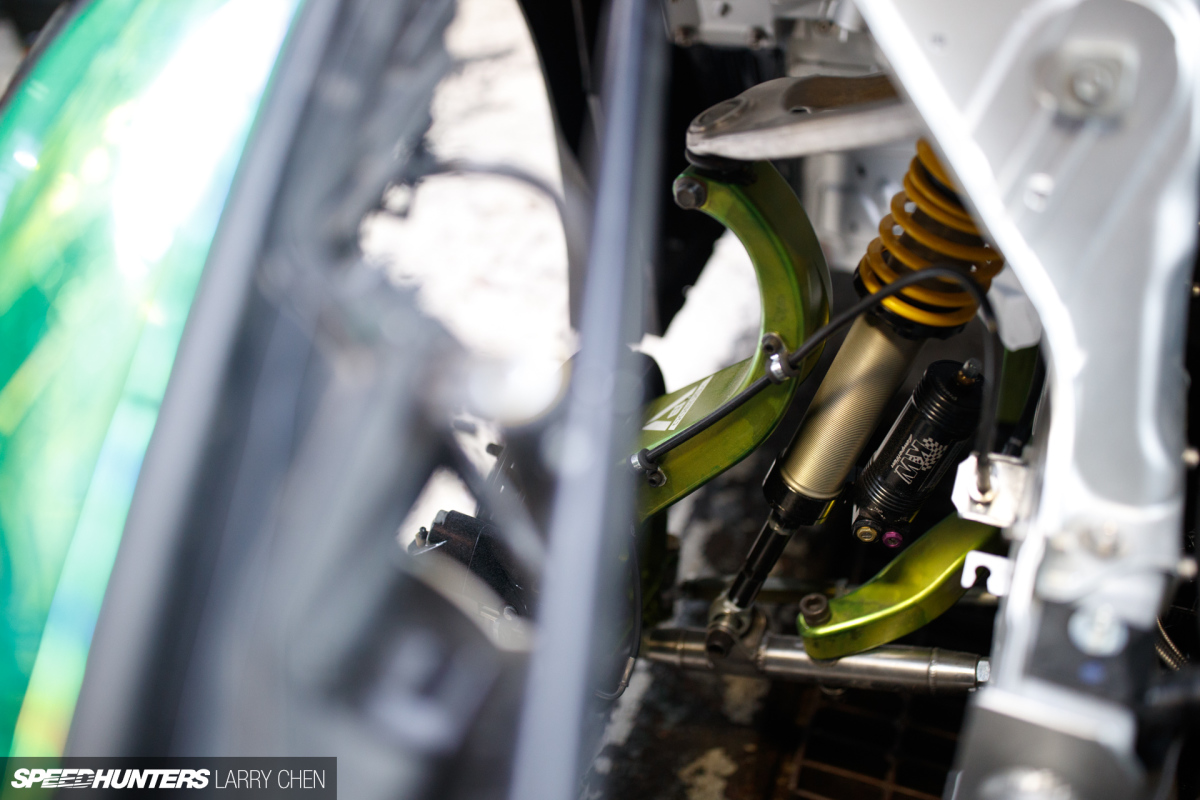 Keeping control while looking out of control, that's the drifter motto. From a technical standpoint, it means you need a suspension that will give you predictability as the arms move through their arcs. Voodoo 13 have established themselves as one of the best drift suspension specialists out there, and they sent over a number of custom green anodized suspension parts, including a GT-R front angle kit mounted to an SB Motorsports-modified front GT-R subframe, plus their rear camber, toe, and traction arms, which are attached to a Sikky Manufacturing rear subframe. ST Suspension dampens the motions of the 20×10.5-inch Rotiform LHR wheels with their 3-way adjustable Motorsports coilovers so that the Westlake Tyre Sport RS tires can keep contact with the ground.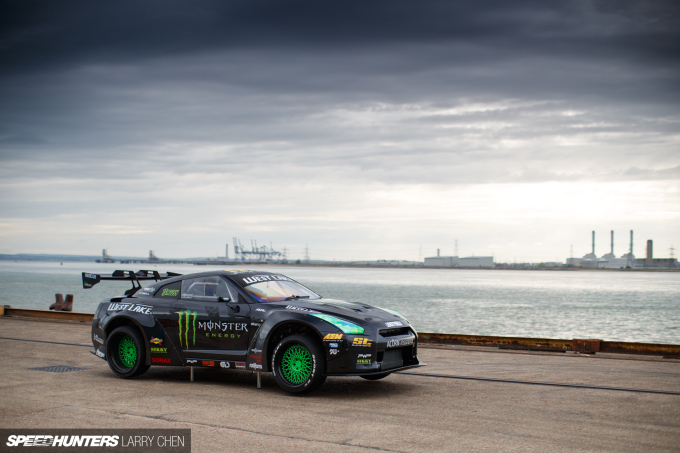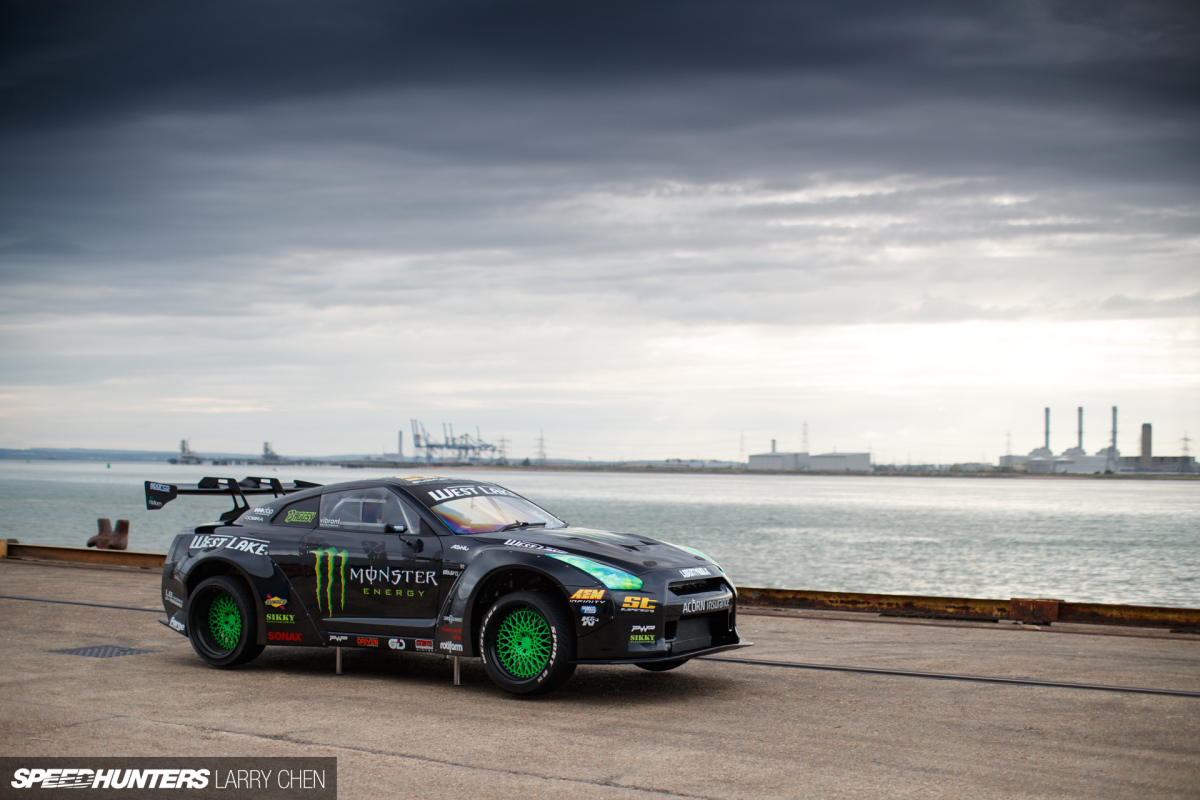 Well, they remain on the ground until they need changing and a quartet of air jacks lift the car off terra firma quickly for fast changes. It certainly beats jacking the car up and down with a pump jack, even a two-pump motorsports one.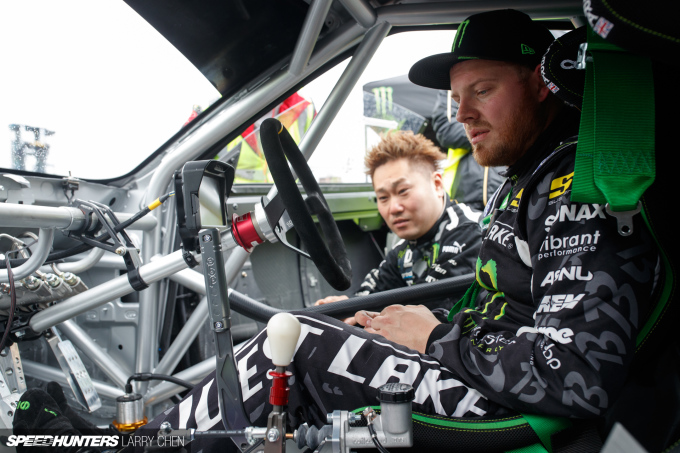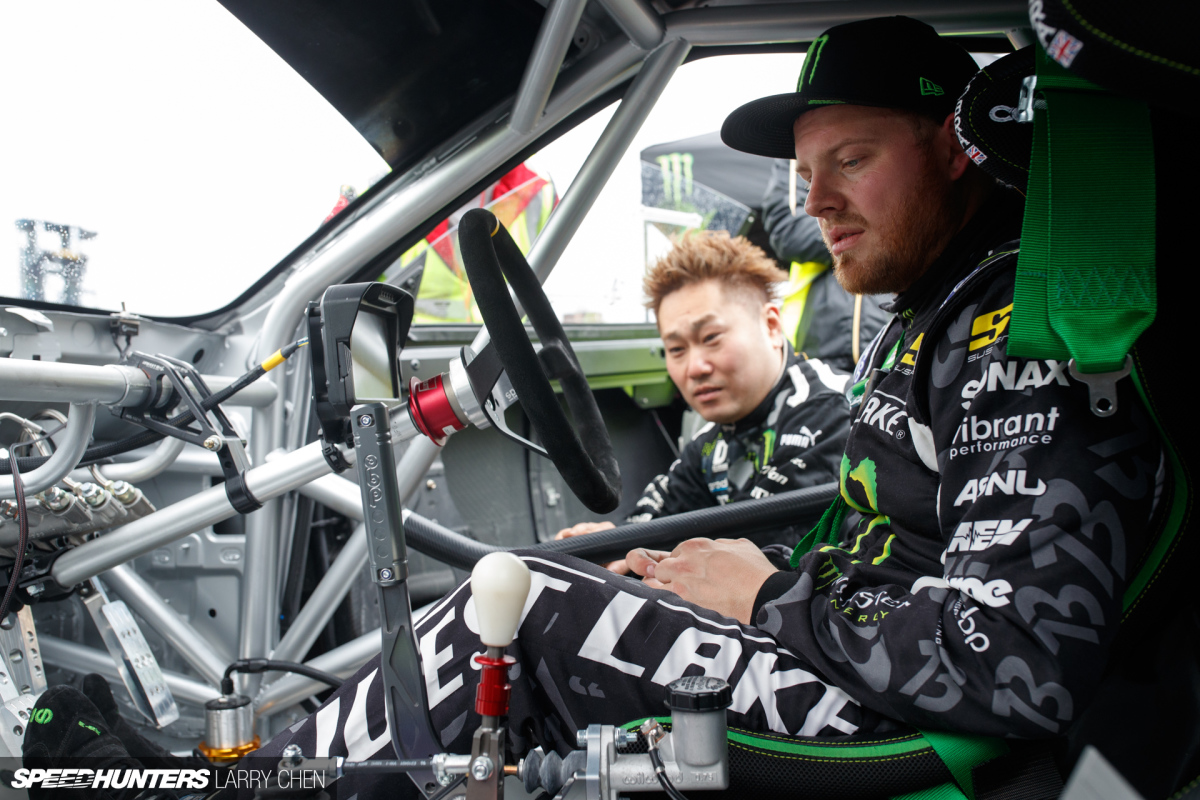 While this is a demo car, safety is still something Baggsy and his SB Motorsports team took into consideration even with only 2.5 months to build it. Within the 10-point chromoly roll cage's design there are four attaching points at the firewall and a further six at that attach the front down-tubes, main hoops, and rear down tubes to the unibody chassis.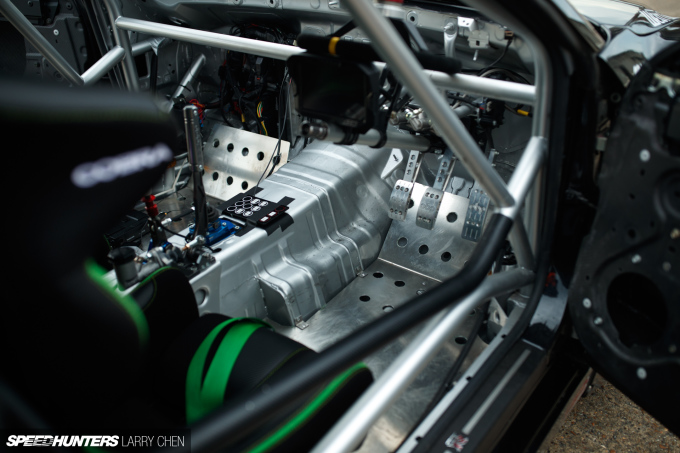 A pair of Cobra Racing custom-stitched racing seats and 6-point harnesses hold Baggsy and passenger in, and while not fitted here, a custom carbon fiber dash is normally in place to cover up the forward half of the roll cage. The OBP billet pedal box and hand brake control Wilwood master cylinders and brakes. The fronts are 14-inch slotted and vented rotors with 6-piston Superlite Six calipers; the rears are dual Dynapro 4-piston calipers on 12.9-inch solid and drilled rotors.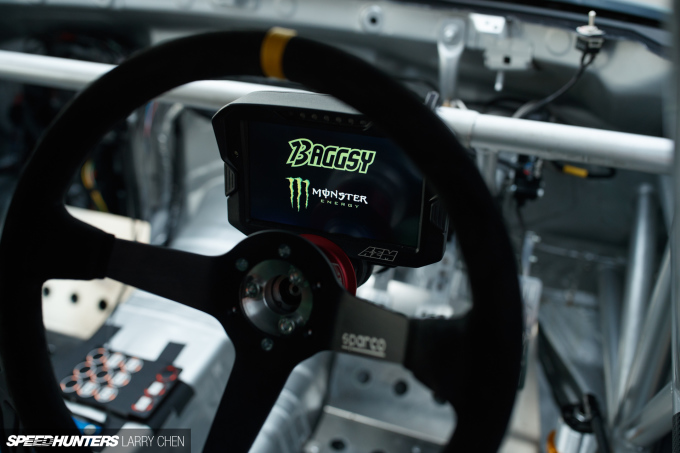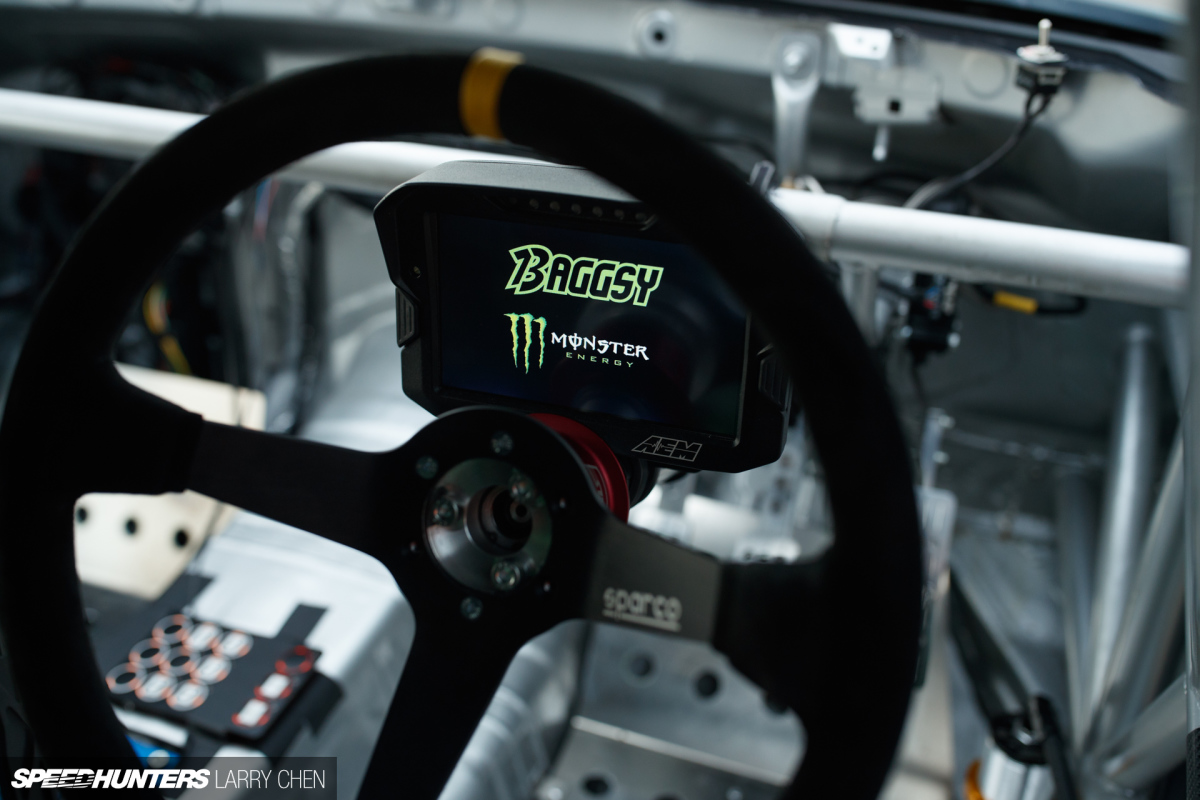 Keeping Baggsy informed is an AEM CD-7 digital dash display that can be custom configured with seven pages of information and alert him to any 'on-change' displays. A HP Electronik Powerbox power distribution module replaces the conventional fuse and relay system with solid state parts and is controlled by a HP9642 switch panel that can be configured to control anything from engine start to wipers and lights, to anything else that needs a switch to turn on.
Liberty Walking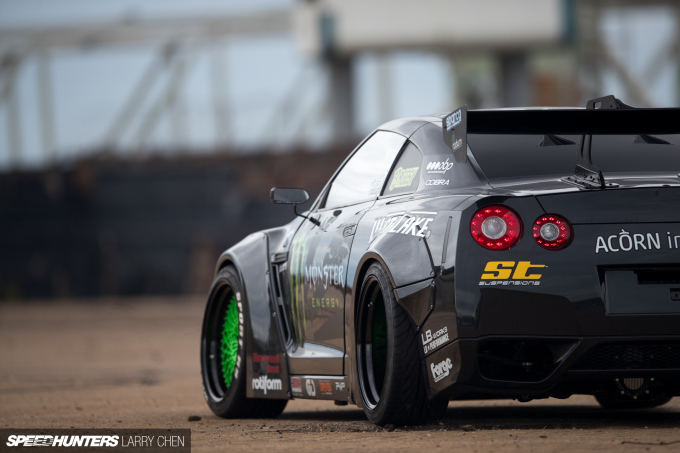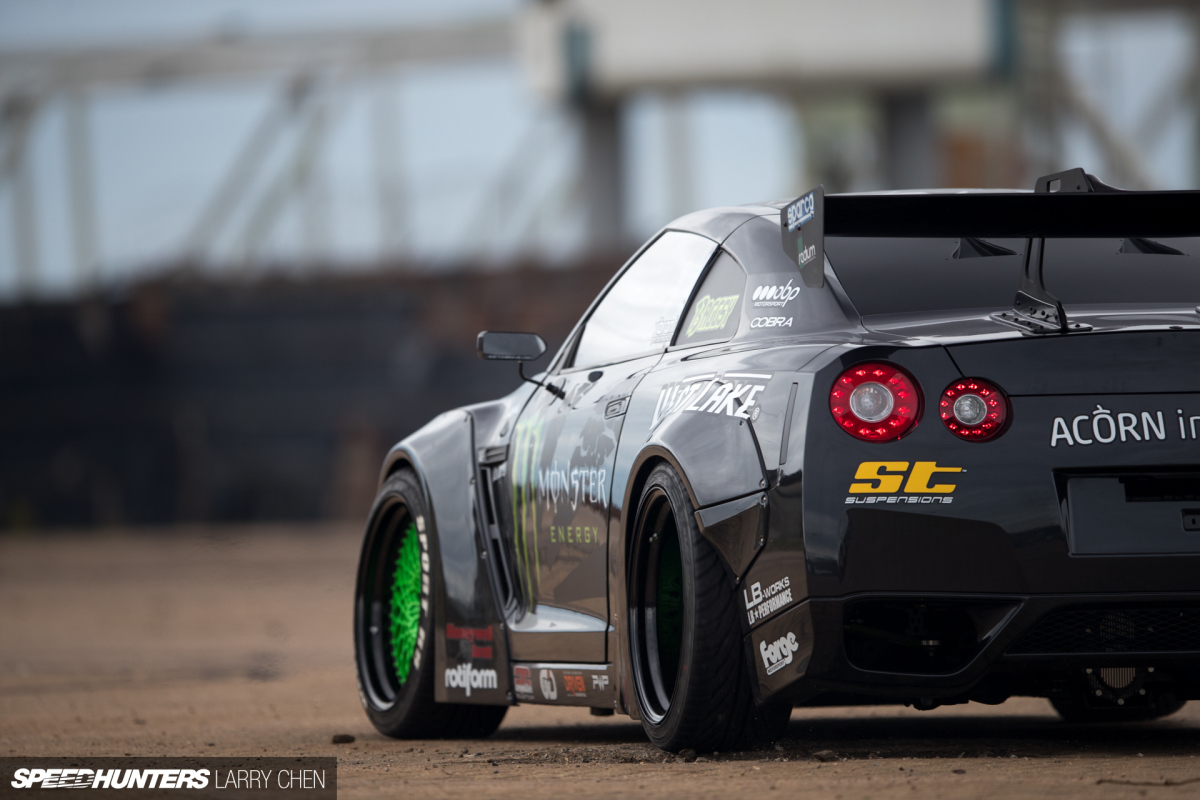 The exterior is all Liberty Walk on the 2013 GT-R chassis, from the wide-body kit to the GT rear wing with goose-neck mounting. Why go this styling route? "I wanted a particular look for the GT-R and I like the look of the Liberty Walk kit," says Baggsy. "The Rocket Bunny [Pandem] kit looks good, but it's been done to death here."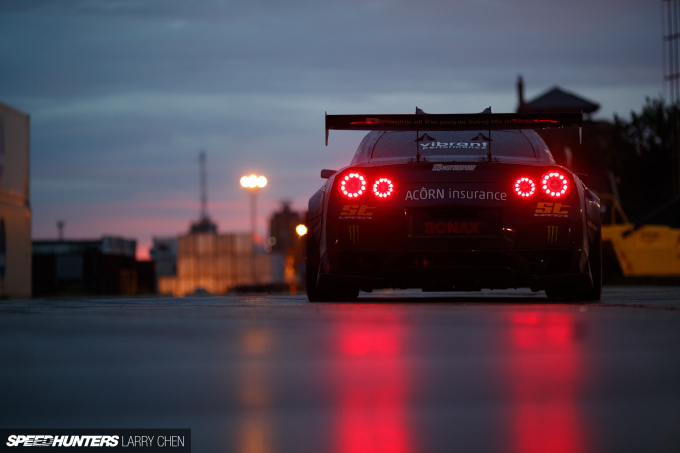 The next logical question to ask, then, is why use a GT-R in the first place? Out of all the European supercars that come with powerful V8s, V10s, and even V12s, why go with the Japanese marque? "I've always wanted a GT-R as a road car, so when Monster contacted me about the film project, I knew what car I wanted to use." The GT-R is viewed as a JDM supercar, so it does make for a perfect contrast against Daigo and his Lamborghini.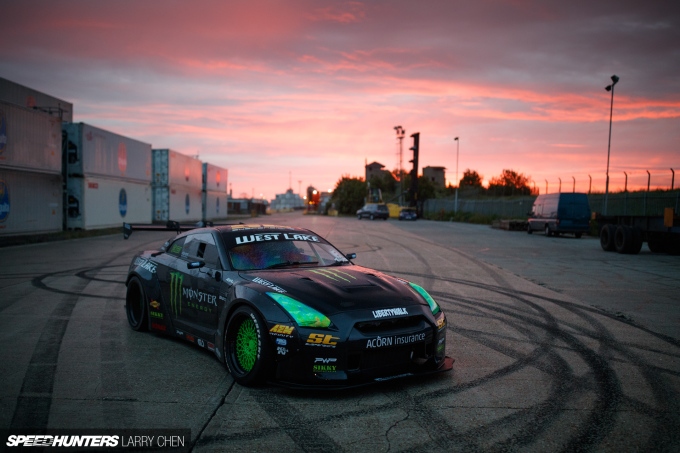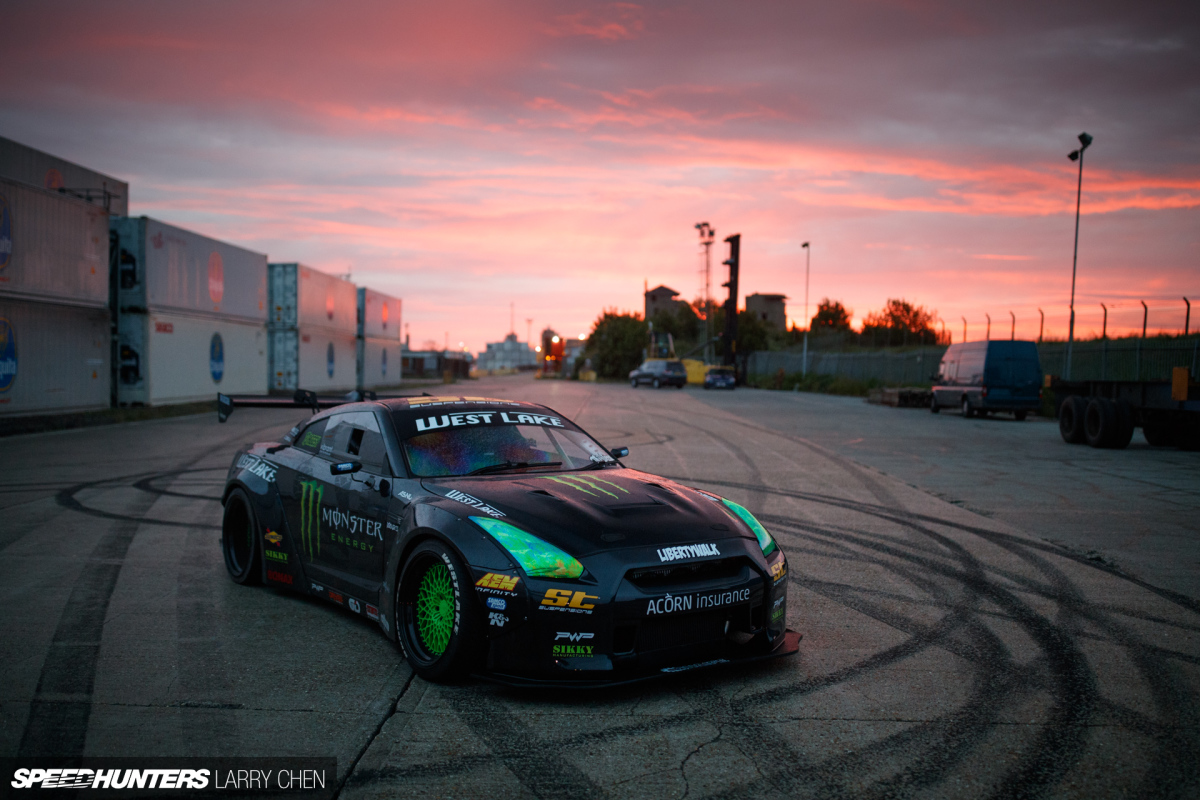 What's more impressive is the how fast this car was finished with the manpower SB Motorsports has. It's a three-person team when Steve can be there between his commitments with Monster Energy and pro drifting. In less than three months they built and installed the engine, fabricated the roll cage, fitted and modified the Liberty Walk kit, installed the suspension and brake package, and finally sprayed and stickered-up the car for Battle Drift 2. In all, Baggsy had only four hours of drive time behind the wheel of the GT-R before getting chased by the drift Lambo. To be able to perform under that pressure with a car with very little experience driving it says as much about Steve as it does for his build team and Chris Jeanneret.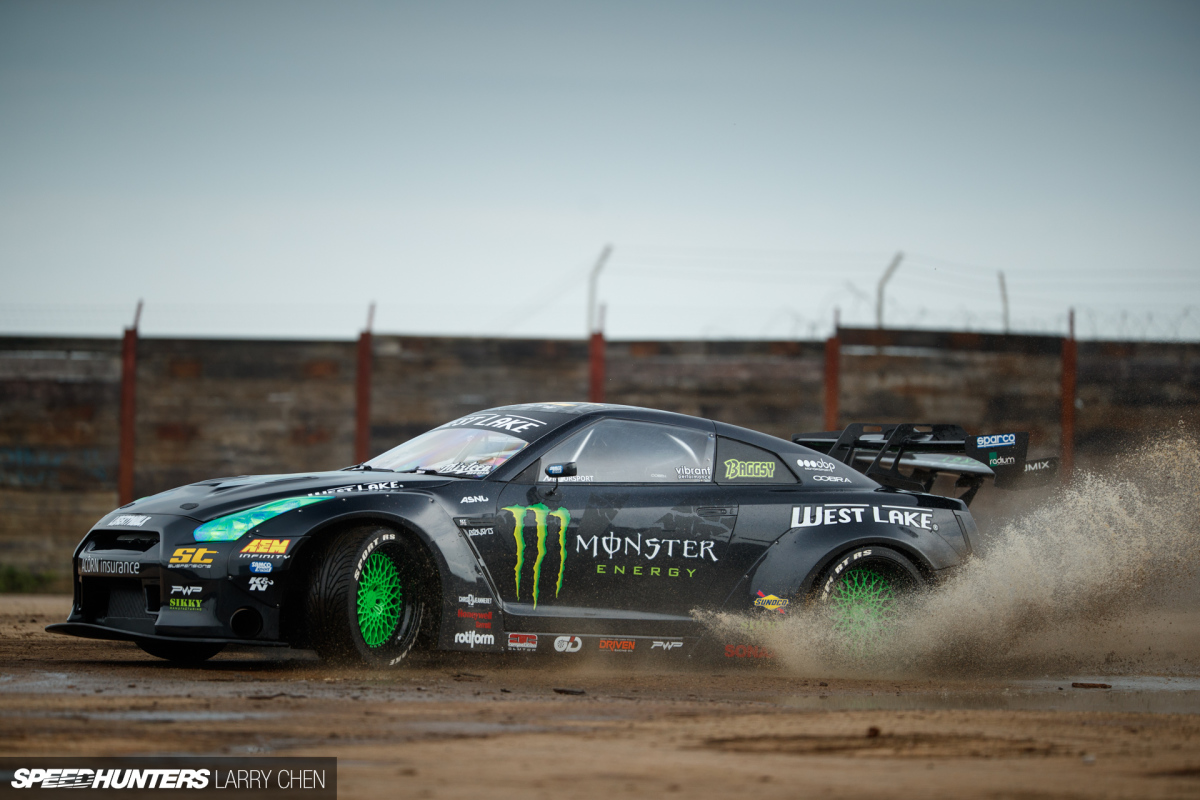 What's the future hold for the LSX GT-R? For now, it will remain a demo car and take a world tour, including the Goodwood Festival of Speed this weekend. However, by 2019 Steve plans to make it his competition car over his current S-chassis.
Now that we've seen the GT-R in action, it makes you wonder how long it will be before the next LS-powered GT-R make its debuts. Whenever that is, Baggsy can take pride in building the first Nissan GT-R with the LSX. You can hate that fact all you want, but considering the timeframe, the power, and reliability needed meant that a LS was going in for this one. "Overnight parts from Japan" is a movie myth for a full engine build but the quality and story of this car is still Hollywood-worthy. I guess that's part of what makes it a perfect film car for Battle Drift 2.
Words by Justin Banner
Instagram: jb27tt
Facebook: racerbanner
Twitter: RacerBanner
Photos by Larry Chen
Instagram: larry_chen_foto
larry@speedhunters.com
Cutting Room Floor