Classic With A Modern Twist
There is a build style in the domestic world known as the 'resto-mod' where you take a classic car, like say a '69 Camaro, and build it to look like a restoration but add in new or better parts like you would in a modified build. It combines the taste and attention to detail of a full restoration while still giving the car a unique character. Chris Forsberg's 1975 Datsun 280Z is an excellent adaptation to that in the world of Japanese classics.
The car maintains the look and lines of the iconic Z but you can still tell it's a street car that only Chris could dream up. Compared to his Formula Drift 370Z, it's certainly not radically powered, but it's still impressive all the same.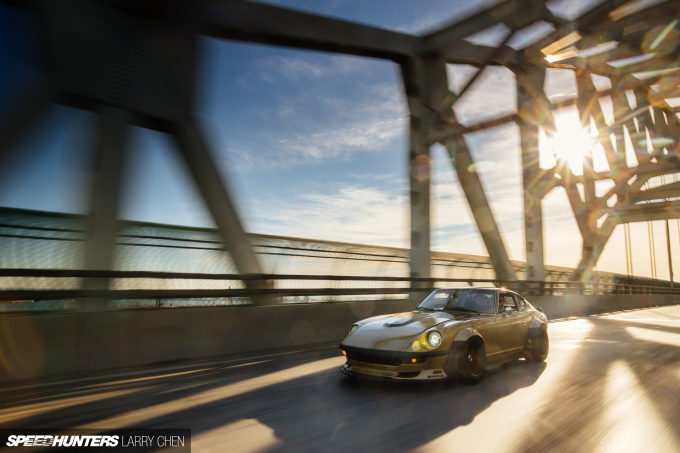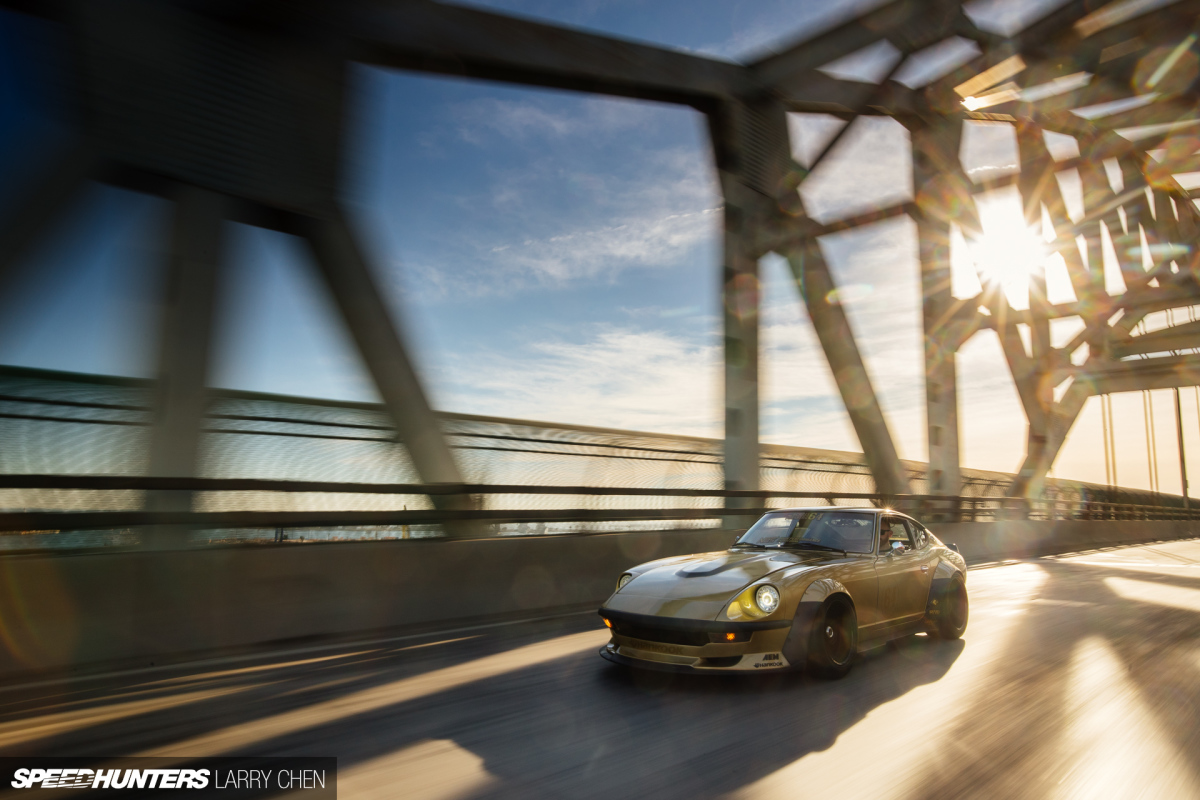 "I bought the car as a street car," says Chris when he was asked about the build. You can see that just by looking at the body itself. It's wider, lower, and features improvements from the Dapper Lighting headlights and taillights to the CarbonSignal G-nose-style body kit.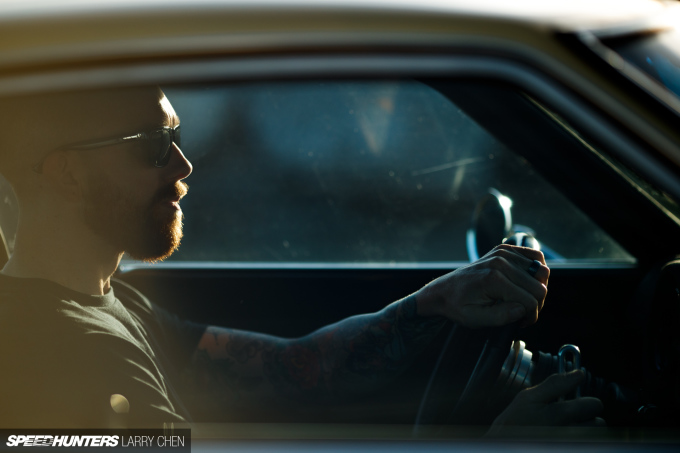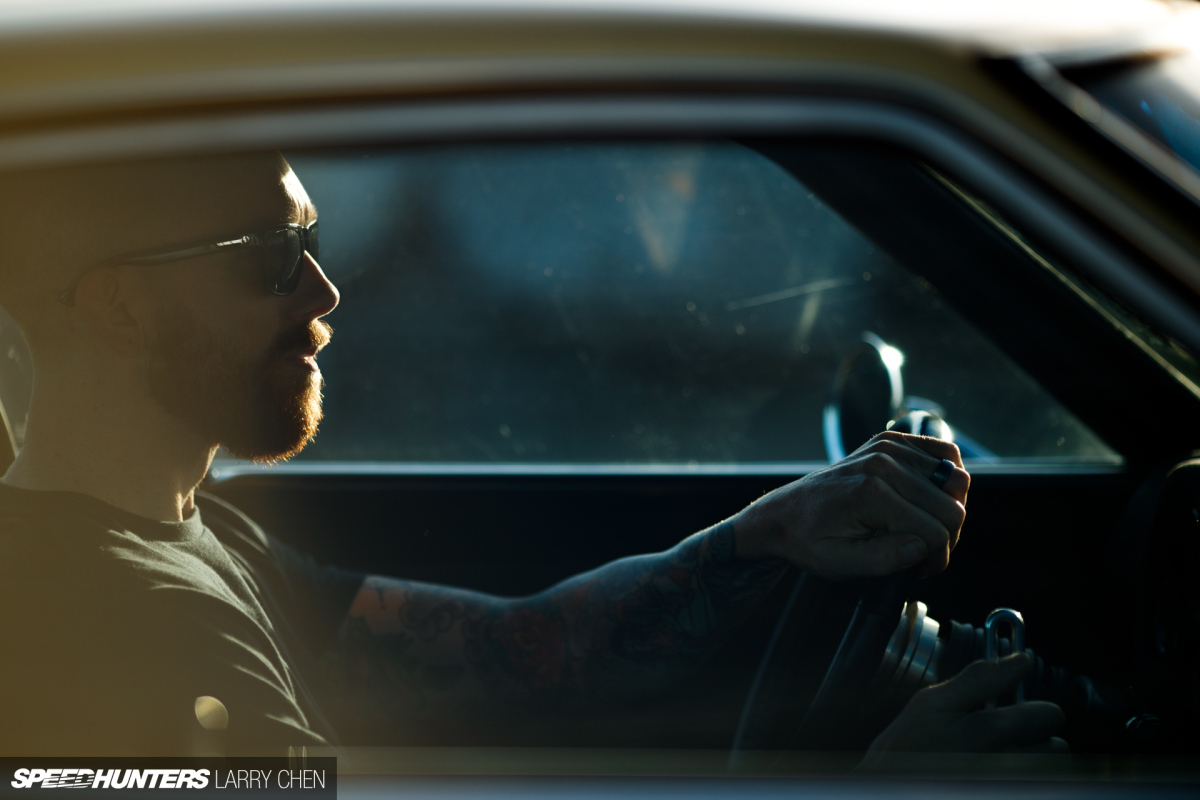 It's still faithful to the original lines of the 280Z, and even the color matches what could have been but is actually a paint code from an early '70s Pontiac Trans Am. It's not a show car which we've seen proof of when he first showed it off to the world and it was still white. However, it's not a full-on track car either.
Sitting Pretty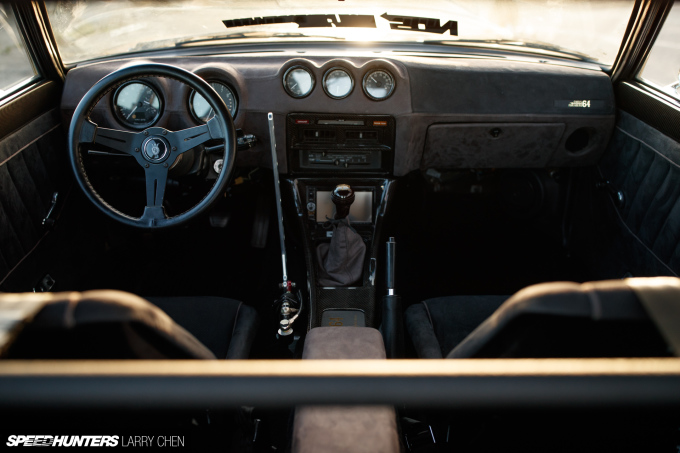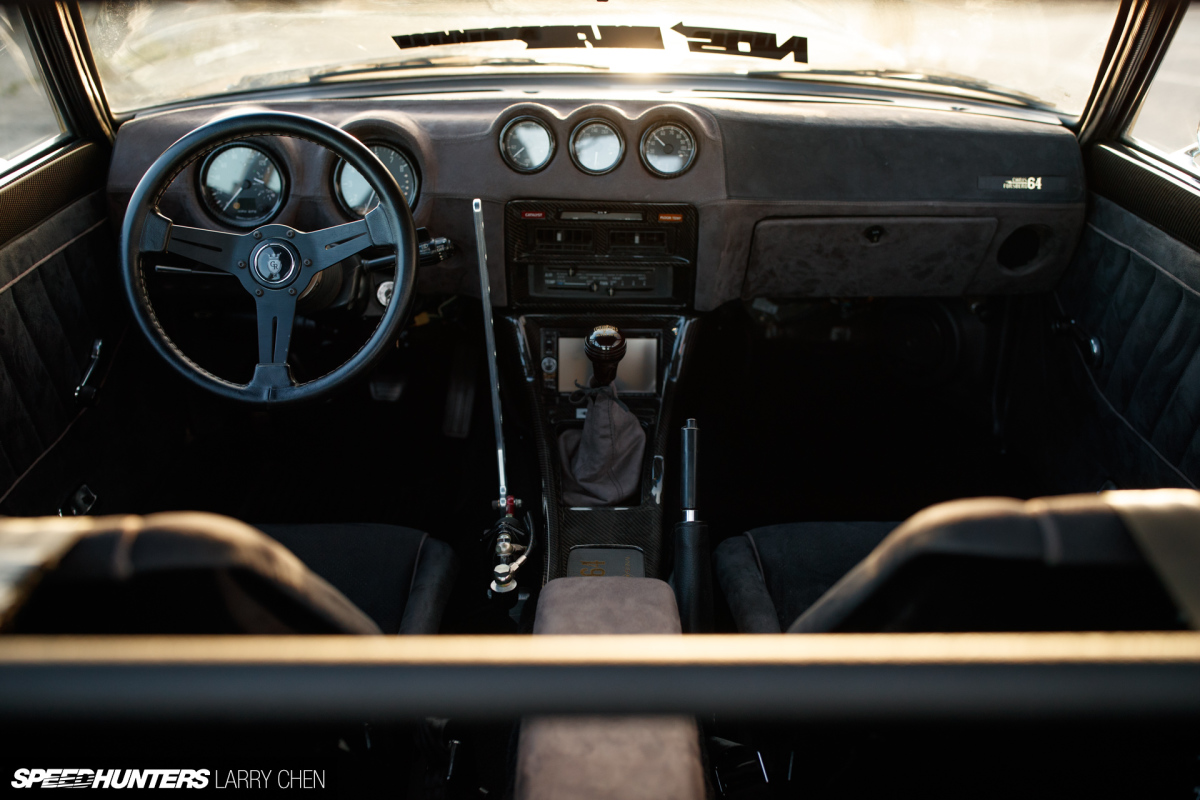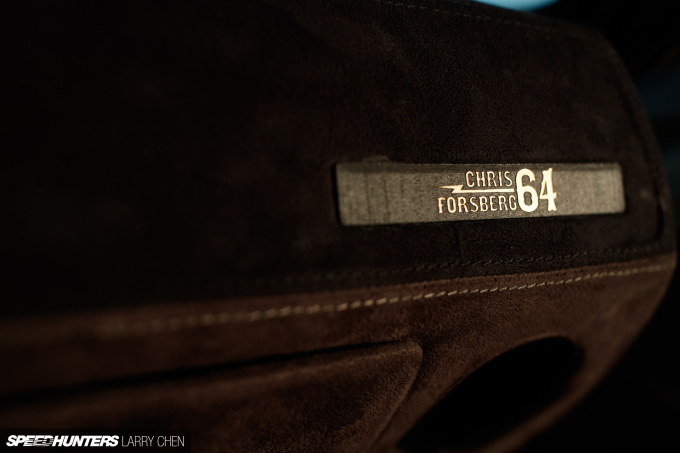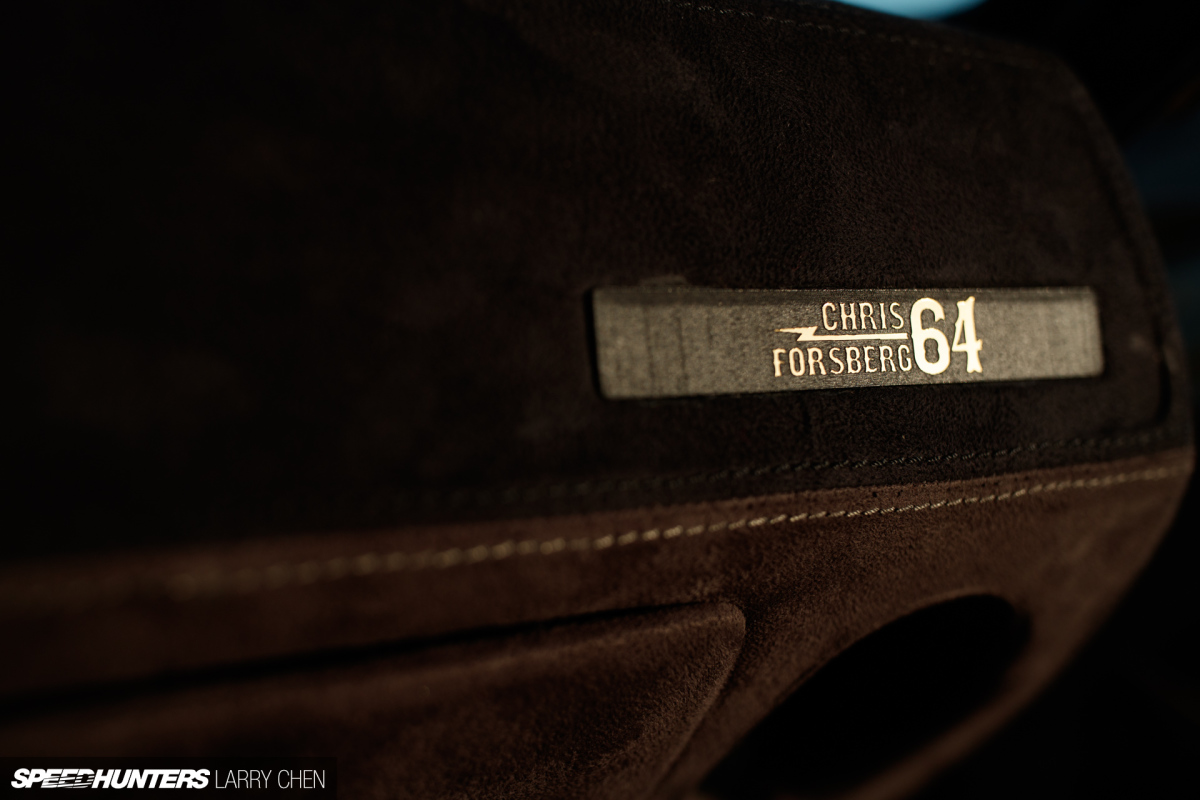 Sitting inside the Z, you'll not find a roll cage or even a roll bar. You will, however, find a pair of seats by CarbonSignal that look the part of an older racing design with modern touches that keep you planted during hard turns and slides. The carbon/suede door cards and center console mimic the original interior but also gives that vibe of modernization. Of course, there is a hydraulic handbrake. We're talking about a three-time Formula Drift champion, but at the same time, you'll find the original handbrake. Remember: street car not show or race car. He still must park it.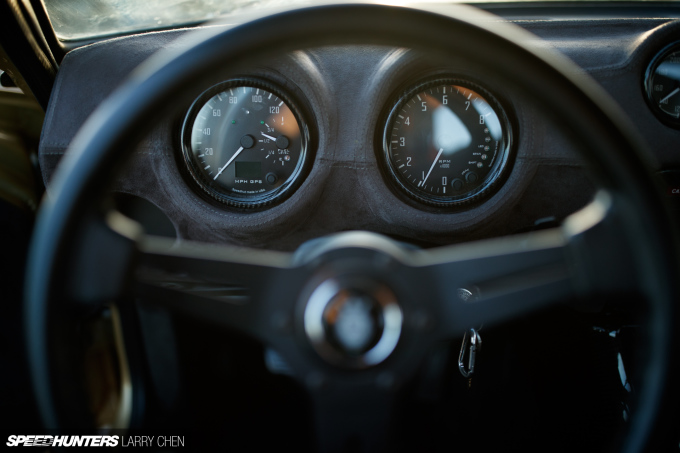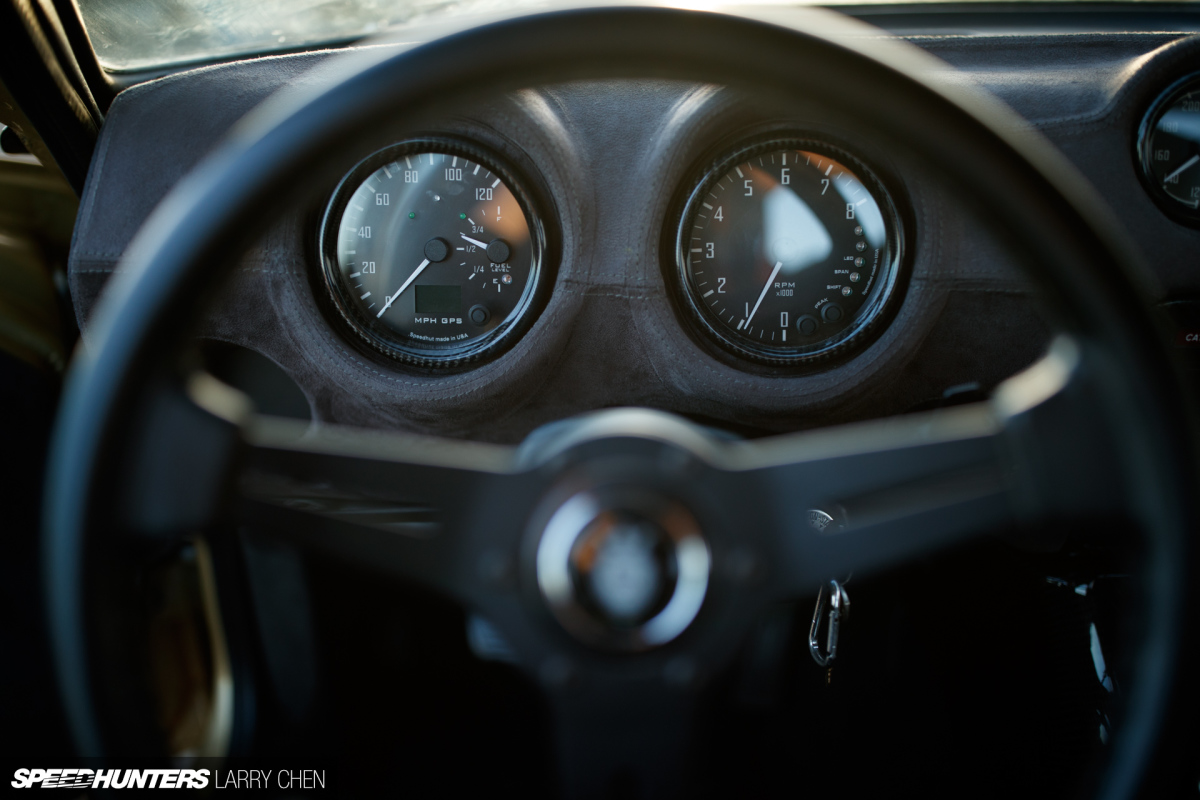 It would have also been very easy to convert the gauges to a full set of digital units with LCD or LED displays, but instead Chris used a set of Speedhut meters featuring a speedometer that takes its speed and odometer readings by GPS. The sweeping needles keep with a restoration theme but come with modern, programmable touches.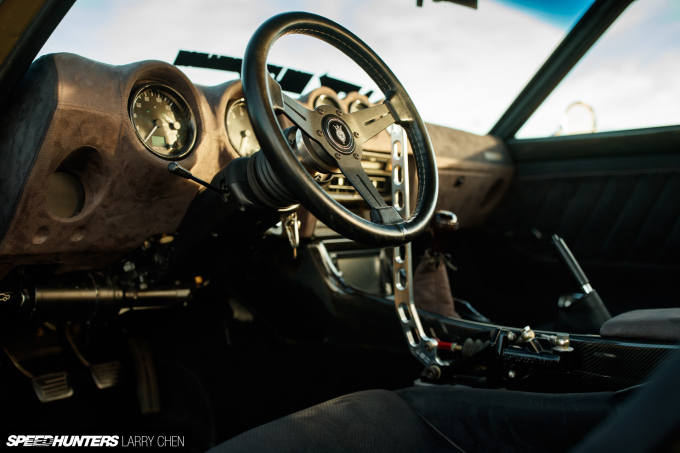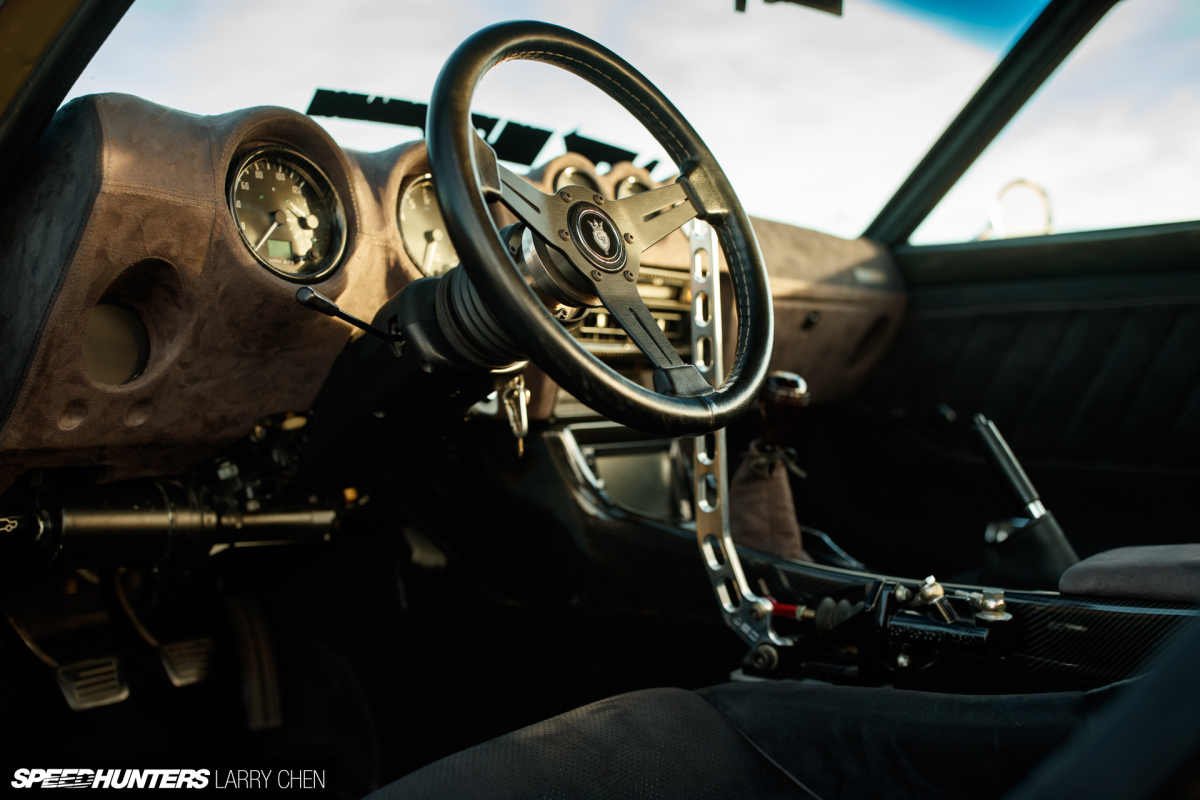 However, there are some modern parts that you will recognize right away, like the Clarion navigation unit and the Techno Toy Tuning harness bar, which the Takata Racing 4-point harnesses' shoulder straps are guided through.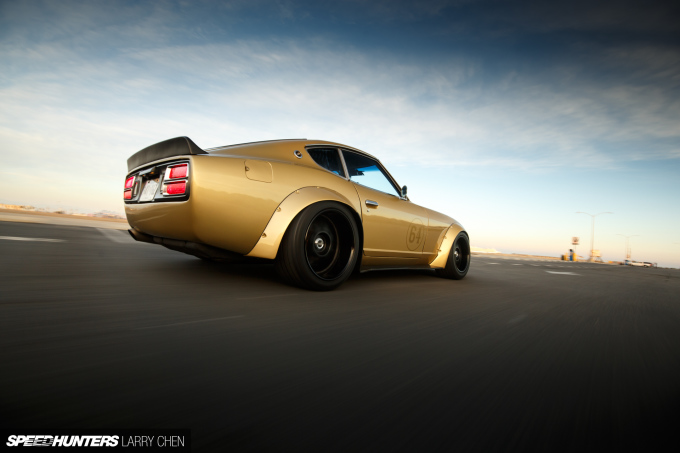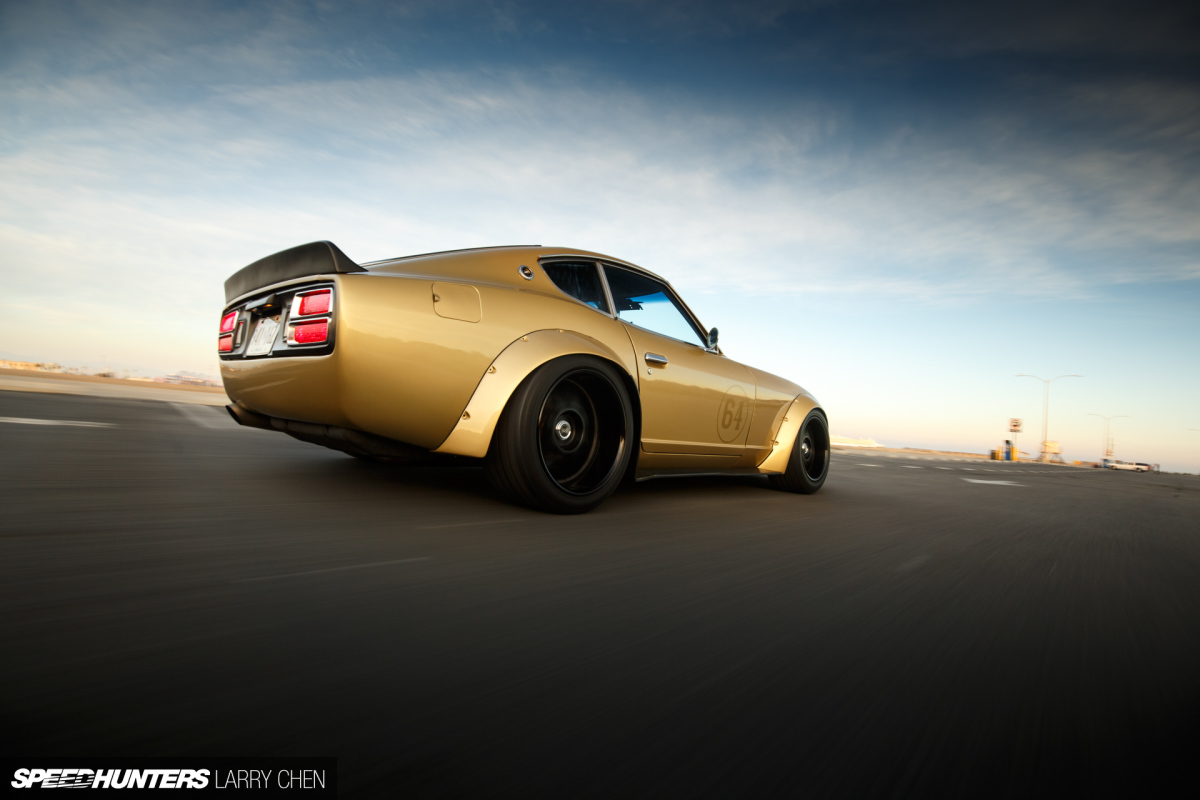 There is one thing that you won't see under the hood or even the chassis but it's one you'll feel when you turn the steering wheel. There is no power steering pump on the engine nor is there a remote pump. Like many modern cars coming off showroom floors today, there's an electric motor that acts as a power steering assist built into the column.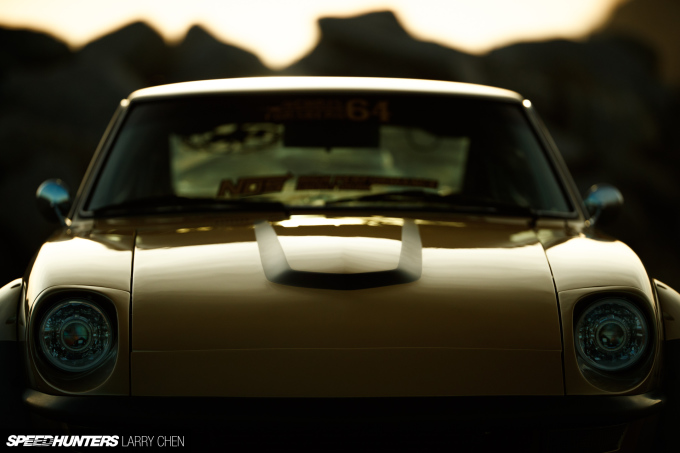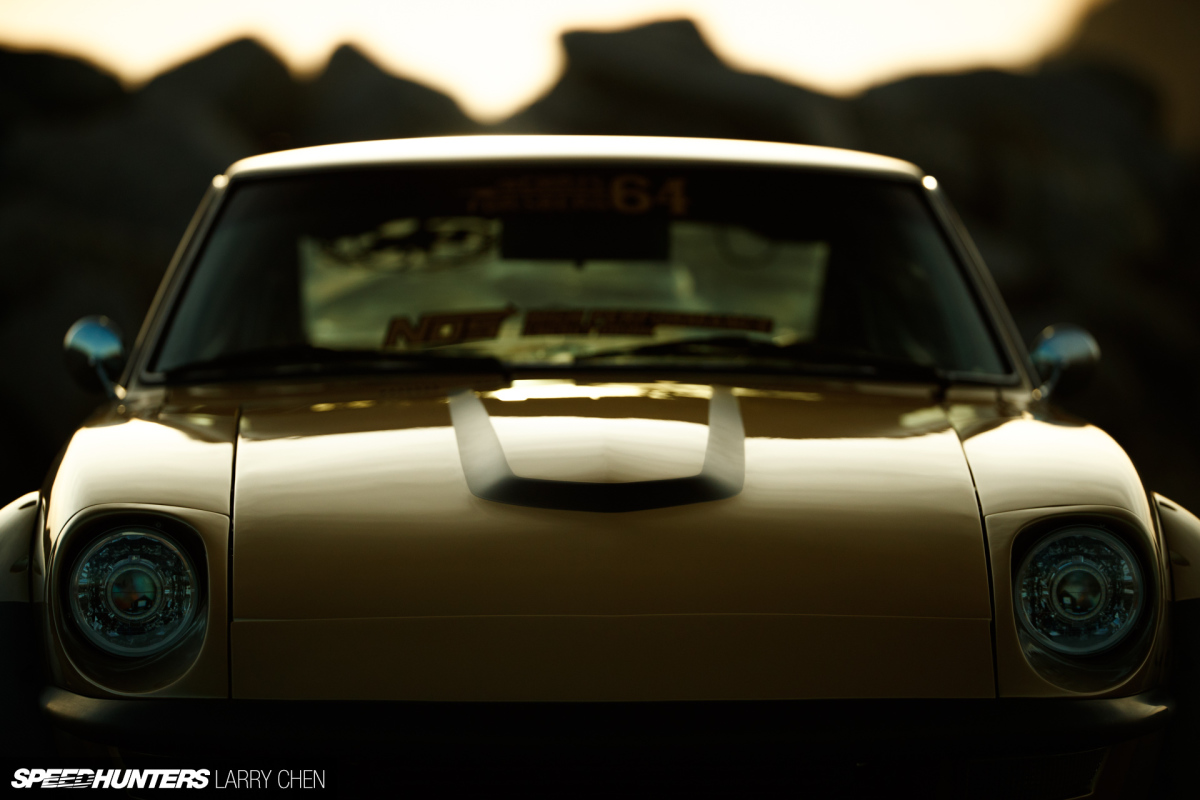 Once you look under the hood you soon realize it's more than just a show car, too.
Skyline Powered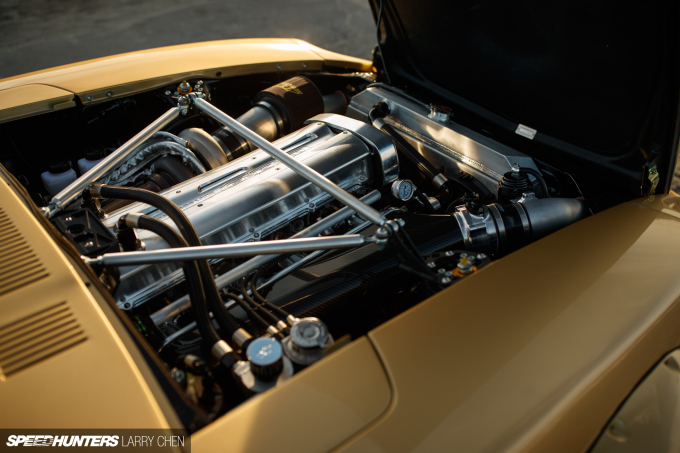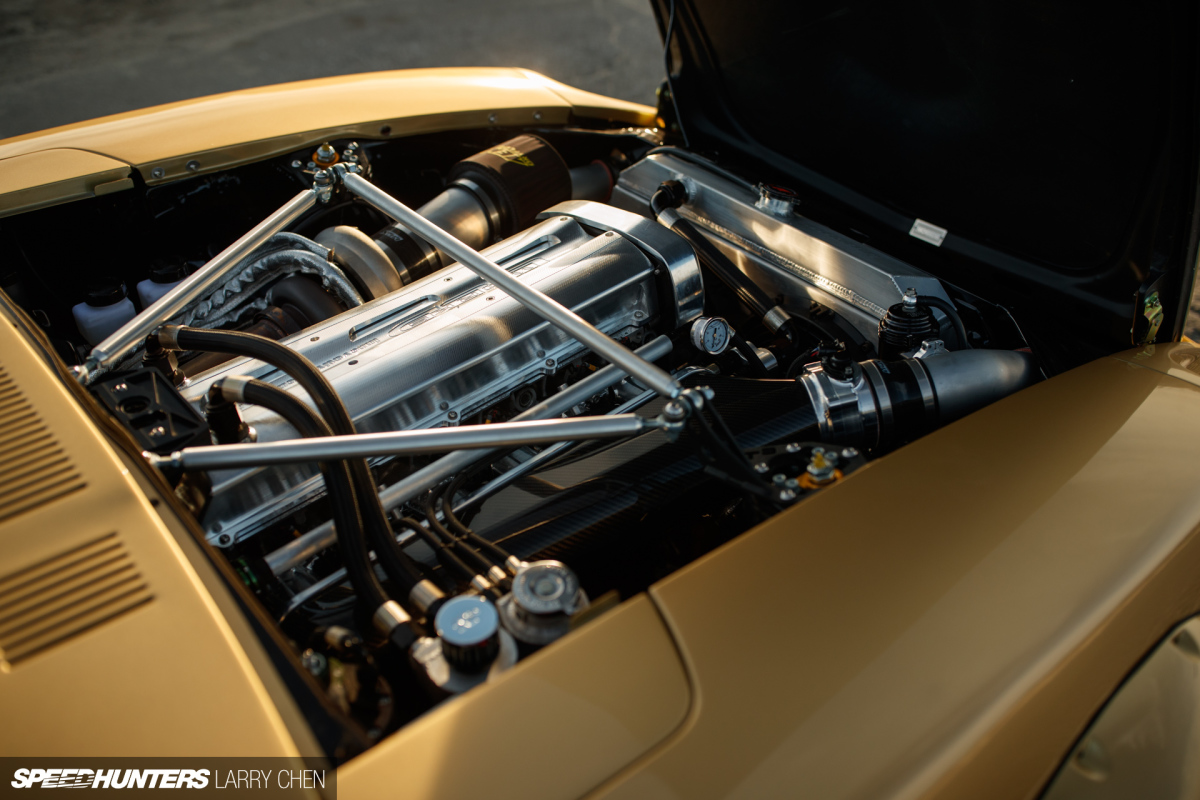 The original 2.8-liter is long gone; "The actual swap was the only thing that was done before I purchased the car," admits Chris. "Other than that it was a stripped Datsun on stock suspension and everything." That's not to say the engine remained stock, though. The RB25DET and matching Nissan transmission were modified for reliability and additional power.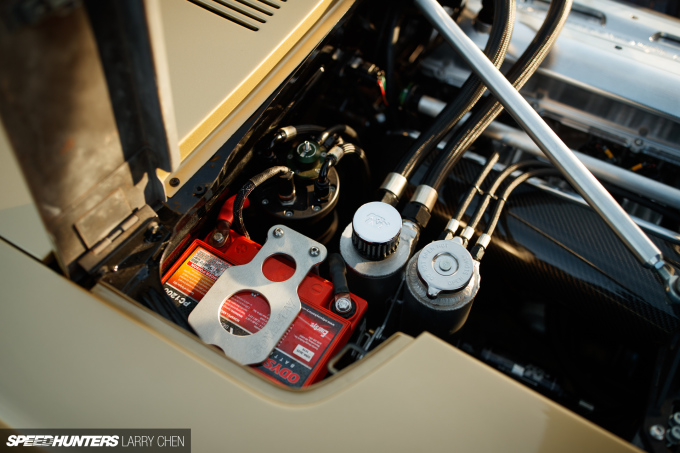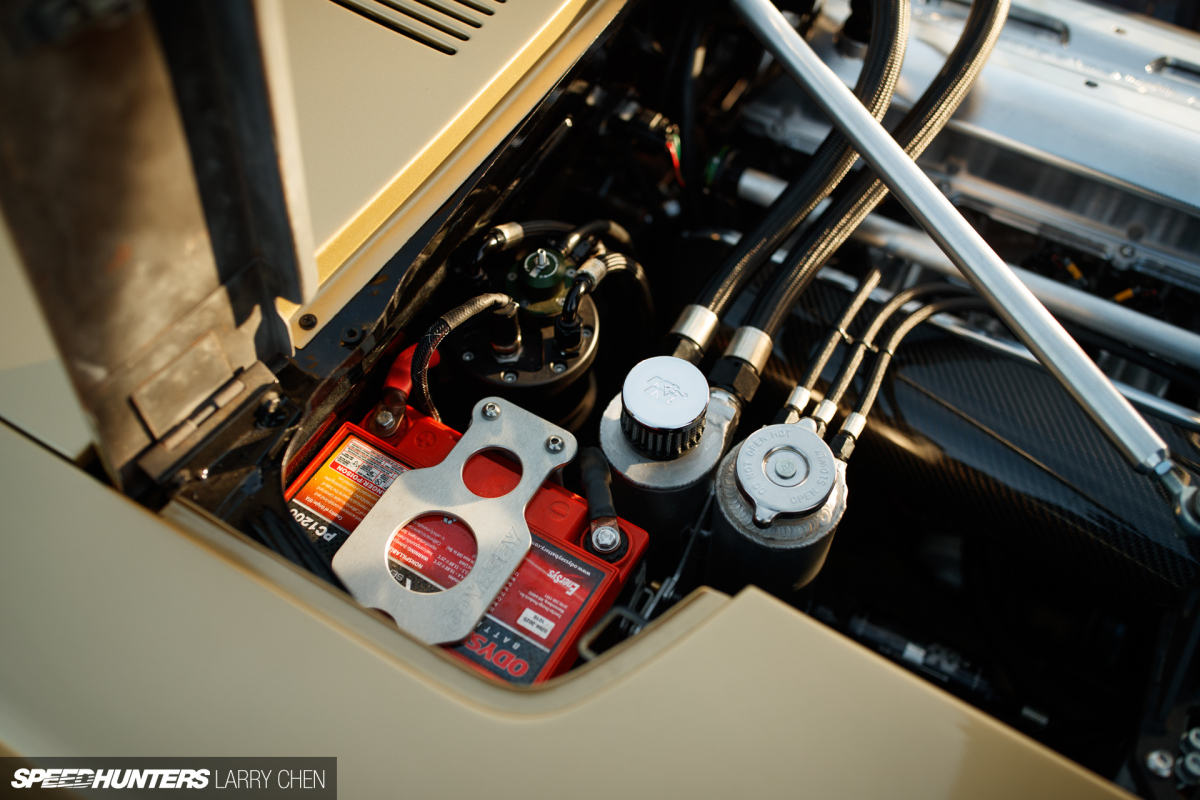 Internally, the pistons, rods, and crankshaft were untouched as the RB25 is proven to take the abuse required to make 500 horsepower.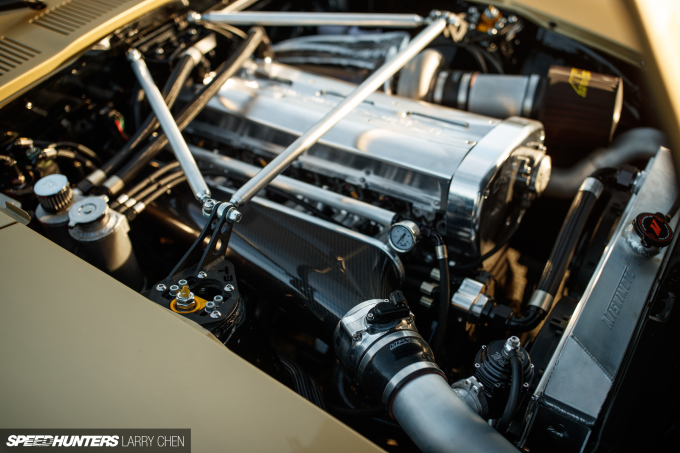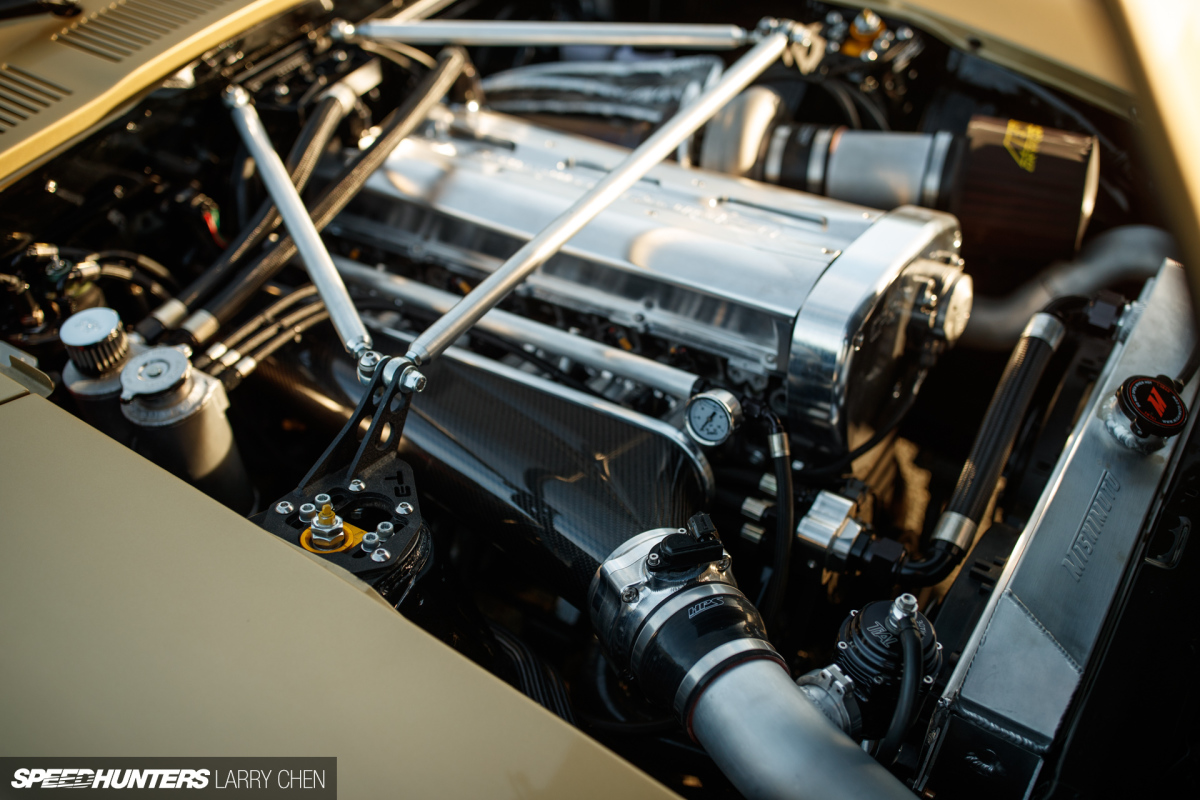 Outside, however, is another story that starts with the TiAL Xona Rotor 3071 turbo with an OCD Works 'T51R Turbo' mod to give it that true jet intake sound that everyone loves. The compressor intake features an AEM 4-inch intake filter while the boost side is connected to a set of AEM custom charge pipes, a Mishimoto M-Line intercooler, and a Custom Plenum Creations carbon/billet intake manifold.
On the turbine side, a DOC Race v-band exhaust manifold mounts the turbo with a TiAL QRJ blow-off valve also employed to relieve pressure. With more boost comes the need for more fuel, and a set of Deatschwerks 650cc top-feed injectors mist out the fuel into the manifold, controlled along with ignition through an A'PEXi Power FC D-Jetro ECU. Along with increased fuel demand, you also get an increase in heat in the engine, which Mishimoto comes back with its dual-pass oil cooler and radiator.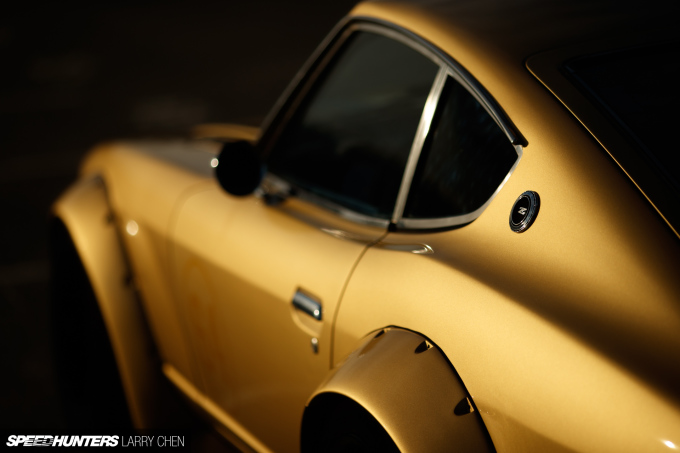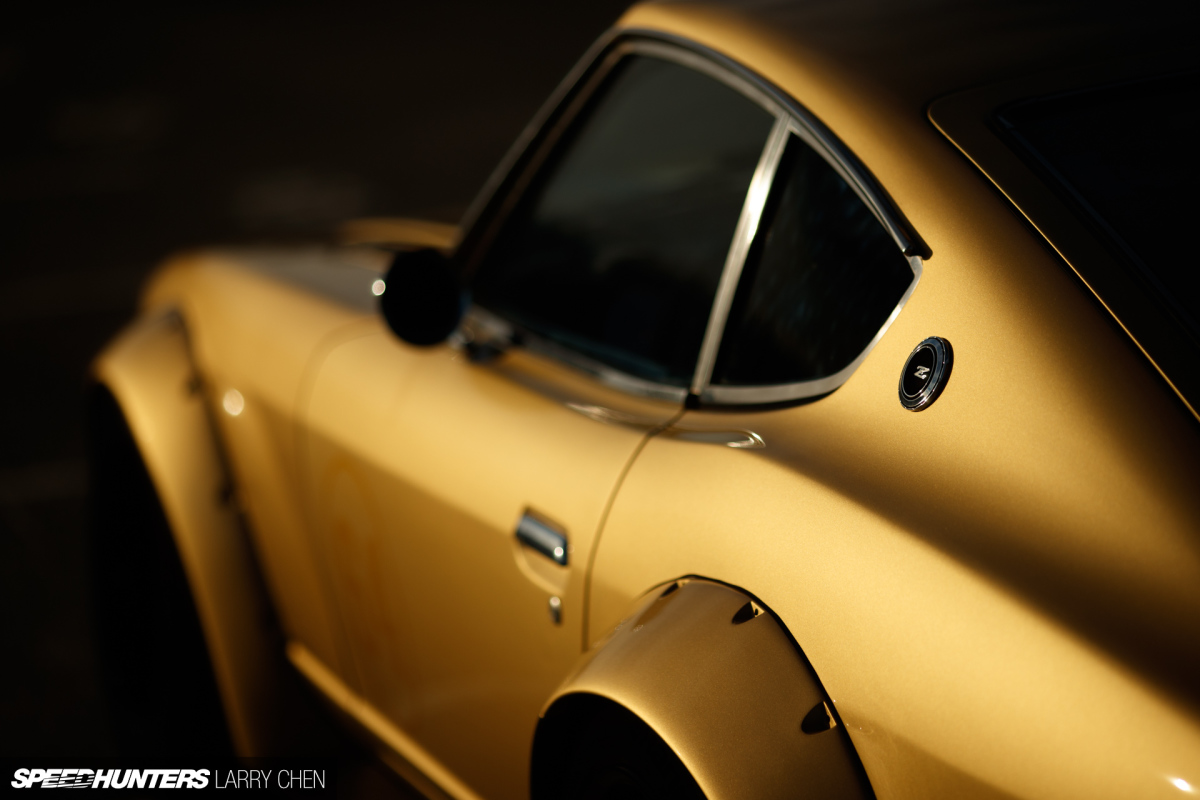 With this much power, you also make that much more torque so you need to improve the drivetrain to handle the new power output. The FS5W71C internals are more than enough to take on the new power, but the clutch was changed over to an ACT 6-puck clutch kit. In the back, the differential was swapped from 'long nose' R180 to Nissan's stronger R200, which required the use of Techno Toy Tuning's complete R200 rear conversion. That package includes the mounts for the R200, a coilover conversion which also allow camber adjustment on the Koni shocks, new weld-on camber plates, and rebuilt axles to fit the differential.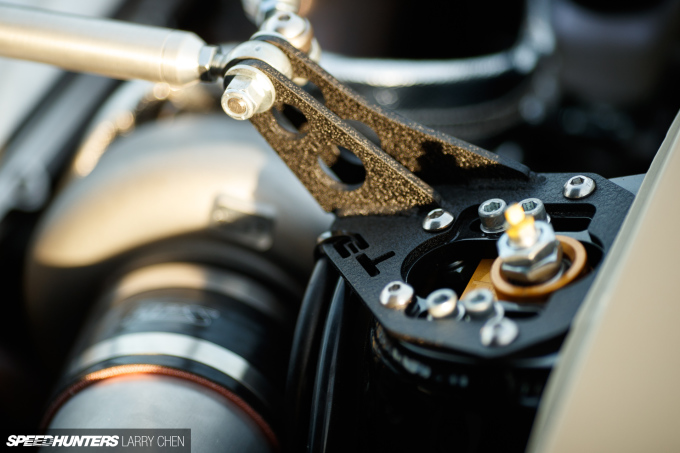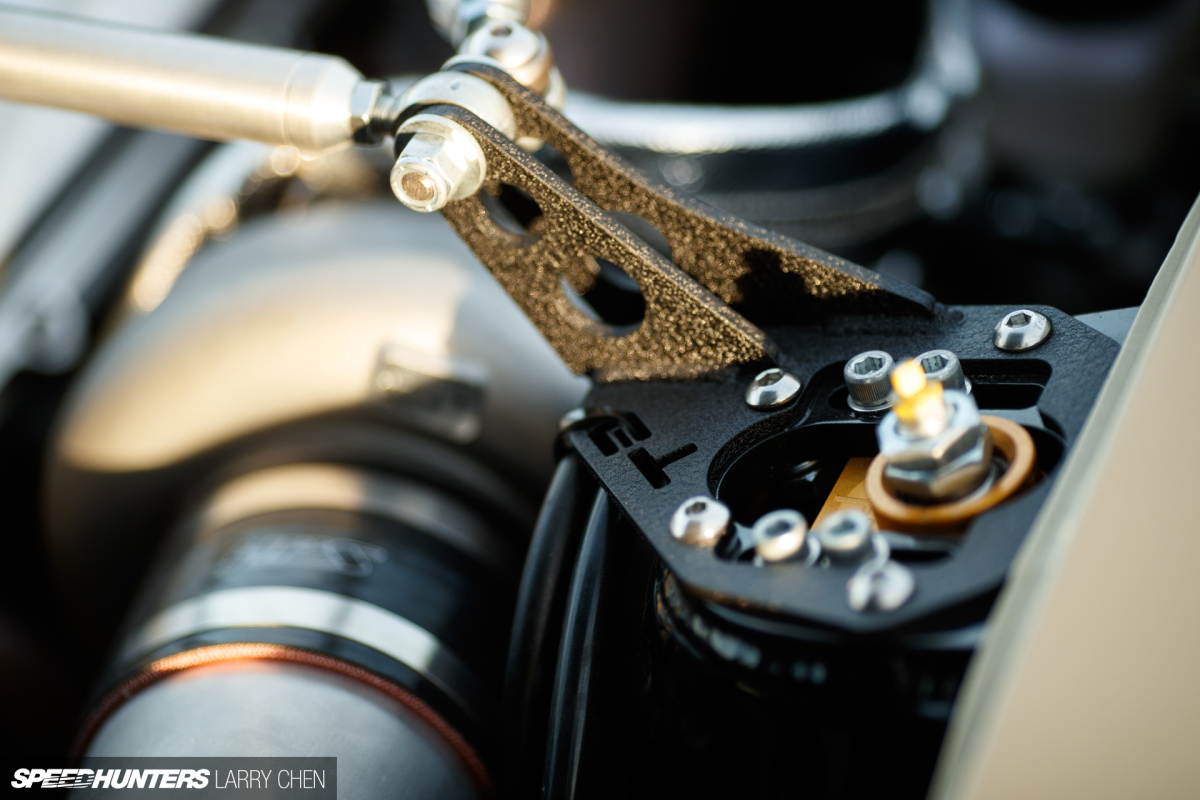 We must talk about handling, because the Z was never designed with this much power in mind.
Fancy Footwork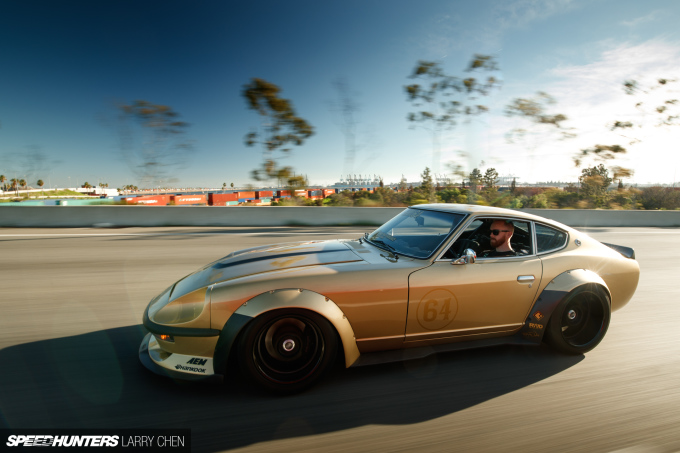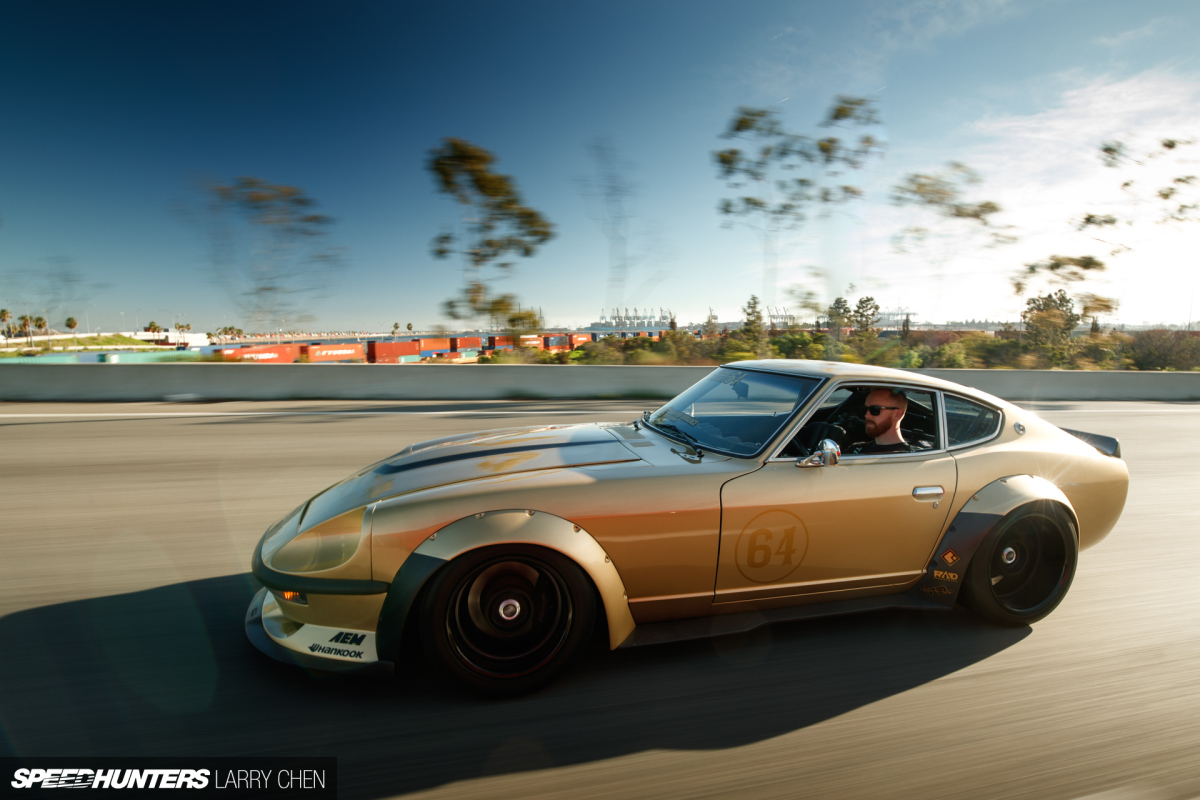 The brakes, the suspension, and the original skinny tires just won't hold up for very long. The original rolling stock were replaced by a set of SSR MS-1 wheels in a 16×9-inch fitment for the front and 17×10-inch for the rear, and the tires are Hankook Ventus R-s3s in 225/50R16 and 255/40R17 sizing front and rear respectively.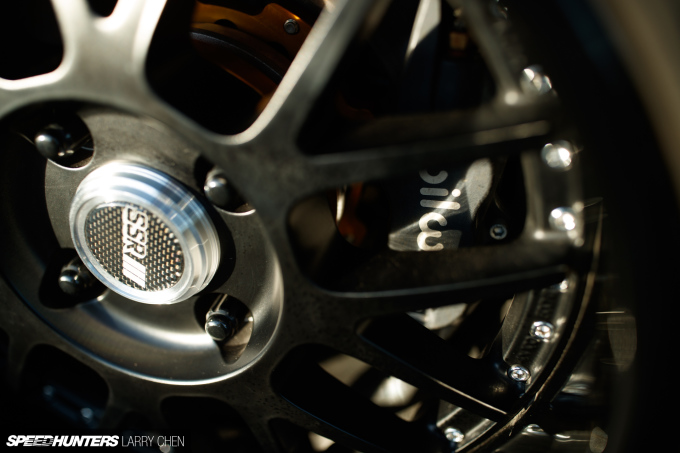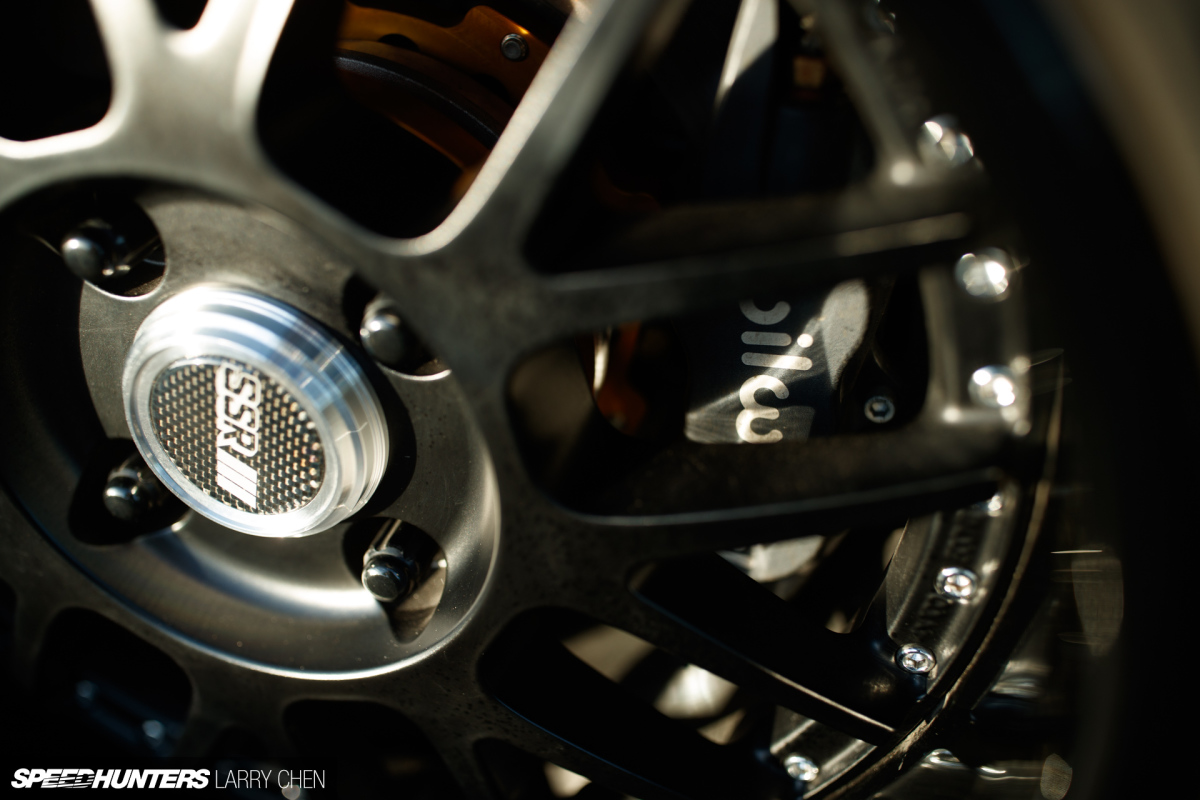 Techno Toy Tuning GTX2 components replace the front control arms and caster rods to adjustable items, as well as convert the front to an adjustable coilover setup, big brake kit with Wilwood 4-piston calipers and rotors, and adjustable rear control arms.
Best Of Both Worlds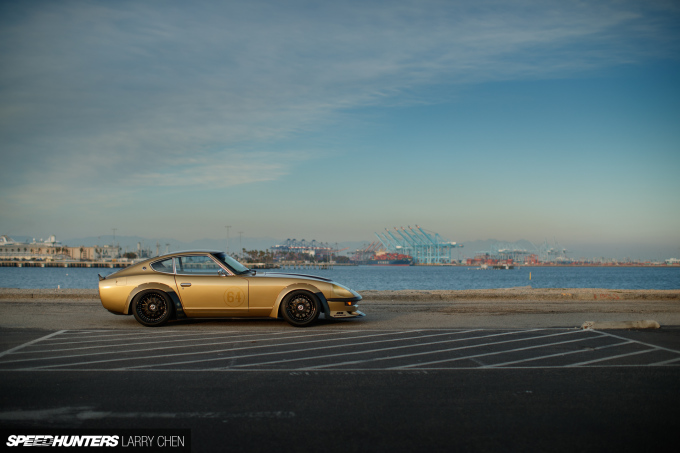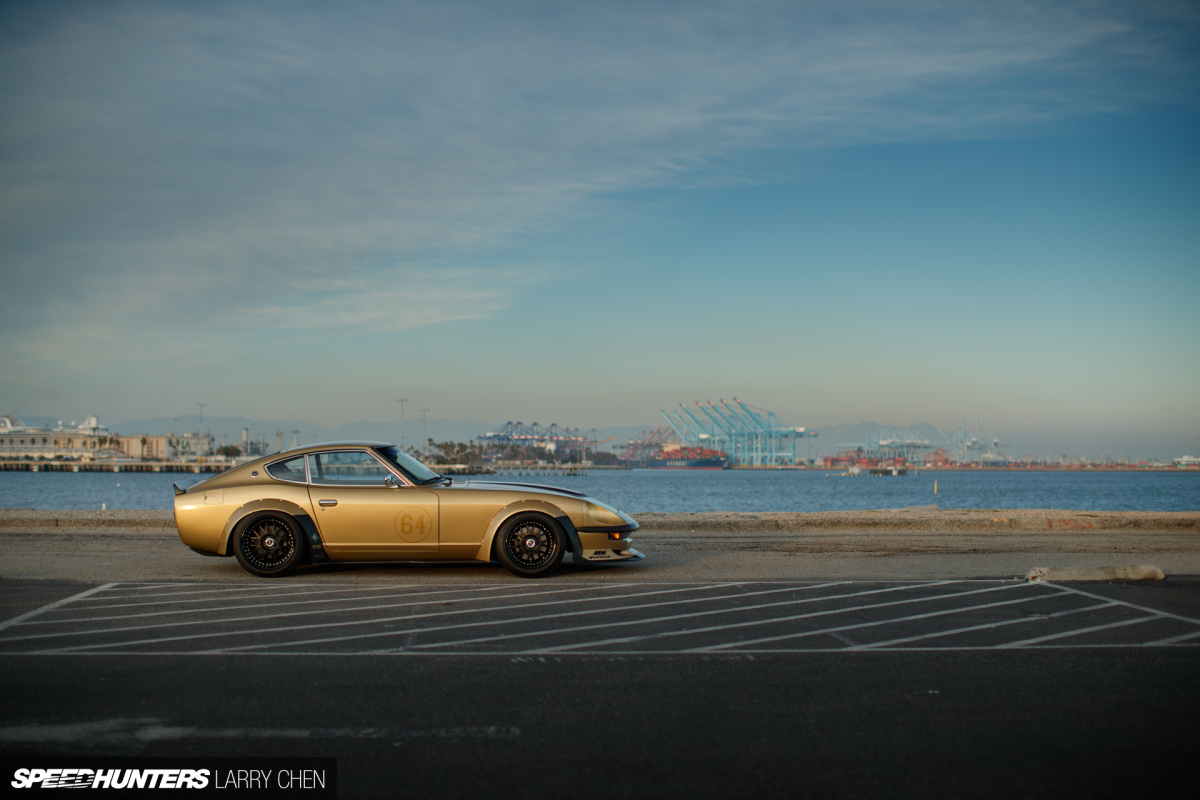 "The overall build of the car is focused on adjustability and reliability," says Chris, "This is not just a show car or a track car – it's a street car. I wanted to make the car comfortable enough to drive on the street but also to have the ability to handle a serious day of thrashing around the track."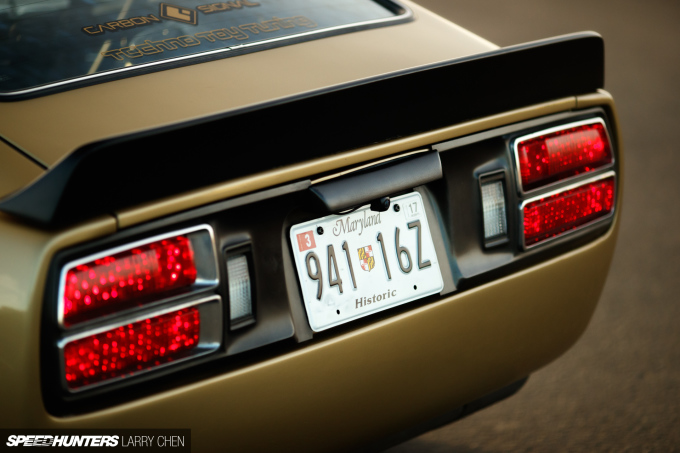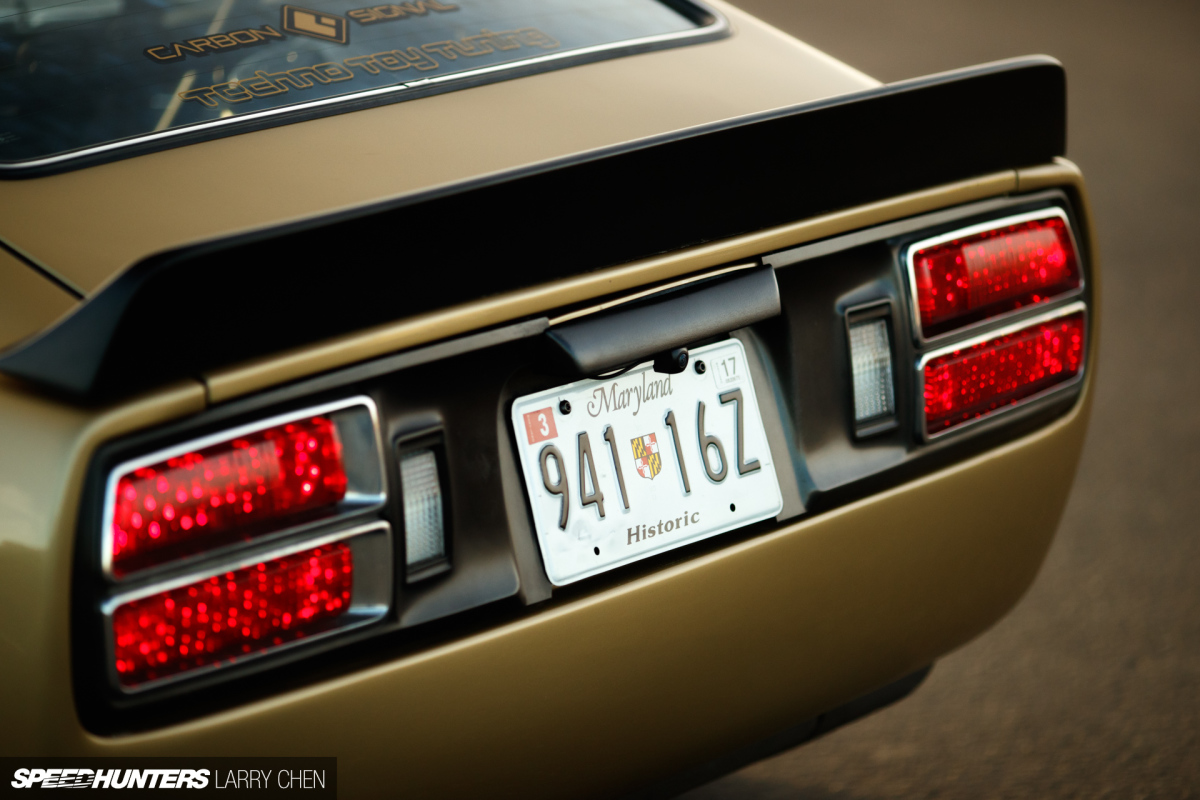 By the time you've read all of this, you're probably left with a question. In fact, it's one that can easily be asked even before reading this article: Why not a 350Z or even a 370Z?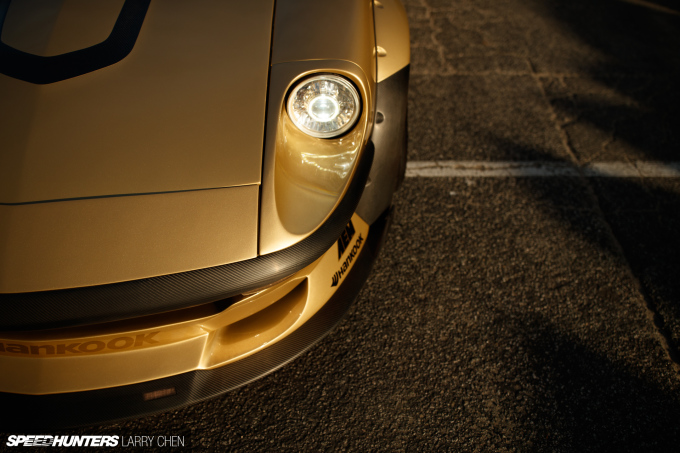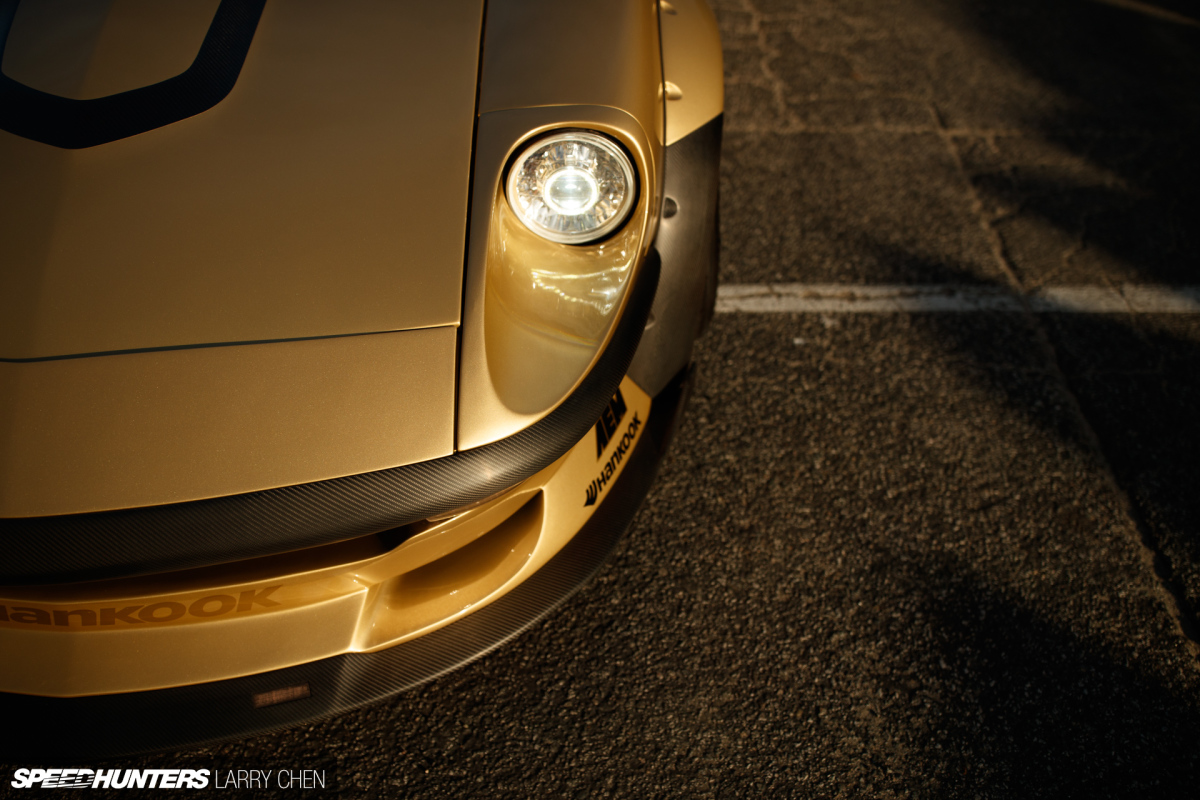 The answer is simple – you can do more with a retro car than a modern one. "I chose the 280Z for a street car over a late model 370Z as I am able to do a lot more custom modifications to the engine and chassis and still be street legal as a classic car," Chris explained. Many states in the US have strict guidelines on what you can do to an engine or car for emissions. Just ask anyone from California, New York, and even Maryland where Chris is from.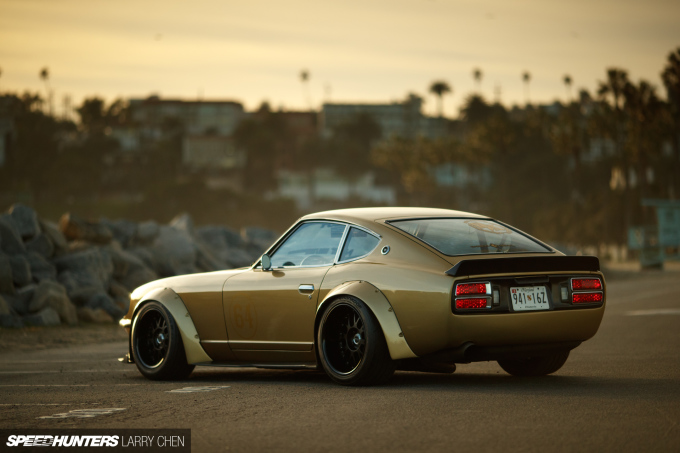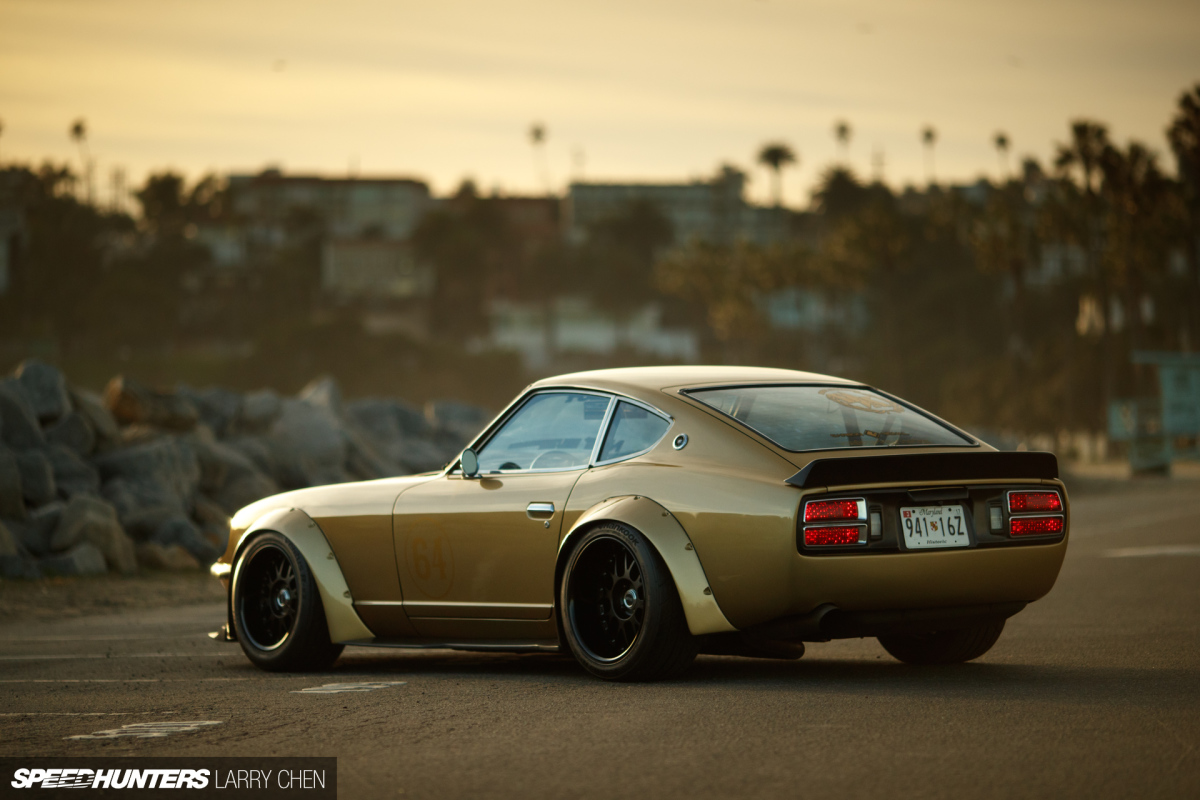 However, many of these states have very relaxed regulations on cars built before 1980 as the pollution controls were either non-existent when new, or repairing and replacing them is too much of an unreasonable burden on owners.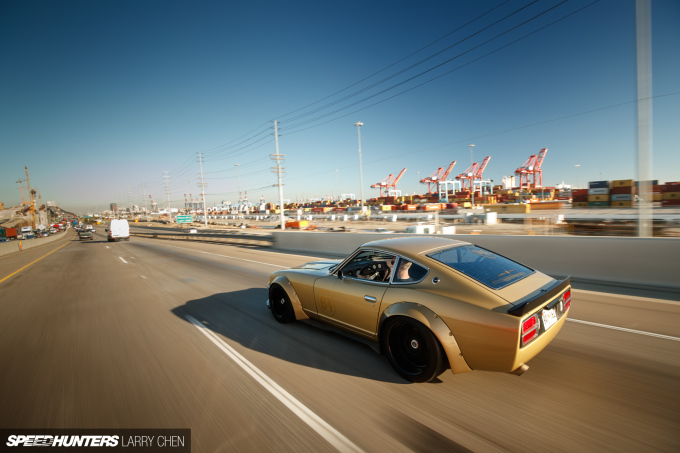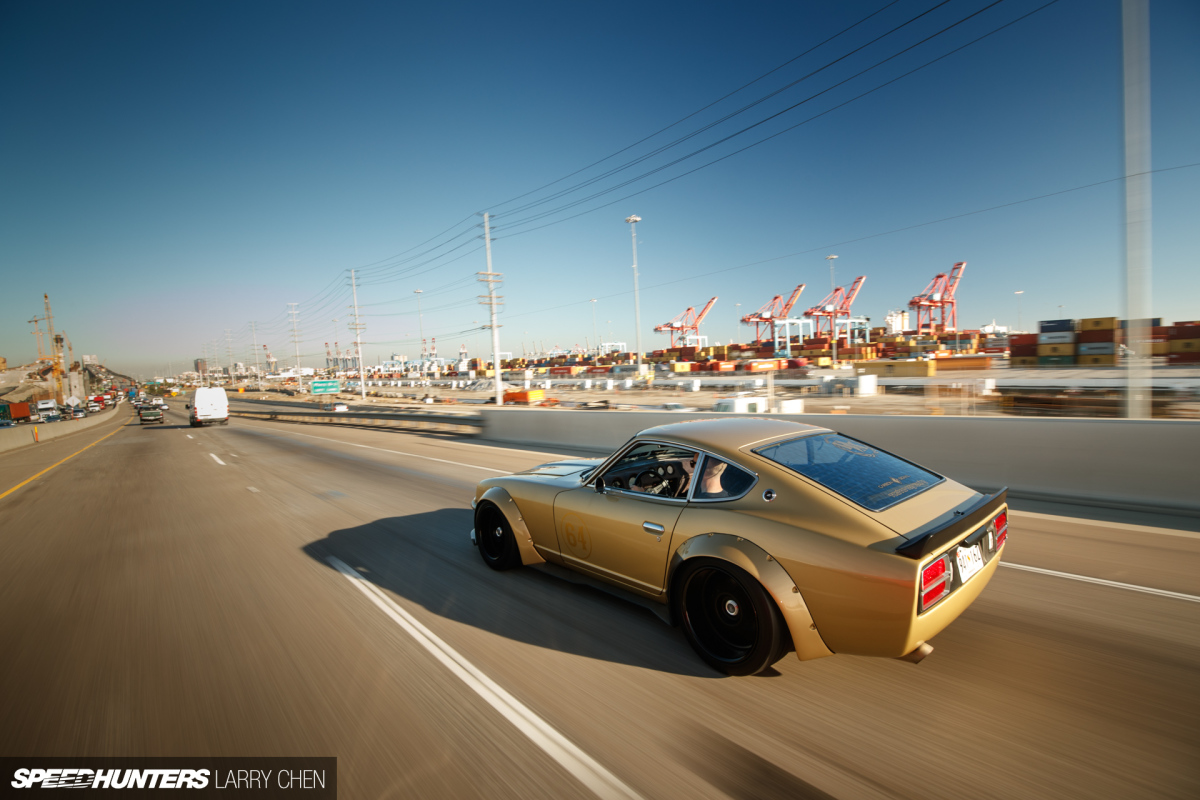 That's not to say it couldn't have been done. We've seen Chris build a 370Z that could match this and beyond; he has an entire stable of them at his race shop.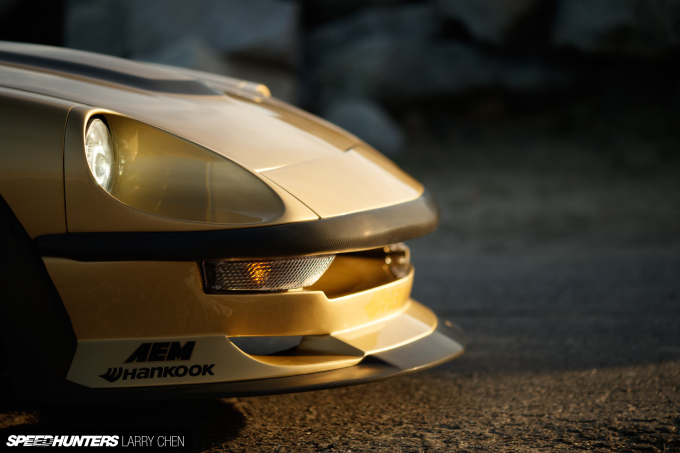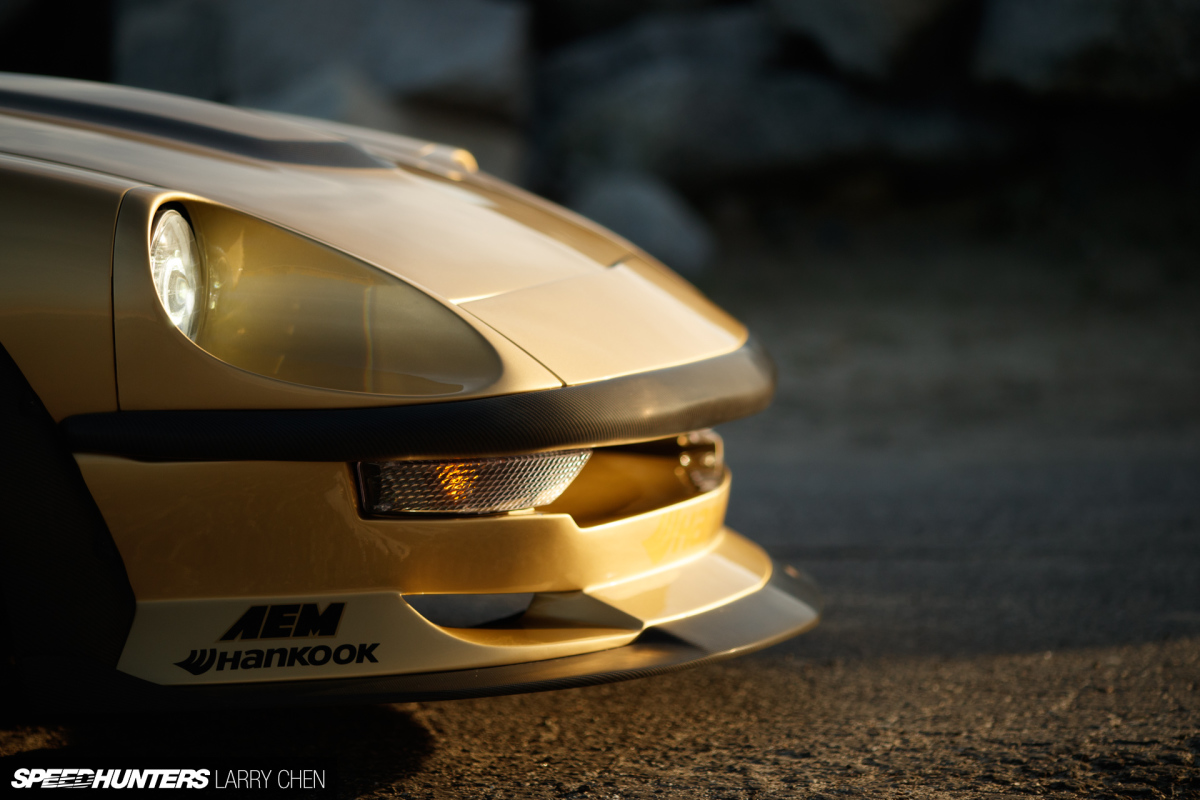 That's not the point, though. This is a car that checks all the boxes of a resto-mod, street car build – classic lines, modern touches, and decent power.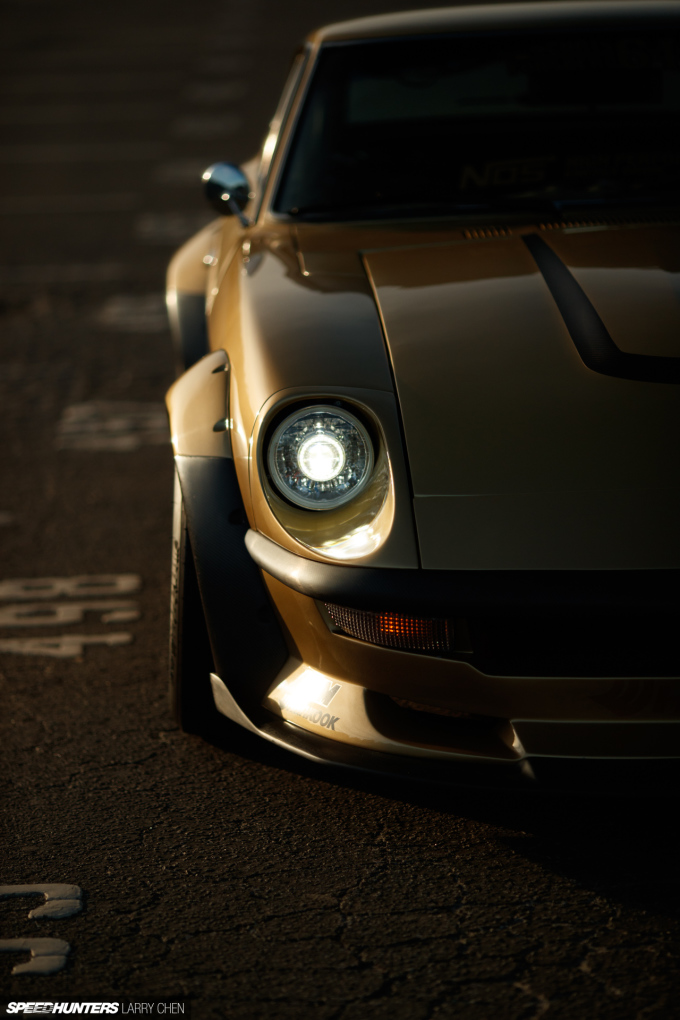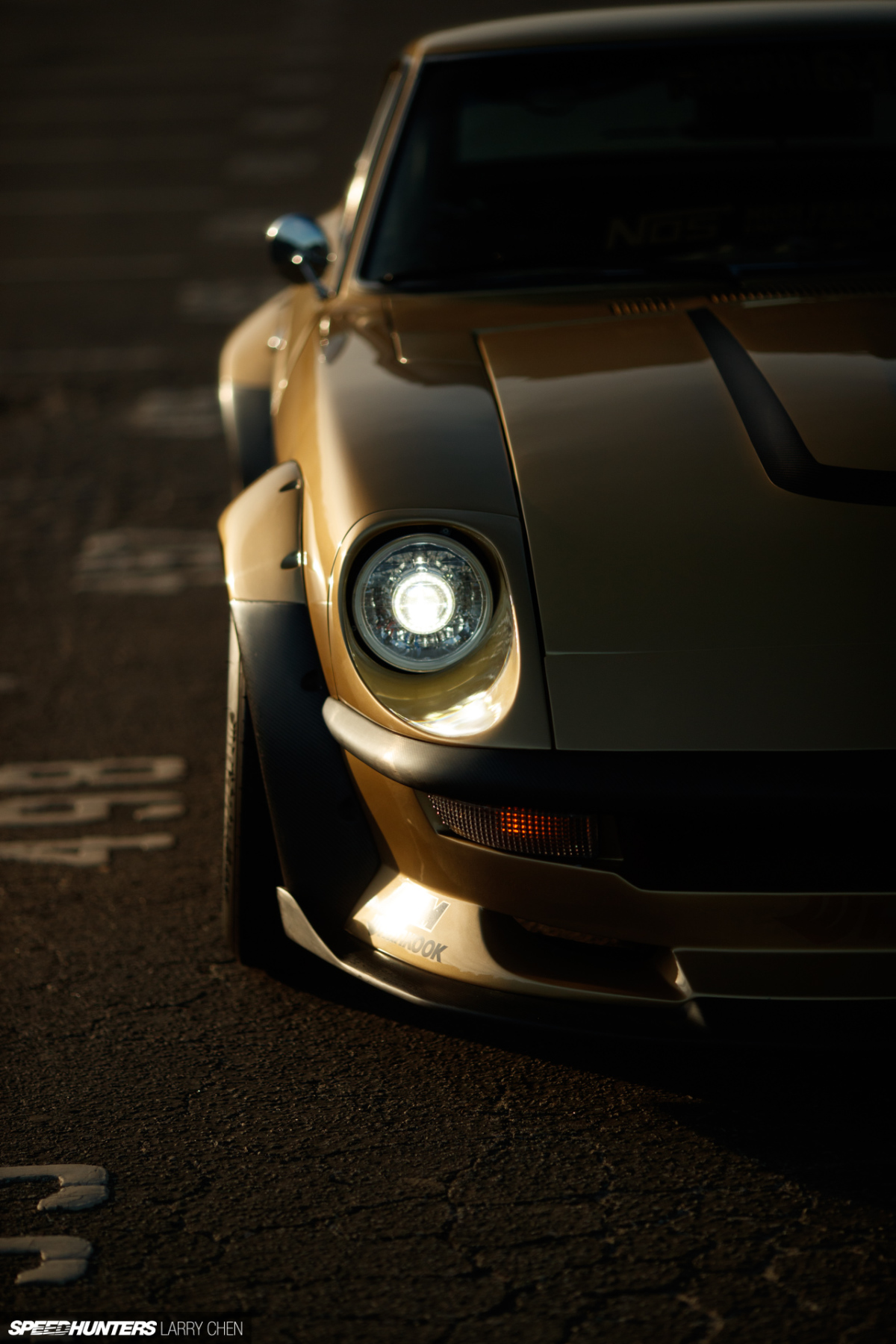 It's as good as any 370Z Chris could build but it has the definitive look that the modern car tries to imitate but won't ever duplicate. Why try to mimic the original when you could make an original even better?
With that in mind, you could very easily say that this 1975 Datsun 280Z will be better than any 370Z. Well, at least until that car becomes a classic.
Justin Banner
Instagram: jb27tt
Photos by Larry Chen
Instagram: larry_chen_foto
larry@speedhunters.com